Why do the last two weeks appear to be a tight Trading Range for equity markets?
What factors are contributing to the surge in gasoline prices?
How will the surge in gasoline prices potentially impact the economy?
Will there be a Soft Landing for the economy?
What areas in the financial markets are performing well so far this year?
How can NetWorth Radio help investors possibly prevent big mistakes?
How does a great plan help set the stage for effective decision making?
Headline Round Up
*Uptown Dallas Premium Gasoline $6.30?!
*Inflation Tops 10% on Key Household Categories.
*European Central Bank (ECB) Declares End of Negative Interest Rates.
*Goldman Sachs Says U.S. Economy on Narrow Path to "Soft Landing."
*Global Growth Prediction Slows to 2.9%.
*Tech Sector's Decade of Market Dominance Ends.
*$400 Million Paydays: CEOs of Money Losing Electric Vehicle Makers Lucid and Rivian.
*U.S. and European IPO Activity Down 90%. 80% of Tech IPOs Down Since March 2020.
*IRS Demands Reporting of Digital Profits Over $600.
*Citadel's Flagship Up 13% for the Year.
*Here's the Beef! South Dakota Rancher Building Largest U.S. Beef Plant.
*SEC Chairman Gary Gensler Wants Equity Trading Centralized by Mandate? Alex, what could possibly go wrong?
*Swan.com: Stop Fooling Yourself About Crypto!
*Gasoline Surges Again! How much does the ethanol mandate add at the pump?
*Oil Prices "Nowhere Near" Peak?
*Texas Power Use Ready to Hit Record Levels.
Annual U.S. Economic Forecast with Probability of Recession  (2015 – 2024
)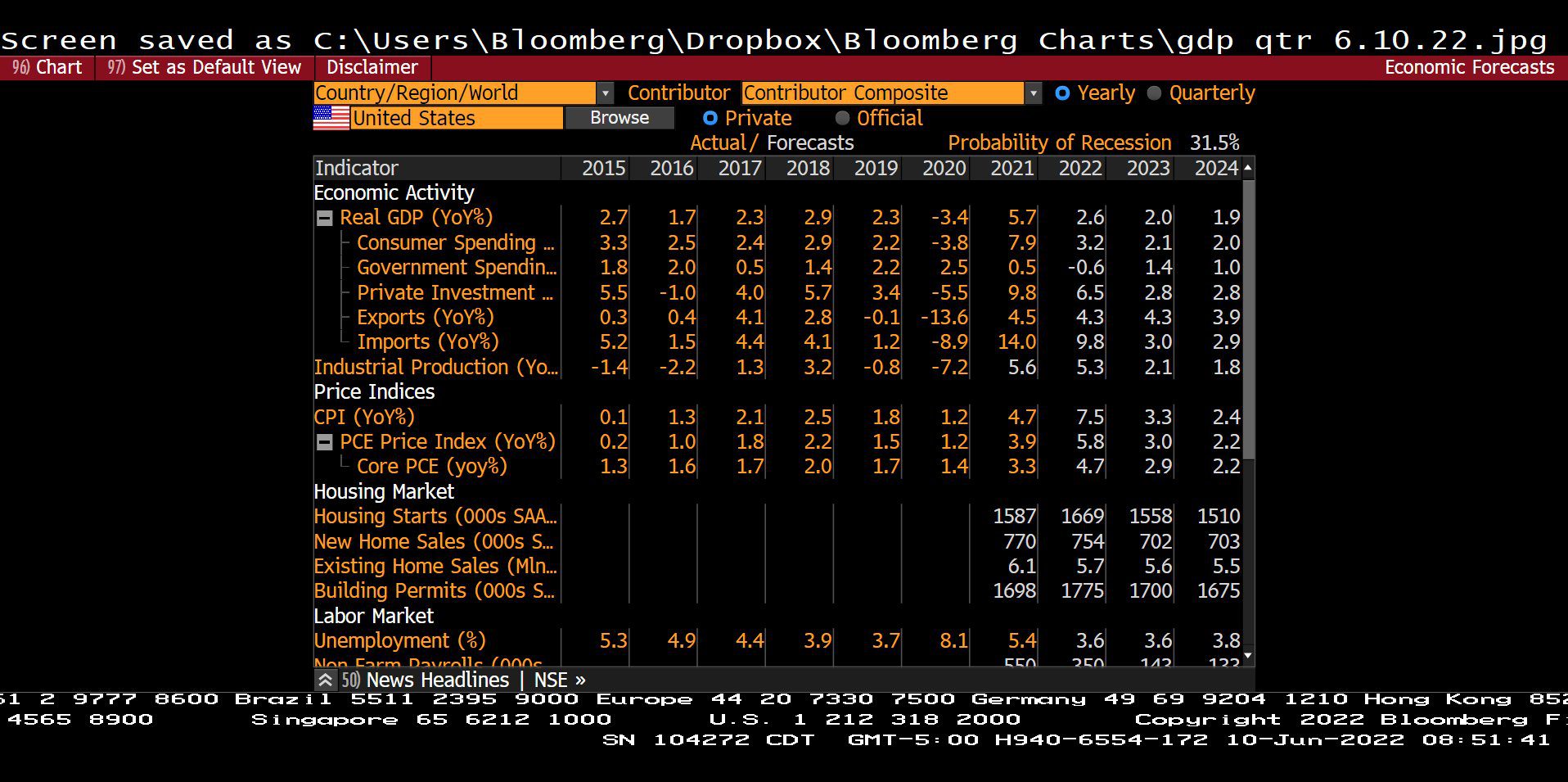 – Courtesy of Bloomberg LP
Quarterly U.S. Economic Forecasts with Probability of Recession 
(Q2 2021 – Q3 2023
)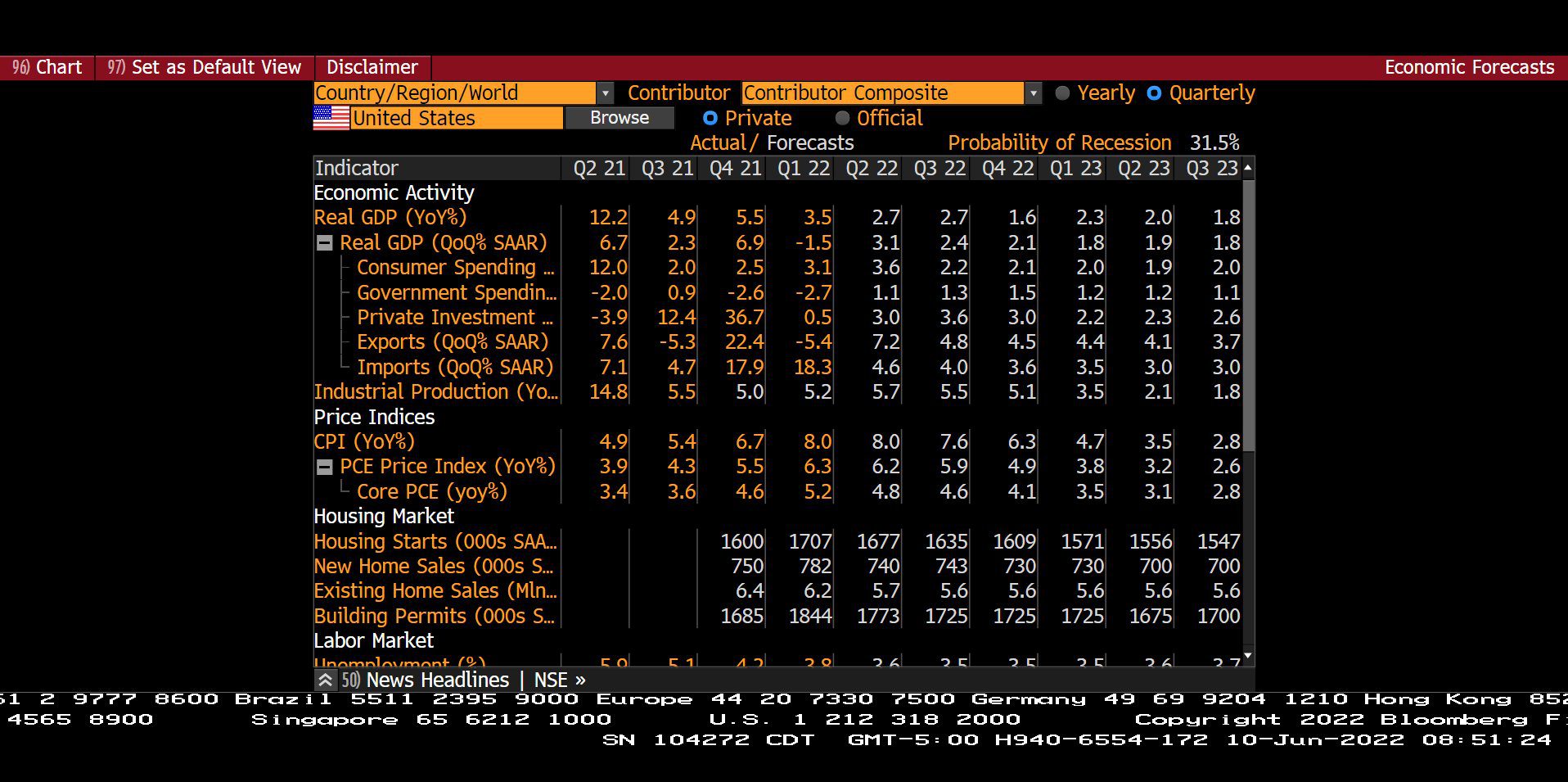 – Courtesy of Bloomberg LP
Standard & Poor's 500 Index – Quarterly Earnings Estimates (06/11/2019 – 06/10/2022
)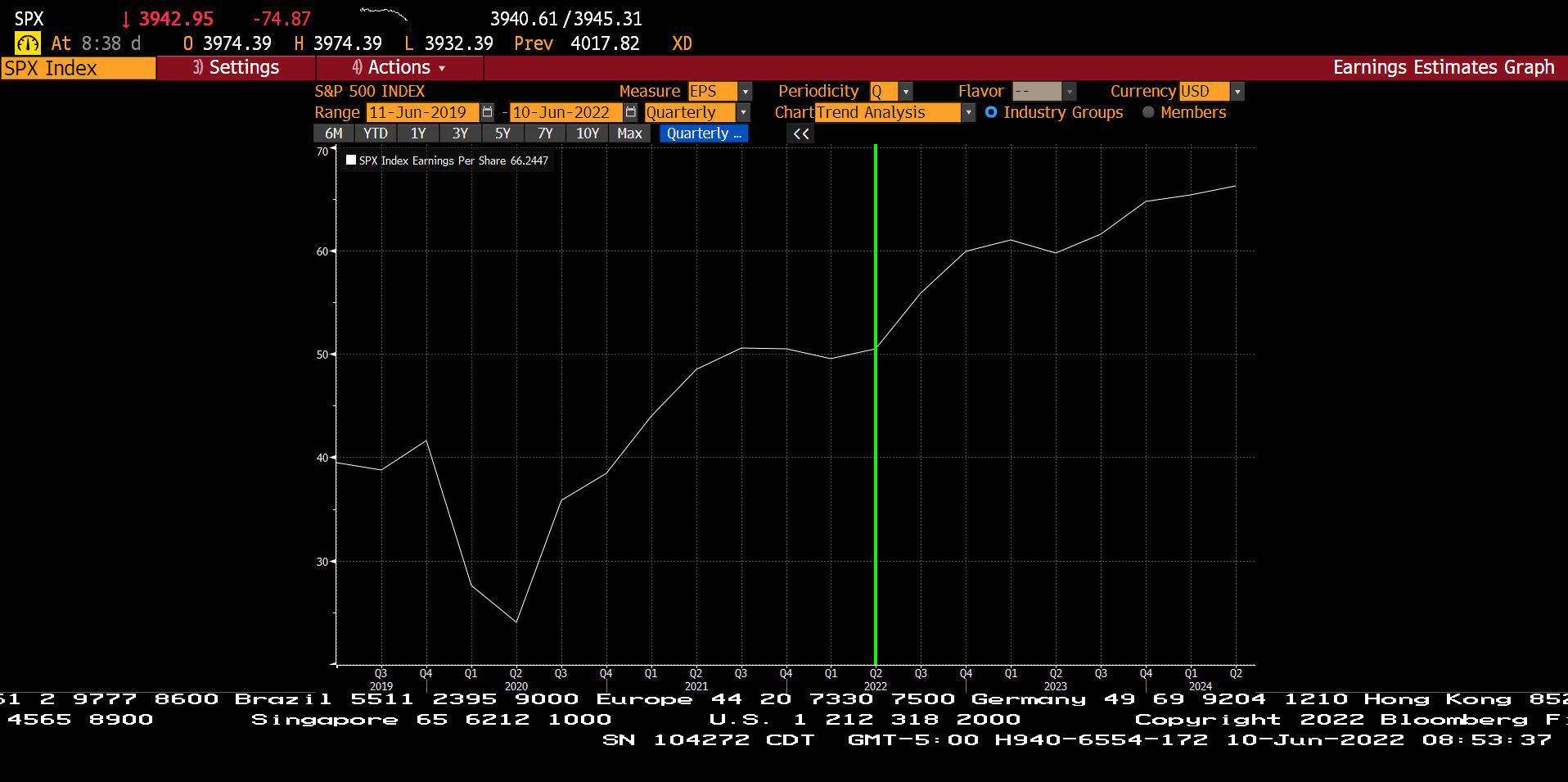 – Courtesy of Bloomberg LP
Invesco QQQ Trust Series 1 (12/31/2021 – 06/10/2022
)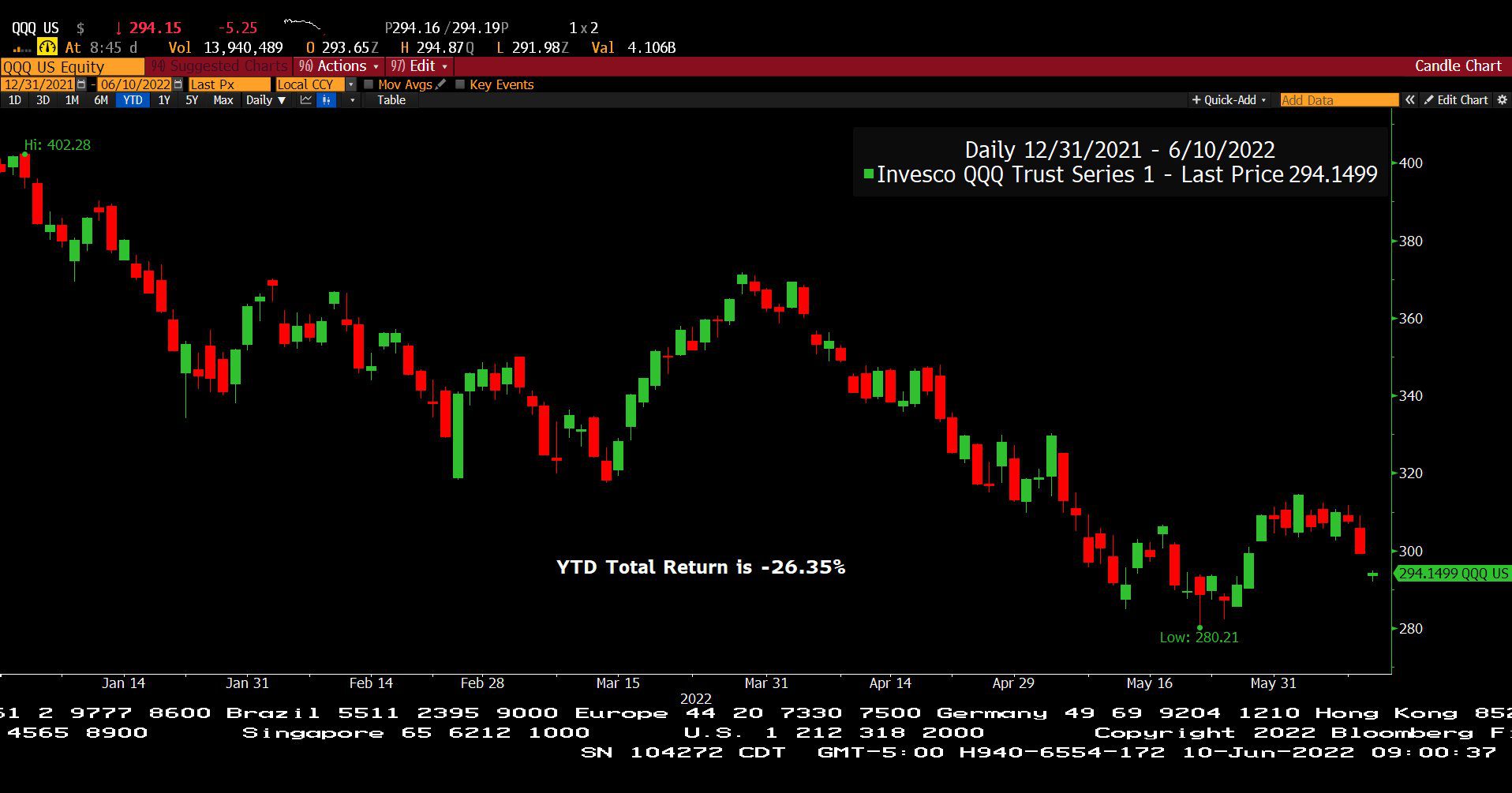 – Courtesy of Bloomberg LP
Dow Jones Industrial Average (12/31/2021 – 06/10/2022
)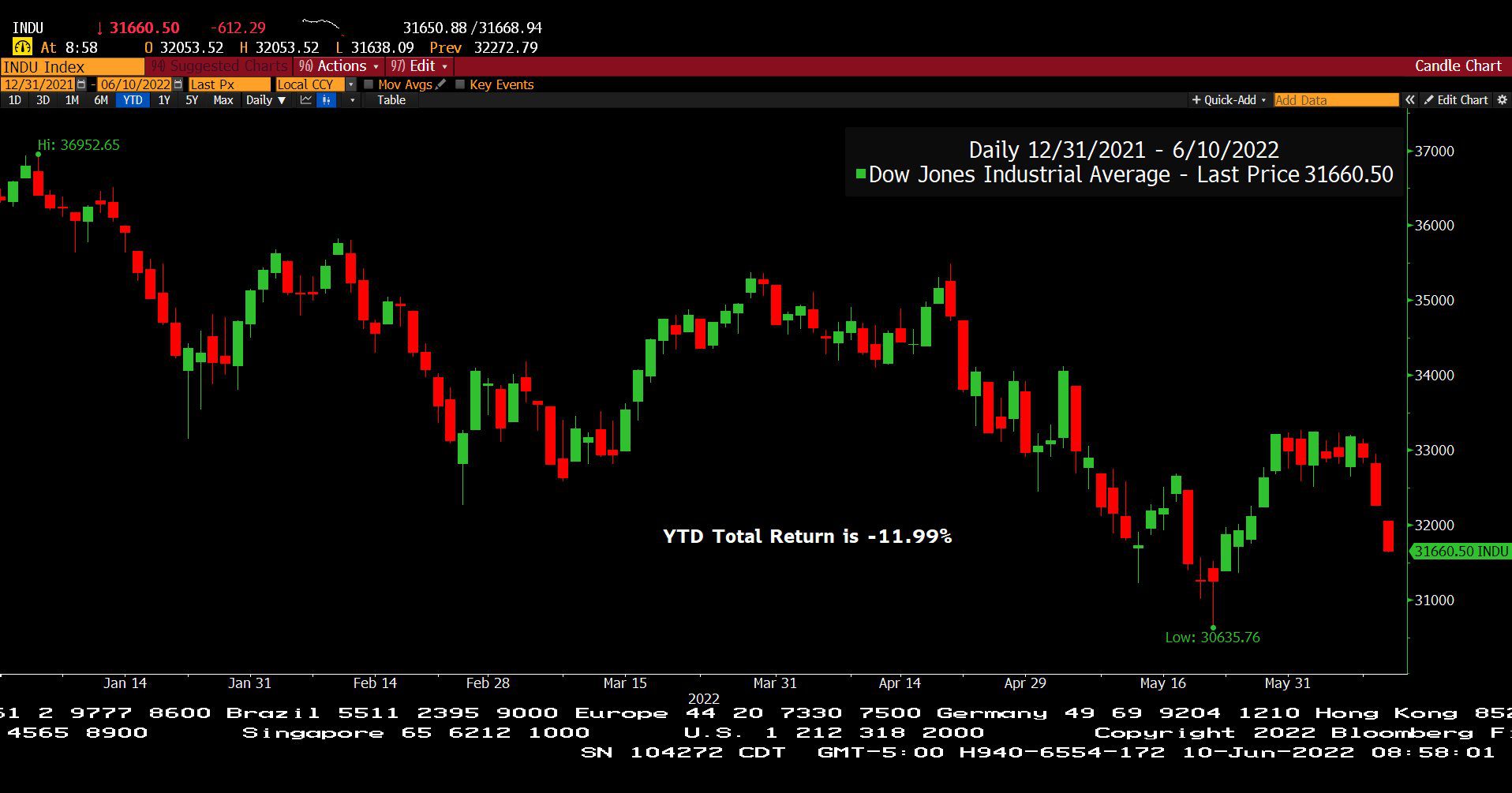 – Courtesy of Bloomberg LP
Energy Select Sector SPDR Fund
(12/31/2021 – 06/10/2022
)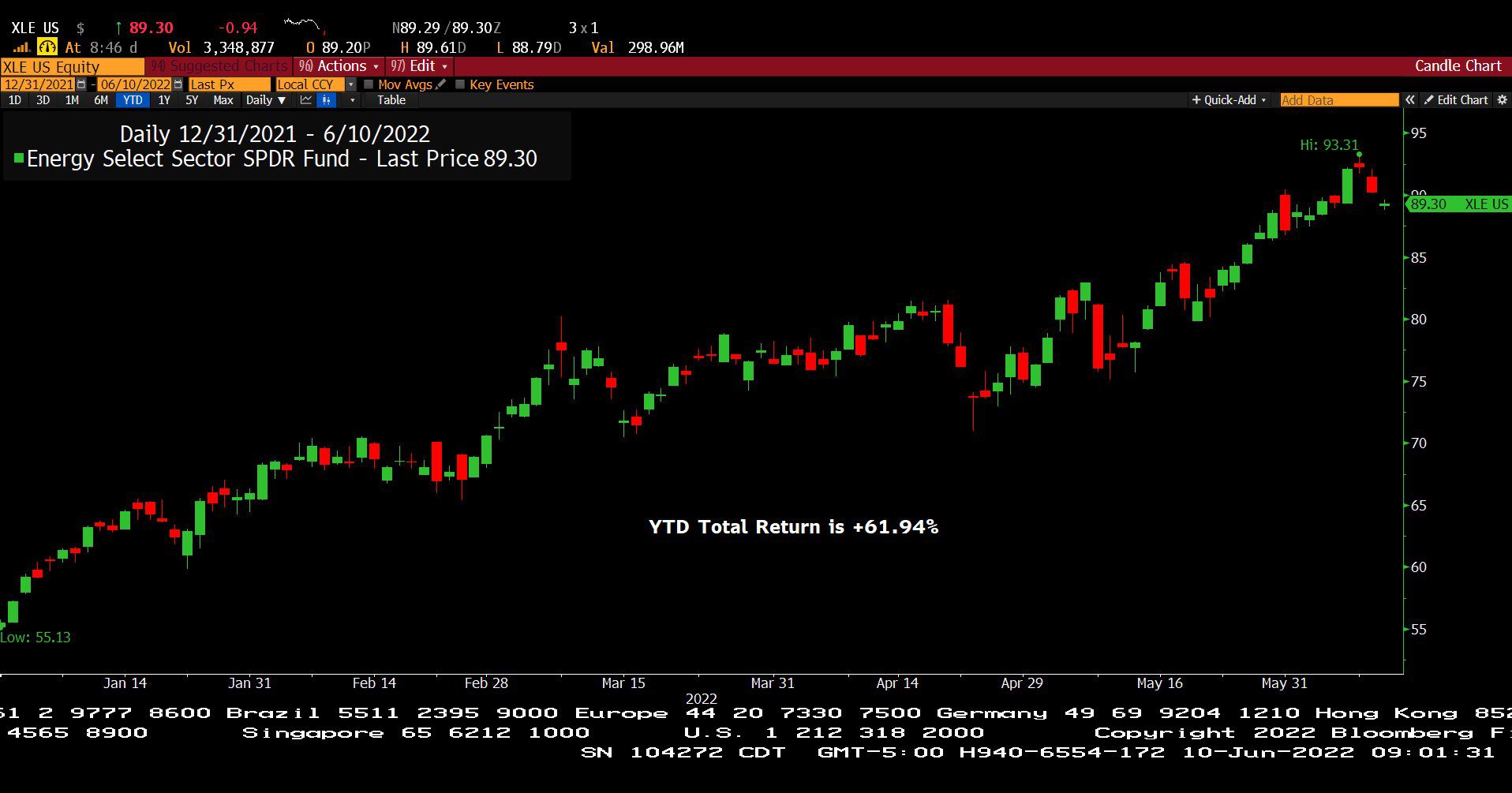 – Courtesy of Bloomberg LP
Profit Report
Great client questions and potential strategy insights.
Donor Advised Funds: How do they work?
Will the world bear the $130 Trillion cost for net zero emissions?
Research Round Up!
Investors are invited to improve decision making with a comprehensive tour of global economics, indicators, and actual results.
---
Start the Process Today! Be sure to indicate what size portfolio sample you would like to see. A link will arrive when we receive your questionnaire.