Q: Why was the Federal Reserve meeting in Jackson Hole this week?
A: It was held in a few different locations in the late 1970s, but Jackson Hole has been the location since 1981. The conference was placed there partly because Paul Volcker, the then-Federal Reserve Chairman, wanted to attend the great fly fishing in the area, which is held in late August.
Q: What areas of the equity markets got pounded this week and why?
A: Athletic stocks such as Dick's Sporting Goods, Foot Locker, and Peloton (again) dropped over 30% each after recently reporting disappointing earnings and lowered forward guidance.
Q: Why should investors use McGowanGroup Wealth Management (MGWM) to update their investment plan?
A: At the McGowanGroup "The Team That Cares" provides investors with a clear and realistic investment plan that includes designing and managing a tailored portfolio of great assets with growth potential.
Headline Round Up
*Wall Street Journal: China's 40 Year Economic Boom is Over!
*Wharton's Jeremy Siegel, Professor of Finance at the Wharton School of Business, Declares Productivity is Making the Federal Reserve's Job Easier.
*A Nation of Taxes: 1% Buyback Tax Costs Companies $3.5 Billion in the first half of 2023.
*Advice From Fidelity Manager, Joel Tillinghast, That Has Enjoyed an Annualized Total Return of 13% Since 1989.
*Mortgage Rates Highest Since 2000!
*Jumbo Mortgage Loan Lending Tightens Up.
*Oil to Hit $100 Declares Standard Charter Analysts.
*Increasing Number of Americans Want Nuclear Power.
*Solar Boom Spreads to Self-Storage Rooftops and Big Property Owners.
*Number of Nursing Homes Dropping Rapidly in the U.S.?
*BRICS Summit in Johannesburg, South Africa!
*Goldman Sach's Favorite Artificial Intelligence (AI) Picks.
*Deere & Co. Raises Profit Outlook with Strong Farmer Demand.
Mergers and Acquisitions:
*Permian Resources Completes a $4.5 Billion All Stock Acquisition of Earthstone Energy.
*Dallas Based Merit Energy Reserves $1 Billion for Oil and Gas Asset Purchases.
Skid Row:
*WeWork Declares 1 for 40 Reverse Split!
Dow Jones Industrial Average Index Year to Date
(12/30/2022 – 08/25/2023
)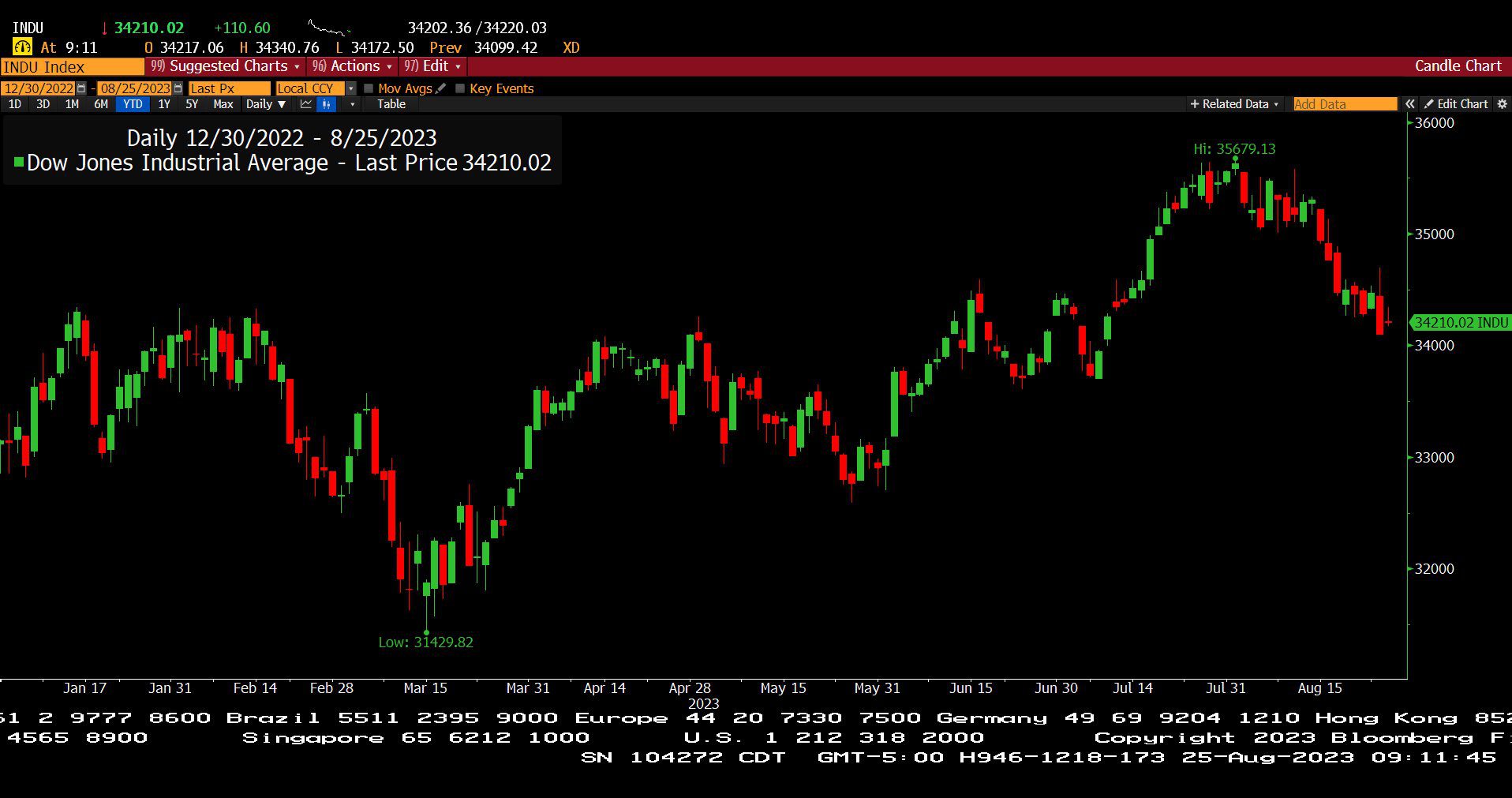 – Courtesy of Bloomberg LP
Evolution of Atlanta Fed GDPNow Real GDP Estimate for Q3 2023 (08/24/2023)
– Courtesy of The Atlanta Federal Reserve
C.B.O.E. Short Term Interest Rate Index
(08/05/2003 – 08/25/2023)
– Courtesy of Bloomberg LP
U.S. Consumer Price Index – Urban Consumers, Year over Year, Non-Seasonally Adjusted 
(03/31/1914 – 07/31/2023
)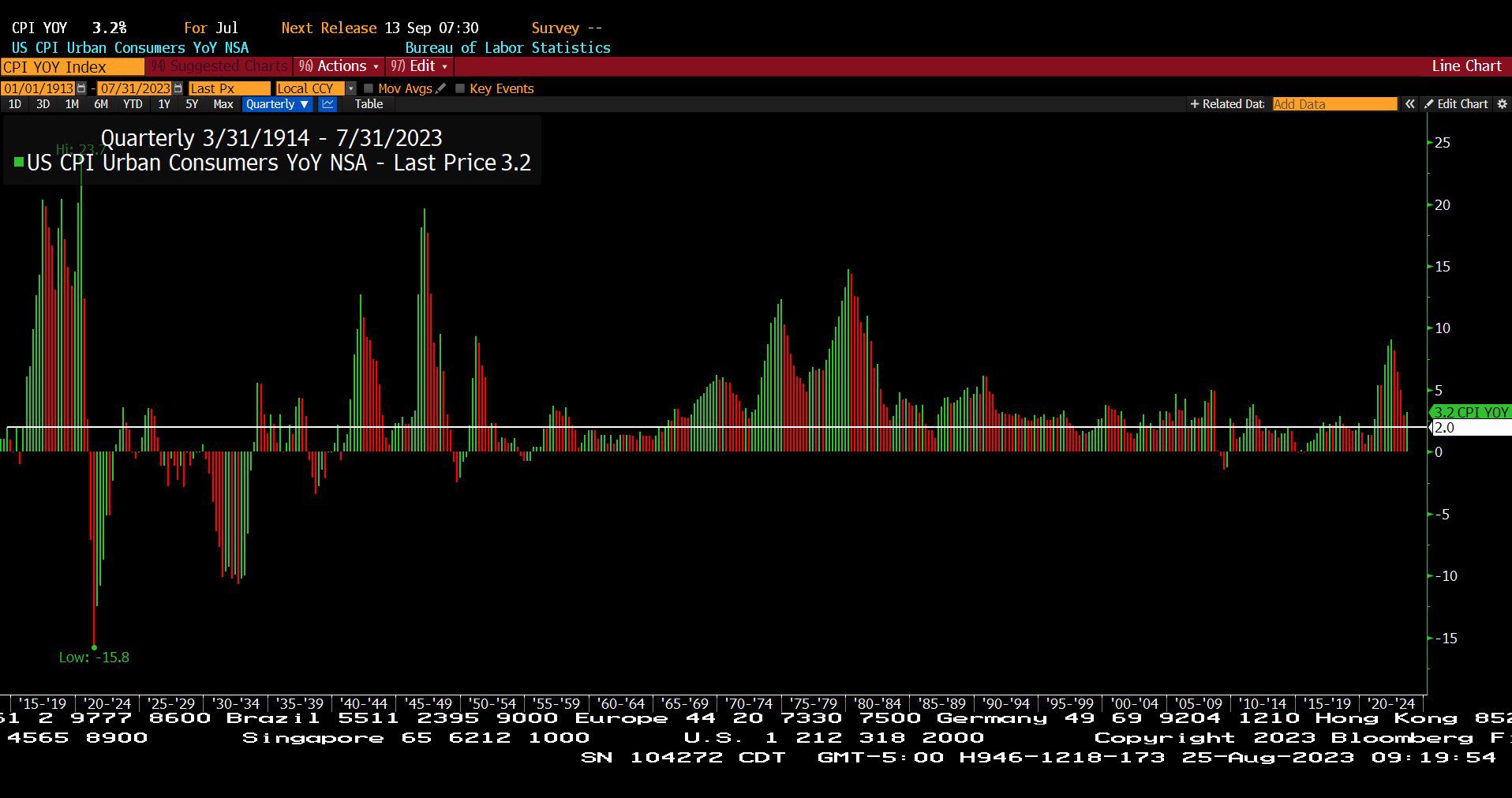 – Courtesy of Bloomberg LP
Dick's Sporting Goods, Inc., Foot Locker, Inc. & Peloton Interactive, Inc.
(12/30/2022 – 08/25/2023
)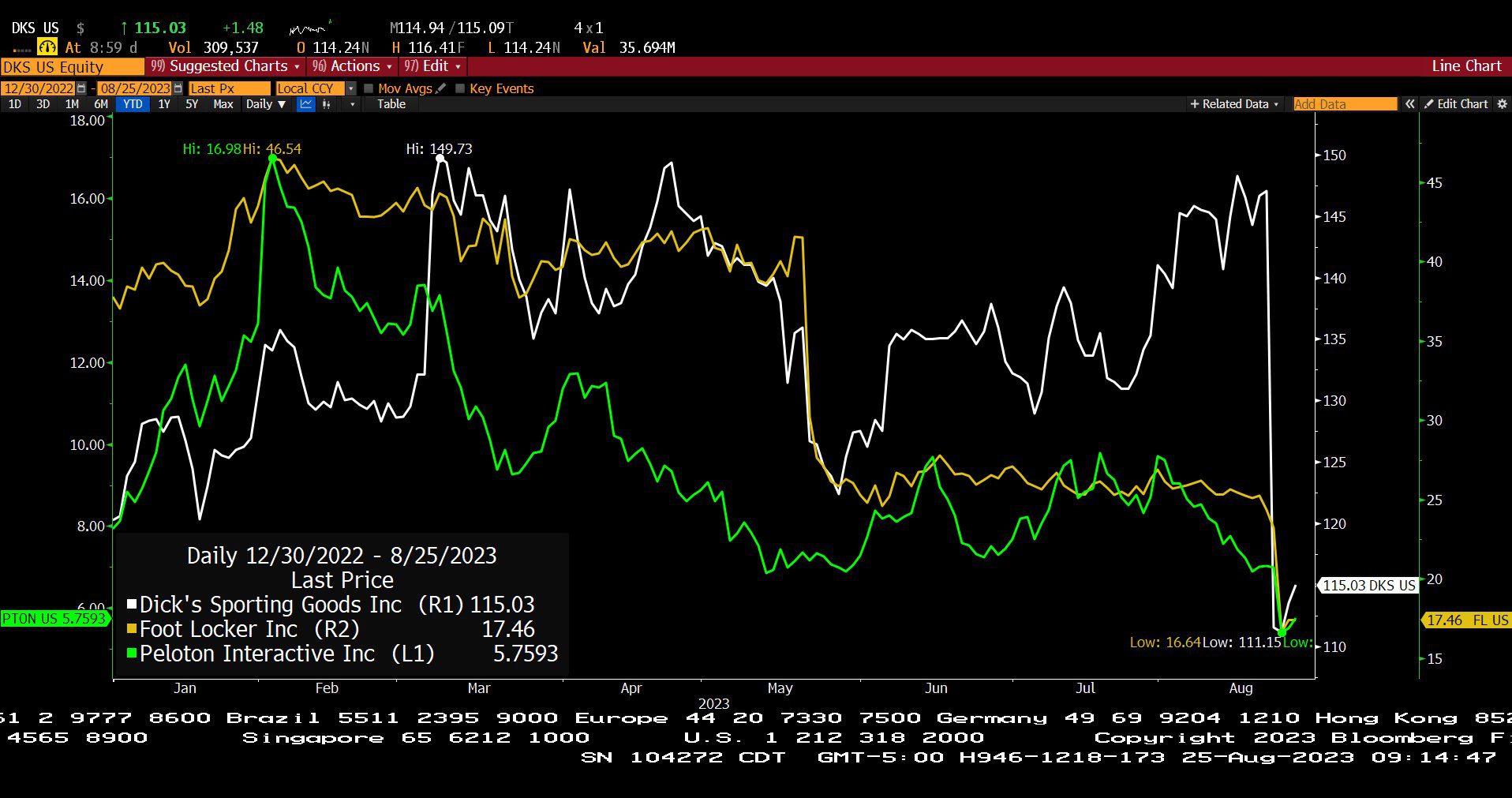 – Courtesy of Bloomberg LP
Standard & Poor's 500 Index – Member Ranked Returns, Top 10 and Bottom 10
(05/25/2023 – 08/25/2023
)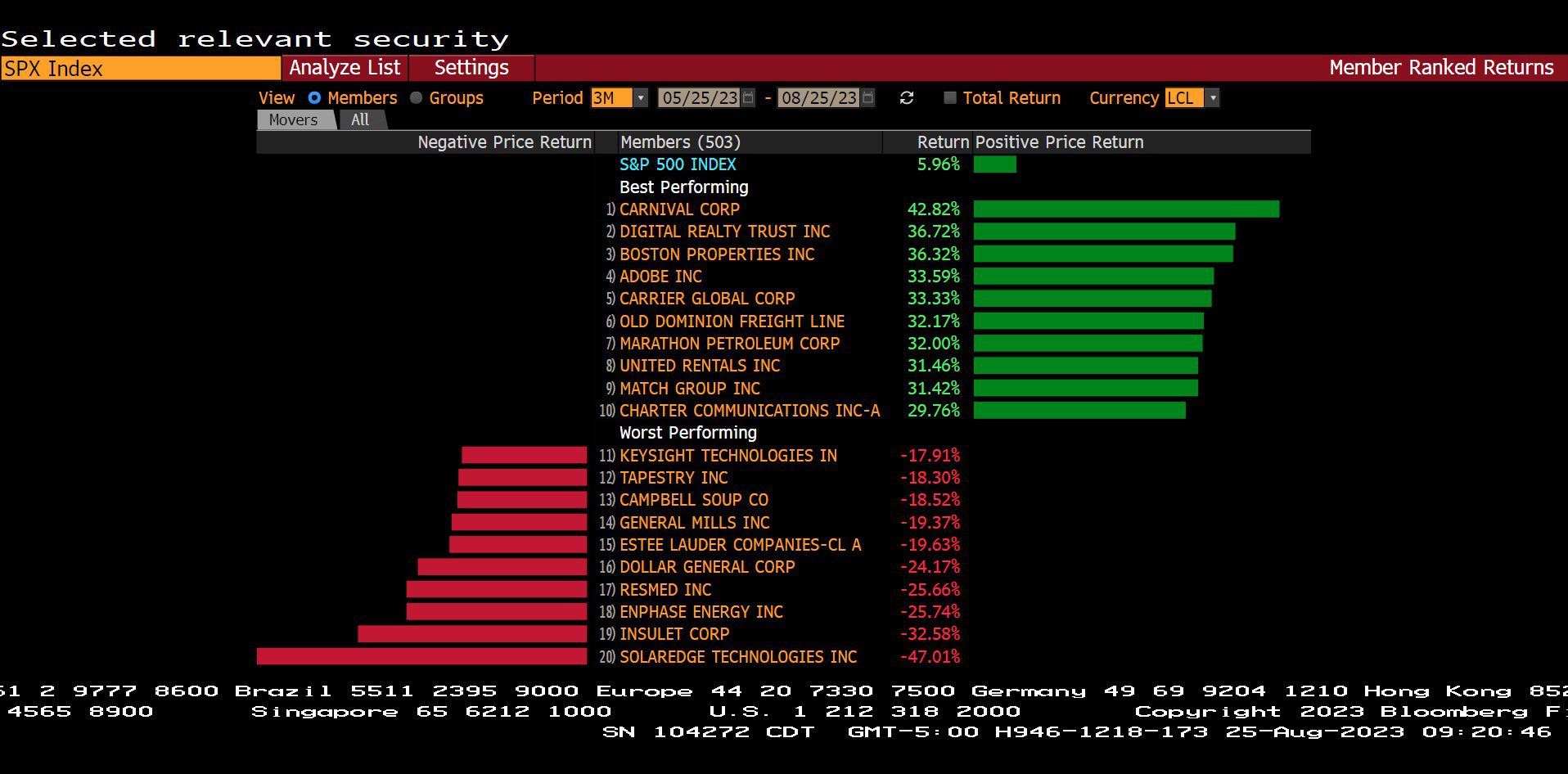 – Courtesy of Bloomberg LP
NetWorth Radio's Dallas Business Leadership Series:

Spencer McGowan Interviews

Ryan "Birdman" Parrott

about the Red Coat Challenge!
---

Former Navy SEAL and Founder of two nonprofit organizations benefitting Veterans and First Responders, is originally from Detroit, Michigan. Birdman enlisted in the Navy after watching the Twin Towers collapse on 9/11 and served eight years as a U.S. Navy SEAL attached to SEAL Team SEVEN, completing three combat tours to Iraq before being assigned to Advanced Training Command as an Instructor.
In 2005, while serving in Iraq, Birdman was riding atop a Humvee manning the gun turret in enemy territory, when his vehicle was hit by an improvised explosive device (IED), causing a detonation and throwing him from the Humvee. Birdman regained composure with his face and hands burned and witnessed his fellow team members suffer devastating burn and blast injuries. His entire team survived their injuries and went back to operating.​
In 2012, Birdman established Sons of the Flag to help Veteran and First Responder burn survivors and their families find the help and medical attention they truly deserve. He recognized that burn care treatments and advancements had not been evolving as other forms of injuries, so he made it his mission to do something about it!
He is also the founder of the Birds Eye View Project, addressing the extreme needs of Veterans and First Responders through extreme sports.
Birdman, by dedicating himself to serving veterans and supporting suicide prevention, launched The Human Performance Project. This concept
was to take health and wellness to the next level of human performance. The launch event is the opportunity of a lifetime: 7 continents in 7 days including skydives, distance runs, and even a snowball fight in Antarctica!
Profit Report
*How realistic is the Federal Reserve's target of 2% inflation?
*Why should investors hire McGowanGroup Wealth Management (MGWM) to build Energy and Global High Yield portfolios?
Research Round Up!
Investors are invited to improve decision making with a comprehensive tour of global economics, indicators, and actual results.
---
Start the Process Today! Be sure to indicate what size portfolio sample you would like to see. A link will arrive when we receive your questionnaire.