July brings arguably some of the worst quarterly Financial and Economic reports in modern history. The Dow and S&P, it could be argued, are literally whistling past the graveyard.
The most important conclusion for investors could be a Range Bound market waiting for earnings to justify valuations.
How long could that flatness with downdrafts take before reaching new highs?
What are the strategy implications for investors?
What choices represent "How The Tough Really Get Going?"
A deep dive into the updated charts, Economic and Trading data begins this week's program.
Dow Jones Industrial Average (Approx. 4 Years)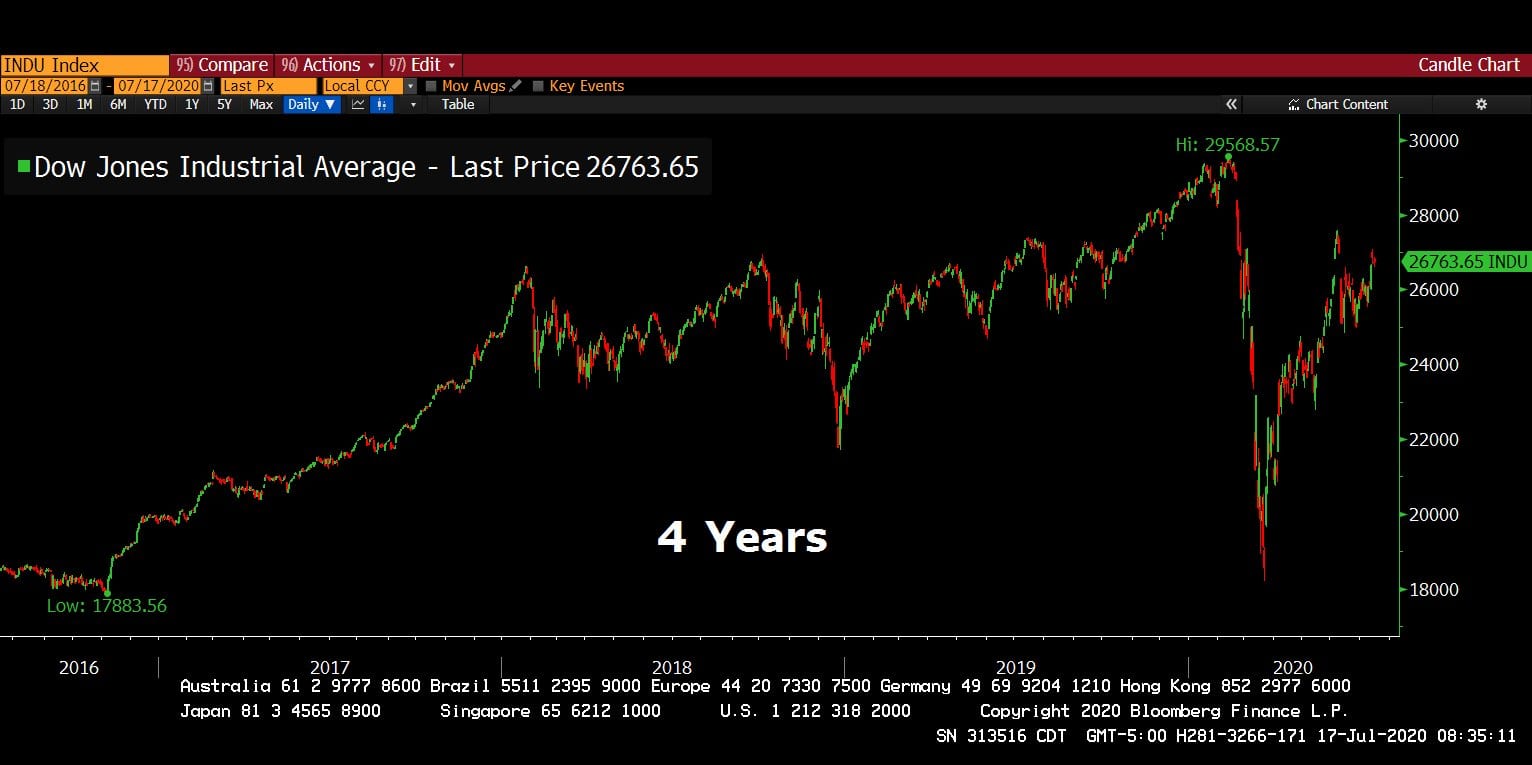 – Courtesy of Bloomberg LP
U.S. Cosumer Price Index – Urban Consumers, Month over Month (01/01/2019 – 06/30/2020)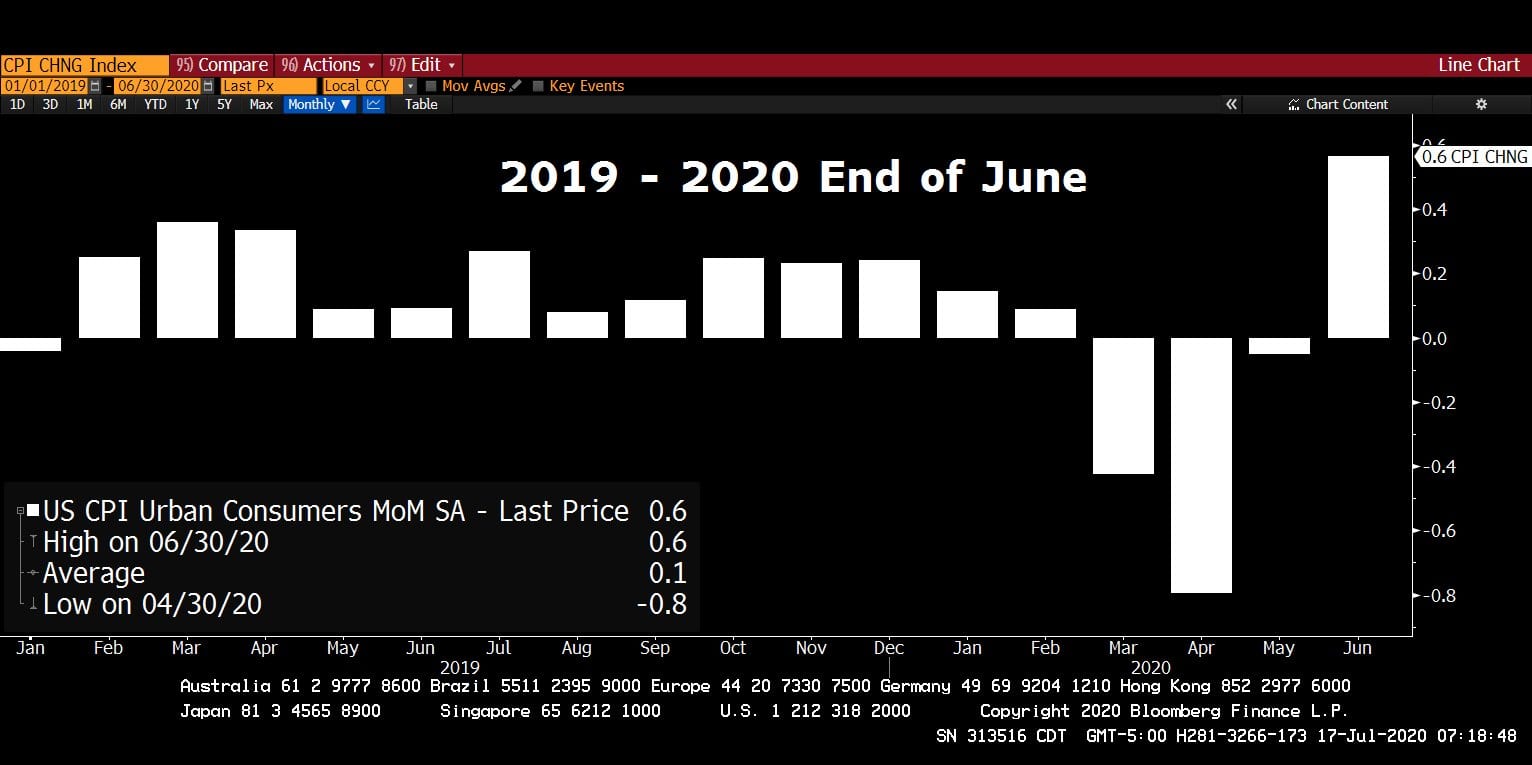 – Courtesy of Bloomberg LP
Standard & Poor's 500 Index – Earnings Estimates Graph
(3 Years)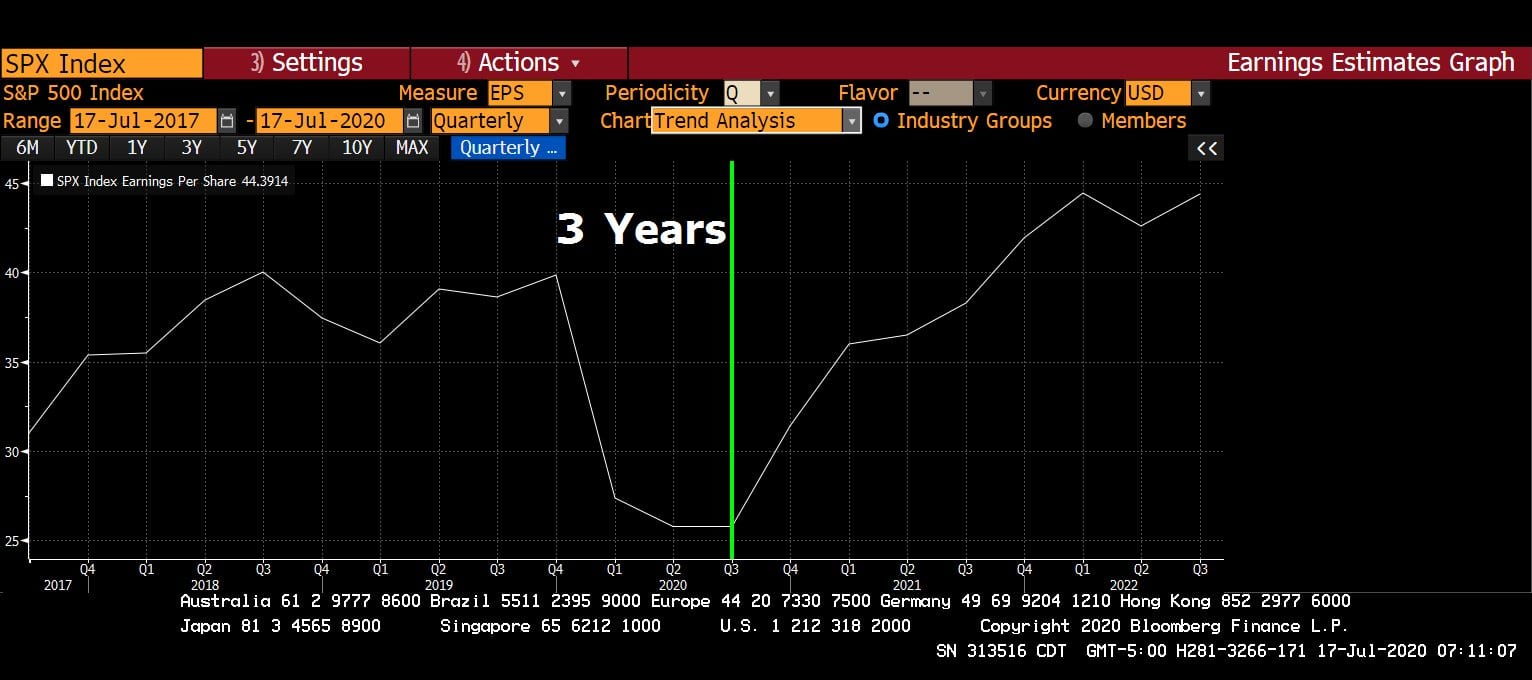 – Courtesy of Bloomberg LP
Yearly U.S. Economic Actual & Estimated Forecasts w/ Probability of Recession (2013 – 2022) 
– Courtesy of Bloomberg LP
Invesco QQQ Trust Series 1 (Approx. 25 Years)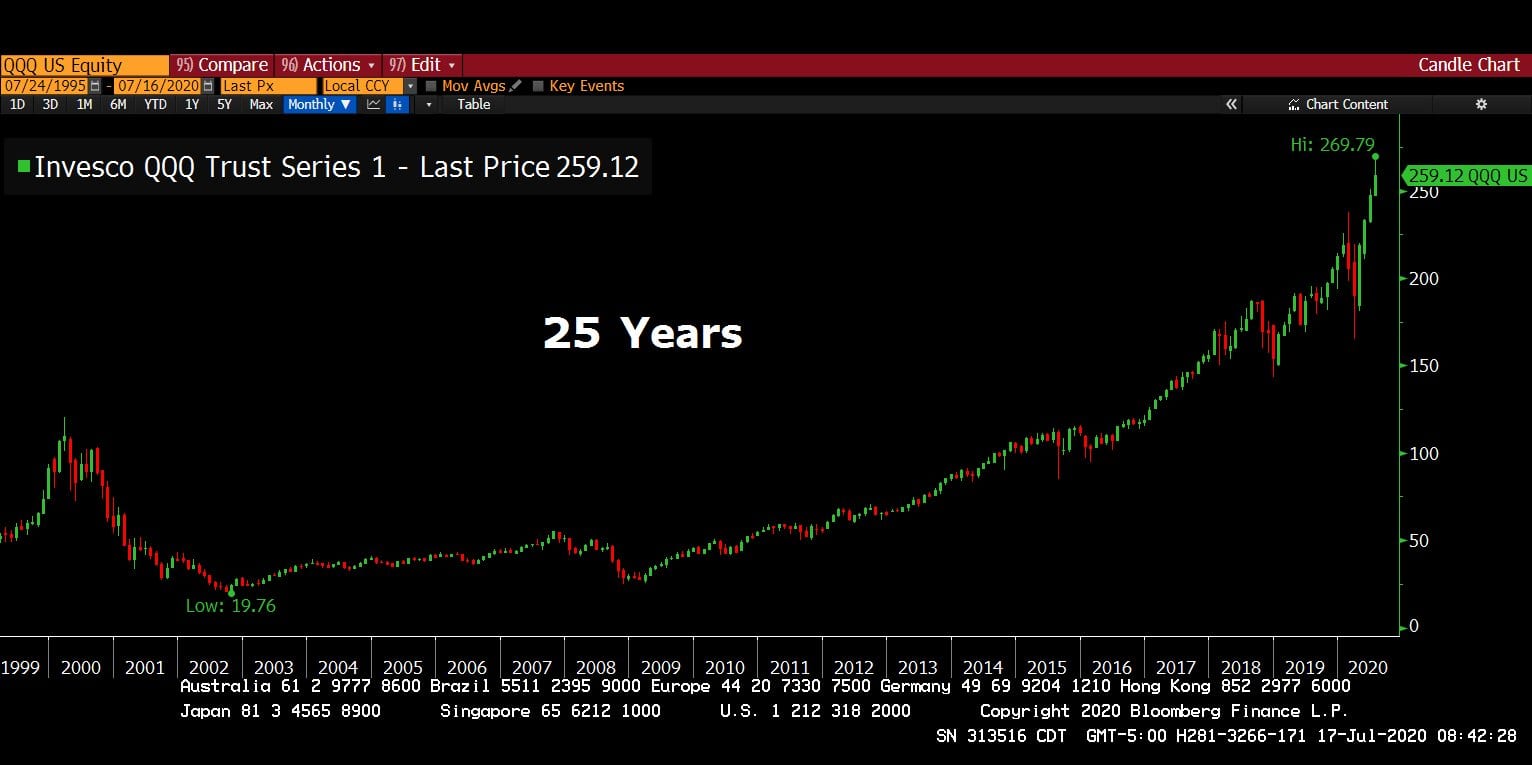 – Courtesy of Bloomberg LP
Health Care Select Sector SPDR Fund
(Year to Date)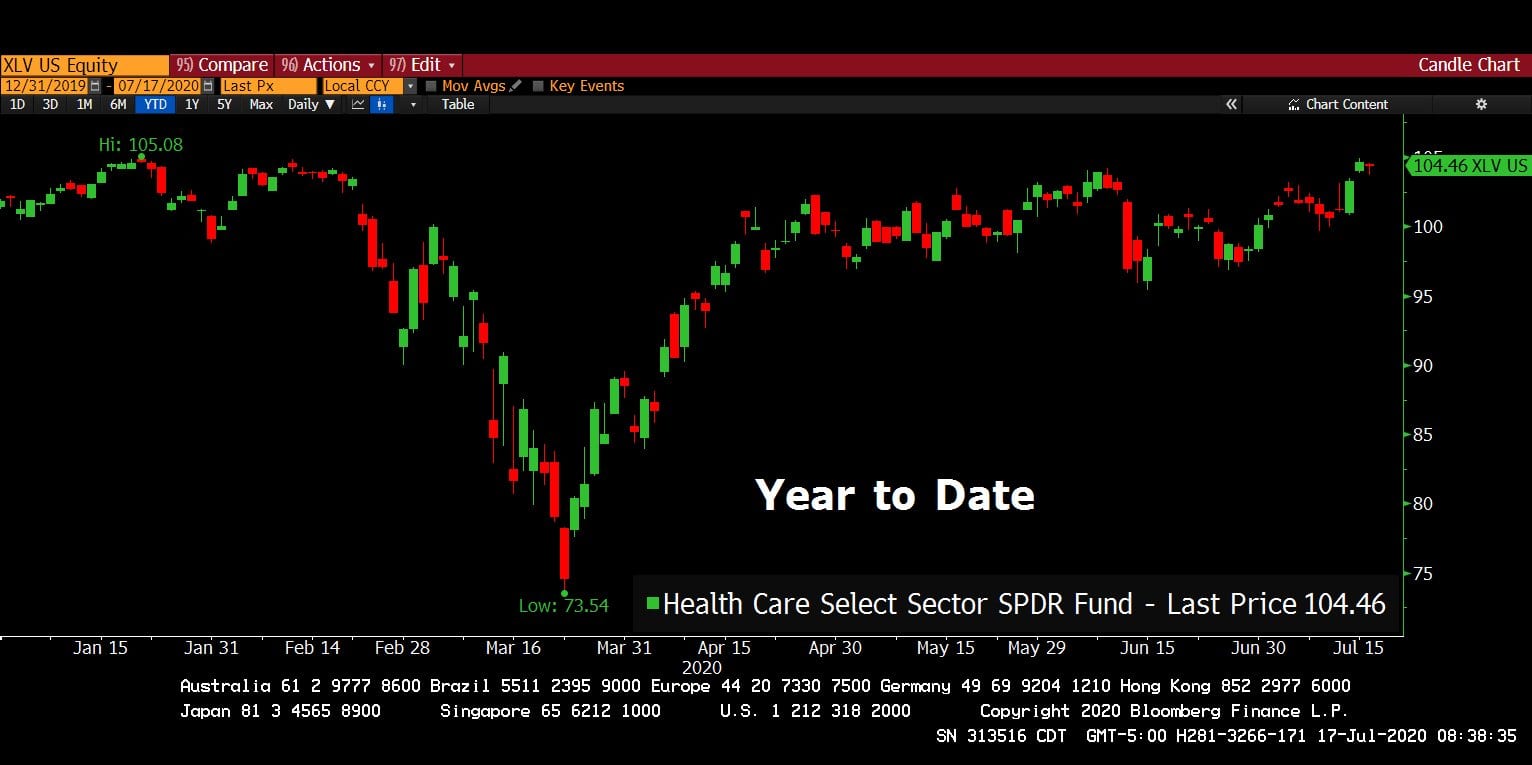 – Courtesy of Bloomberg LP
AllianceBernstein Global High Income Fund, Inc. & BlackRock Corporate High Yield Fund, Inc.
(12/29/2006 – 12/31/2012)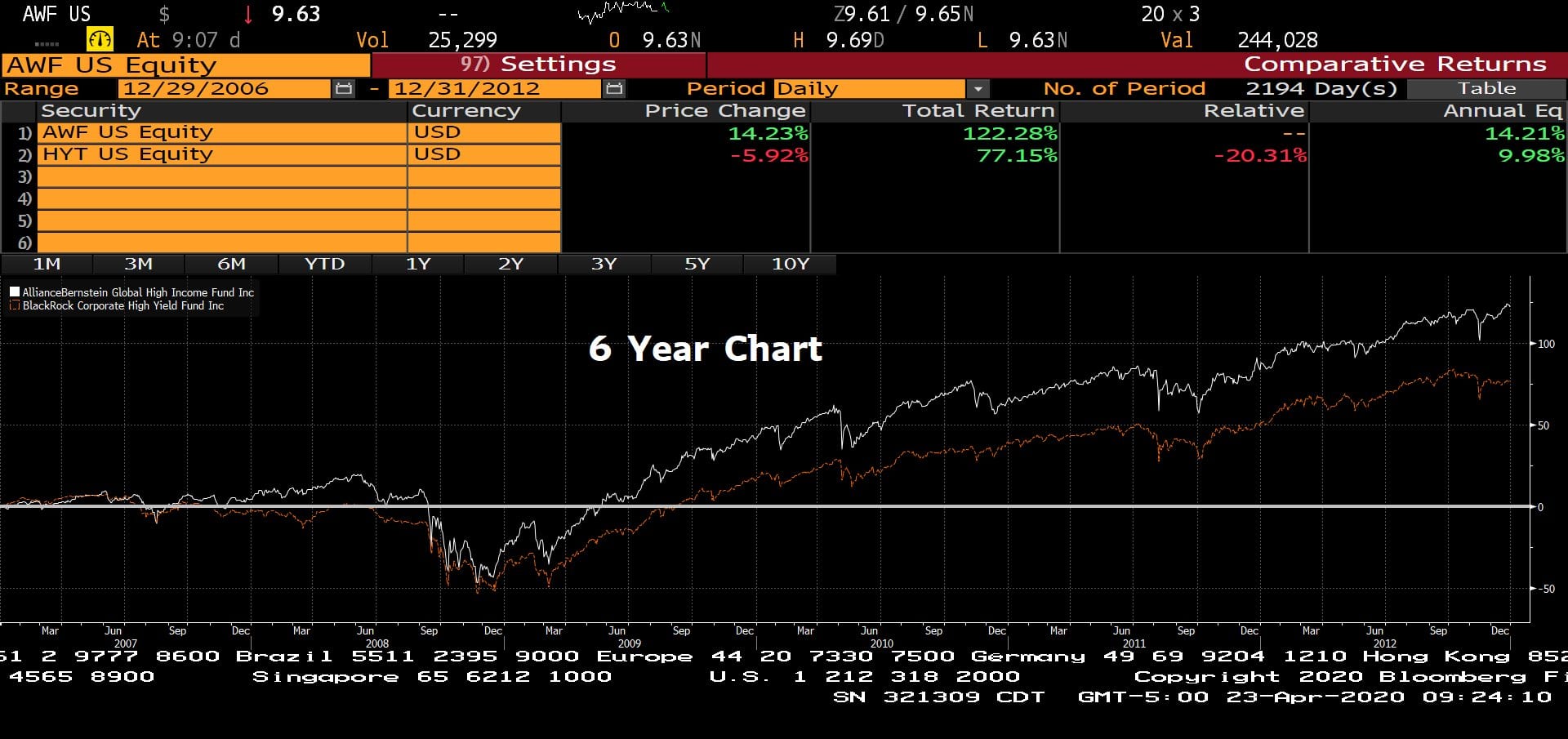 – Courtesy of Bloomberg LP
Headline Round Up!
*Retail Sales Spike 7.5% Into Actual Annual Growth?
*Empire State Growth!
*Industrial Output Rising "Better than Expected."
*Inflation During June!
*Federal Budget? Not Really!
*Copper Prices Spike Telegraphing Growth and Inflation?
*China Announces Q2 Growth of 3.2%???
*Q2 Results Coming Fast and Furious! What do they tell us?
*Corporate Quarterly Results!
*Take Your Vitamin D!?
*Tesla On the Way to Austin! Travis County
Texas Energy Gold Rush
*$41 for Oil? What's ahead for 2021?
*Dominion Buffett Analysis
*Could Pipelines Be the Best Real Estate Bargains?
Profit Report!
*Notable 2020 Performances: What does this tell us about forward strategy for North Texas based company performances?
*What's Ahead in the Numbers this Week?
*Summer Planning Season:
*CPA 2020 Projection Appintments!
*401k and IRA Beneficiary Updates!
*Updated Plan for 2021!
*Living Trust Actual Planning Case From This Week.
*Get Ahead of Retirement Planning! 401k Allocation Updates. In Service Rollovers to Convert to High Cash Flow IRA's.
*Nuveen Real Estate Updates for July.
Research Round Up!
Investors are invited to improve decision making with a comprehensive tour of global economics, indicators, and actual results.
---
Start the Process Today! Be sure to indicate what size portfolio sample you would like to see. A link will arrive when we receive your questionnaire.