What are the dramatic differences in the Financial markets for the decade ahead compared to the past decade?
How long will Cash Rates remain zero?
Why are traditional low-cost Fixed Income allocations likely to disappoint over the next decade?
What would end the speculative frenzy in the markets?
When will the Federal Reserve's bond buying/money printing end?
What would surprise the greatest number of investors?
How much tactical safety should I have?
Has Real Estate reached peak pricing?
What are the best Inflation strategies?
What does the price of lumber tell us about future Inflation?
How does the Infrastructure bill impact the evolution of clean technologies?
The 2021 Q4 MGAM Client Update
Wow! Vanessa Avila, our Director of Client Reporting has evolved the client portal app.modestpark.com to a new level of planning utility. As you scroll through the pie charts you will notice the addition of Investment category and sub sector allocations. This takes our review process to a new level of allocation reporting mastery providing the ability to easily see the key components of the portfolio discussed in this update.
It is our belief that McGowanGroup Asset Management is poised for a great decade ahead in both relative and absolute risk adjusted performance evidenced by the results since Q4 of 2020.
As both the team and Investment Committee have evolved with a base of highly intelligent clients, applied technology is providing greater research and trading capability as well as evolving excellent service platforms.
Compelling Opportunities
Tactical Safety
What about the next correction? Over the past 35 years since the practice was founded, a key to success has been deployment of safety reserves into great assets at bargain prices after market disruptions. Our research sources indicate the potential for a tightening rate spike in 2023.
Global High Yield Lending
With cash rates near zero, money flows appear to indicate a cash flow panic on the part of institutions and pensions. The current phase investors seeking yield provides appreciation opportunities with great bond managers that have higher yielding portfolios in place. This phase could last through 2022.
Growth with Income
Dividend companies with the ability to raise payouts have also provided a long-term inflation hedge based upon previous cycles. The strong level of recent inflation leads us to the conclusion that opportunities in Healthcare and Energy Infrastructure are reasonably able to benefit from systemic inflation. Current research for our target list includes Real Estate Investment Trusts and Utilities capable of providing cleaner power.
Growth and Innovation
Equity corrections have provided and, are likely to continue to provide the ability to add great innovation companies and funds at bargain prices. The evolution of Clean Technologies and Global Technology platforms provides a foundation for future appreciation.
Dow Jones Industrial Average
(Year to Date)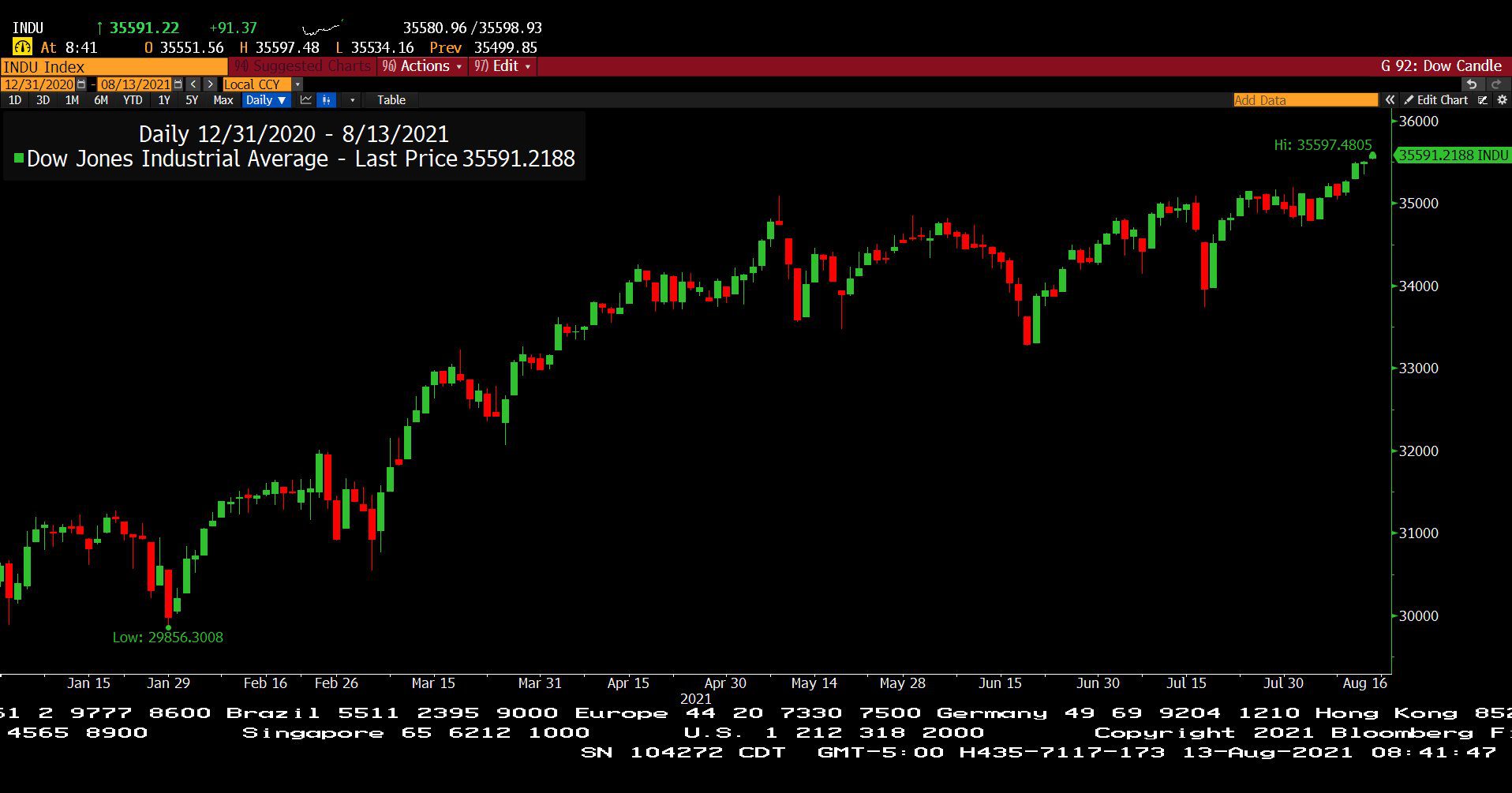 – Courtesy of Bloomberg LP
Standard and Poor's 500 Index Quarterly Earnings Analysis by Sector
(05/16/2021 – 08/05/2021)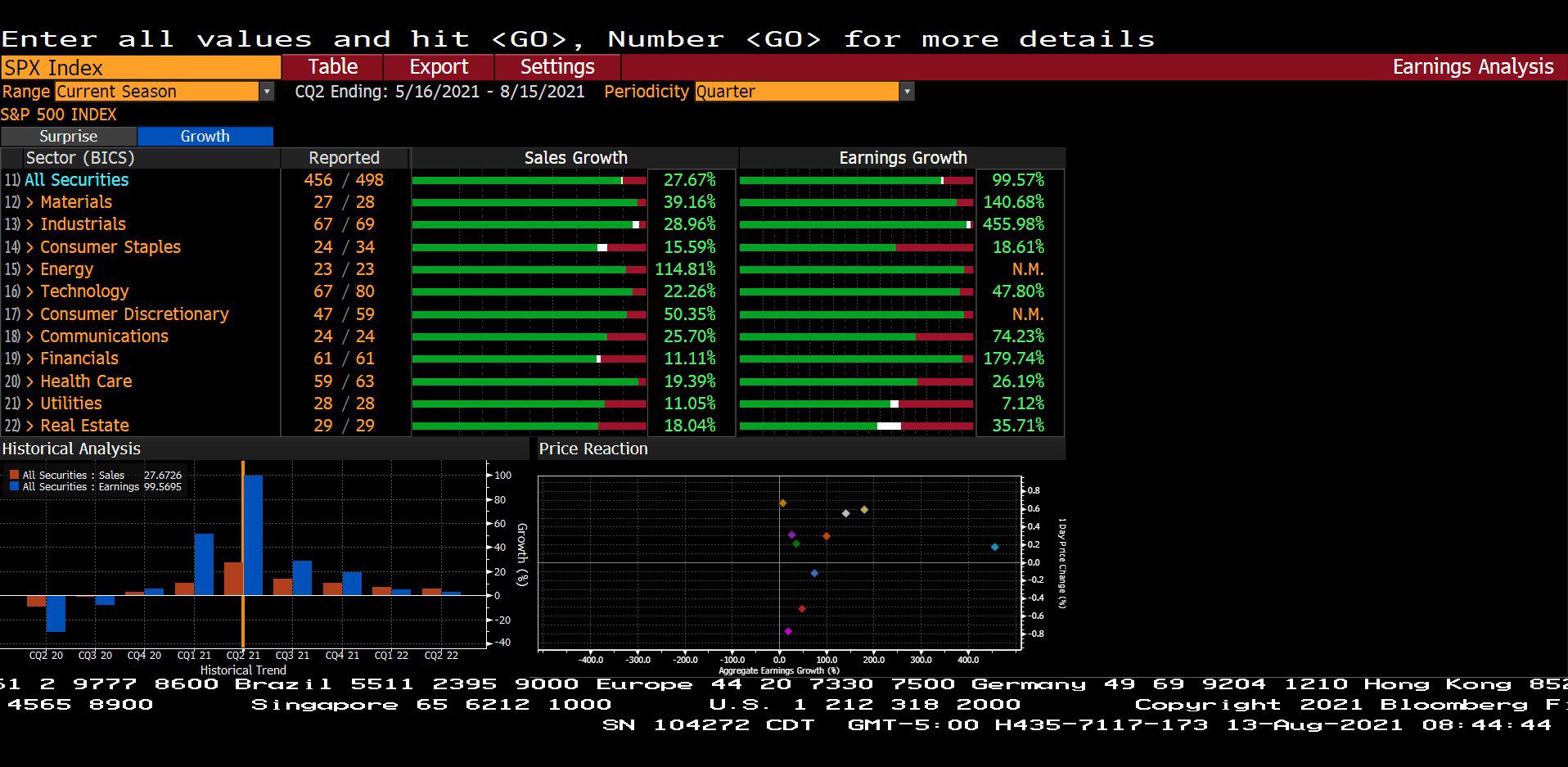 – Courtesy of Bloomberg LP
Standard & Poor's 500 Index, Top 10 and Bottom 10 Companies
(08/13/2021) 
– Courtesy of Refinitiv
C.B.O.E. Short Term Interest Rate and 10 Year Treasury Note Yield Indexes
(Approx. 20 Years)
– Courtesy of Bloomberg LP
European Natural Gas Futures Contract Spot Price (Approx. 5 Years)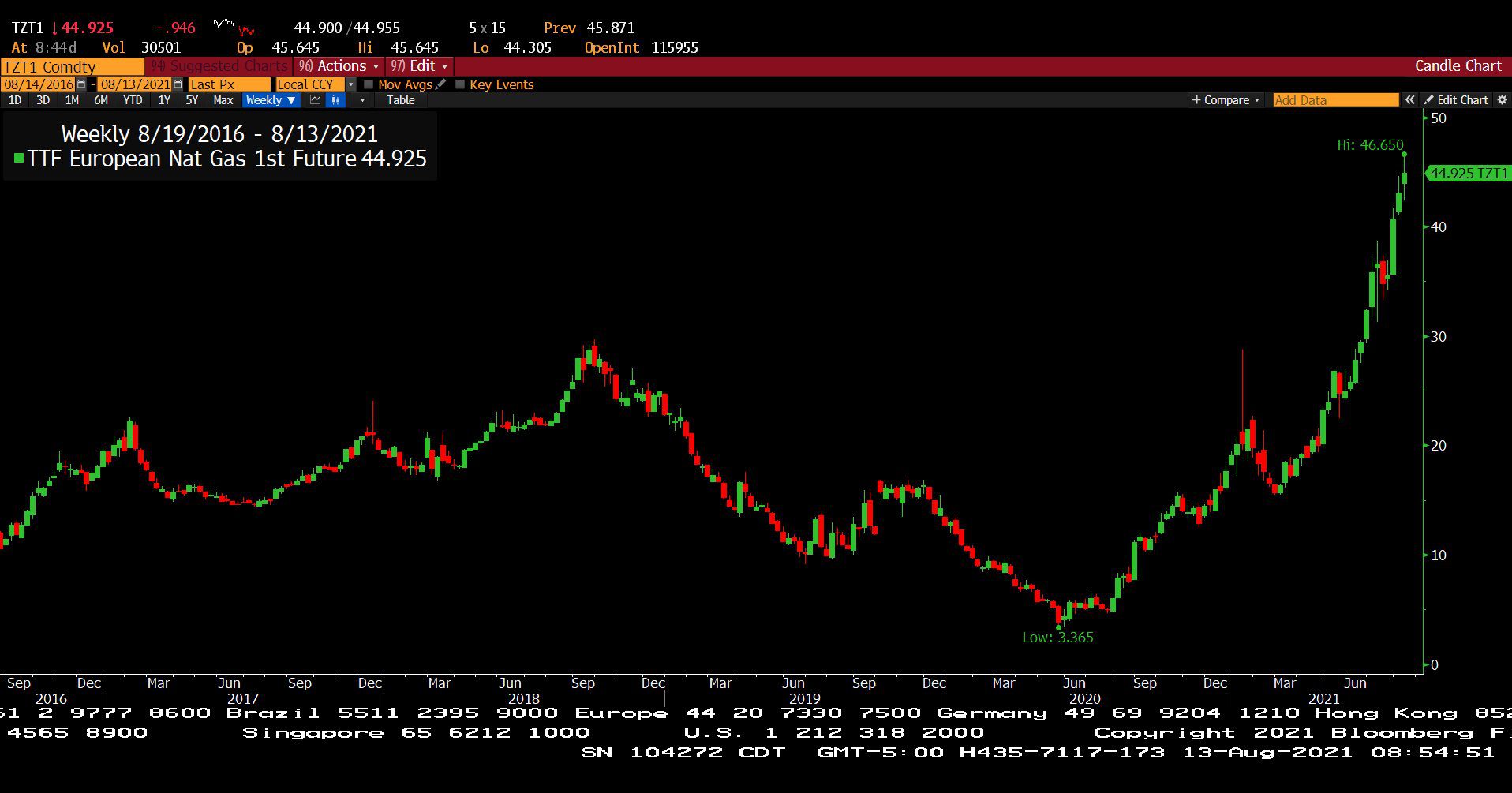 – Courtesy of Bloomberg LP
Headline Round Up
*European Natural Gas Spikes 10X to $45! How does the "net zero" campaign impact Oil and Gas?
*Inflation Hot as a Texas August!
*Lumber Plummets 70%!
*Home Prices Soar 23%.
*Over 10 Million Jobs Available! 6 million to go for record employment. Will record employment signal the end of the accommodating Fed?
*Two Fed Officials Say Stop Printing Money!
*Budget Deficit $2.5 Trillion in 10 Months!
*Stagflation Portfolio! What's in them?
*Emerging Bond Sweet Spot?
*Steel Makers Surge on U.S. Infrastructure. Best opportunities?
*Berkshire Operating Earnings Jump 21%.
*Blackstone Buys Out WPT Industrial REIT.
*Air Taxis by 2024?
*The USD Coin Cryptocurrency Discloses Backing That Was Not True.
*$600 Million Stolen By Hackers Who Then Gave Some of it Back???
*Global Clean Hydrogen Market Set to Double this Year.
*Plug Power Breaks Ground on Green Hydrogen Plant.
*Biden Calls on OPEC to Pump More Oil? How about Texas?
*Home Sales Fall in North Texas for Second Month. Prices Continue to Skyrocket.
*Amazon Backed Rivian Automotive Buying Huge Texas Plant!
*Attention Space Rangers: $450,000 Tickets Going Fast.
Profit Report
What is Alex going to study for CPWA continuing education?
Summer Planning Season!
Best Client Questions of the Week.
MGAM Disciplines and Evolution.
Research Round Up!
Investors are invited to improve decision making with a comprehensive tour of global economics, indicators, and actual results.
---
Start the Process Today! Be sure to indicate what size portfolio sample you would like to see. A link will arrive when we receive your questionnaire.