Why is the Dow Jones demonstrating resilience near 35,000 in the face of the current surge in COVID-19 cases?
What does Afghanistan mean for Risks ahead?
What happened to Chinese stocks?
Why did Oil crack and the Dollar rally?
What does The McGowanGroup say about the Financial Markets now?
The 2021 Q4 MGAM Client Update
Wow! Vanessa Avila, our Director of Client Reporting has evolved the client portal app.modestpark.com to a new level of planning utility. As you scroll through the pie charts you will notice the addition of Investment category and sub sector allocations. This takes our review process to a new level of allocation reporting mastery providing the ability to easily see the key components of the portfolio discussed in this update.
It is our belief that McGowanGroup Asset Management is poised for a great decade ahead in both relative and absolute risk adjusted performance evidenced by the results since Q4 of 2020.
As both the team and Investment Committee have evolved with a base of highly intelligent clients, applied technology is providing greater research and trading capability as well as evolving excellent service platforms.
Compelling Opportunities
Tactical Safety
What about the next correction? Over the past 35 years since the practice was founded, a key to success has been deployment of safety reserves into great assets at bargain prices after market disruptions. Our research sources indicate the potential for a tightening rate spike in 2023.
Global High Yield Lending
With cash rates near zero, money flows appear to indicate a cash flow panic on the part of institutions and pensions. The current phase investors seeking yield provides appreciation opportunities with great bond managers that have higher yielding portfolios in place. This phase could last through 2022.
Growth with Income
Dividend companies with the ability to raise payouts have also provided a long-term inflation hedge based upon previous cycles. The strong level of recent inflation leads us to the conclusion that opportunities in Healthcare and Energy Infrastructure are reasonably able to benefit from systemic inflation. Current research for our target list includes Real Estate Investment Trusts and Utilities capable of providing cleaner power.
Growth and Innovation
Equity corrections have provided and, are likely to continue to provide the ability to add great innovation companies and funds at bargain prices. The evolution of Clean Technologies and Global Technology platforms provides a foundation for future appreciation.
Dow Jones Industrial Average
(Year to Date)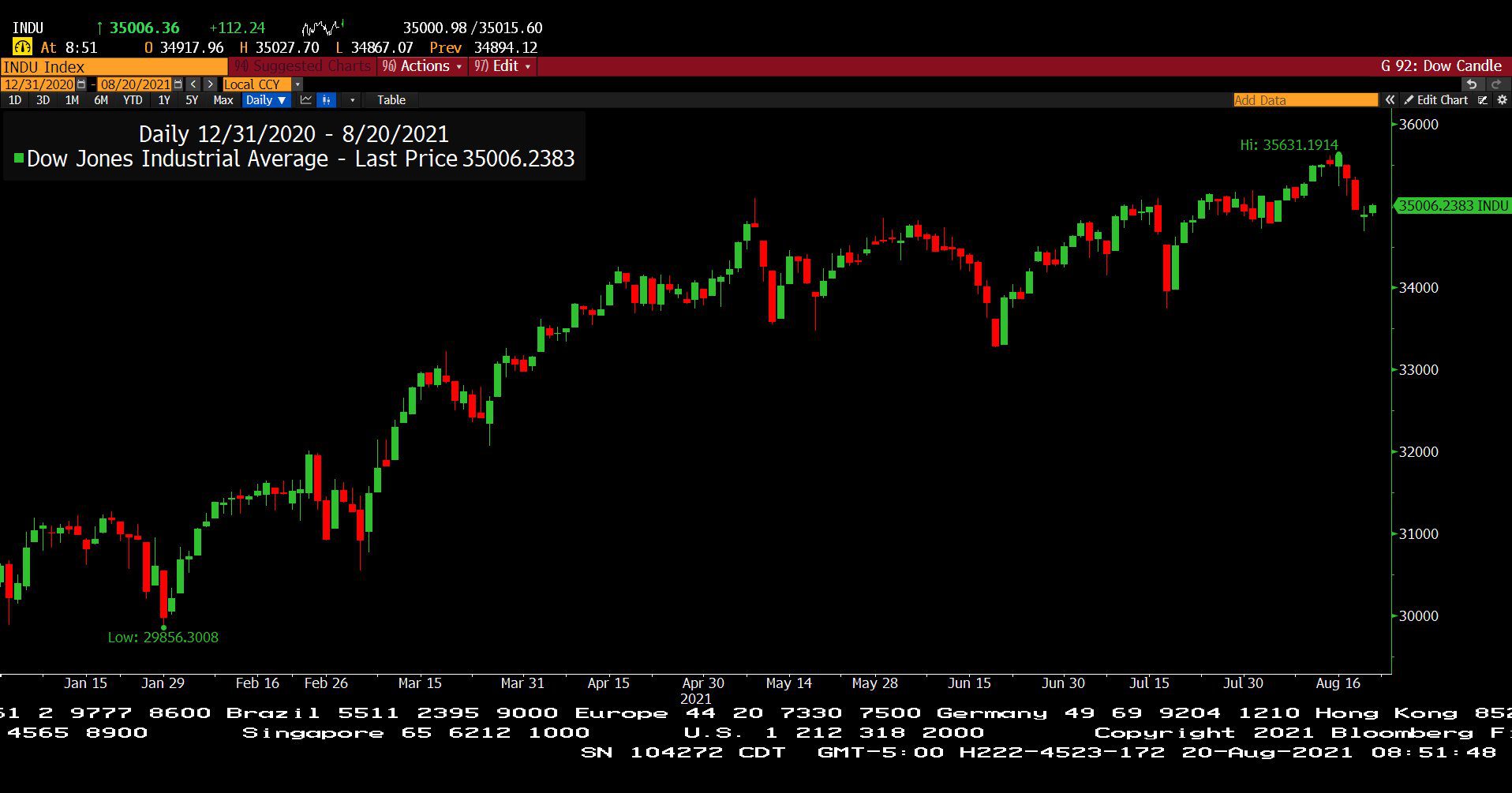 – Courtesy of Bloomberg LP
Microsoft Corp., Adobe, Inc. & Cisco Systems, Inc.
(Approx. 20 Years)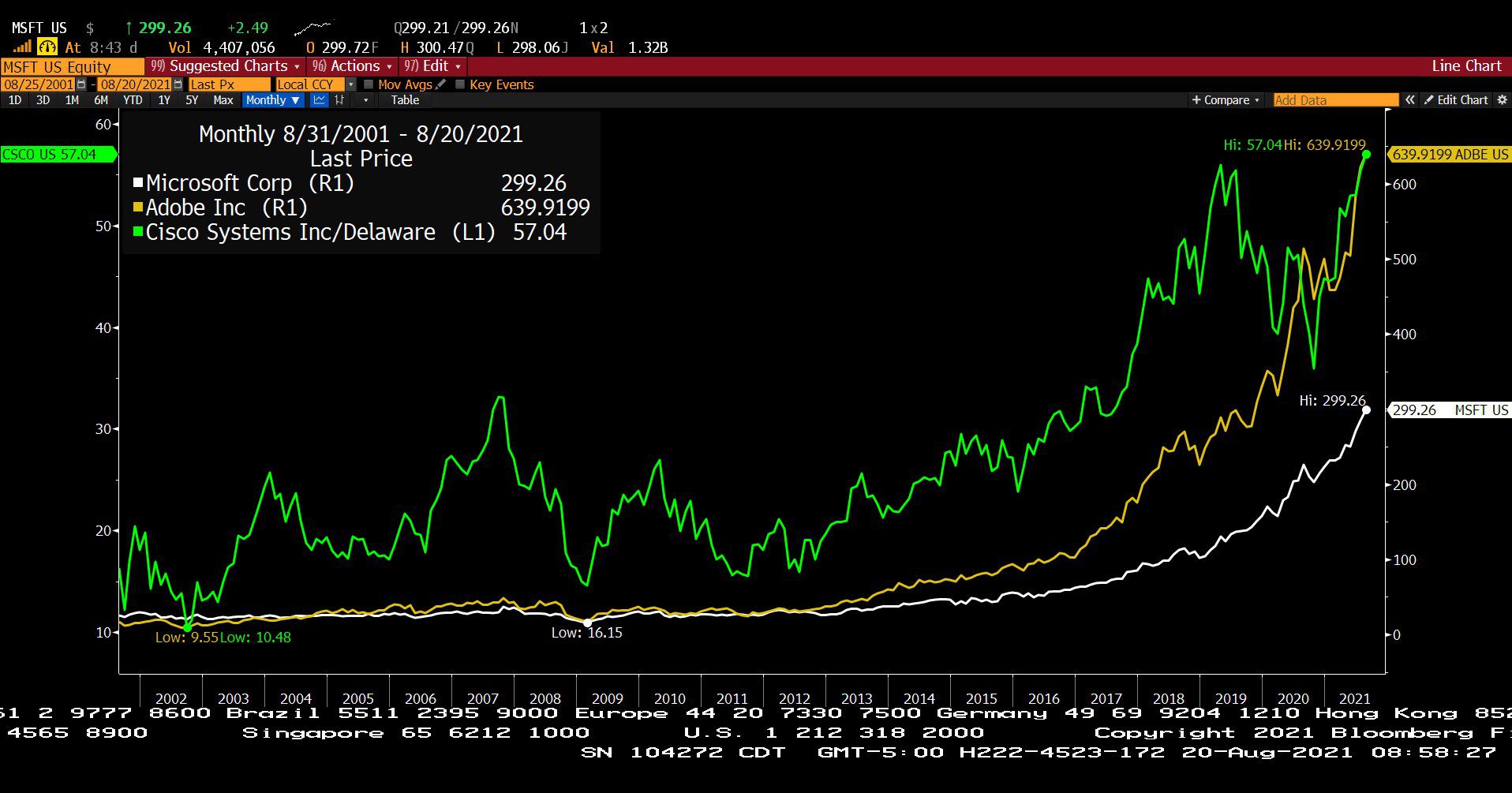 – Courtesy of Bloomberg LP
Alibaba Group Holding, Ltd. & Baidu, Inc.
(Year to Date)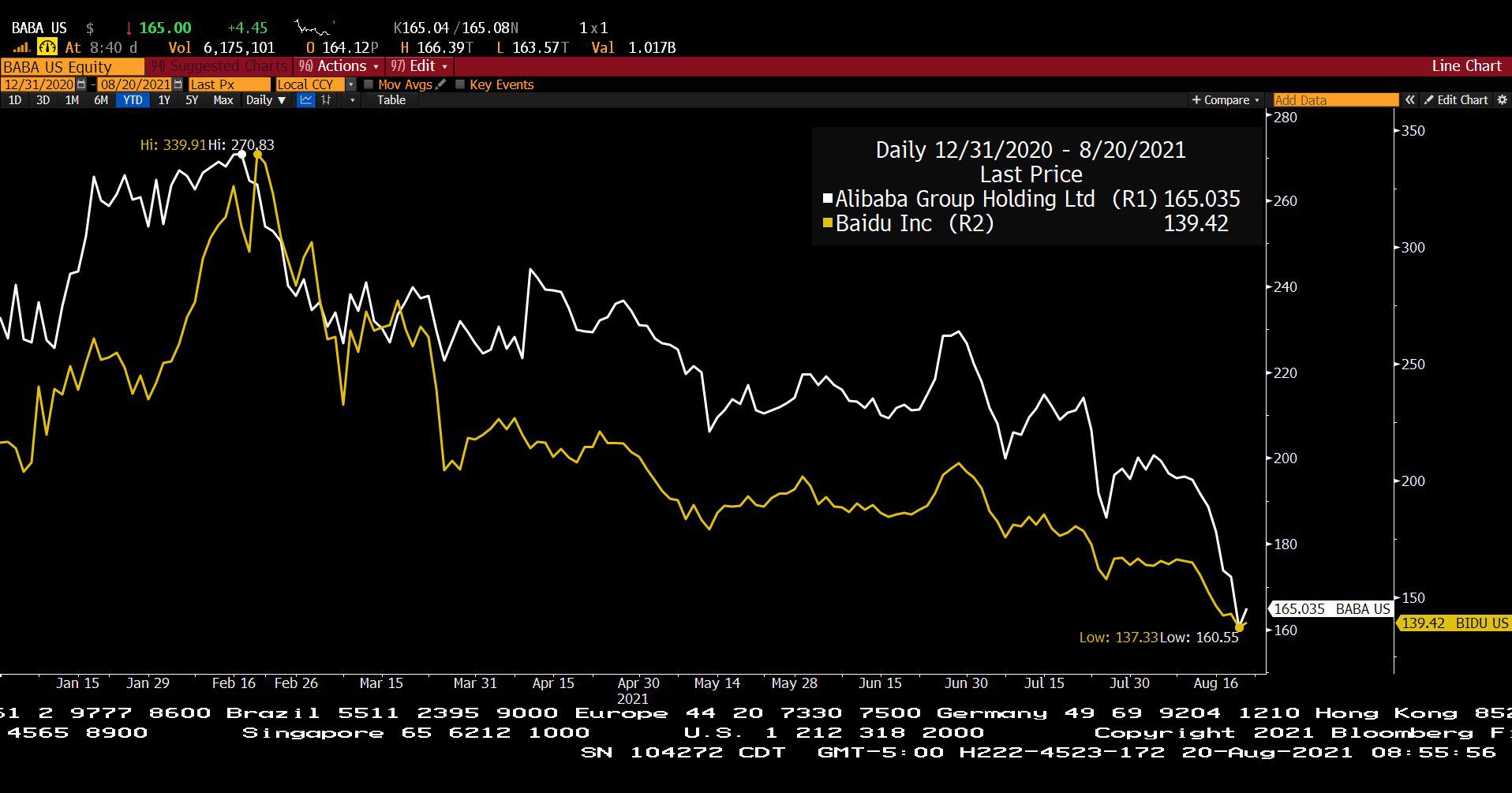 – Courtesy of Bloomberg LP
U.S. Dollar Futures Contract & West Texas Intermediate Crude Futures Spot Prices (Year to Date)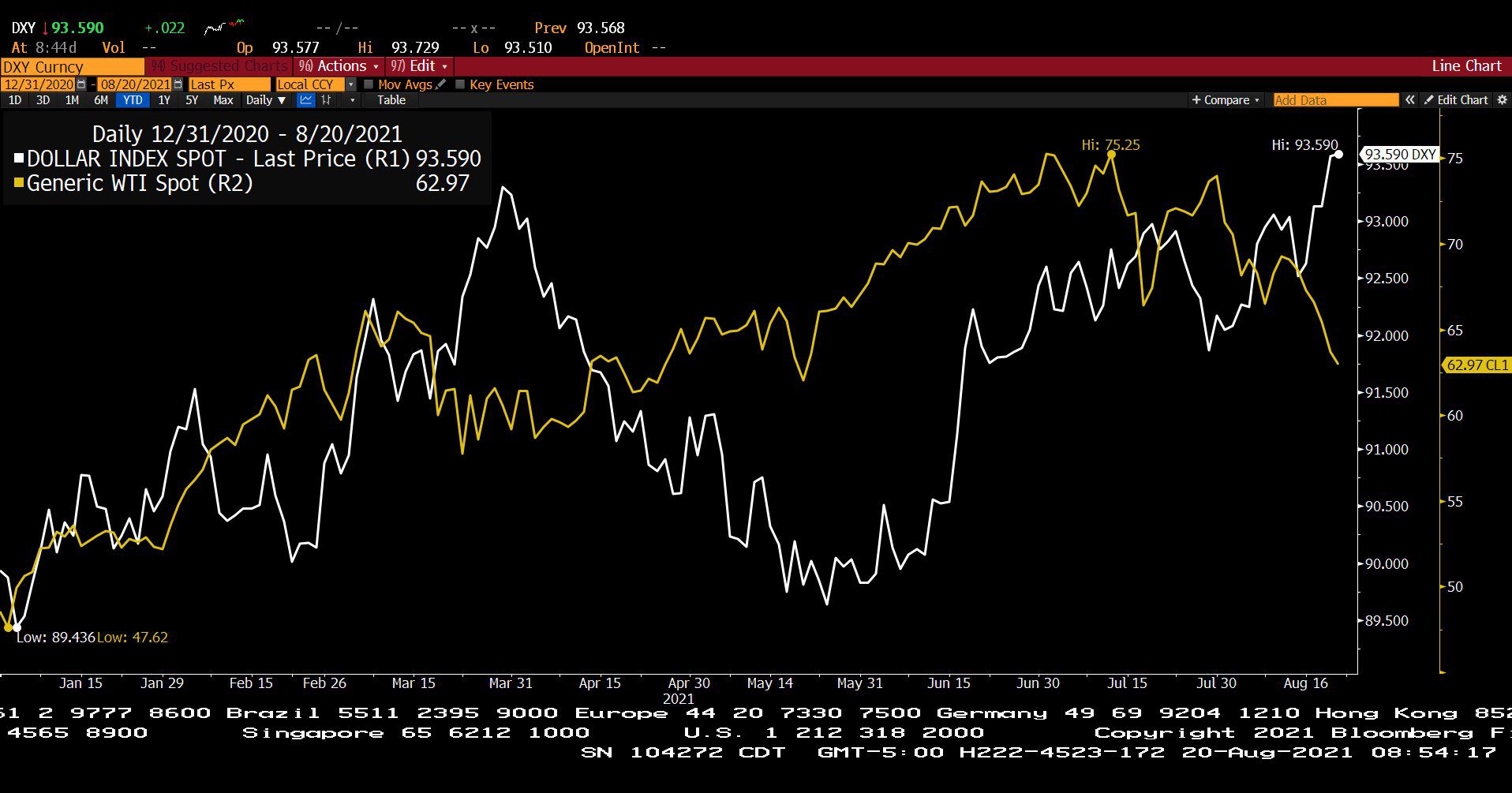 – Courtesy of Bloomberg LP
U.S. Crude Oil Stocks Strategic Petroleum Reserve MBBL
(Approx. 11 Months)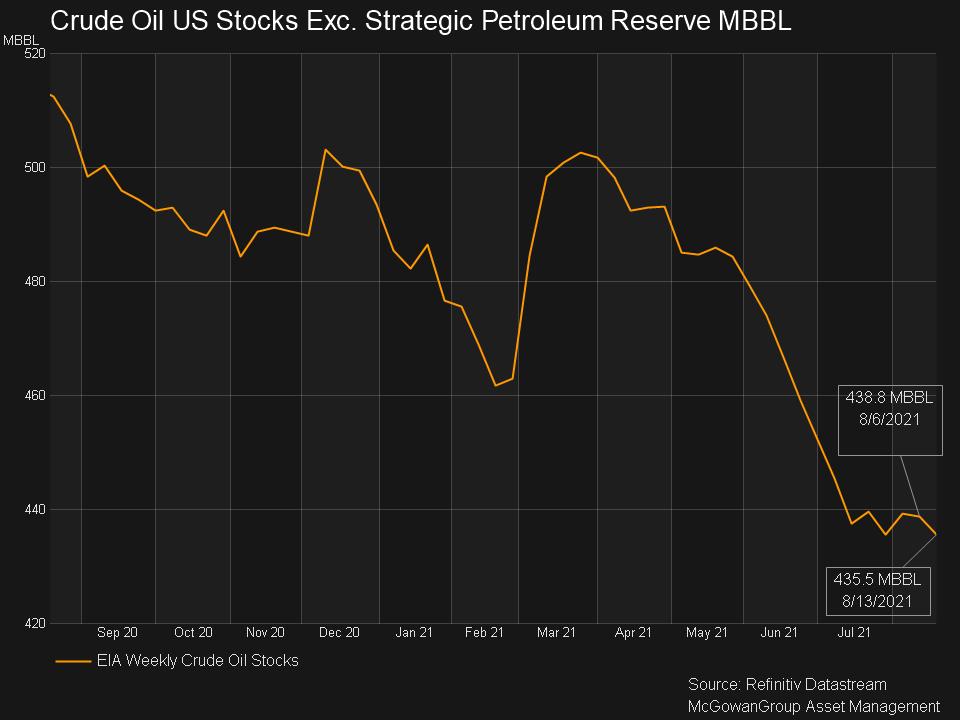 – Courtesy of Refinitiv
West Texas Intermediate Crude Futures Spot Price (Approx. 20 Years)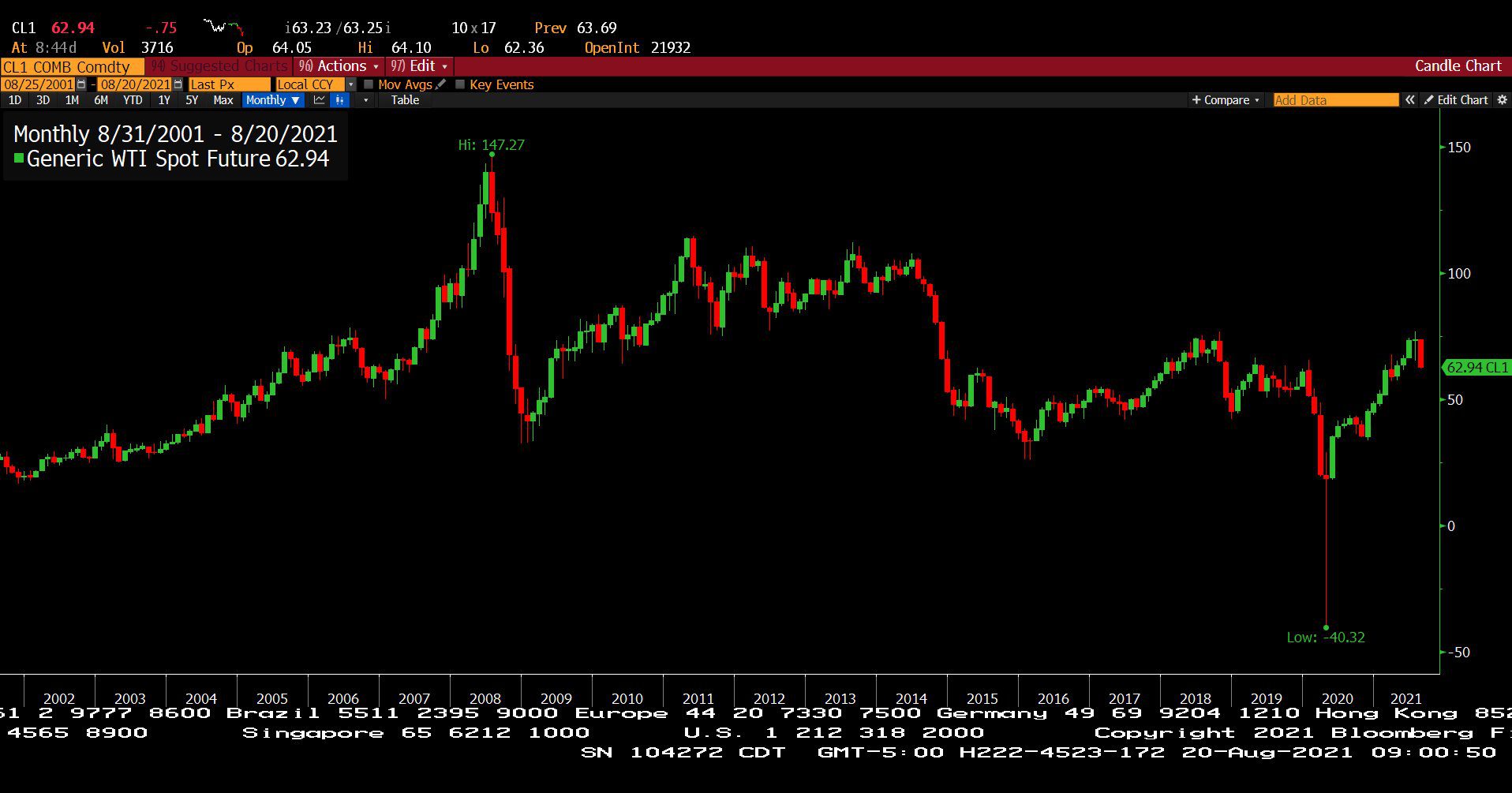 – Courtesy of Bloomberg LP
Headline Round Up
*Huge Wave of Relocations to North Texas in 2021!
*DFW Rent Spikes!
*Federal Reserve Prepares to Taper? What does that mean?
*Geopolitical and Market Implications of Afghanistan? Intelligence summary?
*Dollar Hits 9 Month High, Oil Hits 6 Month Low?
*American Innovation! Old Tech Hat Trick: Adobe, Microsoft, Cisco Hit All Time Highs!
*Homebuilding Shortages Easing!
*Retail Sales Dip? Resurgence or Chip Shortage?
*U.S. Companies Rich In Cash and Hoarding It!
*Crypto Update After China Crackdown.
*China Meltdown Smacks "Emerging Markets". BABA-BIDU Free Fall, why?
*Infrastructure? Are we the only ones confused about whether infrastructure is done?
*Cannabis Updates.
*Natural Gas Exports Double in 4 Years?
*Oil SmackDown! Justified based upon crude stocks?
*Copper and Iron Tumble.
*Hydrogen Updates.
Profit Report
Best client questions on Insurance:
Long Term Care

Medicare Supplements

Annuities

Life Insurance After 70?
Will we succeed in the decade ahead?
MGAM Disciplines and Evolution.
Research Round Up!
Investors are invited to improve decision making with a comprehensive tour of global economics, indicators, and actual results.
---
Start the Process Today! Be sure to indicate what size portfolio sample you would like to see. A link will arrive when we receive your questionnaire.