June 2020 MGAM Client Update
Clear Guidance is founded in Clear Strategy:
A steadfast commitment to owning great assets at bargain prices while enjoying the advantages of real cash flow. The temporary storms of crisis often brings irrational anxiety that obscures a longer term view.
Here are some important facts for our clients:
• Cash rates are near zero.
• Financial asset valuations quickly moved from optimistic to pessimistic pricing.
• The principals of estimating forward returns have not changed.
• Growing daily testing numbers for COVID-19 are contributing to isolating and advancing studies to defeat the pandemic.
Globally, countries and companies have moved and learned quickly to contain COVID-19 as well as operate business safely. Our team is working daily to maximize opportunities for optimal outcomes between now and 2025, as well as beyond.
McGowanGroup Asset Management will resume in office client planning appointments, State and County orders permitting, June 1st with safety guidelines.
Additionally, for those at risk, the team has also advanced our phone appointment processes and mastered Zoom appointments to improve our service commitments to you and your family.
Dow Jones Industrial Average  (Year to Date)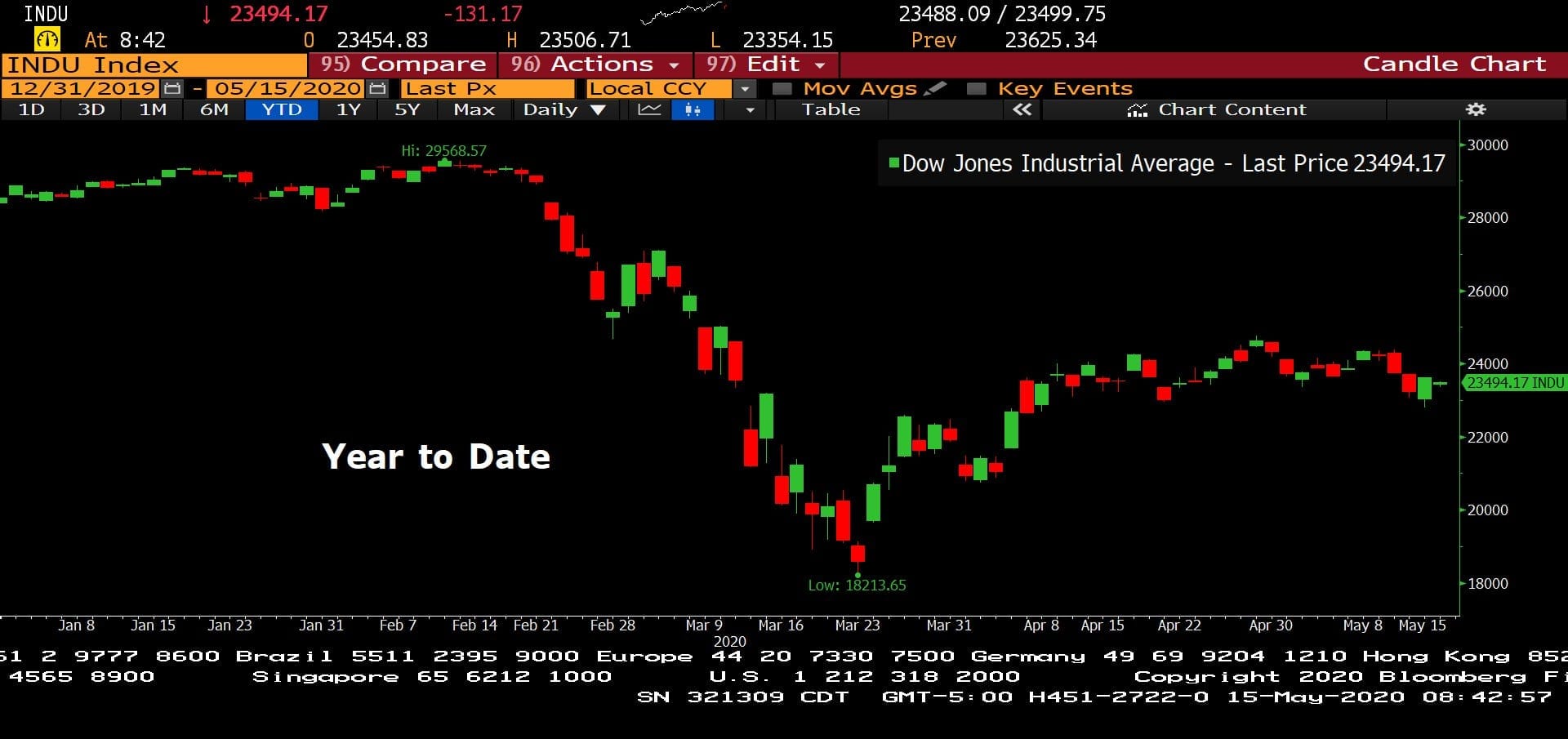 – Courtesy of Bloomberg LP
 Yearly U.S. Economic Actual & Estimated Forecasts w/ Probability of Recession (2013 – 2022)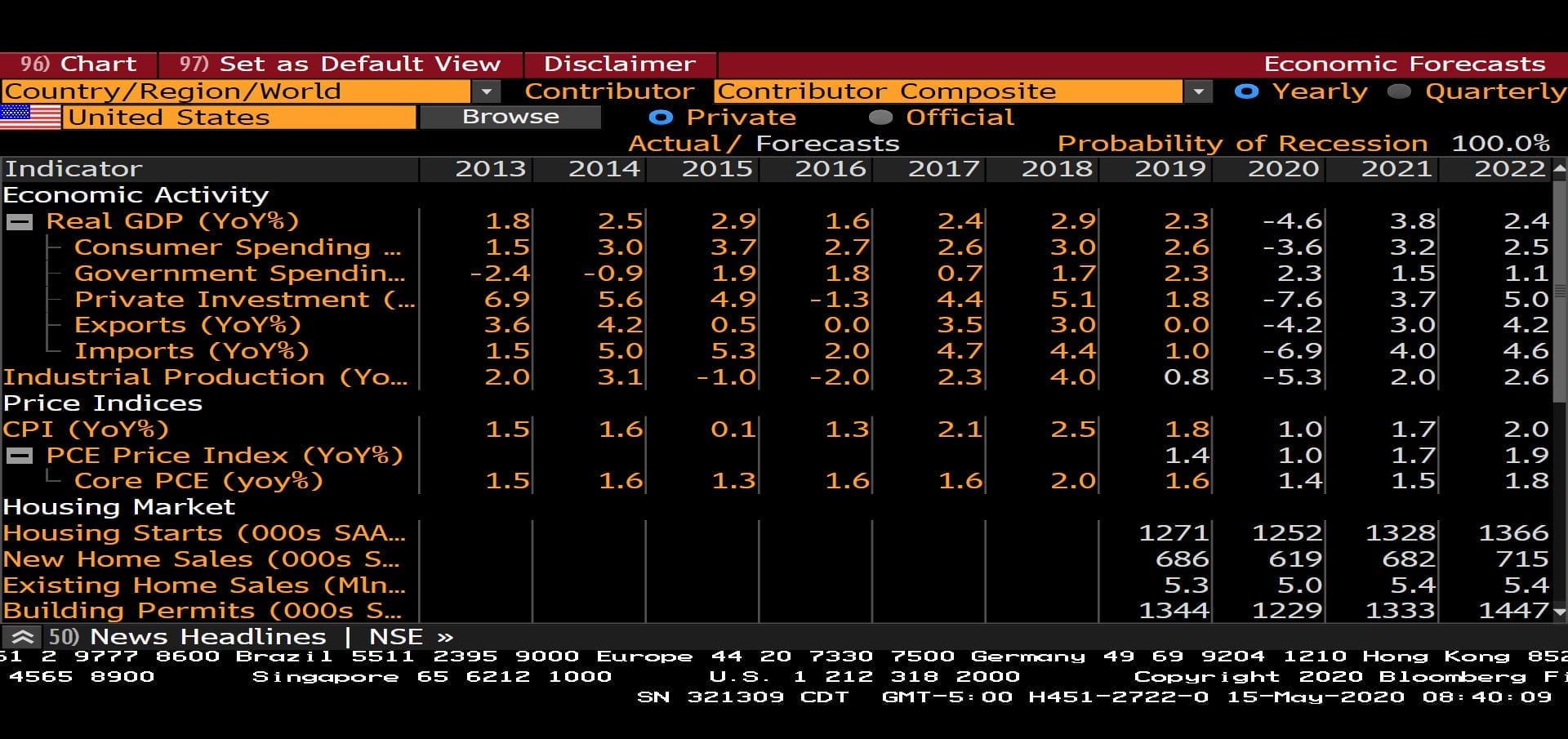 – Courtesy of Bloomberg LP
AllianceBernstein Global High Income Fund, Inc. & BlackRock Corporate High Yield Fund, Inc. – Comparative Returns (12/29/2006 – 12/31/2012)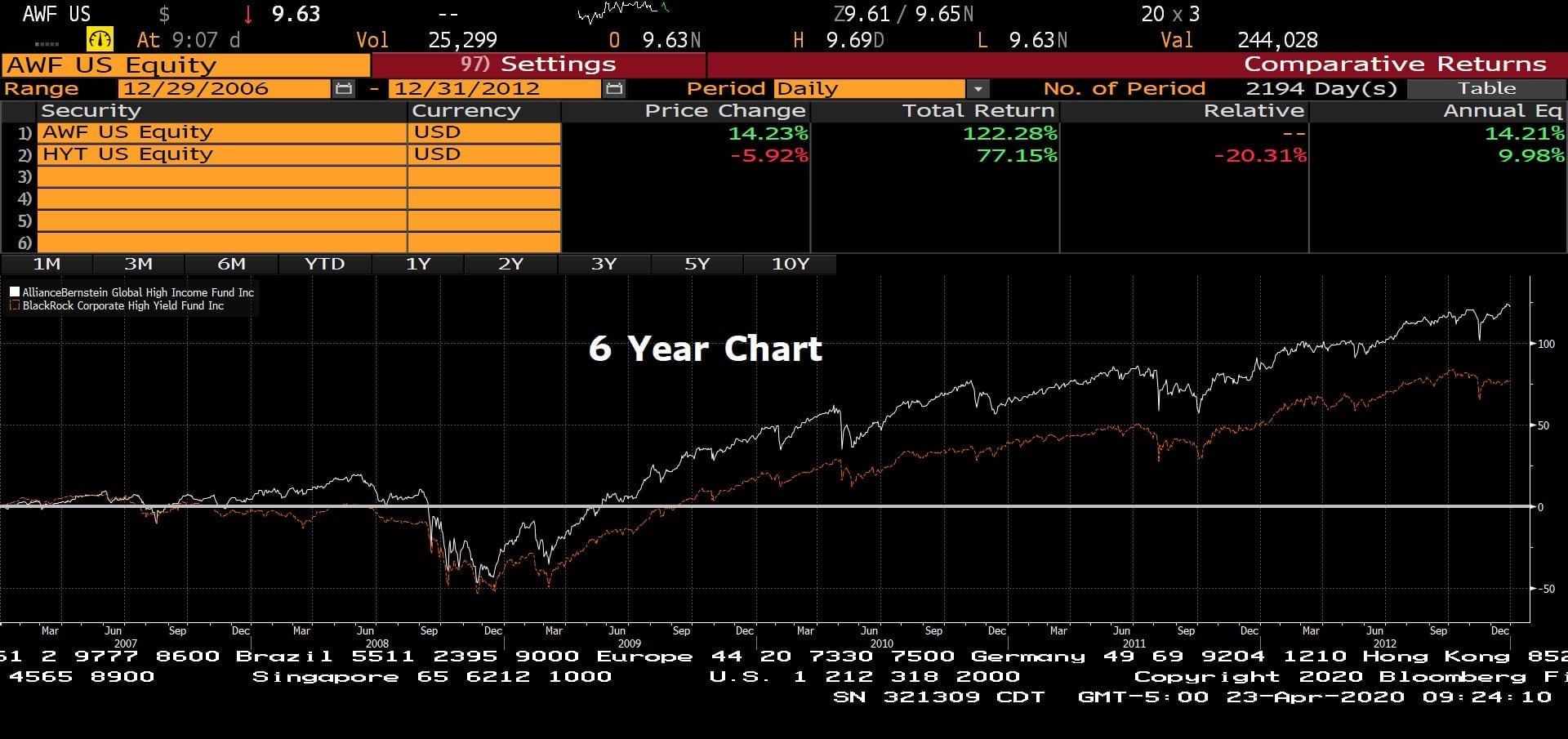 – Courtesy of Bloomberg LP
iShares iBoxx High Yield Corporate Bond ETF (04/30/2007 – 05/15/2020)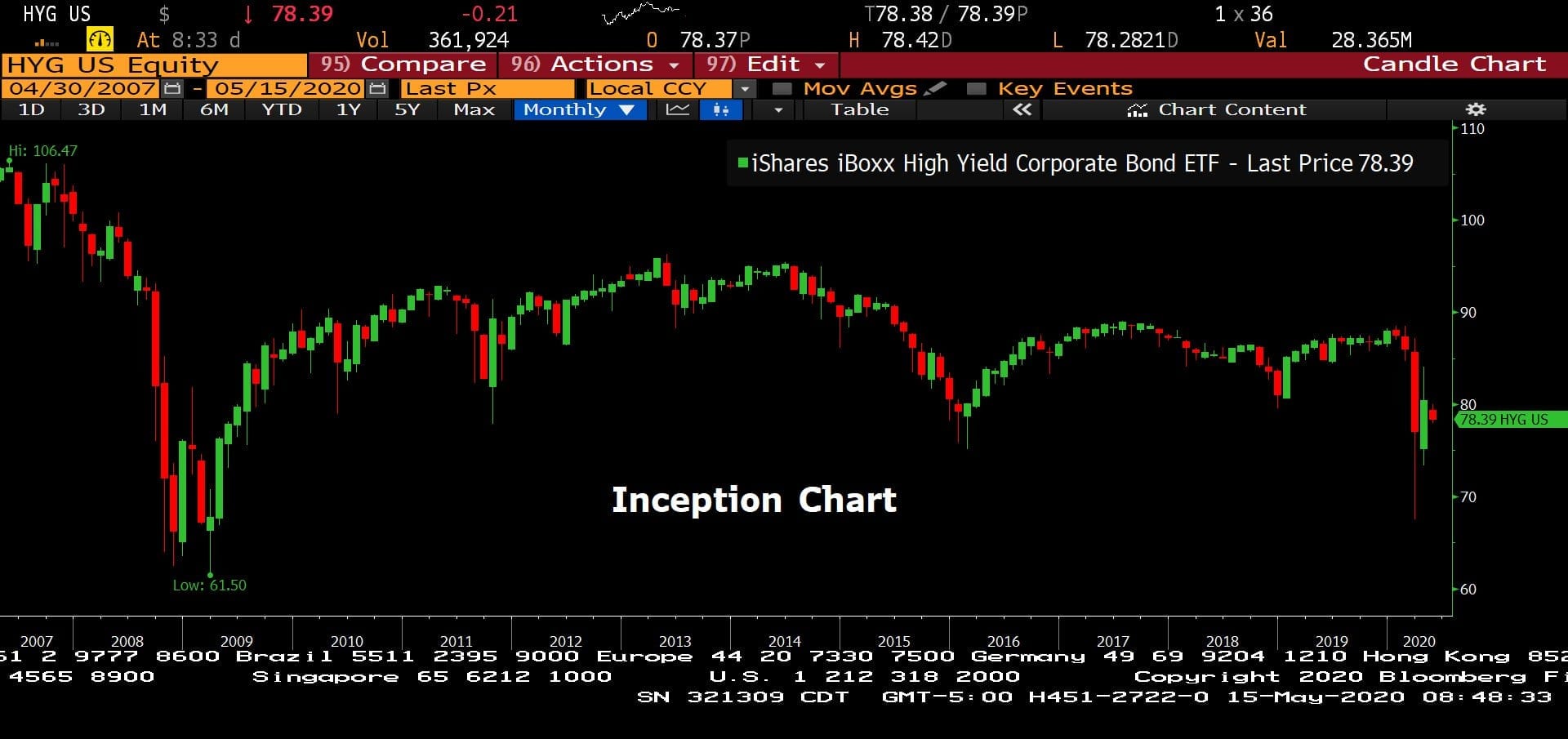 – Courtesy of Bloomberg LP
 Kinder Morgan, Inc., Enterprise Products Partners, LP & Energy Transfer, LP (05/16/2005 – 05/15/2020) 
– Courtesy of Bloomberg LP
Health Care Select Sector SPDR Fund
(Approx. 15 Years)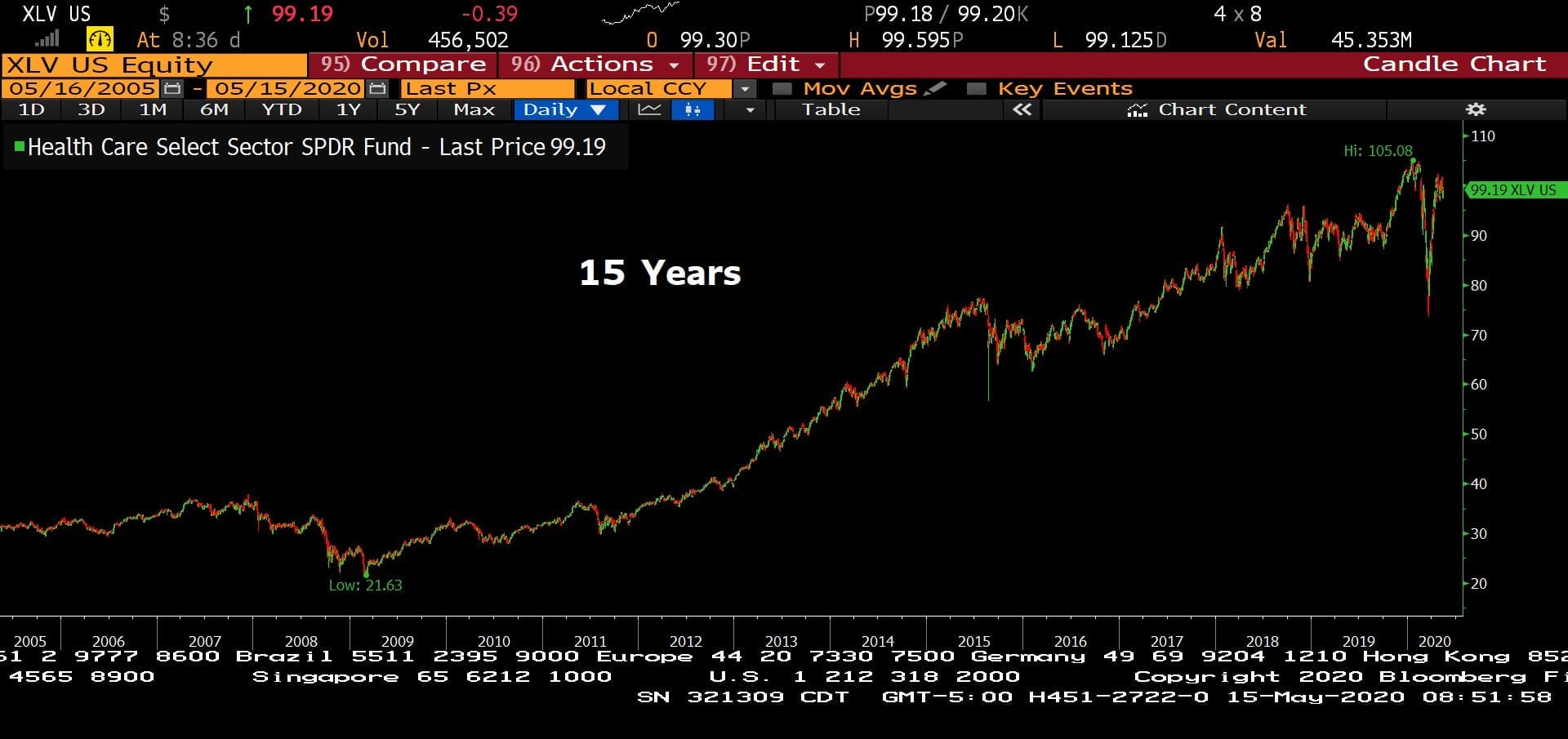 – Courtesy of Bloomberg LP
Headline Round Up!
*Fed Chair Powell Appears to Have a Cold and A Severe Case of Pessimism.
*Dr. (Grouchie) Fauci Channels Alice Cooper
"School's Out Fo' Eva!?" Any solutions from Dr. Doom?
*WSJ: Project Fear 3.0!
*Are Deaths Overstated?
*North Texas Updates! "WSJ: Remember the a'La Mode!"
*Come and Take It! Welcome to Texas Electric Cowboy!
*Trump Not Speaking to Xi!
*Earnings Updates!
*American Airlines Outlines Survival Strategies.
*Safe Golf!
Texas Energy Gold Rush
*Crude Futures Updates. Natural Gas Updates.
*The Future of Infrastructure 2020 and Beyond.
Profit Report!
*Investors Reactions to the Crisis.
*Dalbar's 2% 20 Year Study Insights: The Problems With Indexing? You, Duration Risk, and Your Objectives.
*The Cash Flow Revolutions 1986 Through Today. What have we learned?
*BlackRock Forecast and Forward Investment Strategy Discussion.
*Planning Discussion: What is a portfolio worth that produces $100,000 per year?
Education on "Cap Rates!"
1. Distressed market: 10-12%
2. Healthy market: 6%-7%
3. Overpriced market: 3%
For an Asset, what is the estimated 10 year outcome? Cash Flow + Change in Value! 
Buffett warned us in 2019 about the Bad Corporate Whipsaw Rule: Quarterly corporate insanity on long term assets driving CFO's crazy for the next year – The unrealized Mark to Market rule.
Research Round Up!
Investors are invited to improve decision making with a comprehensive tour of global economics, indicators, and actual results.
---
Start the Process Today! Be sure to indicate what size portfolio sample you would like to see. A link will arrive when we receive your questionnaire.