What do this week's money flows in the Equity Markets teach us about investment research?
What does 1981 have to do with valuation comparisons in the current Financial markets?
What were some big investing mistakes in 2021?
What market lessons apply to 2022?
How do we estimate Forward Returns?
How can we address mistakes in your investment portfolio?
Where can I find great investment research?
How are leading CPA's evolving the Tax Planning process?
Headline Round Up
*FACEPLANT! Facebook Drops 25% of its Value in a Single Morning? FAANGs Got Bit from Behind.
*Tech Selling Accelerates. Snap Snapped to a 46% 2022 Decline. What was that about multiple contraction Alex?
*Startups Slash Valuations!
*Natural Gas Spikes!
*Wait, What? Senators Want to Put Brakes on Liquified Natural Gas (LNG) Exports?
*Oil Tops $90 per Barrel.
*Exxon and Chevron Report "Gushers of Cash!"
*GM Loves to Spend Billions!
*Merck Reports Amazing Results.
*AT&T Disappoints Again Slashing Dividend.
*500% Rally in Lithium? Do Electric Vehicle (EV) makers need depression therapy?
*Energy Transfer Increases Dividend!
*The Dark Truth About America's Agricultural System.
*Biden Antitrust Dooms Chicken Merger.
*Did Jobs Contract in January? Will the Federal Reserve slow the tightening of monetary policy?
*Bill Ackman Back!
*Hedge Fund Transformations?
*Goldman Sachs CEO Gets Paid $35 Million.
*Europe Shutting Off Nuclear Power at End of 2022??
*Virtual Real Estate, Metaverse, Sales Top $500 Million and Expected to Double? What could go wrong?
Dow Jones Industrial Average Index (12/31/2021 – 02/03/2022)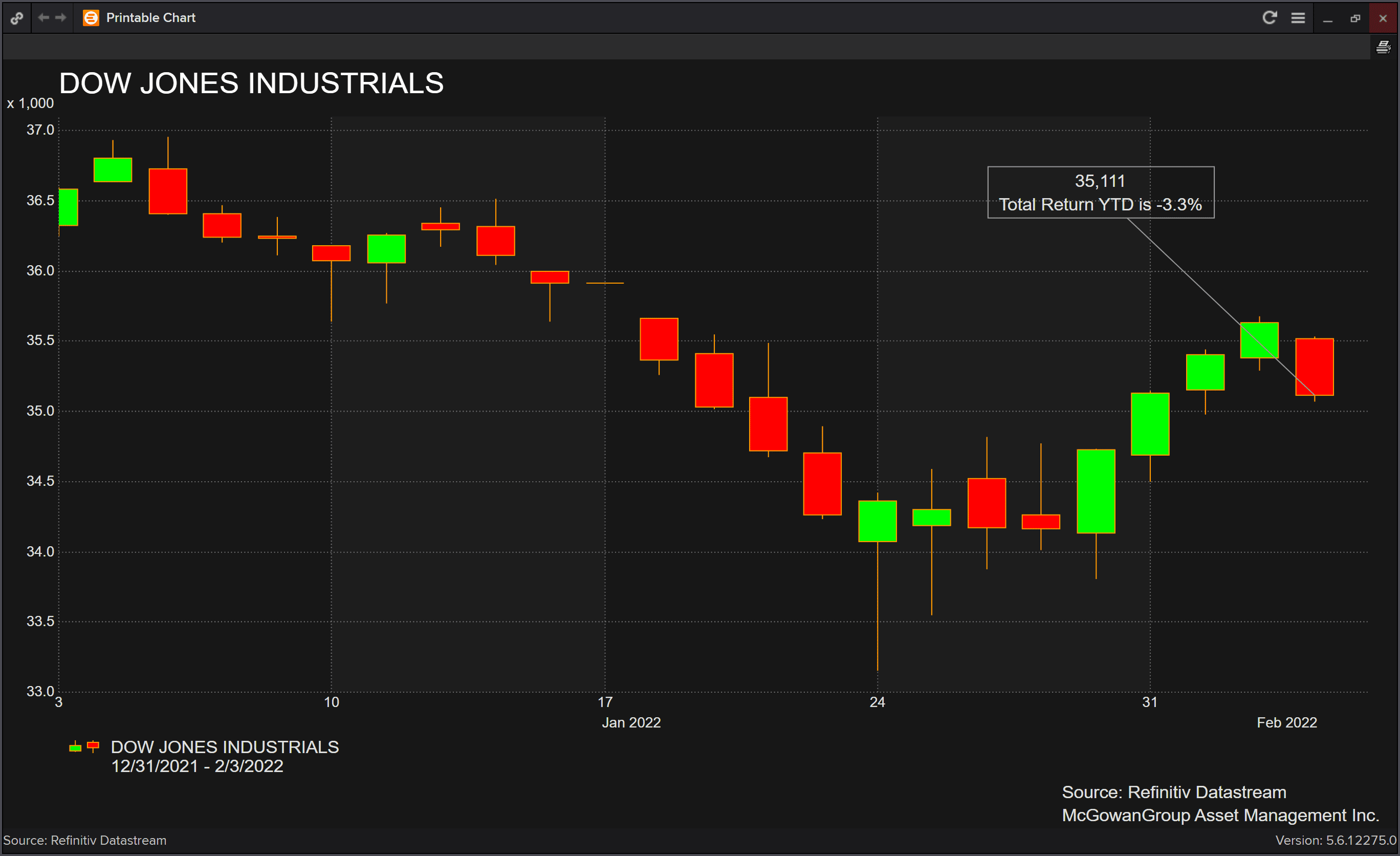 – Courtesy of Refinitiv Datastream 
NASDAQ Composite Index (12/31/2021 – 02/03/2022
)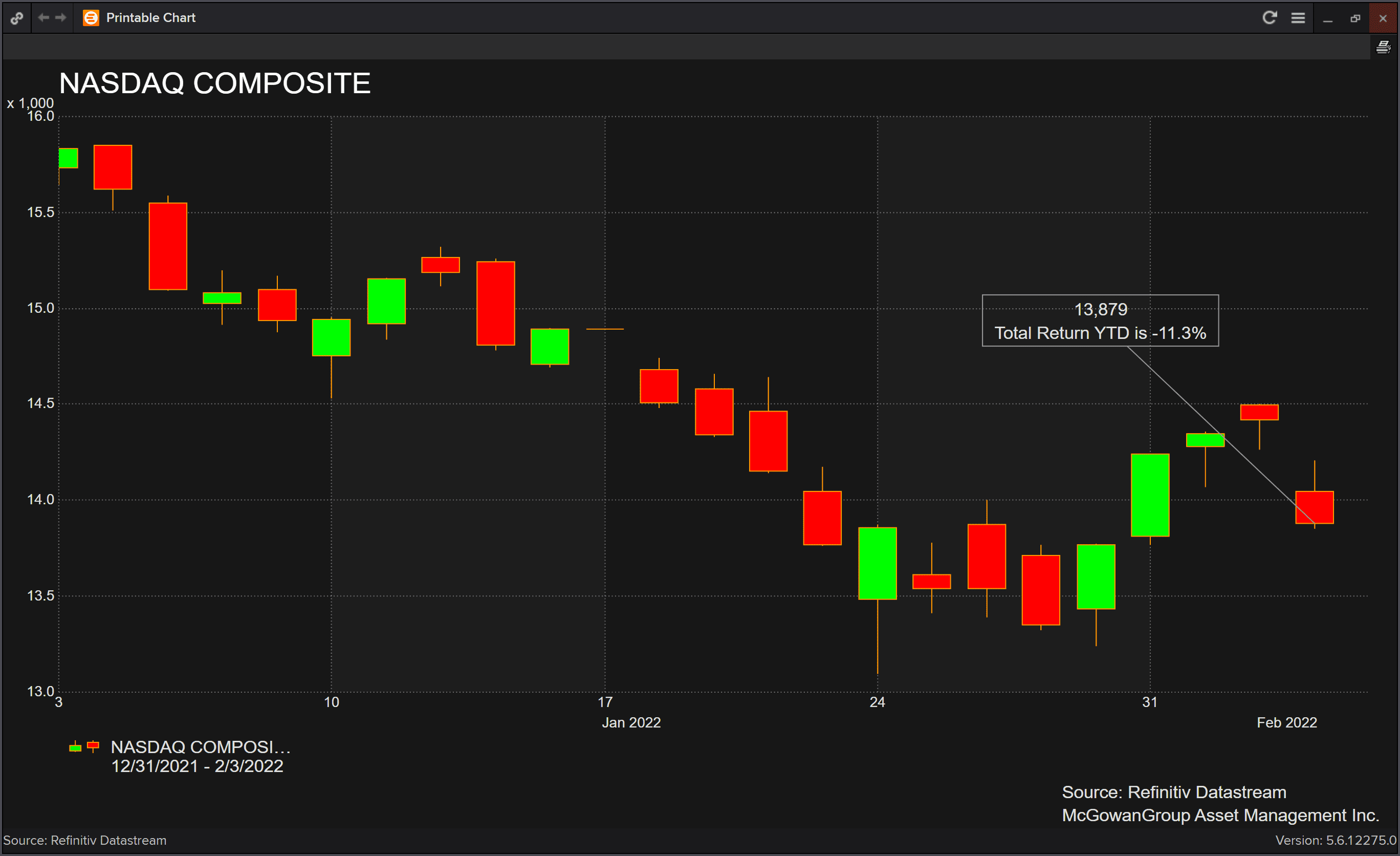 – Courtesy of Refinitiv Datastream
Meta Platforms A (12/31/2021 – 02/03/2022)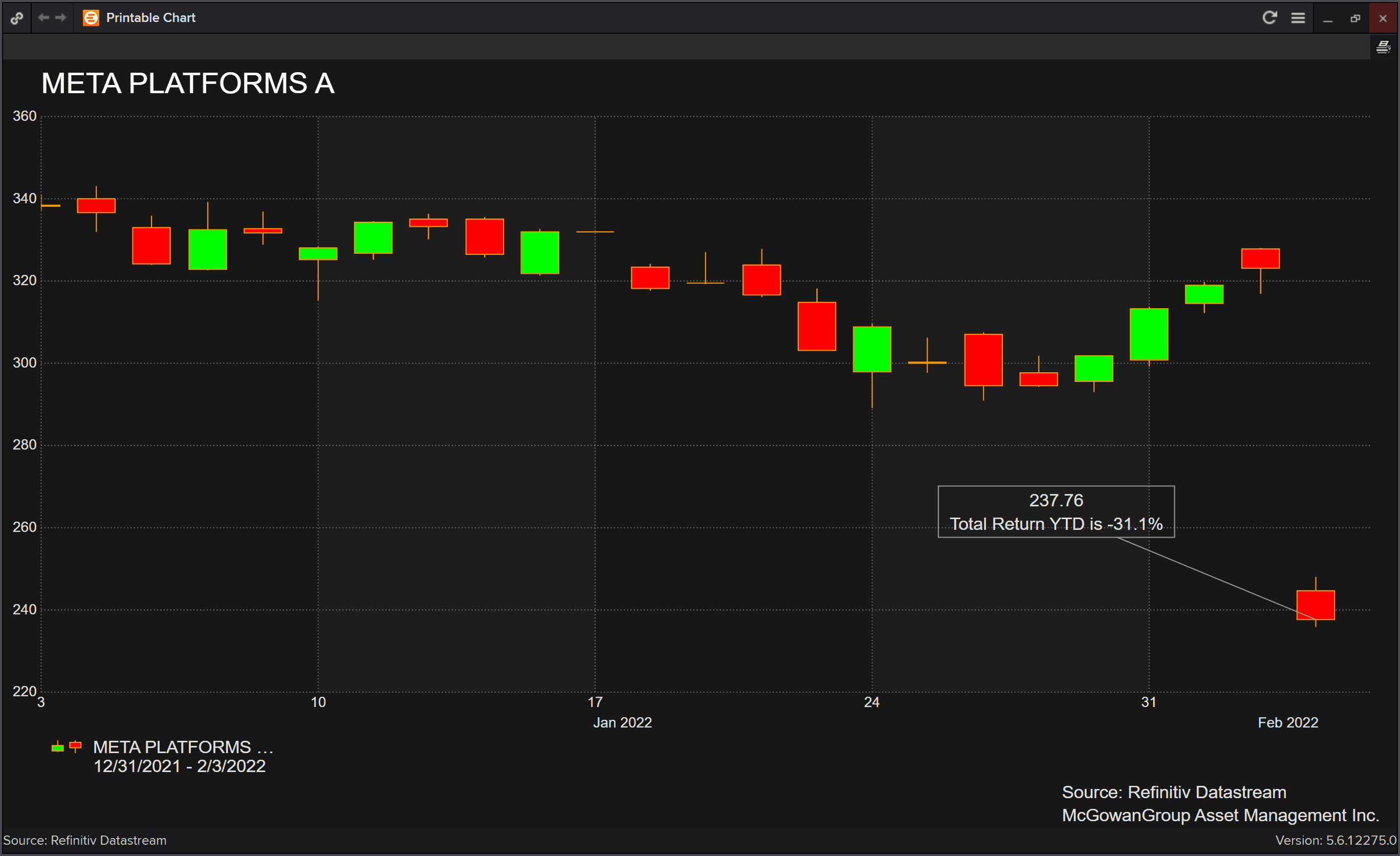 – Courtesy of Refinitiv Datastream
Global X MLP ETF (12/31/2021 – 02/03/2022)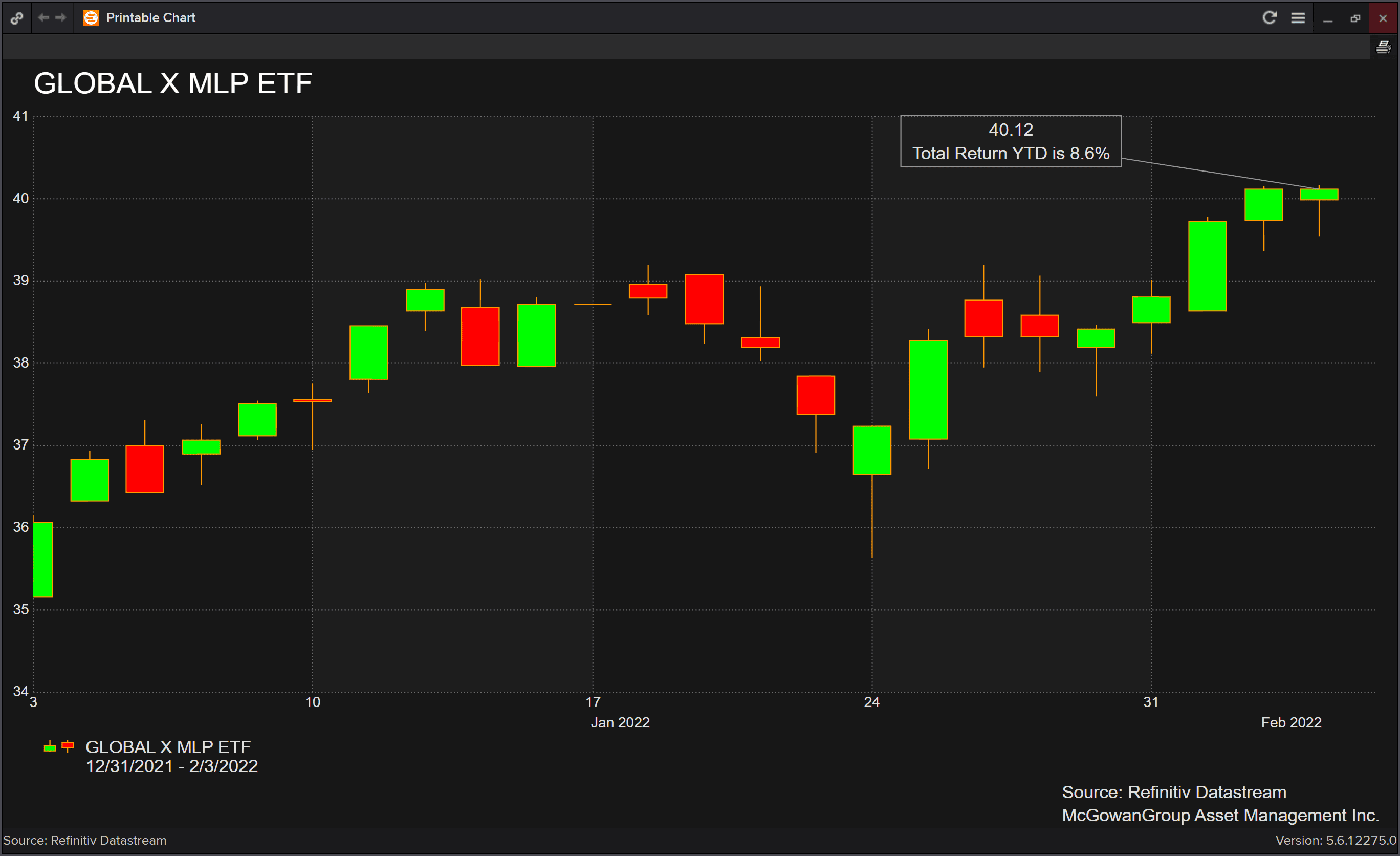 – Courtesy of Refinitiv Datastream
Standard & Poor's 500 Index Top 10 and Bottom 10 Year to Date (02/03/2022)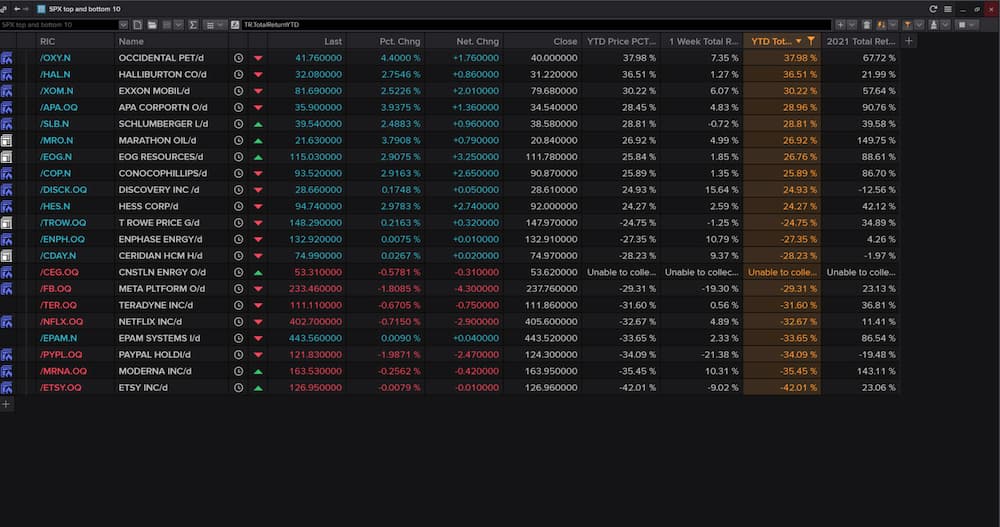 – Courtesy of Refinitiv Datastream
The Future of Tax Planning! NetWorth Radio's Powerful North Texas Business Leadership Series: Spencer McGowan Interviews

Susan S. Bryant, CPA, CTC And Principal

at

The MB Group, LLC!
---

Susan began her career as an internal auditor with Bank One Corporation, now JPMorgan Chase, where she performed operational, financial, regulatory compliance and information technology audits. As an auditor and audit supervisor, she performed in-depth risk analyses, developed strategies to evaluate procedural and systematic controls and recommended cost-effective and creative solutions to
senior management.
In early 2002, Susan received her CPA test results (all four parts passed on the first try) and decided to start her career in public accounting with a local accounting firm in Denton, Texas. Susan worked in all aspects of serving the firm's business and high-net worth clients. Susan was also in charge of the firm's marketing and revolutionized the firm's internal processes by automating LIFO inventory valuation and financial statement preparation procedures.
Susan joined a Top-25 DFW public accounting firm in mid-2004 as a Financial Services Senior where she designed, supervised, and assisted in performing audit, review and compilation engagements. A couple of years later, Susan became a Manager for Tad Accounting, Inc. where she served in a Controller/CFO capacity for her business clients. It was in this role that Susan became inspired to leverage her cumulative accounting knowledge and tax experience to help business owners to streamline accounting processes, professionalize their accounting presence, implement discipline in financial reporting, and develop tax strategies that fit with the client's goals.
In April 2006, Susan joined The MB Group, LLC to lead the Accounting Services team and to deliver comprehensive accounting solutions to growing businesses. For the past 15 years, Susan has served her clients in a variety of capacities with her favorite roles being the architect of accounting processes, M&A advisor, and tax strategist. Susan's passion is transforming the lives of business owners by bringing order to the finance function and alleviating stress around taxes through proper and timely planning.
EDUCATION, LICENSES & ASSOCIATIONS:
Susan attended The University of Texas at Austin where she graduated with a BBA in Marketing in 1999. Susan is a Certified Public Accountant in Texas and is active in professional organizations such as the American Institute of Certified Public Accountants, the Texas Society of Certified Public Accountants and the American Institute of Certified Tax Planners. Susan is also an active Vistage and ProVisors member.
Susan currently serves as the Treasurer of the Board for Harmony Community Development Corporation, a non-profit focused on strengthening families and revitalizing neighborhoods through community-driven and solution-oriented approaches. You may also see Susan out and about helping on committees for the Women's Business Council – Southwest, volunteering at her daughters' school as an accounting/business instructor or serving the Small Business Administration as a subject matter expert in their Emerging Leaders Program.
Profit Report
The McGowanGroup Wealth Management Process!

The Dangerous Precedent of Government Price Controls and the Irony of Created Shortages.
Research Round Up!
Investors are invited to improve decision making with a comprehensive tour of global economics, indicators, and actual results.
*Nuveen: Inflation Preparing Income Portfolios.
---
Start the Process Today! Be sure to indicate what size portfolio sample you would like to see. A link will arrive when we receive your questionnaire.