Q: What is summer planning season?
A: McGowanGroup clients are encouraged to schedule a 2023 planning call to update financial plans, schedule a preliminary 2023 tax planning call with their CPA's, and update estate planning logistics.
Q: What events happen in July that could set off a large equity rally?
A: The trailing 12 month inflation rate, as of June 2023, drops by another 1% and company earnings announcements after the 4th of July Holiday can likely bring positive surprises especially related to economic growth.
Q: What are some of the impacts of the Securities & Exchange Commission's (SEC) allegations against crypto exchanges so far?
A: The collective value of crypto currencies has fallen nearly $100 Billion since the SEC sued two of the largest crypto exchanges.
U.S. Consumer Price Index – Urban Consumers Year over Year, Non Seasonally Adjusted
(06/15/2021 – 05/31/2023
)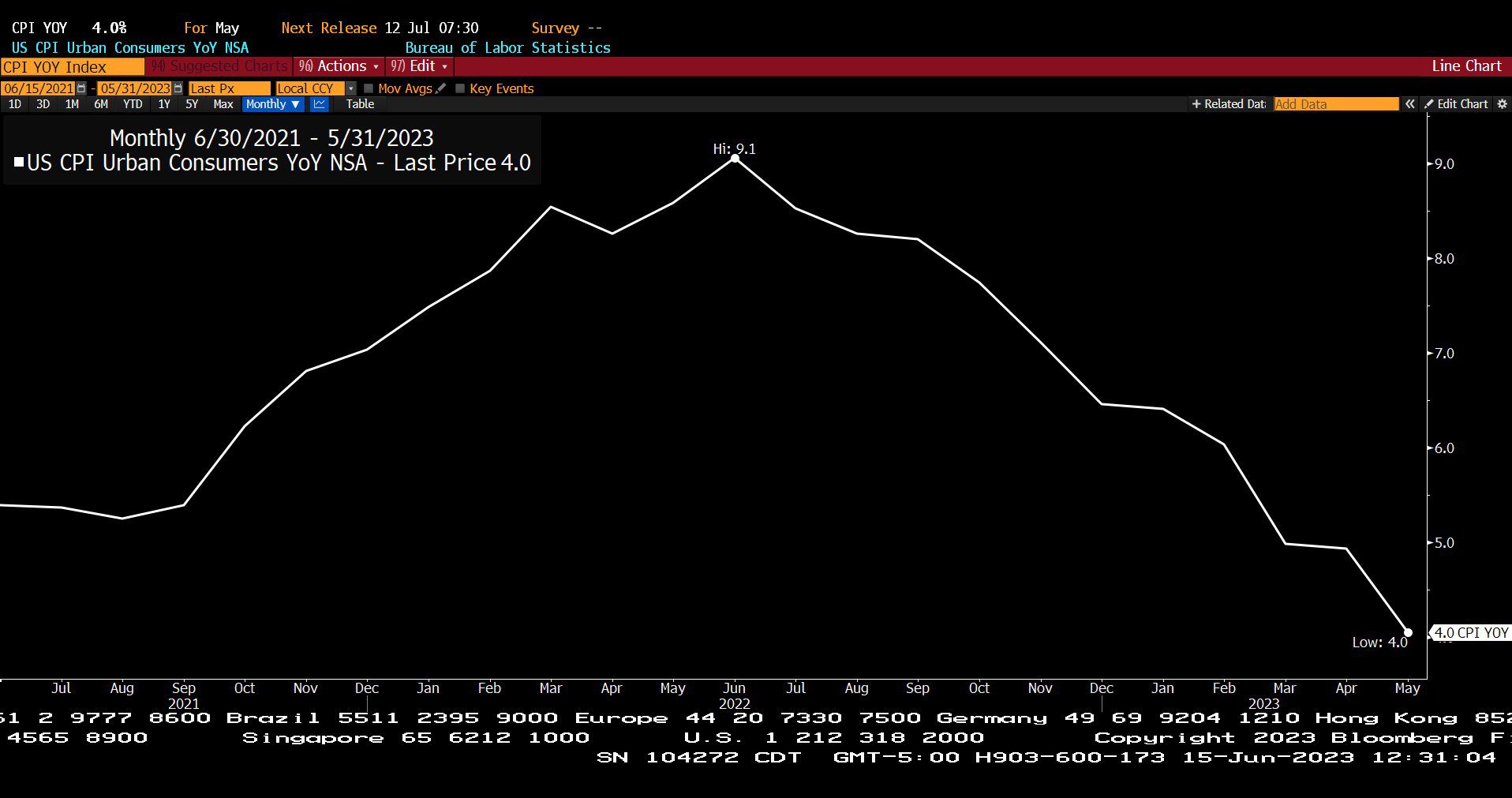 – Courtesy of Bloomberg LP
Dow Jones Industrial Average
(12/30/2022 – 06/15/2023)
– Courtesy of Bloomberg LP
U.S. Consumer Price Index – Urban Consumers Month over Month, Seasonally Adjusted
(06/15/2021 – 05/31/2023
)
– Courtesy of Bloomberg LP
Rents Year over Year Change in Median U.S. Asking Rent
(02/2020 – 05/2023)
– Courtesy of Redfin
Standard & Poor's 500 Index and Federal Funds Target Rate Index
(06/15/2003 – 06/15/2023)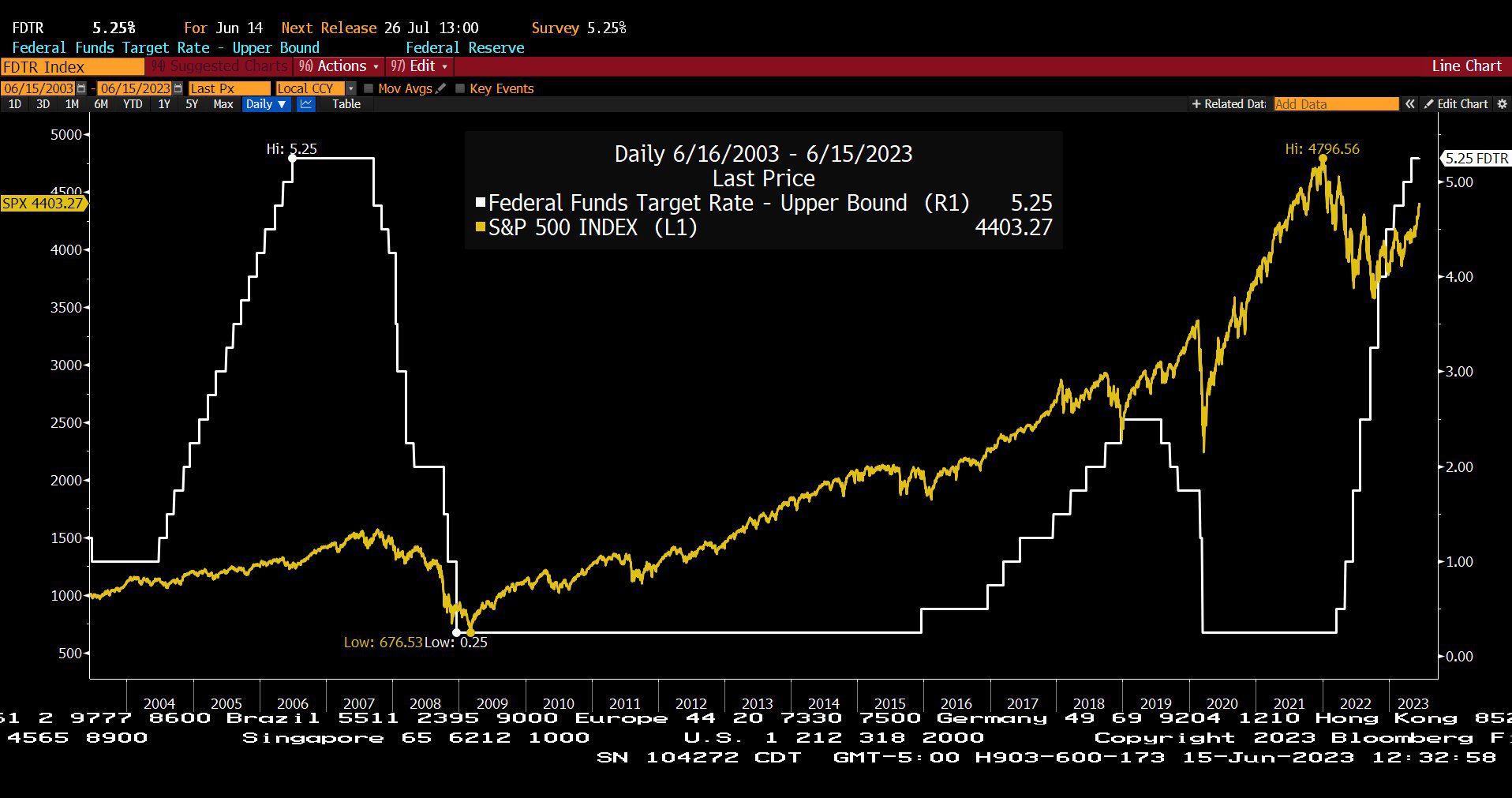 – Courtesy of Bloomberg LP
Evolution of Atlanta Fed GDPNow Real GDP Estimate for 2023 – Q2 (06/15
/2023)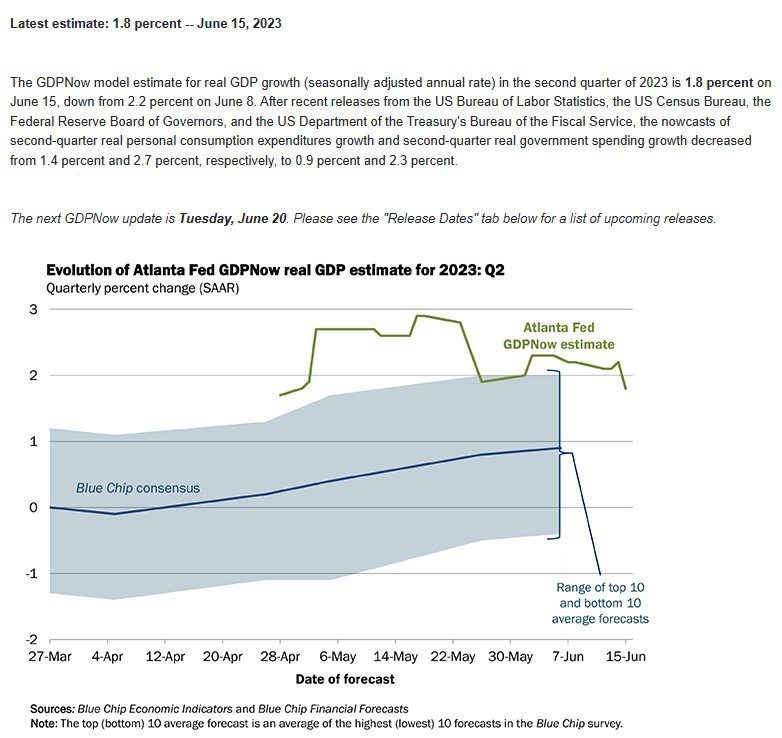 – Courtesy of The Atlanta Federal Reserve
Standard & Poor's 500 Index -Bi Monthly Earnings Per Share and Current Estimates
(06/01/2017 – 12/01/2024)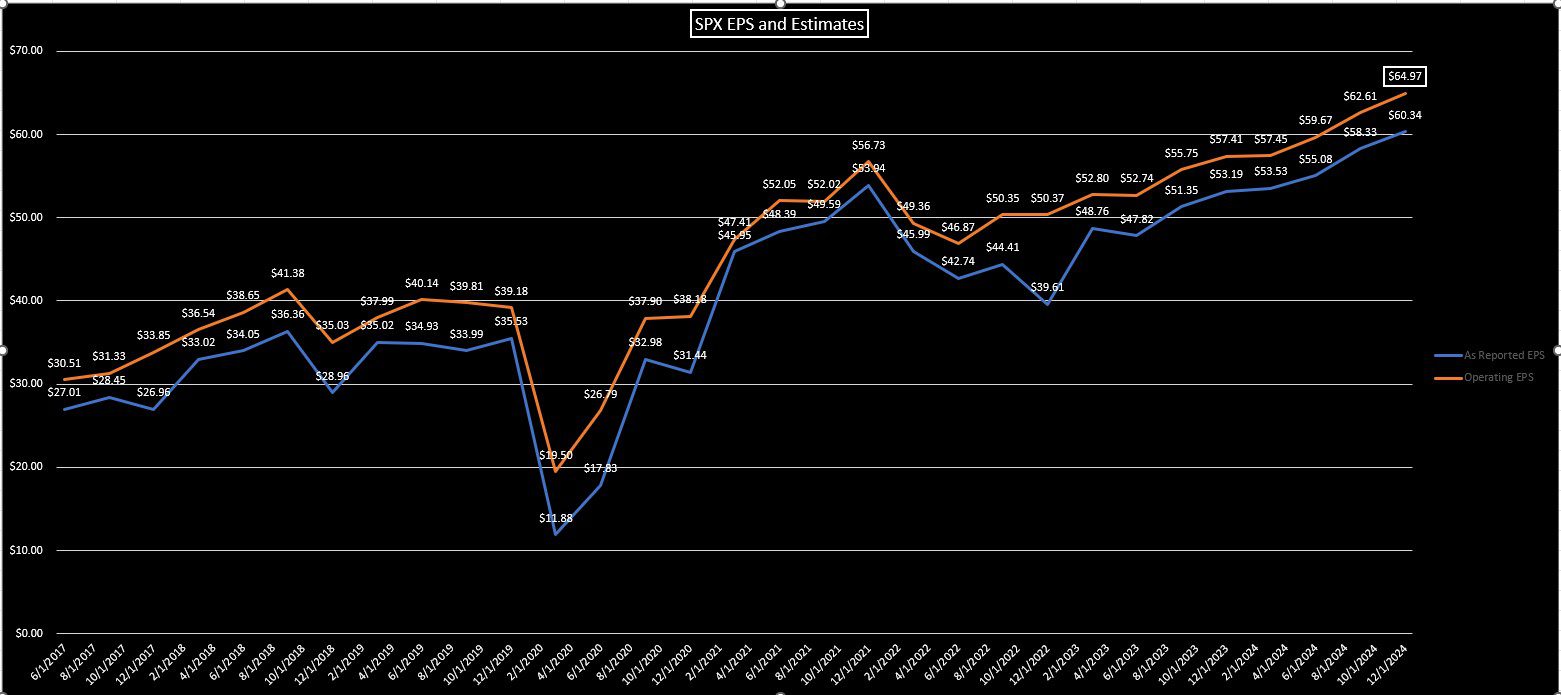 – Courtesy of Bloomberg LP
Headline Round Up
*U.S. Federal Reserve Pauses Interest Rate Hikes for Now and Updates Forward Projections.
*Recent Egg Prices Drop Most in 72 Years in May!
*Inflation Down from 9% in June 2022 to 4%!
*New Lease Rents Poised for Drop, Only Second Time Since 2008.
*Goldman's Chief Economist, Jan Hatzius, Says U.S. Economy on Course for a "Soft Landing."
*Official End to Bear Market Last Week! Bulls See Room to Run with Bears Running in Fear of Being Wrong.
*Goldman Sachs CEO, David Solomon, Under Fire from Disgruntled Goldman Partners for DJ Side Hustle and More?
*Microsoft's Suddenly Dominates Emerging Artificial Intelligence (AI) Software Market. *Nvidia's AI Software Tricked into Data Breach!
*More Startups Throw in the Towel Due to Lack of Cash. Mass Extinction Event?
*Saudi Arabia Suckered Again by Russia! Saudis "Useful Idiots" for Russians?
*Drunk Russian Captain Crashes Oil Tanker in Irkutsk Region of Russia.
*Retail Sales Unexpectedly Rise in May, But What About the Recession?
*NextDecade Corp's $11.5 Billion Rio Grande Liquified Natural Gas (LNG) Export Terminal Slated for 2027 Start! 
*Texas' Fragile Power Grid to Face Break Record Power Demand with Intense Heat This Early in the Summer?
*Permian New Record from Natural Gas Production in 2022.
*Solar Stocks Are Hot!
*Advanced Micro Device's (AMD) New Chip to Rival Nvidia.
*Oracle Hits Record High on AI Frenzy as Cloud Demand Soars.
*BlackRock Japan ETF Pulls in $1B in June on Amazing Japanese Nikkei Rally.
*Impossible Foods Shares Getting Grilled.
Profit Report
1. Why does McGowanGroup Wealth Management (MGWM) post our favorite CPA's and Estate Planning Attorneys on our website

*

?


* MGWM does not receive compensation for/pay for referrals.



2. Why is your wealth management team important for your financial legacy after you are gone?
3. What are 3 of the biggest mistakes clients can make in retirement planning and how do we avoid them?
Retiring too soon: Avocation Phase.

Overfunding kids and grandkids during retirement: Set clear, defined boundaries and stick to them.

Overspending: 80% of free cash flow leaves a 20% reinvestment rate.
Research Round Up!
Investors are invited to improve decision making with a comprehensive tour of global economics, indicators, and actual results.
---
Start the Process Today! Be sure to indicate what size portfolio sample you would like to see. A link will arrive when we receive your questionnaire.