The McGowan Group discusses the 5-year possible outcomes for investors, touching on key topics such as economic growth, S&P 500 earnings, and investment outlook. They also emphasize the importance of estate planning, hedge fund holdings, and market indices. Recent headlines include SEC actions against crypto exchanges and high yield bonds, as well as a corporate profit drop. The team also shares valuable insights on retirement planning and research round-ups from PIMCO, Nuveen, and Calamos.
Q: Is the U.S. economy in a Recession?
A: Current economic growth estimate is at 2.2% according to Atlanta Federal Reserve Bank.
Q: What is happening to corporate earnings now and what is currently projected?
A: S&P 500 current quarter operating earnings are at $52.80 according to S&P. Estimates for the rest of 2023 vary from $46.50 to $57.50 per quarter. 2024 estimates top $63 per quarter.
Q: What could be an investor's most important Estate Planning step with their wealth manager?
A: Reading your Estate Planning documents!
Q: What are some of the holdings in the world's largest Hedge Fund?

A: Stay tuned for this week's fast paced financial news and find out!
Commodity Research Bureau Index
(06/10/2018 – 06/08/2023
)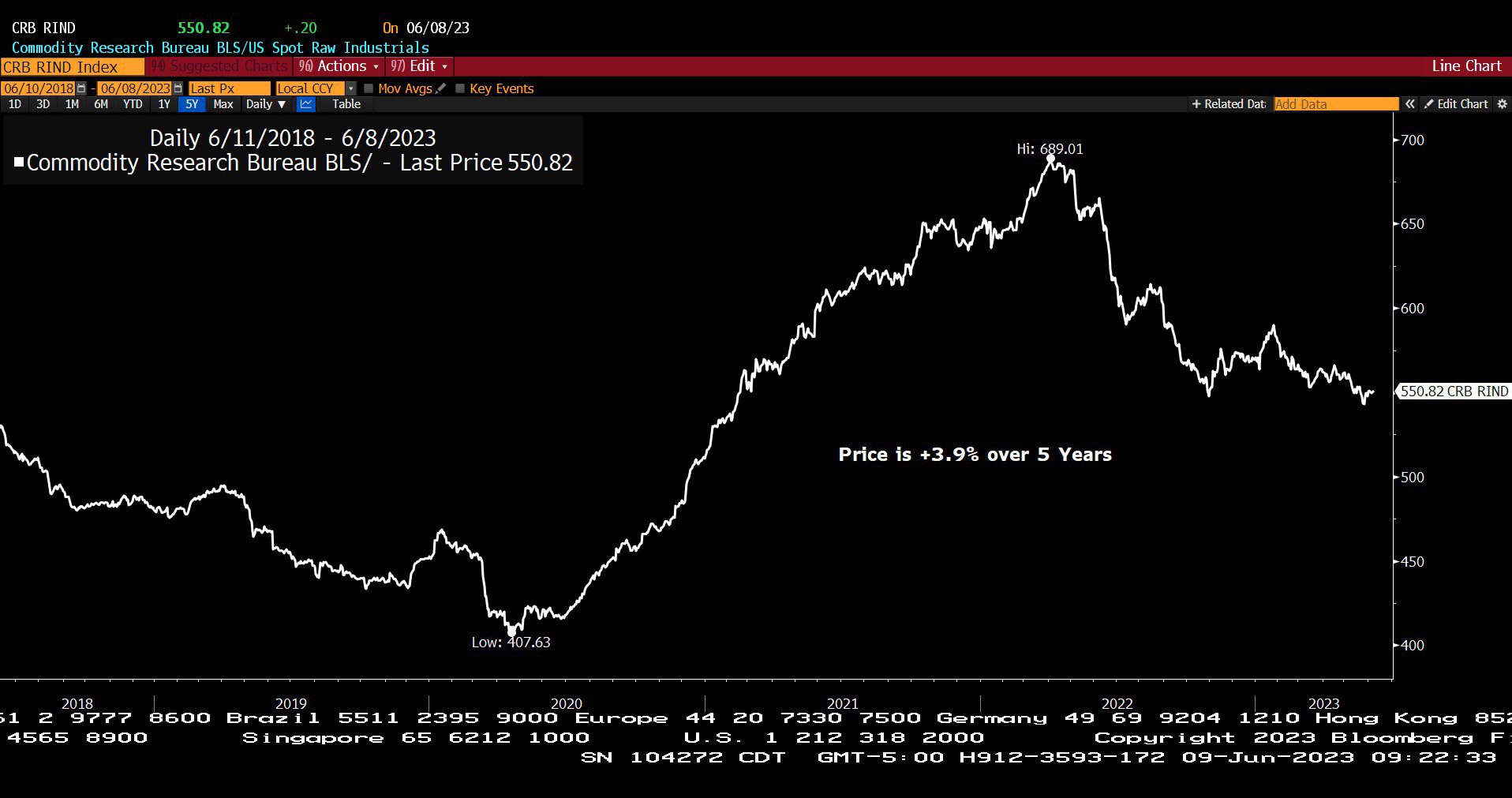 – Courtesy of Bloomberg LP
Dow Jones Industrial Average
(12/30/2022 – 06/09/2023)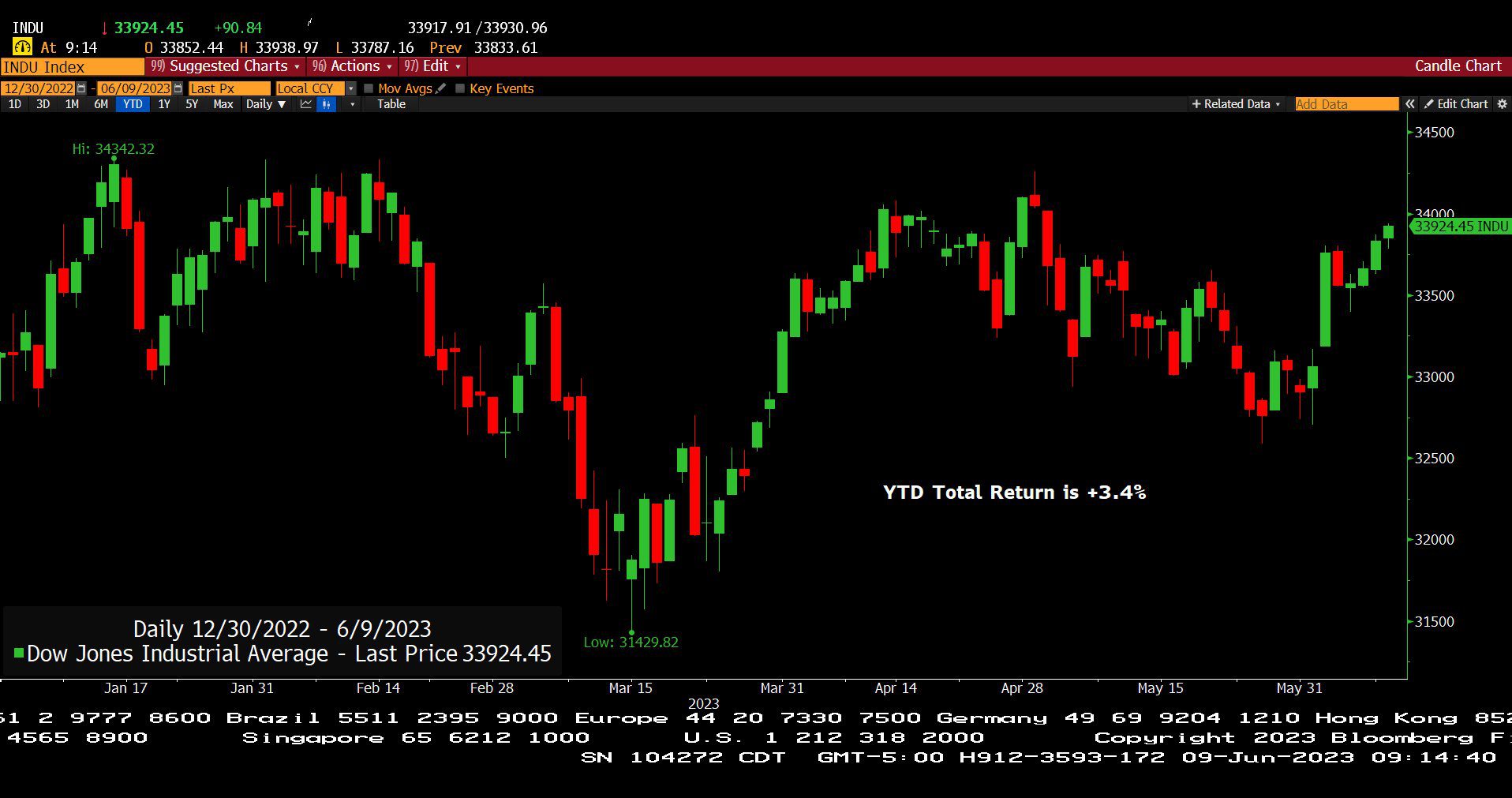 – Courtesy of Bloomberg LP
Evolution of Atlanta Fed GDPNow Real GDP Estimate for 2023 – Q2 (06/08
/2023)
– Courtesy of The Atlanta Federal Reserve
C.B.O.E. Short Term Interest Rate Index, 10 Year Treasury Note Yield Index & 30 Year Treasury Bond Yield Index
(12/30/2022 – 06/09/2023)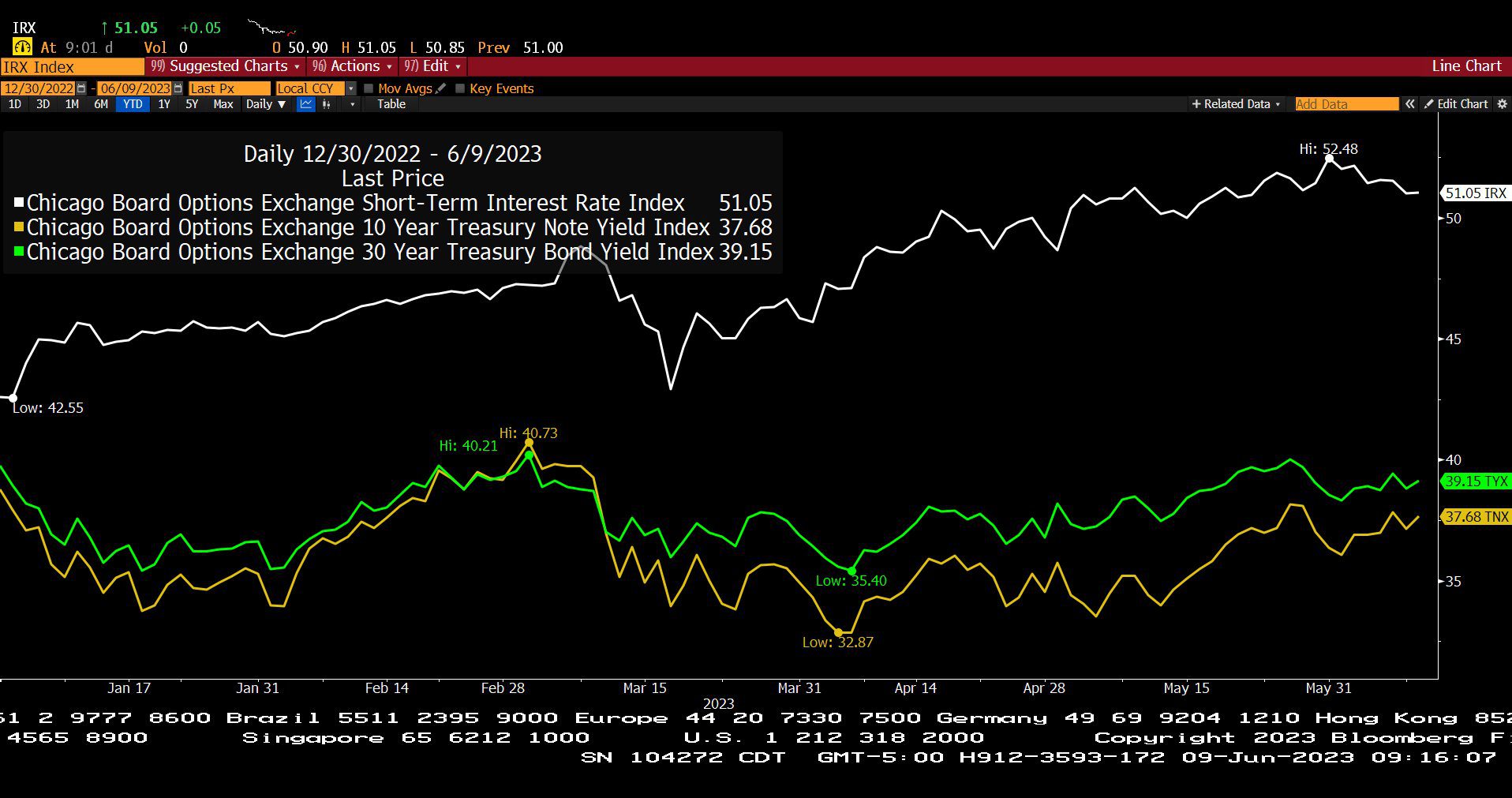 – Courtesy of Bloomberg LP
Headline Round Up
*SEC Goes Full Spider Monkey on Crypto Exchanges Binance and Coinbase!
*SEC Asks for Emergency Order to Freeze Binance U.S. Assets Anywhere in the World?
*Investors Pull $790 Million from Binance in 24 Hours!
* "It's Just a Flesh Wound!" Cathie Wood Hikes Her Coinbase Stake During Plunge? What is the premise & what did she say about FTX?
*High Yield Bonds Attract Most Cash Since 2020!
*First Home Equity Loss for Homeowners Since 2012?
*Morgan Stanley Strategists Sees Corporate Profit Drop?
*Apple Set for Record High Ahead of Mixed Reality Headset Launch. 3,500 for what?
*Is the S&P 500 on The Cusp of New Bull Market?
*Airline Executives Hopeful That Air Travel Boom Here to Stay?
*Chevron Says Natural Gas Has Long Demand!
*Saudi's Go-It- Alone Production Cut for July at Production 1 Million BPD.
*Hilton San Francisco Union Square & Parc 55 Owner, Park Hotels & Resorts CEO Thomas J. Baltimore, Jr., Ceasing Payment on 725 Million Worth of Loans Over "Street Conditions, Office Vacancies and Reduced Conventions".
*U.S. Banks Brace for Commercial Property Losses.
*Goldman Lowers U.S. Recession Probability to 25%.
*Dell Family Office Preparing for $20 Billion Deposit After VMware, Inc. Deal Closing.
*Eggs On Sale Again! Deflation?
*U.S. Solar Installations Spike 47% in the 1st Quarter!
*Not Good: Nikola Reverse Stock Split?
*Beware Artificial Intelligence (AI) FOMO, Fear of Missing Out. The 8 Megacap stocks?
*Bridgewater's Recent Top 13-F Holdings?
Profit Report
1. On Cost Basis – To Step Up or Not To Step Up?
2. Why is your wealth management team important for your financial legacy? after you are gone?
The reading of the will?

The reading of the trust?
3. With the recent new 10-year withdrawal requirement on IRA's, how will my heirs minimize taxes and preserve the legacy?
Method for an Annual Distribution

¹

: Annual Distribution = Value – (Value/10-t)*

*t = Years from Start

*Value = Current Balance at Distribution
¹The material presented above is for informational purposes only. Any changes to your tax situation should be discussed with your chosen tax professional.
4. What are 3 of the biggest mistakes clients can make in retirement planning and how do we avoid them?
Retiring too soon: Avocation Phase.

Overfunding kids and grandkids during retirement: Set clear, defined boundaries and stick to them.

Overspending: 80% of free cash flow leaves a 20% reinvestment rate.
Research Round Up!
Investors are invited to improve decision making with a comprehensive tour of global economics, indicators, and actual results.
---
Start the Process Today! Be sure to indicate what size portfolio sample you would like to see. A link will arrive when we receive your questionnaire.