Q: What might earnings season tell investors so far this year?
A: The McGowanGroup's research below compares S&P 500 companies' performance.
Q: Over the last 90 days what companies have performed the best in the equity markets?
A: We have included a recent Top 10 and Bottom 10 of companies in the S&P 500 Index below.
Q: What could current copper prices tell investors about the global economy?
A: Recent elevated prices can indicate robust global demand.
Q: What are some of next week's important announcements for investors?
A: Stay tuned for a fast-paced headline round up from McGowanGroup Wealth Management!
Dow Jones Industrial Average
(12/30/2022 – 04/21/2023)
– Courtesy of Bloomberg LP
Standard & Poor's 500 Index – Quarterly Earnings Analysis by Sector
(02/16/2023 – 05/15/2023
)
– Courtesy of Bloomberg LP
NASDAQ 100 Index –
Quarterly Earnings Analysis by Sector
(02/16/2023 – 05/15/2023
)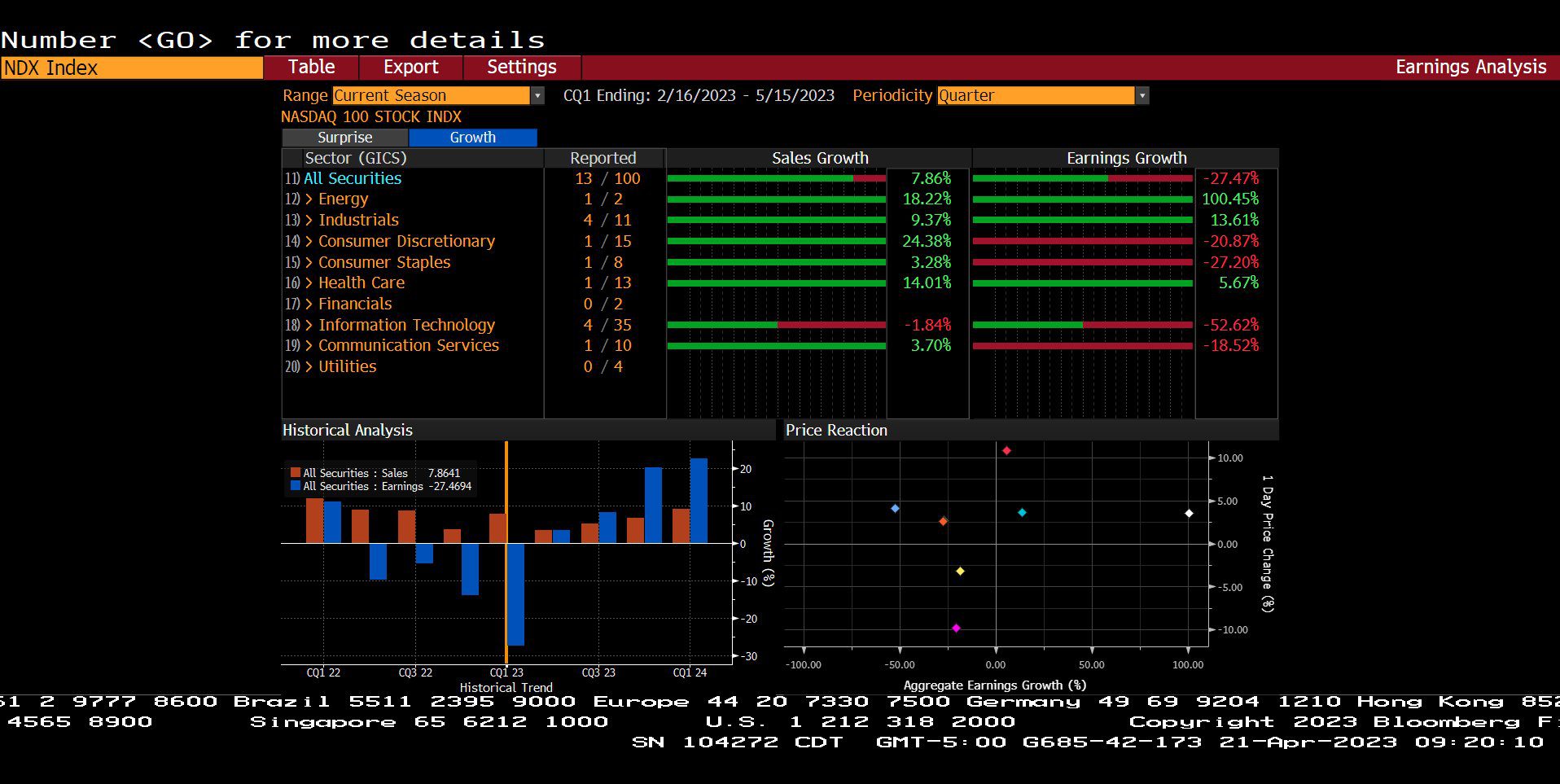 – Courtesy of Bloomberg LP
Standard & Poor's 500 Index – Top 10 and Bottom 10 Companies
(04/21/2023
)
– Courtesy of Standard & Poor's & The McGowanGroup
Headline Round Up
*A Few of Next Week's Important Announcements For Investors!
*Tesla Reports 24% Decline in 1st Quarter Profit with Price Cuts.
*Homebuilder Sentiment Increases For the Fourth Month In a Row? Housing slowdown not as bad as expected?
*New Home Builder's Currently Winning as Buyers Prefer New.
*America's Homebuilder, DR Horton, Inc., Hits All Time High Despite Housing Slowdown?
*U.S. Housing Starts in Decline.
*Life Insurance Companies Halt Loans to Office Buildings as Massive Debt Comes Due.
*Brookfield Corp. Defaults on $161 Million in Office Building Debt.
*10 Year Municipals Most Expensive to Treasuries Since 2021.
*OPEC Sees Oil Demand Climbing This Year. IEA Forecasts Record Demand in 2023 Driven By Chinese Consumption.
*World's No. 3 Oil Services Provider, Baker Hughes. Co., Reports Huge Earnings Gain & Forecasts Decades Long Boom in Natural Gas Demand Growth.
*Rising PetroYuan and End of the PetroDollar? Chinese Yuan Denominated Oil Futures Contracts by Shanghai International Energy Exchange launched in 2018!
*UBS Loves ExxonMobil, Corp. & Upgrades Rating.
*Clean Energy Projects Explode to $150 Billion in Just 8 Months as Federal Incentives Propel Construction.
*U.S. Manufacturing Projects Set to Explode with $200 Billion in Commitments From Companies Following Passage of IRA and CHIPS Acts!
*China's Economic Growth at 4.5%,Year on Year for the 1st Quarter, vs. Forecasted 4%.
*Record U.S. Air Travel Projected Through the Summer!
*BNY Mellon Corp. Reports Huge Revenue and Profit Gains in the 1st Quarter.
*Dallas Based AT&T Falls 10% in One Day Reaching 1995 Price?
*Washington Commanders Sold For $6 Billion.
*Republican Study Committee Chairman, Kevin Hern, Urges Colleagues to Pass Debit Ceiling Legislation by End of April?
Profit Report
The power of surplus cash flow during a great avocation phase according to The McGowanGroup.
Research Round Up!
Investors are invited to improve decision making with a comprehensive tour of global economics, indicators, and actual results.
---
Start the Process Today! Be sure to indicate what size portfolio sample you would like to see. A link will arrive when we receive your questionnaire.