Q: Another bank implosion this week, The Federal Reserve's meeting next week to discuss another potential interest rate hike plus slowing growth for the economy. Why is the Dow Jones Industrial Average 2,000 points above March lows?
A: Stay tuned to hear Alex "The Profit" Tollen give his take!
Q: What did Southwest Airlines CEO Bob Jordan say about the current economic environment?
A: Not seeing the expected economic slowdown while air travel demand is strong and rising.
Q: What is the real story on the price of your house right now in North Texas?
A: Housing Prices are down 8.5% on average from the 2022 peak, but they are still up 2% over the past year.
Standard & Poor's CoreLogic Case-Shiller Dallas Home Price, Non Seasonally Adjusted Index
(04/26/2021 – 02/28/2023
)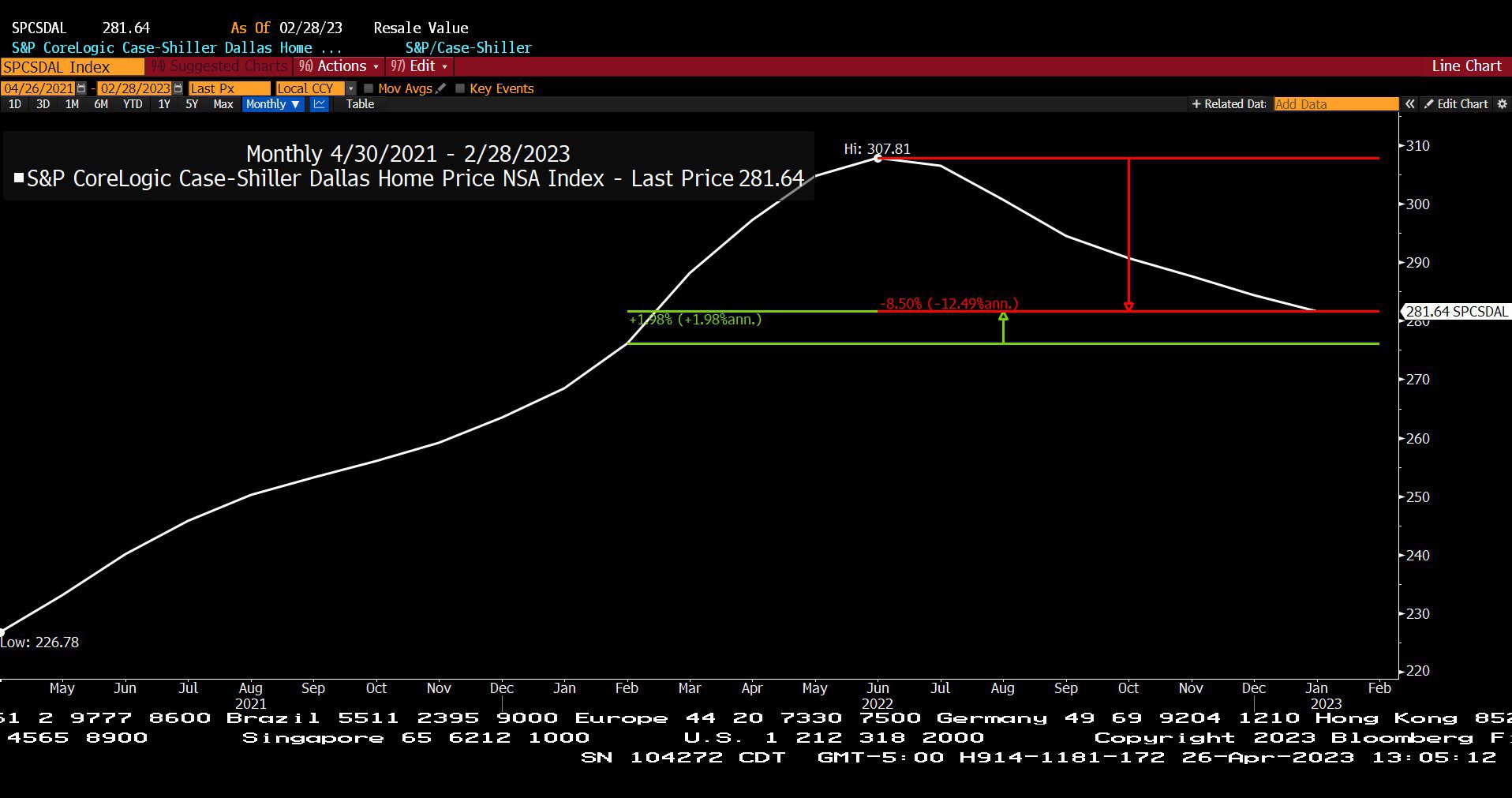 – Courtesy of Bloomberg LP
Dow Jones Industrial Average
(12/30/2022 – 04/28/2023)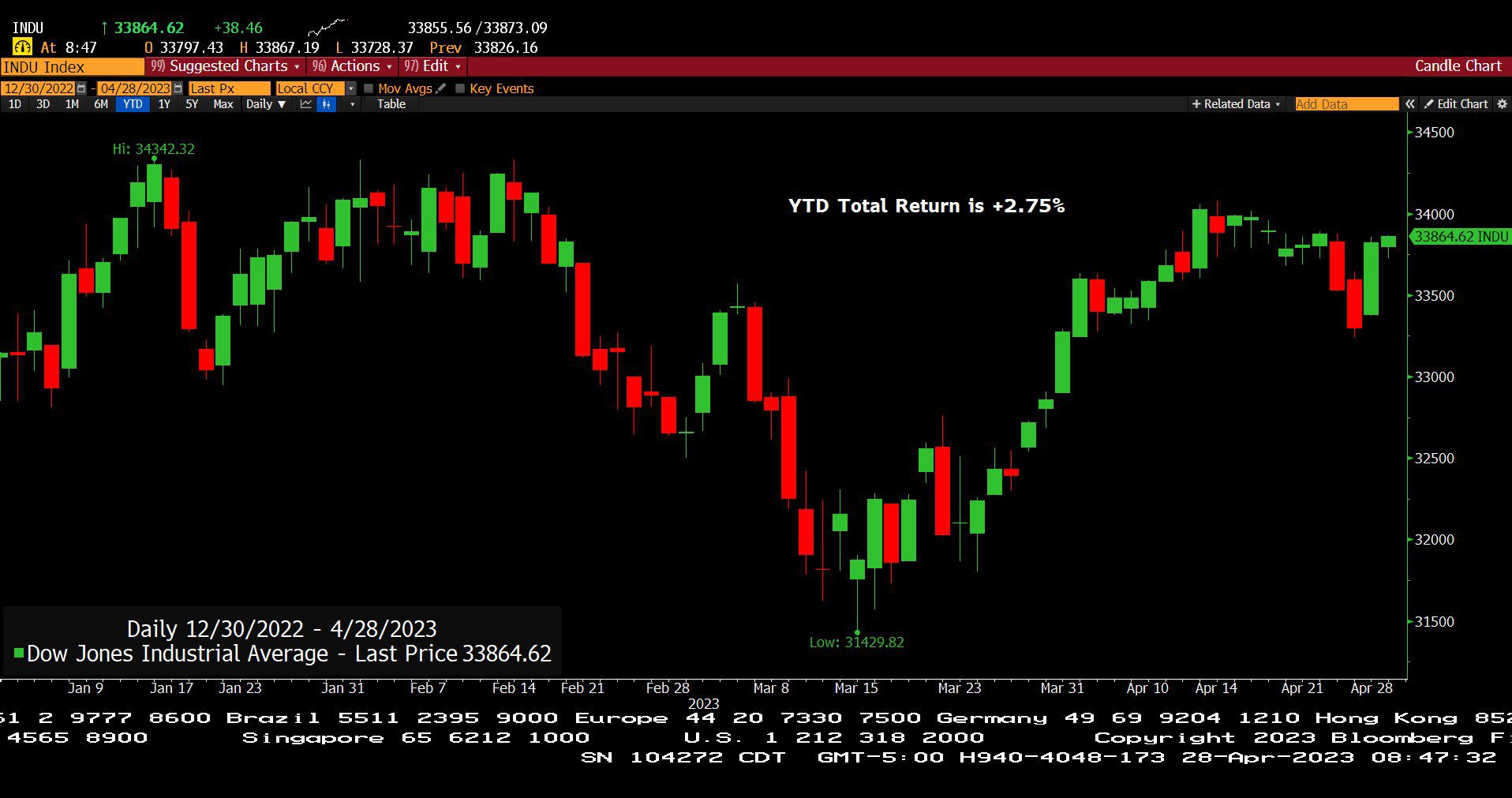 – Courtesy of Bloomberg LP
Quarterly U.S. Economic Forecasts With Probability of Recession
(Q20 2022 – Q3 2024
)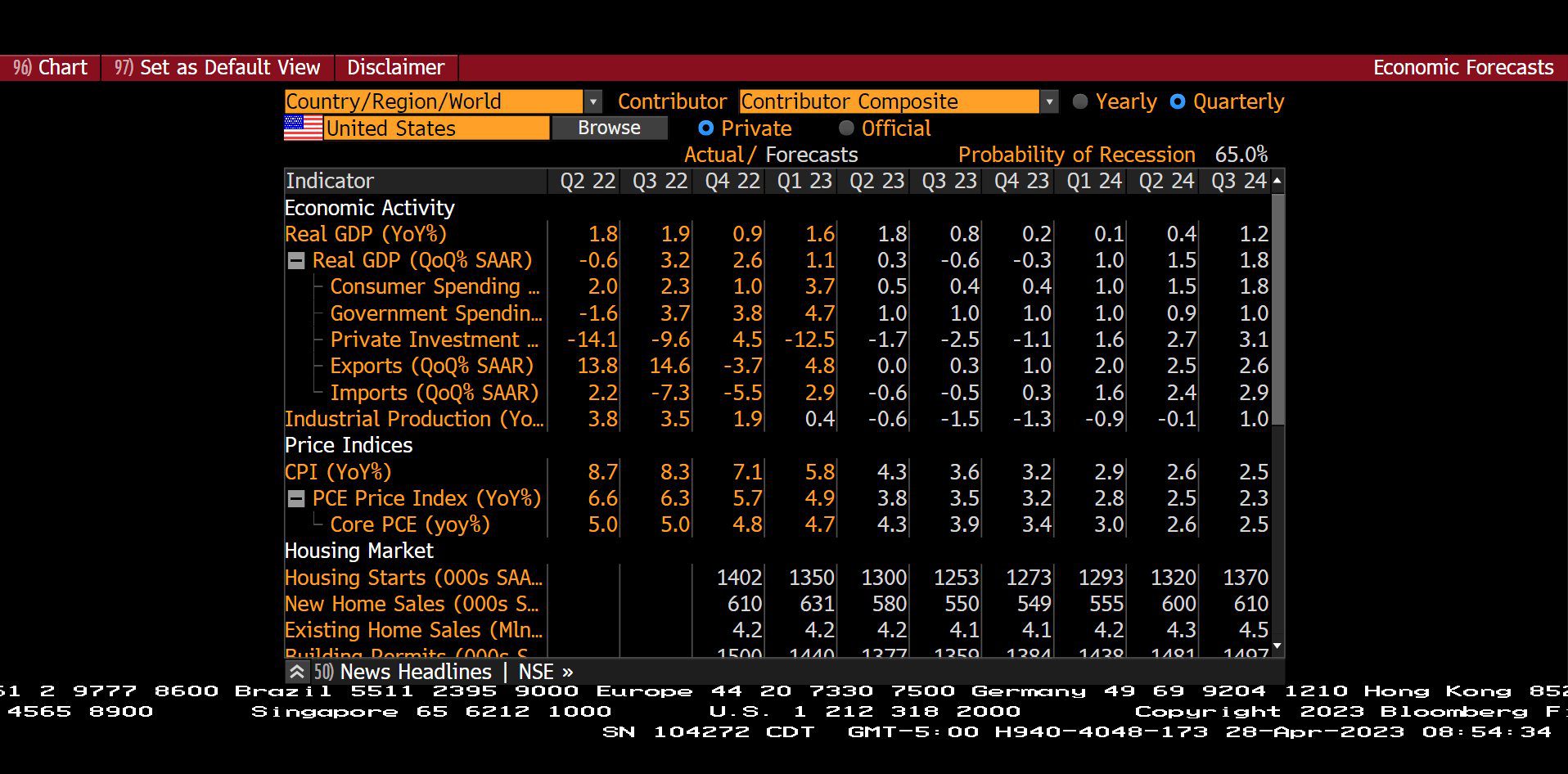 – Courtesy of Bloomberg LP
Generic Oil Futures Spot Price
(12/30/2022 – 04/28/2023
)
– Courtesy of Bloomberg LP
Standard & Poor's 500 Index – Quarterly Earnings Analysis By Sector
(02/16/2023 – 05/15/2023
)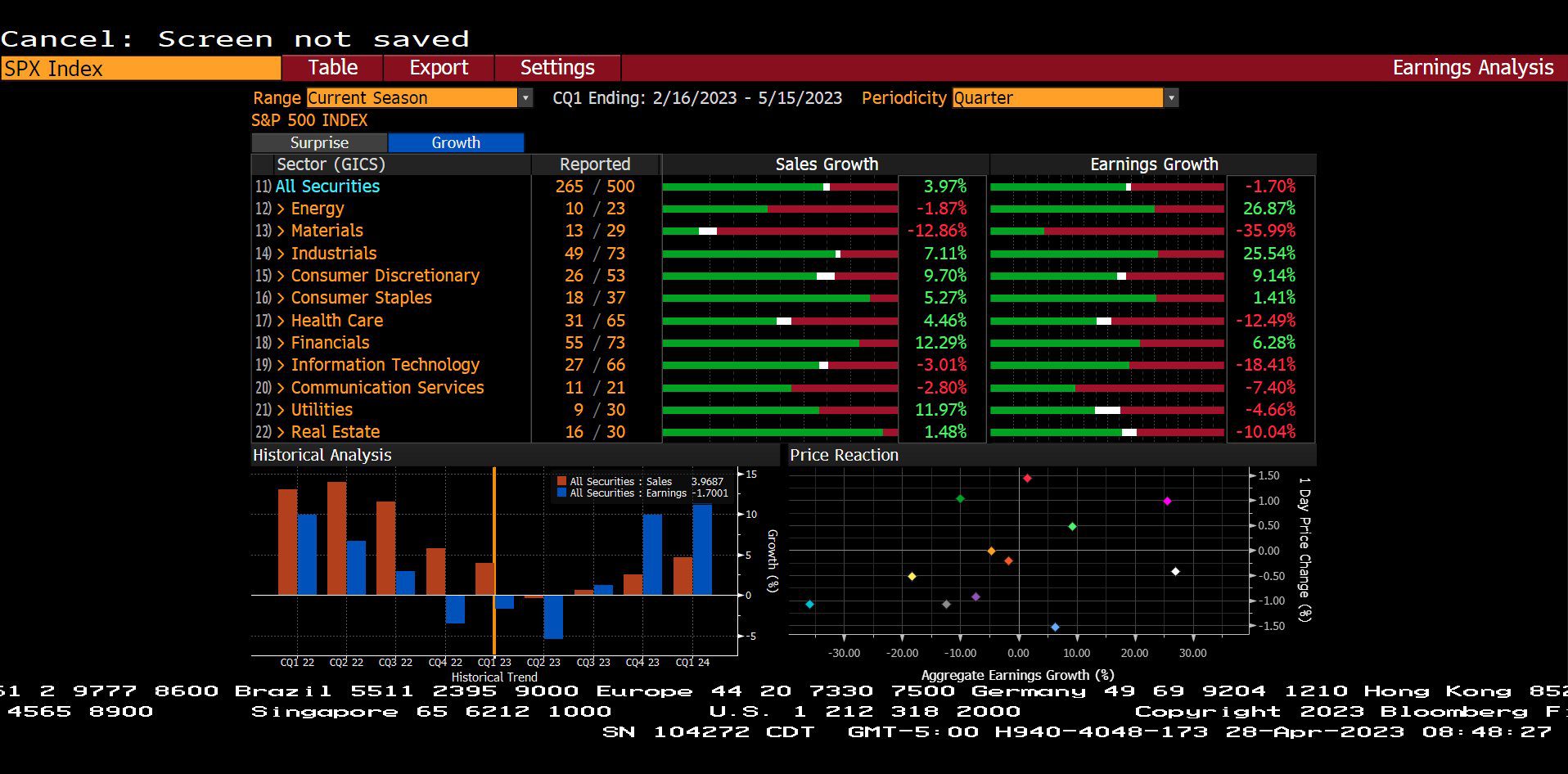 – Courtesy of Bloomberg LP
Standard & Poor's 500 Index – Top 10 and Bottom 10 Companies
(01/27/2023 – 04/28/2023
)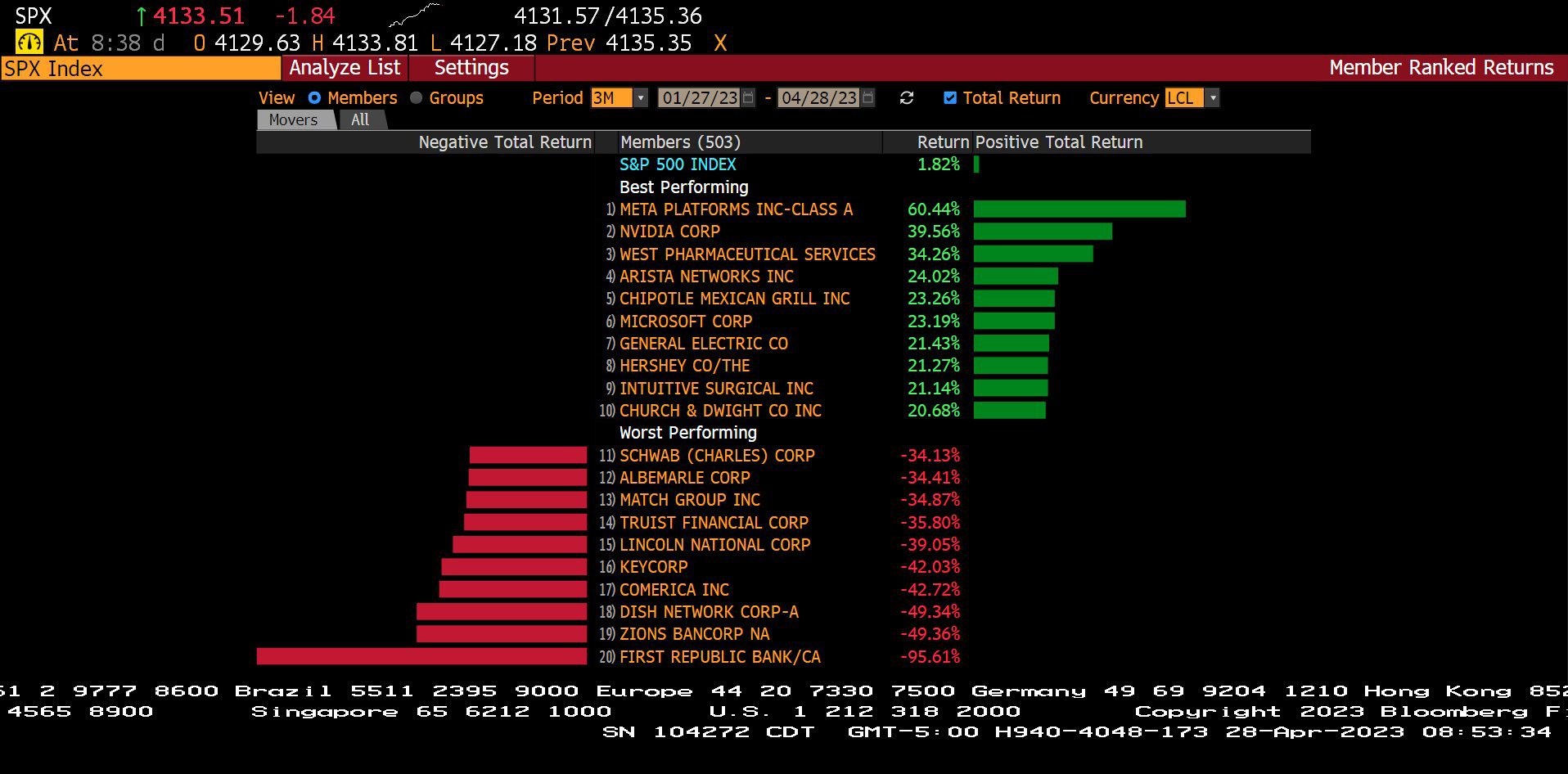 – Courtesy of Bloomberg LP
Headline Round Up
*Gross Domestic Product (GDP) Up 1.1%! What does that mean for the financial markets?
*Beer and Handbag Demand Strong! Consumer Goods Companies delivered better than expected profit.
*New Home Sales RISE 10% in March?
*Meta Platforms, Inc., Owner of Facebook, Spikes 12% After Announcing Ad Sale Rebound. META up over 90% year to date, but still down 35% from its peak.
*AbbVie, Inc. Shares Fall 6% After Announcing a 17% Profit Increase? Sales for top selling drug Humira expected to decline this year.
*Frost Bank Shares Spike 5% After Reporting Resiliency.

Net Investment Income (NII)

higher than expected even though deposits are lower than analyst's estimates so far this year.
*I.C.U. for First Republic Bank? First Republic Bank drops below $5, but peaked over $200 in 2021?
*Pricing Power! Tesla Model Y Now Undercuts Average Vehicle Price in U.S. & Prices Are Down 20K Since Middle of 2022!
*Only 10 Carmakers Will Survive Global Electric Vehicle (EV) Battle Says Tesla's Chinese Rival Xpeng.
*General Motors, Co. Raises 2023 Guidance on Earnings and Cash Flow Due to Higher Than Expected Demand.
*UPS Down Almost 9%10% This Week. Lowers forecast for 2023 due to "deterioration of the macro [environment]" .
*Microsoft Corp. Spikes to Over $300 on Great Results.
*Goldman Sach's Favorite Sector is Oil and Gas So Far This Year.
*Iran Seizes Chevron Charted Oil Tanker in the Gulf of Oman That Was Headed to the U.S.
*OilPrice.com Sees 4 Potential Scenarios for $200 Oil?
*Wind Power Research, Development & Construction Losing Money Due to Higher Costs and Expenditures. Still feeling the pinch of the supply chain constraints.
*U.S. Dollar Implosion Risk Greatly Exaggerated.
*Russian Pranksters Goof on Jerome Powell by Impersonating Ukrainian President Volodymyr Zelenskyy in January.
Profit Report
The Republican House Passes DOA Debt-Ceiling Bill.
Research Round Up!
Investors are invited to improve decision making with a comprehensive tour of global economics, indicators, and actual results.
---
Start the Process Today! Be sure to indicate what size portfolio sample you would like to see. A link will arrive when we receive your questionnaire.