Q: What are some of the top surprises of 2023 in the equity markets so far?
A: Disinflation, No Recession in Q1 or Q2 of 2023, Recent U.S. economic growth near 2%, An Artificial Intelligence (AI) driven tech rally, Crude oil prices stable near $70 per barrel, A banking crisis limited to four California venture capital focused banks, and Record vacation travel to name a few!
Q: What are Total Return Units?
A: Total Return Units are McGowanGroup managed model portfolios tactically allocated to four investment categories:
• Growth and Innovation
• Growth with Income
• High Cash Flow
• Tactical Safety and Income.
Q: What has happened to North Texas home prices in the past year?
A: Prices are down nearly 3% year over year, but up slightly in 2023.
Q: How discounted are traditional energy infrastructure stocks now?
A: Stay tuned for the interview with Recurrent Advisors.
NetWorth Radio's Texas Business Leadership Series: Spencer McGowan Interviews Brad Olsen and Oliver Doolin from
Recurrent Advisors in Houston!
---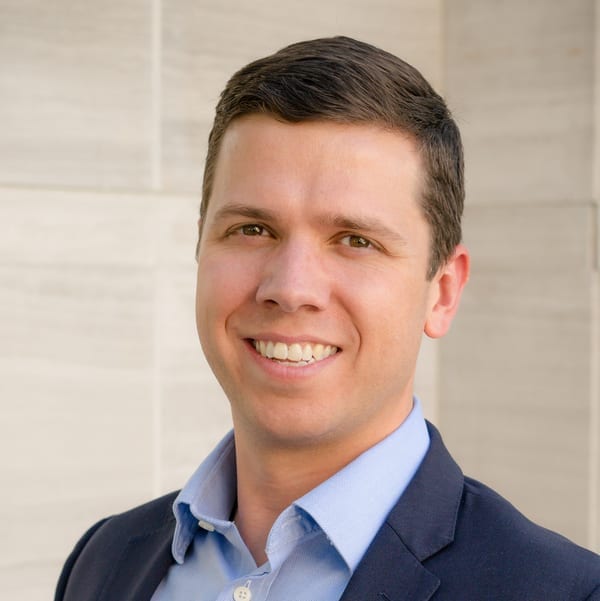 Prior to co-founding Recurrent, Brad was most recently the lead MLP portfolio manager for BP Capital Fund Advisors (BPCFA). Under Brad's leadership, MLP AUM more than doubled (excluding the impact of appreciation).
From 2011 to 2015, Brad led Midstream Research for Tudor, Pickering, Holt & Co. (TPH & Co.), where he was recognized as the top all-around stock picker in the US by the Financial Times in 2013, and the top energy stock picker in the US by Starmine in 2014. Under Olsen's leadership, the TPH & Co. midstream team was recognized in the WSJ's "Best on the Street" poll as well as by Institutional Investor Magazine.
Brad also has experience as an investment analyst at Eagle Global Advisors in Houston, where he was part of a 3-person team that grew midstream/MLP AUM from $300mm to over $1bn from 2008 through 2011. He has also worked in investment roles at Millennium International, a large global hedge fund, and Strome Investment Management, an energy-focused hedge fund based in Santa Monica, CA. He began his career in the UBS Investment Banking Global Energy Group in Houston.
Brad earned a BA in Philosophy, Political Science, and Slavic Studies from Rice University in Houston.
Brad resides in Houston with his wife and four children. Brad was nearly fluent in Russian, but is very rusty.
---
Client Portfolio Manager / Energy Specialist
Oliver has spent over a decade specializing in natural resources, oil & gas, and MLP institutional equity research, most recently at Heikkinen Energy Advisors in Houston.Prior to joining Heikkinen, Oliver served in both research and business development roles at energy-focused investment banks, including 6 years as a Vice President at Tudor, Pickering, Holt & Co (TPH) in Houston, where he specialized in exploration and production (E&P), oilfield services (OFS) and midstream MLP companies.
Oliver began his career as a research analyst covering E&P and Oilfield Service companies for both TPH and Howard Weil, respectively.
Oliver holds a BS with dual concentrations in Finance and Legal Studies (Tulane University) as well as an MS in Accounting from the A.B. Freeman School of Business at Tulane University.
Oliver, originally from south Louisiana, is an avid outdoorsmen and runner. He resides with his wife and two children in Houston.
S&P CoreLogic Case-Shiller Dallas Home Price Index, Non Seasonally Adjusted
(06/23/2021 – 04/30/2023
)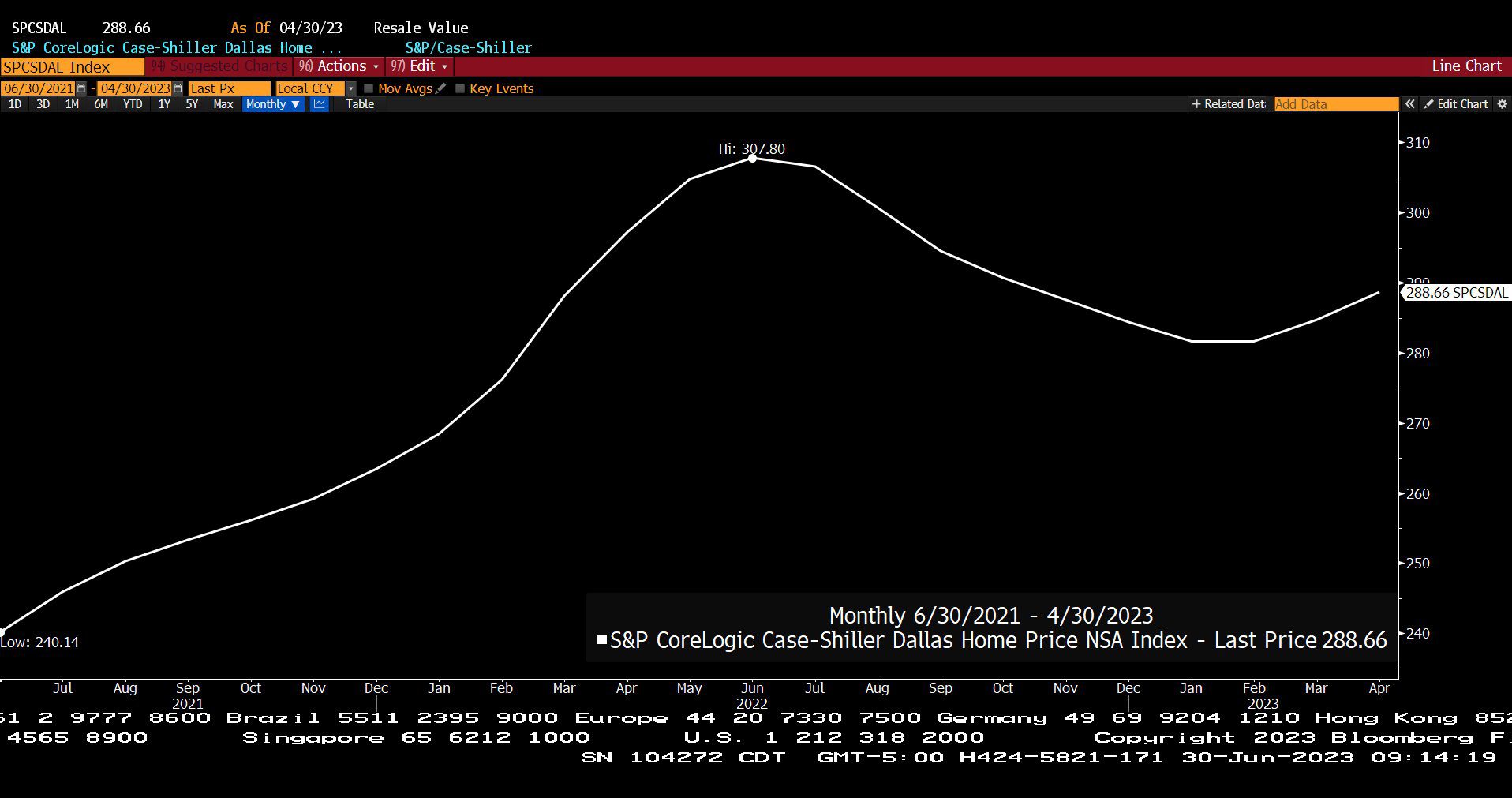 – Courtesy of Bloomberg LP
Dow Jones Industrial Average
(12/30/2022 – 06/30/2023)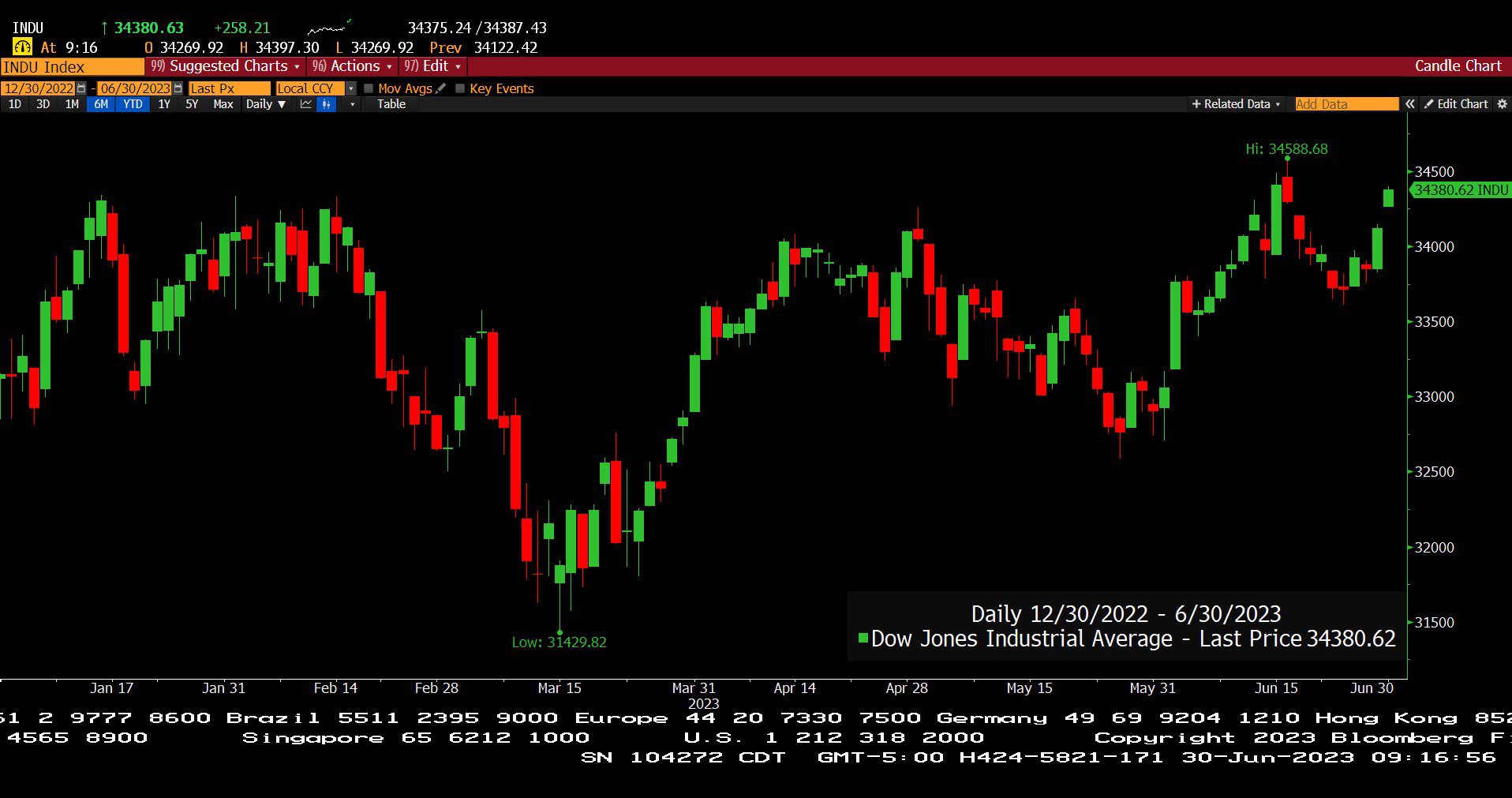 – Courtesy of Bloomberg LP
U.S. Personal Consumption Expenditures Chain Type Price Index Month over Month, Seasonally Adjusted
(06/23/2021 – 05/31/2023
)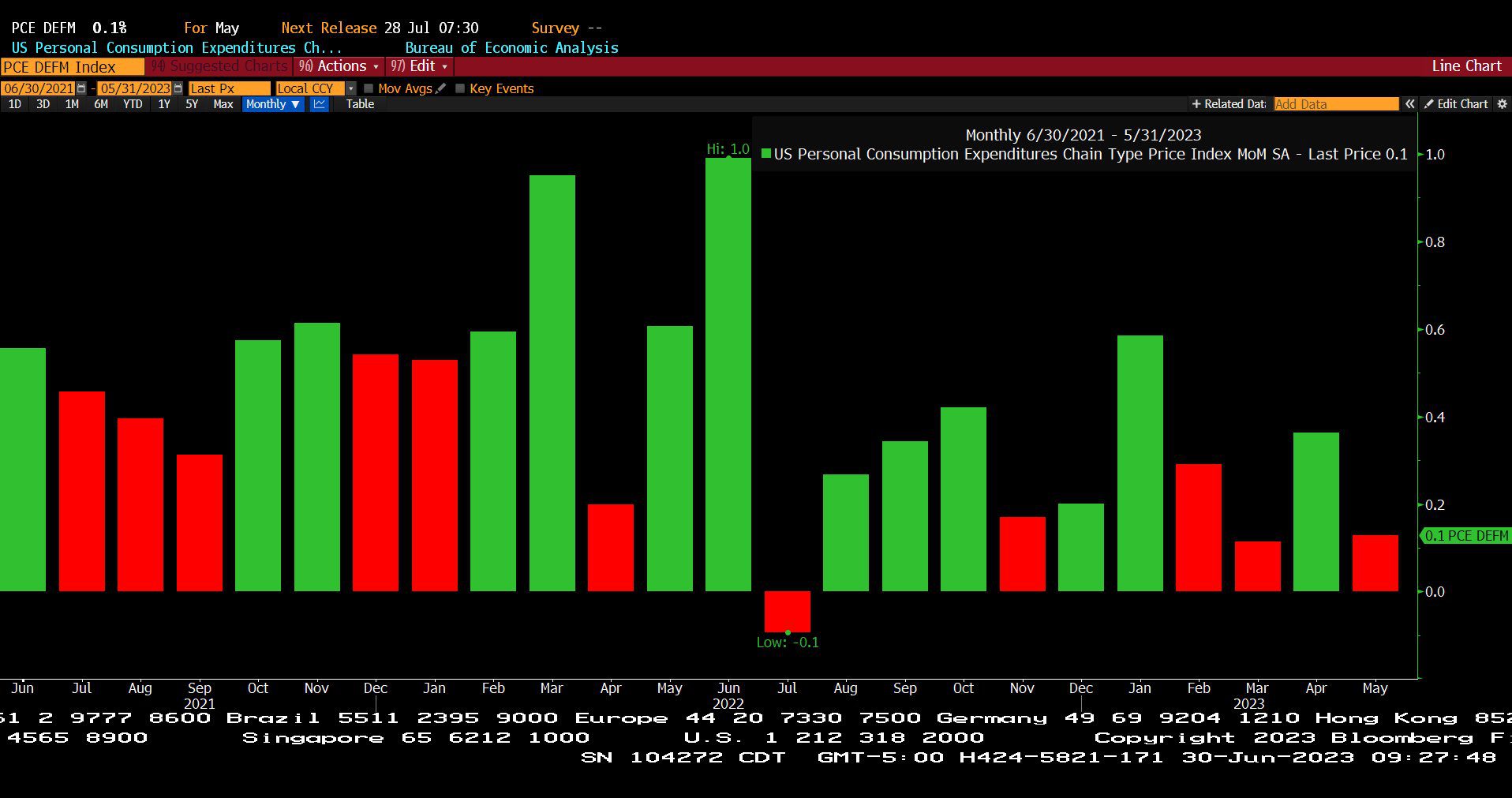 – Courtesy of Bloomberg LP
U.S. Personal Consumption Expenditures Chain Type Price Index
Year over Year, Seasonally Adjusted
(06/23/2021 – 05/31/2023
)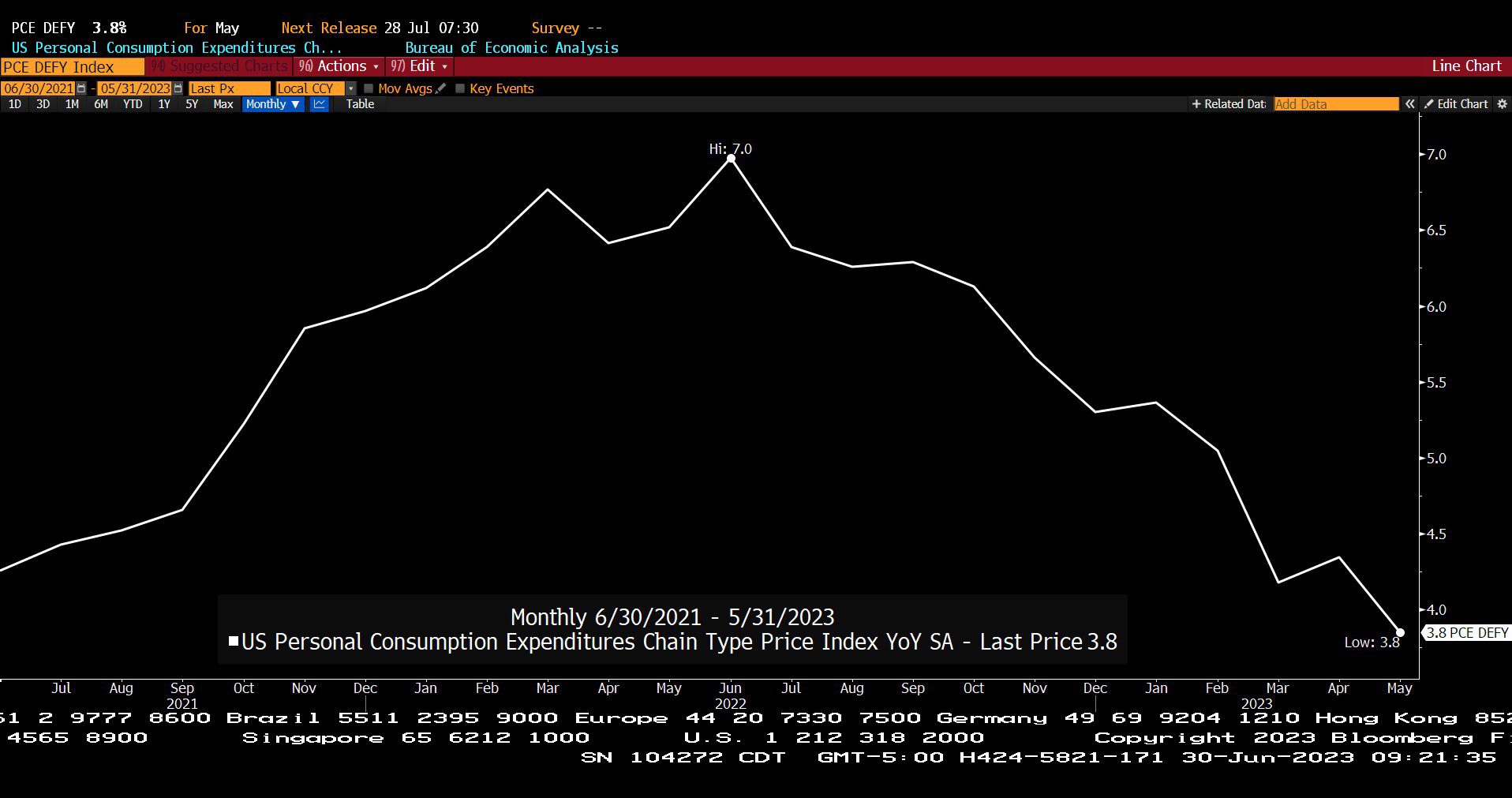 – Courtesy of Bloomberg LP
Generic Crude Oil Futures Contract Spot Price
(12/30/2022 – 06/30/2023
)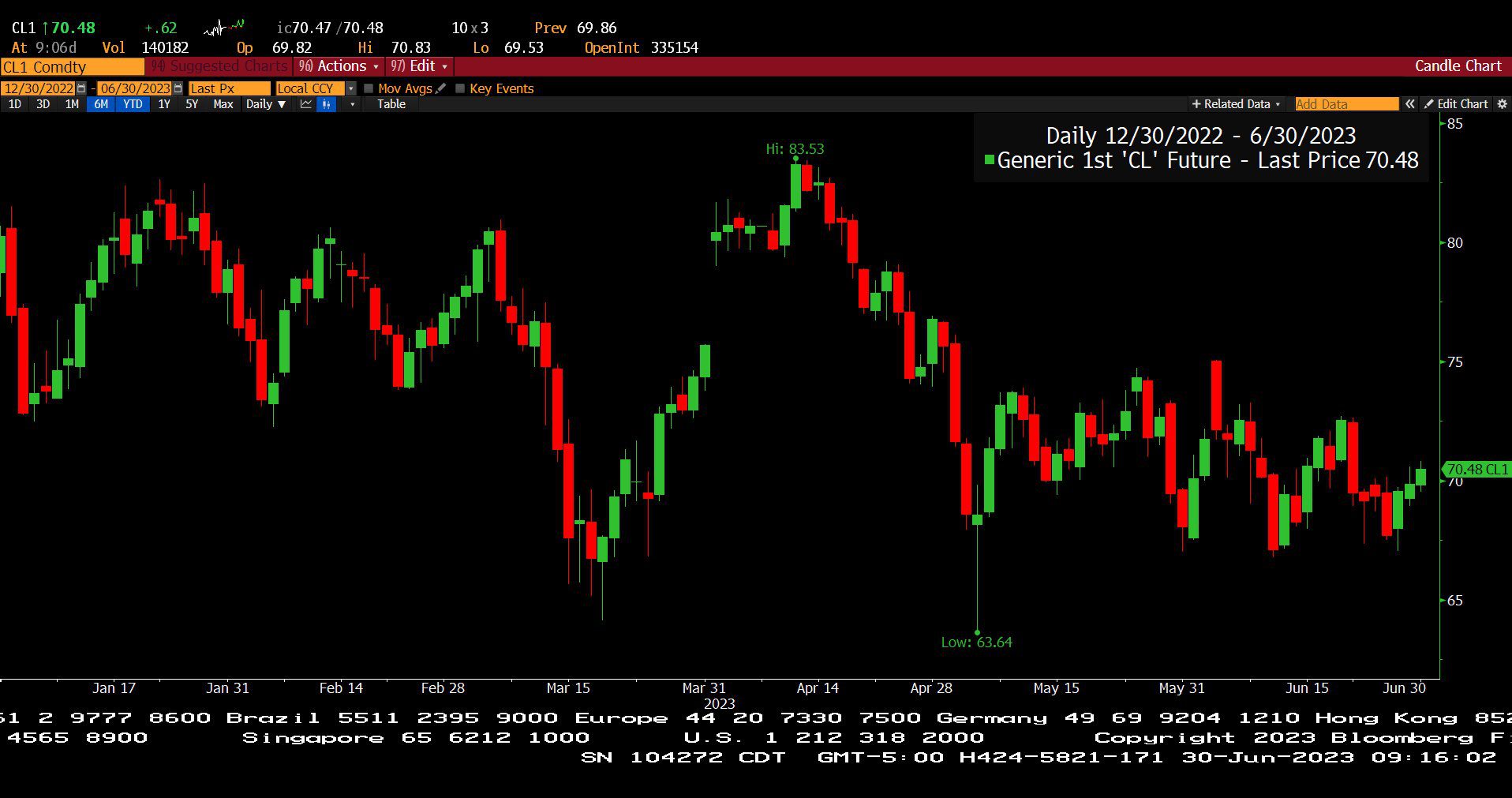 – Courtesy of Bloomberg LP
– Courtesy of The Federal Reserve Board
Generic Natural Gas Futures Contract Spot Price
(12/30/2022 – 06/30/2023)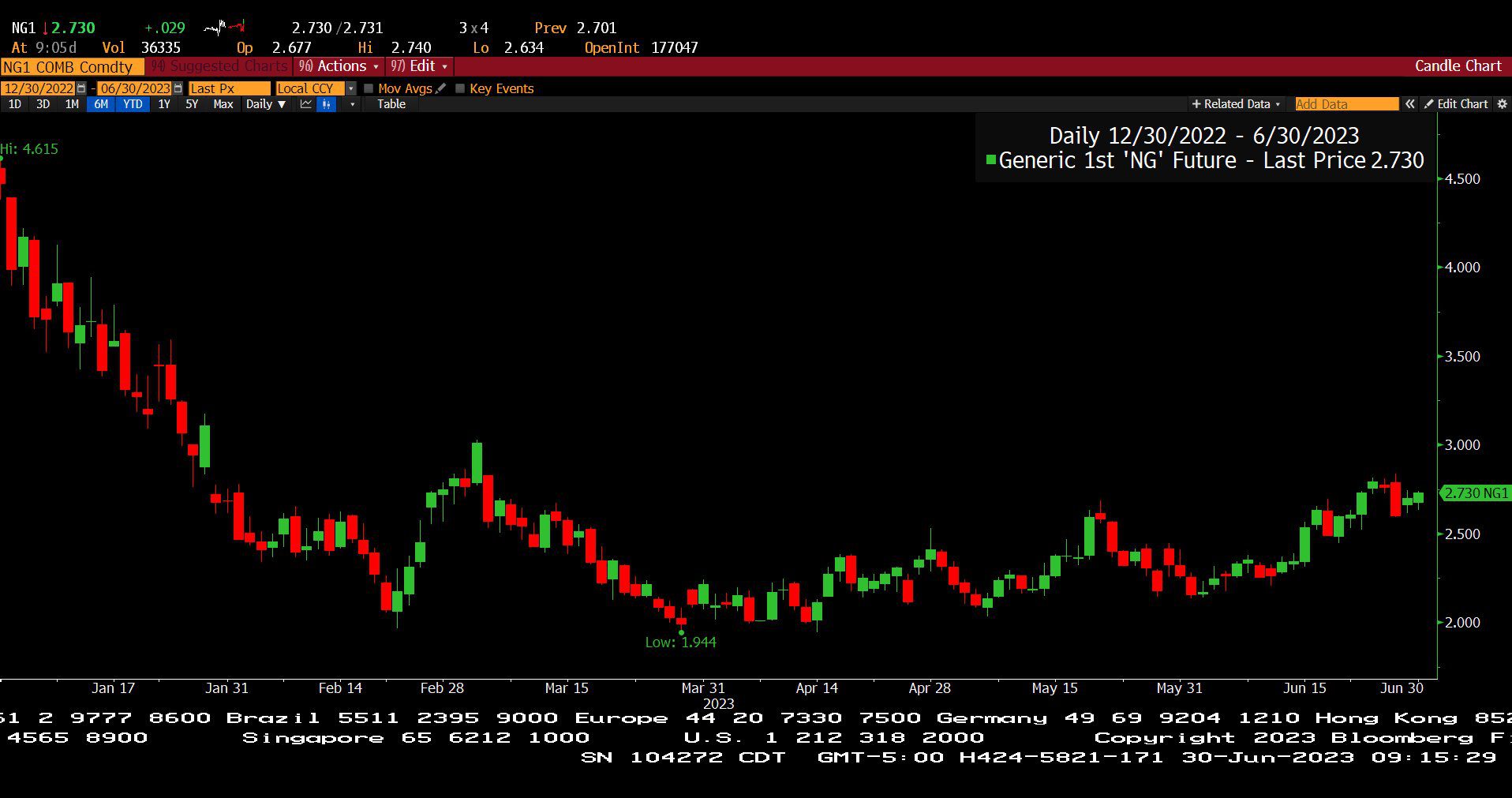 – Courtesy of Bloomberg LP
Lordstown Motors, Corp.
(01/01/2018 – 06/30/2023)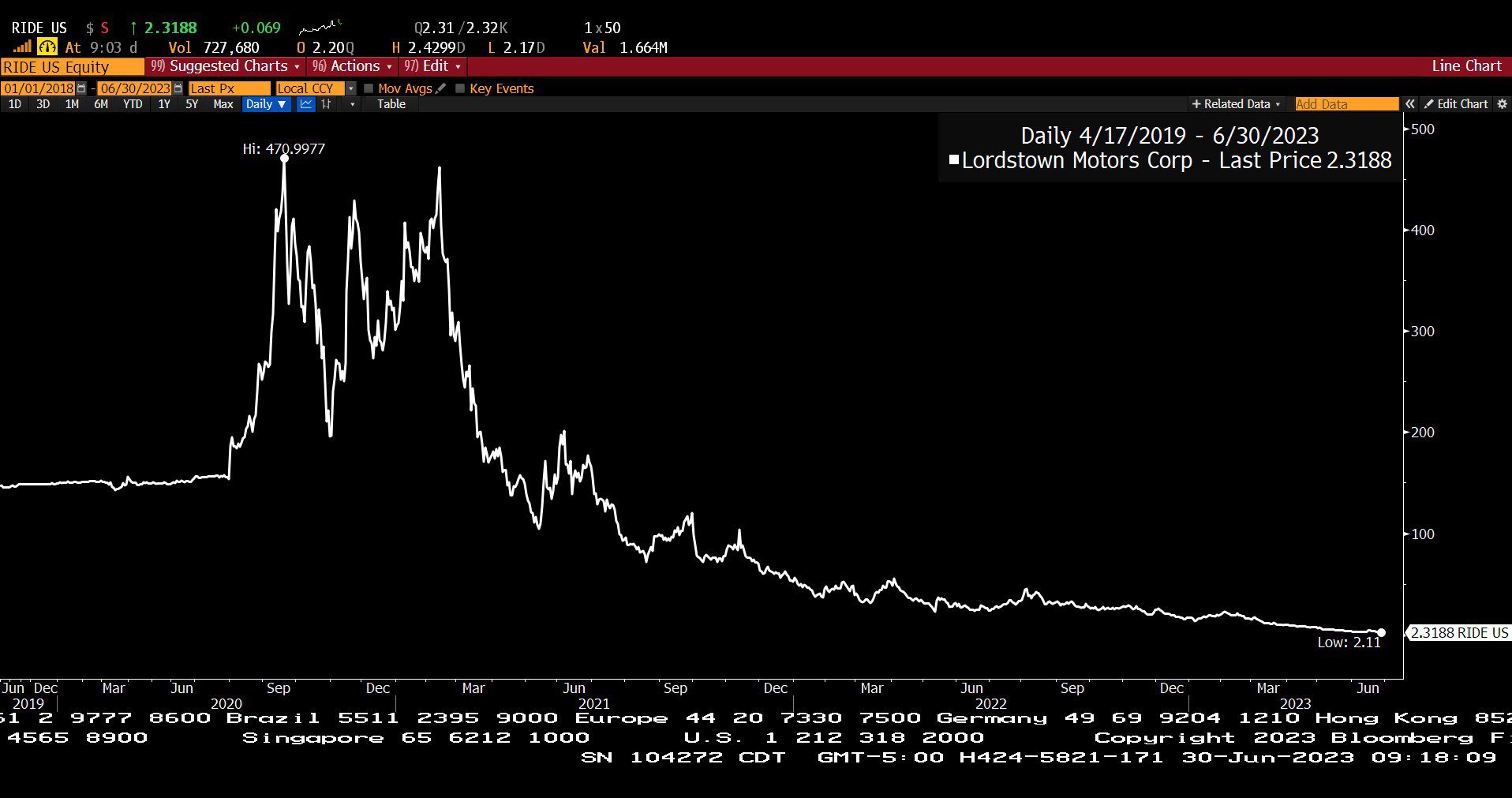 – Courtesy of Bloomberg LP
Headline Round Up
*Q1 Economic Growth Revised Up to 2% from Previous Estimate of 1.3%!
*Bill Smead, CIO of Smead Capital Management, Predicts Oil Near $150 – $200 in the next 3-5 years.
*Oil Overall Energy Demand Predicted to Surge 23% by 2045 says OPEC Secretary General Haitham Al Ghais.
*Dallas to benefit with a $103 Million from the Infrastructure Investment and Jobs Act!
*Cheniere Energy Inc. Lands 20 Year Contract with China's ENN Energy Holdings, Ltd.
*A Really Bad RIDE! Lordstown Motors Files for Bankruptcy on Tuesday. Stock Down from its height of $400 to around $2!
*Seattle and San Francisco Home Prices Fall Over 11% Year Over Year.
*San Francisco Office Vacancy Soars to Record High in Q2.
*Big Bear Michael Wilson at Morgan Stanley Says Risks Have Rarely Been Higher?
*Obesity Pills Are on the Way! Pfizer Blows it Again with Drug Candidate Halted on Safety Concerns.
*High Tech Executives HIGH? Silicon Valley's Elites Microdosing LSD, Psilocybin and Ketamine?
*Uranium Up 18% in 2023.
*Tesla Surges to a 109% Rebound in 2023 on Car Charging Technology Domination.
*U.S. Crude Oil Stockpiles Fell Nearly 10 Million Barrels Last Week.
*Heat Wave Contributing to Energy Shortfalls. 2/3rds of North America in Danger.
*Traders Piling Into Bullish Option Bets?
*U.S. Consumer Confidence Highest Since Early 2022.
*New Home Sales Spiked 12% in May?
*Federal Reserve Official Raphael Bostic Favors Keeping Borrowing Costs on Hold, But Chairman Jerome Powell and Other Colleagues Don't Agree with Him.
*Delta Air Lines Inc. Soars on Travel Demand.
*Bitcoin Currency Hovering Around One Year High on Exchange Traded Fund (ETF) Frenzy.
Profit Report
What are 3 of the biggest mistakes clients can make in retirement planning and how do we avoid them?
Retiring too soon: Avocation Phase.

Overfunding kids and grandkids during retirement: Set clear, defined boundaries and stick to them.

Overspending: 80% of free cash flow leaves a 20% reinvestment rate.
Research Round Up!
Investors are invited to improve decision making with a comprehensive tour of global economics, indicators, and actual results.
---
Start the Process Today! Be sure to indicate what size portfolio sample you would like to see. A link will arrive when we receive your questionnaire.