Q: What potential deflationary crisis is unfolding that is likely to change the Federal Reserve's focus?
A: According to Bloomberg, [Capitalization Rates] or "Cap Rates" on commercial real estate have moved from 6% to 8% decreasing values potentially by 25%. If Cap Rates moved to 10%, the decrease in value would be 40%. Bank solvency is endangered by loans that cannot be refinanced, potentially forcing discounted sales to private investors.
Q: Currently, what sectors of the equity markets have strong estimated returns based upon cash flows, earnings and growth potential?
A: At this time, those areas include discounted Global High Yield, Energy Infrastructure, and Dividend Companies to name a few.
Q: What is the process for consolidating with McGowanGroup Wealth Management (MGWM) and our review process?
A: Tune in to today's broadcast and follow along as Alex Tollen, Chief Operating Officer, outlines the MGWM process!
Headline Round Up
*Notable IPOs of the Week!
*Remote Work Could Wipe Out $800 Billion in Office Building Values.
*Dolly Lenz, CEO of Dolly Lenz Real Estate, Says San Francisco is a Real Estate Disaster.
*Thought The U.S. Office Market Was Bad? Try China.
*Impact of Higher Interest Rates on U.S. Households.
*Natural Gas Pipeline Shortage According to Richard Meyer, American Gas Association's Vice President of Energy Markets, Analysis and Standards!
*Unstoppable Oil Rally Led By Tightening Supply & Chinese Demand?
*Oil Tops $92 Mid-Week. Next Challenge $100 a Barrel?
*Crude Inventories Declining Rapidly Per the American Petroleum Institute.
*Oil Industry Not Investing Enough to Meet Demand Says Wood Mackenzie Analysts.
*The Yield Curve "Inversion" Pioneer Campbell Harvey Warns Fed Not to Raise Rates Again.
*King Dollar Shocks Bears.
*Cisco Buys Splunk Cyber Security at a 31% Premium.
*Big Rally in Risky Corporate Loans?
*Intel Announces Artificial Intelligence (AI) Tools That Could Be Central to AI Boom.
*Airbnb Using AI to Stop Wild Parties.
*Texas Renovation Power Couple Chip and Joanna Gains Estimated Net Worth Over $50 Million?
*Eli Lilly Sues Businesses Selling Knock Off Mounjaro.
*FedEx Tops Earnings Estimates By Over 20%.
*Ron Baron, Top Fund Manager at Baron Capital, Riding High on Concentrated Bets.
*Manhattan Based Federal Prosecutors Scrutinize Personal Benefits Tesla may have provided Elon Musk Since 2017?
– Courtesy of J.P.Morgan Asset Management
iShares 20+ Year Treasury Bond Exchange Traded Fund
(09/22/2021 – 09/22/2023)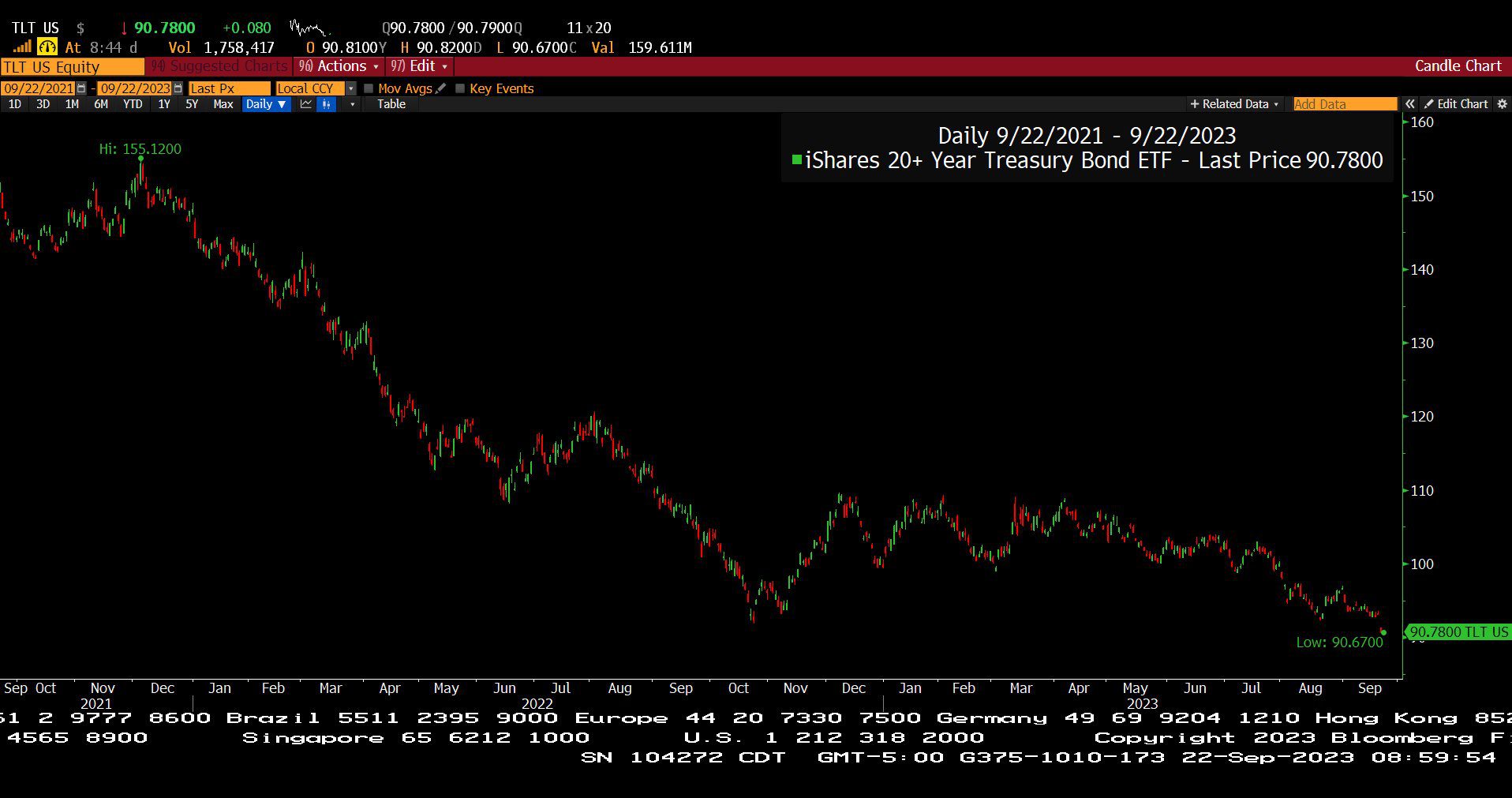 – Courtesy of Bloomberg LP
Dow Jones Industrial Average Index Year to Date
(09/22/2021 – 09/22/2023
)
– Courtesy of Bloomberg LP
Generic Oil Futures Contract Spot Price
(09/22/2021 – 09/22/2023
)
– Courtesy of Bloomberg LP
ARM Holdings, PLC (09/14/2023 – 09/22/2023 Intraday
)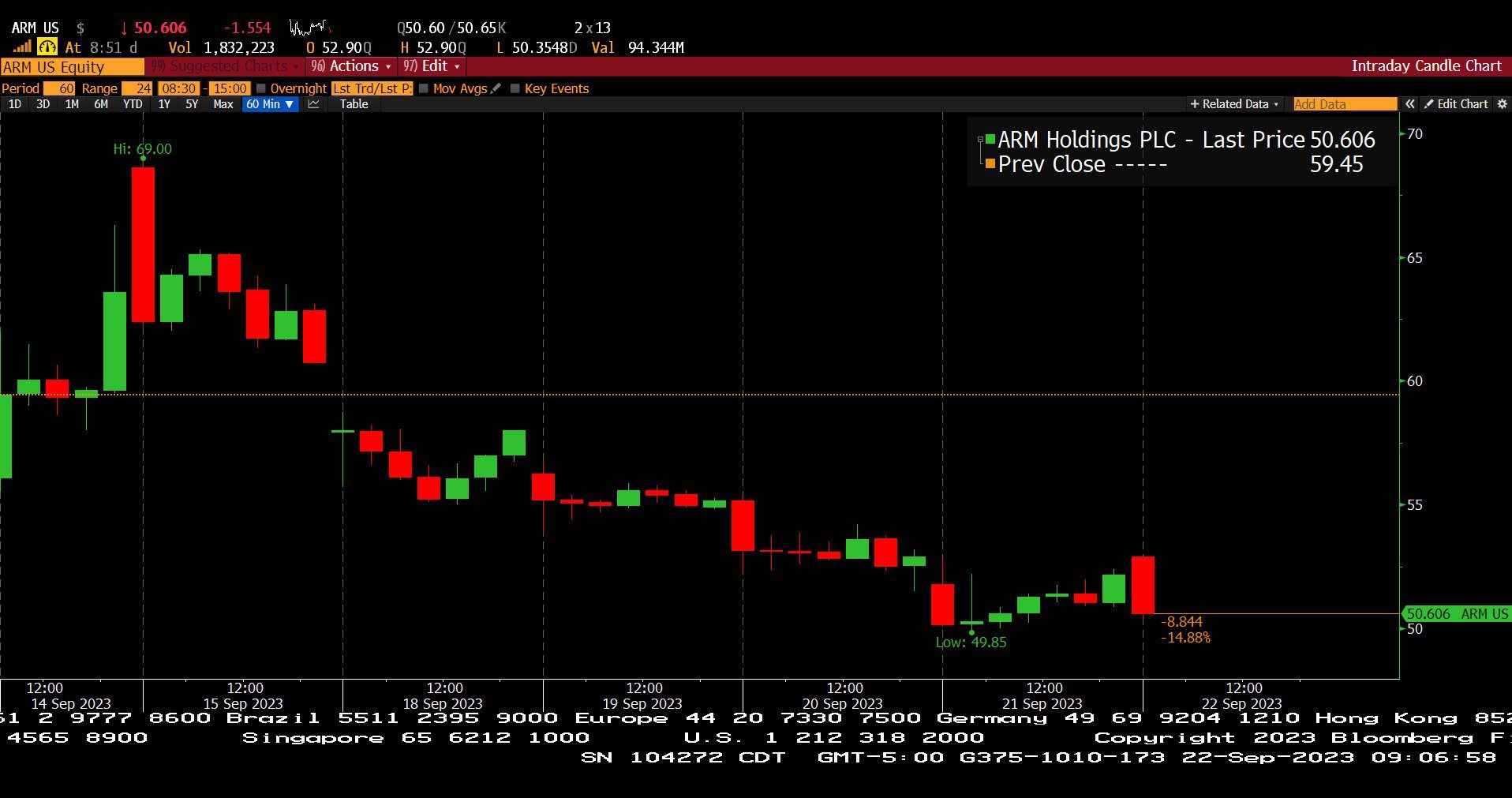 – Courtesy of Bloomberg LP
Maplebear, Inc. DBA Instacart
(09/19/2023 – 09/22/2023 Intraday
)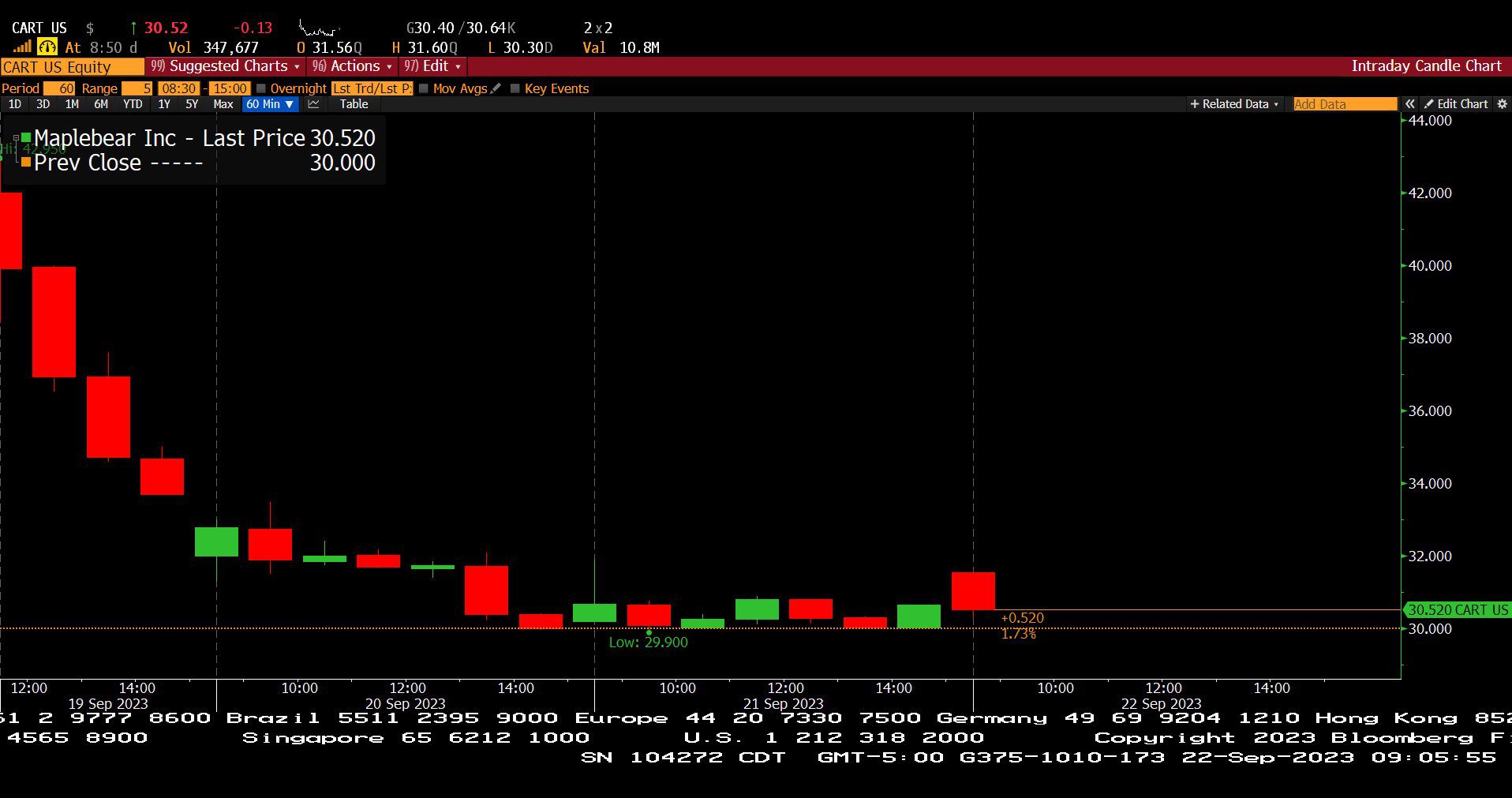 – Courtesy of Bloomberg LP
Klaviyo, Inc.
(09/20/2023 – 09/22/2023 Intraday
)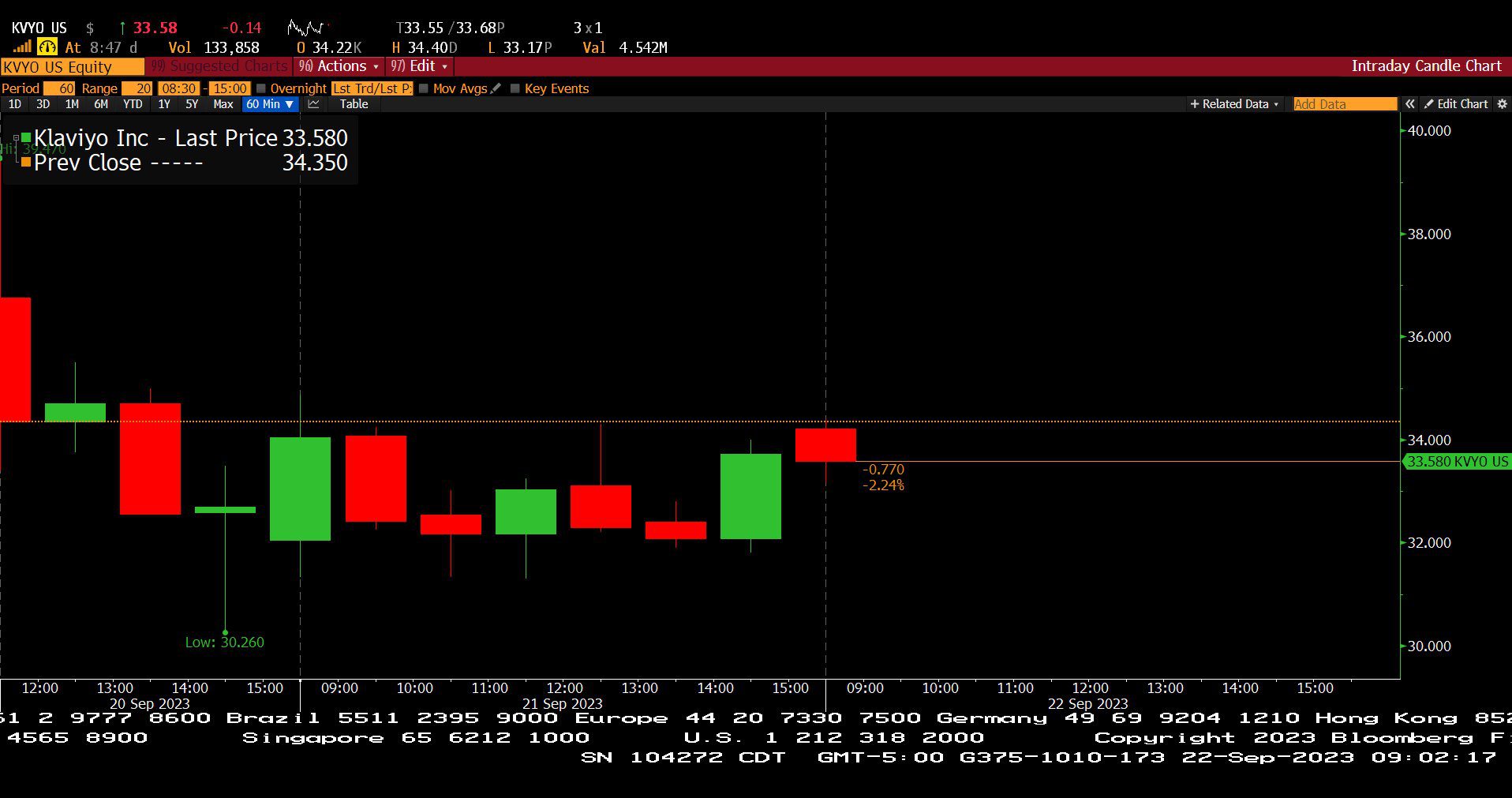 – Courtesy of Bloomberg LP
Profit Report
*Infrastructure Investing?
Research Round Up!
Investors are invited to improve decision making with a comprehensive tour of global economics, indicators, and actual results.
---
Start the Process Today! Be sure to indicate what size portfolio sample you would like to see. A link will arrive when we receive your questionnaire.