MGAM Q4 2020 Client Updates
September 1, 2020
Macro-Economic Points and Projections
The Atlanta Fed has released projections of 25% for Q3 and 22% for Q4 annualized economic growth. This represents an entirely different picture for investors compared to the dire Q2 forecasts.
The strategy implications for the next 18 months are vital for forward success. The markets are clearly in a different phase from Q1 and Q2 of 2020.
Tactical Allocation Strategies 2020 – 2030
During the storms of Q1 and Q2 we remained steadfast to adding cash flow in the best possible long-term assets at bargain prices.
Fully acknowledging our temporary underperformance has become the team foundation and our current devotion seeking superior results. Inevitable periods of underperformance over the last 35 years have led to extended periods of results above our targets. We are confident that this is the case going forward especially with our largest and most qualified team working on your behalf in our history.
As earnings catch up to the recovery, Range Bound trading is highly likely for an extended period for U.S. Equity Indexes. This likely forward scenario could be disappointing for low cost equity indexes as seen from 1965 -1981 and again from 2010 – 2013.
The strategy that best fits a market driven by pockets of excessive valuations is likely to be feeding and fading the ranges, based upon our research, while enjoying cash flows that provide a base return.
Tactical use of cash becomes even more critical including harvesting spikes and adding to great assets during periods of pessimism like in March and April. Alex Tollen, "The Profit," has become vital in analyzing both money flows and opportunities.
Growth and Value: Growth at a bargain price is likely not found in the record valuations presented in the most popular tech companies at this writing which have driven the indexes to recovery reaching likely unsustainable valuations. In fact, at this writing, without the top 12 tech companies trading at extraordinarily multiples, the S&P 500 stands at a loss for the year of about 10%.
Where are the best of the best at reasonable bargain valuations? This leads us to the subject of Asset classes.
Asset Category and Asset Class Performance Strategy Points
Global Lending and High Yield Bonds: Since 1986, at our founding, the Fixed Income markets have benefited from disinflation and declining rates with intermittent spikes fearing inflation.
From near zero rates, compression of high yields with gain potential appears to be the current cycle. The intention here is superior cash flow with harvests of spikes in value through 2021. The case can be made that our largest allocation category, Global High Yield, is undervalued by 15-25% while providing yields above 7%. A shoutout to our Texas Tech Grad, Harrison Smith, "Indiana Jones," for his in- depth research into "estimated par value under control" and cash flow.
Energy Infrastructure: The Energy category is currently the most historically undervalued category providing superior cash flow from long term assets. Based upon cash flows and demand restoration, Energy Infrastructure is likely one of the best forward returns in our Allocation strategy. Our current research, driven by Andrew Orton, "The Ortonator," is focused on the future of energy assets earning current profits with growth and renewables. Energy Infrastructure provides one of the most intuitive inflation protection allocations relative to other zero cash flow choices.
Dividend Companies and Growth with Income: Blue chip dividend companies, including medical technology, and companies with long-term innovation potential. These are the types of companies we will be proud to own in 10 years with tactical harvests and additions are the foundation for seeking future superior returns with reliable cash flow along the way.
Cash Rates and Low Duration Lending: The markets are waking up to the fact that cash rates are near ZERO! and likely to stay there through 2021. Where do we allocate tactical cash? Low duration lending with our risk control strategy likely provides that alternative at selective points for the foreseeable future.
Tax-Exempt Municipal Bonds, Investment Grade Fixed Income, and U.S. Treasury Bonds: These types of investments currently carry excessive premium duration risk compared with minimal cash flow. With global government rates near or below zero after 40 years of disinflation, the "toothpaste has likely been squeezed out of the tube" with prior gains leaving near zero cash flows. We are waiting for discounts and higher cash flows that were provided with rate spikes like in 2013. The traditional low-cost index fixed allocations used by most advisory firms are likely to disappoint over the next 10 years.
MGAM Top Six Strategies: 401k and College 529 Menu Allocations: Our semi-annual and annual updates to 401k and 529 allocations have provided guidance based upon reliability in the top six performing choices adjusted for valuations to add reliability. Clients enjoy our ability to harmonize retirement strategies especially customized for retirement targets.
Children and grandchildren benefit from an age-based allocation strategy that becomes more conservative before tuition and expenses are needed from 529 plans with the added value of tax efficient planning strategies.
Tax Planning Updates and Recommendations
Fear not! Vanessa Avila, "Allocation Angel," is on the case. Realized Gain and Loss reports will be uploaded before Thanksgiving as usual along with your comprehensive monthly performance reports loaded to Modestspark, our industry leading applied technology client portal serving you and your CPA with secure prompt delivery of your tax documents.
Devotion to Excellence in Service and Applied Technology: When you need banking logistics, Joyce Cheng, "Scary Smart" is standing by with expertise in transfers both incoming and outgoing. Her ability to design solutions is paralleled by Karen Duckworth, "Goddess of Execution," who processes estates with mastery.
Devotion to strategy and service is provided weekly with Client Updates on Youtube.com and Networthradio.com. To ensure accuracy and compliance, Izzy Sanchez, "The Sanchenator," is both my right hand draftsman as well as an A.V. fanatic with expertise to back us up with production capability that helps keep you at the forefront of education and strategy.
Investment Committee Process: Each week the research, including Bloomberg charts and data, backs up the Investment Committee meeting at 8:15 Wednesdays to explore Tactical Allocation and any additions and deletions. Stephen Norris, "Super Chuck," has become the master of Bloomberg data including charts and graphs each week for our client update.
Dow Jones Industrial Average (Approx. 3 Years) 
– Courtesy of Bloomberg LP
Standard & Poor's 500 Index Earnings Estimates (Approx. 3 Years)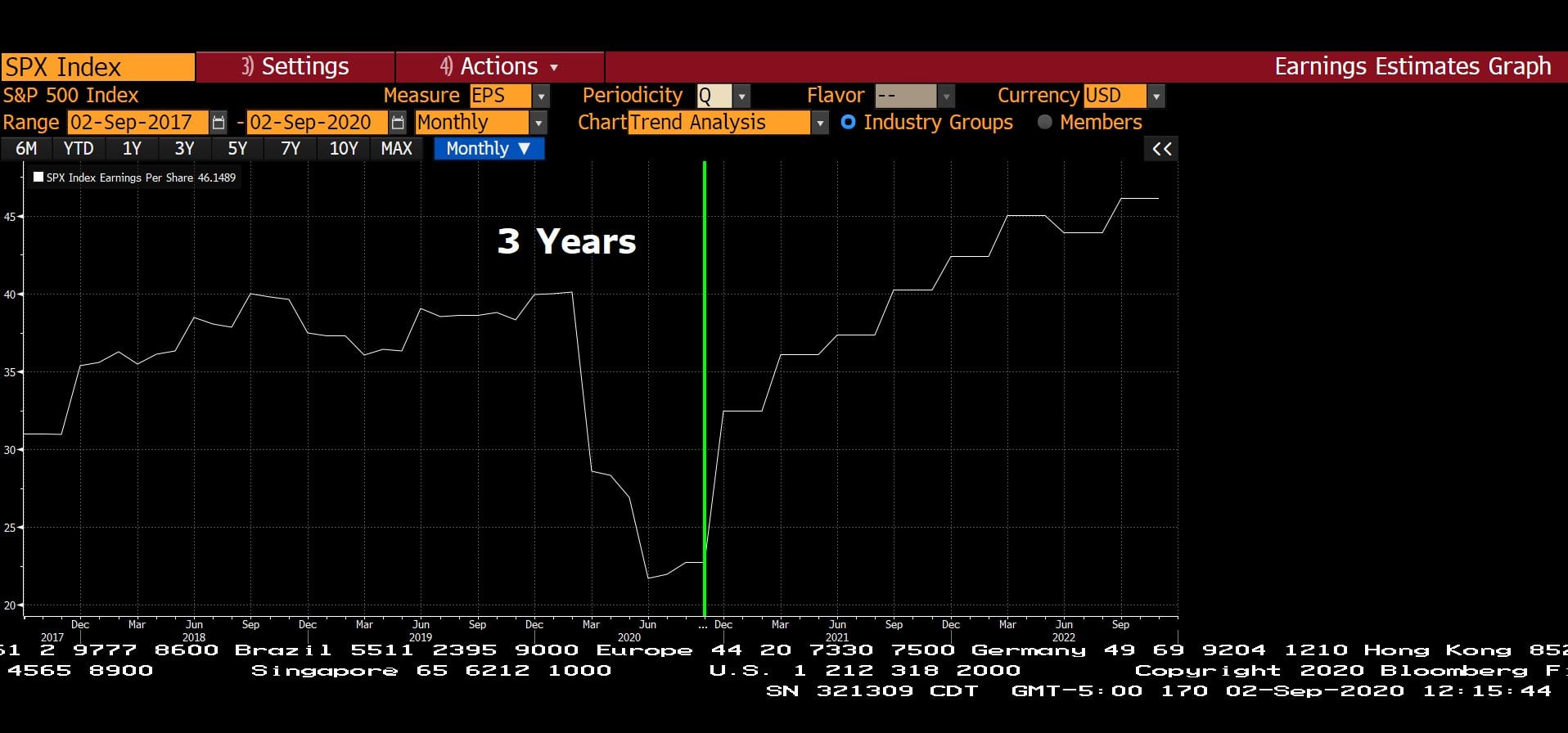 – Courtesy of Bloomberg LP
NASDAQ Composite Index with Earning Per Share (09/03/2019 – 09/02/2020)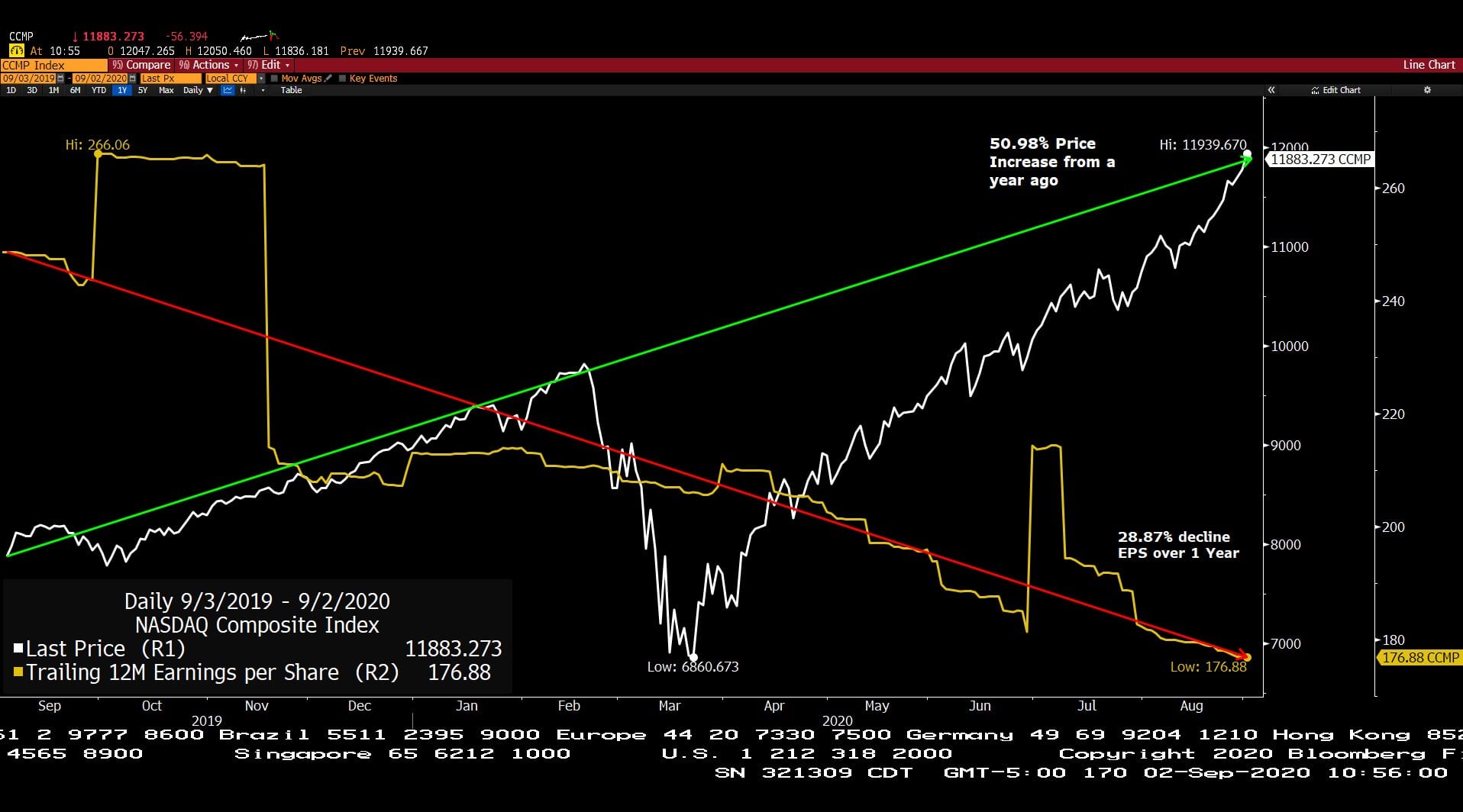 – Courtesy of Bloomberg LP
Quarterly U.S. Economic Actual & Estimated Forecasts w/ Probability of Recession
(3 Years)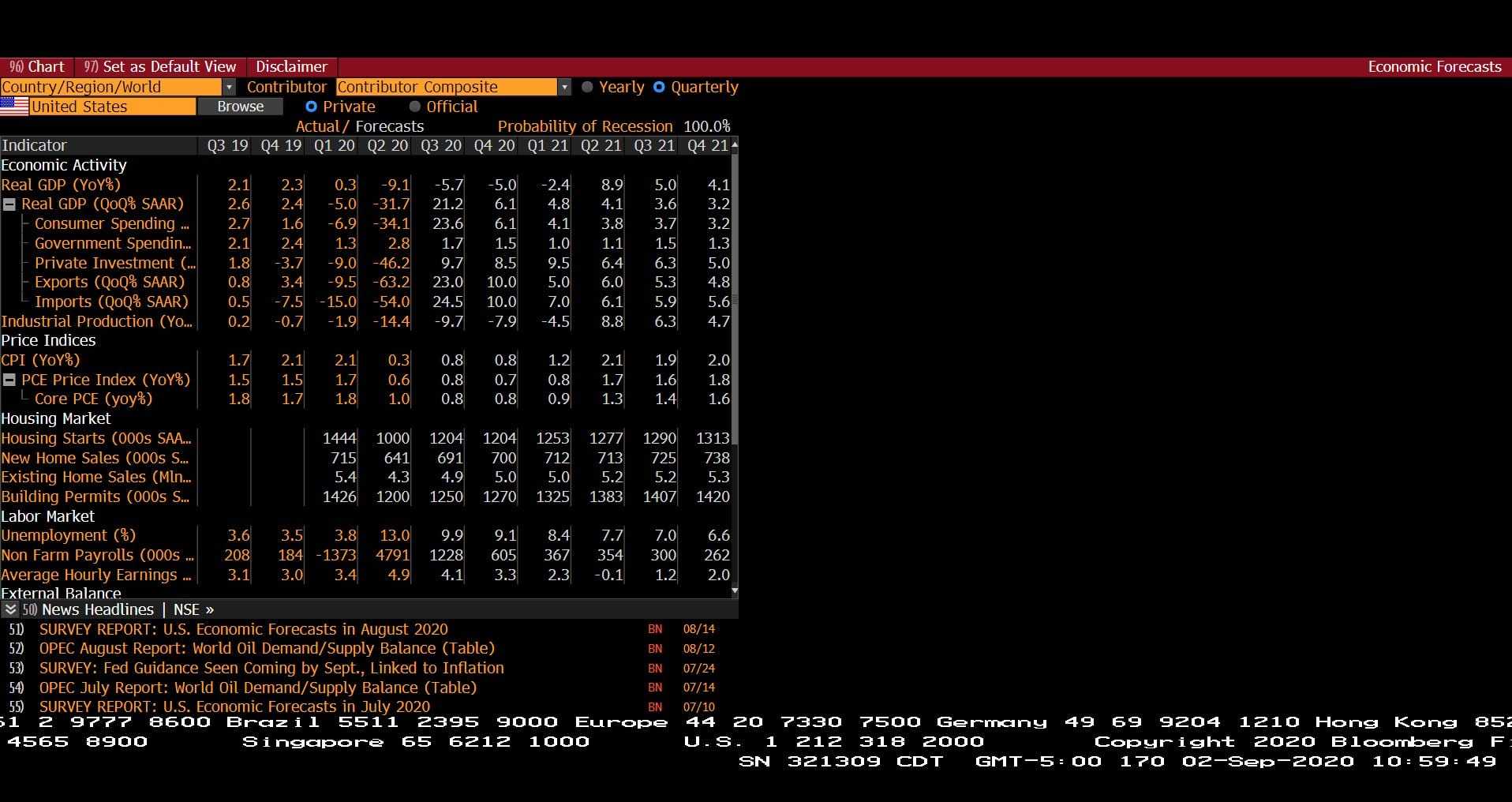 – Courtesy of Bloomberg LP
Exchange Trade Fund Flows
(09/02/2020)
– Courtesy of Bloomberg LP
AllianceBernstein Global High Income Fund, Inc. & BlackRock Corporate High Yield Fund, Inc.  (12/29/2006 – 12/31/2012)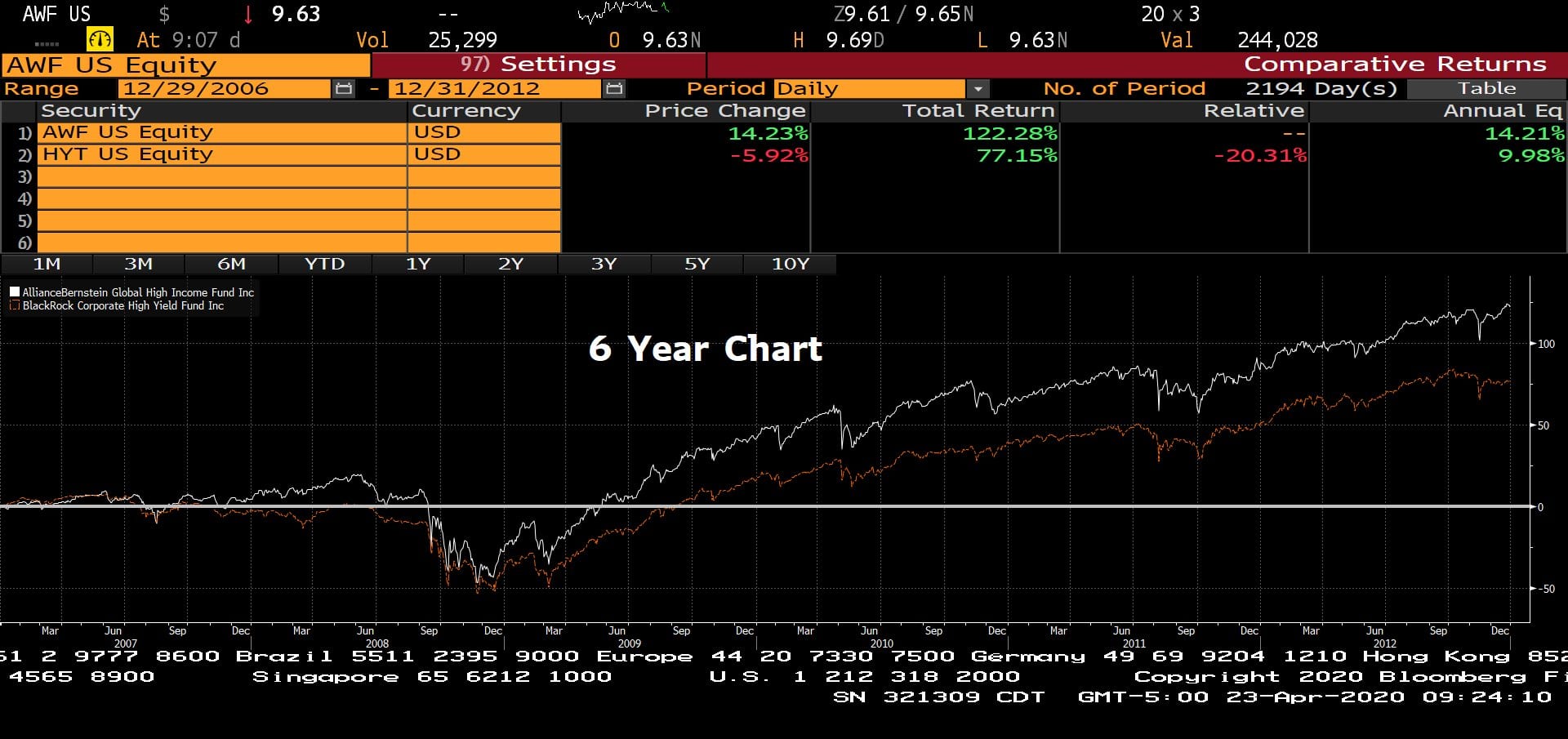 – Courtesy of Bloomberg LP
Henry Hub Natural Gas Spot Price and U.S. West Texas Intermediate Cushing Spot Price
 (Approx. 22 Years)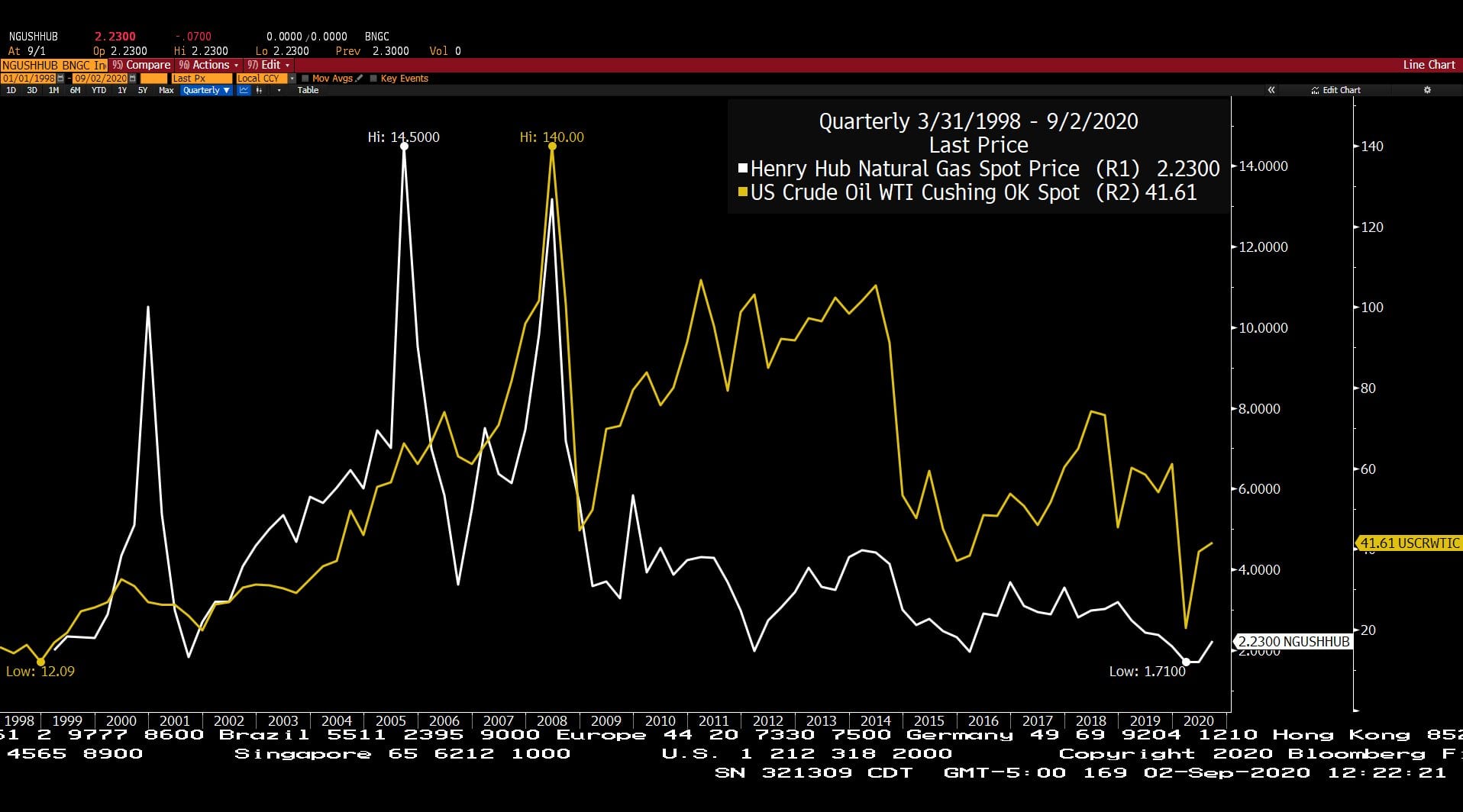 – Courtesy of Bloomberg LP
Standard & Poor's Global Clean Energy Index (Approx. 17 Years)
– Courtesy of Bloomberg LP
Headline Round Up!
*Manufacturing Purchasing Manager's Index (PMI) Strongest in Over a Year?
*Durable Goods Orders and Construction Spending Strong Again!
*CoreLogic: Home Price Gains Biggest in 2 Years?
*Goldman Sachs Predicts $65 Oil in Q3 2021.
*U.S. Natural Gas Briefly Tops $2.60/MMBtu mid-week.
*Oil Vs U.S. Dollar Index. Dollar Bear Market? Inflation?
*Copper at a 2 Year High, Boom?
*Buffett's Bet on Japan? Prior Additions of Natural Gas Pipelines and GOLD.
*Biden Says He Will Not Ban Fracking.
*Ant Group? China's New Big IPO.
*Walmart Coming to Eat Amazon Prime's Lunch?
*Zoom "Cult Stock of the Year"?
*GameStop Lifeline! Spikes 30% in 2 Days.
Profit Report!
*2021 Planning Now! Real client Planning Issues and Solutions.
*DNC vs RNC Platforms on Forward Policy for Investors: Taxes and Regulation.
Research Round Up!
Investors are invited to improve decision making with a comprehensive tour of global economics, indicators, and actual results.
---
Start the Process Today! Be sure to indicate what size portfolio sample you would like to see. A link will arrive when we receive your questionnaire.