Will there be a true Recession?
What is a true Recession/contraction versus a Stealth Recession?
Why is the Federal Reserve no longer the most important factor in asset pricing?
What are some of the most important factors in asset pricing going forward?
Why are the job growth numbers a key point to watch?
Did Nvidia Corp. (NVDA) just signal the end of the microchip shortage?
Where should safety reserves potentially go now?
How, when, and why did The McGowanGroup found NetWorth Radio?
McGowanGroup Wealth Management
2022 Q3 Client Update
The Economy:
At this writing, the Atlanta Federal Reserve's Real Gross Domestic Product (GDP) Now forecast is for 1.4% growth during the third quarter. While Q1 and Q2 of 2022 registered negative real growth meeting the official definition of Recession, we have used the term Stealth Recession to distinguish between inflation running hotter than dollar growth versus an actual contraction in jobs and the Economy.
Tactical Allocation Strategy:



While the financial markets experienced their 3rd largest decline in under 5 years, in 2022, the strength of Energy Infrastructure and blue-chip medical dividends have provided resilience for investor portfolios.
Our current plan is to begin harvesting potential high points from energy allocations during potential spikes during 2023-2026. Prior cycles in energy appear to be 6-8 years of price risk due to oversupply and 6-8 years of appreciation due to undersupply.
The extreme pessimism and selling during June provided opportunities to use tactical safety reserves to add to global high yield allocations at attractive discounts. After the Federal Reserve tightening cycle likely pauses, the opportunity to harvest gains could materialize in 2023.
Harvests at potential high points will be used to add tactical safety allocations and downdrafts will be used to add cash flow at discounted prices.
Headline Round Up
*Atlanta Federal Reserve Real GDP Now at 1.4% 2022 Q3 Growth.
*J.P.Morgan Chief Strategist: Everyone is in the Bearish Camp Now, BUT "We Are NOT in That Camp!"
*CNBC's Jim Cramer Expects the June Market Lows to Hold and Mark the Bottom.
*Investors Return to Stock Funds Reversing Exodus.
*Dubravko Lakos-Bujas, U.S. Head of Equity Strategy at J.P.Morgan, Sees Buying Opportunities in Value Stocks as They Are "Massively Discounted." Last Big Fed Rate Hike September?
*Christyan Malek, Head of EMEA Oil and Gas Research at J.P.Morgan, Brent Crude Futures Could Climb to $150 per Barrel.
*"The End of Abundance": France's Macron Warns of Public Unrest in France as Energy Crisis Bites.
*Germany to Implement Energy Rationing Amid Fears of Gas Riots. Natural Gas Equivalent to $410 Oil. Power Prices Smash Records.
*Why Buffett Loves Oil Giant Occidental Petroleum. What does it mean for the energy sector?
*Mozambique Eyes $100 Billion Liquified Natural Gas (LNG) Windfall as First Shipment Readies.
*Oil and Gas Industry Set for a Record $1.4 Trillion Cash Flow in 2022 Possibly Debt Free By 2024!
*Strategic Petroleum Reserve Lowest Since 1985.
*New Home Sales Crash With Home Sellers Slashing Prices!
*Pending Existing Home Sales Down 20%.
*Dollar General and Dollar Tree Sales Boosted as Shoppers Become Thrifty.
*Macy's Inventory Glut?
*Bed, Bath and Beyond Gone? Meme Stock Implosion?
*Tech Rally Fizzles?
*How Low Can Zoom Video Communications Go?
*Cheaper Steaks for Everybody!
*Natural Gas Hits $10, Highest Since 2008.
*Yummy! New Sustainable Wind Turbine Blades Possibly Turned Into Gummy Bears and Sports Drinks?
*Julian Robertson Jr. Hedge Fund Pioneer Passes at Age 90. 20 Year Average Annual Gain 25%.
– Courtesy of The Federal Reserve Bank of Atlanta
Standard & Poor's 500 Index (12/31/2021 – 08/26/2022
)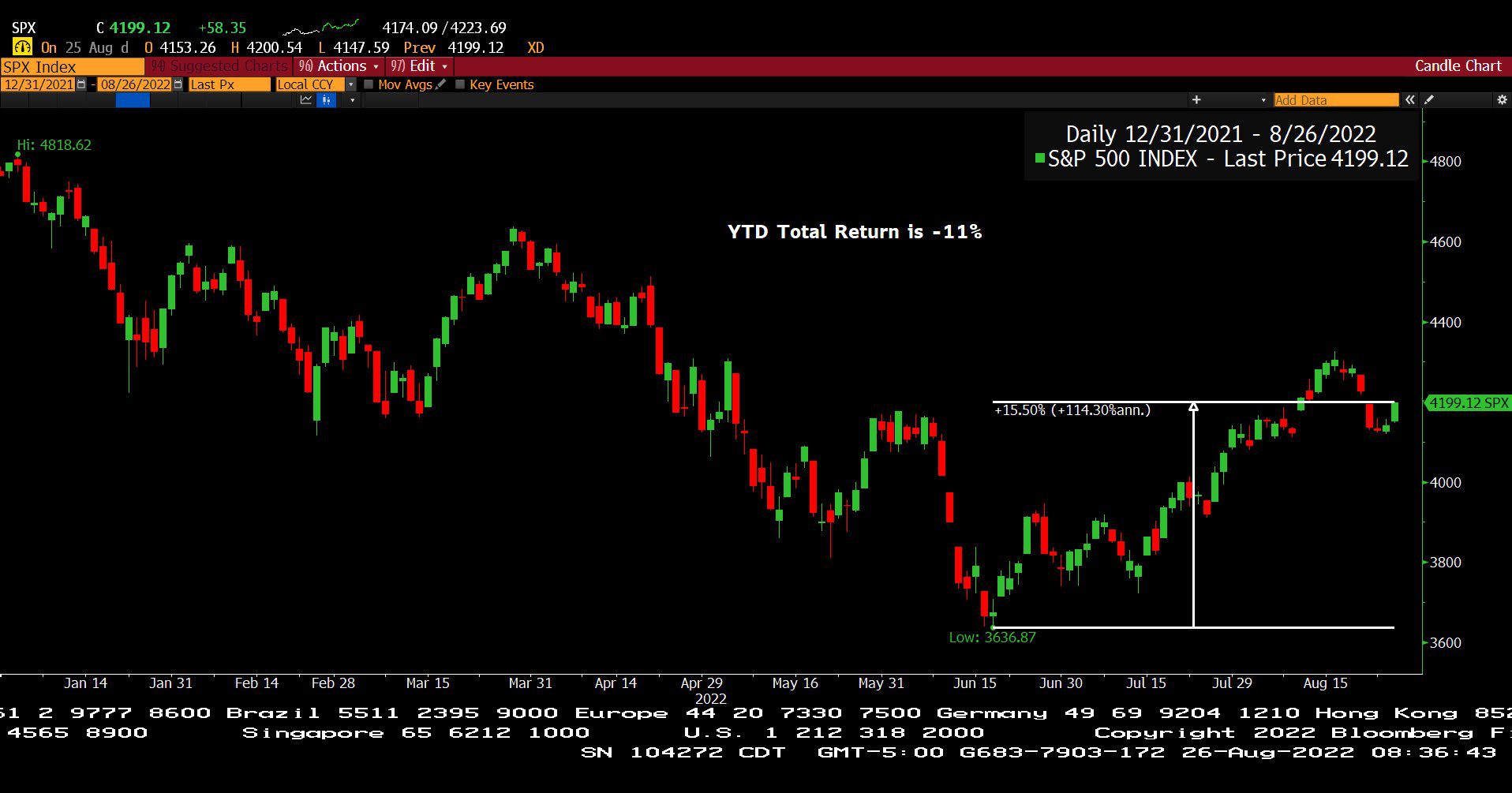 – Courtesy of Bloomberg LP
Generic Natural Gas Future Contract Spot Price (08/31/2012 – 08/26/2022
)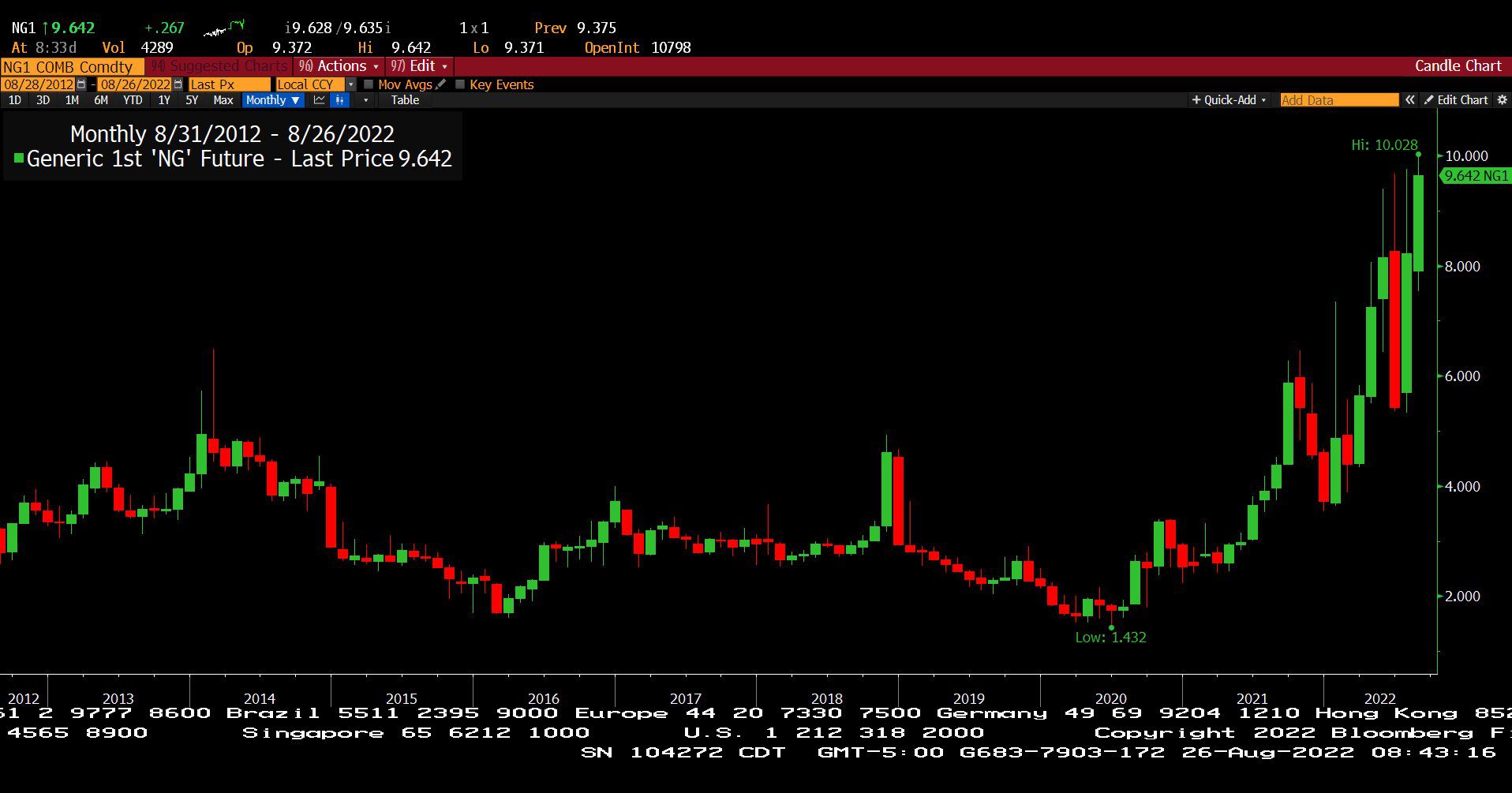 – Courtesy of Bloomberg LP
Standard & Poor's 500 Index – Member Ranked Returns (05/25/2022 – 08/25/2022
)
– Courtesy of Bloomberg LP
U.S. Existing Home Sales, Seasonally Adjusted Annual Rate
(08/31/2012 – 07/31/2022
)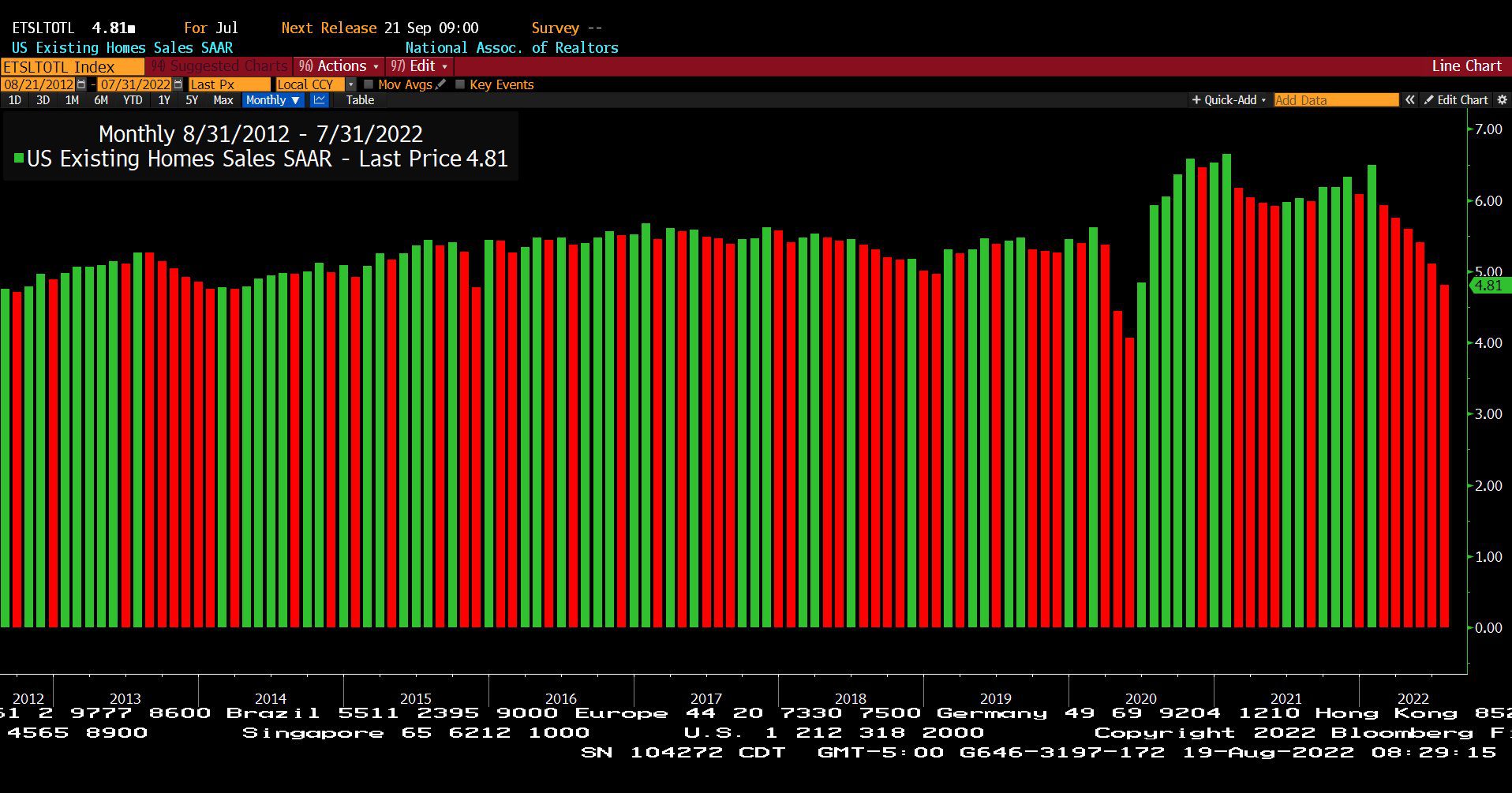 – Courtesy of Bloomberg LP
U.S. New Privately Owned Housing Units Started by Structure Total, Seasonally Adjusted Annual Rate (08/21/2012 – 07/31/2022
)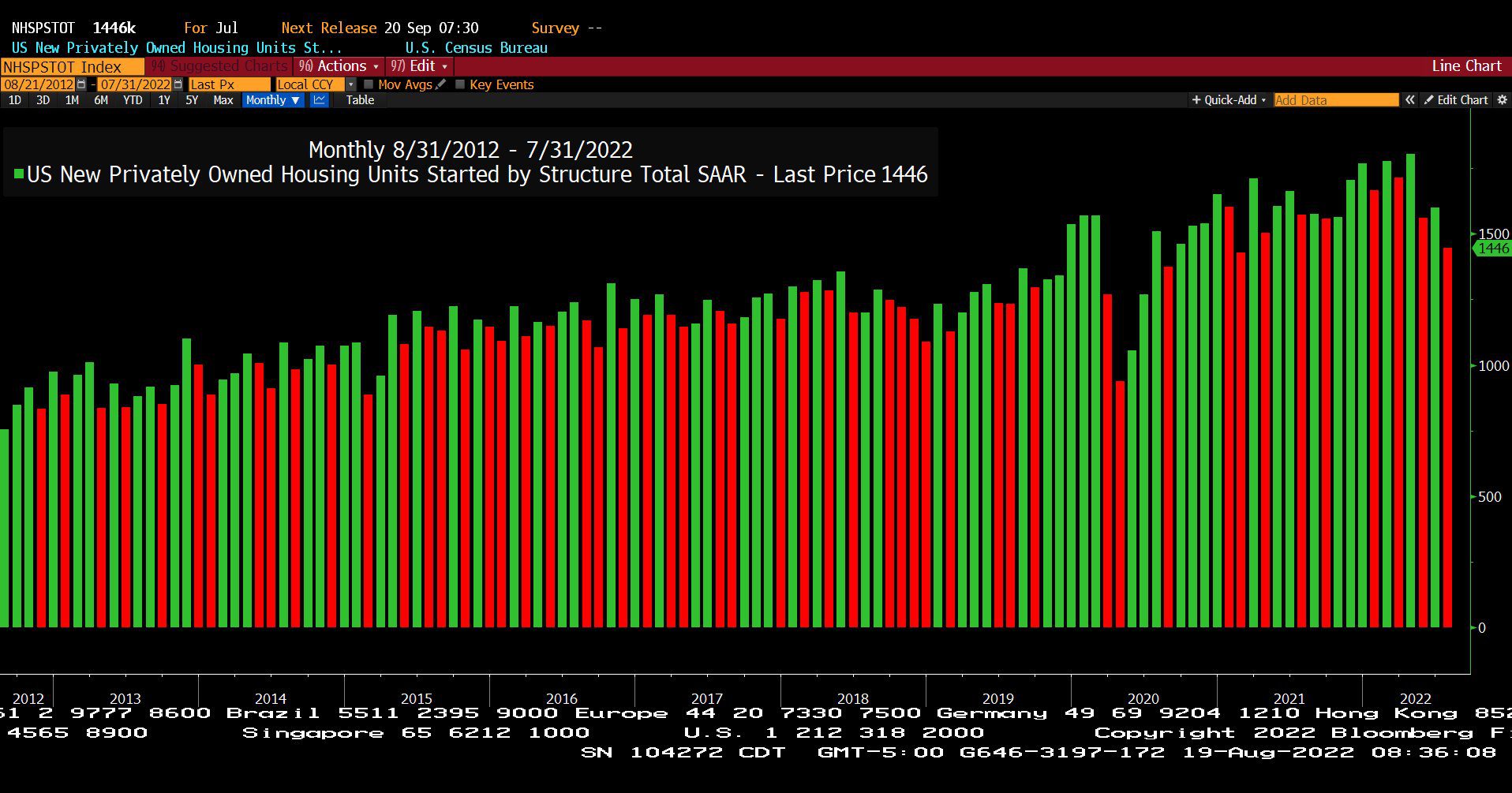 – Courtesy of Bloomberg LP
Profit Report
1. What Are Some of the Best Client Questions We Received This Week?
3. Is a GATT Rate Increase Coming?
4. Some Potentially Less Risky Money Choices?
Research Round Up!
Investors are invited to improve decision making with a comprehensive tour of global economics, indicators, and actual results.
---
Start the Process Today! Be sure to indicate what size portfolio sample you would like to see. A link will arrive when we receive your questionnaire.