Which areas of the equity markets appeared to benefit from the inflation cycle?
What categories in the financial markets have had large capital outflows?
What sectors made 52 week lows this week?
What dates can potentially lead to low points for the market?
What situations could cause an equity rally?
What possible scenarios may well cause a rally in discounted high yield bond portfolios?
How did the earnings reports this week impact forecasts for 2023?
What investment portfolio allocations are likely poised to beat reasonable target returns?
When could an investor make those allocations?
Why might measuring your portfolio against index performance create a difficult planning process?
Headline Round Up
*Earnings Blitz Week: LUV, MRK, ABBV, BMY, FB, GOOGL, Y Mucho Mas!
*Economy Activity Contracted in Q1? GDP down?
*Home Prices Still Soaring in February! What about now?
*Funding Sources for Elon Musk's Twitter Takeover?
*Food Crisis Insights from Leading CEO.
*Texas Icon & Ex-Texas A&M Regent Offers 100 Acres for Twitter to Move to Texas!
*Permian Basin Running Out of Workers, Materials, and Cash While Oil Tops $104!
*Washington Approves More U.S. Liquified Natural Gas (LNG) Exports for Europe After Putin Cuts Off Poland and Bulgaria.
*JPMorgan Says Commodities Can Surge By Another 40%.
*Fidelity Says Okay to Bitcoin in 401K Plans? What could possibly go wrong & what does DOL say?
*Goldman Sachs Top 5 U.S. Shale Plays.
*Dallas Real Estate Updates.
Dow Jones Industrial Average (04/29/2021 – 04/29/2022
)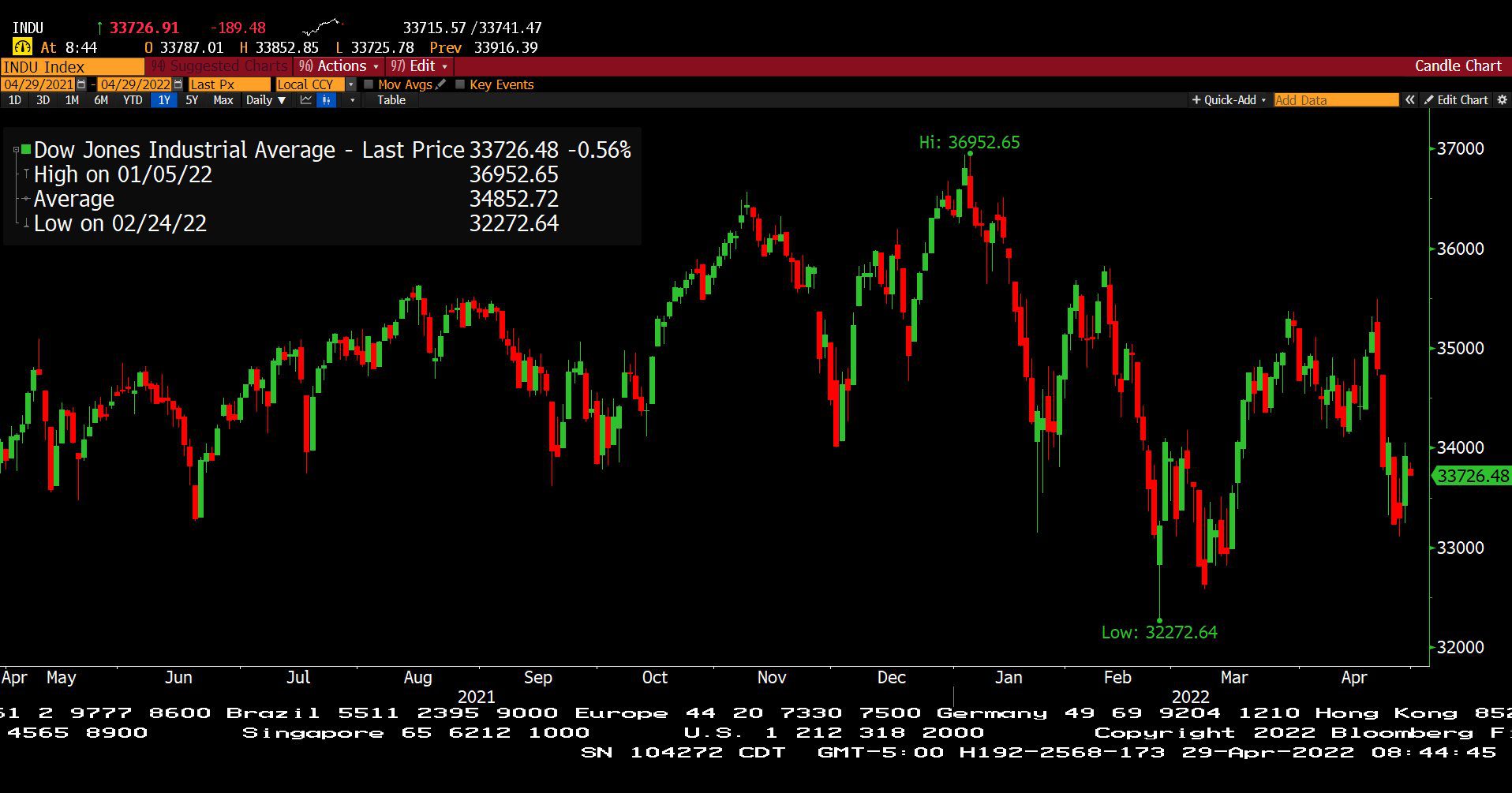 – Courtesy of Bloomberg LP
Invesco QQQ Trust Series 1
(04/29/2021 – 04/29/2022
)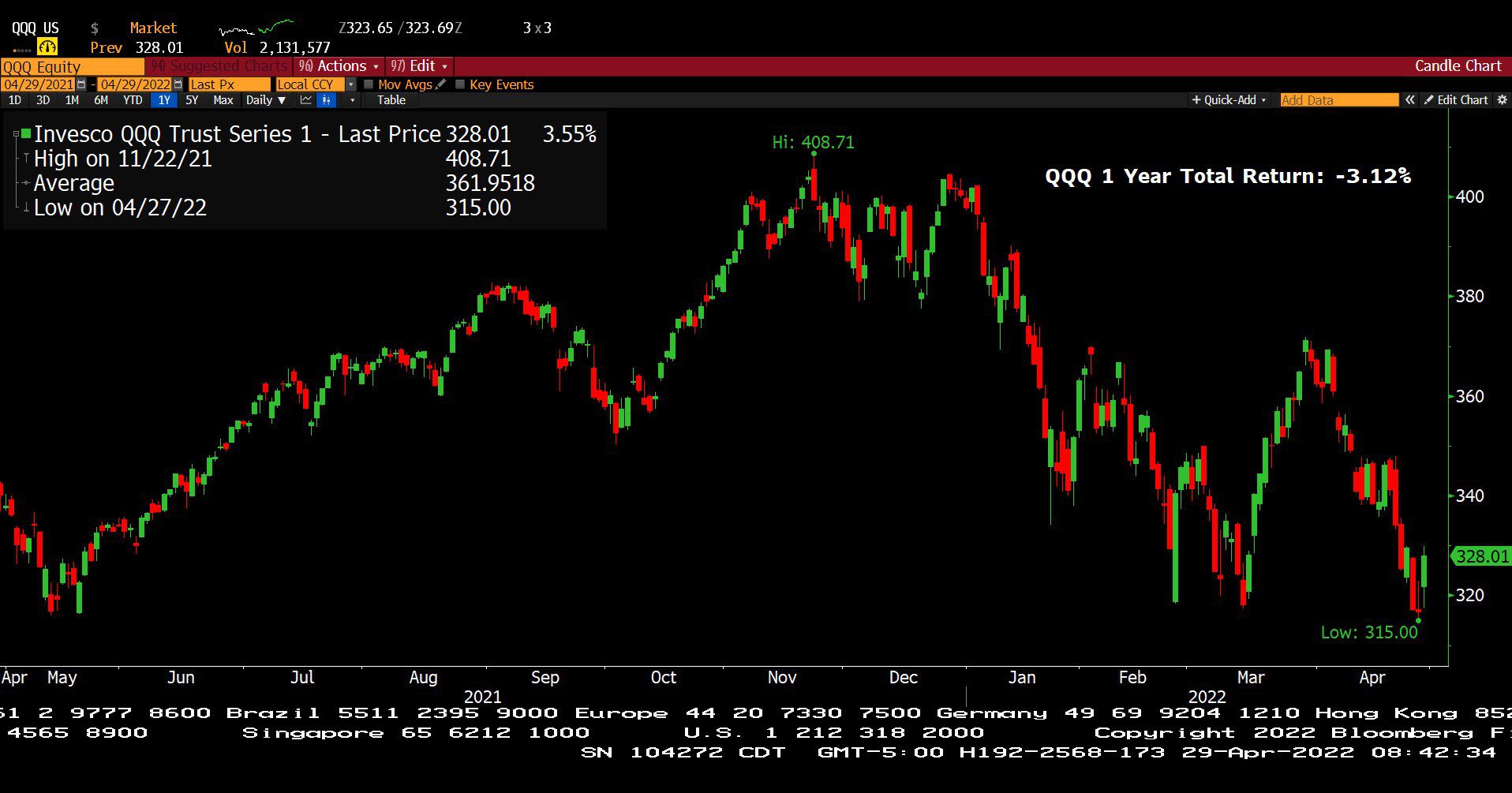 – Courtesy of Bloomberg LP
Energy Select Sector SPDR Fund (04/29/2021 – 04/29/2022
)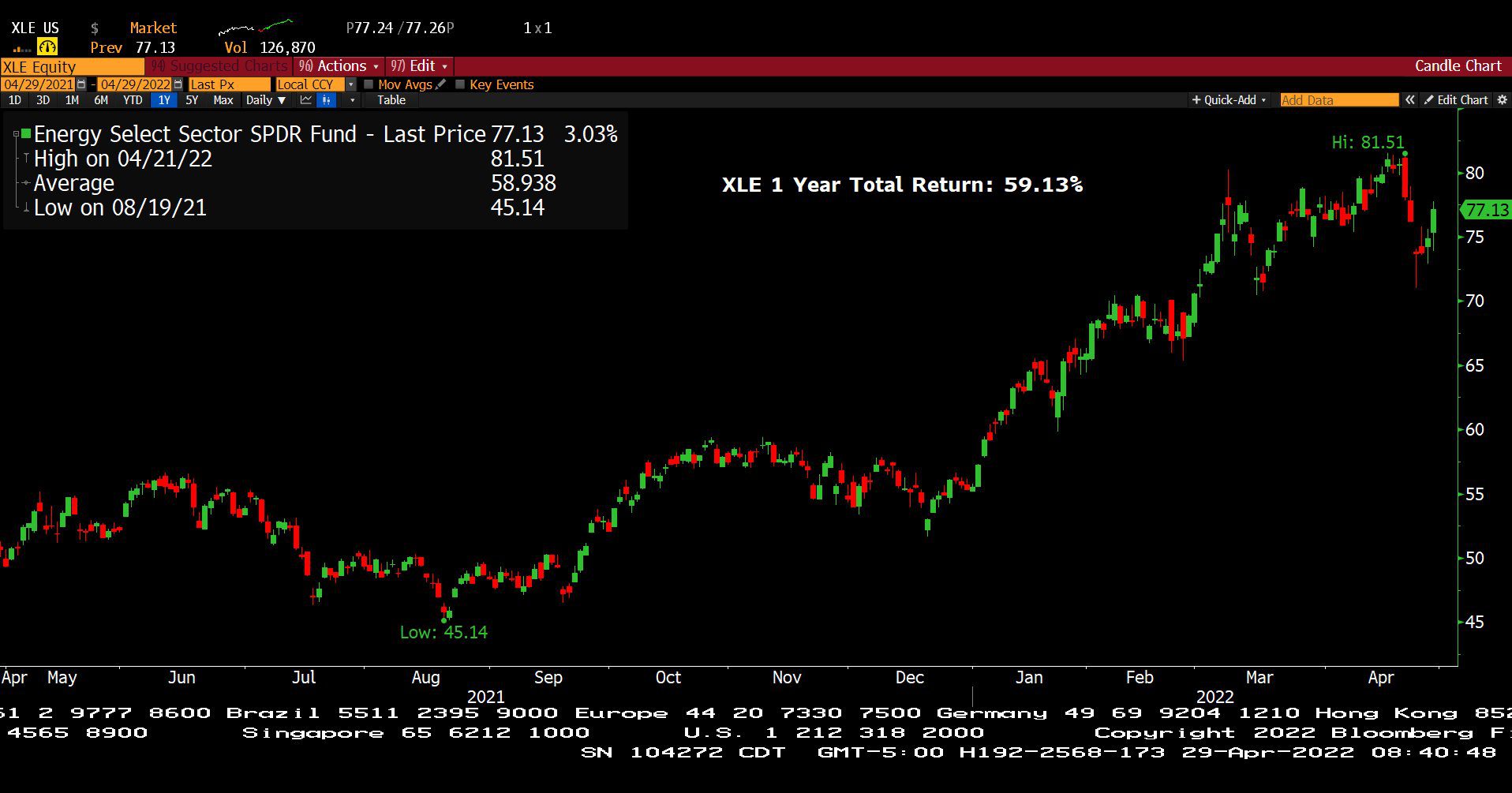 – Courtesy of Bloomberg LP
Standard & Poor's 500 Index – Quarterly Earnings Analysis by Sector (02/16/2022 – 05/15/2022
)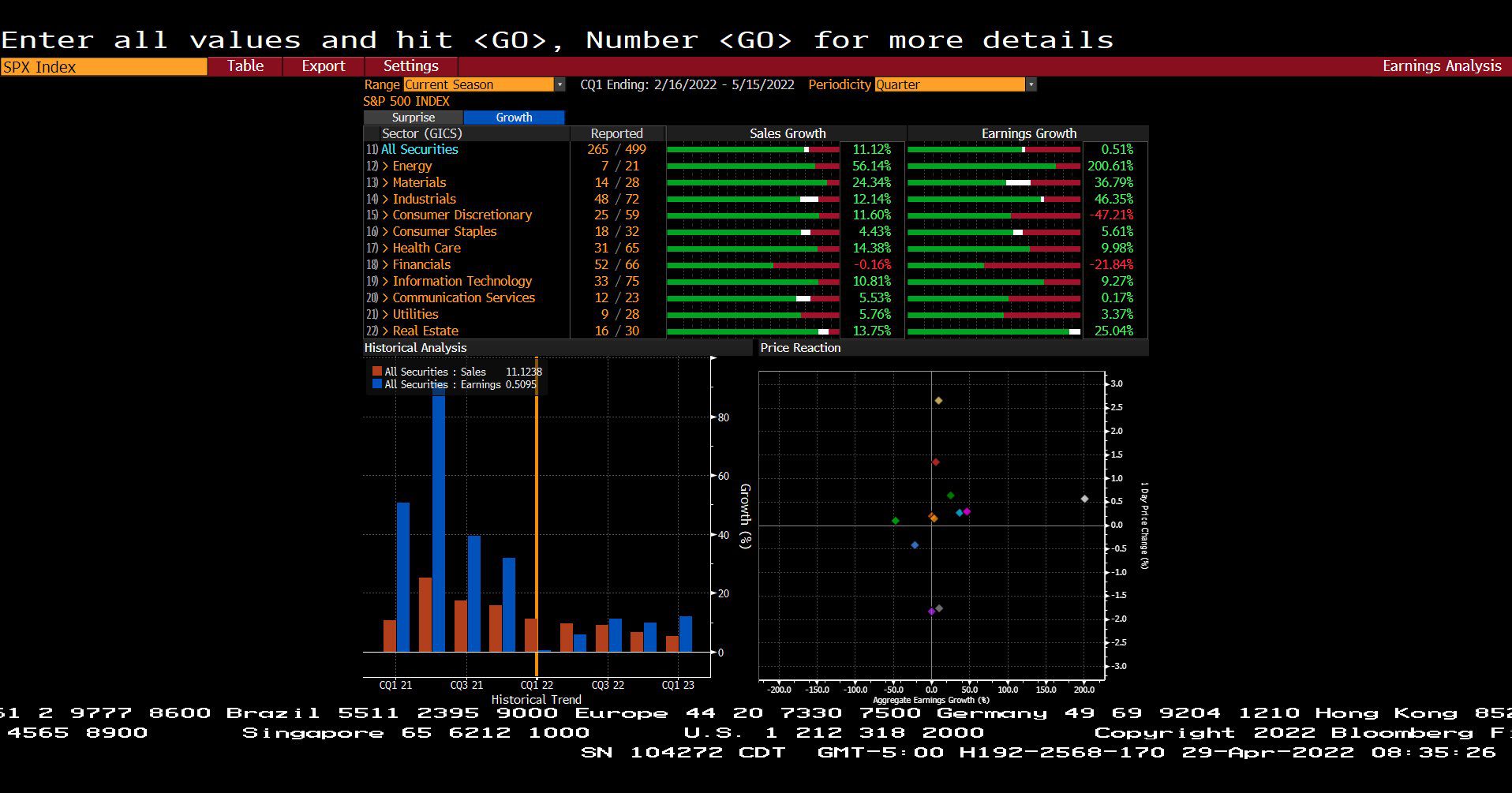 – Courtesy of Bloomberg LP
Generic Natural Gas Futures Contract Spot Price (05/05/1997 – 04/29/2022
)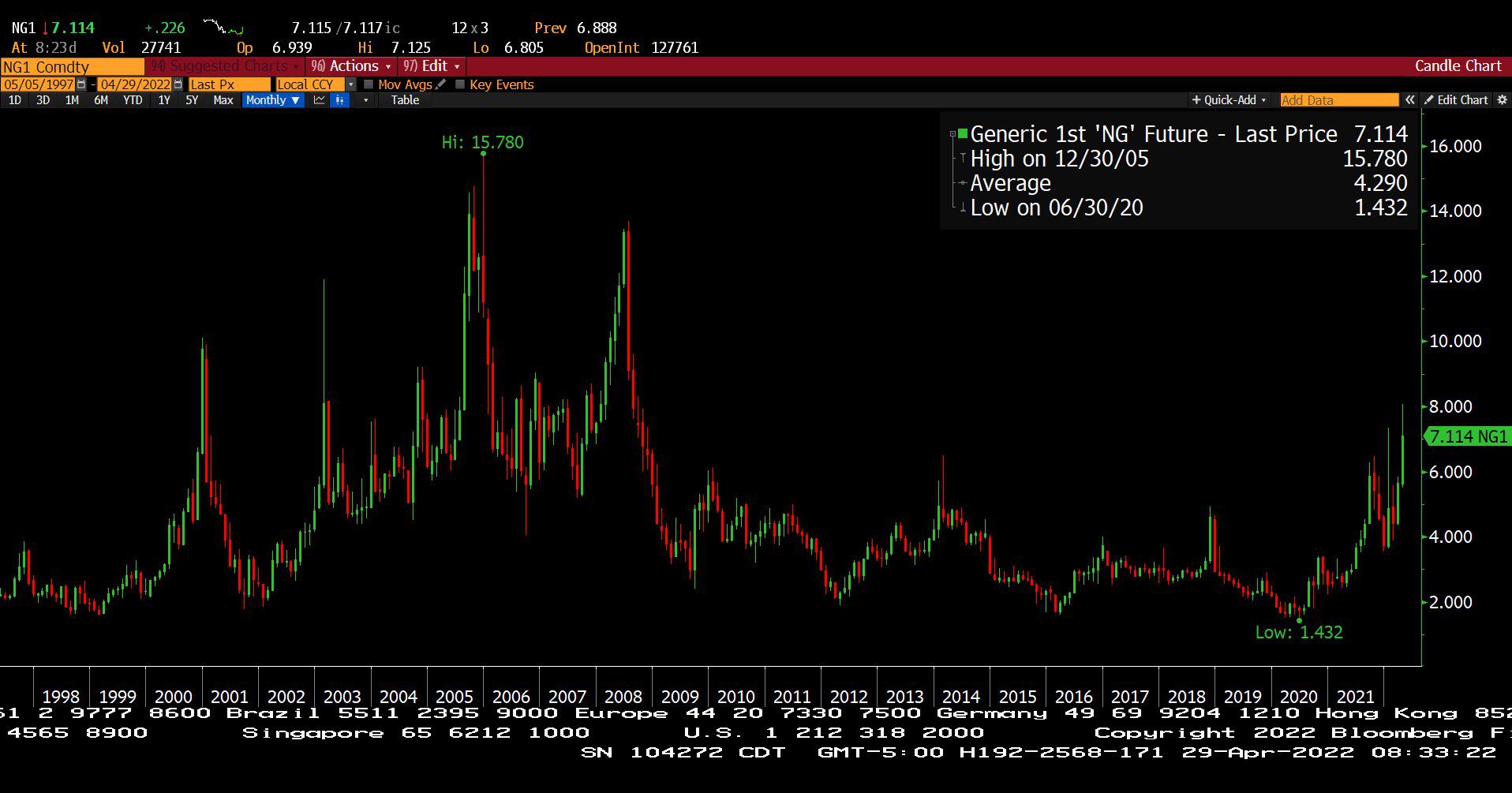 – Courtesy of Bloomberg LP
Profit Report
Another crazy potential tax proposal: Raise taxes to control Inflation?
Alex, give us the high points from AllianceBernstein's most recent Outlook!
NetWorth Radio's Dallas Business Leadership Series:
Spencer Interviews the Executive in Residence at the Bridwell Institute for Economic Freedom at SMU and Former Chief Economist of the Federal Reserve Bank of Dallas

Dr. W. Michael Cox!
---
Dr. W. Michael Cox serves as Executive in Residence at the Bridwell Institute for Economic Freedom at SMU. Cox directed the O'Neil Center for Global Markets and Freedom at SMU Cox from 2008-2015 and
is formerly the Chief Economist and Senior Vice President of the Federal Reserve Bank of Dallas, where he served for 25 years advising the President on monetary and other economic policies.  He holds the unique distinction of being the Federal Reserve System's only Chief Economist in history. 
Cox is widely published in the nation's leading business press, Fed publications and academic journals.  He is the author of numerous Op Ed articles for The Wall Street Journal, The New York Times, USA Today, Financial Times, and Investor's Business Daily; and his work has appeared in virtually every major newspaper and magazine worldwide.
Dr. Cox co-authored the Fed's acclaimed series of annual report essays on capitalism, globalization, and American living standards.  He has contributed to a number of public policy issues, and his research is frequently designated as required reading for Congress.
Dr. Cox has comprehensively documented American progress and its delivery mechanism-free markets.  Looking at multiple aspects of living standards, he proves that capitalism is far and away the economic system that best provides for the progress of nations.  He battles economic doomsayers and capitalism's enemies with his book, Myths of Rich and Poor: Why We're Better Off Than We Think.
The media rely on Dr. Cox's ability to make plain sense out of difficult economic issues.  He is a frequent guest on national radio, television and Internet programs, including ABC's John Stossel program, CNN, Fox News, ReasonTV, Voice of America, National Public Radio and BizRadio.
He is Past President of the Association of Private Enterprise Education, a CATO Institute Adjunct Scholar, Senior Fellow at the National Center for Policy Analysis, Senior Fellow at the Dallas Fed's Globalization and Monetary Policy Institute, and a Distinguished Scholar of his undergraduate alma mater Hendrix College.  His thirty four years of university teaching include Virginia Tech, the University of Rochester and Southern Methodist University. 
Cox is President and CEO of W. Michael Cox and Associates, LLP, a Dallas-based private consulting group.  He lives in Dallas with his wife Maria and daughter McKenna.
Research Round Up!
Investors are invited to improve decision making with a comprehensive tour of global economics, indicators, and actual results.
---
Start the Process Today! Be sure to indicate what size portfolio sample you would like to see. A link will arrive when we receive your questionnaire.