Is Inflation really here yet?
What Investment Strategies are currently doing the best up to now in 2021?
Why is the Energy Sector outperforming so far this year?
Did the High Yield rally this week telegraph more?
Where are the bargains in the Financial Markets?
Headline Round Up
*Job Openings Spike to 6.9 Million! How far away is record total employment? What states lost the most jobs?
*Unemployment Falling Back to 4.1% By Year End?
*$100 Billion Rotates Back into Value Investing.
*What's in the New "Covid-19" Stimulus Bill? How much does Bill Gates's global charity get?
*Global Growth Forecast Raised to 5.6%. U.S. Raised to 6.5%.
*Vaccines Correspond to Slowest Growth in New Cases Since Pandemic Began.
*Oil Spikes Over $67 Per Barrel!
*Energy Sector Leading the Market. Tesla vs. Energy?
*Tech Slammed to a Loss for 2021!
*Core Consumer Price Index Low Due to Exclusion of Food and Energy.
*High Yield Bond Inflows at $2 Billion in a Single Day.
*"Operation Twist" By the Fed? What it means for 2021-2022.
*DoubleLine Founder Gundlach on Inflation vs. Bond Prices. How is he doing this year?
*Plano Based Alkami Technology Files for an IPO with $3 Billion Valuation.
*GameStop Round 2?
*Household Net Worth Surges!
*Texas Attempts to Reverse $16 Billion in Electricity Charges?
*Tesla's Texas Mega-Battery!
*Gates Backed Startup, H2Pro, Joins Race for Green Hydrogen.
*Chevron Announces Target to Double Texas Permian Production in 5 Years!
Dow Jones Industrial Average
(Year to Date)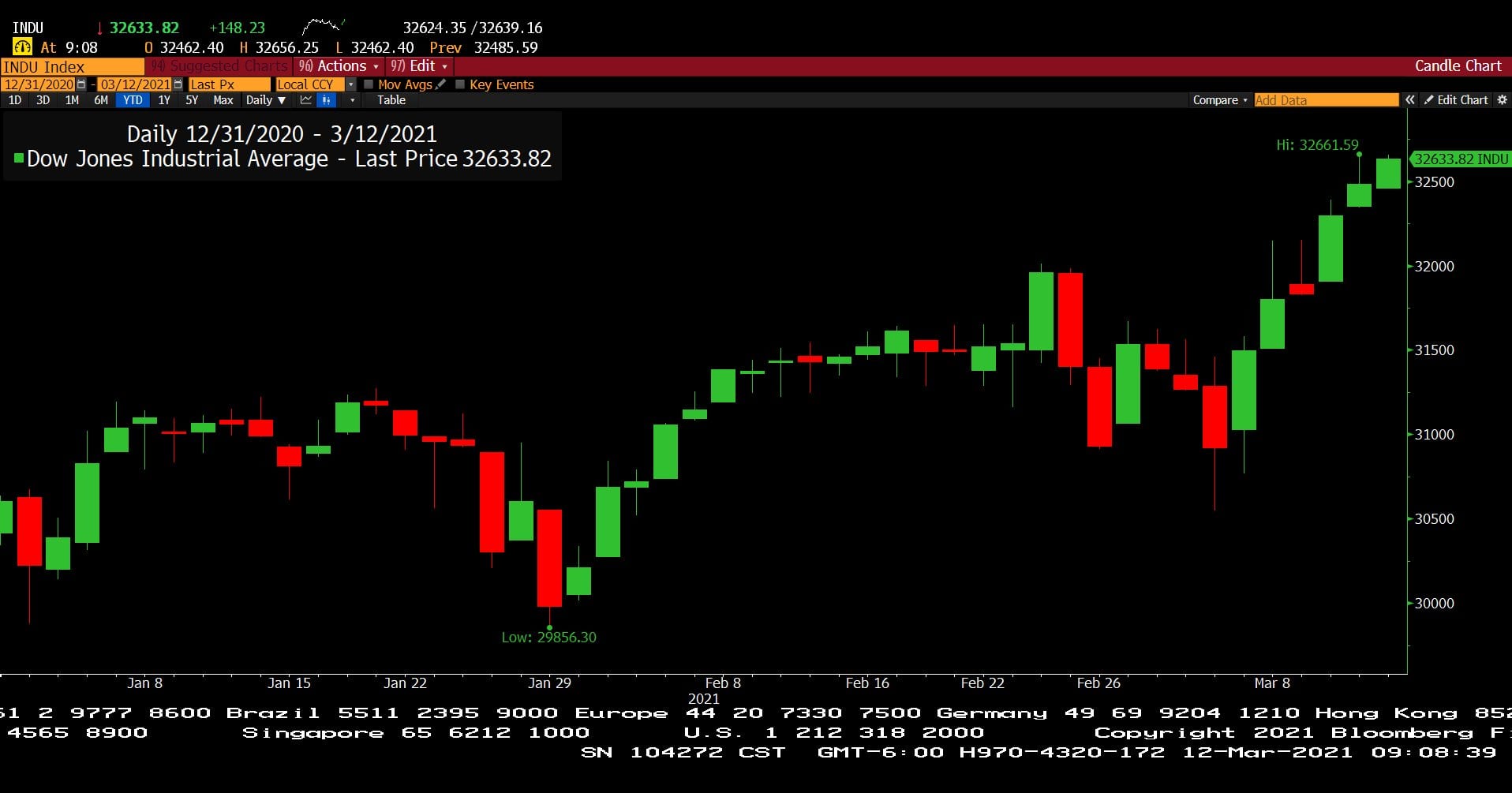 – Courtesy of Bloomberg LP
Standard & Poor's 500 Cumulative Total Return by Sector – Gross Dividends
(Year to Date)
– Courtesy of Bloomberg LP
U.S. Coronavirus Vaccine Doses Administered
(12/01/2020 – 03/12/2021)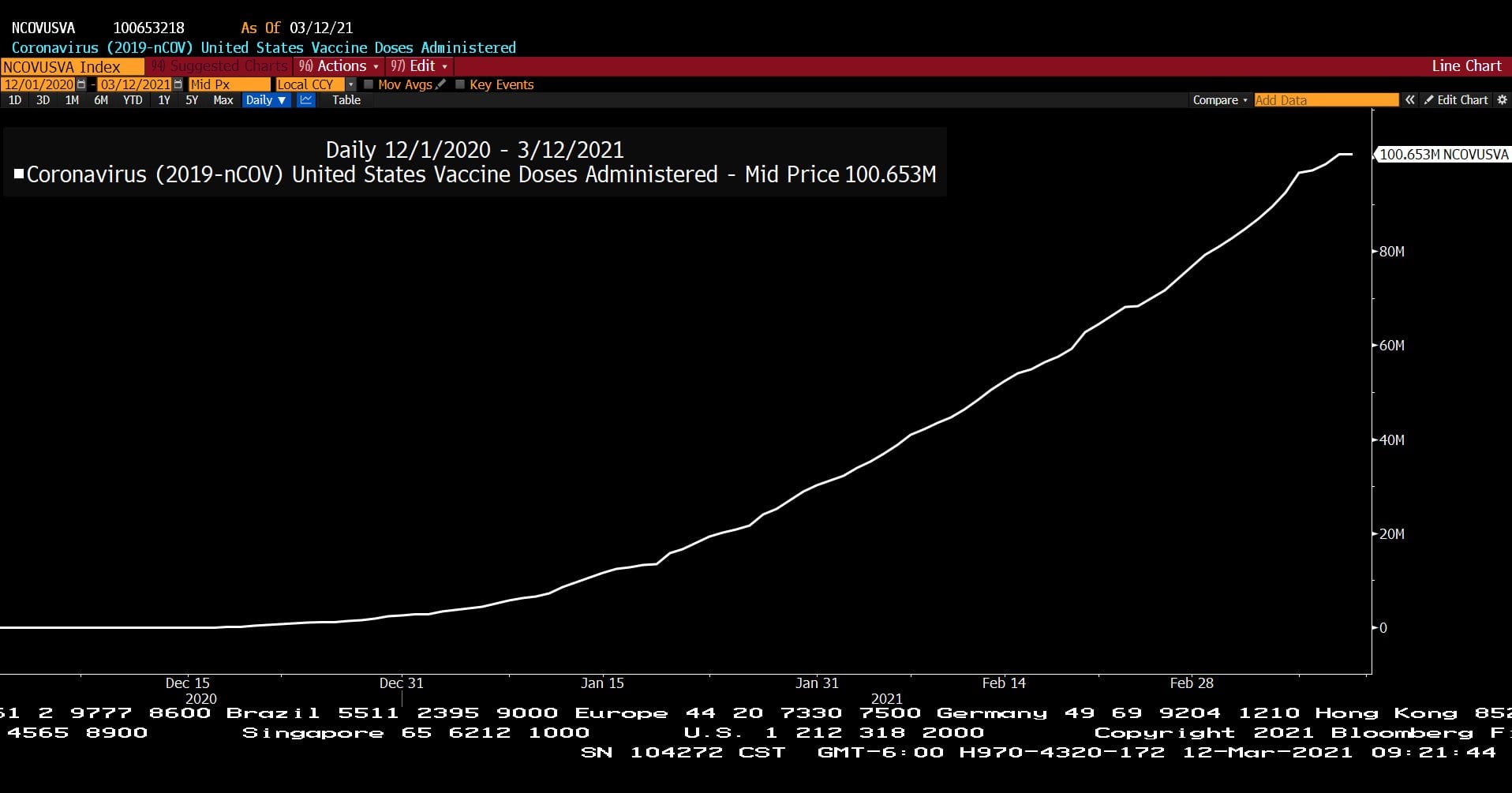 – Courtesy of Bloomberg LP
U.S. Employment Total in Labor Force, Seasonally Adjusted (Approx. 1 Year)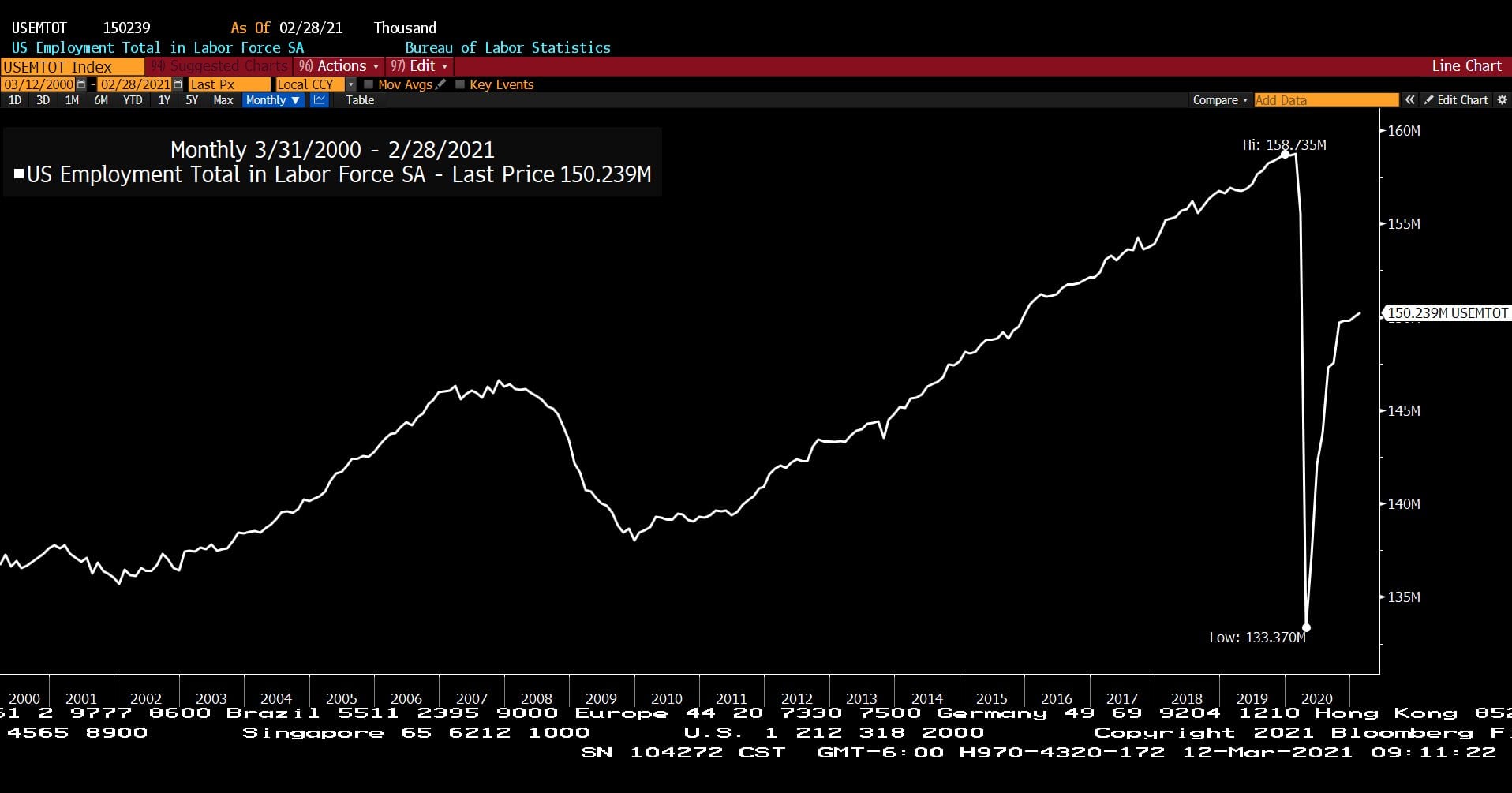 – Courtesy of Bloomberg LP
Generic Crude Oil Futures, Spot Price
(Approx. 15 Years)
– Courtesy of Bloomberg LP
GameStop, Corp. (1 Year)   
– Courtesy of Bloomberg LP
Tesla, Inc. and Global X MLP ETF
(Year to Date)
– Courtesy of Bloomberg LP
Profit Report
1. Back to the Basics!
2. Estate Planning Logistics:
Beneficiary check?

Contingents?

T.O.D. vs Trust?
3. Get that PDF into the Document Vault!
Research Round Up!
Investors are invited to improve decision making with a comprehensive tour of global economics, indicators, and actual results.
*7 Components of Emerging Market Upswing Strategy by Pimco
---
Start the Process Today! Be sure to indicate what size portfolio sample you would like to see. A link will arrive when we receive your questionnaire.