Q: What were some of the most important observations and lessons from Berkshire Hathaway's annual report to the McGowanGroup?
A: Stay tuned for today's grand finale on our show!
Q: What could the bond markets be telling investors about the Federal Reserve March 22nd announcement on interest rates?
A: The 6 month T-bill yield was at 5 1/8% on February 27. It was higher March 1st.
Q: Are the financial markets experiencing a global pandemic of too much pessimism?
A: "I don't ever remember a time when the CEOs in this country are almost 100% universal that we are going to have a recession. Usually, recessions are something that comes out of left field and surprises the market. That's not going to happen here." -Jim Paulsen
Q: Who are some of the North Texas companies that have had the best share price gains so far in 2023 and what could that tell investors?
A: Companies such as Builders FirstSource, Inc., Tenet Healthcare Corp. and Brinker International, Inc. are headquartered in Dallas and all currently thriving in the equity markets.
Evolution of Atlanta Fed GDPNow Real GDP Estimate for 2023 – Q1
(03/01/2023)
– Courtesy of The Atlanta Federal Reserve
U.S. New One Family Houses Sold – Annual Median Year over Year Price Change
(03/31/1998 – 01/31/2023)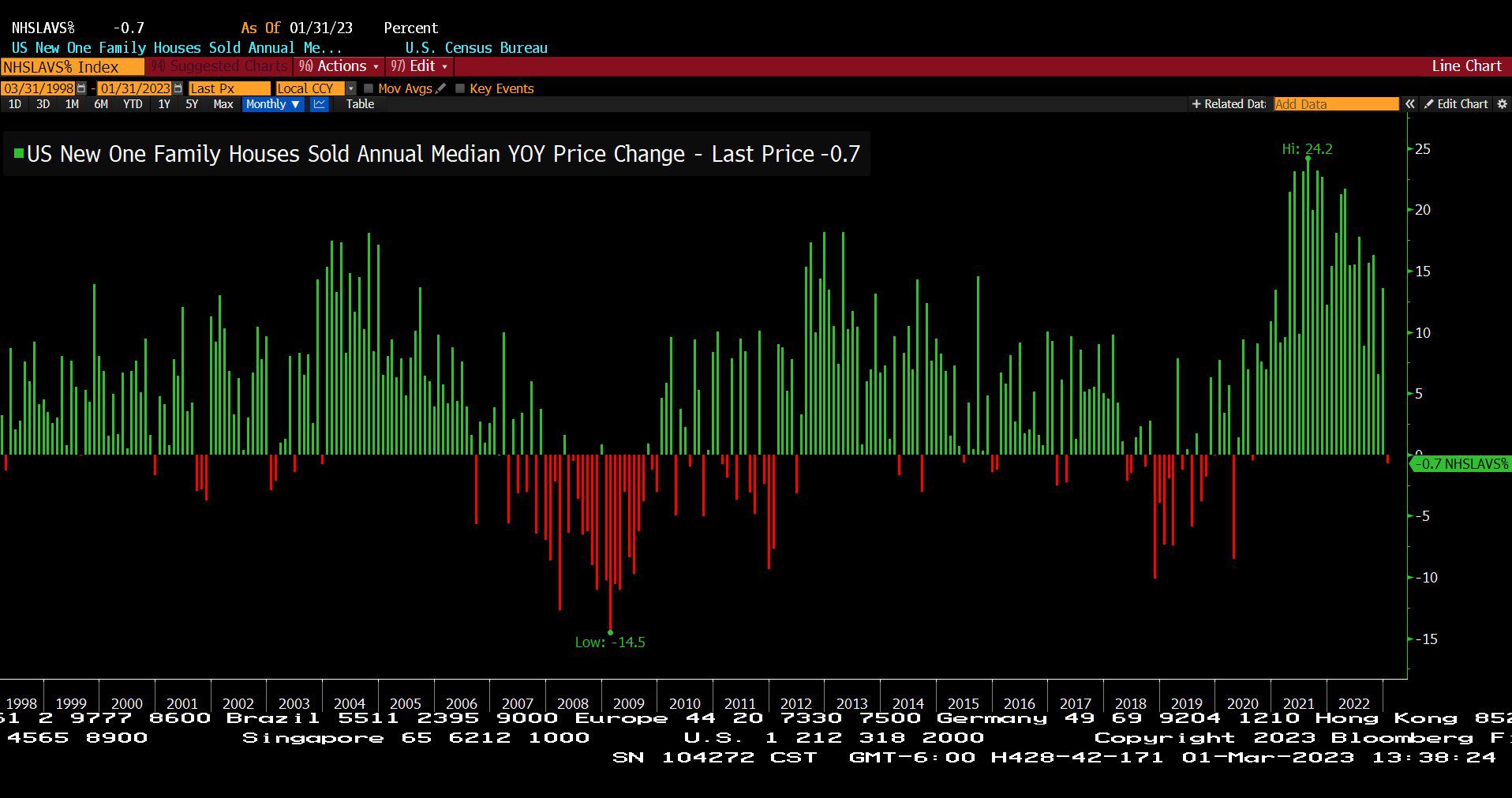 – Courtesy of Bloomberg LP
Dow Jones Industrial Average
(12/30/2022 – 03/03/2023)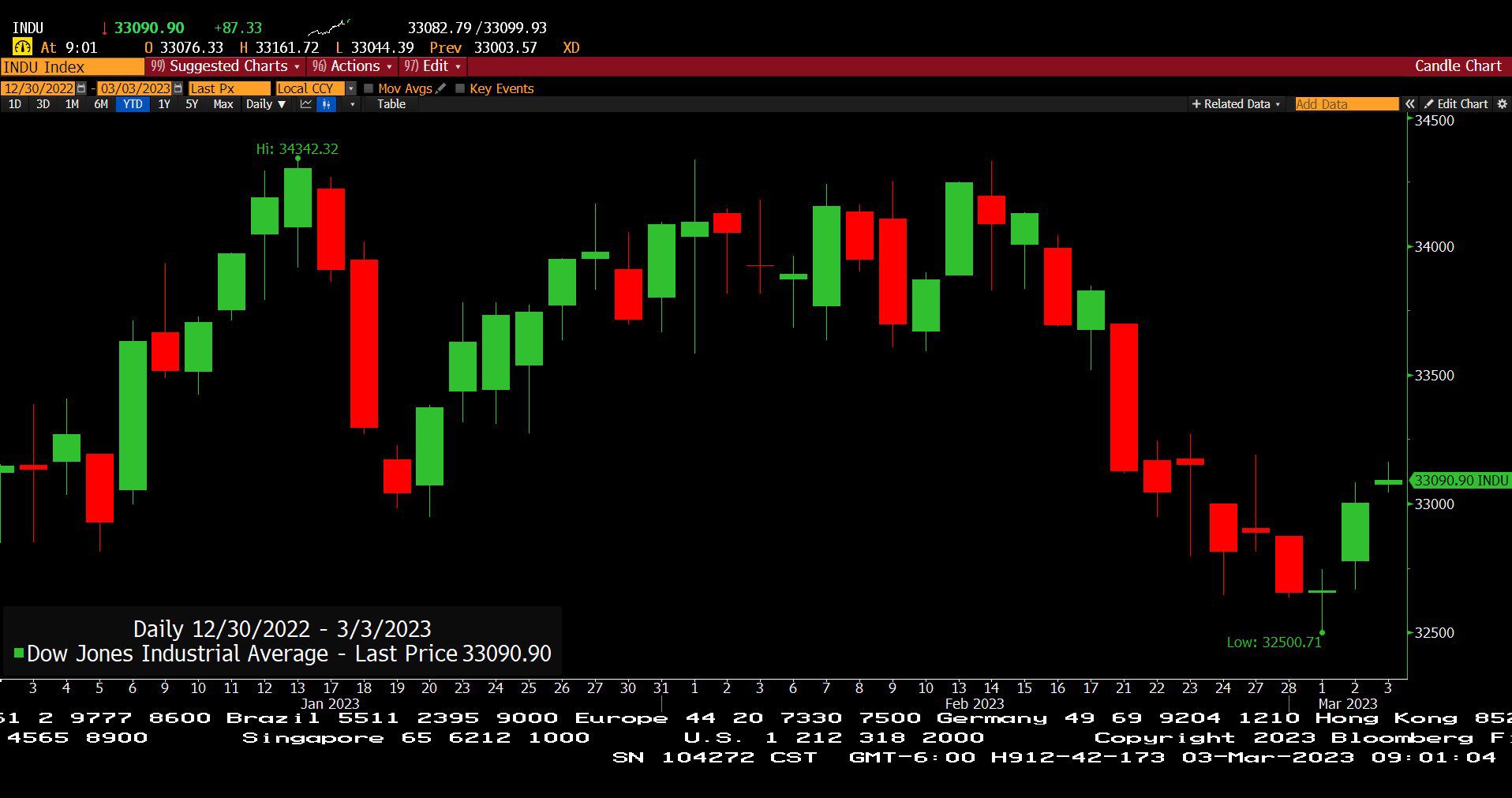 – Courtesy of Bloomberg LP
Standard & Poor's 500 Index – Quarterly Earnings Analysis By Sector
(11/16/2022 – 02/15/2023)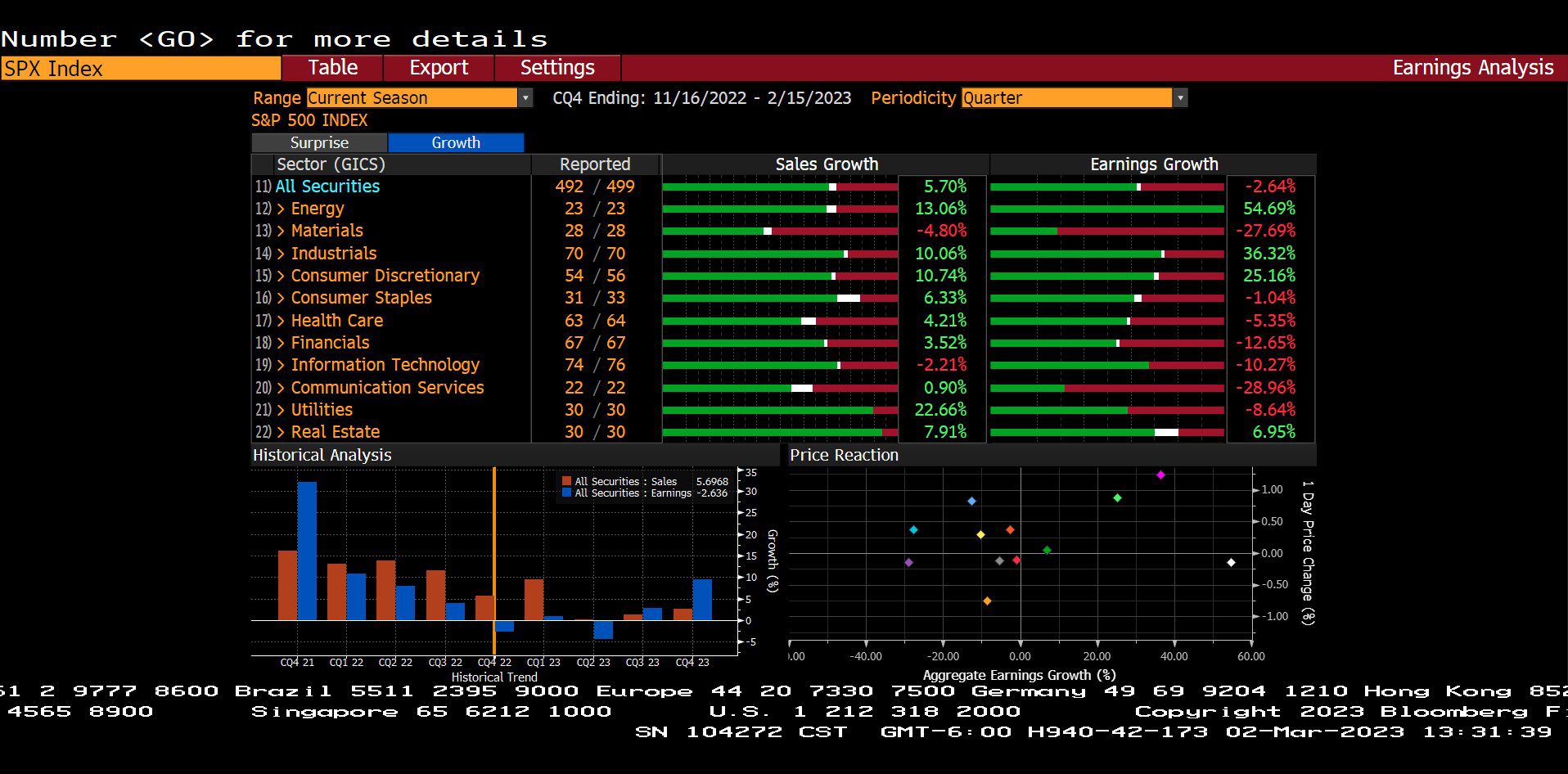 – Courtesy of Bloomberg LP
Standard & Poor's 500 Index – Quarterly Financial Analysis
(Q1 2022 – Q4 2024
)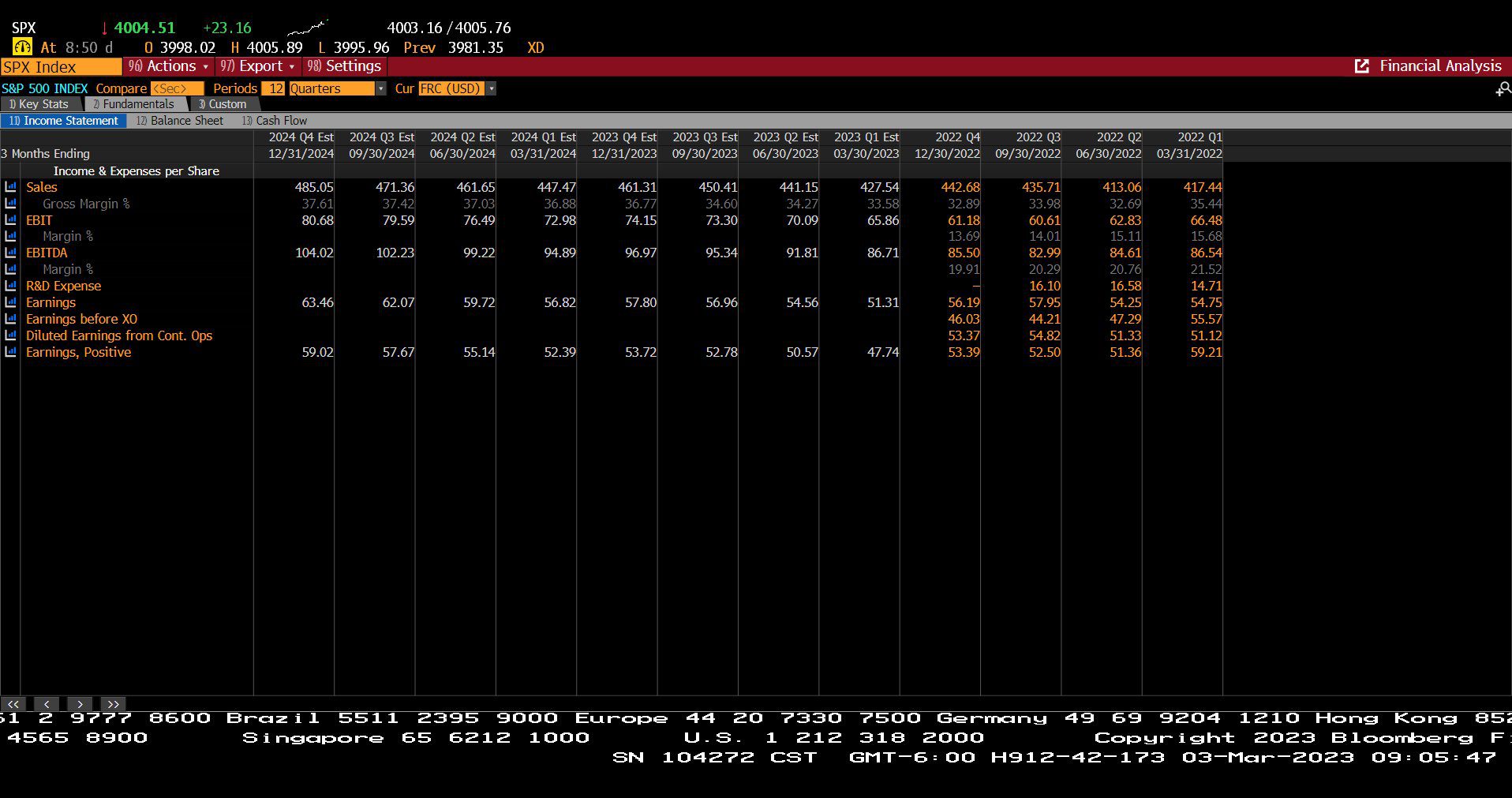 – Courtesy of Bloomberg LP
Standard & Poor's 500 Index
(12/30/2022 – 03/03/2023)
– Courtesy of Bloomberg LP
Headline Round Up
*Record $1 Trillion in 2023 Stock Buybacks, 2.5% of Wilshire 5000 value! Does this put a floor under future market corrections?
*Rivian Compounds Losses & Drops 17% in a Day.
*Global Shipping Deflation?
*10 Year U.S. Treasury Tops 4%.
*U.S. Commerce Secretary, Gina Raimondo, Declares "This economy is strong" inflation "steadily coming down."
*Greenlight Capital's David Einhorn Up 37% in 2022 Now Loves Tenet Healthcare.
*Deflation?: Apartment Rents Fell Over Past 6 Months in Every Major Metropolitan Area Ending this January.
*Median Home Prices Now Down Over Past 12 Months.
*McDonald's Testing Krispy Kreme in 150 Locations in Kentucky!
*What Recession? Salesforce Spikes 15% on Strong Results at the End of February and Raised Forecast for 2023!
*Goldman Sachs Predicting $100 Oil By Year End?
*Latest China Manufacturing Data Stuns Markets & Oil Prices Spike.
*China Sending 10 Supertankers to Buy More U.S. Oil After Strategic Petroleum Reserve Release Creates "Remarkable, Profitable Arbitrage Opportunity".
*Cheniere Looks to Pay Off More Debt With Second Investment Grade Credit Rating.
*Russian Oil & Gas Production Suffers Declines Without U.S. Companies and Equipment.
*U.S. Hits New Clean Tech Power Record as Wind and Solar Generation Soar!
*Four U.S. Cities Approve Small Nuclear Reactors.
*Shocking 2050 Projections for Increased Global Energy Usage!
Profit Report
Warren Buffet's Berkshire Hathaway's Track Record, Annual Letter to Shareholders, and Their Investment Strategy!
McGowanGroup's 2023 Bozo Award and Sir John Templeton Award Contenders!
Research Round Up!
Investors are invited to improve decision making with a comprehensive tour of global economics, indicators, and actual results.
---
Start the Process Today! Be sure to indicate what size portfolio sample you would like to see. A link will arrive when we receive your questionnaire.