Q: What is a potential 2-year investor experience for a portfolio with rational, low cost, Exchange Traded Index funds (ETFs) evenly distributed between Stock and Bond allocations?

A: A loss of about 10% including the net yield of about 2%.
Q: Where could investors "hide" in the equity markets?
A: Investors should look to current asset classes with relatively high cash flows and quantifiable appreciation potential. Further, internal free cash flows are indication of potential forward returns.
Q: Did the Federal Reserve signal a pause on interest rate hikes?
A: The rhetoric of "wait and see" in the press conference along with "data dependent" decision points raises the possibility that they are finished. Financial markets appeared to anticipate the next part of the cycle which could remove the pressure of higher interest rates on investment asset pricing as rates are potentially lowered.
Headline Round Up
*Tech "Magnificent Seven" Shed $1.2 Trillion, Since July Peak, After Driving S&P 500 Index Gains.
*Back in The 'Chips! Semiconductor Demand Recovery Reported in Recent Weeks.
*Make America Confused Again? WSJ Opinion by Allysia Finley, Editorial Board member, "Brace for Wind and Electric Vehicle (EV) Bailouts".
*North Texas Homes Drop 1.7% Over Past Year According to the August S&P CoreLogic Case-Shiller Prices by City Index.
*Texas Housing Market in Q3 Moving Back to Balanced Inventory of Supply Versus Demand According to Allie Beth Allman & Associates.
*Hillwood Buying a Whole City Block in Downtown Fort Worth.
*Big Commission Shakeout: National Association of Realtors Found Liable in Price Fixing Conspiracy with 1.8 Billion in Damages!
*Zillow Stock Plunges on News of Realtor Conspiracy.
*Going Nuclear! Uranium Demand Hits Decade High on Nuclear Energy Traction.
*Weight Loss Mania: Wall Street's Ridiculous Premise That Food Stocks Will Suffer?
*New York Sounds Alarm on Banks' Exposure to Commercial Real Estate & Unrealized Losses.
*Commercial Real Estate Money Inflows Halted.
*Productivity Soars! Labor Costs Decline vs. Output in 3rd Quarter Declines!
*Wage Push Inflation Decreases to 4.3% in Q3.
*Europe Inflation Drops Below 3% to 2.9% For 2 Year Low.
*Oil Mergers, In Principle, Reducing Hedge Contract Supply Increasing Likelihood of Spikes.
*Guyana Punch! Tiny Country Booms with Texas Rib-Eye Steaks as Exxon Discovers 11 Billion Barrels of Oil Off the Guyanese Coast!
*Fort Worth Opens Natural Gas Surplus to Power Bitcoin Mining Operation. "This is Wildcatting on the Bitcoin Side".
*The Head of The University of Texas Endowment Fund, Rich Hall, Shuns "Private Credit" Stating, "Leverage in Private Credit Makes It Too Risky to Boost Allocations…".
*"Friends" Stars Getting $20 Million Each in Annual Residuals Thanks to 2% Syndication Income Deals.
*No Boost: Only 3.5% Opt-in for Latest Booster as Shot is No Longer Free.
Profit Report
*The Looming Government Shutdown November 17th?
Dow Jones Industrial Average Index
(11/03/2021 – 11/03/2023
)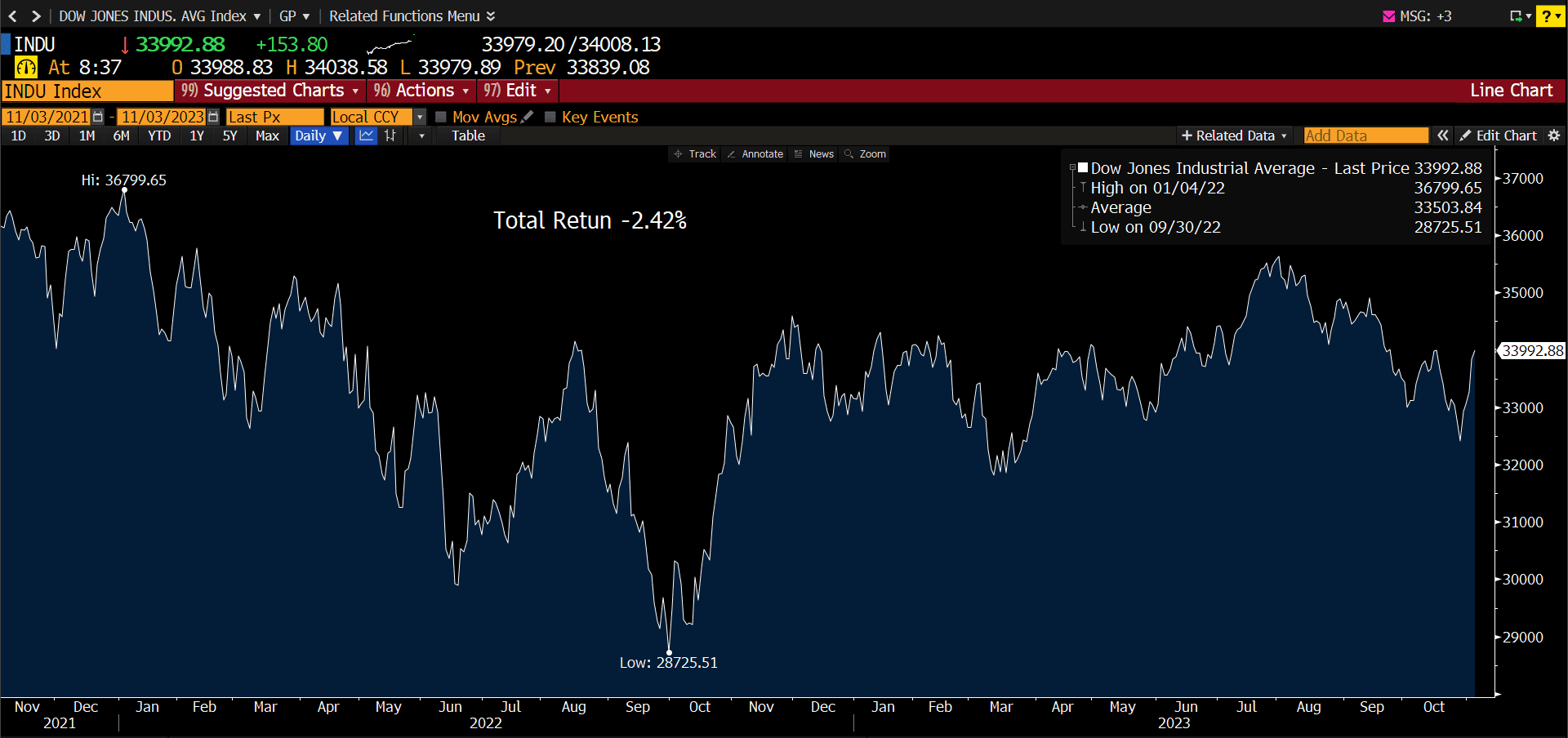 – Courtesy of Bloomberg LP
Standard & Poor's 500 Index – Earnings Analysis by Sector (08/16/2023 – 11/15/2023)
– Courtesy of Bloomberg LP
Vanguard Total Bond Market Exchange Traded Fund
(11/03/2021 – 11/03/2023
)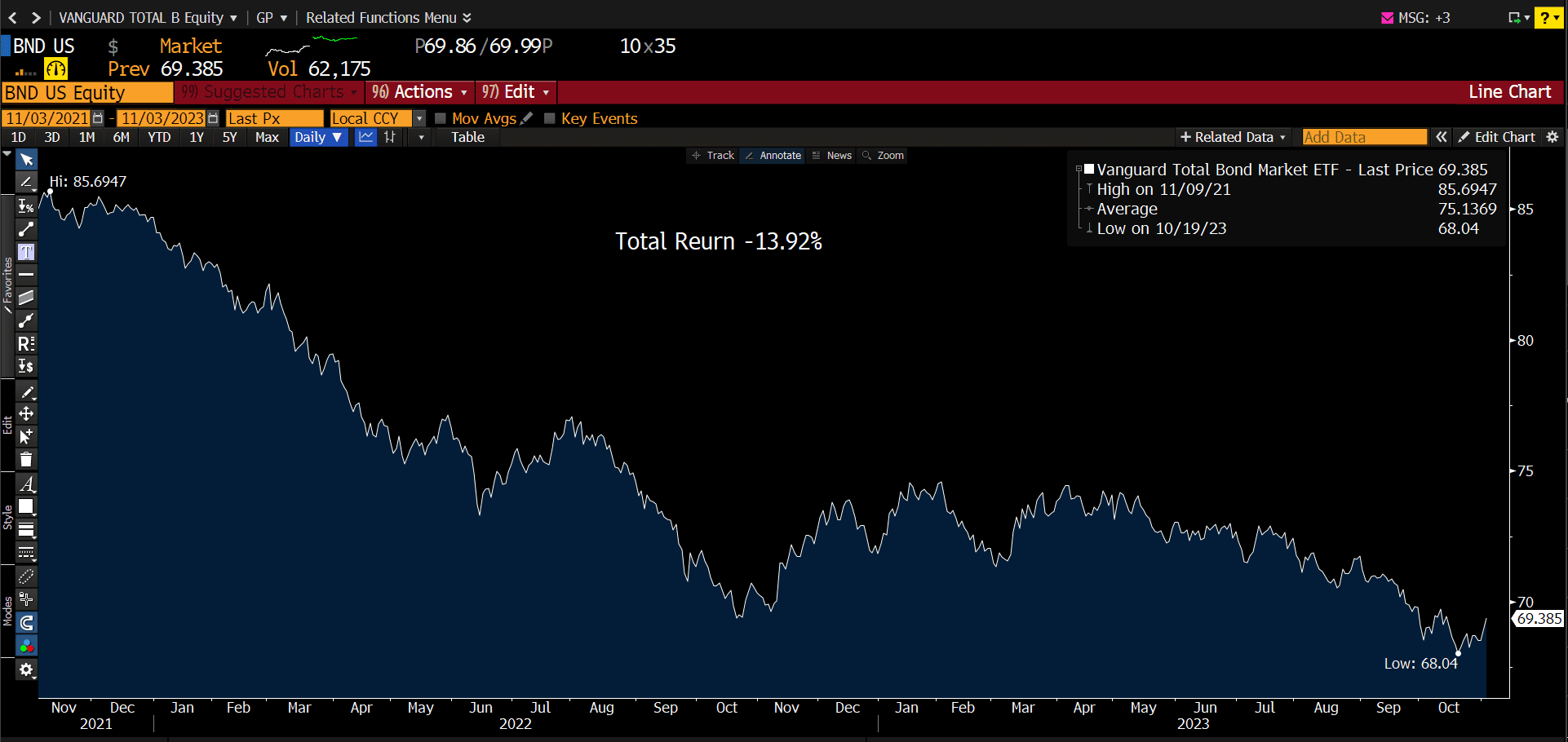 – Courtesy of Bloomberg LP
Standard &Poor's 500 Total Return Index
(11/02/2021 – 11/01/2023
)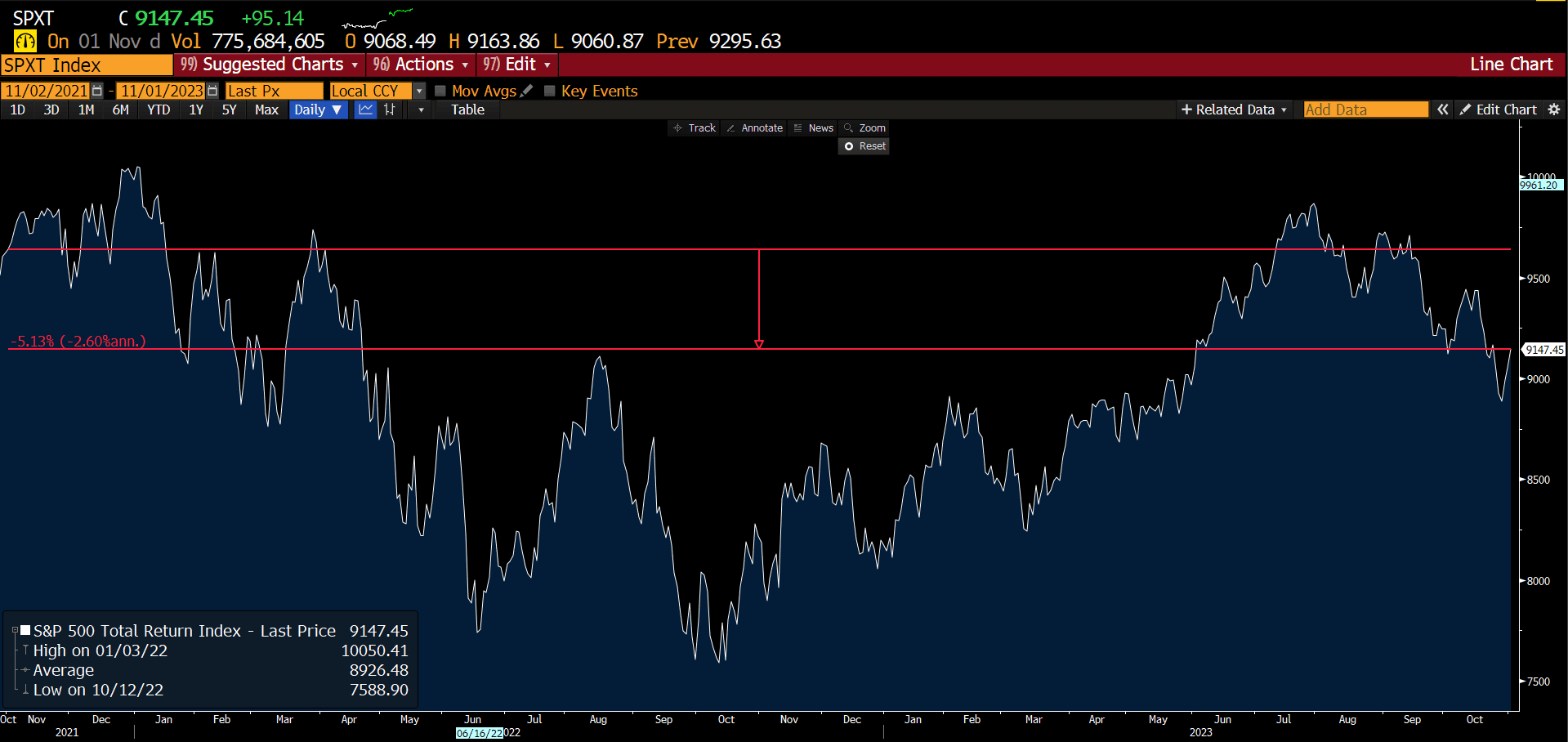 – Courtesy of Bloomberg LP
Vanguard Real Estate Exchange Traded Fund
(11/03/2021 – 11/03/2023)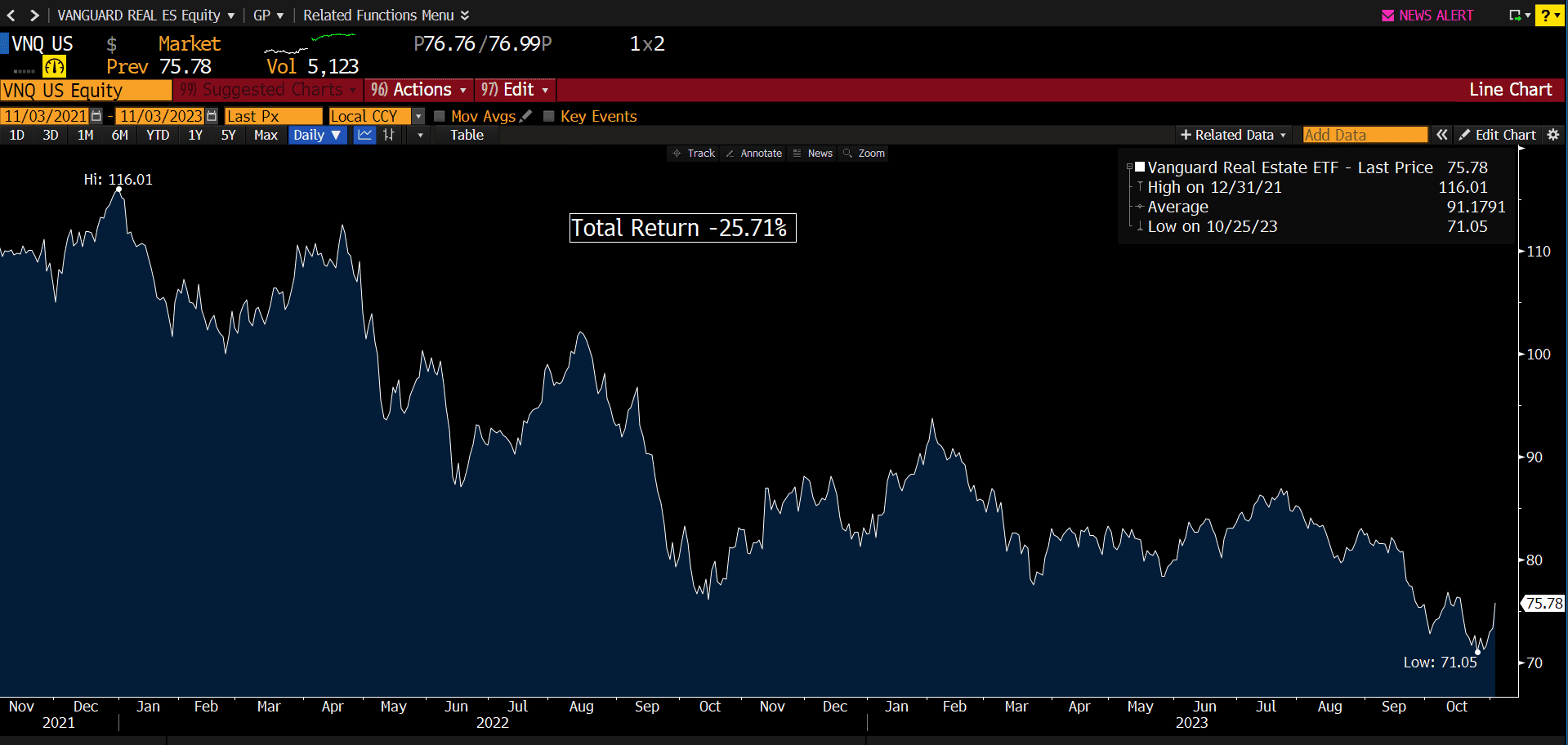 – Courtesy of Bloomberg LP
Dow Jones Industrial Average Index (12/15/2018 – 03/15/2019)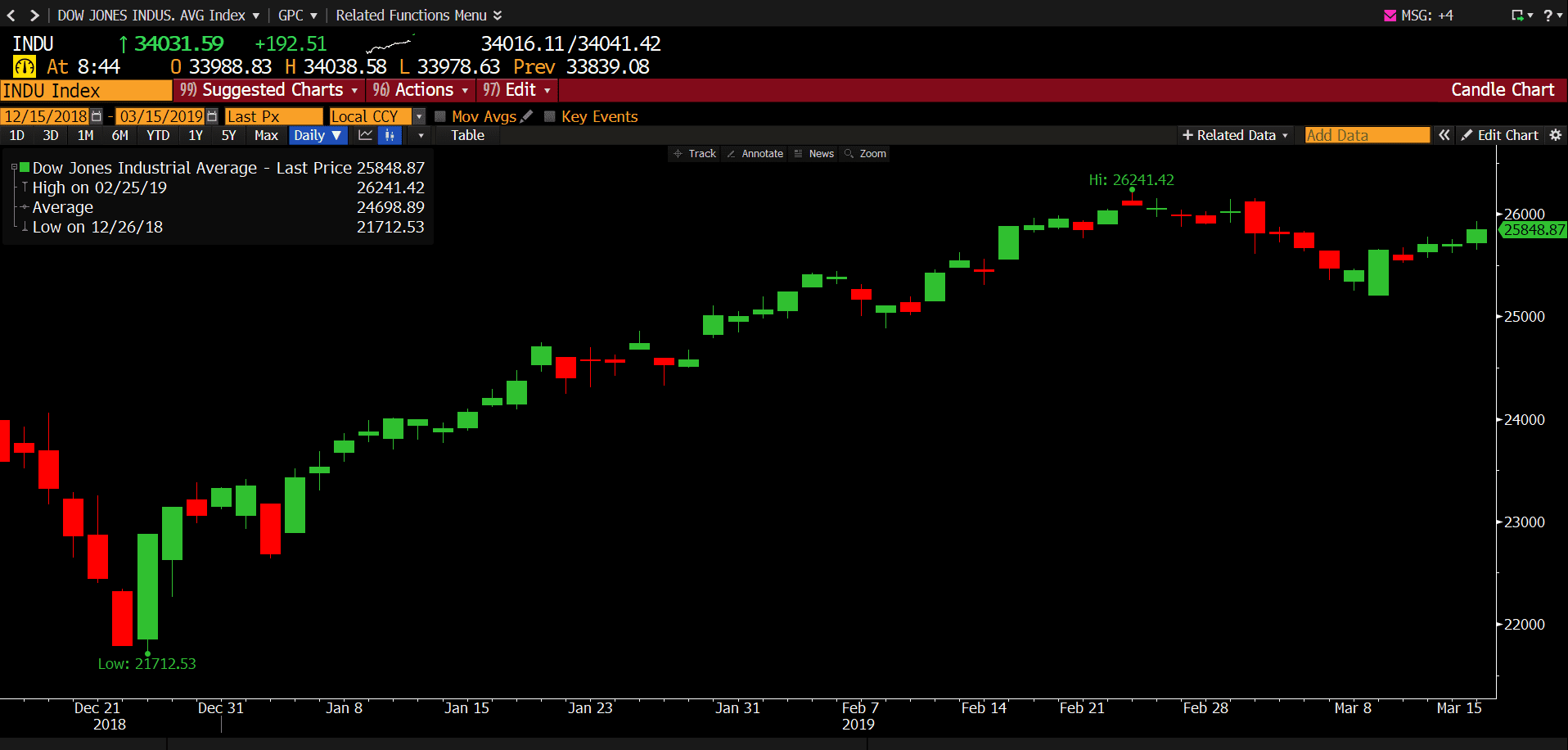 – Courtesy of Bloomberg LP
Research Round Up!
Investors are invited to improve decision making with a comprehensive tour of global economics, indicators, and actual results.
---
Start the Process Today! Be sure to indicate what size portfolio sample you would like to see. A link will arrive when we receive your questionnaire.