McGowanGroup Wealth Management
Q1 2023 Client Update
This year welcomed our 10th and newest team member Preston Lane, Director of Client Relations. Our dedication to Excellence in Service and pursuit of Superior Client Profits remains steadfast!
Key Trends
Expectations for 2023 appear overly pessimistic: As of 12/20/2022, The Atlanta Federal Reserve Real GDPNow projection shows 2.8% economic growth for the fourth quarter. Projections in Bloomberg were for just .2%.
Slowing Growth
The key to happiness in 2023 appears to be low expectations. The current Federal Reserve projections are .5%for 2023 growth. With reduced earnings forecasts the bar is set low, but positive surprises could be the result in January earnings announcements.
Cooling Inflation
Inflation appears to have peaked in June 2022 at an annual Consumer Price Index (CPI) rate of 9.1%. Since June, CPI would annualize at about 2.5% inflation. If inflation does spike again, oil and gas prices are the likely the cause of and beneficiaries of the surge.
Energy Crisis and Strategy
ExxonMobil recently issued a forecast that profits and cash flow could double by 2027. The bold forecast indicates that energy infrastructure could continue to lead the S&P 500 again for an extended period. Energy holdings and inflation friendly medical dividend companies account for McGowanGroup's resiliency this year versus large declines in the equity markets.
Interest Rates, Bonds, and Federal Reserve Policy
Is the Interest Rate tightening cycle coming to an end? Federal Reserve projections for the base overnight bank lending rate are poised to reach 5.1%. This could signal ½% rate increase on February 1st, 2023, or two 2 more ¼% increases later in the year. Bonds are currently trading at a discount with yields above 7% likely to benefit from the end of the aggressive tightening cycle.
Capital Gains Strategies
In 2019, as the Federal Reserve reached the end of 2018 tightening cycle, the Bear Market ended with a return to higher valuations.
Possible attractive portfolio additions include:
     • Rising Dividend Companies
     • Energy Companies
     • Clean Technology Companies
     • Deeply Discounted Bond Funds with Attractive Yields.
Headline Round Up
*The Financial Times Predicts All Time High Oil Demand in 2023 and Makes Energy Predictions.
*U.S. Home Construction in Deep Recession.
*Texas Gold Rush in Permian Basin.
*Biden's Natural Gas Phase Out! Administration to cut fossil fuel from federal buildings by 2030.
Profit Report
What are some of the most important lessons for investors over the last 30 years?
Logistics of consolidation with The McGowanGroup!
Dow Jones Industrial Average
(01/01/1986 – 12/22/2022)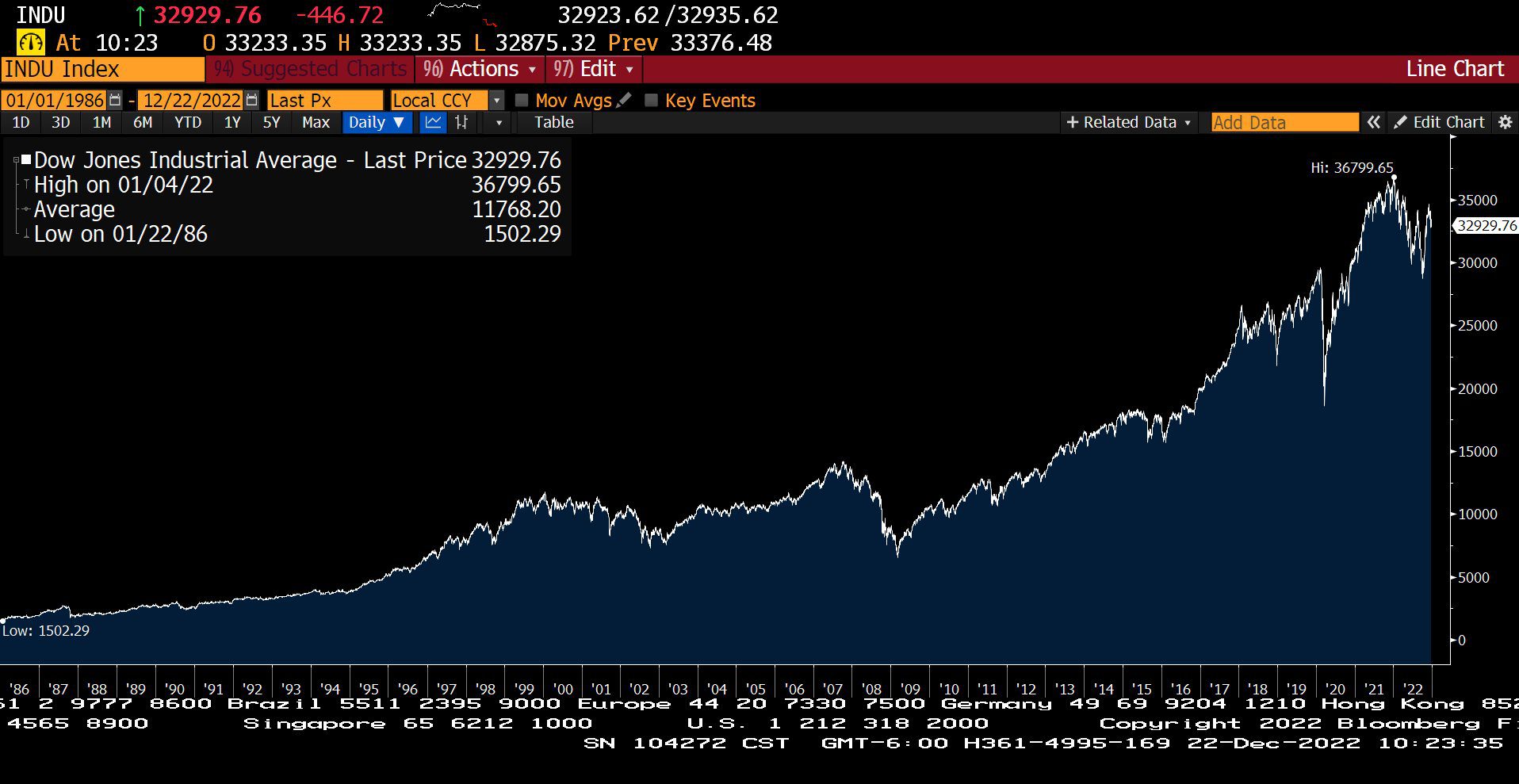 – Courtesy of Bloomberg LP
Invesco QQQ Trust Series 1 (12/31/2021 – 12/22/2022
)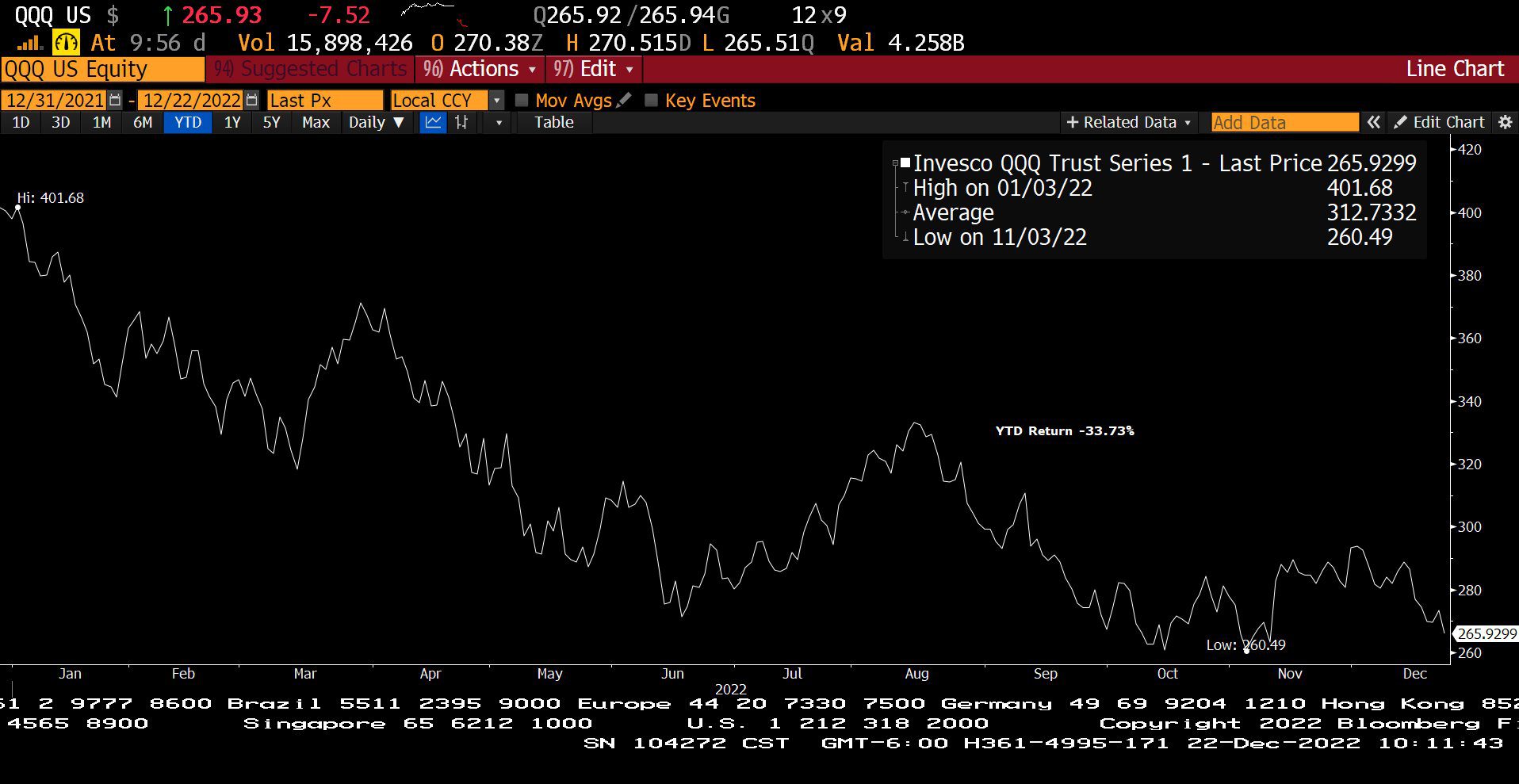 – Courtesy of Bloomberg LP
Standard & Poor's 500 Index – Quarterly Earnings Estimates  (12/22/2017 – 12/22/2022
)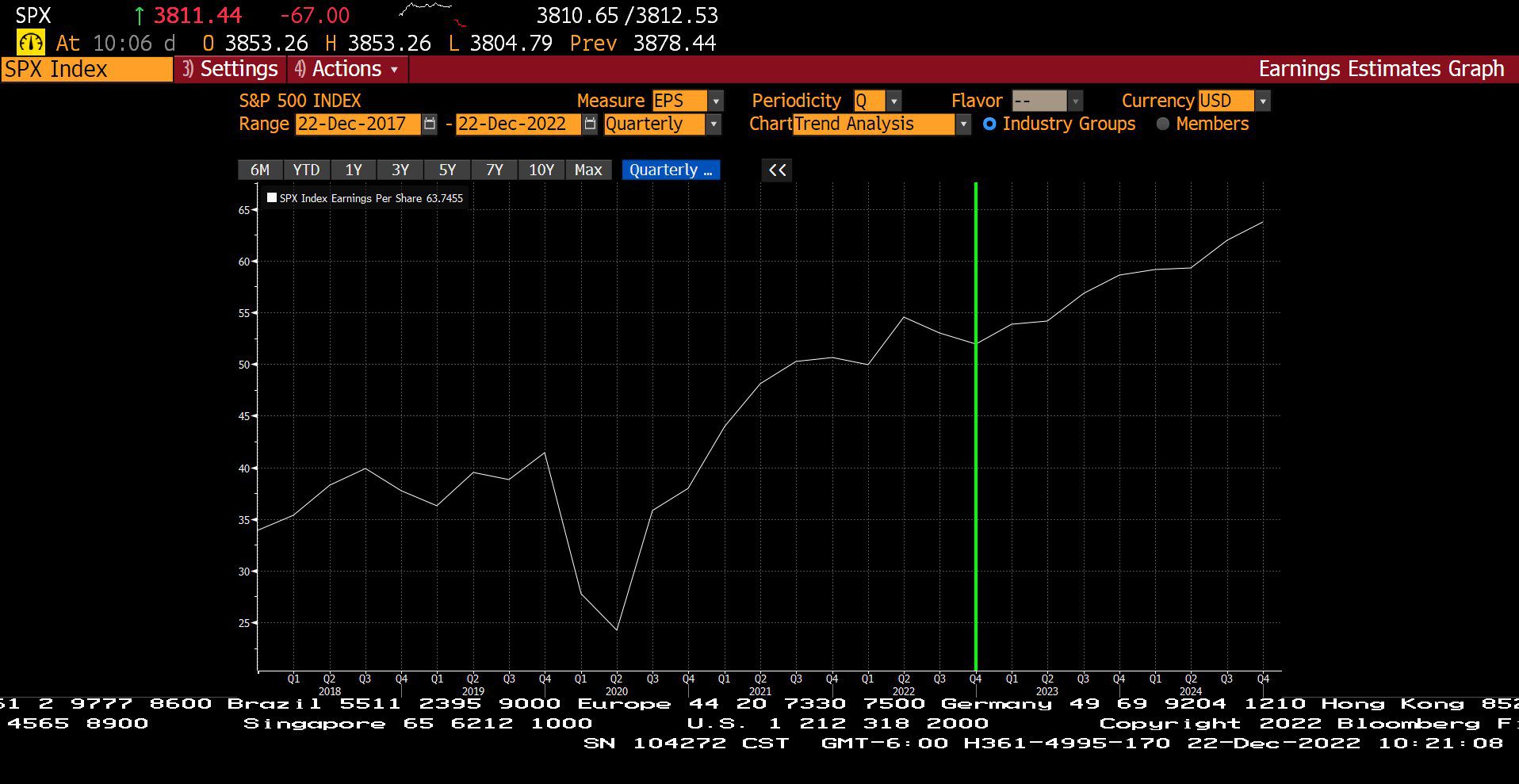 – Courtesy of Bloomberg LP
C.B.O.E. 10 Year Treasury Note Yield Index (01/02/1986 – 12/22/2022)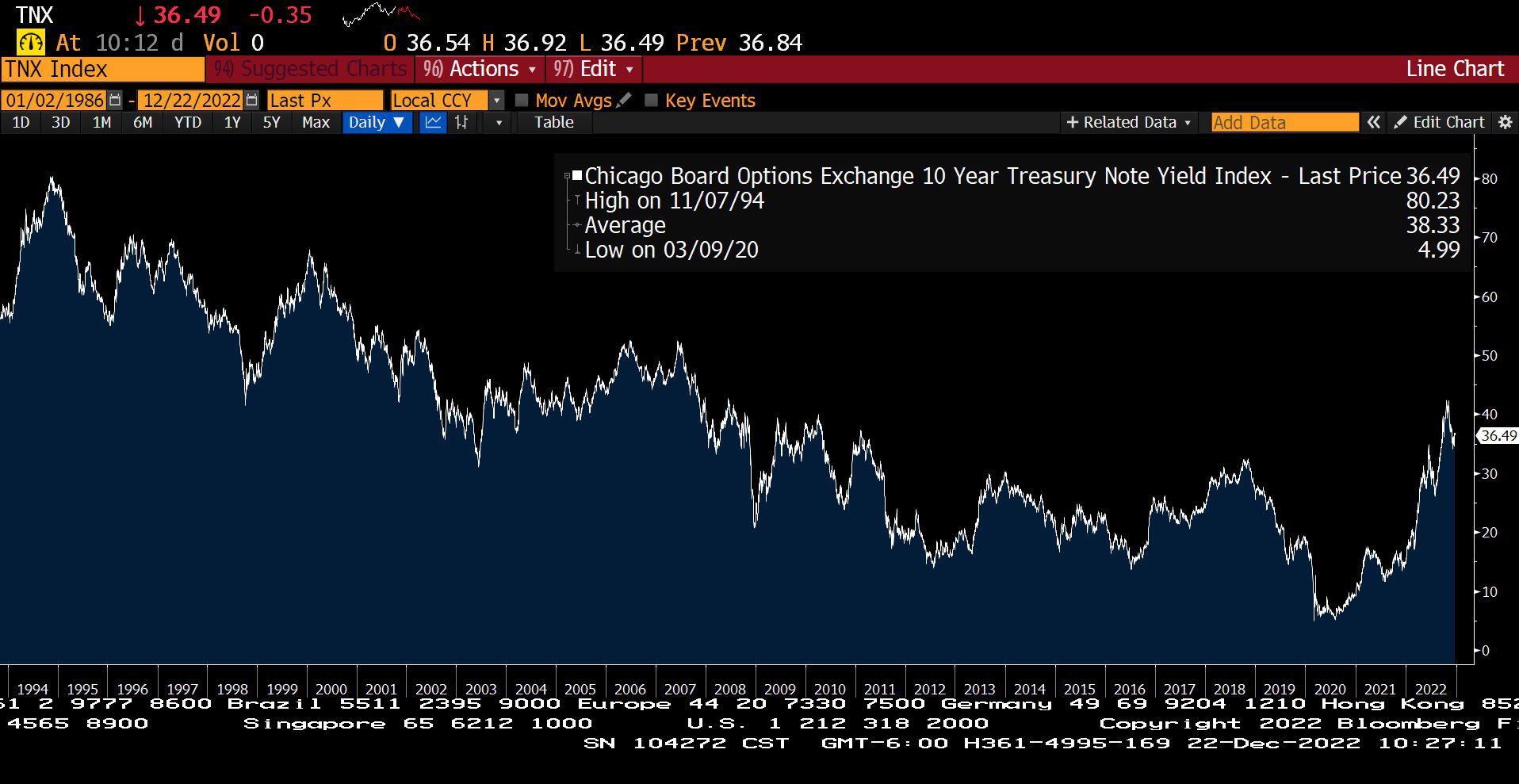 – Courtesy of Bloomberg LP
AllianceBernstein Global High Income Fund, Inc. (01/01/1992 – 12/22/2022)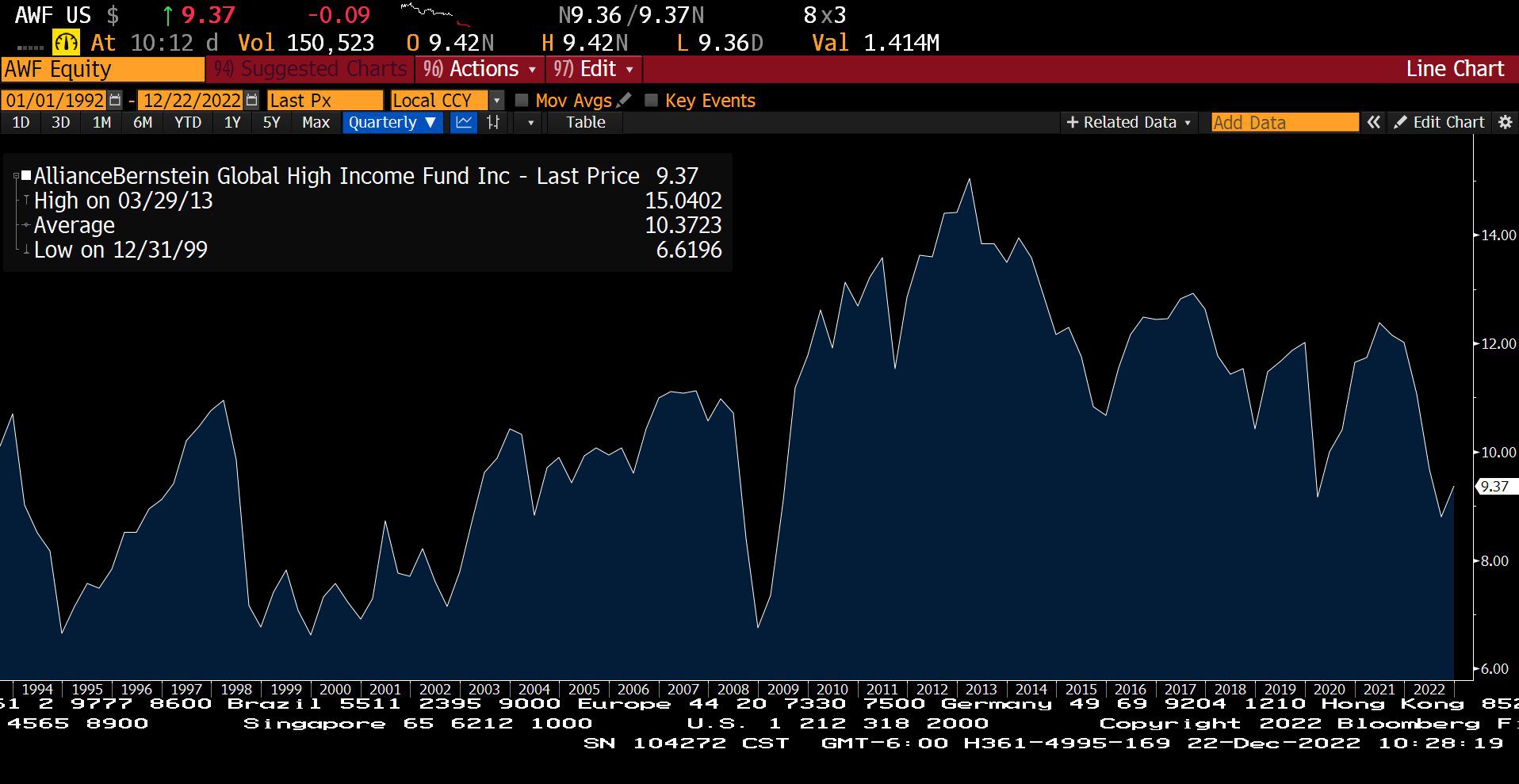 – Courtesy of Bloomberg LP
Global X MLP ETF  (12/31/2021 – 12/22/2022)
– Courtesy of Bloomberg LP
---
Birdman, by dedicating himself to serving veterans and supporting suicide prevention, launched The Human Performance Project. This concept
was to take health and wellness to the next level of human performance. The launch event is the opportunity of a lifetime: 7 continents in 7 days including skydives, distance runs, and even a snowball fight in Antarctica!
Former Navy SEAL and Founder of two nonprofit organizations benefitting Veterans and First Responders, is originally from Detroit, Michigan. Birdman enlisted in the Navy after watching the Twin Towers collapse on 9/11 and served eight years as a U.S. Navy SEAL attached to SEAL Team SEVEN, completing three combat tours to Iraq before being assigned to Advanced Training Command as an Instructor.
In 2005, while serving in Iraq, Birdman was riding atop a Humvee manning the gun turret in enemy territory, when his vehicle was hit by an improvised explosive device (IED), causing a detonation and throwing him from the Humvee. Birdman regained composure with his face and hands burned and witnessed his fellow team members suffer devastating burn and blast injuries. His entire team survived their injuries and went back to operating.​
In 2012, Birdman established Sons of the Flag to help Veteran and First Responder burn survivors and their families find the help and medical attention they truly deserve. He recognized that burn care treatments and advancements had not been evolving as other forms of injuries, so he made it his mission to do something about it!
He is also the founder of the Birds Eye View Project, addressing the extreme needs of Veterans and First Responders through extreme sports.
In the midst of running two nonprofit organization, Birdman also authored "Sons of the Flag: Real Accounts from the last 100 years of American Service", a book dedicated to relaying a selection of real stories of American Heroes.
Then, Birdman had a special calling because of a teammate and dear friend that he lost too soon. Now a sponsored athlete in the extreme sports arena, he has founded The Human Performance Project. This Human Performance Project will encompass taking a deeper dive into health and wellness giving our next generation a better understanding and roadmap on taking proper care of their bodies through physical, mental, emotional and spiritual guidance from world renowned experts in their fields.
NetWorth Radio's Dallas Leadership Series: Spencer McGowan Interviews Officer Danny Canete & Officer Joe King with Assist The Officer Foundation

!
---

Officer Danny Canete and Officer Joe King of Dallas' Finest join us to detail their extraordinary leadership in supporting first responders and how the community can help today. Make a difference for your first responders. 
The Assist The Officer Foundation provides financial assistance to officers who are facing the loss of income due to a serious injury, life-threatening illness or other catastrophic event. Immediate assistance is also available to an officer's family in the event of the death of an active officer.
Since its creation in 1999, the foundation has provided assistance to hundreds of officers and their families who were faced with any number of different life-altering situations.
In 2004, the ATO Foundation launched a first of its kind, confidential counseling service, exclusively for Dallas police officers. The stress of everyday life can take a toll on almost anyone – add to that, the danger and stress of being a police officer – and sometimes life can be overwhelming. Our counseling program was designed for police officers, by police officers and professionals working together.
As resources allow, the Foundation will continue its growth by adding new programs to meet the needs of police officers in an ever-changing world.
Research Round Up!
Investors are invited to improve decision making with a comprehensive tour of global economics, indicators, and actual results.
---
Start the Process Today! Be sure to indicate what size portfolio sample you would like to see. A link will arrive when we receive your questionnaire.