Q: How is the Middle East different today than in 1967?
A: The Abraham Accords make escalation less likely. The accords normalized relations with Israel and some Middle Eastern countries. Iran's support of

Hamas

and

Hezbollah

has been referred to as a Proxy War against Israel making war a possibility between Iran and Israel.
Q: How did the global financial markets react to the declaration of war between Israel &

Hamas

?

A: Oil spiked $4 per barrel at the futures opening Sunday night topping $87. The Dow futures fell 1% Sunday evening to 33,000 and rallied during the week to near 34,000 during the week.
Q: What is currently happening in the North Texas Real Estate Market?
A: Stay tuned and listen to the latest reports from Allie Beth Allman and The Wall Street Journal!
Headline Round Up
*Exxon Finalizes Buyout of Dallas Based Pioneer Natural Resources for $253 Per Share in All Stock Deal valued at $59.5 Billion!
*U.S. Oil Production Set to Hit Record in Q4!
*Ozempic and Wegovy Transform Novo Nordisk to a $400 Billion Company.
*Deflation? Container Shipping Rates Tumble as Market Prices to Move Cargo From Asia to U.S./Europe down as much as 90% From Last Year!
*OPEC Raises 2045 Demand Forecast.
*Goldman Sachs Economists Still Say No Recession Yet.
*Dallas's Federal Reserve President, Lorie Logan, Says Rate Surge Creates Less Need For Further Hikes.
*Atlanta's Federal Reserve Chief, Raphael Bostic, Says Rates are High Enough.
*Interest Rate Pause Likely to Continue Through November 1st Meeting.
*Money Supply Plummet Potentially Indicates Inflation Will Drop From Here.
*China's Property Giant, Country Garden, Defaults!
*Walgreen's Announces $1 Billion Cost Cutting Program as New CEO, Tim Wentworth, Arrives.
*Walmart Announces Online Primary Doctors to Employees.
*Largest U.S. Banks Posting Worst Write Offs in Three Years.
*India's Stock Market Booming!
*Submerging? Emerging Market stocks slide to lowest levels in 36 years?
*German Sandal Maker Birkenstock Valued at $9.2 Billion in Initial Public Offering (IPO).
Dow Jones Industrial Average Index
(12/30/2022 – 10/13/2023
)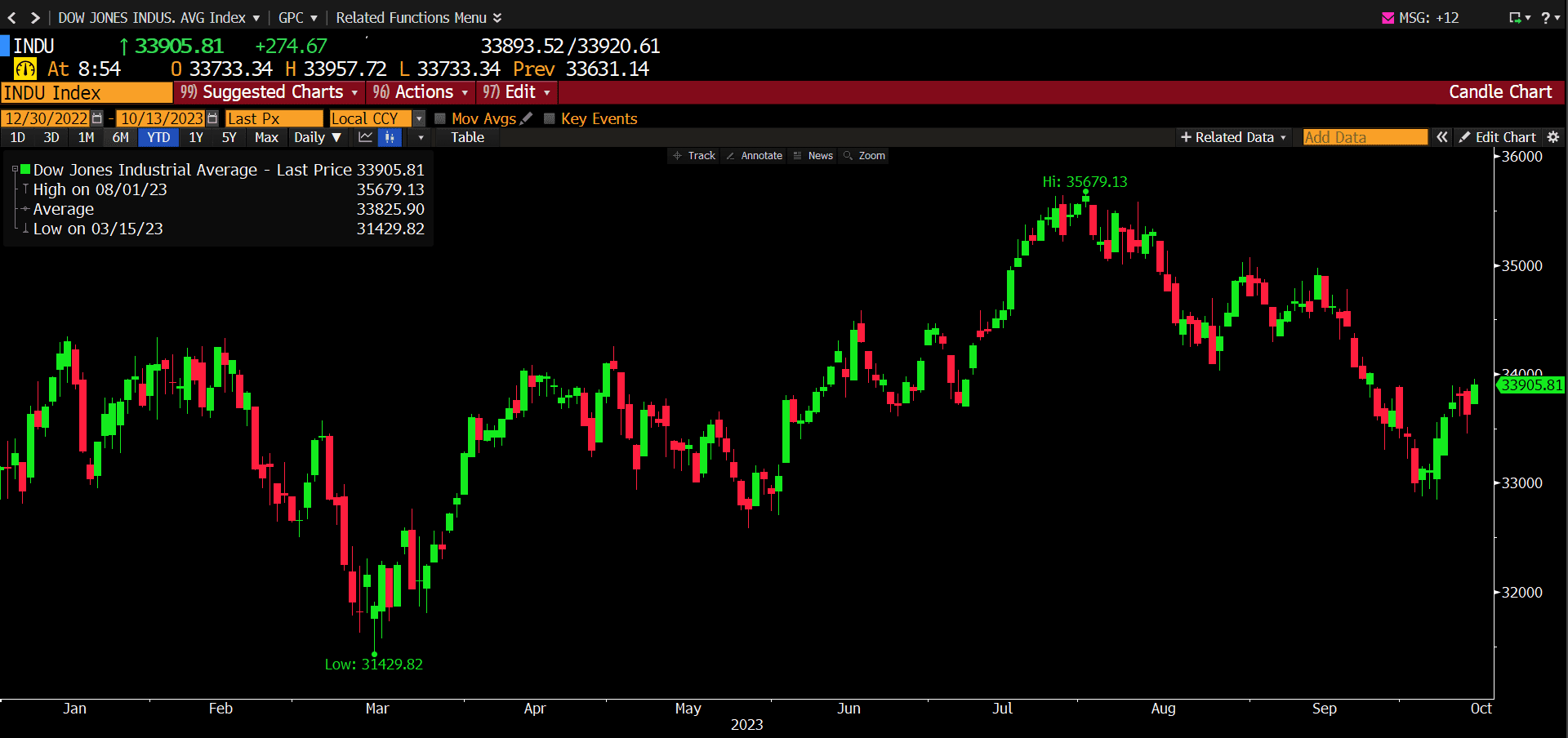 – Courtesy of Bloomberg LP
West Texas Intermediate
(12/30/2022 – 10/13/2023
)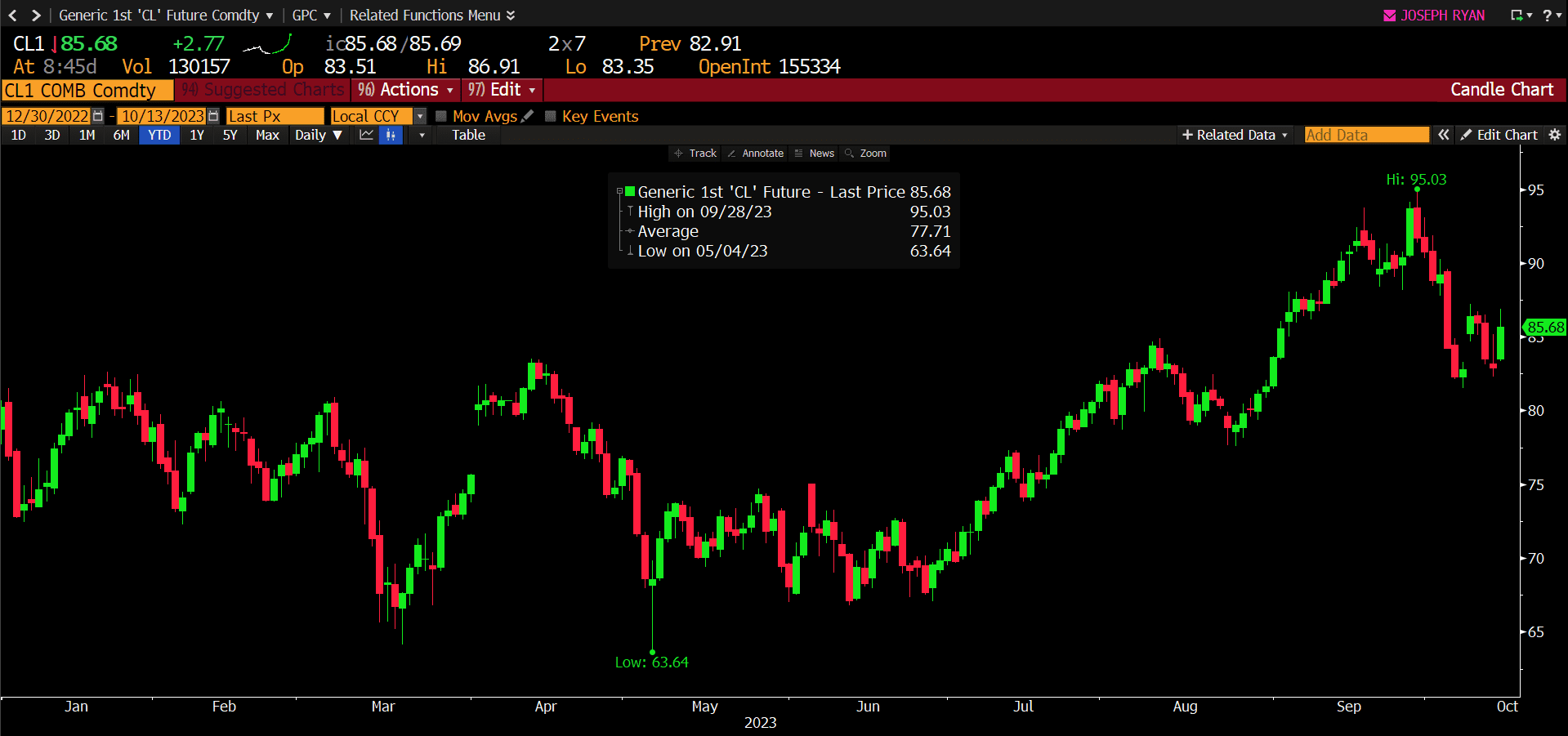 – Courtesy of Bloomberg LP
Department of Energy Cushing Oklahoma Crude Oil Total Stocks
(10/19/2018 – 10/06/2023)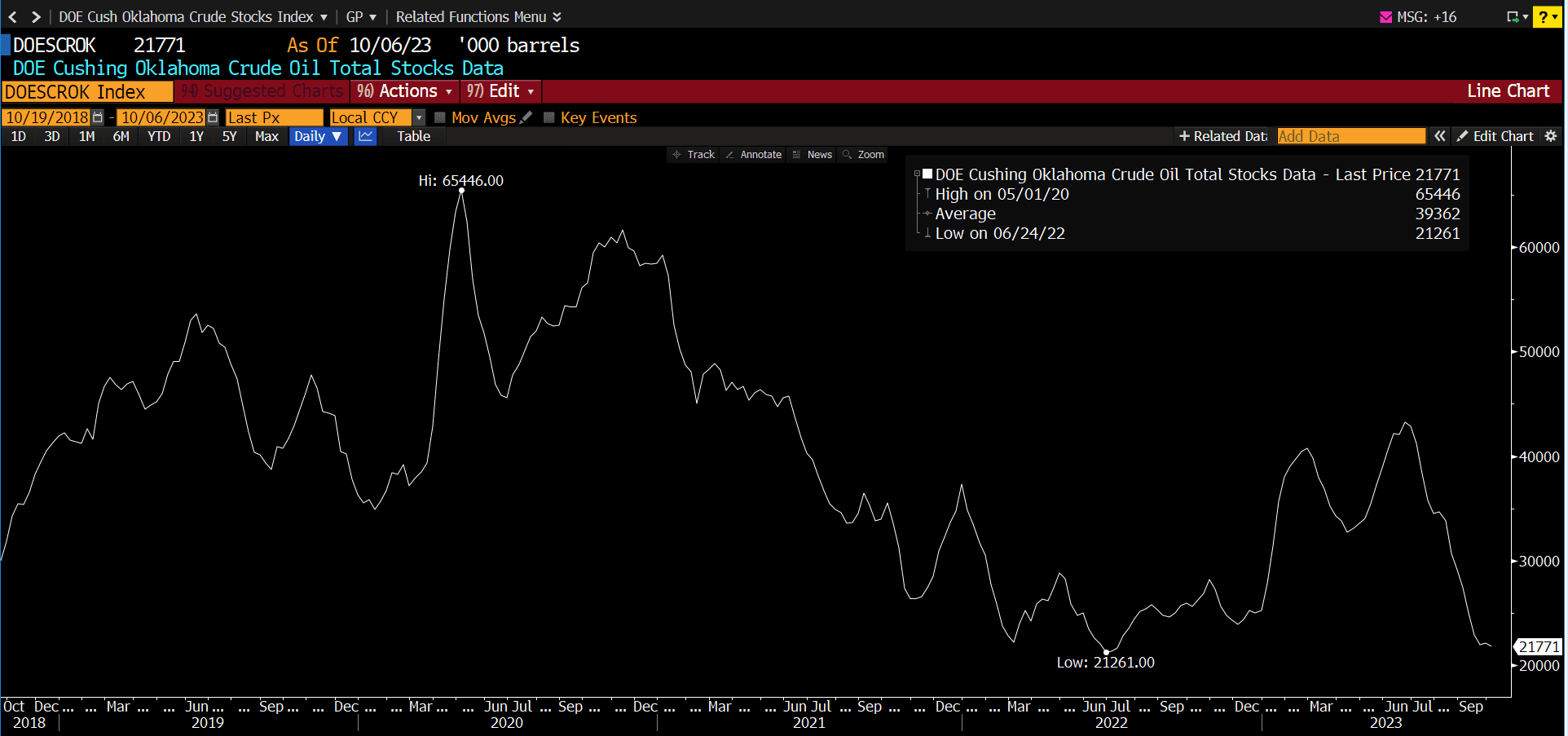 – Courtesy of Bloomberg LP
US Generic Government 10 year Treasury Yield  (10/15/2013 – 10/13/2023
– Courtesy of Bloomberg LP
Novo Nordisk  (12/30/2022 – 10/13/2023)
– Courtesy of Bloomberg LP
Energy Transfer LP
(12/30/2022 – 10/13/2023
)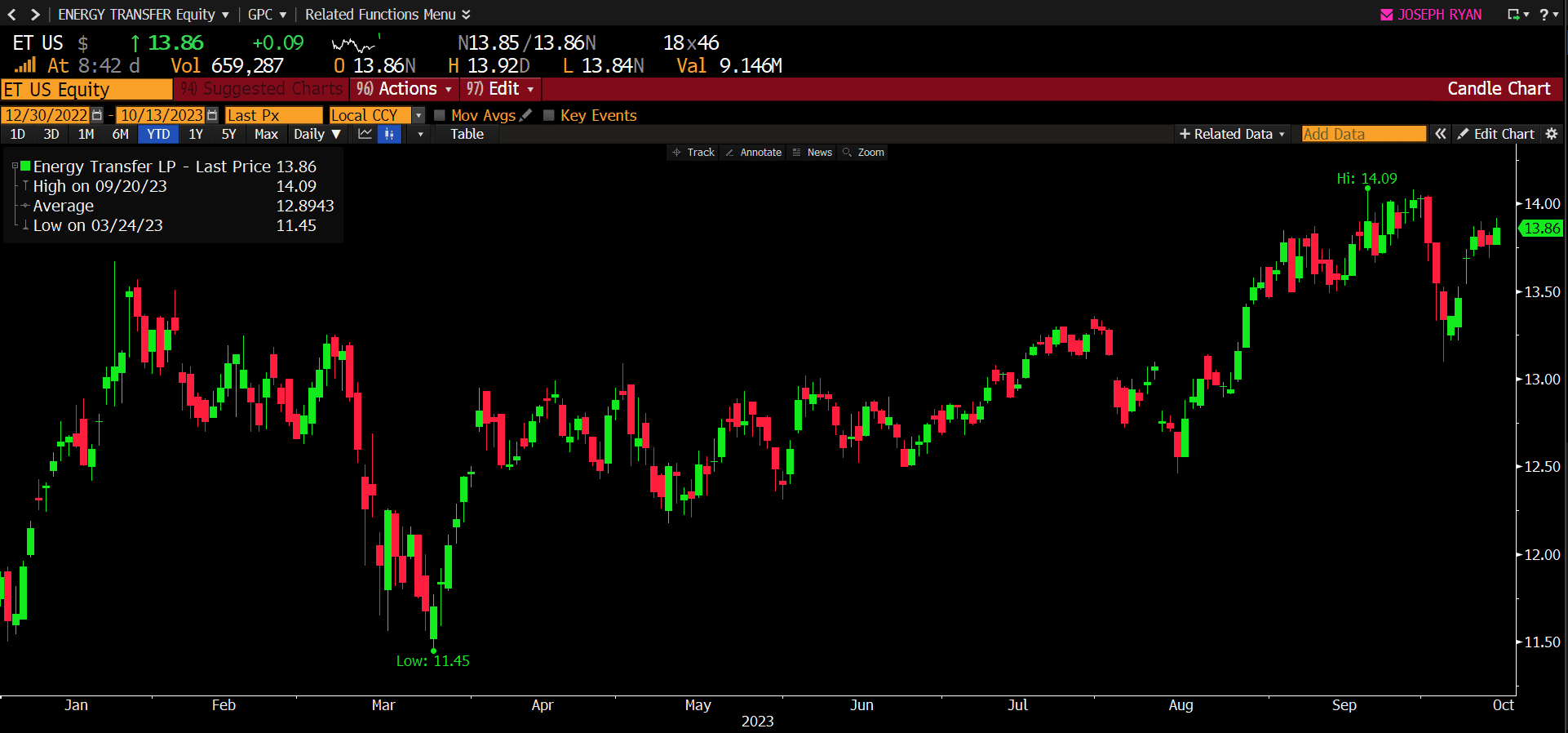 – Courtesy of Bloomberg LP
iShares China Large-Cap ETF
(01/01/2003 – 10/13/2023
)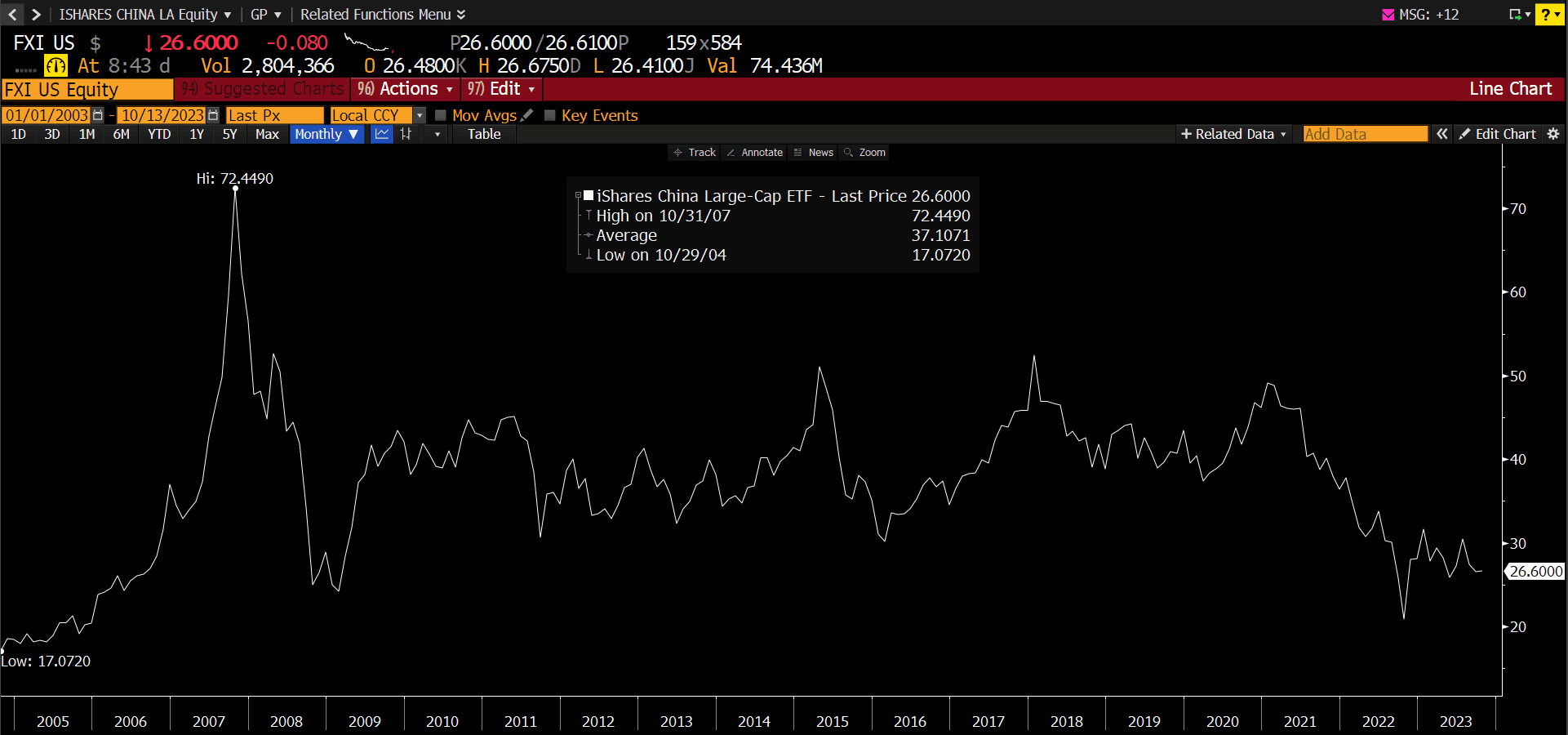 – Courtesy of Bloomberg LP
Profit Report
*The 10 Stages of Estate Planning from The McGowanGroup.
Research Round Up!
Investors are invited to improve decision making with a comprehensive tour of global economics, indicators, and actual results.
---
Start the Process Today! Be sure to indicate what size portfolio sample you would like to see. A link will arrive when we receive your questionnaire.