How high will the Federal Reserve need to raise interest rates to control inflation?
What are some of the likely impacts on the financial markets over the next 6 months?
Why isn't there a discussion of aggressive fiscal spending?
Why aren't we talking about over-regulation?
What can history teach investors about the equity markets when the Federal Reserve pauses interest rate increases?
What are some opportunities available to investors now in the financial markets?
How, when, and why did McGowanGroup found NetWorth Radio?
McGowanGroup Wealth Management
2022 Q3 Client Update
The Economy:
At this writing, the Atlanta Federal Reserve's Real Gross Domestic Product (GDP) Now forecast is for 1.4% growth during the third quarter. While Q1 and Q2 of 2022 registered negative real growth meeting the official definition of Recession, we have used the term Stealth Recession to distinguish between inflation running hotter than dollar growth versus an actual contraction in jobs and the Economy.
Tactical Allocation Strategy:



While the financial markets experienced their 3rd largest decline in under 5 years, in 2022, the strength of Energy Infrastructure and blue-chip medical dividends have provided resilience for investor portfolios.
Our current plan is to begin harvesting potential high points from energy allocations during potential spikes during 2023-2026. Prior cycles in energy appear to be 6-8 years of price risk due to oversupply and 6-8 years of appreciation due to undersupply.
The extreme pessimism and selling during June provided opportunities to use tactical safety reserves to add to global high yield allocations at attractive discounts. After the Federal Reserve tightening cycle likely pauses, the opportunity to harvest gains could materialize in 2023.
Harvests at potential high points will be used to add tactical safety allocations and downdrafts will be used to add cash flow at discounted prices.
Headline Round Up
*Cleveland's Federal Reserve Bank President, Loretta Mester, Says 4% Base Interest Rate? Pulling $100 Billion Per Month Back?
*U.S. Federal Reserve Blockchain?
*11.3 Million Jobs Ready to Fill is Bad News for Financial Markets?
*New Home Inventory Sky-Rockets, But Home Prices Appear to Be Stalling!
*Rental Rate Stall?
*Micron Investing $40 Billion in Domestic Chip Manufacturing.
*Honda and LG Energy Announce $4.4 Billion Electric Vehicle (EV) Battery Factory.
*American Manufacturing Coming Home.
*Bed, Bath and Beyond Gone?
*What Could Go Wrong? Cannabis Drinks Hitting the Market?
*Bitcoin Miner's Thin Margins with Competition. How is this similar to cannabis stocks?
*California Urging "Voluntary Conservation" By Not Charging EV's When It Is Hot Outside?
*Adani Gautam, College Dropout and Industrialist, Now Third Richest Person in the World with a Networth of $137 Billion!
*Goldman Sachs Declares Great Point to Buy Commodities. Alex, what are some great ways to do that?
*Uranium ETF Up 20% in a Week?
*$125 Oil By Year End?
*World Energy Problem Far Worse than Initially Reported?
*Big Oil's $41 Billion Buyback Bonanza.
*Troubling Updates On EV Makers?
Standard & Poor's 500 Index (12/31/2021 – 09/01/2022
)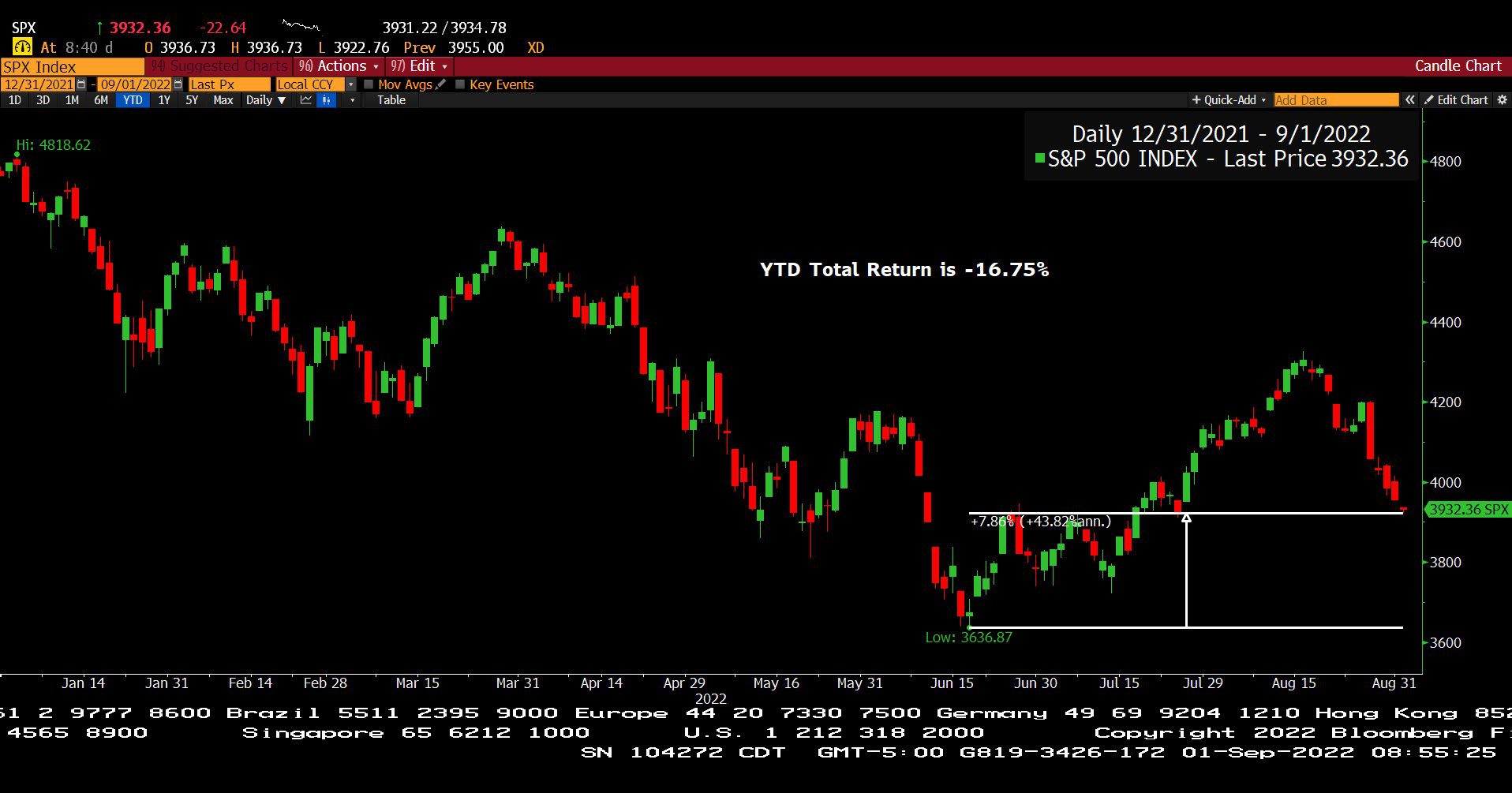 – Courtesy of Bloomberg LP
Generic Lumber, Copper & Wheat Futures Contract Spot Prices (12/31/2021 – 09/01/2022
)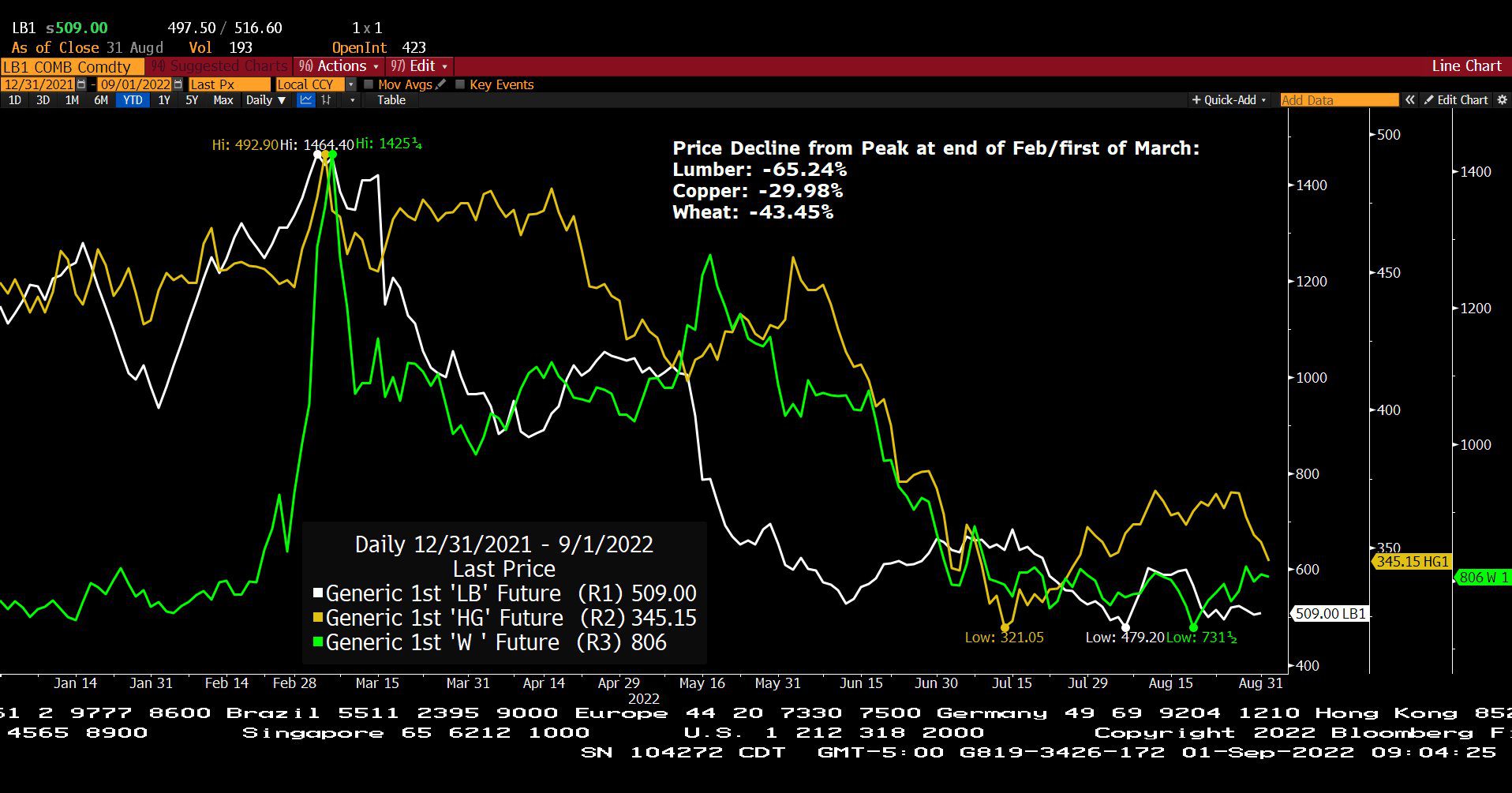 – Courtesy of Bloomberg LP
U.S. New One Family Houses Monthly Supply, Seasonally Adjusted (12/31/2019 – 07/31/2022
)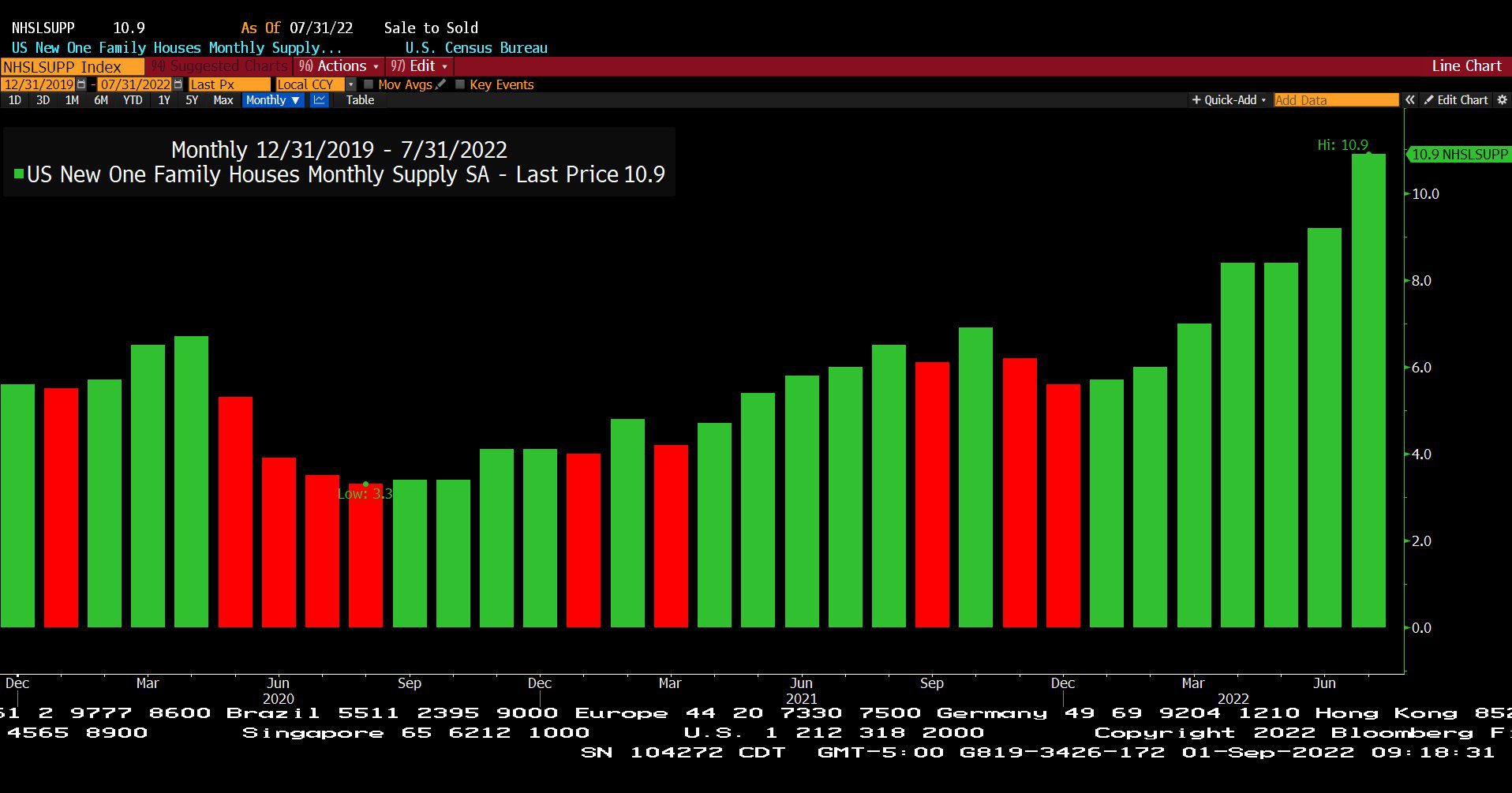 – Courtesy of Bloomberg LP
Bitcoin Currency Spot Price
(09/01/2021 – 09/01/2022
)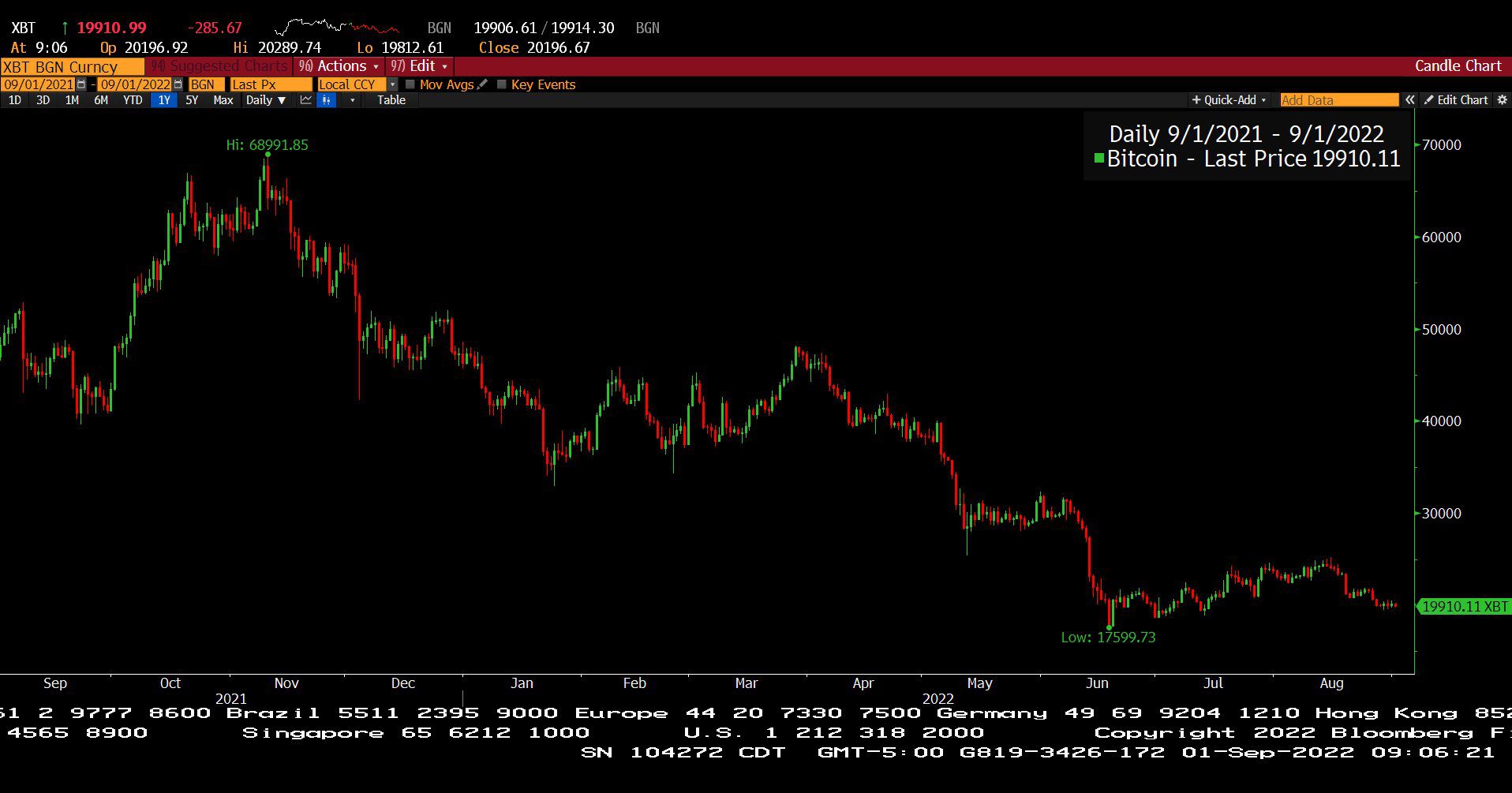 – Courtesy of Bloomberg LP
Gold Spot Price Per Ounce
(09/05/2007 – 09/01/2022)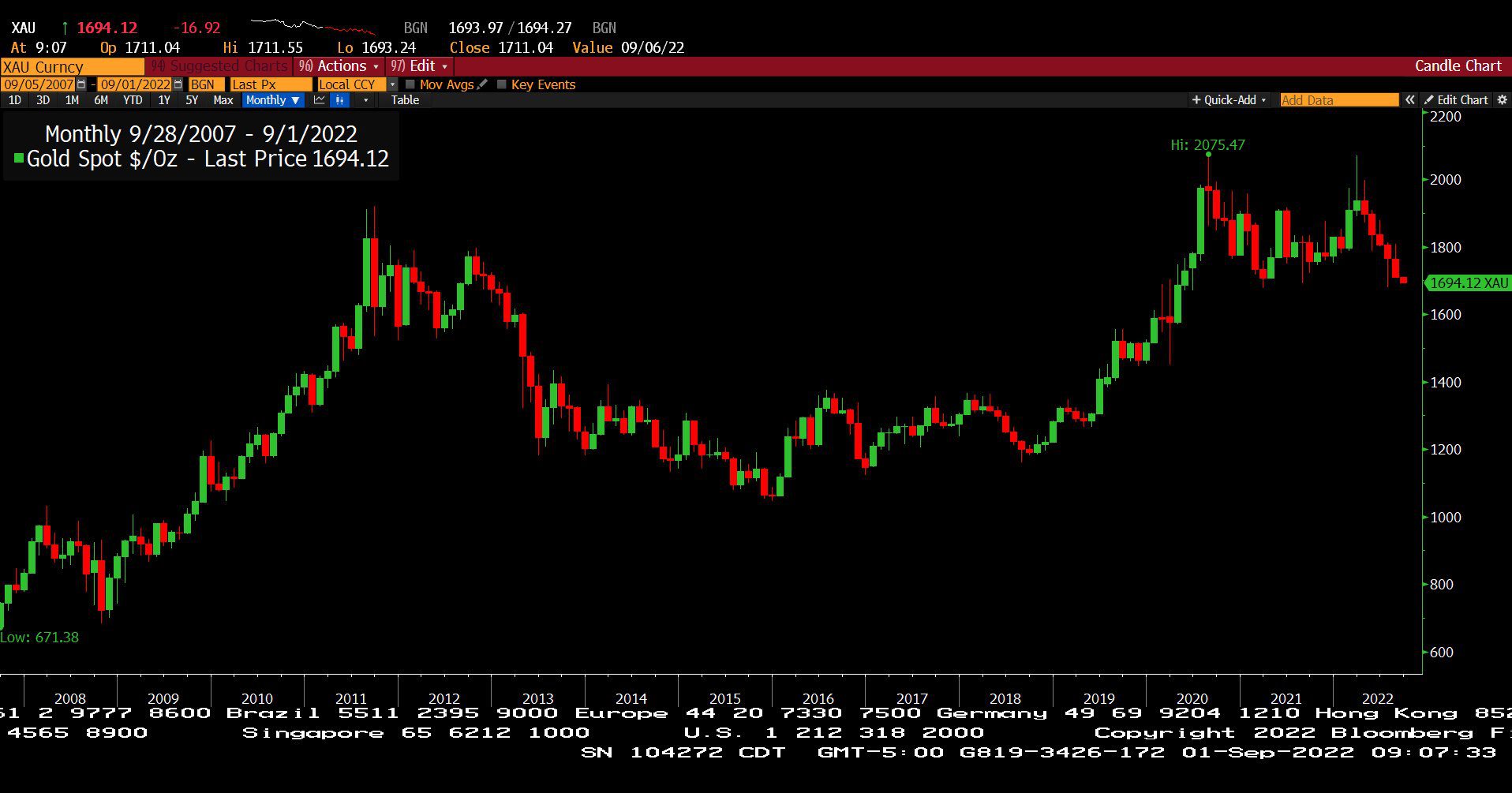 – Courtesy of Bloomberg LP
Standard & Poor's 500 Index – Member Ranked Returns (06/01/2022 – 09/01/2022
)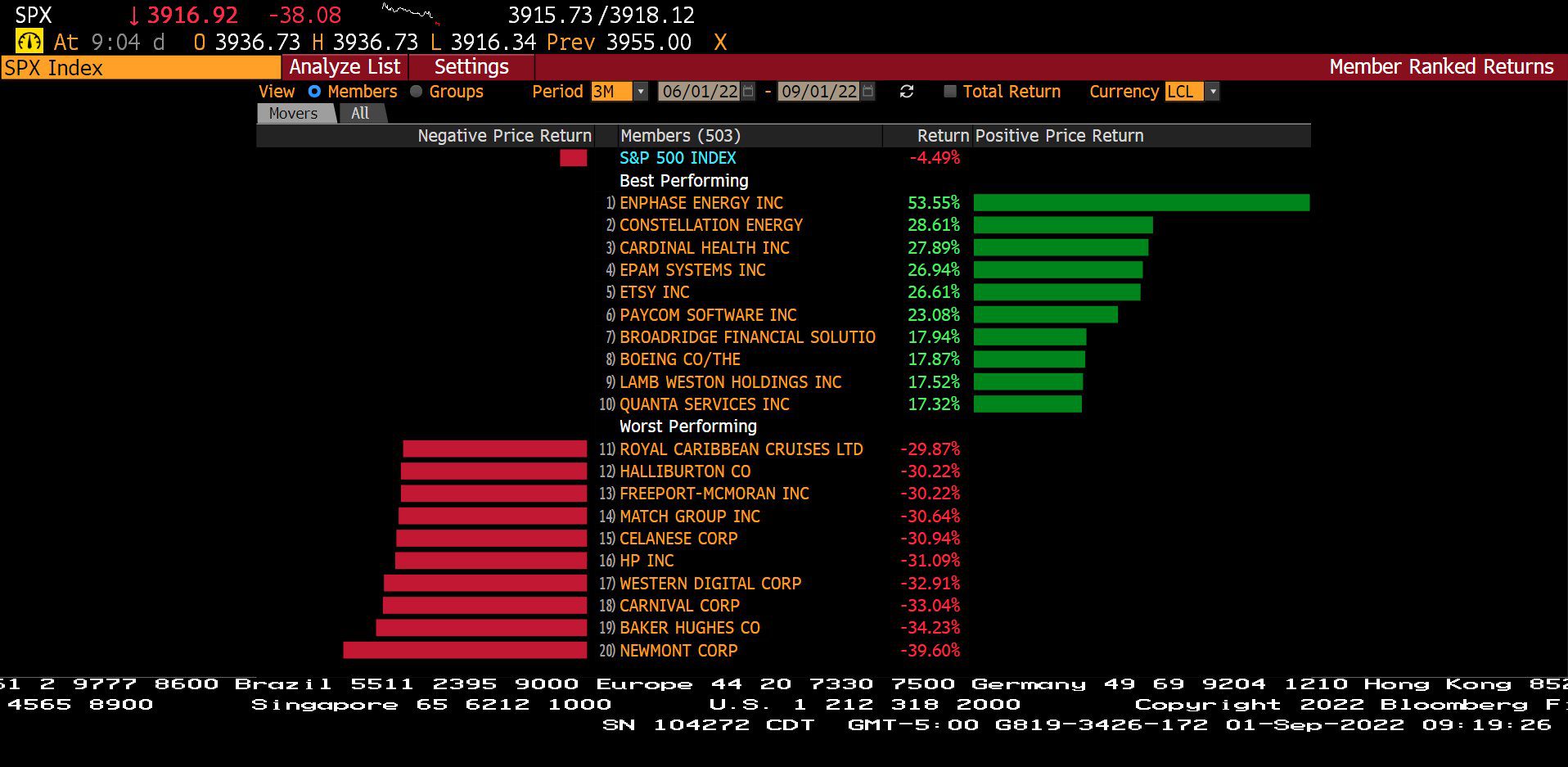 – Courtesy of Bloomberg LP
Profit Report
1. "PDSD:" 40 Years of "Post Duration Stress Disorder" Over Lunch at Dallas Country Club. 
2. What Are Some of the Best Client Questions We Received This Week?
4. Is a GATT Rate Increase Coming?
5. Some Potentially Less Risky Money Choices?
Research Round Up!
Investors are invited to improve decision making with a comprehensive tour of global economics, indicators, and actual results.
---
Start the Process Today! Be sure to indicate what size portfolio sample you would like to see. A link will arrive when we receive your questionnaire.