• How far can the Bio-Medical stocks run based upon valuations?
• What will the markets look like when the Coronavirus crisis is over?
• What is the timeline for Operation Warp Speed?
• Is there a potential energy shortage after COVID-19 is contained?
• Why is there a "Cash Flow Panic" unfolding for 2021 and how could we profit?
• Does distorted Performance correct itself?
• Does Valuation matter anymore?
• What does Net Present Value of future cash flows tell us?
• 2021 outcomes?
• What did this month's earnings reports tell us?
• How much further will the High Yield bond funds likely run?
Dow Jones Industrial Average (Year to Date)  
– Courtesy of Bloomberg LP
Quarterly U.S. Economic Actual & Estimated Forecasts w/ Probability of Recession (4th Qtr. 2019 – 1st Qtr. 2022)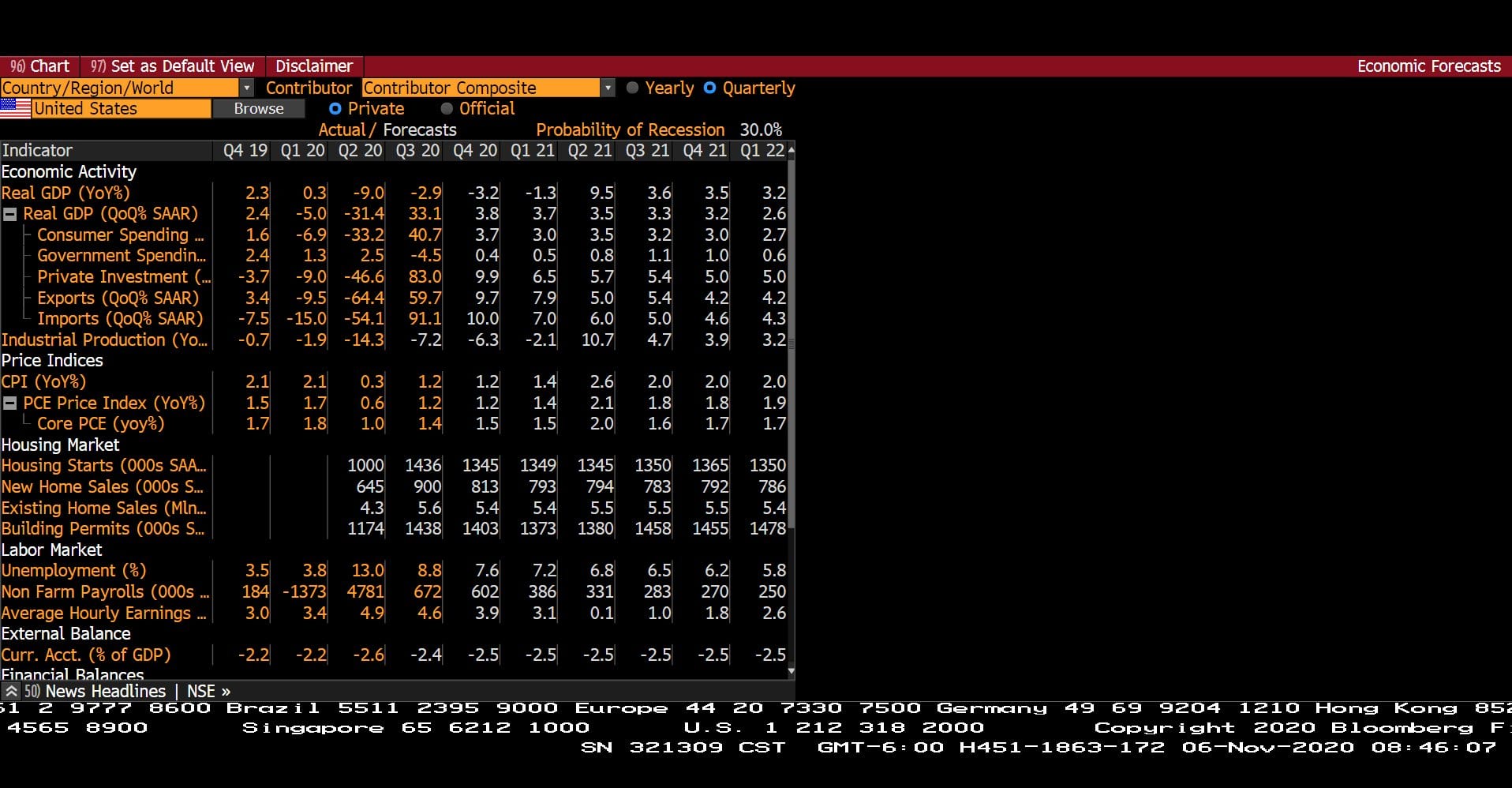 – Courtesy of Bloomberg LP
Exchange Traded Fund Flows
(11/06/2020)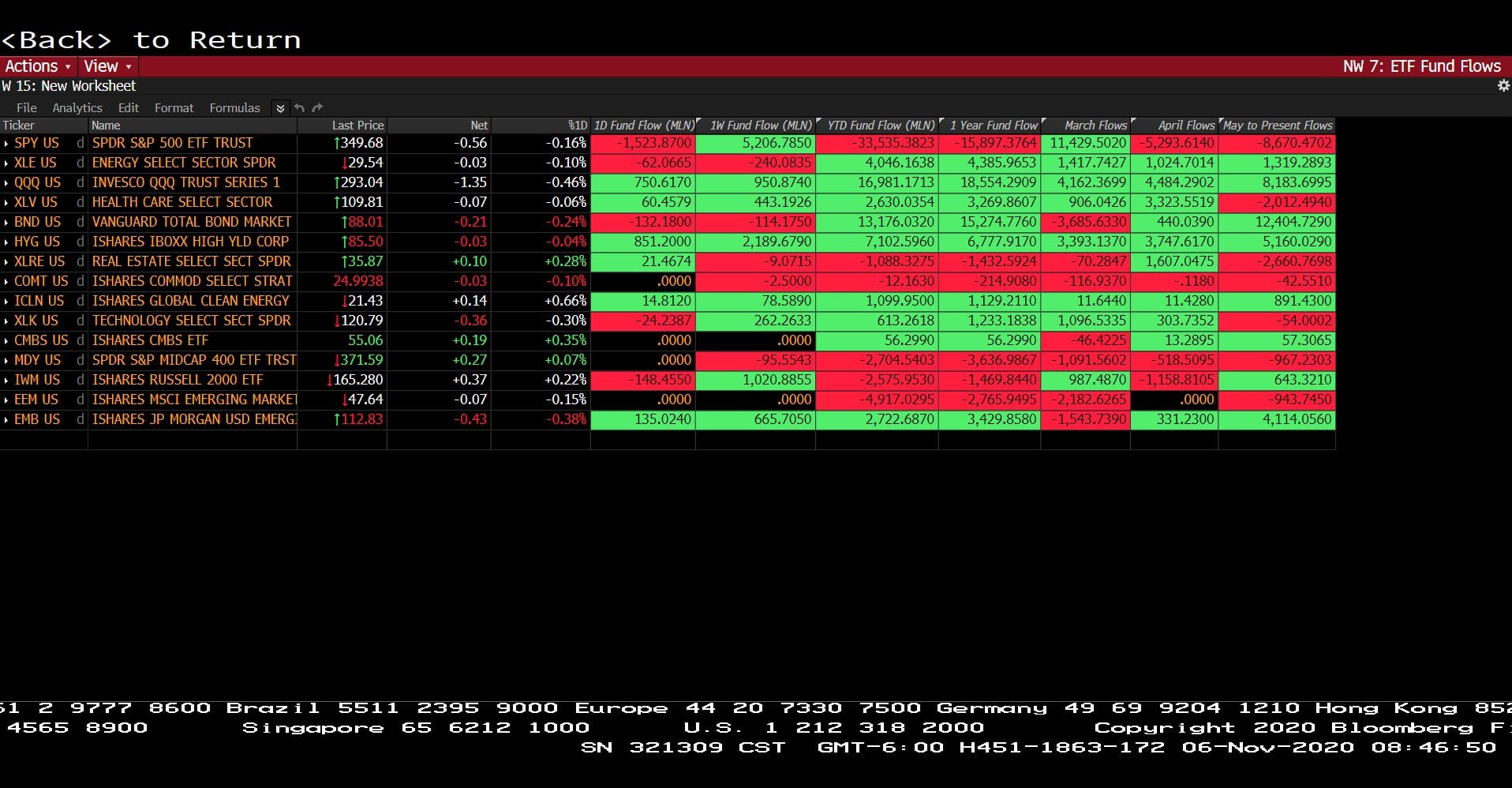 – Courtesy of Bloomberg LP
Health Care Select Sector SPDR Fund
(Year to Date)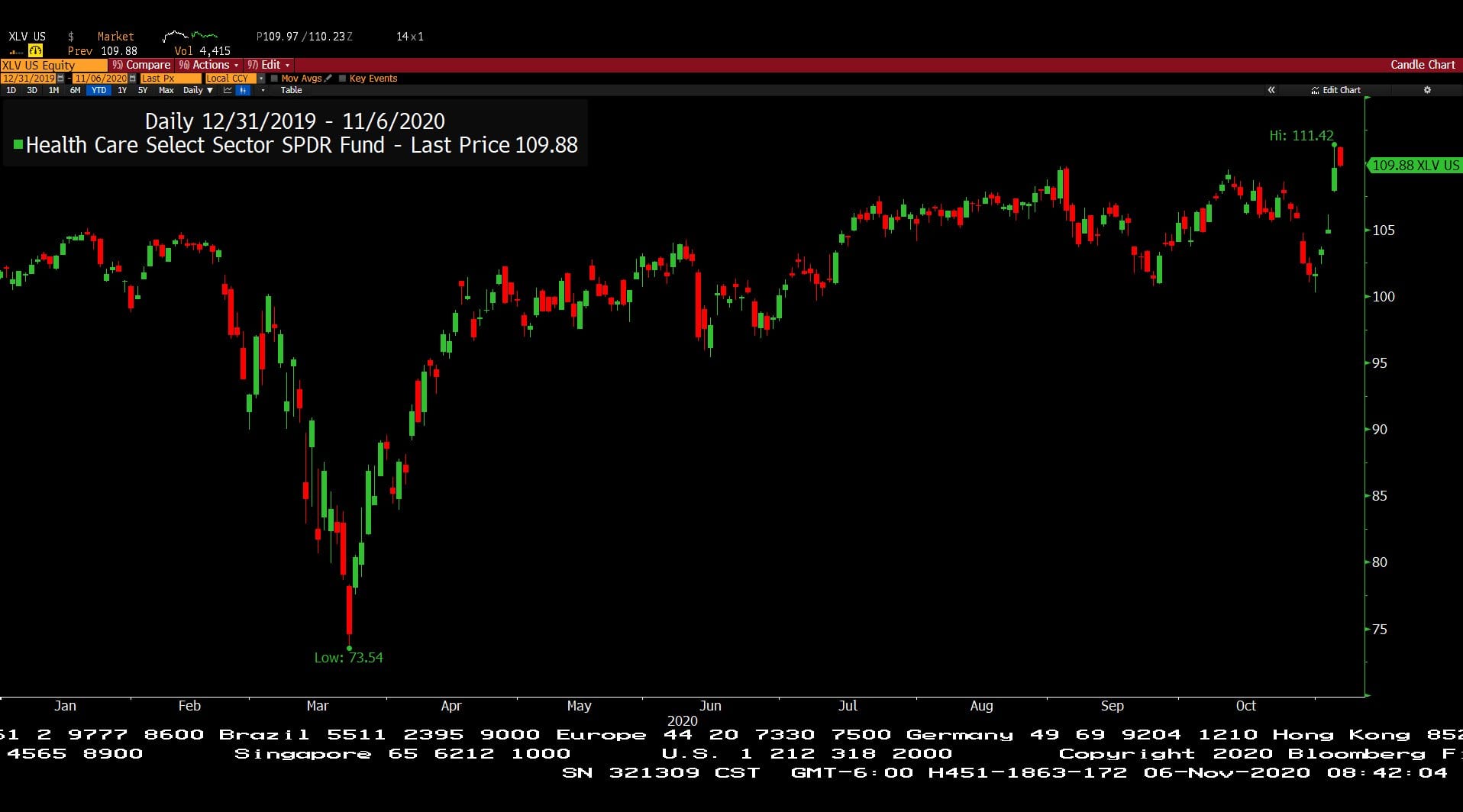 – Courtesy of Bloomberg LP
Natural Gas Future Spot Prices
(Year to Date)
– Courtesy of Bloomberg LP
Bitcoin Spot Prices
(Year to Date)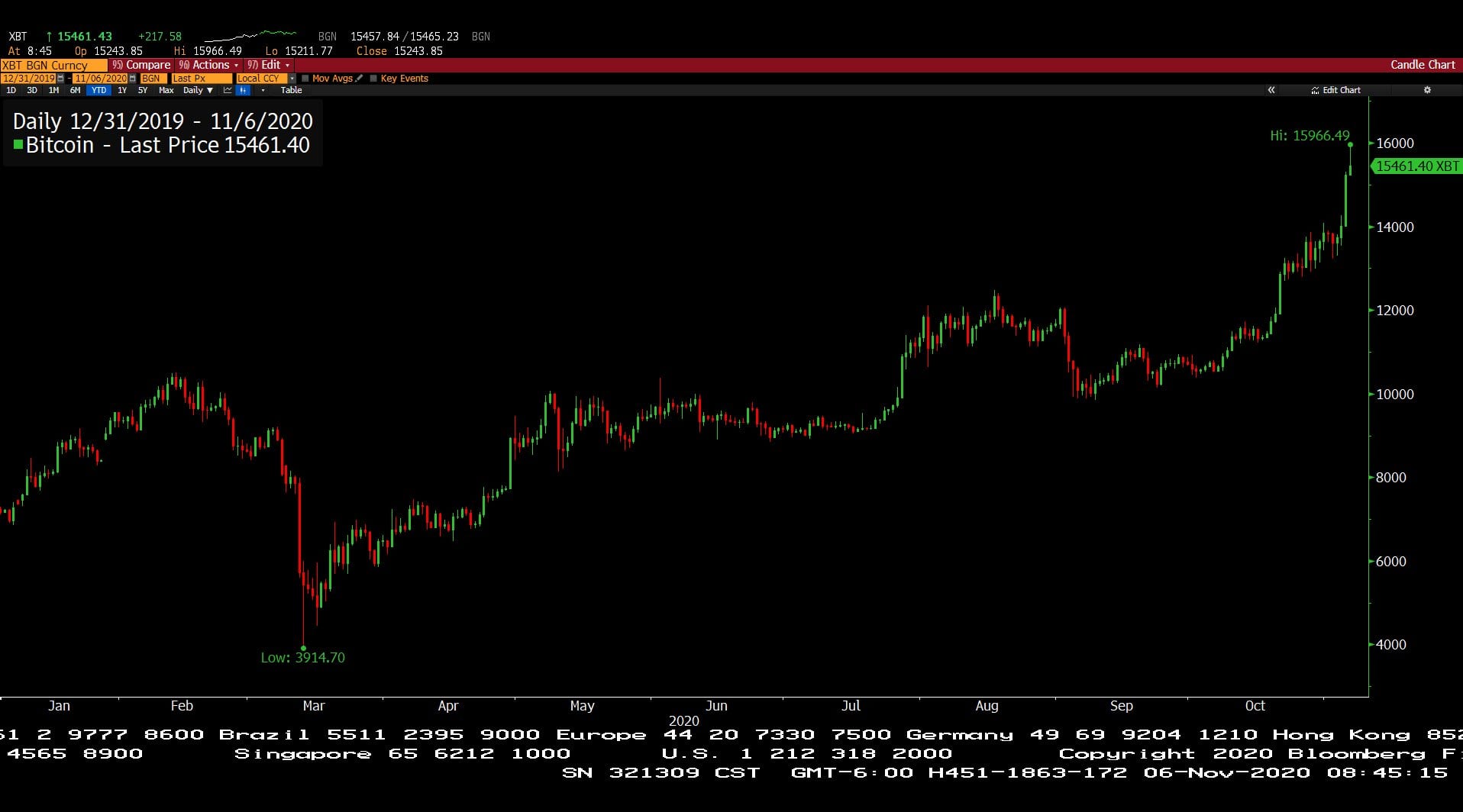 – Courtesy of Bloomberg LP
Headline Round Up!
*Surprise Equity Market Rally Despite Record Coronavirus New Cases.
*Vaccine January 2021?
*Israel Orders 1.5 Million "Sputnik" COVID-19 Vaccines from Russia.
*Biogen Alzheimer's Breakthrough.
*China Smooshed ANT With Bank Regulations.
*China Lays Out Plan to Double By 2035. 2.1% 2020 Projected Growth By Bloomberg, 8% 2021.
*Drug Legalizations Across States Win Election.
*Natural Gas Rally Continues.
*China Believes Natural Gas Demand Will Soar. LNG Back to 7% Growth.
*$11 Trillion Global Hydrogen Energy Boom.
*Wayfair Online Décor Soars.
*Bio-Medical Earnings and Shares Spike
*California Voters Clear Uber, Lyft, and DoorDash! Stocks Spike.
*Mall Bankruptcies Mount.
Profit Report!
*Election Week Money Flow Analysis.
*General Stats on the Net Worth of DFW Residents – In terms of general statistics, the Dallas-Fort Worth area is home to over 33,350 individuals who are worth between $5 million and $30 million (classifying them as very high net worth individuals, or VHNWIs).
In addition:
     1. The number of VHNWIs in DFW grew 17.5% from 2018 to 2019.
     2. This growth is higher than any other of the top cities for millionaires in the world.
     3. High Net Worth individuals in Dallas alone (those with wealth between $1 million and $30 million) numbered 298,220 people in 2018.
     4. DFW is home to 25 billionaires, including a number of multibillionaires.
Research Round Up!
Investors are invited to improve decision making with a comprehensive tour of global economics, indicators, and actual results.
*JPMorgan Asset Management Q4 Comprehensive Guide to the Markets
---
Start the Process Today! Be sure to indicate what size portfolio sample you would like to see. A link will arrive when we receive your questionnaire.