Q: What companies made all time new highs this past week?
A: Those companies include Dell Computer, Eli Lilly, and Walmart!
Q: How high have the estimates in the price of crude oil gotten in recent years?
A: The range of price predictions have included $90 a barrel recently to up to $380 a barrel after the invasion of Ukraine.
Q: Who are some of the strongest healthcare performers in the equity markets this year?
A: They include Dallas based Tenet Healthcare up approx. 51% Year to Date, Eli Lilly up approx. 57% Year to Date, & Novo Nordisk up approx. 45% Year to Date.
Q: What type of Fixed Income allocation could perform the best over the next 3 years?

A: Currently, deeply discounted Global High Yield bond funds provide yields above or near 10% and are priced near 75% of estimated par value.
Headline Round Up
*China Exports Fall for Fourth Month in a Row.
*MSCI China Index with No Growth for 12 Years?
*United Auto Workers (UAW) Demands 46% Pay Raise Before September 14th Contract Expiration.
*U.S. Record Solar Additions in 2023!
*U.S. Dollar Rallies for 8 Weeks in a Row? What about BRICS?
*U.S. Economy Defies Expectations & Keeps Recession at Bay so Far in 2023.
*Federal Reserve Governor Christopher Waller Supports Skipping September 21st Rate Hike.
*Federal Reserve Officials Set to Double Growth Forecasts for Q3.
*Federal Government Spending $53,000 Per Connection to Provide Internet Service for Nebraska Reservation in Push for Rural Areas. Congress allows State and Federal Officials to decide how much is too much in hard to reach areas.
*British Microchip Designer ARM Ltd. Eyeing at least $52 Billion in Valuation for Initial Public Offering (IPO) Later This Year.
*Rob Arnott, Founder of Research Affiliates, LLC, Declares Nvidia Stock a "Delusion".
*Brent Crude Hits $90: Saudis and Russians Extend Oil Supply Cut to Year End & Squeeze Diesel Corner of the Energy Market.
*U.S. Seizes 1 Million Barrels of Smuggled Iranian Crude Bound for China.
*Drivers Warned Gasoline Could Spike $1 Says Head of Petroleum Analysis, Patric DeHaan, at GasBuddy!
Mergers and Acquisitions:
*Permian Resources Paying $4.5 Billion in Stock for Earthstone Energy Creating $14 Billion Premier Producer.
*Lithium Giant Albemarle Taking Over Liontown Resources for $4.3 Billion in Cash.
Skid Row:
*Municipal Bonds for Sports Arena, Legacy Park, Trading at 10 Cents on the Dollar? Highlights risky corner of municipal bond market via Conduit Issuers.
*WeWork Renegotiating Leases and Plans on Exiting "Unfit & Underperforming Locations".
Dow Jones Industrial Average Index Year to Date
(12/30/2022 – 09/8/2023
)
– Courtesy of Bloomberg LP
Evolution of Atlanta Fed GDPNow Real GDP Estimate for Q3 2023 (09/06/2023)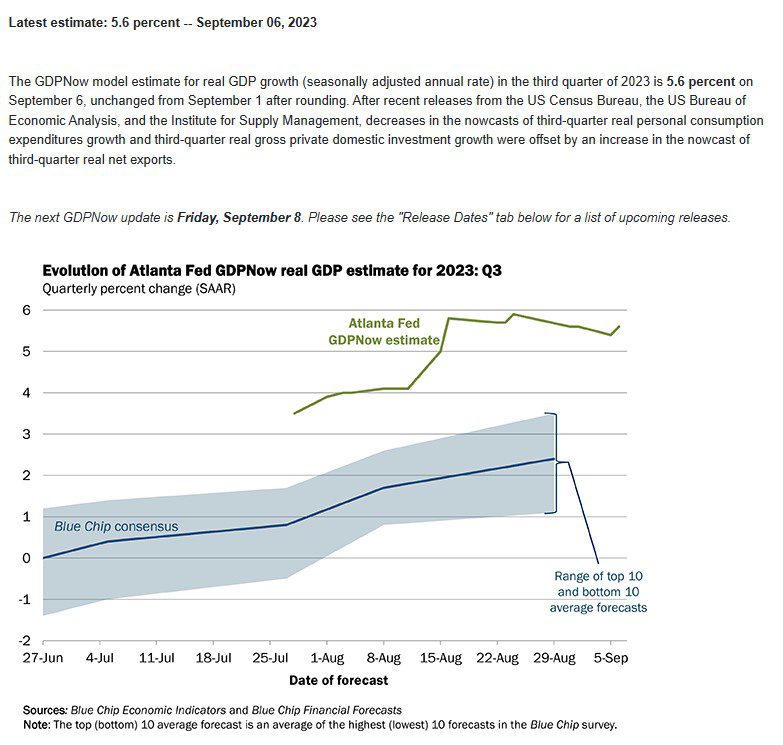 – Courtesy of The Atlanta Federal Reserve
Dell Technologies, Inc.
(12/30/2022 – 09/08/2023)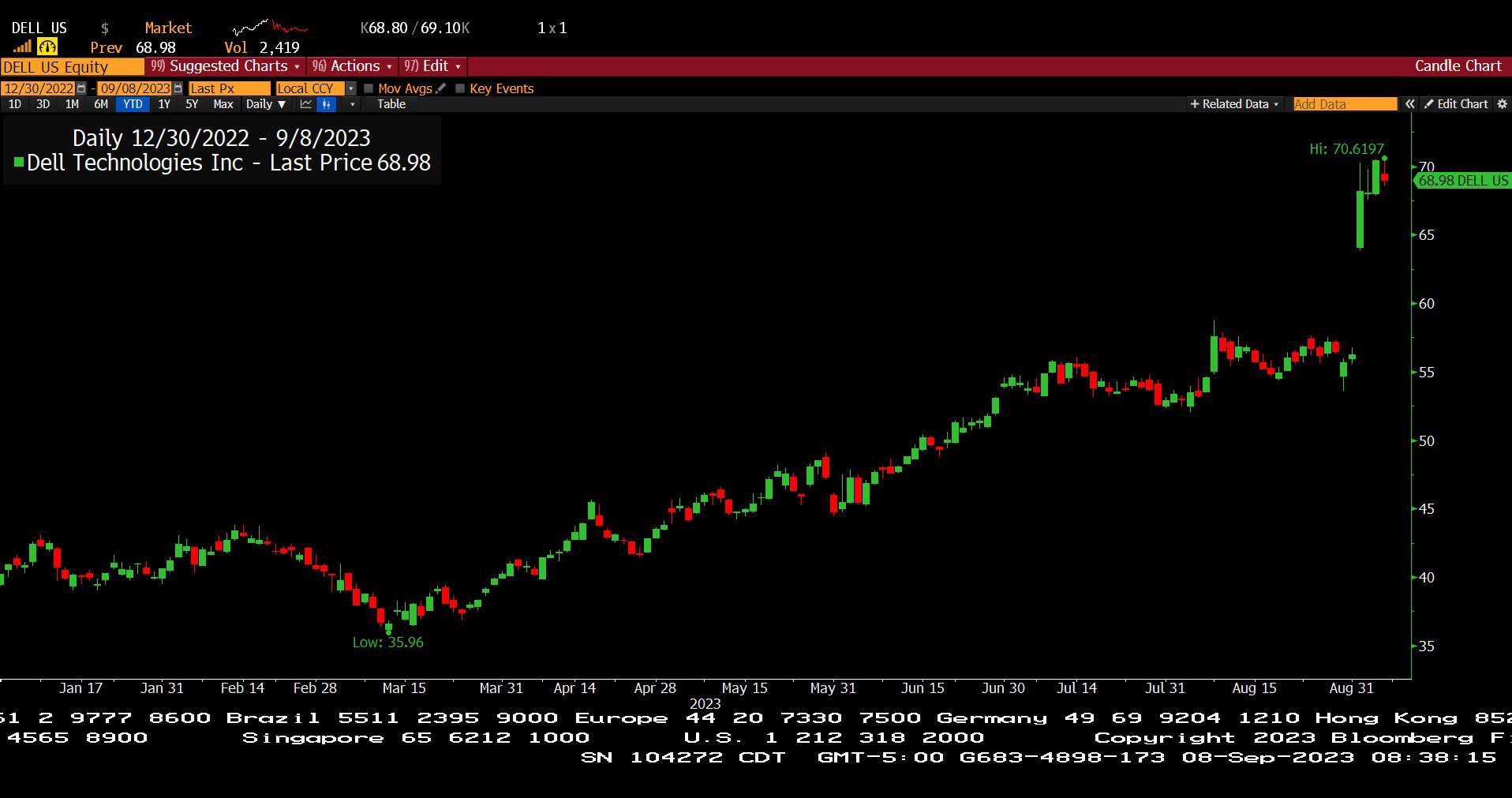 – Courtesy of Bloomberg LP
Walmart, Inc.
(12/30/2022 – 09/08/2023
)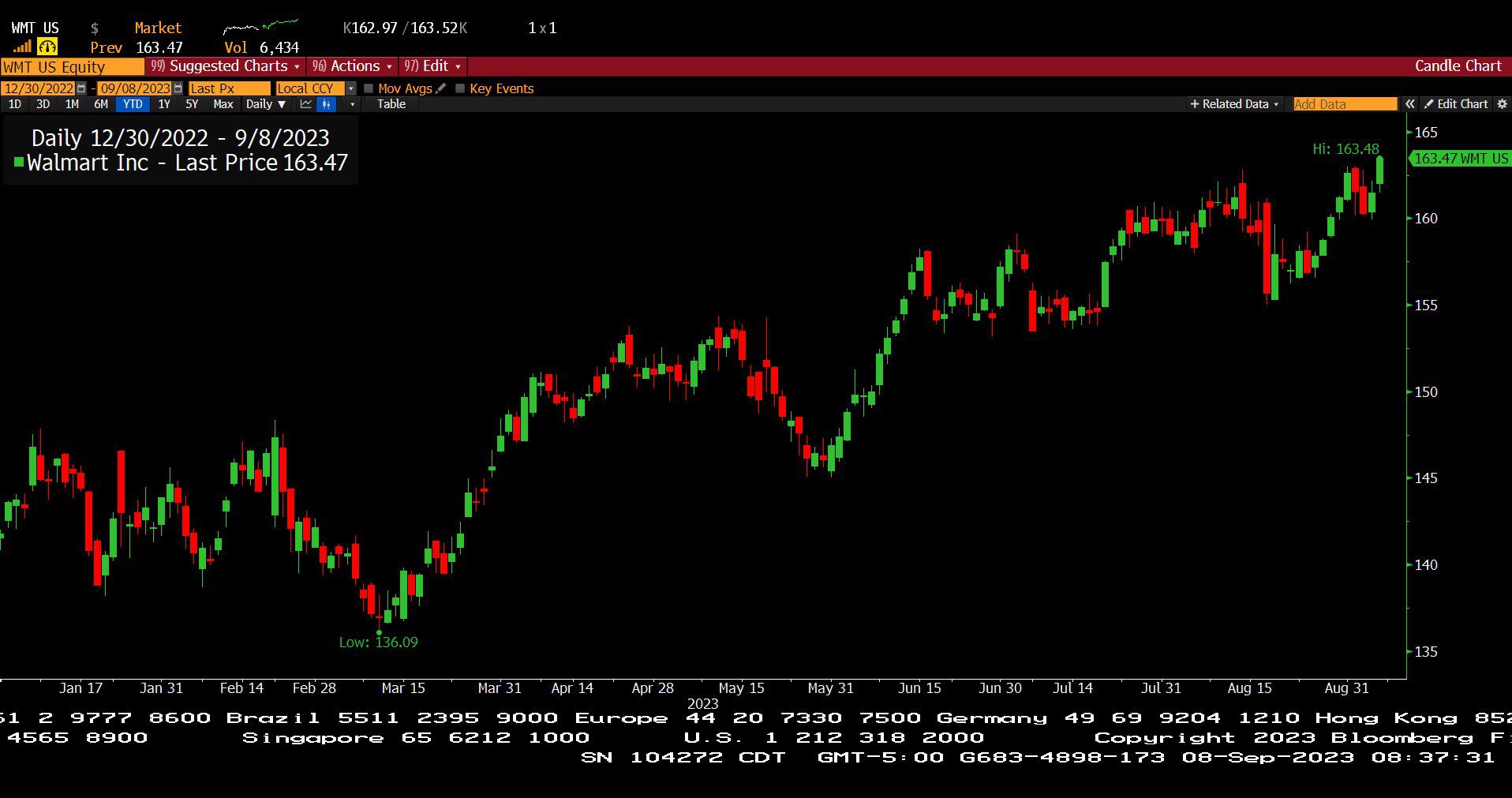 – Courtesy of Bloomberg LP
Eli Lilly & Co.
(12/30/2022 – 09/08/2023
)
– Courtesy of Bloomberg LP
Generic Crude Oil Futures Contract Spot Price
(09/10/2018 – 09/08/2023
)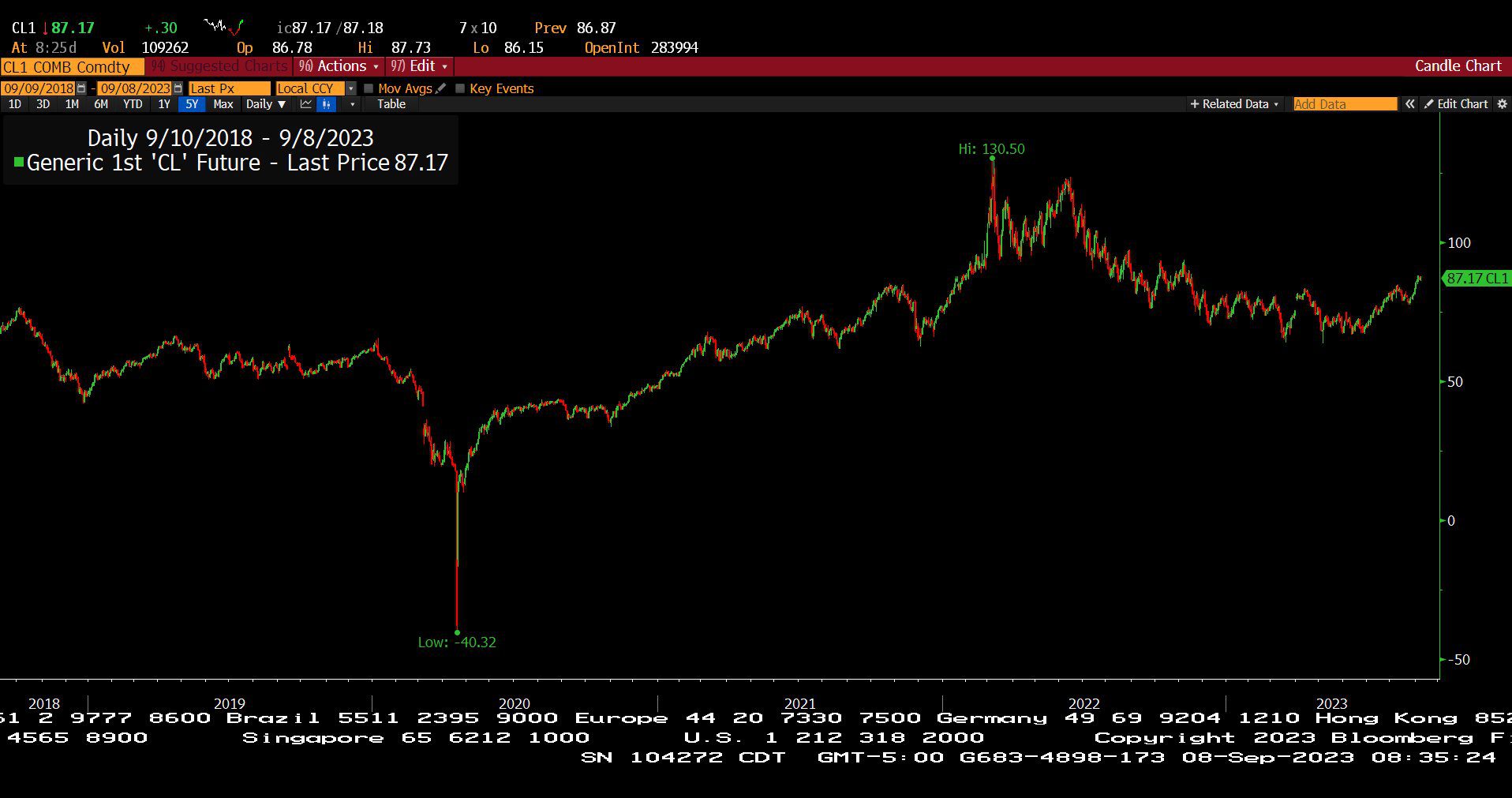 – Courtesy of Bloomberg LP
Generic Crude Oil Futures Contract Spot Price
(09/30/1993 – 09/08/2023
)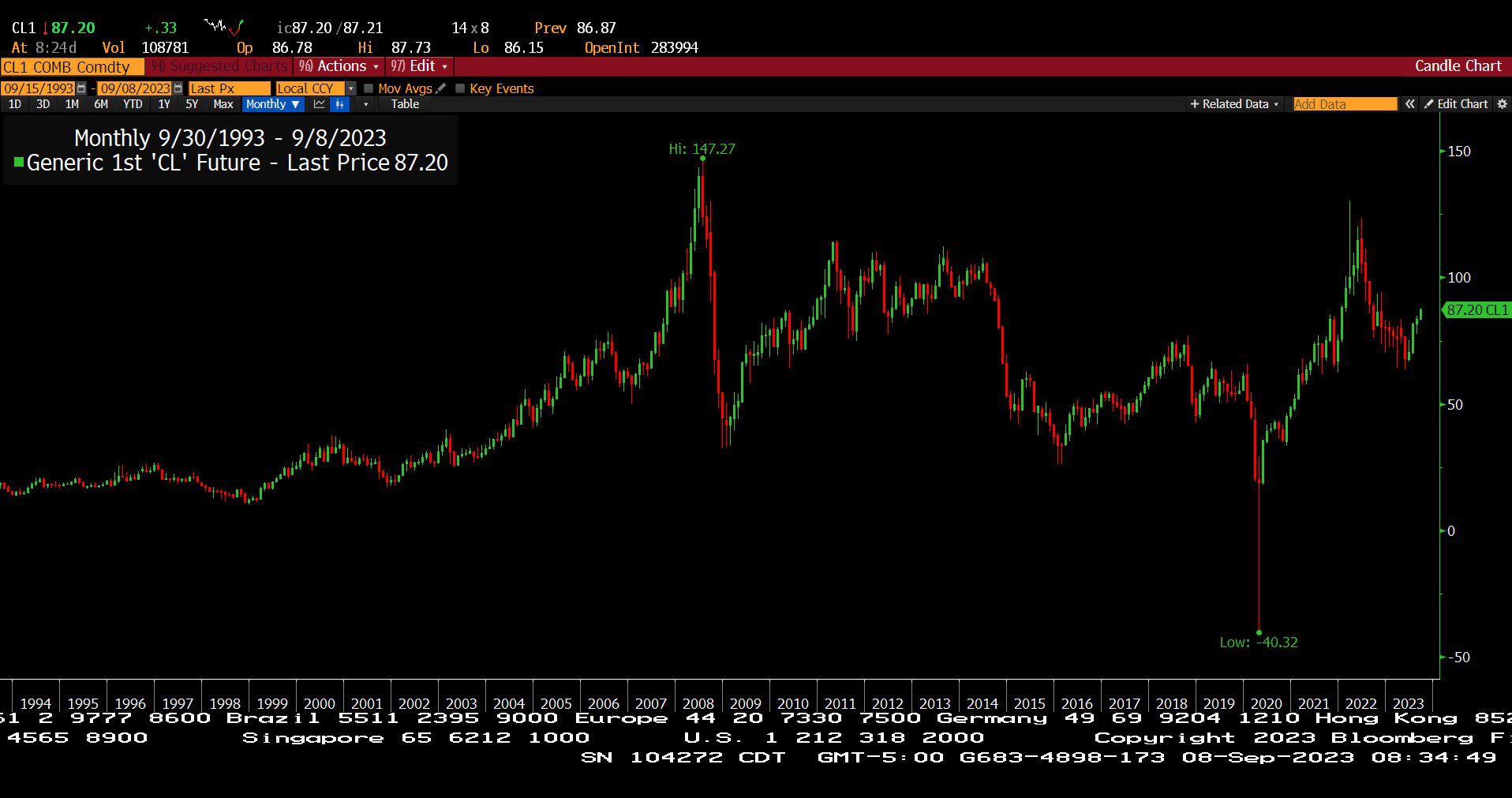 – Courtesy of Bloomberg LP
MSCI China Index
(12/31/1992 – 09/07/2023
)
– Courtesy of Bloomberg LP
NetWorth Radio's Exceptional Investor Interview Series: Spencer McGowan Interviews Brad Olsen from Recurrent Advisors in Houston!
---
Prior to co-founding Recurrent, Brad was most recently the lead MLP portfolio manager for BP Capital Fund Advisors (BPCFA). Under Brad's leadership, MLP AUM more than doubled (excluding the impact of appreciation).
From 2011 to 2015, Brad led Midstream Research for Tudor, Pickering, Holt & Co. (TPH & Co.), where he was recognized as the top all-around stock picker in the US by the Financial Times in 2013, and the top energy stock picker in the US by Starmine in 2014. Under Olsen's leadership, the TPH & Co. midstream team was recognized in the WSJ's "Best on the Street" poll as well as by Institutional Investor Magazine.
Brad also has experience as an investment analyst at Eagle Global Advisors in Houston, where he was part of a 3-person team that grew midstream/MLP AUM from $300mm to over $1bn from 2008 through 2011. He has also worked in investment roles at Millennium International, a large global hedge fund, and Strome Investment Management, an energy-focused hedge fund based in Santa Monica, CA. He began his career in the UBS Investment Banking Global Energy Group in Houston.
Brad earned a BA in Philosophy, Political Science, and Slavic Studies from Rice University in Houston.
Brad resides in Houston with his wife and four children. Brad was nearly fluent in Russian, but is very rusty.
Research Round Up!
Investors are invited to improve decision making with a comprehensive tour of global economics, indicators, and actual results.
---
Start the Process Today! Be sure to indicate what size portfolio sample you would like to see. A link will arrive when we receive your questionnaire.