What are the scariest Trends and Headlines of Q4 2021?
What potential bargains can benefit from current trends?
How should I update my 2022 Investment Plan?
What issues are likely to be solved by the passage of time?
What are the most recent updates on actual Tax Proposals?
What should I do before the end of this year?
What are the funniest Financial Headlines of 2021?
What was the biggest economic surprise this week?
Does the proposed tax plan endanger the Real Estate boom?
Which way should I go with my Investment Portfolio?
Headline Round Up
*North Texas Home Values Up Nearly 25% Beating National Home Values Up a Record 19.66%.
*Economic Growth Slows to 2%!
*Shortages and Longer Wait Times! What potential problems does that telegraph in the future?
*BlackRock Boosts Cash in High Yield Funds. Fed taper & other possible outcomes?
*Tesla Tops $1 Trillion on Largest EV Sale "Ever" to Hertz for 100,000 Cars.
*Microsoft and Google Report Over 40% Increases.
*2021 Q3 Earnings Announcements! What have we learned so far?
*Energy Stocks Leave Behind Climate Focused Investors?
*Gasoline Prices Extend 7 Year High.
*Oil and Gas Mergers Deliberately Delayed?
*Congressional Beat Down of Big Oil.
*Liquified Natural Gas (LNG) Demand Accelerating.
*3D Printing for HOUSES in Austin?
*Commercial Real Estate Sales and Values Surge to Records. When is it time to sell real property?
*Crypto Market Updates: Sell Off, Tether, Untethered?
*Bloom Hydrogen Fuel Cells Blooming.
Quarterly U.S. Economic Forecasts with Probability of Recession (
Q4 2020 – Q1 2023
)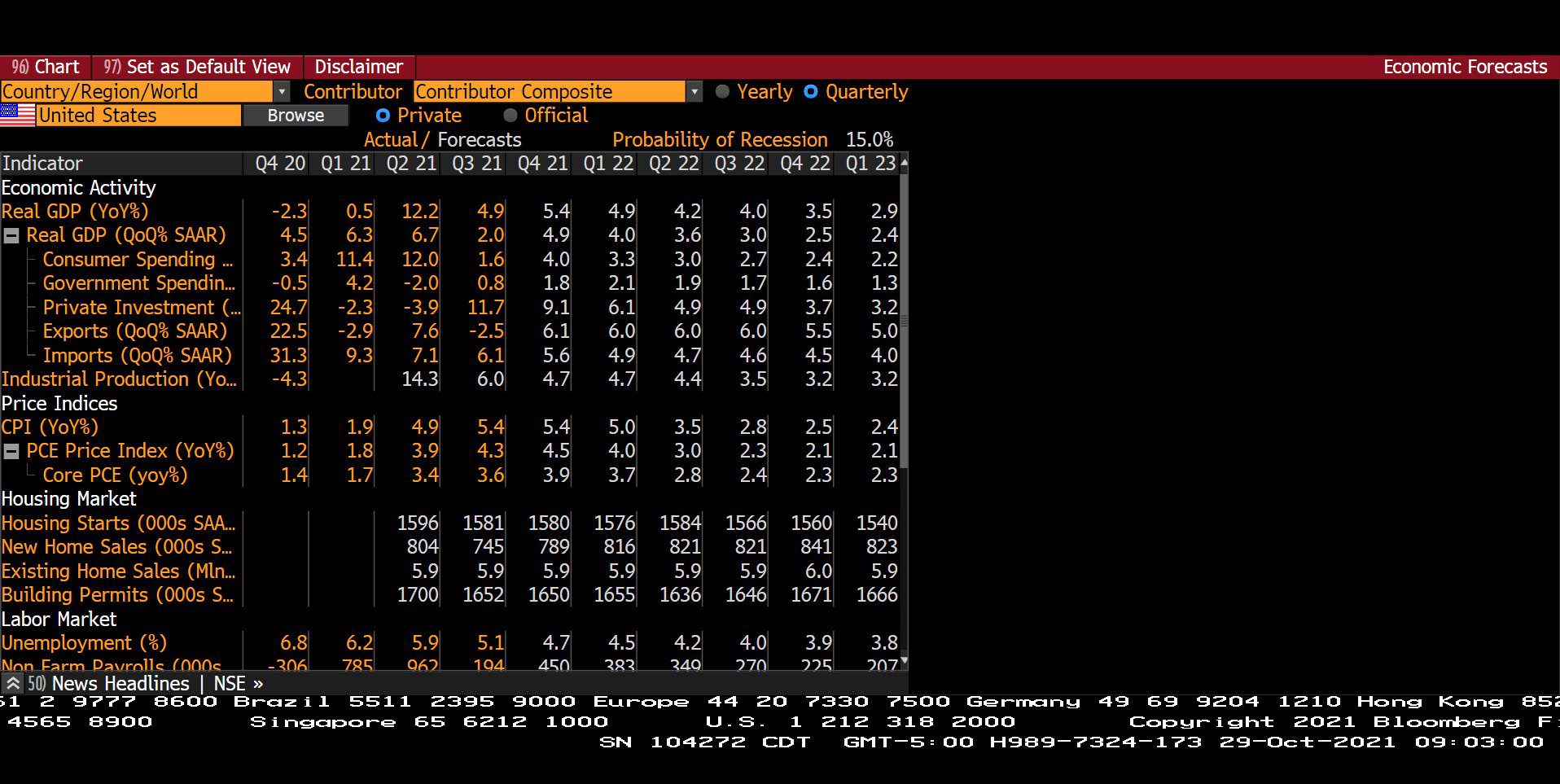 – Courtesy of Bloomberg LP
Dow Jones Industrial Average
(Year to Date)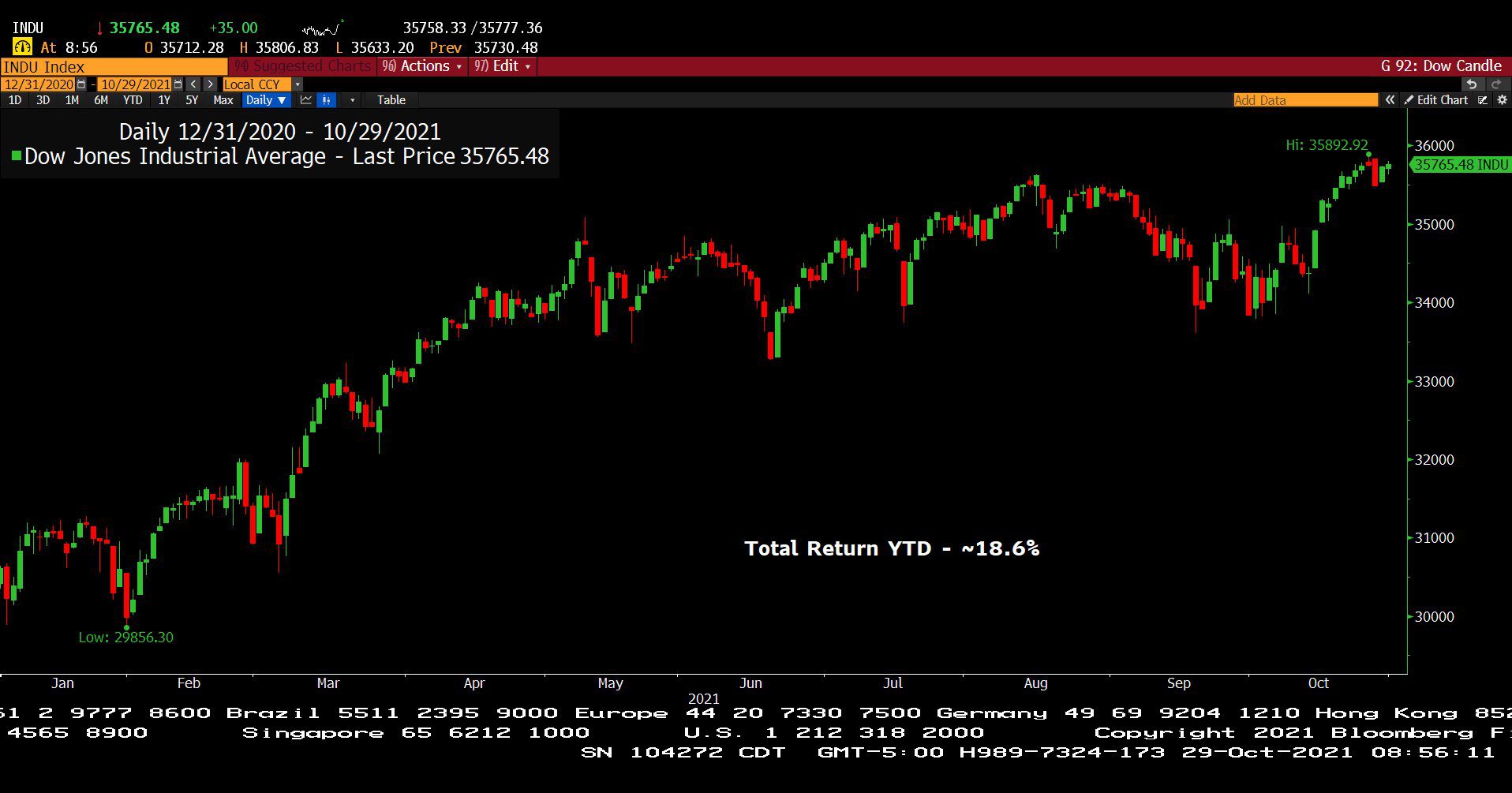 – Courtesy of Bloomberg LP
Standard and Poor's 500 Index – Quarterly Earnings Analysis by Sector  (
08/16/2021 – 11/15/2021
)
– Courtesy of Bloomberg LP
Standard & Poor's 500 Index – Quarterly Earnings Estimates (
Q1 2019 – Q4 2023
)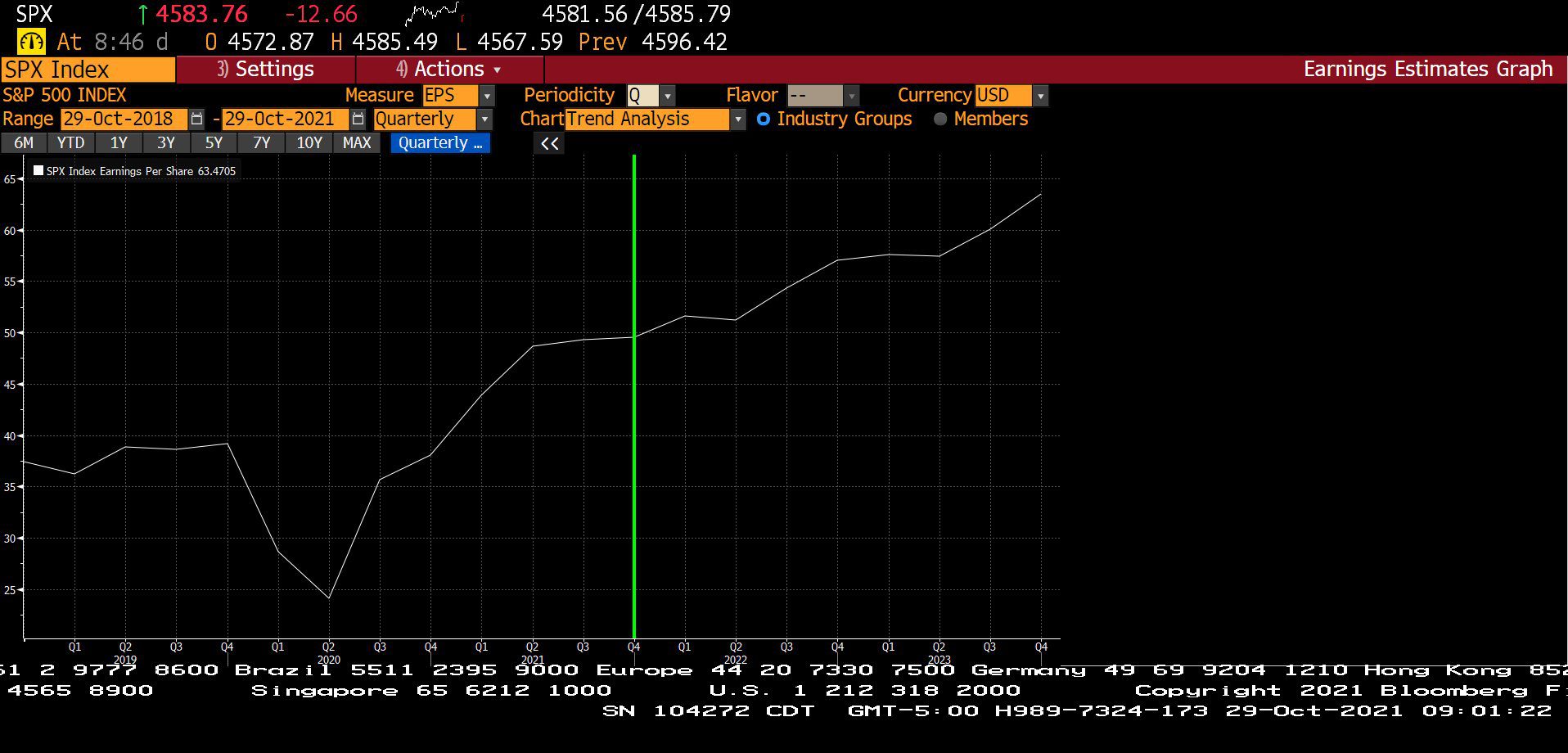 – Courtesy of Bloomberg LP
Global X MLP ETF (Year to Date)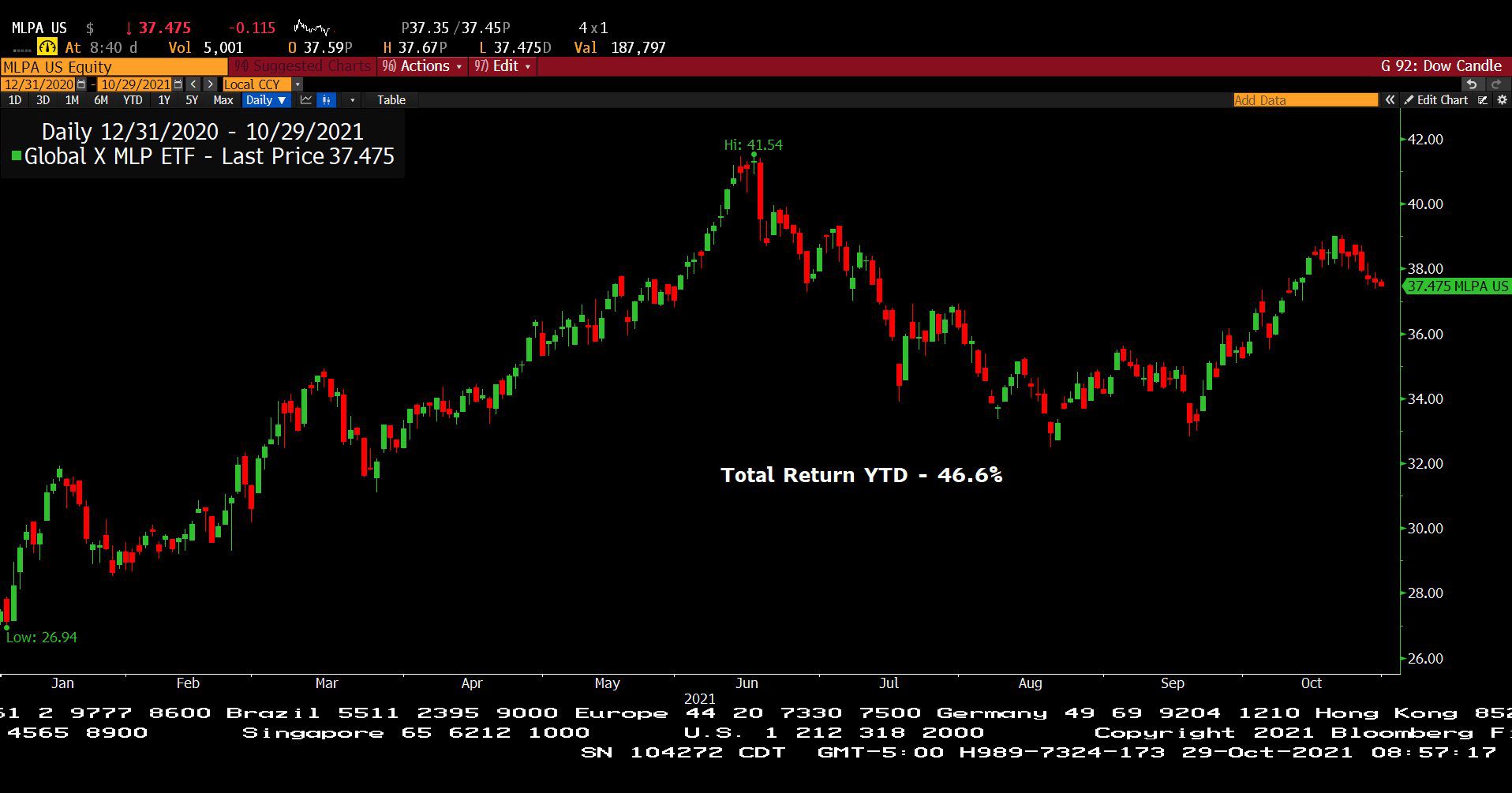 – Courtesy of Bloomberg LP
Tesla Inc. (Year to Date
)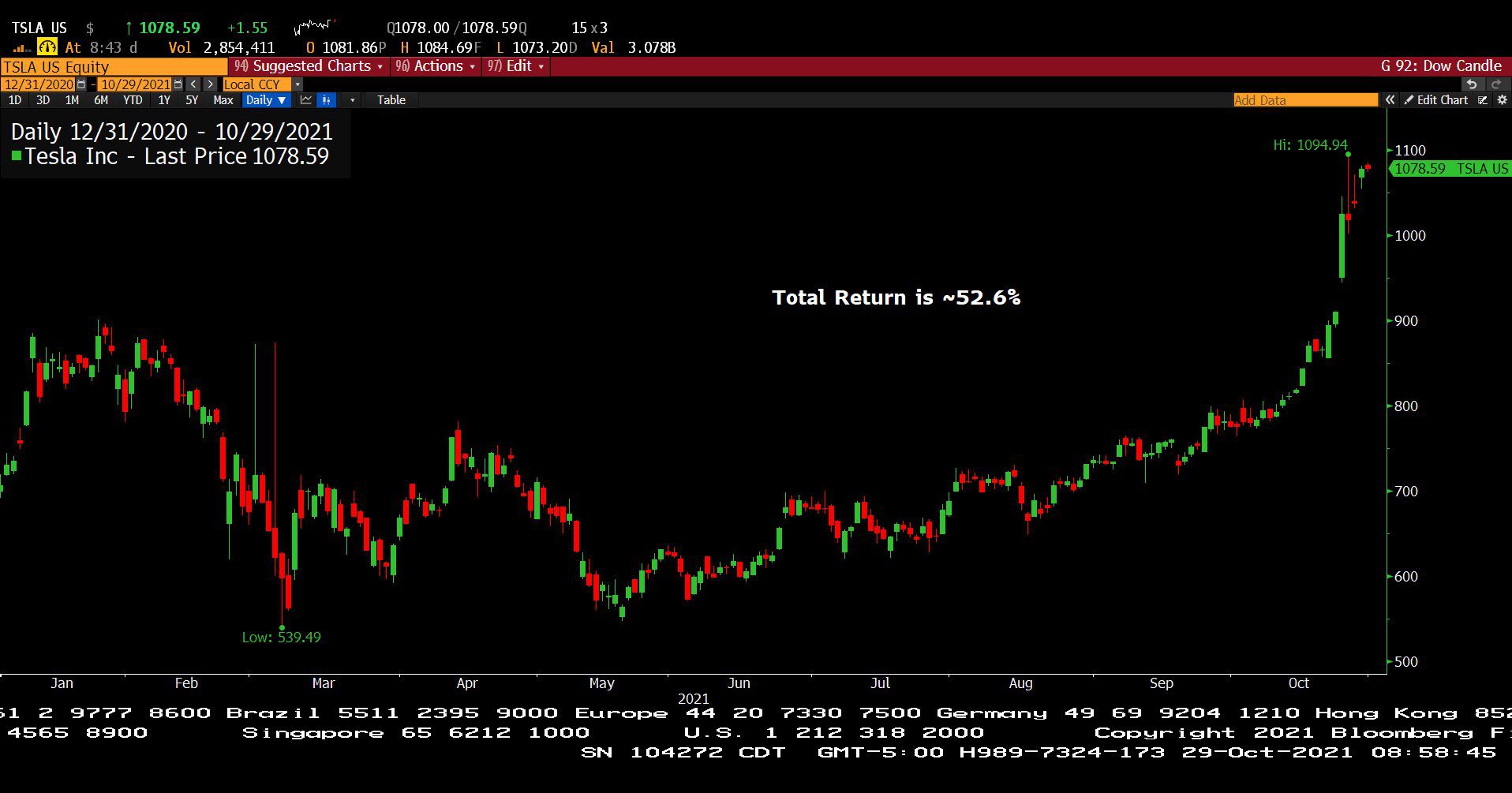 – Courtesy of Bloomberg LP
Profit Report
What is in the Updated Build Back Better White House Plan?
Great Questions Can Be The Basis for Great Answers!
7 Key Steps for 2022 Investment Plan Upgrades & How do I Adjust My Investment Plan for future Inflation?
1. Why is Investment Portfolio cash flow so important longer term? – For retirees, the ideal ratio is reinvestment of 20% of portfolio cash flow. This standard provides a framework for Allocation and Expense planning.
2. What is a "Tactical Safety" allocation and how can it be used effectively? – With slowing growth through 2022, tactical safety allows a plan to react to future corrections with a target list for great assets. Cash reserves help to avoid selling assets at unfortunate times.
3. Why should High Yield Global Lending be a permanent allocation for my Investment Portfolio? – Well managed portfolios of loans and bonds can provide opportunities for increased income and gain potential. In times of crisis, attractive discounts tend to emerge from fearful selling. Allocation planning can build in rebalancing additions. "Be the Bank!"
4. How do I prepare for future market corrections? – The study of prior market selloffs provides lessons for planning that can be likened to a fire drill where pre-planned actions increase the likelihood of success.
5. Why is excellent service so important for improving my Investment Performance? – A long-term plan executed by a well-managed and devoted team helps avoid service distractions. Excellent service is the basis for staying focused on opportunity because of the peace of mind created.
6. How can automated performance tracking improve my decision making? – The database record of actual overall performance provides guidance for future decisions in a more scientific process. Headlines and politics can often result in poor decisions driven by anxiety.
7. How can my goals and allocations be adjusted for current inflation forecasts including likely beneficiaries? – The world economies have moved from oversupply crisis to demand exceeding supply in many areas. Capital that provides solutions to these issues likely benefits with excess returns.
Research Round Up!
Investors are invited to improve decision making with a comprehensive tour of global economics, indicators, and actual results.
---
Start the Process Today! Be sure to indicate what size portfolio sample you would like to see. A link will arrive when we receive your questionnaire.