Q: What were some of the impacts on the global financial markets from the Fitch downgrade of U.S. Treasury bonds from AAA to AA+?
A: Large institutional selling of long U.S. Treasury bonds began immediately pushing yields up by nearly 25 basis points and the Dow Jones Industrial Average (Dow) fell over 300 points the day of the downgrade was announced.
Q: What terse reprimands did Fitch Ratings issue for The U.S.?
A: The Fitch Rating's Action Commentary mentioned among other issues the "Repeated debt limit standoffs and last minute resolutions.", the "Erosion of Governance ", & the "government lacks a medium-term fiscal framework…" to name a few.
Q: What happened to the financial markets in August of 2011 when Standard & Poor's downgraded U.S. Treasury bonds from AAA to AA+?
A: The Dow dropped about 10% that month. Afterwards, U.S. Treasury yields began to rise and continued through 2013 driven by the end of Quantitative Easing.
Headline Round Up
*U.S. Job Growth Continues in July.
*Pile on Bulls: Ed Yardeni, Head of Yardeni Research, and Citi's U.S. Equity Strategist, Scott Chronert, Raise Targets on S&P 500 for 2023 and 2024.
*Ford Losing Billions on Electric Vehicles (EVs) While Embracing Hybrids.
*Artificial Intelligence (AI) Powered Data Center Growth?
*Turning Japanese: China Fears Deflation?
*Lithium Giant Albemarle Announces Great Q2 Results. Stock still getting a smackdown?
*First Solar Getting Over $700 Million in Green Subsidies.
*Gradual Cooling: U.S. Job Openings Soften for the First Time in Over 2 Years.
*Bank of America Joins The Federal Reserve in Reversing Recession Predictions.
*Tesla China Deliveries Plunge 31%?
*Old Local Malls Plunge in Value Over 90%?
*Heat Waves, Inflationary Pressures & Price Elasticity Leading to Scotts Miracle-Gro Demand Implosion.
*U.S. Workers' Consensus: $1.8 Million Needed for Retirement Per Charles Schwab Survey. How much retirement income could that produce?
*Merck Raises 2023 Sales Forecasts.
*Caterpillar, Inc. Tops 2nd Quarter Forecasts.
*Finally, Uber Makes a Profit in Q2!
*Longhorn Quarterback Arch Manning's Trading Card Sells for Over $100k! Proceeds to go to charity.
*Taylor Swift Pays Out Approximately $55 Million in Bonuses to Staff & Crew!
*Gasoline Spikes 14% Since July 3rd.
*OPEC Production Falls by Most in 3 Years.
*BP Raises Dividend 10% and Announces $1.5 Billion Stock Buyback.
*Russian Crude Exports Plunge Under 3 Million Barrels Per Day in July.
*Oil Crude Inventories Experiencing Huge Drawdowns.
*Pioneer Gains Big on Beating Analyst's Estimates. Potential Lithium Mining Breakthrough?
iShares 20+ Year Treasury Bond ETF & SPDR Dow Jones Industrial Average ETF Trust
(12/30/2022 – 08/04/2023
)
– Courtesy of Bloomberg LP
iShares 20+ Year Treasury Bond ETF & SPDR Dow Jones Industrial Average ETF Trust
(01/01/2011 – 12/31/2012
)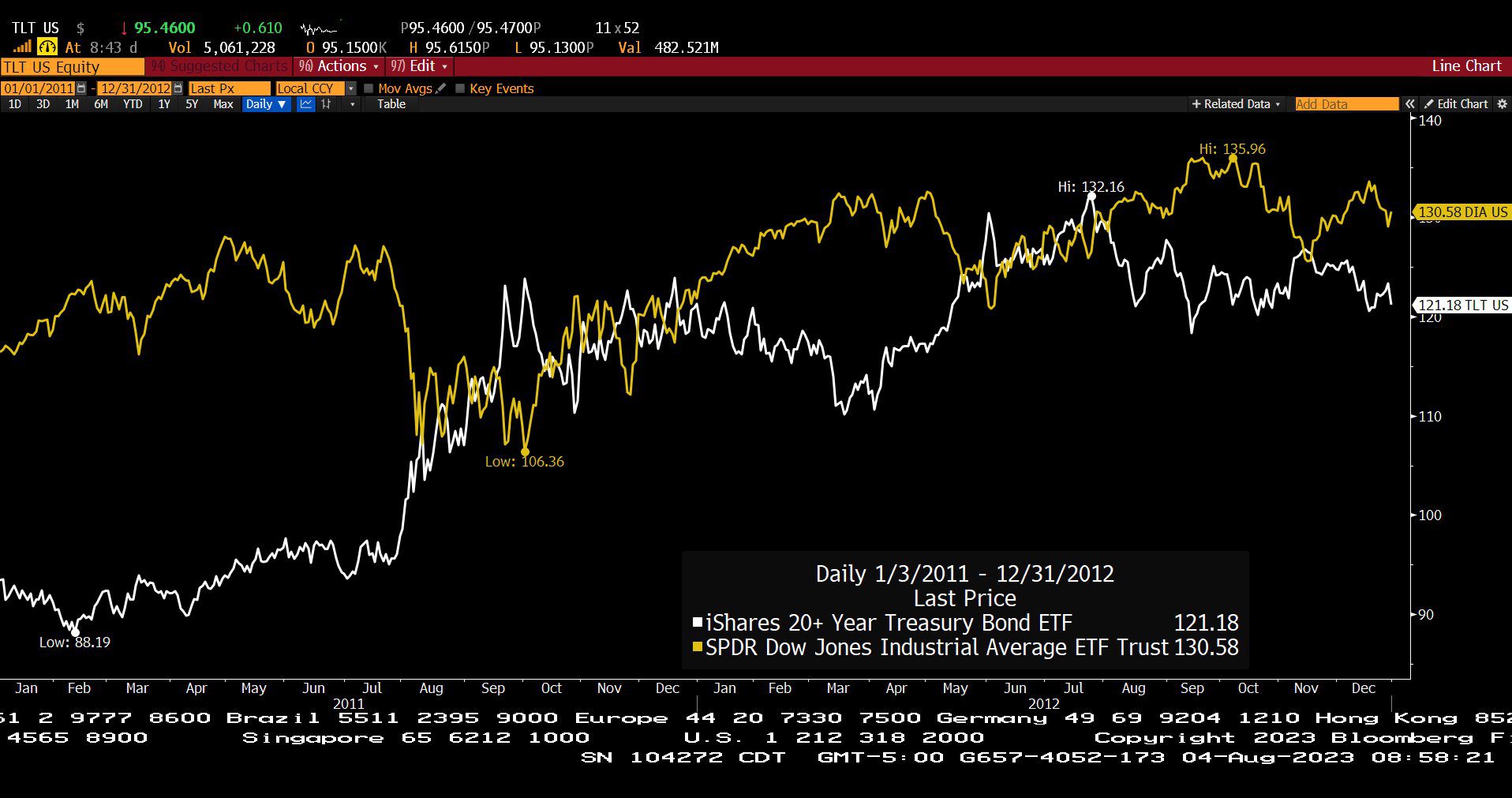 – Courtesy of Bloomberg LP
Department of Energy – Total Change in Cushing, OK Crude Oil Inventories Data & Generic Crude Oil Contract Spot Price
(08/04/2021 – 07/28/2023
)
– Courtesy of Bloomberg LP
Standard & Poor's 500 Index – Quarterly Earnings Analysis By Sector
(05/16/2023 – 08/15/2023
)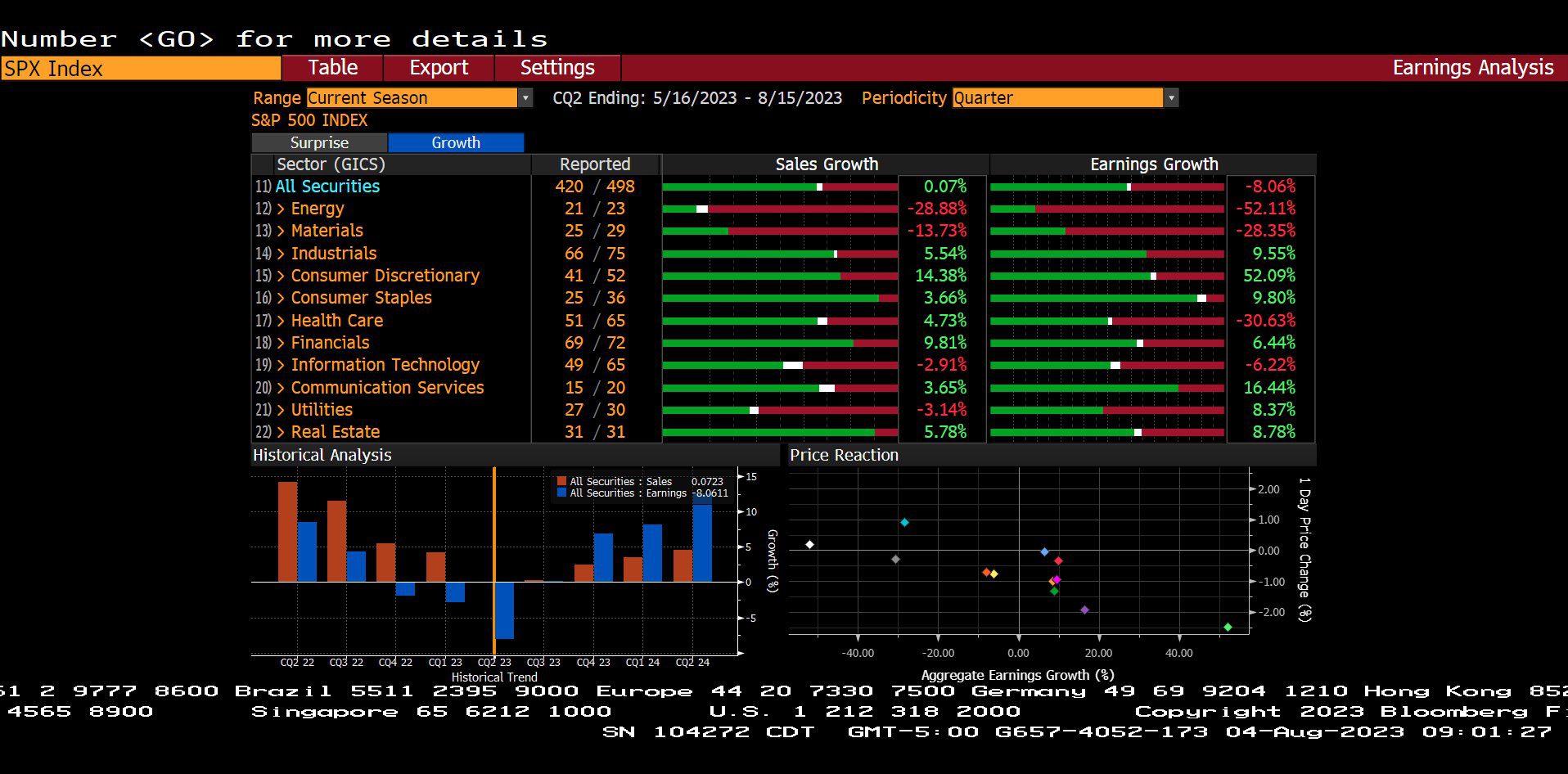 – Courtesy of Bloomberg LP
Profit Report
Why does McGowanGroup Wealth Management (MGWM) want to build Energy and Global High Yield portfolios for investors?
NetWorth Radio's Exceptional Investor Interview Series: Spencer McGowan Interviews Brad Olsen from Recurrent Advisors in Houston!
---
Prior to co-founding Recurrent, Brad was most recently the lead MLP portfolio manager for BP Capital Fund Advisors (BPCFA). Under Brad's leadership, MLP AUM more than doubled (excluding the impact of appreciation).
From 2011 to 2015, Brad led Midstream Research for Tudor, Pickering, Holt & Co. (TPH & Co.), where he was recognized as the top all-around stock picker in the US by the Financial Times in 2013, and the top energy stock picker in the US by Starmine in 2014. Under Olsen's leadership, the TPH & Co. midstream team was recognized in the WSJ's "Best on the Street" poll as well as by Institutional Investor Magazine.
Brad also has experience as an investment analyst at Eagle Global Advisors in Houston, where he was part of a 3-person team that grew midstream/MLP AUM from $300mm to over $1bn from 2008 through 2011. He has also worked in investment roles at Millennium International, a large global hedge fund, and Strome Investment Management, an energy-focused hedge fund based in Santa Monica, CA. He began his career in the UBS Investment Banking Global Energy Group in Houston.
Brad earned a BA in Philosophy, Political Science, and Slavic Studies from Rice University in Houston.
Brad resides in Houston with his wife and four children. Brad was nearly fluent in Russian, but is very rusty.
Research Round Up!
Investors are invited to improve decision making with a comprehensive tour of global economics, indicators, and actual results.
---
Start the Process Today! Be sure to indicate what size portfolio sample you would like to see. A link will arrive when we receive your questionnaire.