Q: What are some of the important forecasts for the financial markets in 2024?
A: There is substantial earnings growth potential for the S&P 500, projected real economic growth of 1.2% with inflation dropping to 2.5% according to Federal Reserve forecasts, and estimated potential shortfalls in oil and gas production.
Q: What areas of the equity markets does the McGowanGroup believe will outperform over the next year?
A: The McGowanGroup will highlight likely current portfolio allocations and realistic targets for investors.
Dow Jones Industrial Average
(12/30/2022 – 03/24/2023)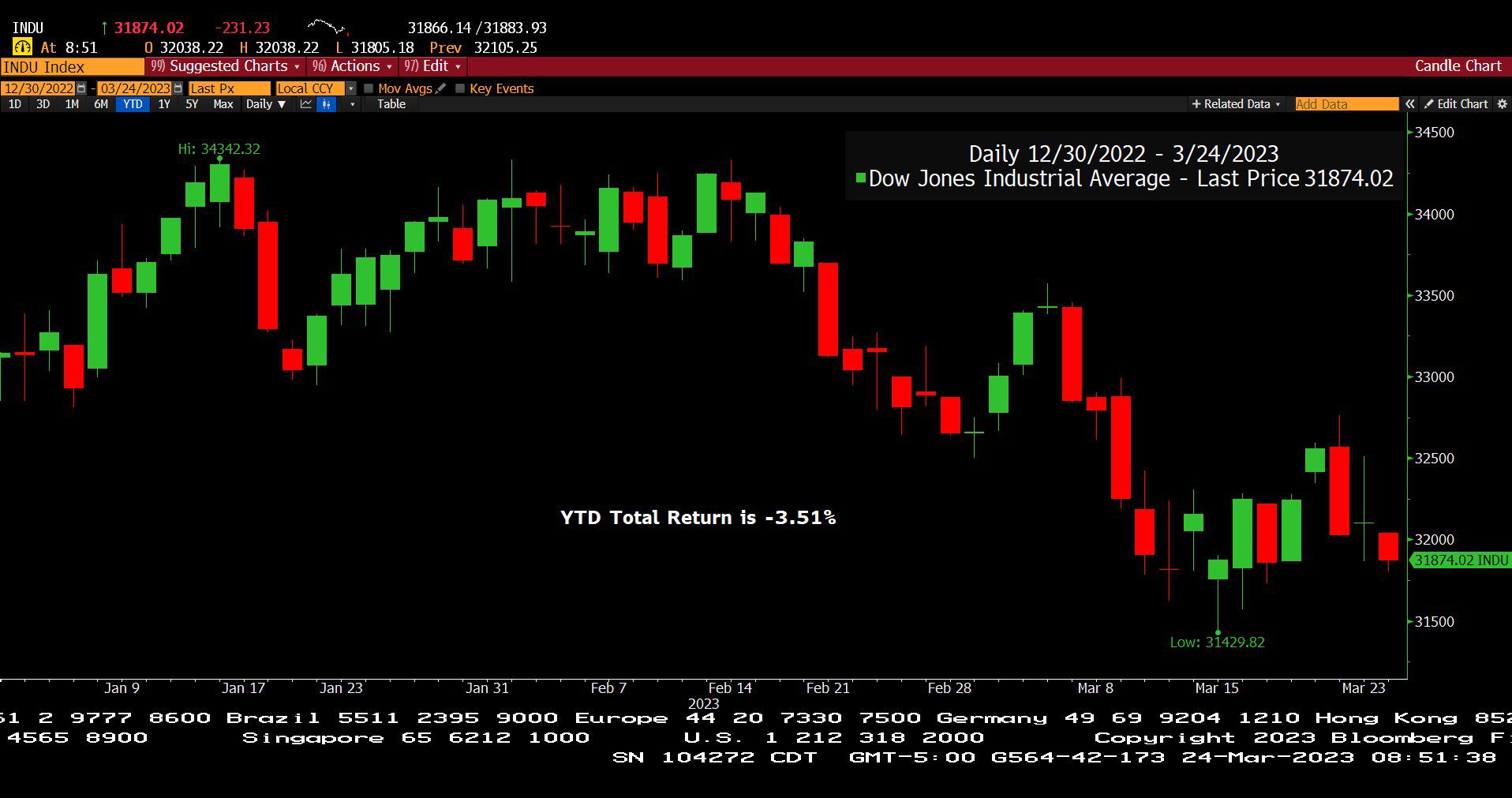 – Courtesy of Bloomberg LP
C.B.O.E. Short-Term Interest Rate Index & 10 Year Treasury Note Yield Index
(12/30/2022 – 03/24/2023
)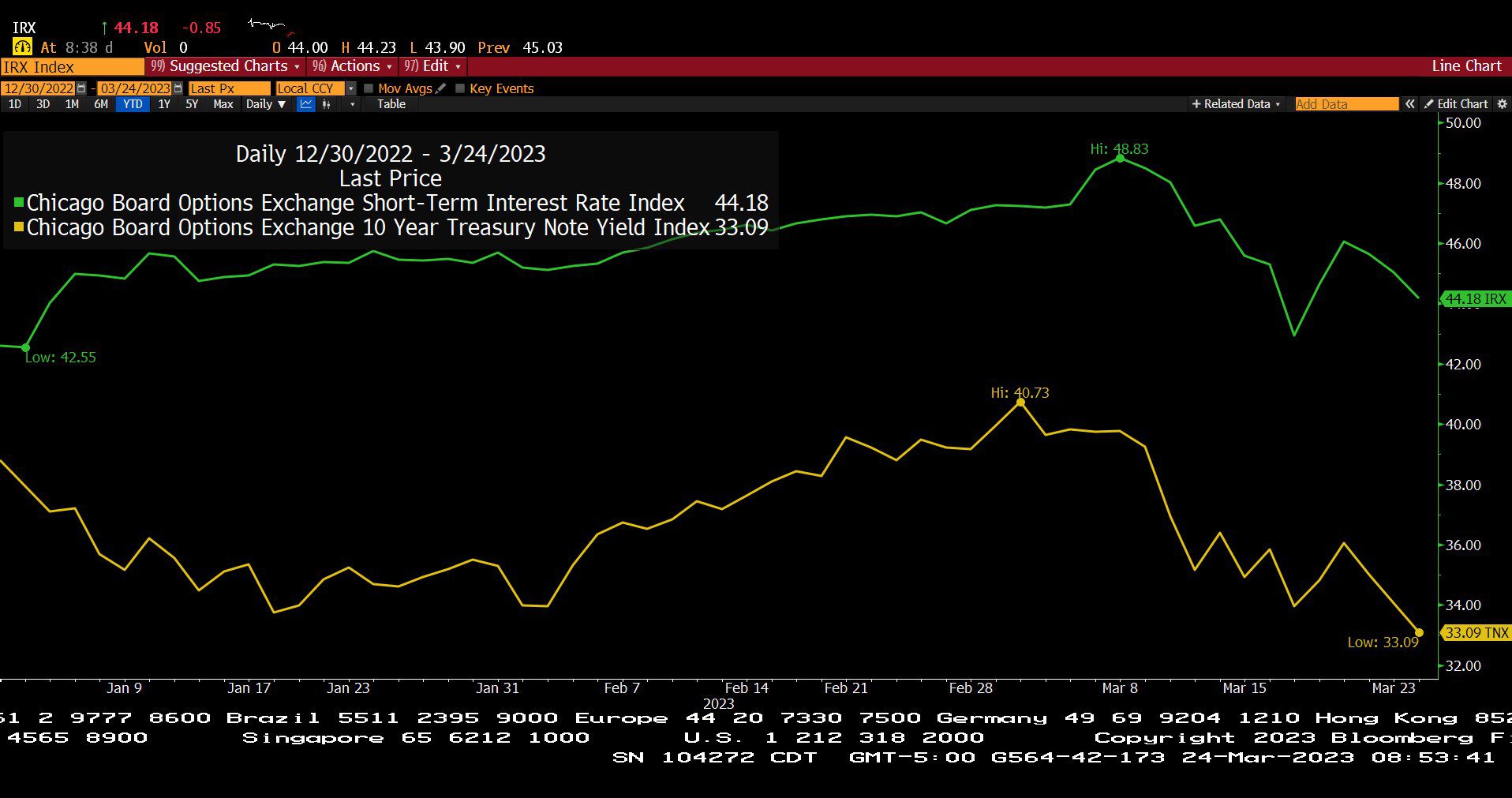 – Courtesy of Bloomberg LP
Deutsche Bank AG
(12/30/2022 – 03/24/2023)
– Courtesy of Bloomberg LP
SPDR S&P Regional Banking ETF
(12/30/2022 – 03/24/2023)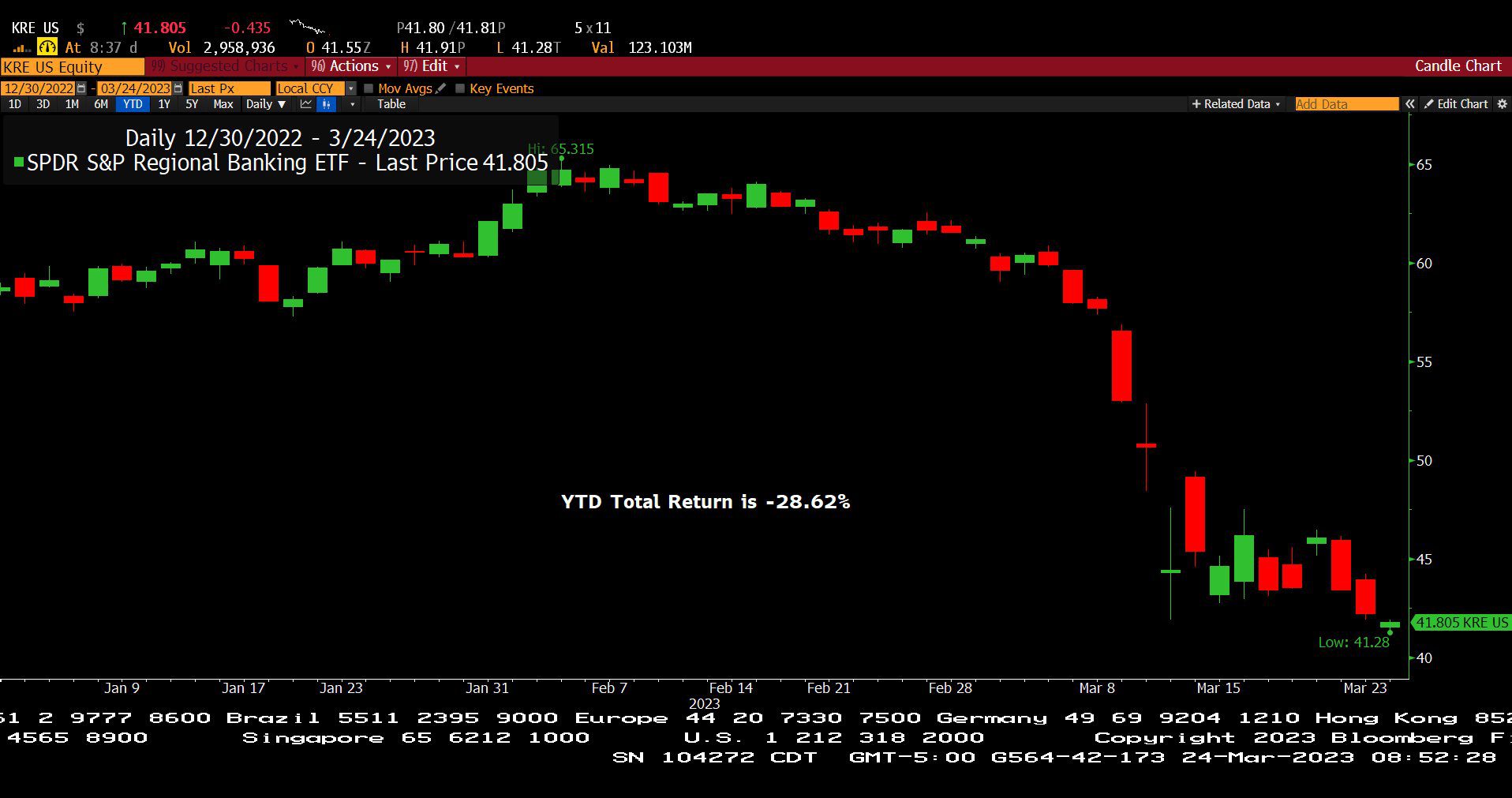 – Courtesy of Bloomberg LP
Evolution of Atlanta Fed GDPNow Real GDP Estimate for 2023 – Q1
(03/16/2023)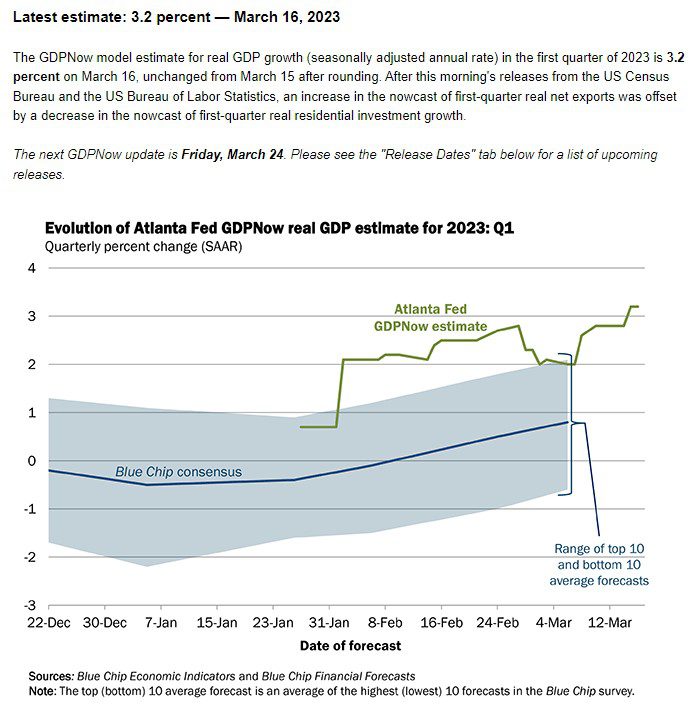 – Courtesy of The Atlanta Federal Reserve
Headline Round Up
*Current Federal Reserve Announcements and Projections.
*Treasury Secretary, Janet Yellen, Pledges Backstop on Deposits if Necessary to Halt Bank Contagion.
*Recent Yield Curve Projecting a Return to Normal in 2024?
*Jobless Claims Decline for Second Week Near Record Lows!
*Existing Home Sales Up Over 14% in February with First Year Over Year Price Drop in 11 Years.
*Rent Inflation Slows.
*Tech Sector Outperforms Since Banking Crisis Began.
*Contingent Convertible Bonds Prove Danger of Derivatives and Structured Products. Global
High Yield
investments still positive so far in 2023.
*Ford Reports Electric Vehicle Division Loss of $2B and Forecasts Electric Vehicle (EV) Losses Growing to $3B 2023.
*Volkswagen Plans $200B Investment for EVs Over the Next 5 Years! VW Market Cap Only $70B?
*Chief Investment Officer and Portfolio Manager of ARKK ETF, Cathie Wood, on the Zerohedge Bozo List!
*Million Dollar Listing Star, Josh Altman, Projects New L.A. "Mansion Tax" will Be the Hardest Hit to Real Estate Market Since 2007.
*California's Residential Natural Gas Use Double That of Texas?
*China Set to Deliver 40% of Global Oil Demand Growth in 2023?
*U.S. Liquified Natural Gas to Europe in 2022 Accounted for 64% of U.S. Exports.
*
R.E.I.T.
Allocations in Danger with Office Defaults in 2023 Set to Rise.
*New Oil Forecast Prices Rising to $90 West Texas Intermediate Crude Over Next 12 Months?
*Array Technologies Inc.'s Sunny Solar Forecast: Earnings to Double in 2023?
*Goldman Sachs Sees Commodities Supercycle Soon!
*Bank Pays $1.3 Million for Nickel but Got Rocks Instead?
Profit Report
The End of Abundant Energy?
Research Round Up!
Investors are invited to improve decision making with a comprehensive tour of global economics, indicators, and actual results.
---
Start the Process Today! Be sure to indicate what size portfolio sample you would like to see. A link will arrive when we receive your questionnaire.