The greatest investors that I have studied and worked with tended to think about long term assets with great trends and short term money flow possibilities.
Wisdom!
If I reinvest 7% for 10 years, that is 96% after compounding plus or minus fluctuation in value and changes in cash payments.
If I buy gold, with no income production, I might not keep pace with inflation even though I have Price Risk. Reference 1980! $800 to $250 in 2002 over 22 years with no income, yet, inflation doubled prices?
Dow Jones Industrial Average Index (54 Years from 7/26/1965 – 2019)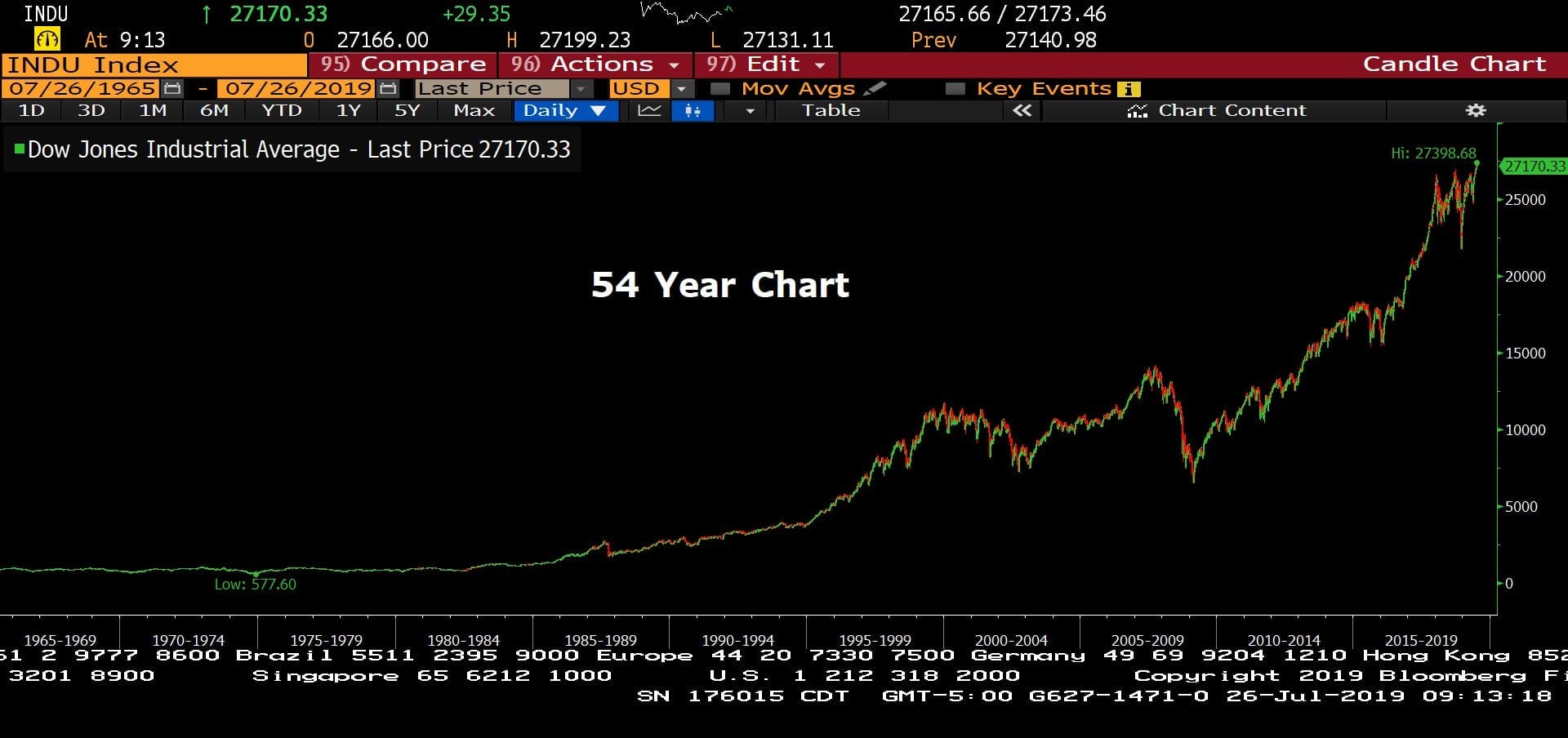 – Courtesy of Bloomberg
Dow Jones Industrial Average Index (33 Years from 7/25/1986 – 2019)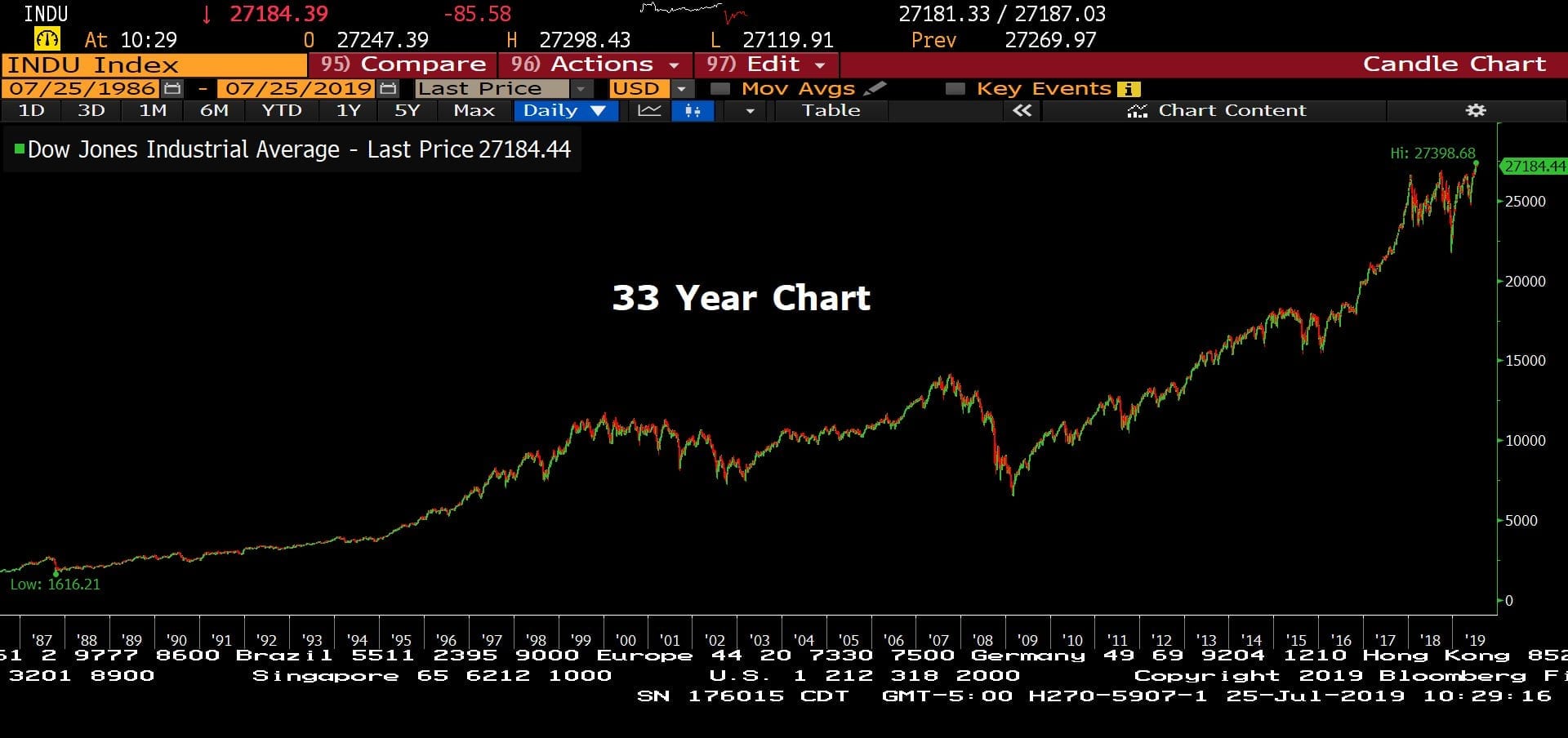 – Courtesy of Bloomberg
U.S. Government 10 Year Index (Approx. 57 Years)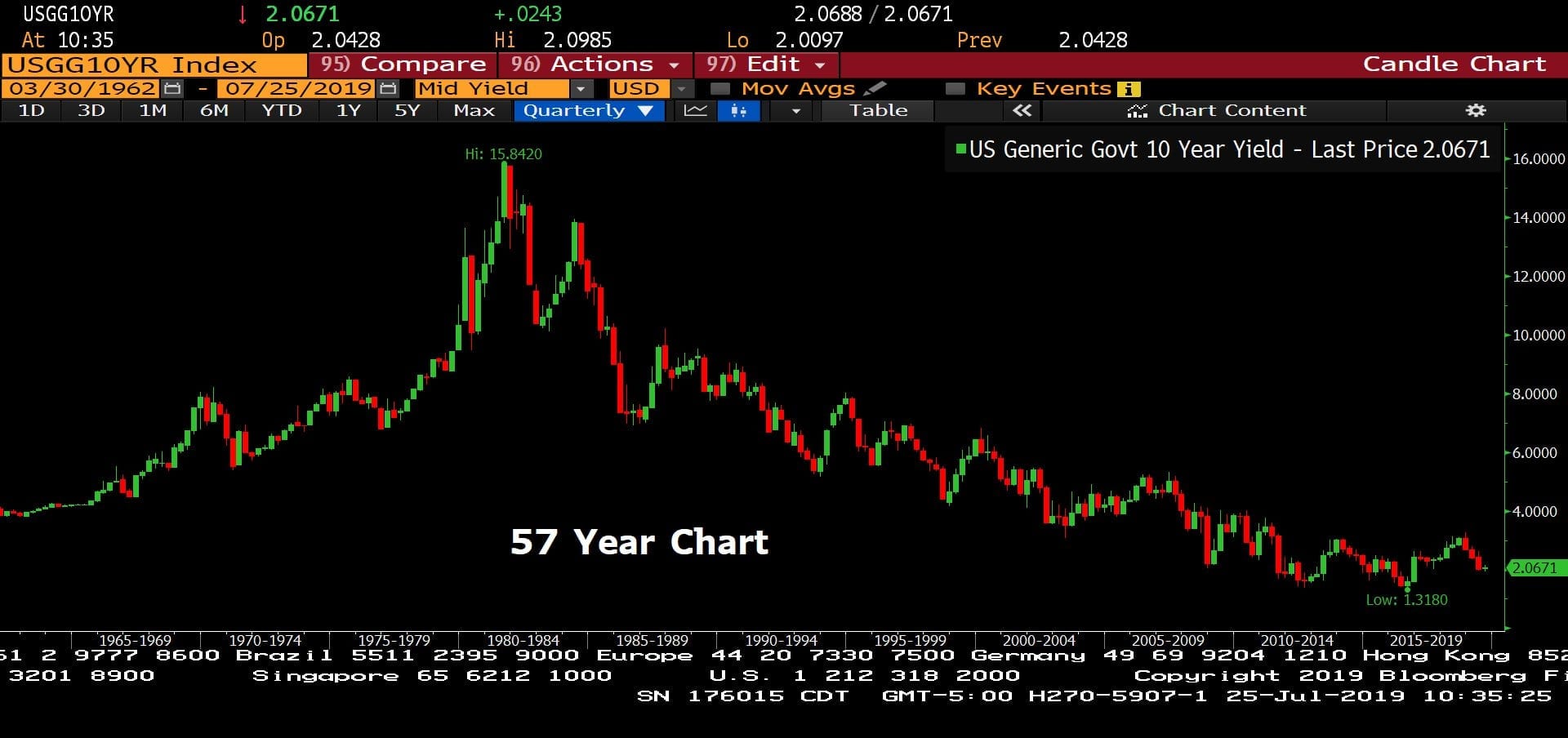 – Courtesy of Bloomberg
U.S. West Texas Intermediate Crude Oil Spot Price (Approx. 29 Years)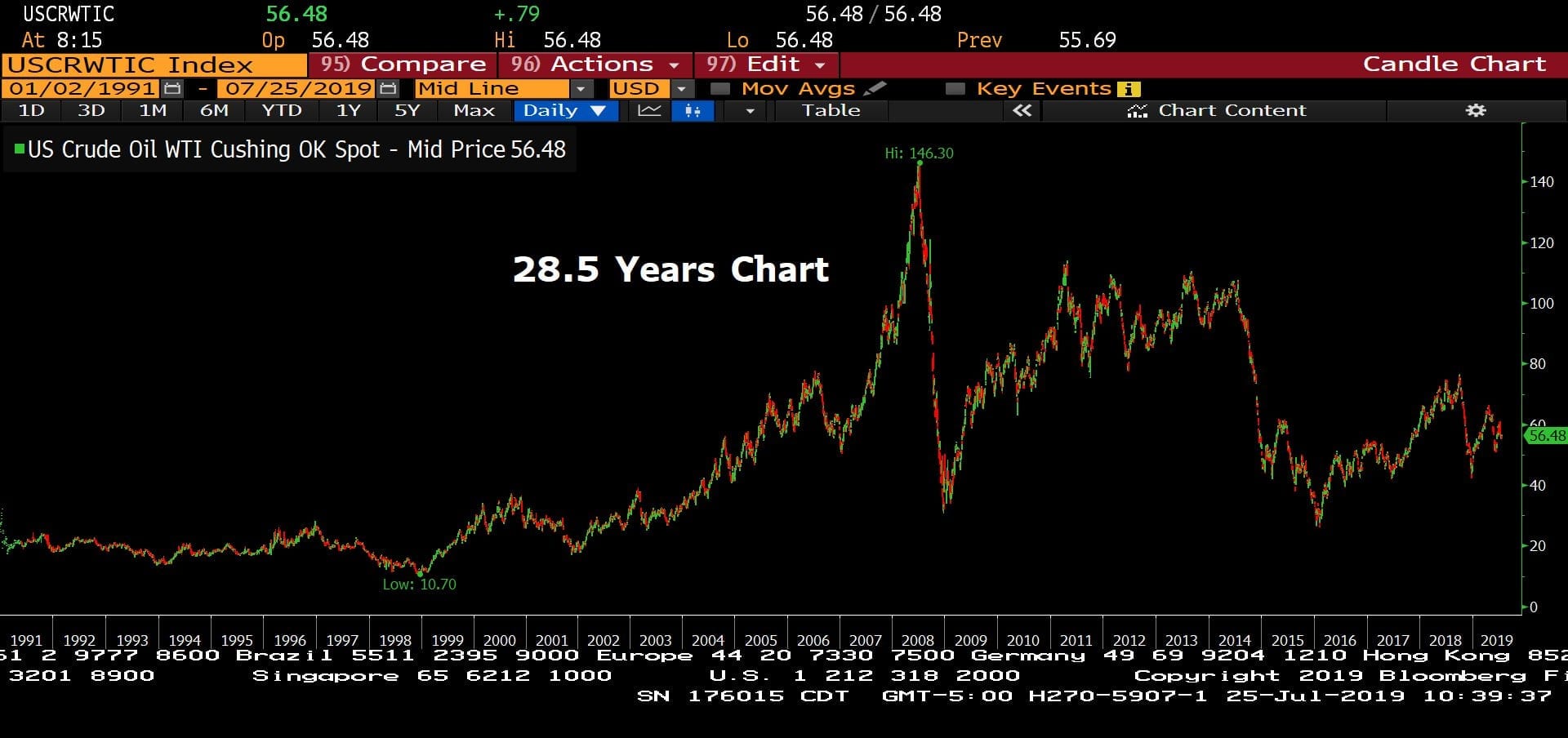 – Courtesy of Bloomberg
Alerian MLP Index & U.S. West Texas Intermediate Crude Oil Spot Price
(Approx. 5 Years)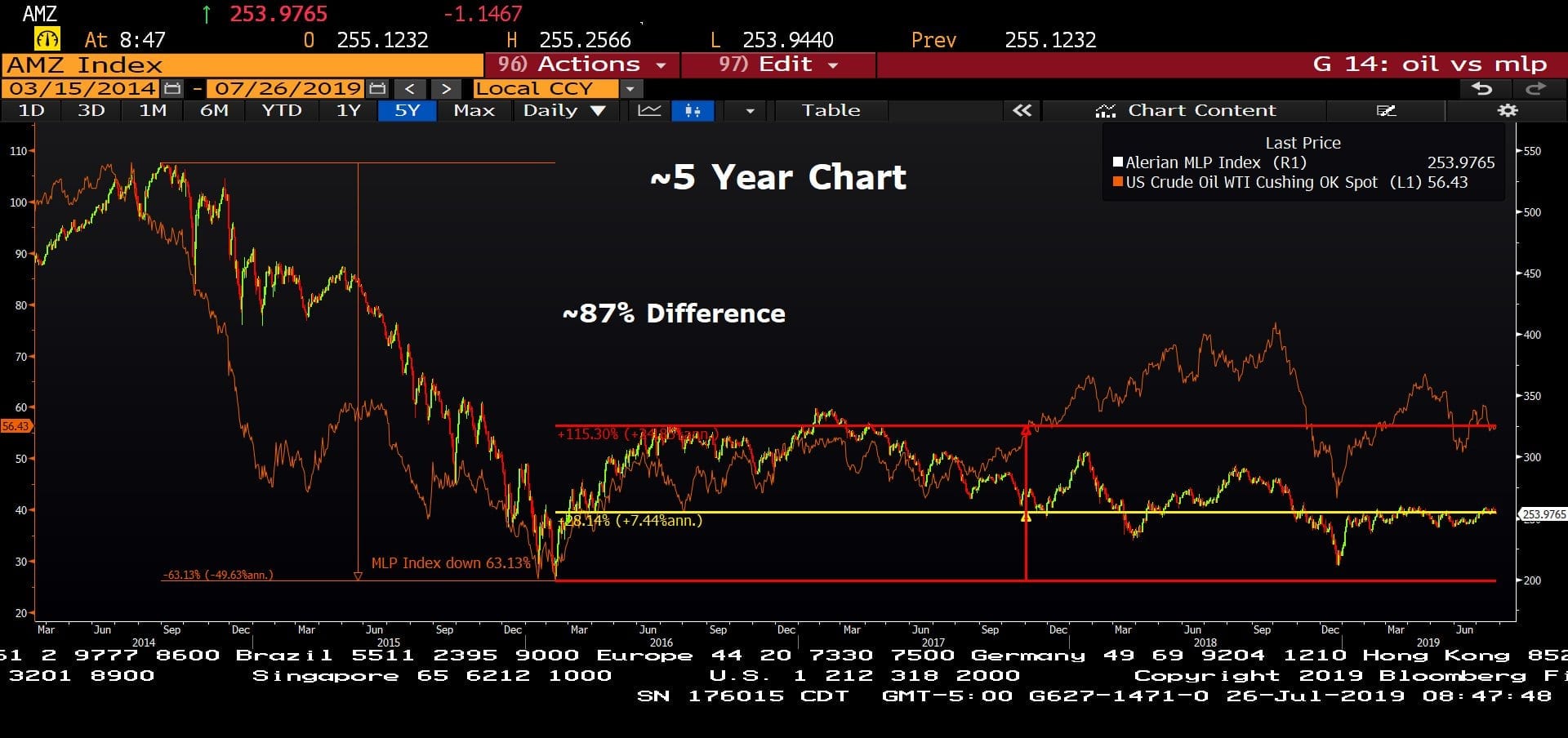 – Courtesy of Bloomberg
Cheniere Energy, Inc. & Cheniere Energy Partners, LP
(Approx. 13 Years)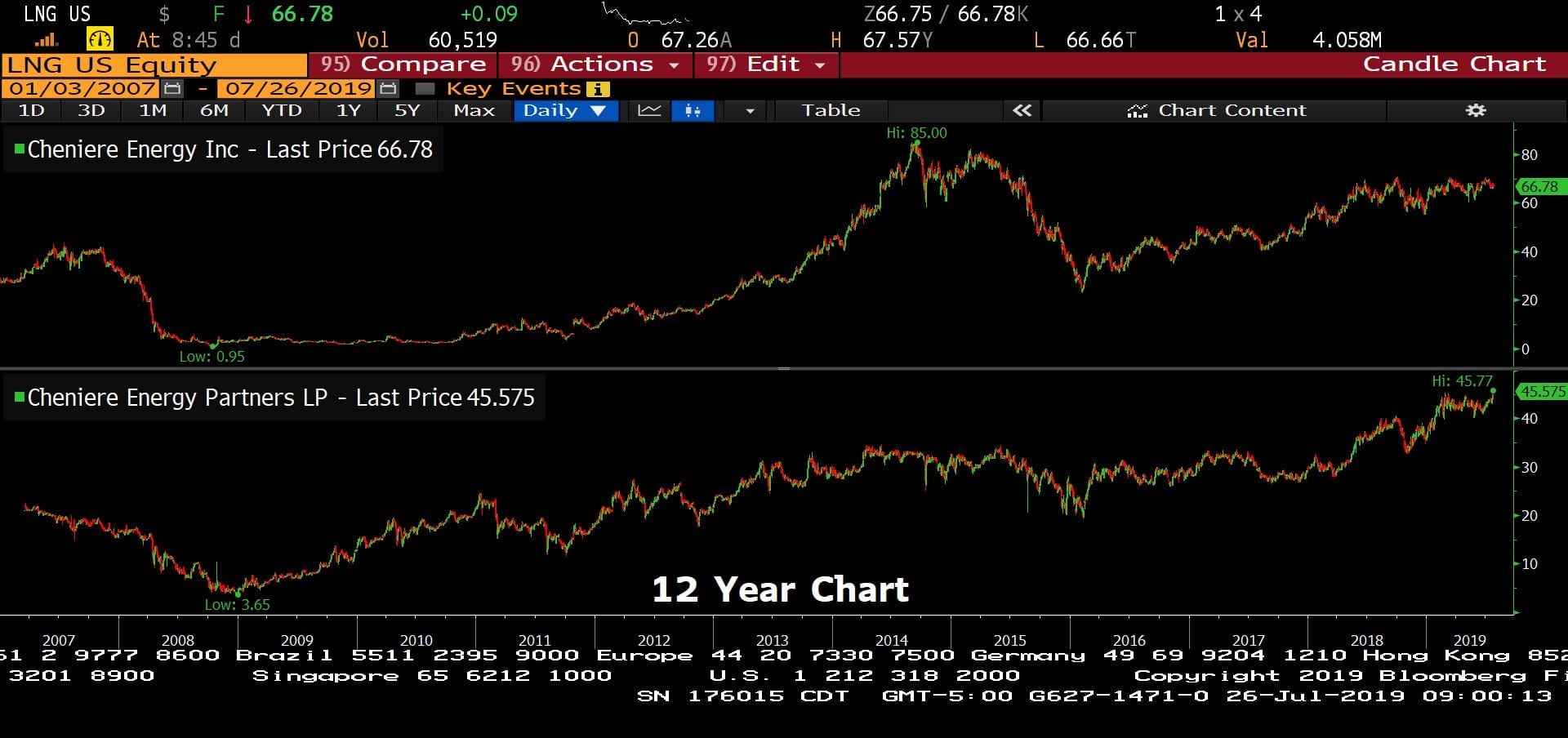 – Courtesy of Bloomberg
A Helpful Tour of The Toughest Markets in Modern History:
In '73 and 74 we saw the most grueling pain of any time since 1929. The registered brokers on the NYSE, the only people allowed to enter orders, went from 96000 in 1973 to 36000 in 1975. In 1975, there were more registered real estate agents in the DFW area than there were registered reps in the entire country. The Value Line index was the most used non-NYSE, non-Dow Jones index at the time. It was down 85% at the low level in 1974. There were many investors who swore never to buy another stock or mutual fund during their lifetime.
The dividend yield on Exxon stock was over 10% that year.
The 1981 time frame was the end of the 16-year range bound market. It was like the August days of a long hot summer – little interest and little action. Volume had dwindled so low that, when the rebound started in 1982, the daily volume on the exchange doubled. Ronald Reagan had taken office in 1981 and the rebound of interest in business and the economy began to show in the stock markets.
The 1987 time frame was another period where the Federal Reserve had really over-reacted. Interest rates spiked and the stock markets reacted. The over-all damage was much more limited and many equity accounts actually finished the year at a profit. The one-day 20% plus decline was shocking but, after a lot of margin calls, the recovery was rather swift and the markets had healed a lot by year-end. – Pappa Dean
Headline Round Up!
*How to Make Over a $1,000,000 a Week? Instagram!
*Lennox International HVAC Giant Signals Construction Boom Ending?
*We Work Not Workin'.
*Plano Collin Creek Mall Being Razed for Billion Dollar Development.
Texas Black Gold Rush!
*LNG Exports Up Five Fold in Five Years!
*Coal is Dead! Long Live Natural Gas!
LNG Updates:
*FERC Opening a Houston Office! Welcome to Texas! They need some Texans on Staff.
*LNG CAPEX Boom has Staying Power. Alex, What is CAPEX?
*GTT CEO Sees a Decade of Growth in Shipping LNG.
*Texas Wants Nuclear Waste?
*New York Deli Owners Complain NY Cut Off the GAS!
*The Future of Permian Shale Growth?
Profit Report!
Can you really retire on $30,000 per year?
Congress wants to sell you IRA annuities!
Research Round Up!
Investors are invited to improve decision making with a comprehensive tour of global economics, indicators, and actual results.
---
Start the Process Today! Be sure to indicate what size portfolio sample you would like to see. A link will arrive when we receive your questionnaire.