Sir John Templeton often referred to searching the world for the "best bargains." A pioneer in global investing, Sir John compounded one of the greatest 30 year track records between 1960 and 1990. 
His contrarian legacy continues with this week's program exploring the best bargains from a global perspective.
Headline Round Up!
---
*Paying Someone to Borrow Your Money? Global Money Flows Explode by 8X the Value of Government Bonds Yielding Below 0%. Huge Implications for U.S. Fixed Income Investors.
*Fallen Angel: GE Booted from Dow!
*Disney Buying Fox with Bigger Check Book Beating Comcast.
*Icahn Flipping SandRidge Energy.
*Oil Updates! Permian Pipes Essentially Full. Train or Truck. Global Fracking Accelerates.
*Pipeline Building Boom. Plains All American and Exxon Team Up.
*1,400 Miles of New Gas Pipelines Predicted by 2035.
*Over 3203 Wells Waiting for Completion in Permian.
*Real Estate Updates: Median Home Price Record $265k. Affordability Ceiling Slowing Appreciation. Housing Starts a Decade High.
*Dow Jones Wilts with China Trade Negotiations While Small Stocks and Tech Remain Near All Time Highs.
*But China Needs Liquid Natural Gas. On Track to Import Huge Amounts More.
*By 2019 U.S. on Track to Have 5 LNG Export Facilities Online.
*Progress: German Automakers Want ALL Auto and Truck Tariffs Removed! Free Trade, Fair Trade?
*Supreme Court Loves Sales Taxes for States. Interstate Commerce Gordian Knot.
*North Texas Based Game Stop Going Private? Stock Spikes 13%.
*Survivors! Retail ETFs Up 11%. Macy's and Dillard's Rebound Over 50% Gaining More than Amazon Share Price.
*Emerging Market Outflows Highest in Nearly 2 Years.
*
Loonie
Fest! Trudeau Says Pot Legal on October 17th.
This Week's Financial Weatherman Radar:
Dow, Russell 2000 Small Stock, and Nasdaq Indexes Year to Date: Trade War Impact?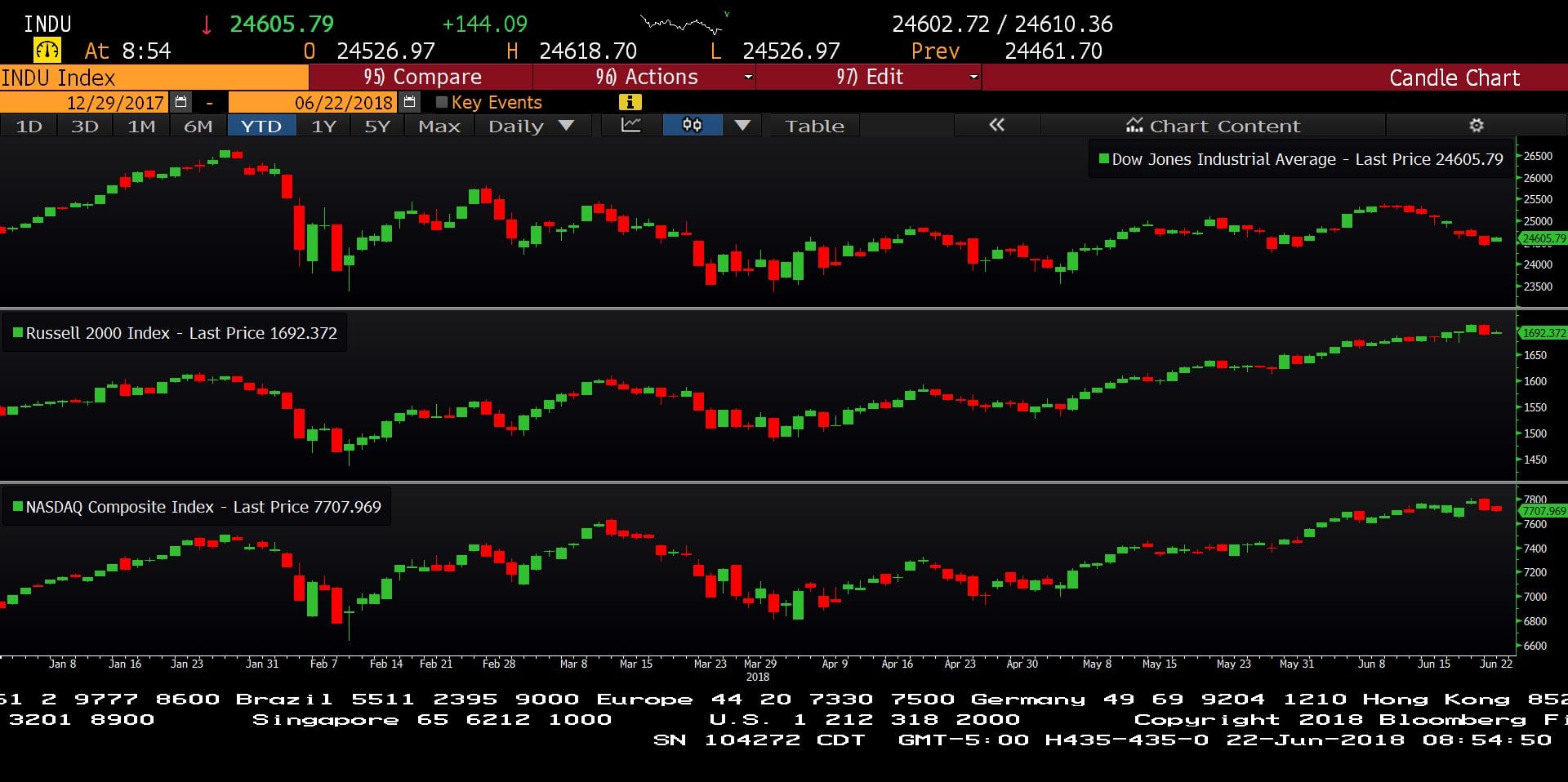 -Courtesy of Bloomberg LP
Emerging Market VS Dollar (Year To Date)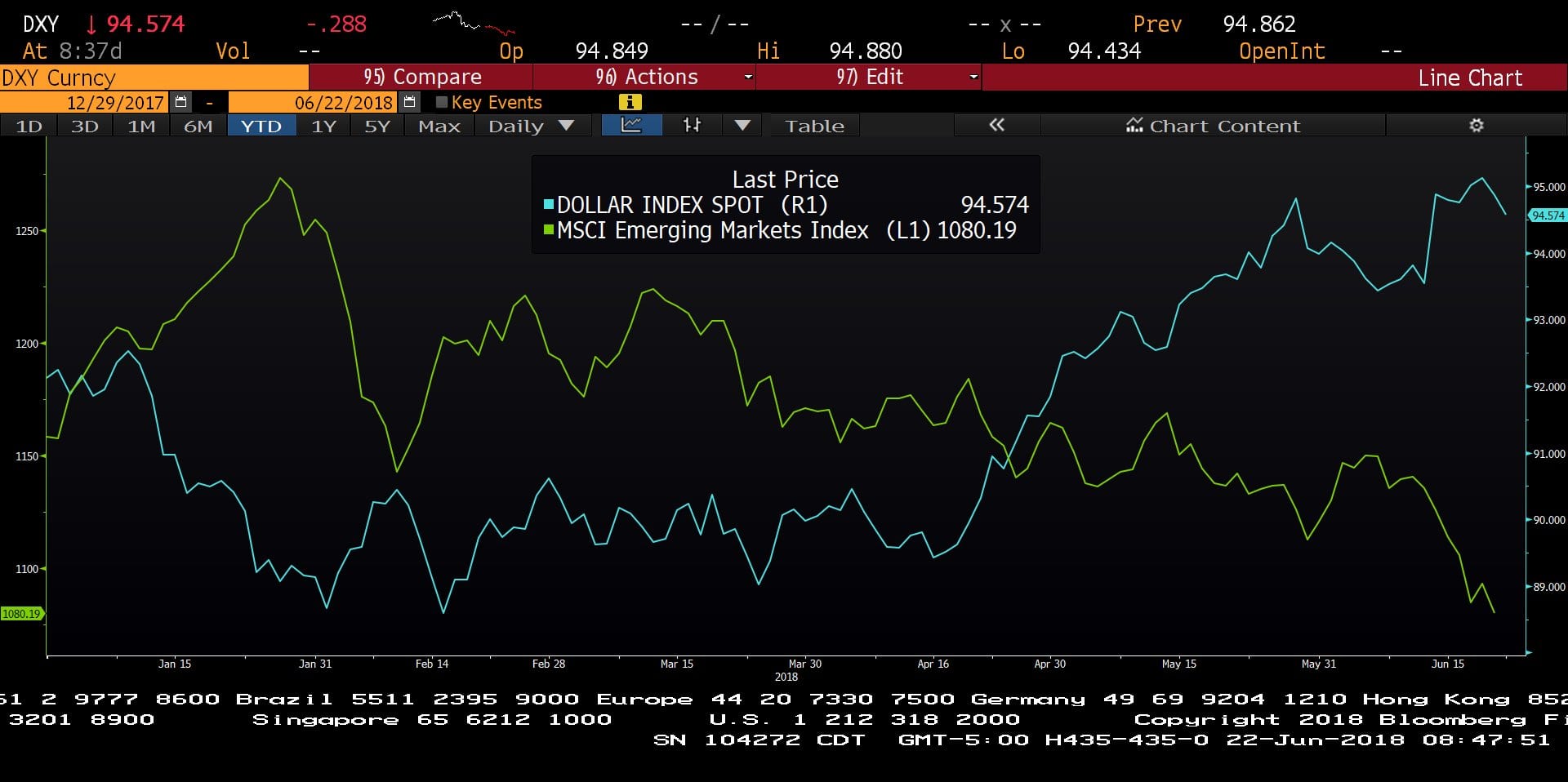 -Courtesy of Bloomberg LP
FOSL And AMD (Year to Date)
-Courtesy of Bloomberg LP
-Courtesy of Bloomberg LP
The Profit Report:
---
Year to date performances from the major asset classes. What does it tell us about the rest of 2018 and 2019?
Growth Units Update:
What is a "target fund?" How have they performed?
What is actually inside the target funds?
Who are the all time superstar money managers and what did they do?
The Cash Flow Revolution:
*Interest rate updates: Money Markets, Treasuries, Corporates, and more.
*What pays more and is less volatile than stocks?
Research Round Up!
---
Investors are invited to improve decision making with a comprehensive tour of global economics, indicators, and actual results.
---
Start the Process Today! Be sure to indicate what size portfolio sample you would like to see. A link will arrive when we receive your questionnaire.