Great Questions and Great Counsel lead to Successful Outcomes!
Provocative Great Questions:
If I am not with The McGowanGroup, is my Advisor getting it dead wrong?
Example: I spoke with an institutional investor this week who simply wants to earn over 3% a year in a conservative portfolio. Irony the organic, after fees, cash flow is under 2% with a mix of stocks that they described as "companies that mother would pick" effectively making the portfolio a bet on price appreciation instead of the real objective.
Solution? Real dividends and interest that beat the target return in reliable net cash flow.
How can I earn over $10,000 per month, or more, on my portfolio from interest and dividends? The $10,000 per month income level can be achieved with a $2,000,000 portfolio paying an average of over 6% from net interest and dividends after fees. That cannot be accomplished without value at risk of loss. However, it can be accomplished with gain potential in the current markets.
As an investor, what potential catastrophic mistakes am I making? Who do I ask?
The most common mistake, in our experience, is a portfolio that requires the unrealistic assumption of constant appreciation (a speculation on price) or gradual liquidation of assets (eating your seed corn). For many, the greatest asset can be a team of dedicated Advisors who genuinely care for your success, love the process of successful investing and you too!
Dow Jones Industrial Average Index and S&P 500 Index (Approx. 5 Years)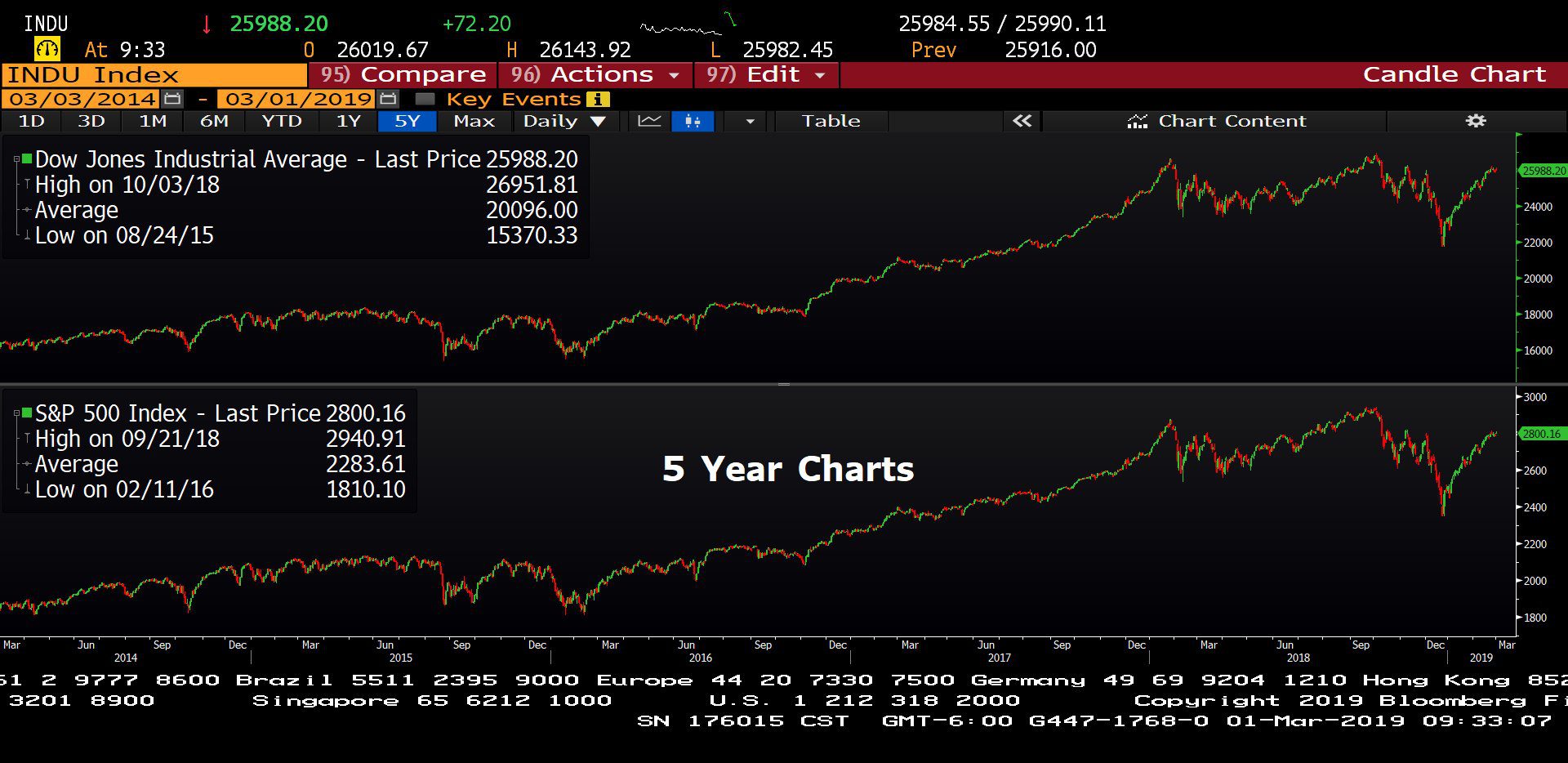 -Courtesy of Bloomberg
S&P 500 Index Earnings/Earnings Estimates (5 Years)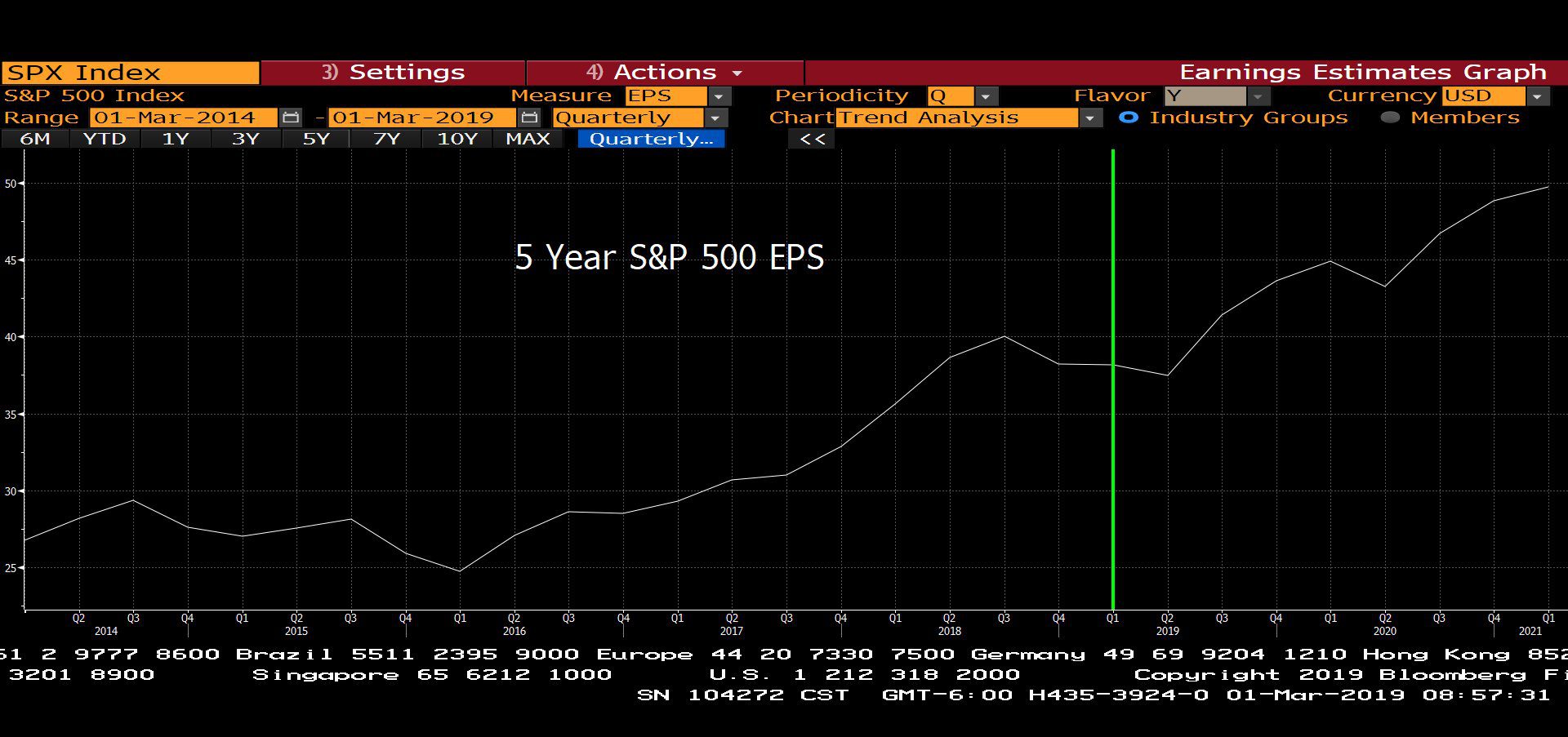 -Courtesy of Bloomberg
iShares iBoxx High Yield Corporate Bond ETF & Total Return Index – Gross Dividends (Approx. 5 Years)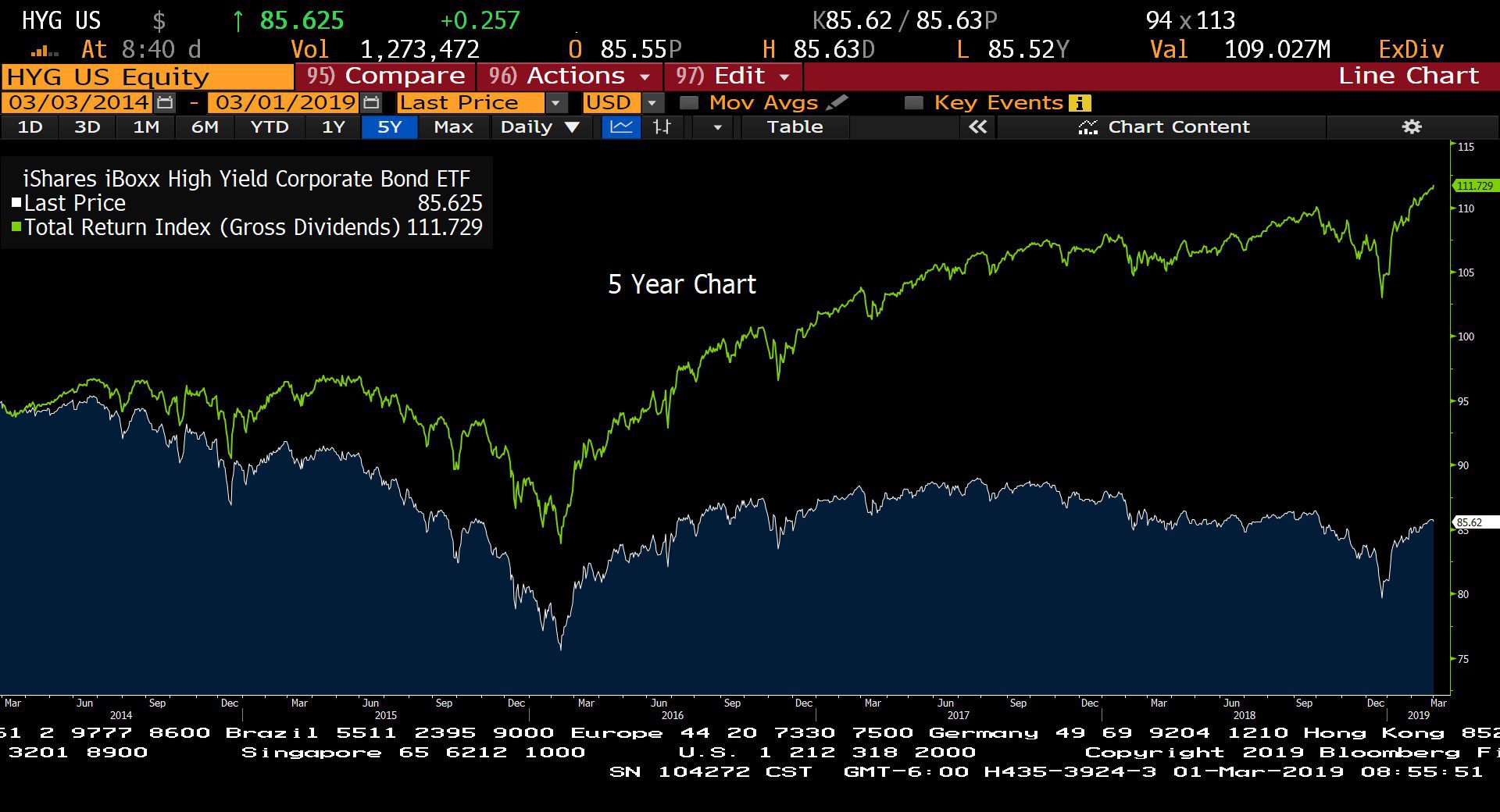 -Courtesy of Bloomberg
Kraft Heinz Co. (Approx. 4 Years)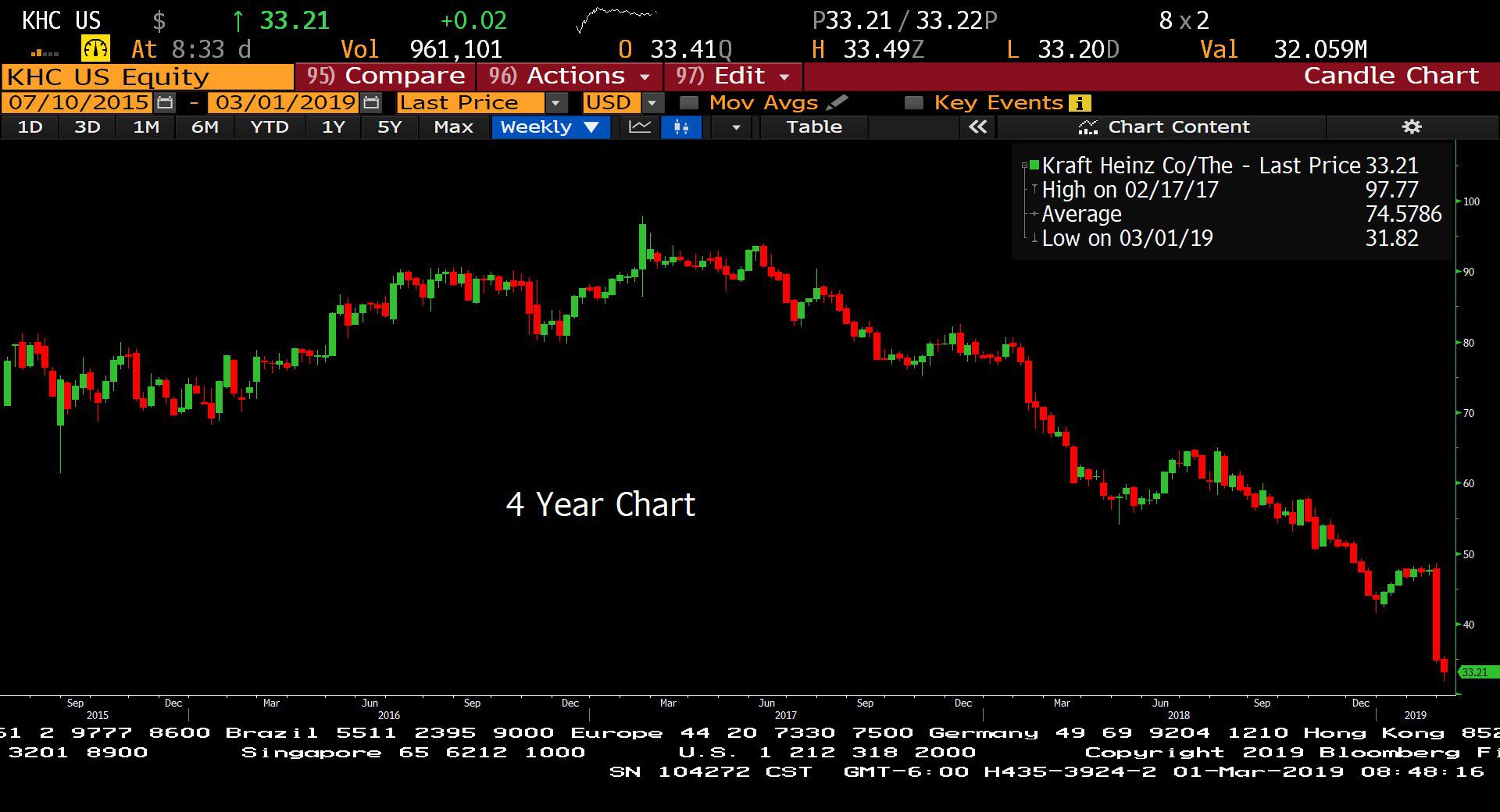 -Courtesy of Bloomberg
Headline Round Up!
*Growth Update: GDP Finally Reported at 2.6% for Q4 and 3.1% for 2018.
*Your Home Price: S&P Case Shiller Says Price Appreciation is Slowing Down.
*Beware the IPO: Peloton Hires Goldman and Morgan to Spin!
*Fed Chair Powell Speaks to Congress. What do his remarks mean for investors in 2019 and 2020?
*Plant Based Beef Substitute Attracts Big Investors. AOC's Top Guy Eats a Real Burger in Manhattan.
*Kraft Heinz, Lessons for Investors.
*Weight Watchers Slims from over $100 to $20. Processed Food Bear Cycle Underway.
*Diet Changes Lead to Price Rally for Olives and Avocados.
*Retail Ice Age Updates: Best Buy and J.C. Penny Confirm Consumer Demand Strong.
*Home Depot Reports Sales up 7% and Same Store Sales over 5%. Dividend Increase. What the outlook means for the slowing growth economy.
*GE in Downsizing Liquidations?
*Biotech Buyouts in Genetic Therapy: Roche Buyout of Spark Therapeutics Double the Price.
*Dividend Growth Slows to 2%.
*Uber and Lyft Drivers Get IPO Stock?
*Muni Bonds are Expensive!
*Tesla Elon Musk Hot Seat! Poking the Hornet's Nest at the SEC? Hey Bud, Silence is Golden!
*Martha Stewart Gets Baked into Canopy Growth!
*Money Flow Updates: High Yield and More.
*Oil Tops $57
*Microsoft Helps Exxon in Permian.
*LNG (Liquid Natural Gas), NGL (Natural Gas Liquids), and Global Updates.
*Buffett Says Bitcoin is a "Delusion" and Attracts "Charlatans to Rat Poison."
Profit Report!
*Lessons from Warren Buffett's Iconic Annual Report.
*Pipeline Flows! Ka-ching! Cash Flow! Eventual Values?
*Crazy Rich Congressional Members! Bi-Partisan Big Money Wealth with Sometimes Mysterious Origins.  
*Trustee Boot Camp: Get your Heirs Smart! Lessons from MGAM winning clients! Frugality, Enterprise, and Passions for investing.
Research Round Up!
Investors are invited to improve decision making with a comprehensive tour of global economics, indicators, and actual results.
---
Start the Process Today! Be sure to indicate what size portfolio sample you would like to see. A link will arrive when we receive your questionnaire.