What's Ahead for 2020?
The MGAM 2020 Portfolio Strategies!
Building for 2030 Success!
*The Greatest Dangers in 2020!
European interest rates have gone below zero for a large part of their markets. Consequently, the U.S. enjoys artificially low rates as well.
What could happen in a rate spike and what does it mean for 2020 investment strategy?
*U.S. Energy Independence! The Texas based energy revolution is just getting started!
What does it mean for investors and the 2020 economy!
For the first time since the 1950's the U.S. produced more energy than consumed at over 100 quadrillion BTU's.
Renewables and, of course, carbon reducing natural gas play a key part in U.S. energy dominance.
What will trigger the next recession and when? Could there be a recession in 2020?
U.S. corporate profits actually receded during 2019! What does this mean for the markets next year?
Dow Jones Industrial Average Index (3 Years)
– Courtesy of Bloomberg LP
Standard & Poor's 500 Index – Quarterly Earnings Estimates  (11/26/2016 – 11/26/2019)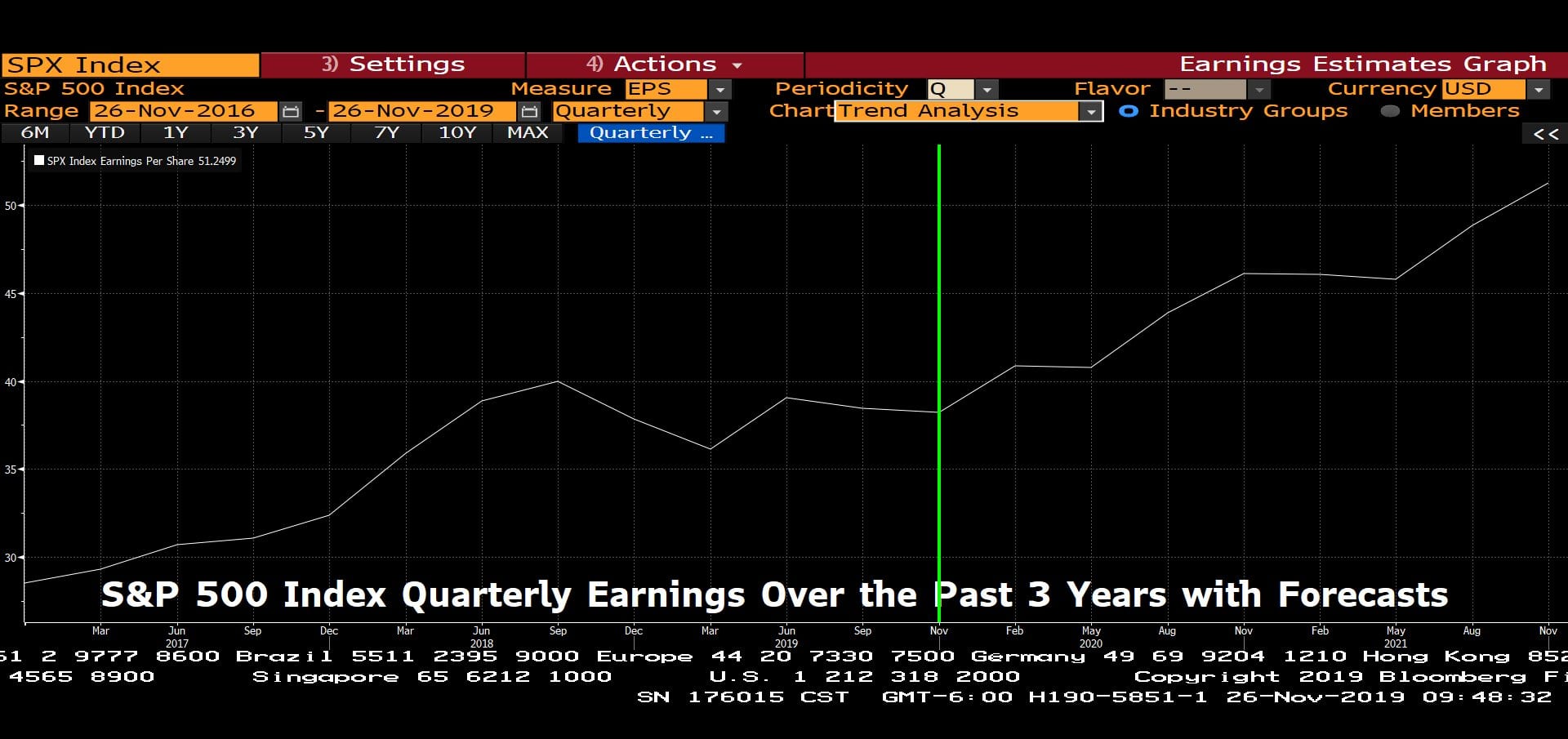 – Courtesy of Bloomberg LP
C.B.O.E. Short-Term Interest Rate Index, 10 Year Treasury Note Yield Index, & 30 Year Treasury Bond Yield Index (20 Years)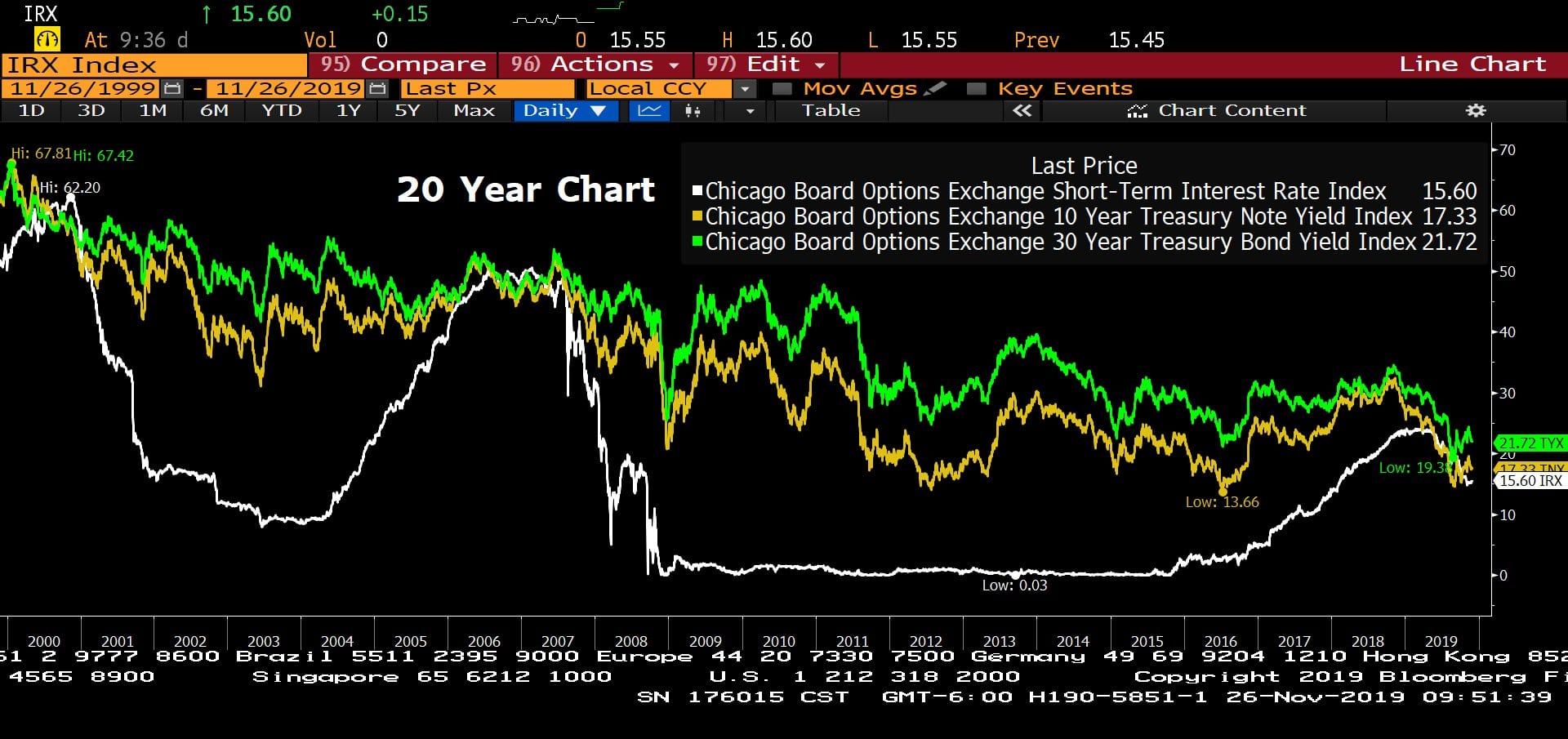 – Courtesy of Bloomberg LP
Global Economy Watch – Annual GDP, GDP with Surplus/Deficits, CPI and Jobless Rate
(12/2017 – 10/2019)
– Courtesy of Bloomberg LP
– Courtesy of MGAM
Headline Round Up!
Top Stories of 2019. What do they mean for 2020?
*No Recession!
*U.S. and China Move From Trade War to Institutionalized Negotiations!
*Jobs Juggernaut!
*Interest Rates FELL?? Federal Reserve Reversed Course and Lowered Rates 3 Times.
*Wow! 2019 Gains! Remember last Christmas, weaker investors sold out and missed the rally. Beware of chasing money flows.
*Home Boom Marches on More Slowly!
*Beware of the IPO. 2019 Successes and Failures.
*Tech Rally! Biotech Rebound
*Dallas Federal Reserve President Robert Kaplan: Beware Growth Slowing in Q4, Then 2020 2%.
*North Texas Based Winners and Losers of 2019.
*Mergers and Acquisitions!
*Westlake Texas New Financial Hub: Schwab, TD Ameritrade HQ, Near Fidelity's Regional Galactic HQ! JPMorgan Utilizes Texas as Major Hub.
Texas Black Gold Rush!
*U.S. Energy Independence!
*Carl Icahn Seeking Control of Occidental/Anadarko New Board.
*Qatar Ramping UP Liquefied Natural Gas (LNG) Production by Nearly 70%.
*Private Equity Marches Into Bargains! Blackstone Infrastructure Taking Tallgrass Private.
Profit Report!
2020 Forecasts and Portfolio Strategies:
Conservative

Moderate

Aggressive
NetWorth Radio's North Texas Business Leadership Series

: Spencer McGowan Interviews Leigh's Hilton –  Founder, Accredited Estate Planner® and Attorney at Law at Leigh Hilton P.L.L.C.
---
Leigh Hilton has helped over 6,000 families protect the assets that they leave to loved ones from divorce, creditors, lawsuits and predators. She has also helped over 350 implement the plans that she has prepared after the death of a loved one and helped over 1,200 families implement the plans prepared by other attorneys. She is the author of the book Who Gets Your Stuff When You Die and a frequent speaker. She has given over 400 speeches to various organizations and groups.
She is an Accredited Estate Planner®. She would welcome the opportunity to meet with you to discuss how to protect your family. She has over 24 years of legal experience in the practice areas of Estate Planning and Probate. She routinely prepares simple estate plans as well as very complicated Wills and Trusts for high wealth individuals. Whether your estate is large or small, simple or complex, Leigh would welcome the opportunity to meet with you to discuss your estate planning needs. Leigh also helps with Special Needs, Medicaid, and Veterans' planning.
Leigh was born in Dallas and grew up in Denton. She attended the University of North Texas where she earned a Bachelor of Science, graduating with honors in 1989. She earned her law degree at the South Texas College of Law in Houston, TX, where she graduated Summa Cum Laude in 1992. She has been married for 29 years and is the mother of two boys.
She is a member of the Wealth Counsel, National Association of Elder Law Attorneys, and Elder Counsel.
Leigh Hilton is proud to provide legal counsel rooted in Christian values.
Research Round Up!
Investors are invited to improve decision making with a comprehensive tour of global economics, indicators, and actual results.
---
Start the Process Today! Be sure to indicate what size portfolio sample you would like to see. A link will arrive when we receive your questionnaire.