The strength of global economies and the rally in equity prices have surprised many investors. This week's program dives into the many questions our clients have:
How high can the equity markets rise?

Is it too late to find bargains?
Which industries are most attractive for the future?
What should investors be doing to address the market conditions in their own portfolios?
What is a bubble? Where are the biggest valuation dangers?
Why are the tax law changes resulting in corporate

one time charges?
Headline Round Up!
---
Earnings Seasons Highlights! What does it tell us about the future?

Texas Instruments Great Operating Earnings! But Takes a Charge for Tax Reform? Stock Gets Smacked.
Caterpillar Reports a Home Run Spiking Dow.
Netflix Now Worth More than Goldman Sachs?
Southwest Airlines Gets a Boost from Tax Reform and Full Year Profit Up Over 50%.
Whirlpool Benefits from Tariffs.
Dallas' Darwin Deason Teams Up with Icahn to Fix Xerox.
Oil Hits 3-Year High, $66.
US

Buying Russian Natural Gas?

BlackRock Veterans Start Cryptocurrencies Hedge Fund.
Texas Capital Bank New All Time

High on Profit Announcement.
Copper Futures (Approx. 5 years)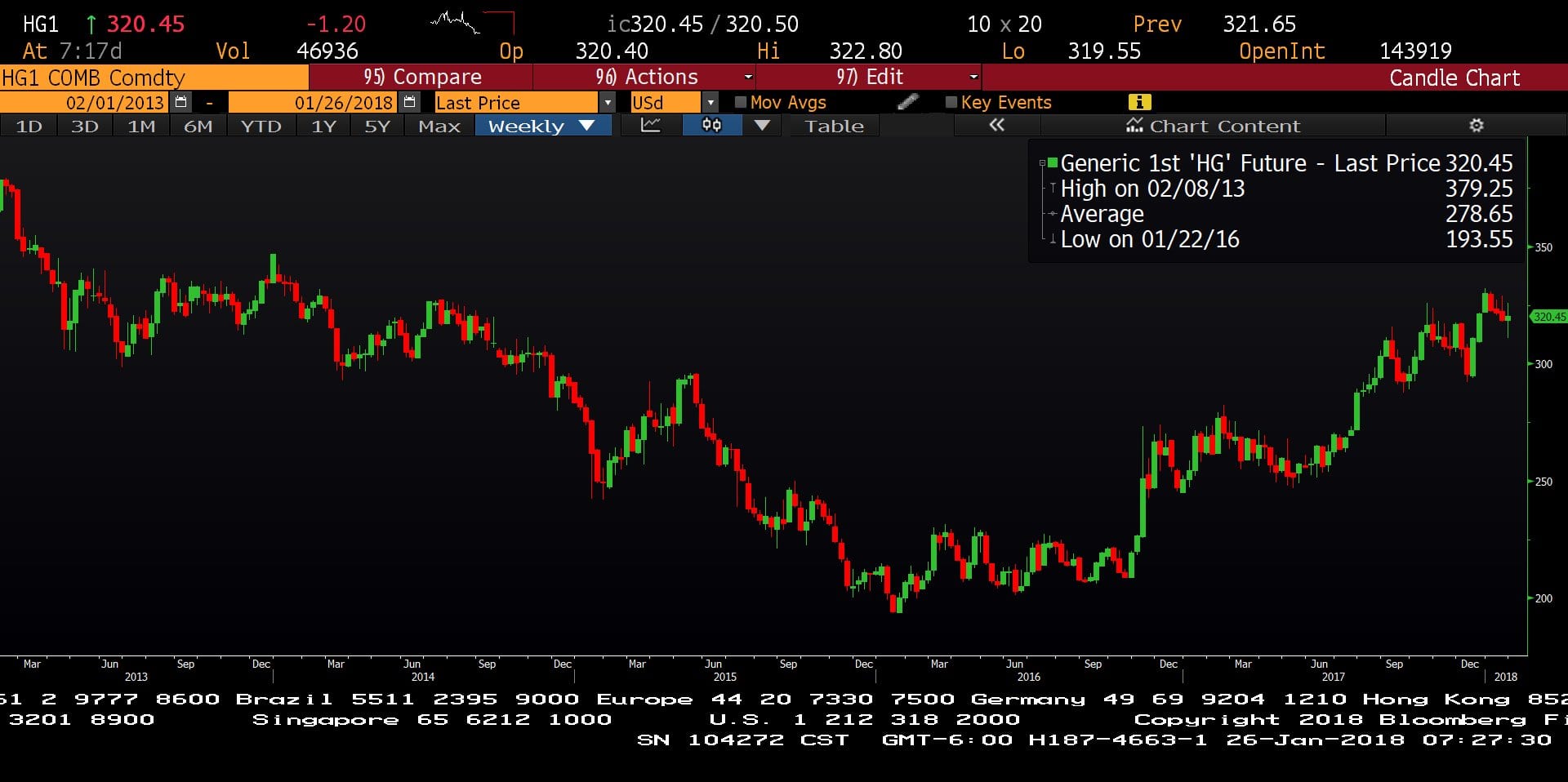 -Courtesy of Bloomberg LP
U.S. Dollar Index (Approx. 5 years)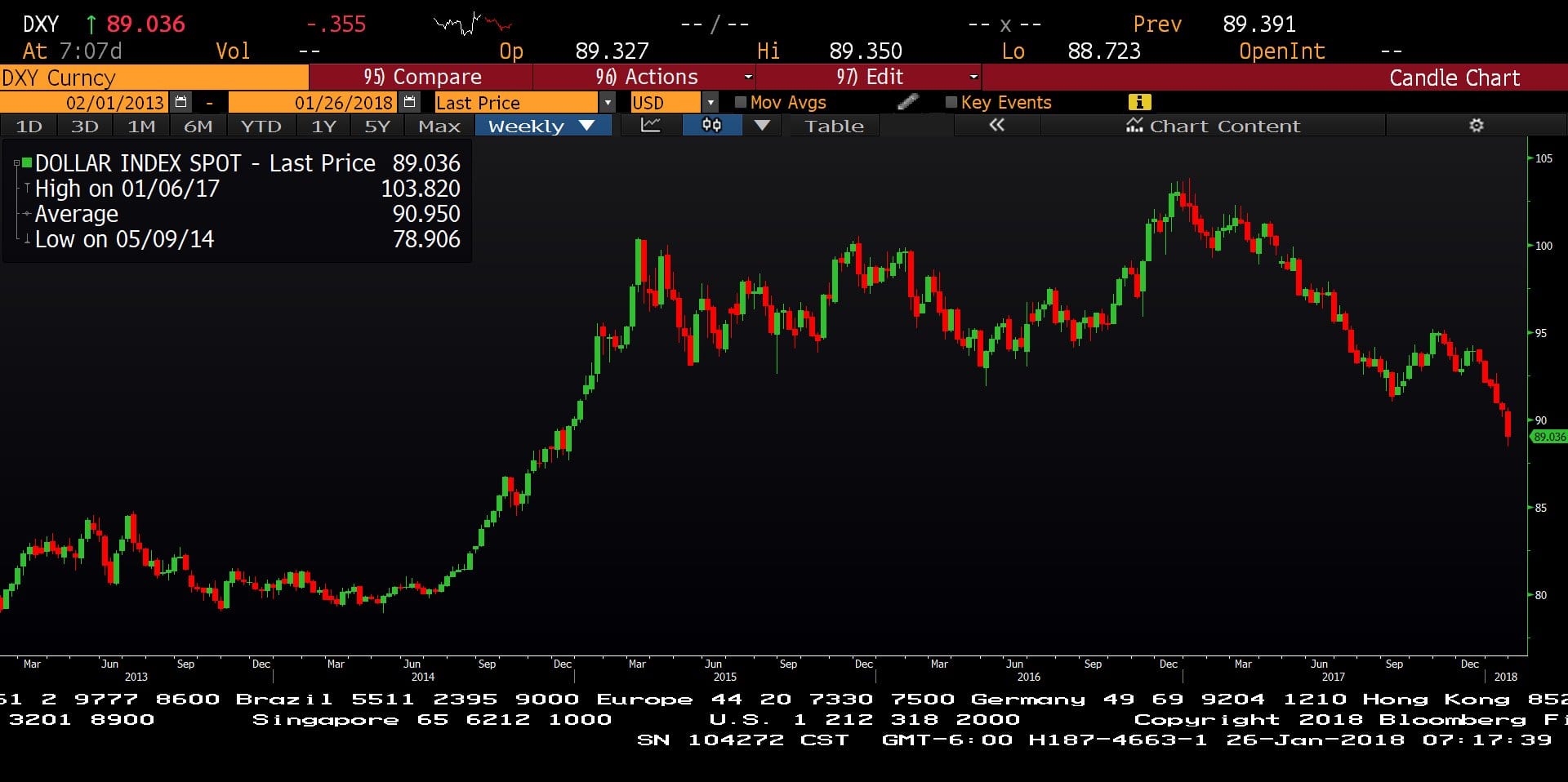 -Courtesy of Bloomberg LP
Crude Oil Futures (Approx. 5 years)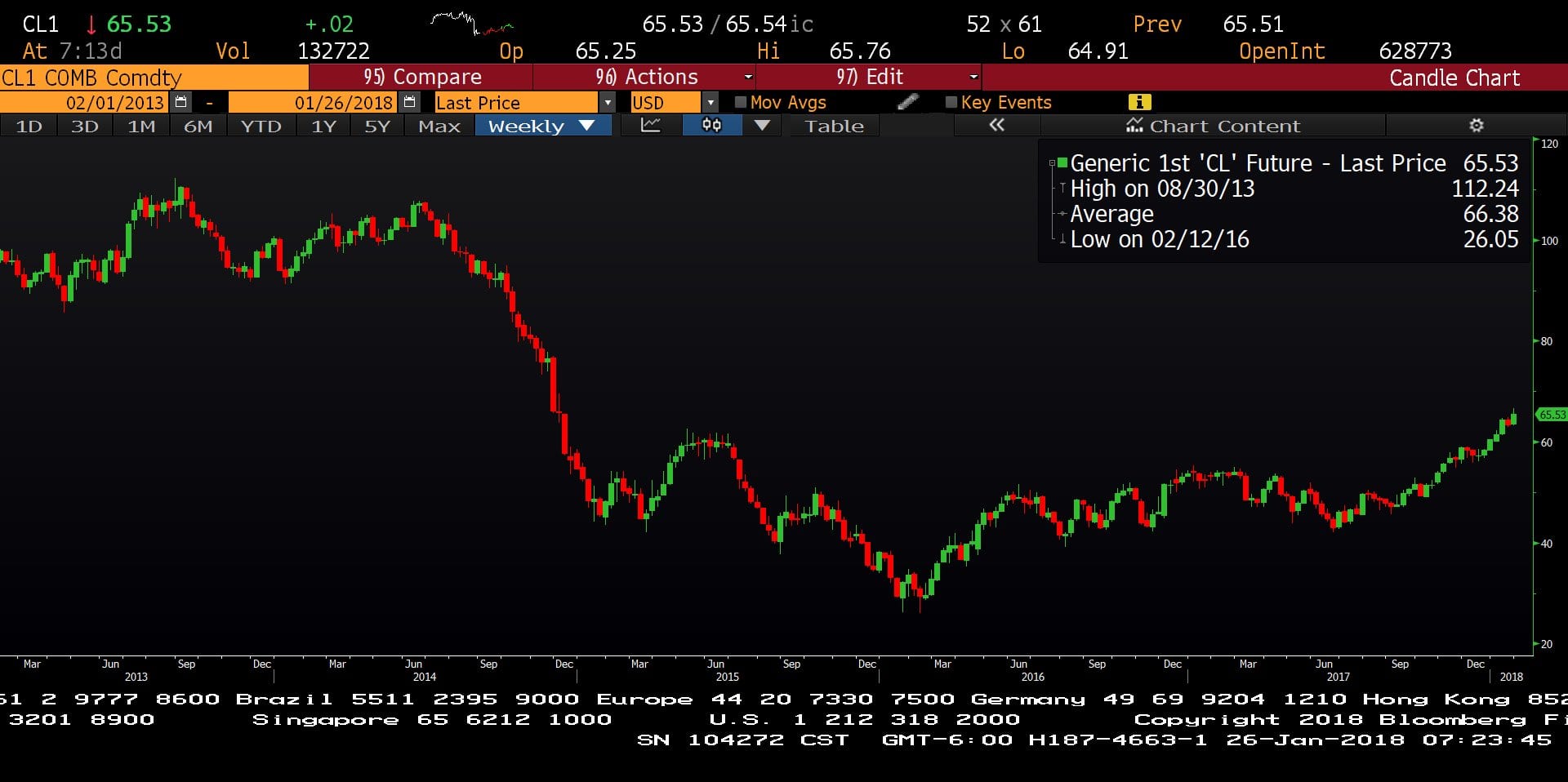 -Courtesy of Bloomberg LP
Alerian MLP Index (Approx. 5 years)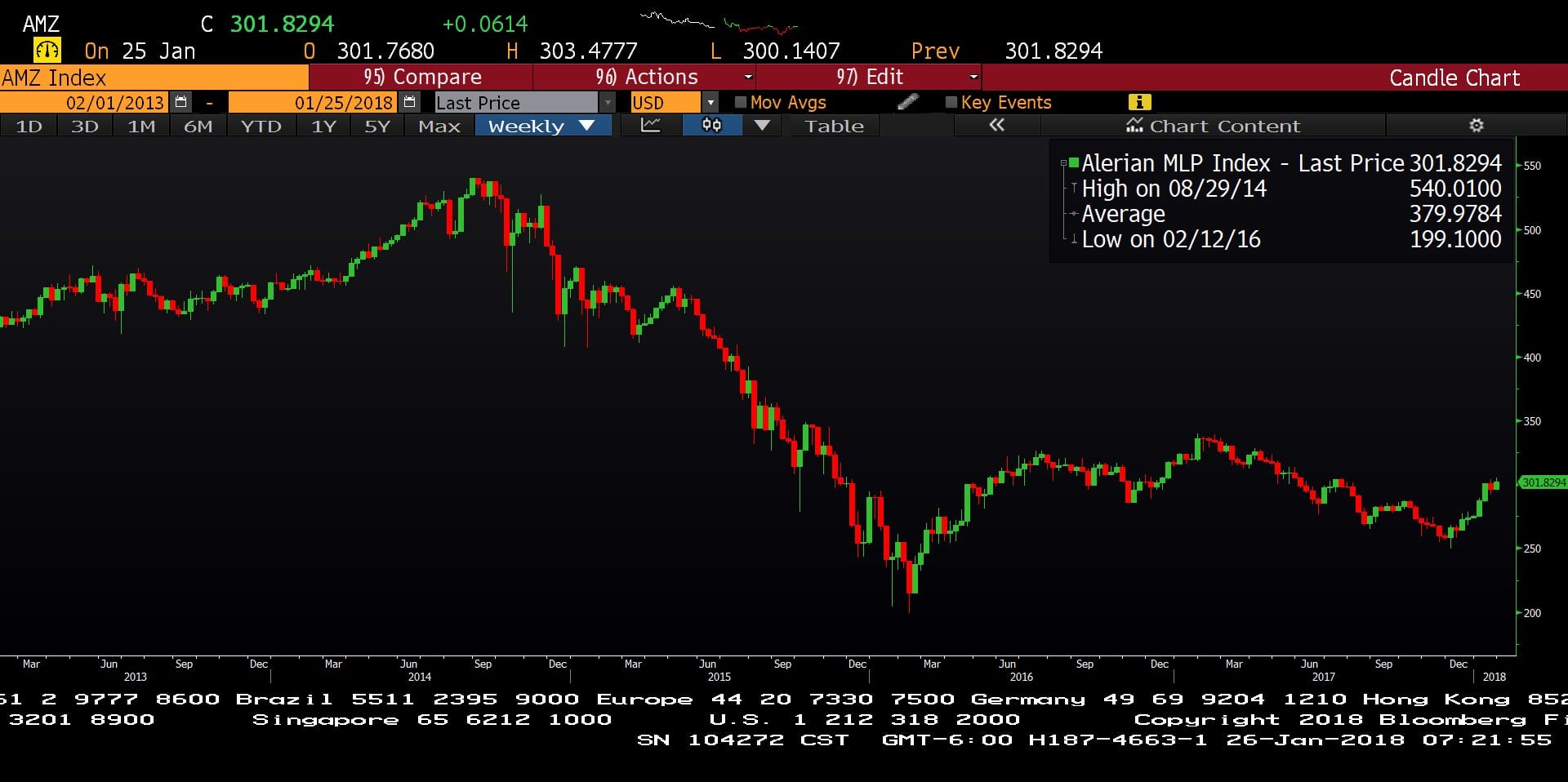 -Courtesy of Bloomberg LP
Profit Report:
---
Predictions by Big Money Managers for 2018-2019:
Rates?

Profits?

Markets?

Fixed Income?
Canadian's Higher Than Ever: Cannabis Update.
What is a Bitcoin Fork? Should We Buy Bitcoin?
Bargains! Capital Call!
Often the most popular investment category is "too much in the sun(1)." The resulting overpricing and subsequent bear underpricing have often marked the greatest dangers and resulting opportunities in my 31 year career.
In 2009, we cheekily nicknamed one of our best research pieces as "20 Companies That We Believe Will Not Die." The list included Whole Foods which subsequently rose from under $10 to an all time high near $60(2). So unpopular were stocks we found most investors fearful of adding positions at what was proven to be a great inflection point.
Harken back to 2014. Oil was over $100(3). Scores of research pieces touted the energy master limited partnerships, one of the most popular investment categories at that time(4). For several years now we have watched opportunities develop which appear to have come to the point of attractive inflection in the inflation friendly energy category. The 3 year bear market cycle in oil prices appears to have now ended based upon recent prices approaching $60 per barrel after a 2016 low near $27(5).
Our diligent research process has identified, what we believe to be, one of the best opportunities since early 2016, when the high yield credit markets froze producing large discounts with high income. The term "capital call" refers to our urging clients to make deposits into an attractive asset class.
For clients able to make deposits and for our cash reserves, we are completing allocations into attractive high dividend energy companies. Please call to discuss the opportunities for 2018 "and beyond."
Spencer D. McGowan – December 2017
McGowanGroup Asset Management
1. Hamlet Act1,Scene 2
2. Bloomberg LP – July 2003/October 2013
3. Bloomberg LP – West Texas Intermediate Crude, February 2014
4. https://www.bloomberg.com/graphics/infographics/mlps-draw-record-investment.html
5. Bloomberg LP – West Texas Intermediate Crude, November 2017/January 2016
Featured Research Solutions:
---
Investors are invited to improve decision making with a comprehensive tour of global economics, indicators, and actual results.
---
Start the Process Today! Be sure to indicate what size portfolio sample you would like to see. A link will arrive when we receive your questionnaire.