Long Term, Short Term, Allocated?




What Are The Real Lessons?




PappaDean Turns 80!
Hopefully, each of us has had the opportunity for a true mentor to enter each of our lives. In my case, he is also my father.
One of the greatest events of my life occurred this past weekend celebrating PappaDean's 80th birthday. Friends, family, food, libations, and stories of the past 80 years never to be forgotten.
Tears, hugs, and everything we live for packed into a single a night. We all knew we have been truly blessed thanks to the contributions of PappaDean and his kind, gentle spirit.
Rarely, does a single a man impact the lives of the so many. His dedication to the well being of all around him shone brightly with gratitude that empowers generations to come.
We pray so much for his years ahead, as much for him, as for us.
J.P.Morgan Asset Management Guide to the Markets 3rd Quarter 2018 – Consumer Finances
Standard and Poor's 500 Index & Vanguard Total Bond Market Index Fund (20 Years)
-Courtesy of Bloomberg
MSCI Emerging Markets Index & AllianceBernstein Global High Income Fund (20 Years)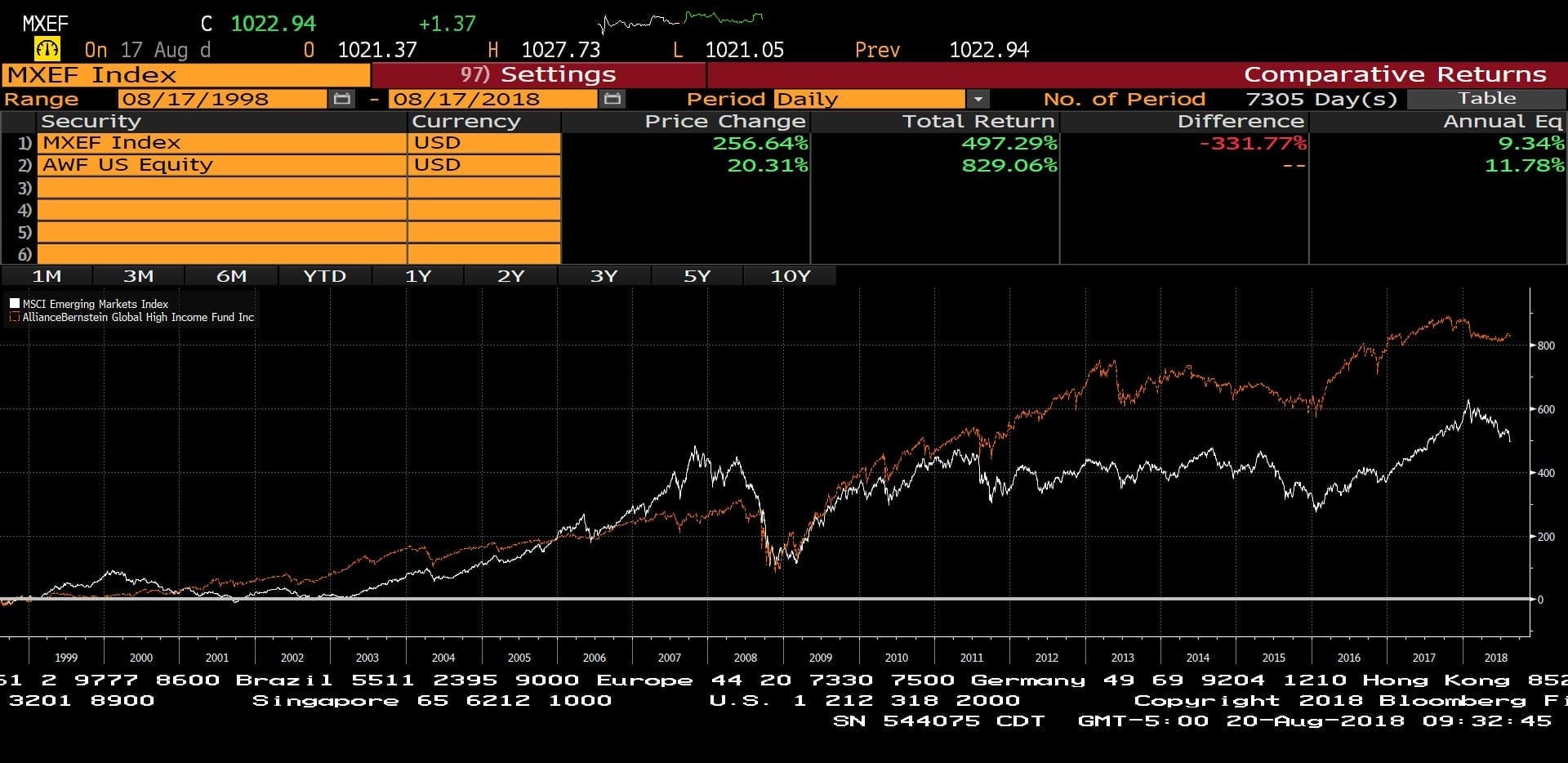 -Courtesy of Bloomberg
Standard and Poor's 500 Index, iShares 20+ Year Treasury Bond ETF, iShares MSCI Emerging Markets ETF & AllianceBerstein Global High Income Fund (Approx. 15 Years)  
-Courtesy of Bloomberg
J.P.Morgan Asset Management Guide to the Markets 3rd Quarter 2018 – Asset Class Returns
Headline Round Up and Top Surprises of 2018!
---
*Record Household Debt! Record Federal Debt! The real story will surprise investors with important guidance!
*Liquid Natural Gas: A Global Boom!
*Is Greece Off Welfare? Flash Crash Rewind.
*Biggest Fixed Income Allocation Fund DOWN for 2018!
*Record "Short Interest" Betting Against 10 Year US Treasury and 30 Year US Treasury.
*Australian Housing Bust!
*Gold Slammed Again! Under 1200 and Investors are Giving Up! Hedgies Now Shorting?
*Financial Solstice??? Trump Wants SEC to Change Quarterly Reporting to Semi Annual?
*Pepsi Buys Soda Stream for $3.2 Billion, Why?
*Vancouver Warehouse Boom!
The Profit Report:
---
*Trustee Boot Camp: Check your trust documents and call the CPA!
*Summer planning season: Check your beneficiaries!
*401k and Rollover Planning.
*401k Mistakes to Avoid.
The Cash Flow Revolution:
*Interest Rate Updates: Money Markets, Treasuries, Corporates, and more.
*What pays more and is less volatile than stocks?
Research Round Up!
---
Investors are invited to improve decision making with a comprehensive tour of global economics, indicators, and actual results.
---
Start the Process Today! Be sure to indicate what size portfolio sample you would like to see. A link will arrive when we receive your questionnaire.