As the markets have entered large corrections, a key strategy has been refined for investors over the past 34 years. Two objectives guide decisions:
How could we accomplish record forward net income?
What are potentially the best assets for future gains?
If you had to sell your home during a week when North Texas is frozen by an ice storm, what price could you get? Certainly and significantly less than if you had 6 months ahead including spring and summer. In fact, previous economic storms have taught us that the subsequent beneficiaries are buyers of real assets and high cash flow investments. 
How do we benefit from downdrafts and mini-panics?
This week's program will unravel the key data on what we believe to be are the sources of the current crisis along with a clear action plan for investors based upon 2008 and previous successful recoveries.
Coronavirus Globally Confirmed Cases v.s. Globally Confirmed Deaths v.s. Globally Released from Hospital or Recovered
– Courtesy of Bloomberg LP
Dow Jones Industrial Average  (1 Year)     
– Courtesy of Bloomberg LP
Dow Jones Industrial Average
v.s. Western Asset Emerging Market Debt Fund (Year to Date with Total Return)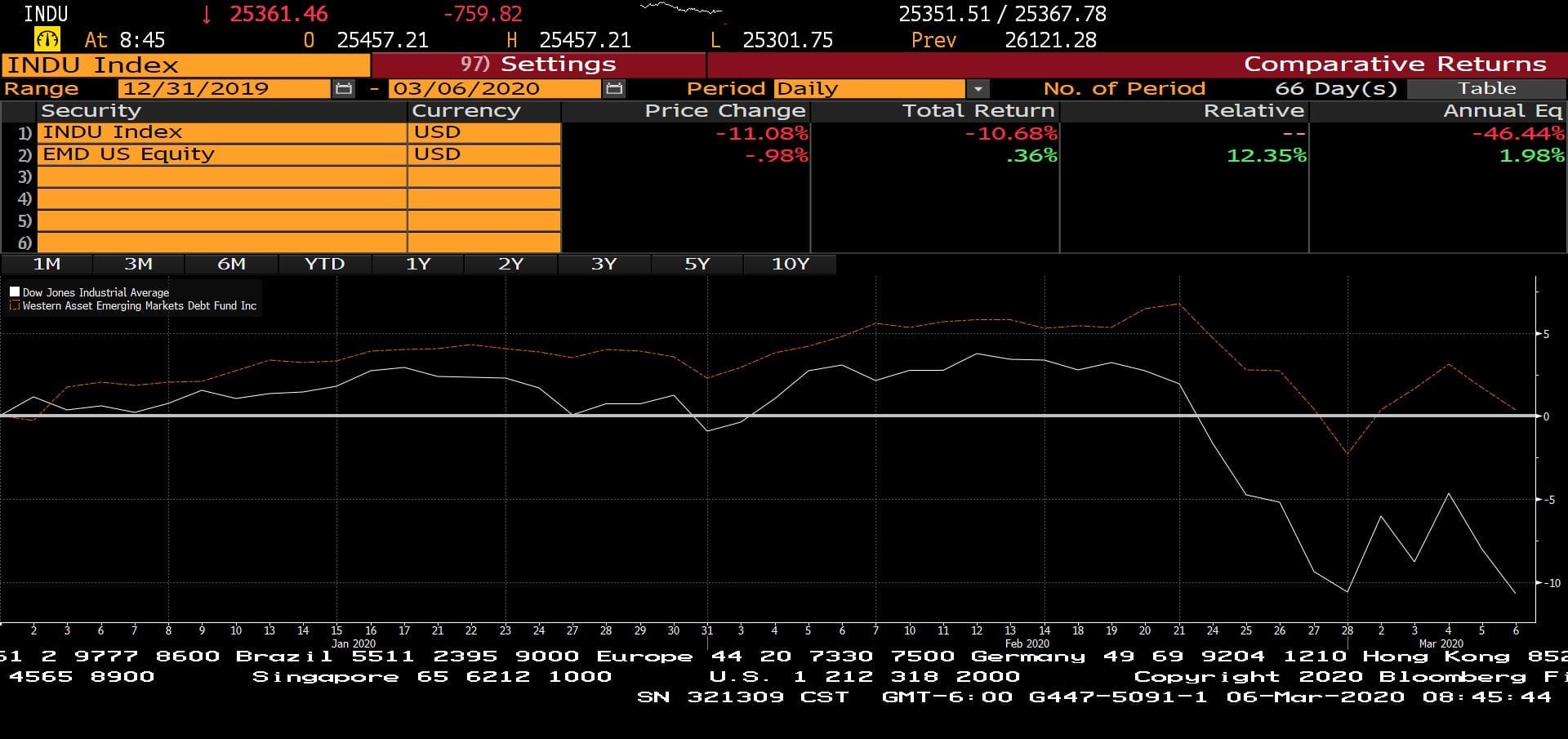 – Courtesy of Bloomberg LP
Short-Term, 10 Year, and 30 Year Interest Rates (1 Year)
– Courtesy of Bloomberg LP
10 Year U.S. Treasury  Duration Risk (02/18/2020 to 3/06/2020)  
– Courtesy of Bloomberg LP
30 Year U.S. Treasury Duration Risk (02/18/2020 to 03/06/2020)  
– Courtesy of Bloomberg LP
 S&P 500 Index Quarterly Earnings Per Share Future Earnings Estimates (2015 – 2022)
– Courtesy of Bloomberg LP
Headline Round Up!
*Coronavirus Updates! Total Cases Top 100,000. Active Cases Declined Below 41,000 From Over 58,000. Recovered Cases Over 56,000. So Far Over 3,400 Deaths.
*Global Financial Correction Updates!
*Federal Reserve Slashes Cash Interest Rate ½%.
*90 Day T-Bill Drops Below .6%?
*Jobs Reports! ADP Says 183,000 New Jobs. No? BLS Says A Near Record of 273,000 New Jobs During February's Coronavirus Mini Panic.
*Services Index Posts 1 Year High.
*Construction Spending Spikes 1.8%.
*HP Rejects Xerox Bid? Good luck with that!
*Scott Minerd Says Yields Going Negative?
Profit Report!
*All Research Focused on Coronavirus?
*Duration Risk Updates!
*North Texas Superstars and Implosions!
*What do YTD numbers tell us about money flows?
What is the Cash Flow Revolution? How did it help recover to record profits after 2002 and 2008?
*2020 Tax Guide. Important Tax Bracket triggers.
Research Round Up!
COVID-19 Links:
Investors are invited to improve decision making with a comprehensive tour of global economics, indicators, and actual results.
---
Start the Process Today! Be sure to indicate what size portfolio sample you would like to see. A link will arrive when we receive your questionnaire.