Thus spoke Jamie Dimon, CEO of JP Morgan on the most recent episode of 60 Minutes. As the leader of one of the world's most successful banks, the perspective is worth factoring into guidance for 2020 and beyond.
Too often investors get sidetracked with overly pessimistic viewpoints resulting in missed opportunities.
Dow Jones Industrial Average Index (3 Years)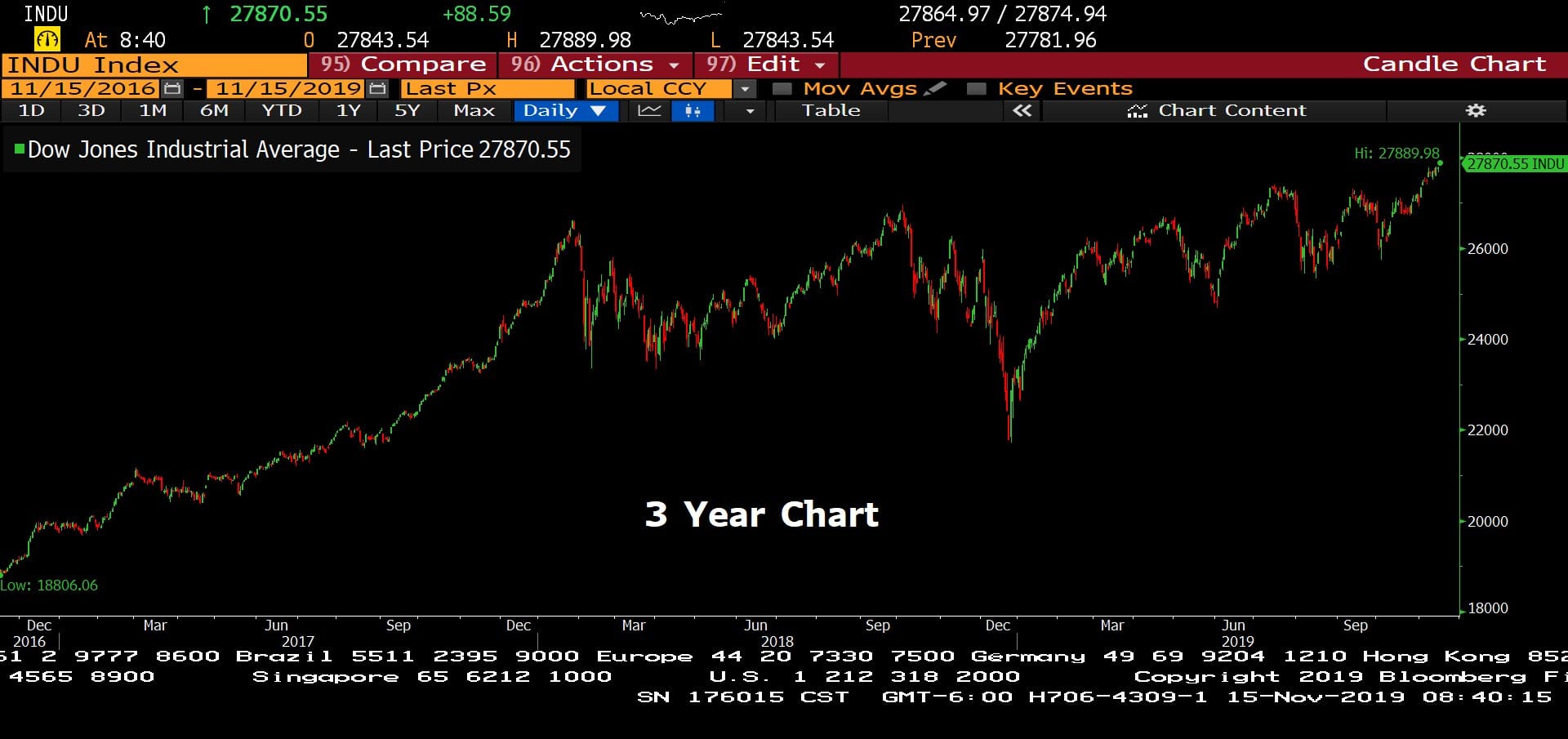 – Courtesy of Bloomberg LP
Standard and Poor's 500 Energy Sector Index & Nasdaq 100 Stock Index (01/01/1997 – 12/31/2007)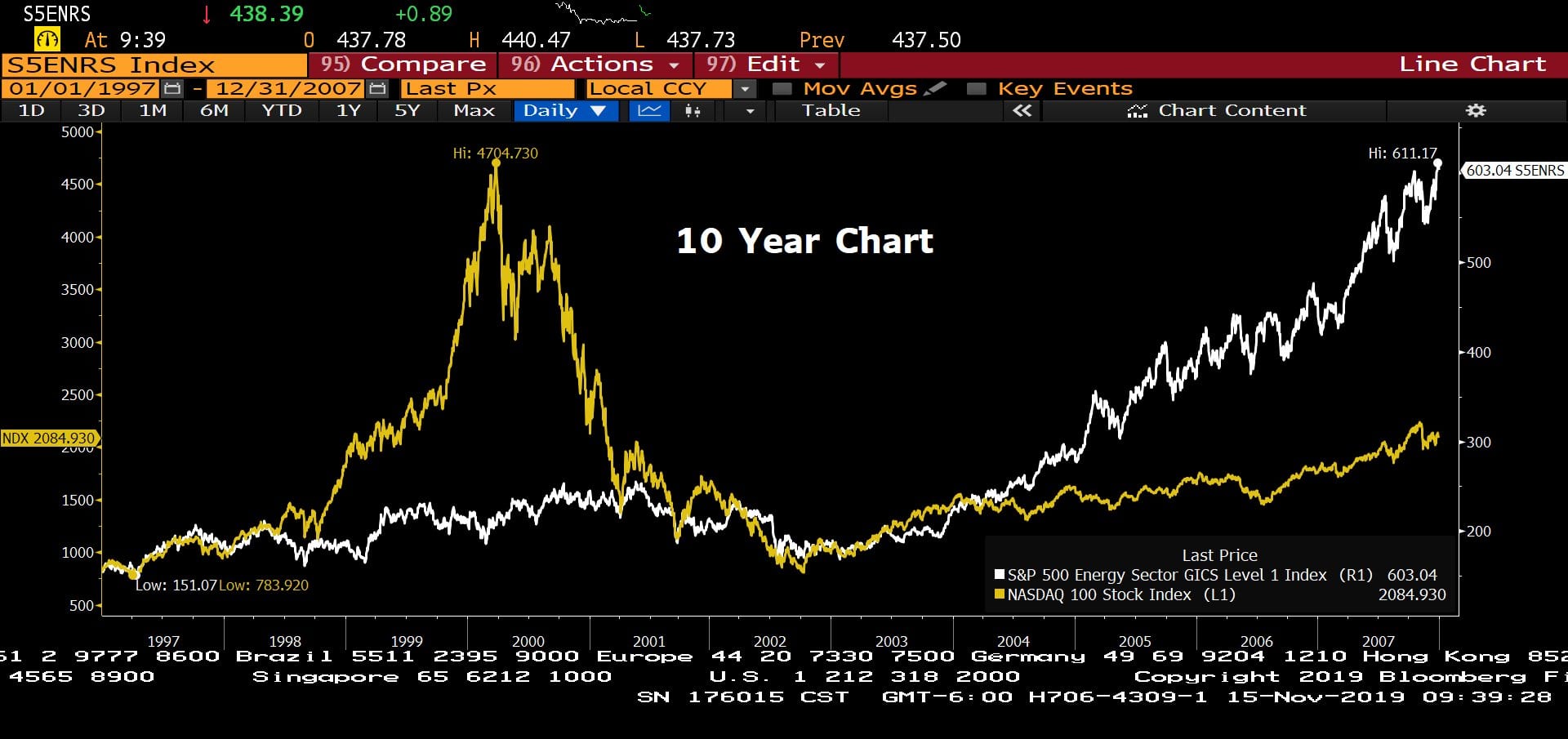 – Courtesy of Bloomberg LP
Economic Forecasts – United States, Quarterly (Q4 2018 – Q1 2021)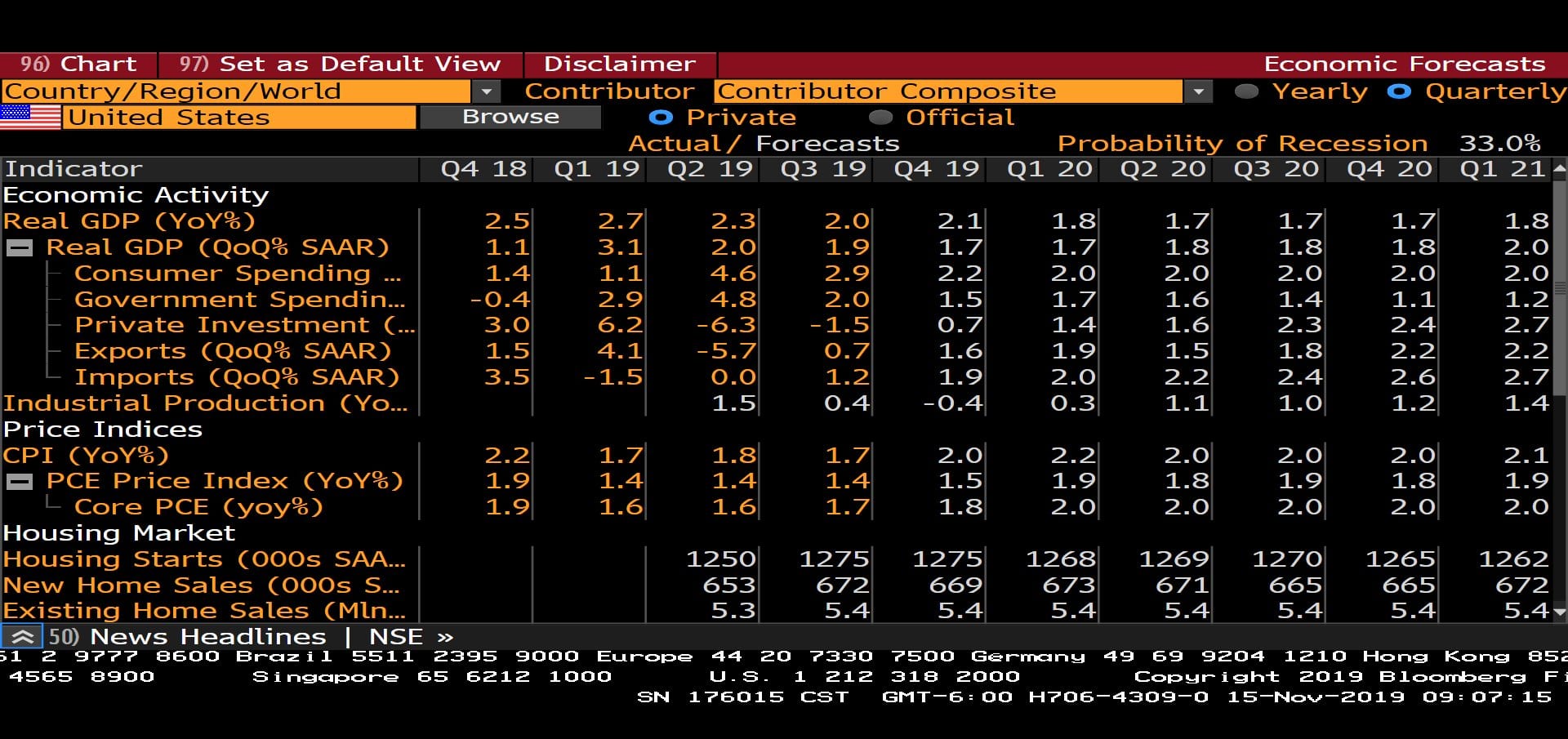 – Courtesy of Bloomberg LP
Comparative Returns for iShares iBoxx High Yield Corp. Bond ETF (HYG) & iShares National Muni Bond ETF (MUB)
(Approx. 12 Years)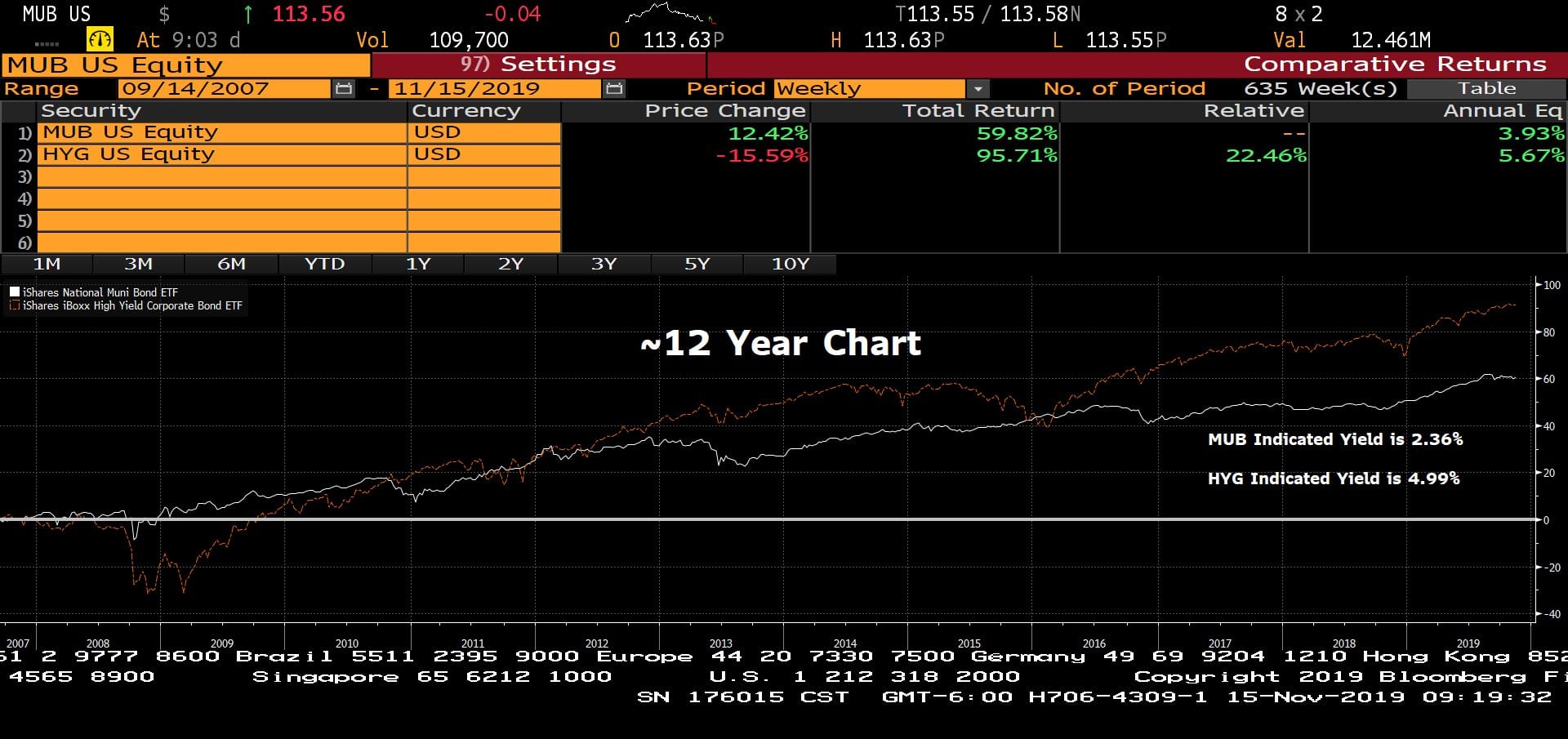 – Courtesy of Bloomberg LP
Headline Round Up!
*The Best Economy the World Has Ever Known?
*Charts on 5G Tech Rally! How high is too high?
*Inflation? Wage Inflation?
*Millennials Rent Until Age 33?
*Germany Recession? Not Yet But Close!
*Deficit Hits $1 Trillion Again? Where are all those spending cuts?
*Trump Wants Negative Interest Rates?
*U.S. China Trade Negotiations Forever?
*Big Brother Doctor: Google Hoovers Up Health Data? "Project Nightingale." Be careful what you search for!
*Google Partners with Citibank to Offer Checking.
*Wait What? Alibaba Raising $11 Billion in Hong Kong Offering! BABA Shares Here Already? Beware "Dual Class Shares.
*Biggest Bond Sale of Year: AbbVie Financing Allergan Acquisition. 30 Years for 4.4%? What is duration risk?
*Argentina Out of Dollars?
*DoorDash Dash for $100 Million in Cash? Losing Money But Worth Over $12 Billion?
*Bold Move: Tesla Invades Germany!
*Walgreen's Acquisition by KKR? Biggest Ever?
*TLT Long Treasury Gives Back Some Price Gains in Recent Rate Spike.
*Dallas Based and Dairy Giant Dean Foods Files Chapter 11.
*Nike on Amazon No More?
*Senior Housing Update: Technology to Stay in House?
*New Jersey Slaps Uber with $650 Million Tax Bill. Blue State Smackdowns! Founder Cashes Out $½ Billion.
*Global Pension Crisis Approaching $16 Trillion! What does it mean for the financial markets?
*Hidden Leverage? Dangerous Omen?
*Great News for Walmart! Great News on U.S. Economy. Online Sales up 41%. Same Store Sales up 3.2%
Texas Black Gold Rush!
*U.S. Posts First Petroleum Trade Surplus In Over 40 Years!
*No Dividend Cuts for Pipelines!
*OPEC Market Share Shrinking!
*Cold Winter Spikes NatGas.
*Bull's Guide to Oil Markets! Hedge Funds Bullish Too.
*Sam Zell Buying Distressed Oil Assets.
*Jerry Jones Buying Chesapeake Assets!
*Russian and Iran Seek LNG Dominance?
Profit Report!
*Tax Loss Harvesting Impact and What to Do About It.
*Total Return Profit = Cash Flow + Change in Value
*Performance Reporting and Realistic Volatility
*Choices and Future Cash Flows.
*Choices and Potential Appreciation vs Value at Risk of Loss!
*Trustee Bootcamp Goes Global!
Research Round Up!
Investors are invited to improve decision making with a comprehensive tour of global economics, indicators, and actual results.
---
Start the Process Today! Be sure to indicate what size portfolio sample you would like to see. A link will arrive when we receive your questionnaire.