Do Texans have an advantage in the current market cycle!? Think back to Christmas Eve last year, the bottom in the Dow. Our broadcast then and up to that point during 2018 focused on 2 key potential advantages:
The Federal Reserve tightening cycle was spring loading forward returns in well managed, Global High Yield Bond funds by driving them to deep discounts below par maturity values.
Texas was emerging as the key global epicenter of Energy Production and Energy Infrastructure.
While dire headlines were enough to convince large numbers of investors that a Recession and extended Bear Market were unfolding, NetWorth Radio focused on quantifiable, sustainable forward cash flow at discounted prices.
Fast forward to our April earnings season!
Gross Domestic Product – U.S. Chained 2012 Dollars, Quarter over Quarter/Seasonally Adjusted Annual Rate (Approx. 3 Years)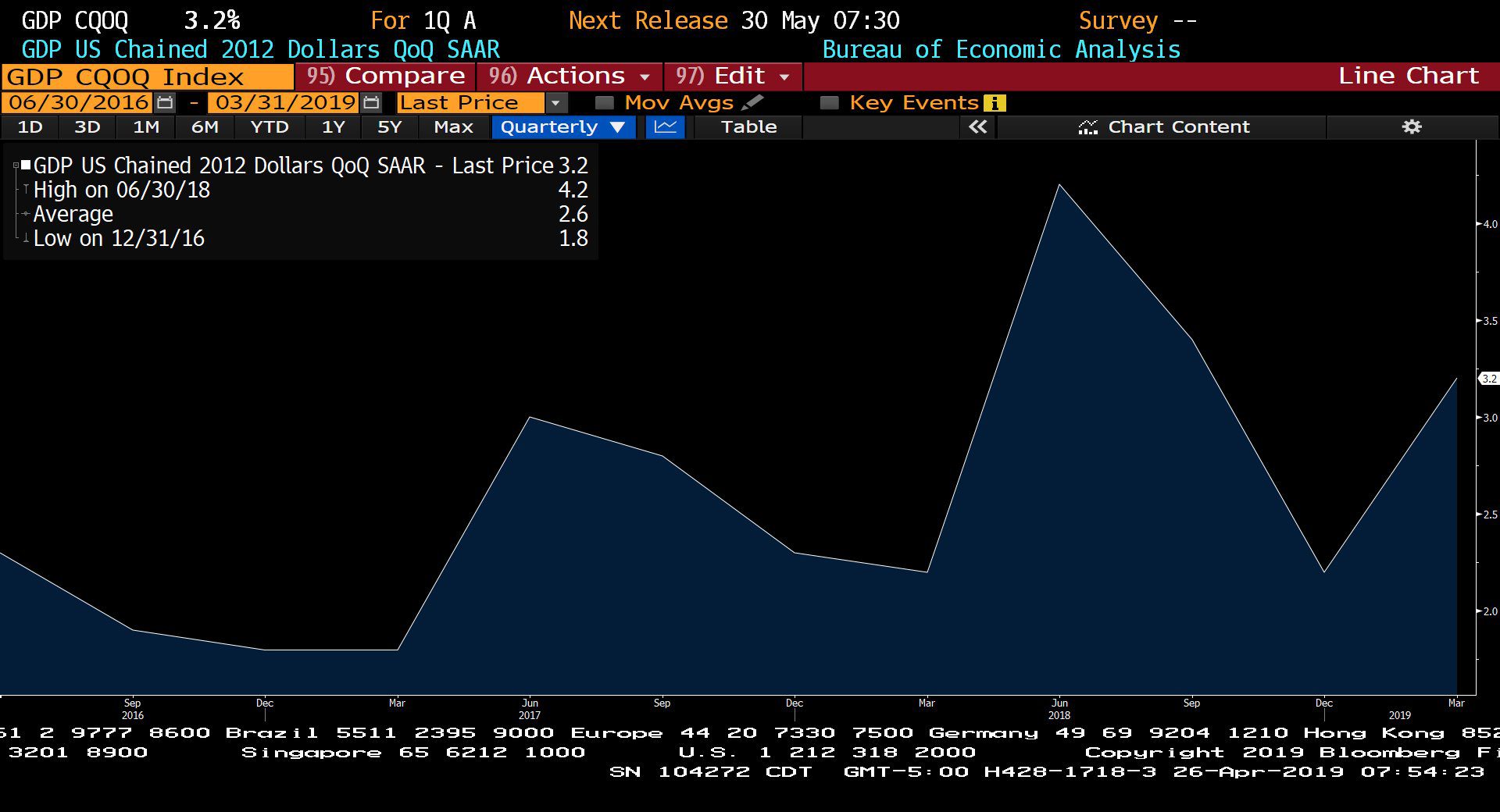 – Courtesy of Bloomberg
Dow Jones Industrial Average Index (3 Years)
 – Courtesy of Bloomberg
C.B.O.E. 30 Year Treasury Bond Yield Index, 10 Year Treasury Note Yield Index & Short Term Interest Rate Index (Approx. 10 Years)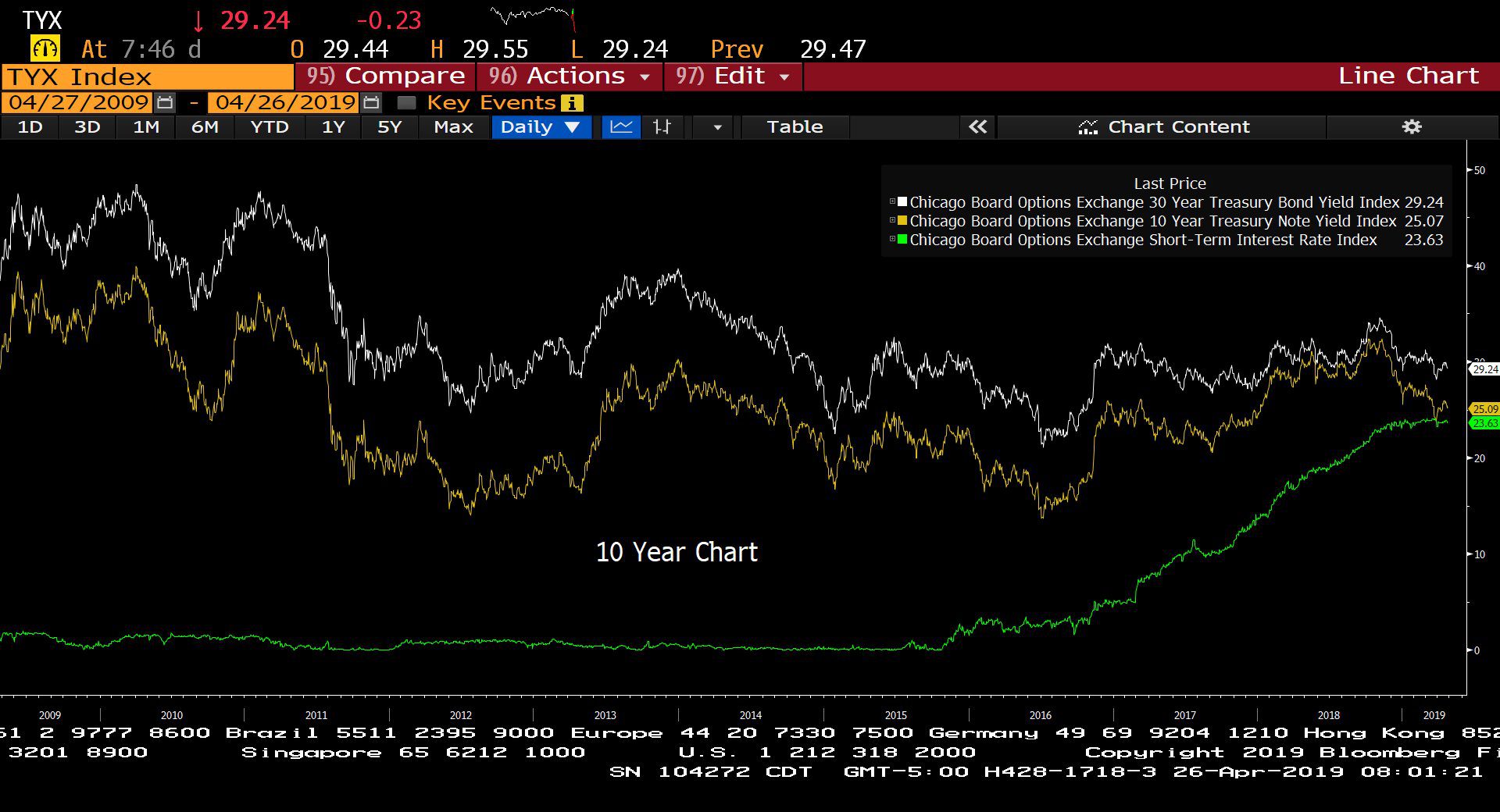 – Courtesy of Bloomberg
Alerian MLP Index & U.S. West Texas Intermediate Crude (Approx. 5 Years)
– Courtesy of Bloomberg
Headline Round Up!
*Did You Miss the Rally? S&P 500 and Nasdaq Hit All Time High Close This Week. Did We Hit the Ceiling? If so, we get paid every month real cash flow.
*Iranian Oil Outlawed! Oil Trumps $66 Per Barrel.
*Energy Stocks Have Lots More Room to Move Up.
*JP Morgan Says Most Energy Stocks Undervalued Relative to Book Value.
*Bidding War! Anadarko Gets Higher Bid from Occidental, $38 Billion. LNG Gold Rush?
*Refineries Boom. 2020 Shipping Rule Accelerates Demand for Refined Fuel.
*Enterprise Products Planning Permian Pipes!
*Gasoline Hits $5 First in Urban California
*GDP Economic Growth? What does it mean for investors? Recession!?
*Microsoft Market Cap Tops a Trillion! What does it mean for the overall market? Is it a bargain?
Earnings Season Key Facts:
---
*3M Smackdown!
*Facebook Sales Rise to $15.1 Billion, Up 26%. Stock Skyrockets $12!
*Yoga Prevails: Lululemon Up 41% in 2019.
*Tesla Short Circuits, $702 Million Loss in Q1.
*Solar? SunRun and Vivint Solar Surpass Tesla.
*Texas Instruments Beats Expectations. Key Harvest Points for TXN Planning? The Tree and The Fruit.
*Southwest Airlines and Boeing Take Hit on 737Max.
*SouthPark Update: Harley Davidson Sales Fell Again.
*Berkshire Hathaway Annual Meeting. Proud Capitalist Festival!
*Existing Home and New Home Sales. What Does it Tell Us About the Value of Your House?
*Canopy Growth Secures Land Assuming Potential Legalization in U.S.
NetWorth Radio Texas Business Leadership series with Recurrent Investment Advisors Brad Olsen, a Houston based energy infrastructure expert with deep insights based upon institutional research.
---
Prior to co-founding Recurrent, Brad was most recently the lead MLP portfolio manager for BP Capital Fund Advisors (BPCFA). Under Brad's leadership, MLP AUM more than doubled (excluding the impact of appreciation).
From 2011 to 2015, Brad led Midstream Research for Tudor, Pickering, Holt & Co. (TPH & Co.), where he was recognized as the top all-around stock picker in the US by the Financial Times in 2013, and the top energy stock picker in the US by Starmine in 2014. Under Olsen's leadership, the TPH & Co. midstream team was recognized in the WSJ's "Best on the Street" poll as well as by Institutional Investor Magazine.
Brad also has experience as an investment analyst at Eagle Global Advisors in Houston, where he was part of a 3-person team that grew midstream/MLP AUM from $300mm to over $1bn from 2008 through 2011. He has also worked in investment roles at Millennium International, a large global hedge fund, and Strome Investment Management, an energy-focused hedge fund based in Santa Monica, CA. He began his career in the UBS Investment Banking Global Energy Group in Houston.
Research Round Up!
Investors are invited to improve decision making with a comprehensive tour of global economics, indicators, and actual results.
---
Start the Process Today! Be sure to indicate what size portfolio sample you would like to see. A link will arrive when we receive your questionnaire.