As promised, this week's program will deliver a boots on the ground intelligence report from the flood of earnings reports this week. The initial conclusions from reports indicate steady, but weaker progress than 2018.
In addition, the most recent economic numbers provide the foundation for 2020 forecasts.
Dow Jones Industrial Average Index (Approx. 5 Years)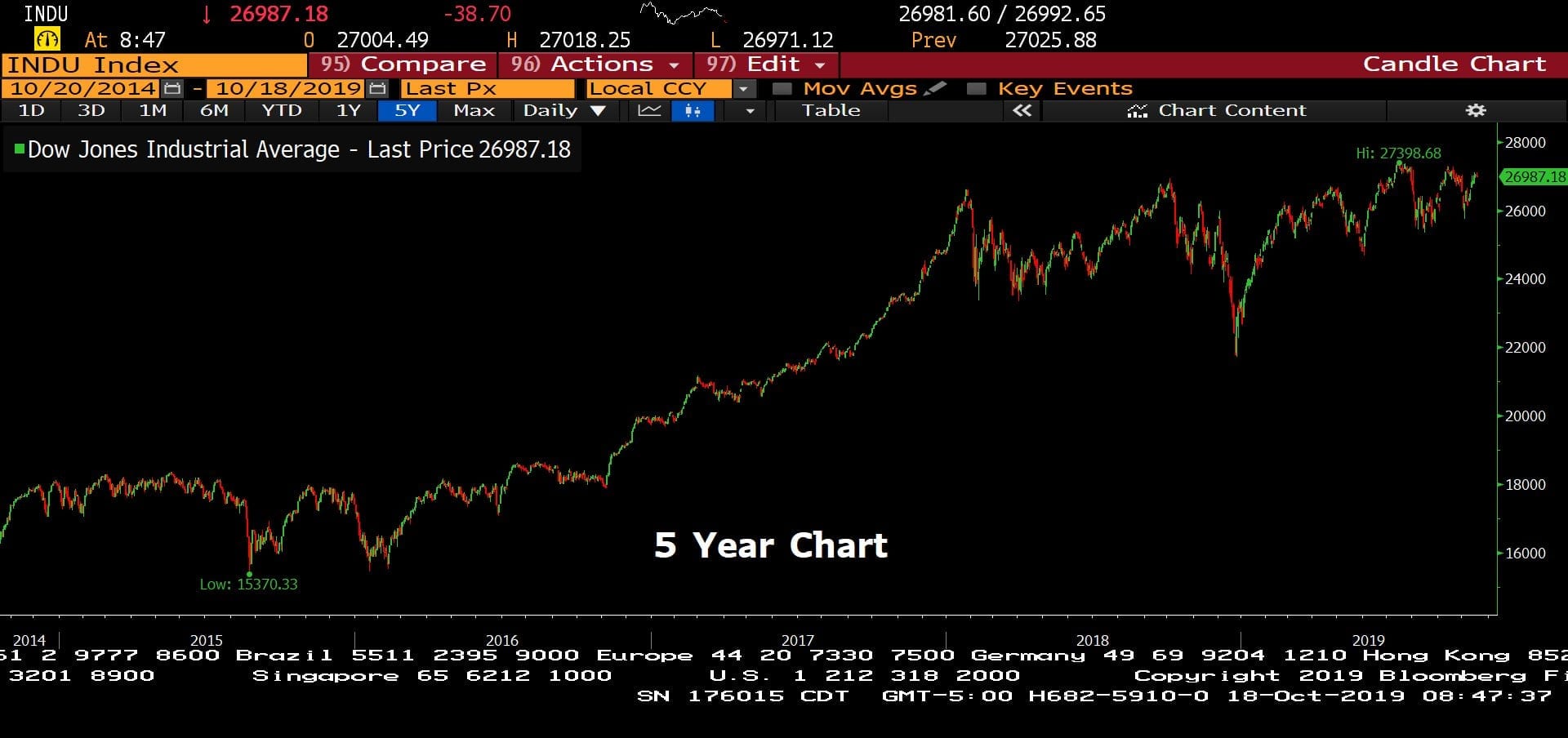 – Courtesy of Bloomberg LP
Standard & Poor's 500 Index – Quarterly Earnings Estimates (10/18/2014 – 10/18/2019)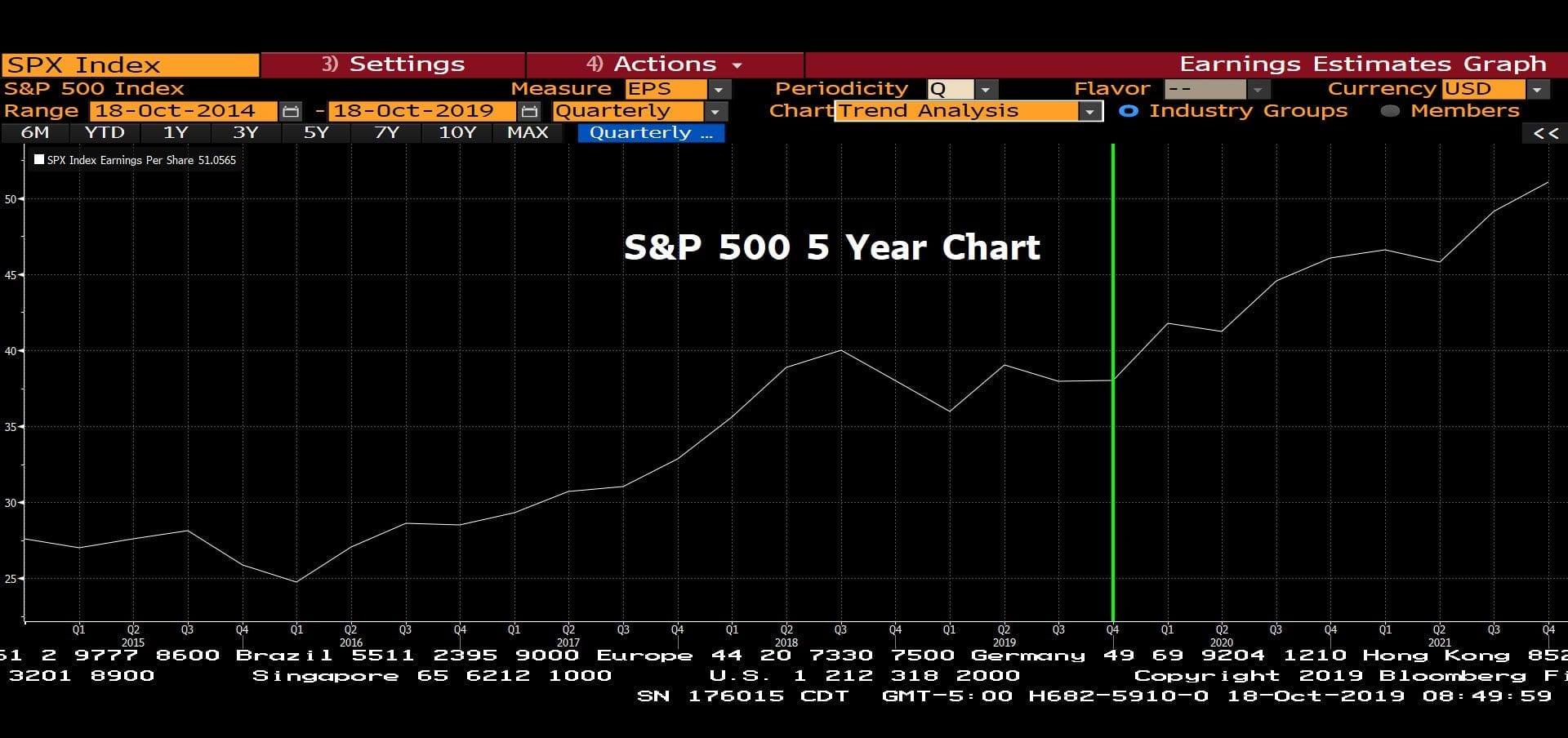 – Courtesy of Bloomberg
Standard & Poor's 500 Index – Quarterly Earnings Analysis (08/16/2019 – 11/15/2019)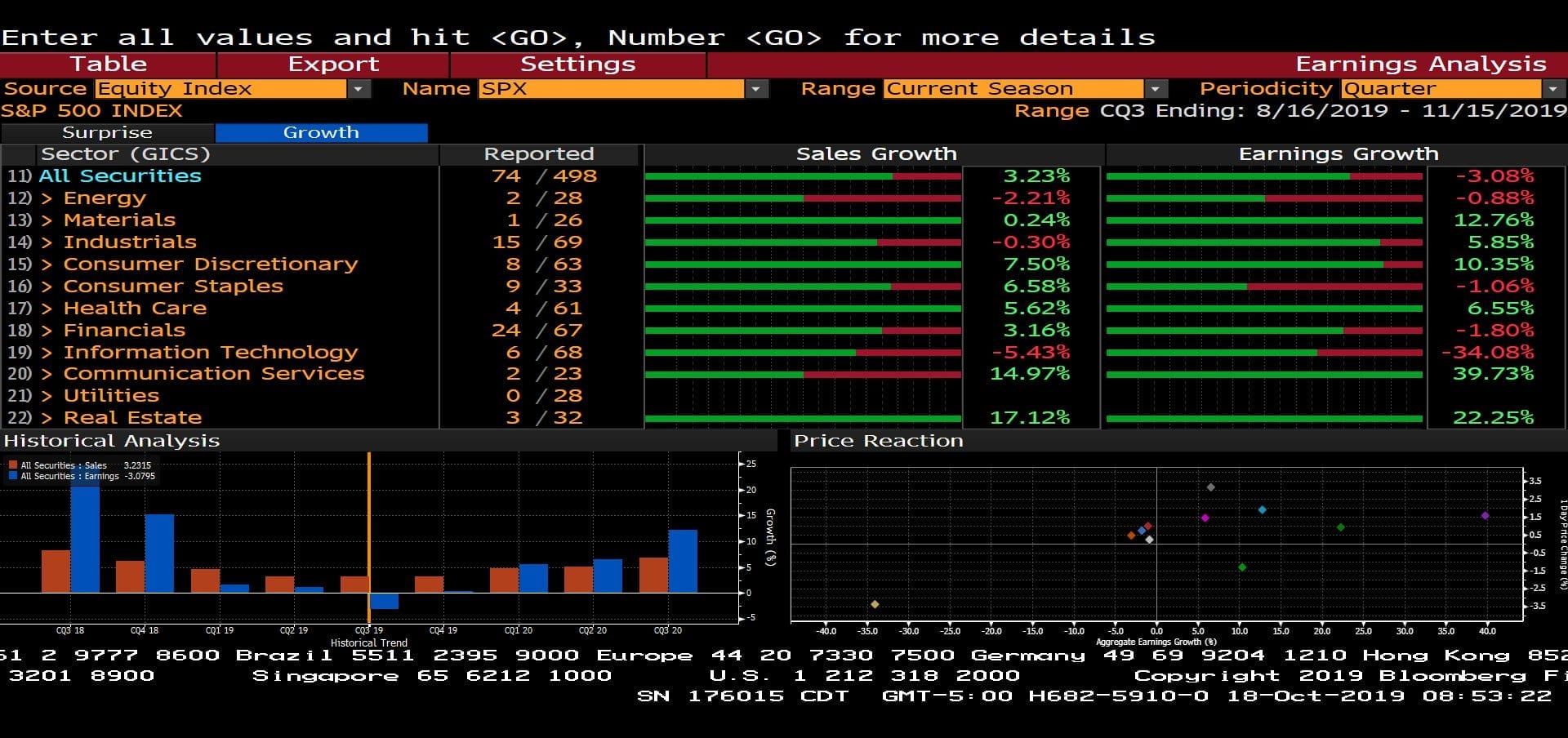 – Courtesy of Bloomberg
World Interest Rate Probability – United States (10/30/2019 – 11/05/2020)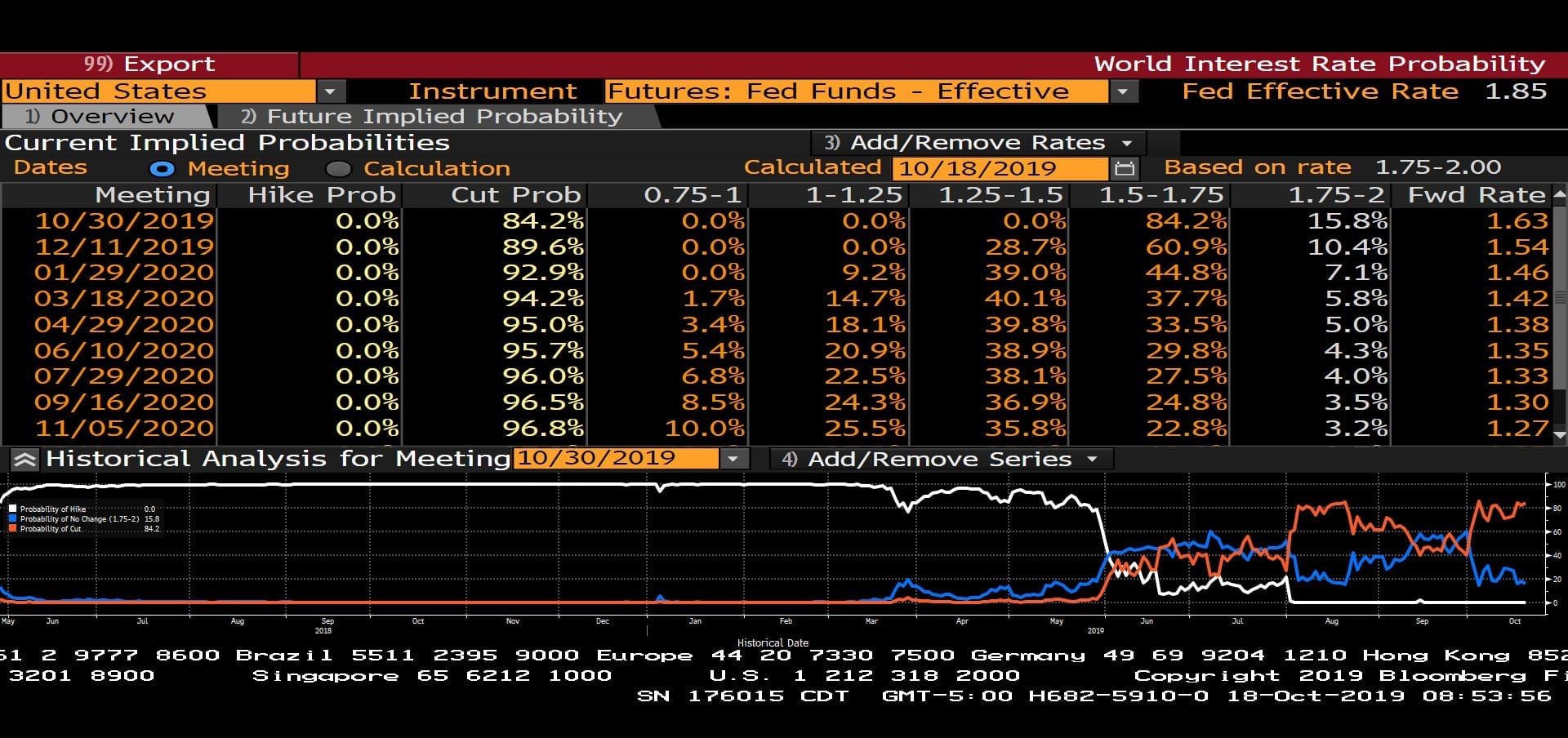 – Courtesy of Bloomberg
Investors are facing another prolonged period of low Interest Rates in Safety and Income categories. Naturally, NetWorth Radio provides a fast paced tour of choices in the Global Financial Markets and Investment Discussions of the best bargains based upon forward returns.
Headline Round Up!
*Economic Read: Retail Sales Drop on Cheap Gasoline. Good news or bad news?
*Happy Home Builders!
*GM Strike Hits Output.
*IBM Drags Down Results with 5th Quarter of Shrinking Sales.
*Big Banks! Good Except Goldman.
*Repo Madness! What is it? What does it tell us for 2020?
*China Injects $28 Billion Into Banks?
*Dallas Based Highland Capital Management LP Unit Files for Bankruptcy?
*Fisher Investments Slammed After Ken Makes Offensive Comments!
*Too Much Saki! Toyota Offers Bonds at Near Zero?
*Little Kim Jung Un on Horseback! White Stallion and Fiery Rhetoric. Did he need a step ladder?
*China Based Traders Popped for Manipulation in US Markets!
*JNJ Claims Mount!
*London's Financial Sector Fancies A Move to Dublin.
*Peloton and Smile Direct Club Drag IPO Market Down.
*Pass the Ganja from the Jamaican Side.
*King Dollar Forecast to Reign Another Quarter Century as Currency of Choice?
Texas Black Gold Rush!
*U.S. Poised for LNG Domination!
*India Building a $60 Billion Natural Gas Grid!
*China's Oil Imports up 11%.
*Kinder Morgan Leads the Way with First Energy Infrastructure Report. What does it tell us?
*Oil Market History and Fracking Revolution.
*Buy When Others are Selling? Energy Stocks Way Out of Favor and Cheap.
*Coal is Dying and Natural Gas is Rapidly Replacing it.
*Natural Gas Flows Jump in Maryland Export Facility.
Profit Report!
*Eaton Vance and JPMorgan Q4 Reports on Performance and the Markets!
*Why wait to buy bargains? December bargain hunting strategies.
*Headlines from 1927! What do they teach us?
*MGAM Case Reports
Trustee Bootcamp: Whiteboards and Trustee Videos! "It is better to start with a plan than end in a panic."
Research Round Up!
Investors are invited to improve decision making with a comprehensive tour of global economics, indicators, and actual results.
JPMorgan Guide to the Markets,  4th Quarter – September 30, 2019, pg. 65
Guide to markets pg65 10.18.19
– Courtesy of JPMorgan
---
Start the Process Today! Be sure to indicate what size portfolio sample you would like to see. A link will arrive when we receive your questionnaire.