To underscore the key lessons of 2019, we hearken back to the Christmas Grinch of 2018. The Dow had declined to 22,000 from 27,000 defining an official quick Bear Market cycle.
Deep research and steadfast commitment to great high cash flow assets led your humble co-hosts to highlight the bargain status of Global High Yield bonds and Dividend companies especially in Energy Infrastructure.
Capital calls went out to clients and listeners to capture the discounts at year end.
2019 brings Santa Claus to investors who remained strong and added to bargains. Indexes dancing at new highs while thankfully the Grinch appears to be constrained within the Washington D.C. beltway while the rest of real America emerges to sing in gratitude and dance to visions of sugar plum dividends.
Dow Jones Industrial Average Index (Year to Date)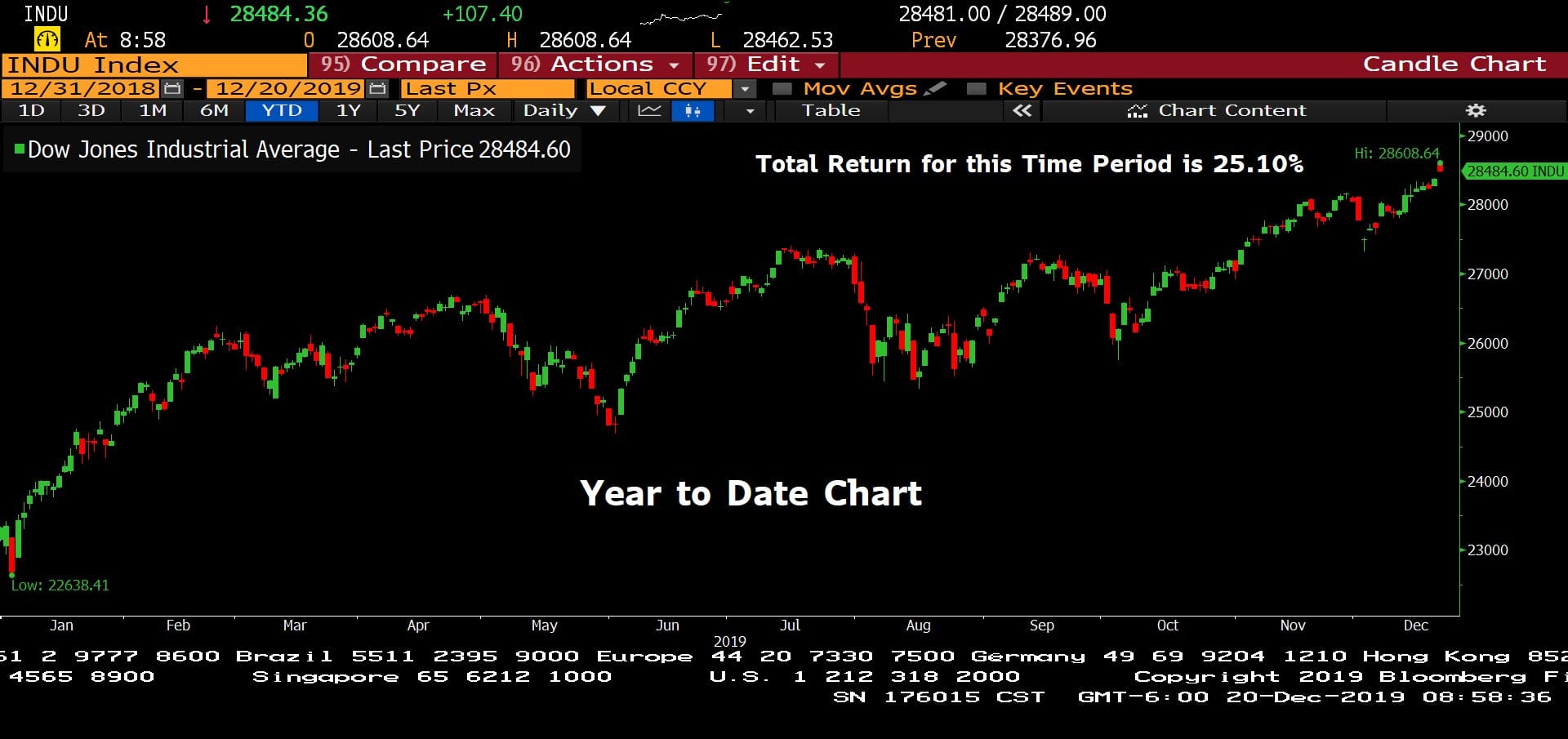 – Courtesy of Bloomberg LP
NASDAQ Composite Index (Year to Date)
– Courtesy of Bloomberg LP
Standard & Poor's 500 Index – Quarterly Earnings Real/Estimates (3 Years)
– Courtesy of Bloomberg LP
DoubleLine Income Solutions Fund (Year to Date)
– Courtesy of Bloomberg LP
ClearBridge Energy Midstream Opportunity Fund, Inc.
(Year to Date)
– Courtesy of Bloomberg LP
Standard & Poor's 500 Energy Sector Global Industry Classification Standard Level 1 Index (Month to Date)
– Courtesy of Bloomberg LP
Alerian MLP Index & West Texas Intermediate Crude Spot Price (Month to Date)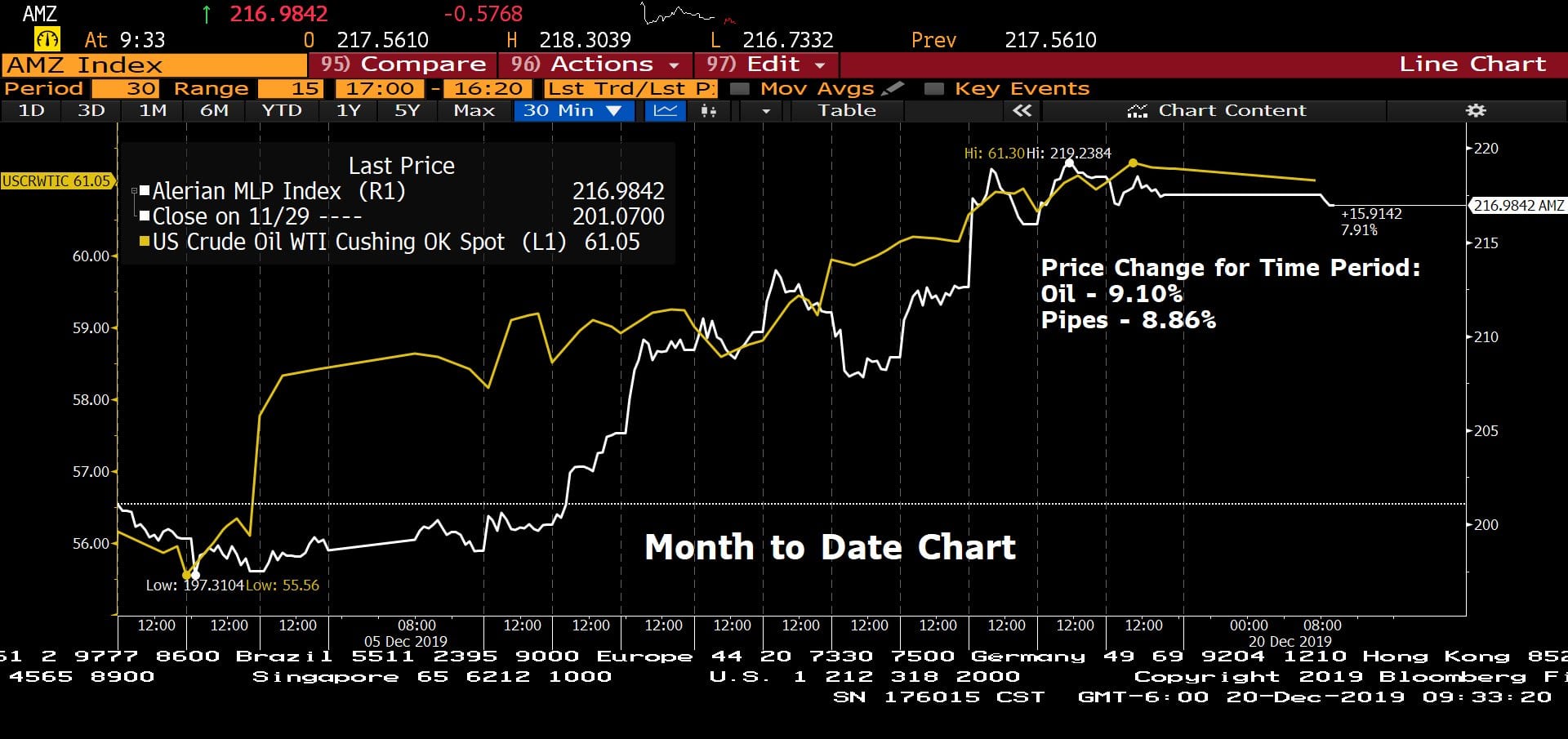 – Courtesy of Bloomberg LP
Headline Round Up!
*Merry Christmas Santa Claus Rally!
*Housing Starts and Building Permits! Real Estate Updates.
*Factory Output Rebound!
*The Future of the American Workers! U.S. Needs Workers, Not Slackers!
*Beware of "Party Like its 1999."  
*Will 2020 Auto Sales Fall Below 2019?
*Peugeot and Fiat Merging? That will be one strange looking car. How bout adding Saab too?
*Elon Musk Gets the Last Laugh for Christmas! Tesla Hits $400. Spencer and Alex eat crow.
*Emerging Markets in the Year Ahead!
*Japan Buying More U.S. Treasures Overtaking China Again.
*What is the Interest Rate Forecast? Forecasters Disagree with Range 1-3%. What Does Scott Minerd Say? He was right this decade.
*FedEx Pounded! Why?
*Winners! Best Performers of Past Decade.
*Baby Yoda Shortage! Looks like a little monkey?
*Mark Cuban Wins Big with Sports Technology Investment.
*Rich as an Argentine. Hiding Cash Abroad Is the Hot Job.
Texas Black Gold Rush!
*West Texas Intermediate Crude at $61 Per Barrel!
*Energy Infrastructure Reverses with a Huge Spike! Up near 15% in December as a group.
*Green is Gas Too! Enterprise Products Wins Top Governance and ESG Honors.
*Devon Launching $1 Billion Share Buyback.
*Permian Slowdown Not?
*Blackstone Private Equity Buys Tallgrass for $2.2 Billion Deal.
*Shell Adding Green Solar?
*Investors Demand Free Cash Flow! Energy Infrastructure Favored for 2020?
NetWorth Radio's Texas Business Leadership Series

: Spencer McGowan Interviews Co-Founder and Managing Director of Recurrent Investment Advisors, Brad Olsen
---
Prior to co-founding Recurrent, Brad was most recently the lead MLP portfolio manager for BP Capital Fund Advisors (BPCFA). Under Brad's leadership, MLP AUM more than doubled (excluding the impact of appreciation).
From 2011 to 2015, Brad led Midstream Research for Tudor, Pickering, Holt & Co. (TPH & Co.), where he was recognized as the top all-around stock picker in the US by the Financial Times in 2013, and the top energy stock picker in the US by Starmine in 2014. Under Olsen's leadership, the TPH & Co. midstream team was recognized in the WSJ's "Best on the Street" poll as well as by Institutional Investor Magazine.
Brad also has experience as an investment analyst at Eagle Global Advisors in Houston, where he was part of a 3-person team that grew midstream/MLP AUM from $300mm to over $1bn from 2008 through 2011. He has also worked in investment roles at Millennium International, a large global hedge fund, and Strome Investment Management, an energy-focused hedge fund based in Santa Monica, CA. He began his career in the UBS Investment Banking Global Energy Group in Houston.
Brad earned a BA in Philosophy, Political Science, and Slavic Studies from Rice University in Houston.

Brad resides in Houston with his wife and four children. Brad was nearly fluent in Russian, but is very rusty.
Profit Report!
Wharton Financial Humor!

Indexing Academics vs Investors.

Great Stories of Hero Investors!

Lessons of 2018 and 2019.
Research Round Up!
Investors are invited to improve decision making with a comprehensive tour of global economics, indicators, and actual results.
---
Start the Process Today! Be sure to indicate what size portfolio sample you would like to see. A link will arrive when we receive your questionnaire.