In a drama repeated often over the past 18 months, the week opened with salacious headlines of Trade War escalations. The Dow dutifully responded with a triple digit sell off and financial media predictions of Armageddon because prices at Target could rise.
Repeat the process of dropping from the top end of the established Equity Market ceiling and then dropping dramatically on recycled Trade War headlines.
What should Investors do?
As always, NetWorth Radio brings you a mathematically correct response to short term crisis.
First, get paid enough in real cash flow to succeed longer term.
At High Points, raise some cash by harvesting gains and eliminate unsuccessful speculations.
At Lower Points, reinvest surplus cash flow and cash reserves into great bargain assets.
Why do updates on trade negotiations lead to large swings in the Dow and the S&P 500?
What are the likely outcomes from the trade issues?
How does the Middle East escalation affect the Bond markets and why?
What does the Texas Black Gold Rush mean for us?
What is a range bound market and what should I do to prepare?
Dow Jones Industrial Average Index vs Shanghai Stock Exchange Composite Index (Approx. 3 Years)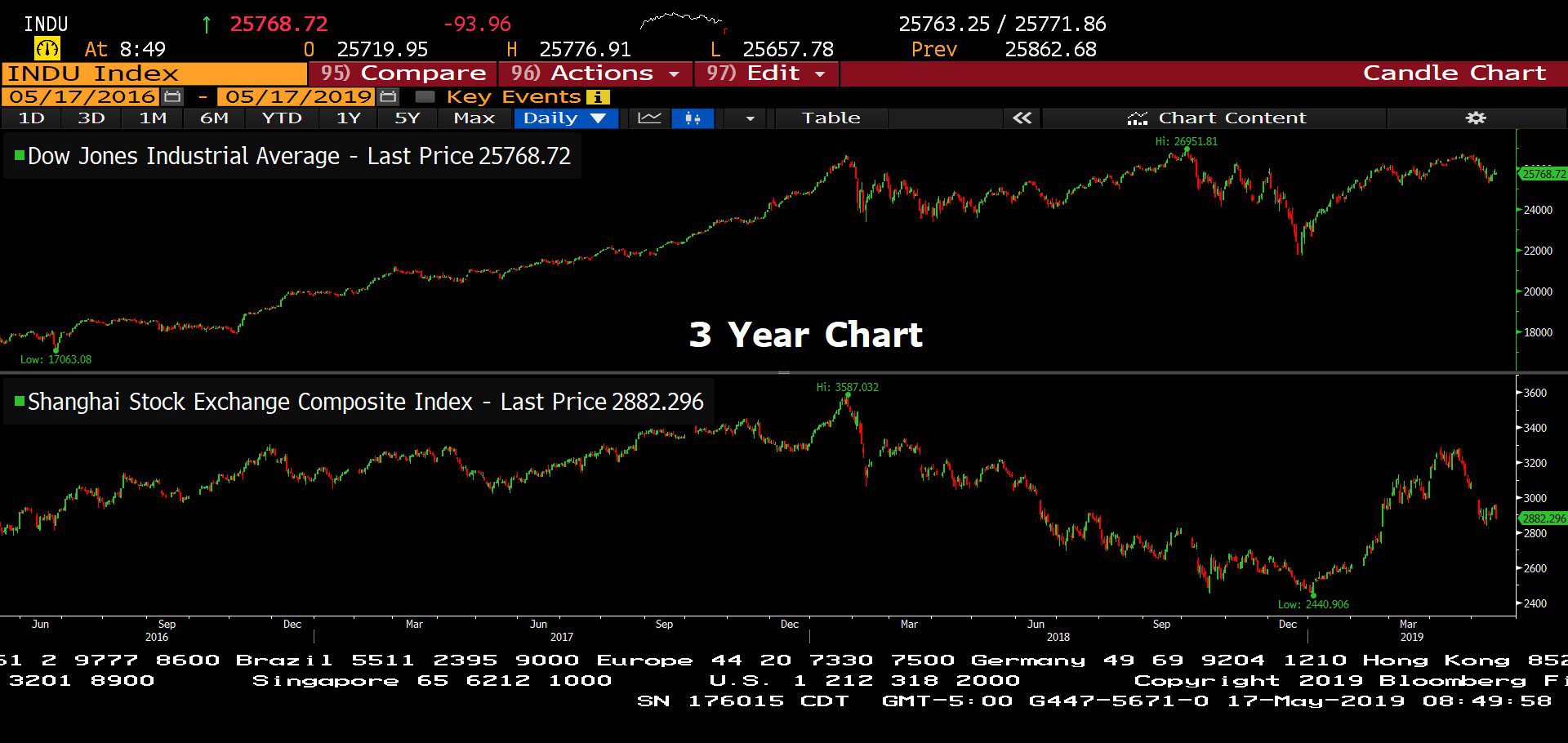 – Courtesy of Bloomberg
Dow Jones Industrial Average Index (Approx. 6 Days)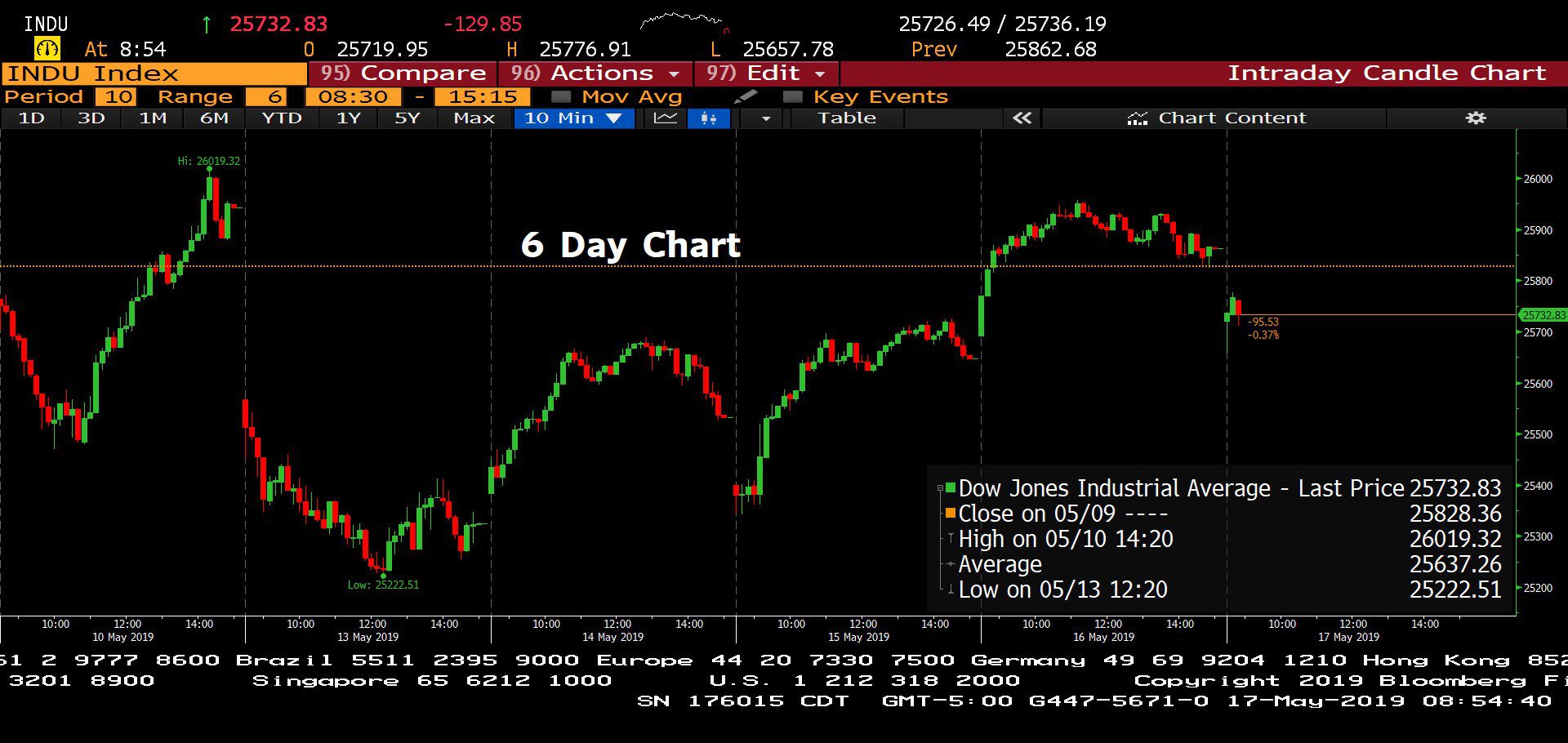 – Courtesy of Bloomberg
CBOE 10 Year Treasury Note Yield Index vs CBOE 30 Year Treasury Bond Yield Index (Approx. 1 Year)
– Courtesy of Bloomberg
Fed Funds Probability of Rate Hike/Cut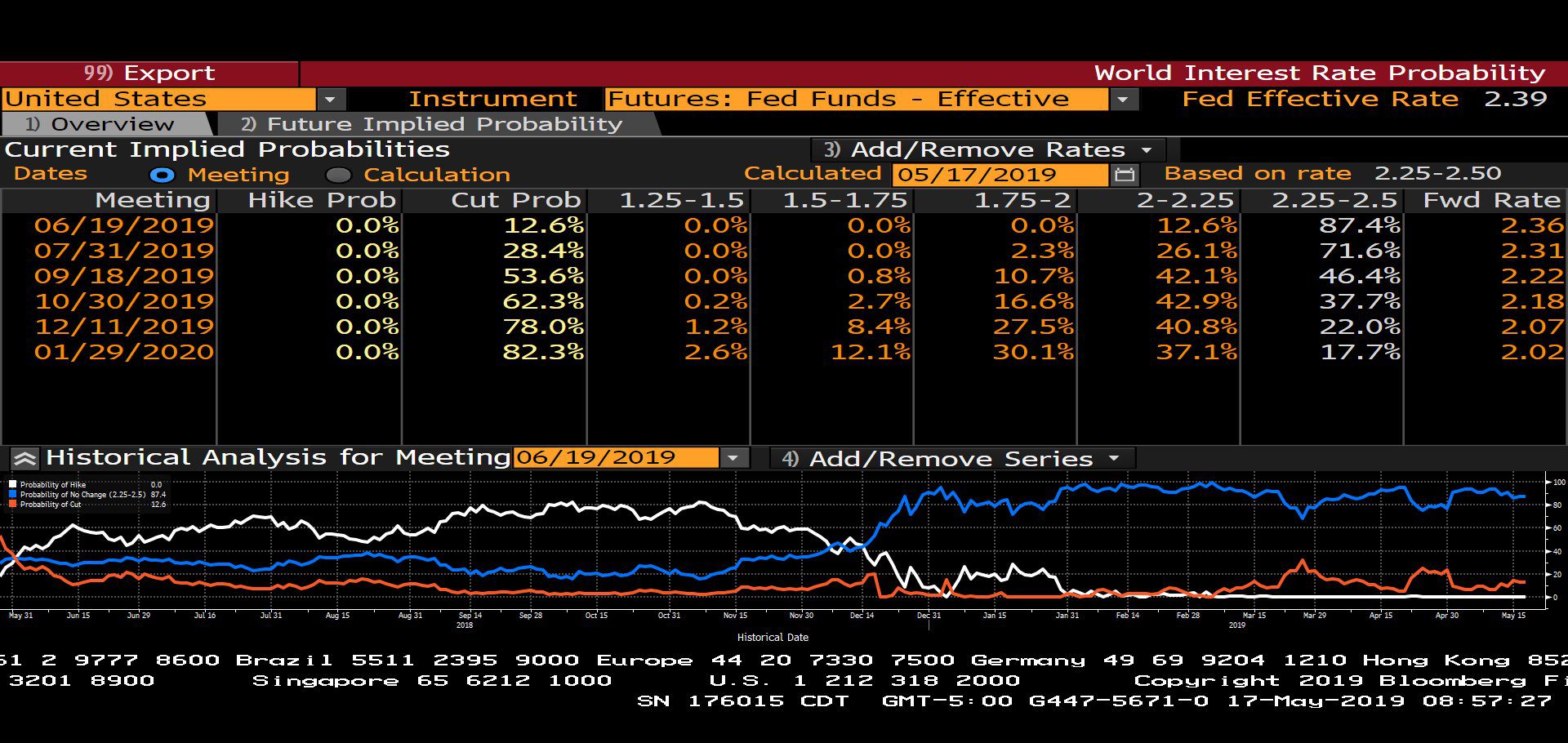 – Courtesy of Bloomberg
Uber Technologies Inc. (Approx. 6 Day Chart)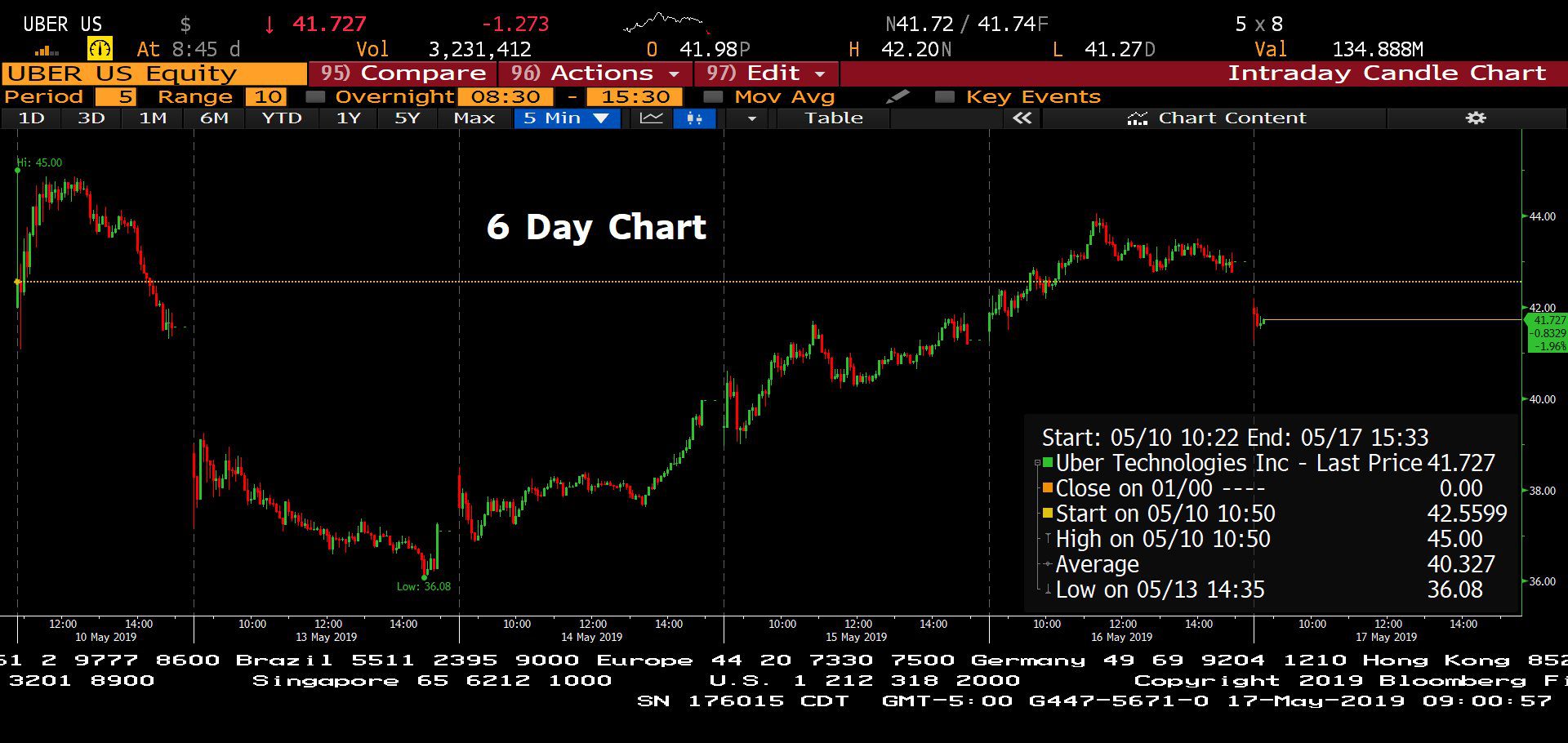 – Courtesy of Bloomberg
Lyft, Inc. (Approx. 3 Month Chart)
– Courtesy of Bloomberg
Down Jones Industrial Average Index Total Return vs Alerian MLP Index Total Return (Approx. Year-to-Date)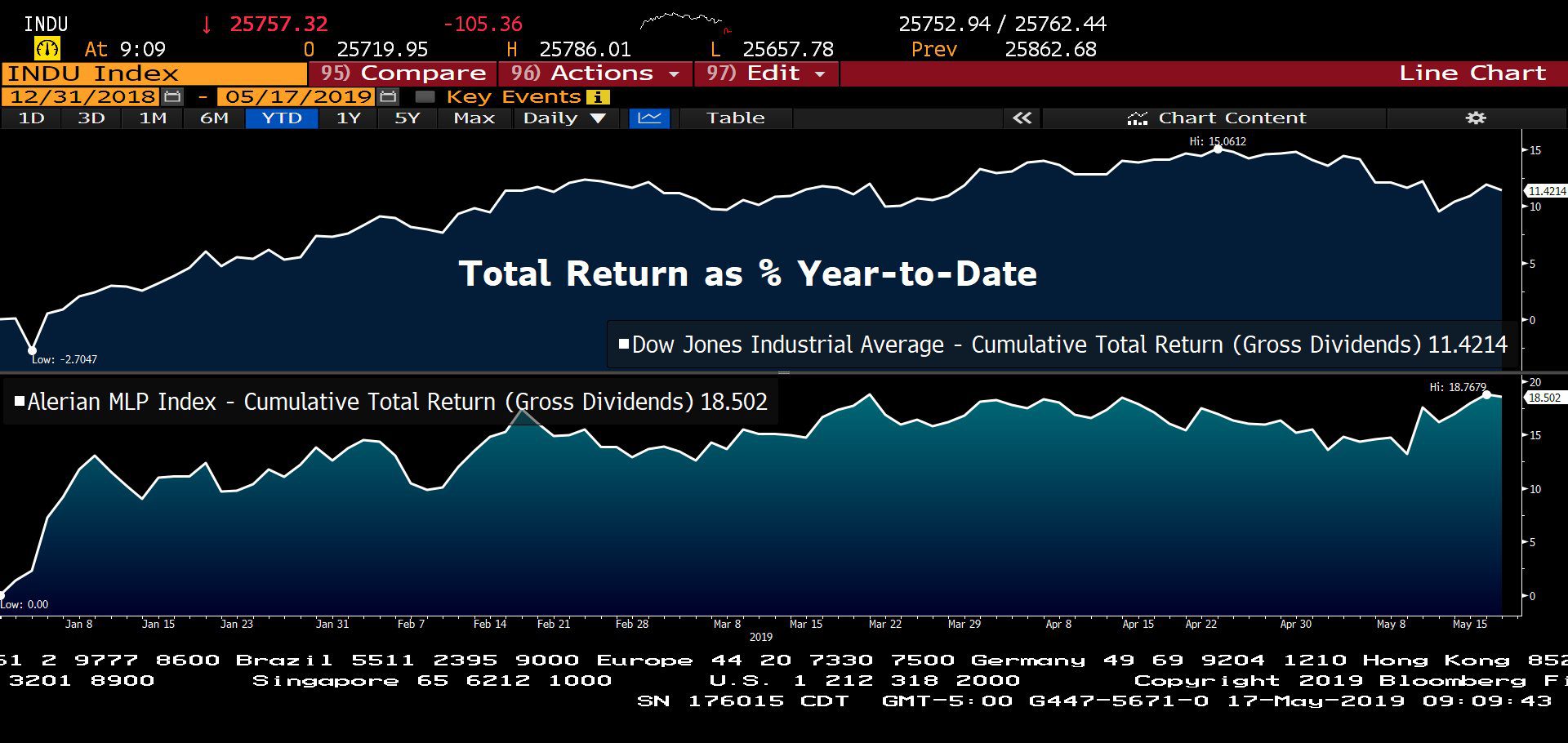 – Courtesy of Bloomberg
Headline Round Up!
*Where is That Global Slowdown? IMF Latest 2019 and 2020 Growth Estimates. The 2018 Mini Panic Head Fake!
*Sanctions on Chinese Telecom?
*Trade War Triple Digit Downdrafts Again!? Trump and Xi like two rival elementary school kids on the playground (just like Alex and Andrew!)
*Bizarre Demand for Long US Treasury Bonds! Yields DROP? Why? Inflation Updates?
*Beware the IPO: Lyft and Uber Updates: Dead Cat Bounce, Contractor Employment Ruling, Profits EVER?
*Housing Update.
*Little Kim Hopping Mad!
*Bitcoin Bounce? Alex, how did you make money trading bitcoin? Do NOT do this at home folks!
*Bayer Chokes on Pesticide King Monsanto!
Texas Black Gold Rush!
---
*Permian Updates: Output Bump Bigger Than Venezuela?
*LNG Updates: Sempra Starts LNG Production!
*Buffett Buys Lots of Amazon, $860 Million.
Profit Report!
What is Truly Wealthy in the U.S.?
This Week's Salacious Metaphor Contest Right Here in Dallas!
Tax Bracket Updates!
To Roth or not to Roth, that is the conversion?
Research Round Up!
Investors are invited to improve decision making with a comprehensive tour of global economics, indicators, and actual results.
---
Start the Process Today! Be sure to indicate what size portfolio sample you would like to see. A link will arrive when we receive your questionnaire.