Dallas Morning News May 30th, 1927!
What can we learn from the most important headlines of 1927? Special thanks to the late Lee Allen, a great friend of mine, who passed away about 10 years ago. His wife Bev was kind enough to send his memorabilia from early Dallas history over the past few years.
Babe Ruth?
Financial Markets?
Investor Worries (they should have been)?
$7,600 for a house? $1,950 for Highland Park West cottage lot on Mockingbird with paving?
Radio line up for the day?
$5 swim suits!
Dow Jones Industrial Average Index (Approx. 5 Years)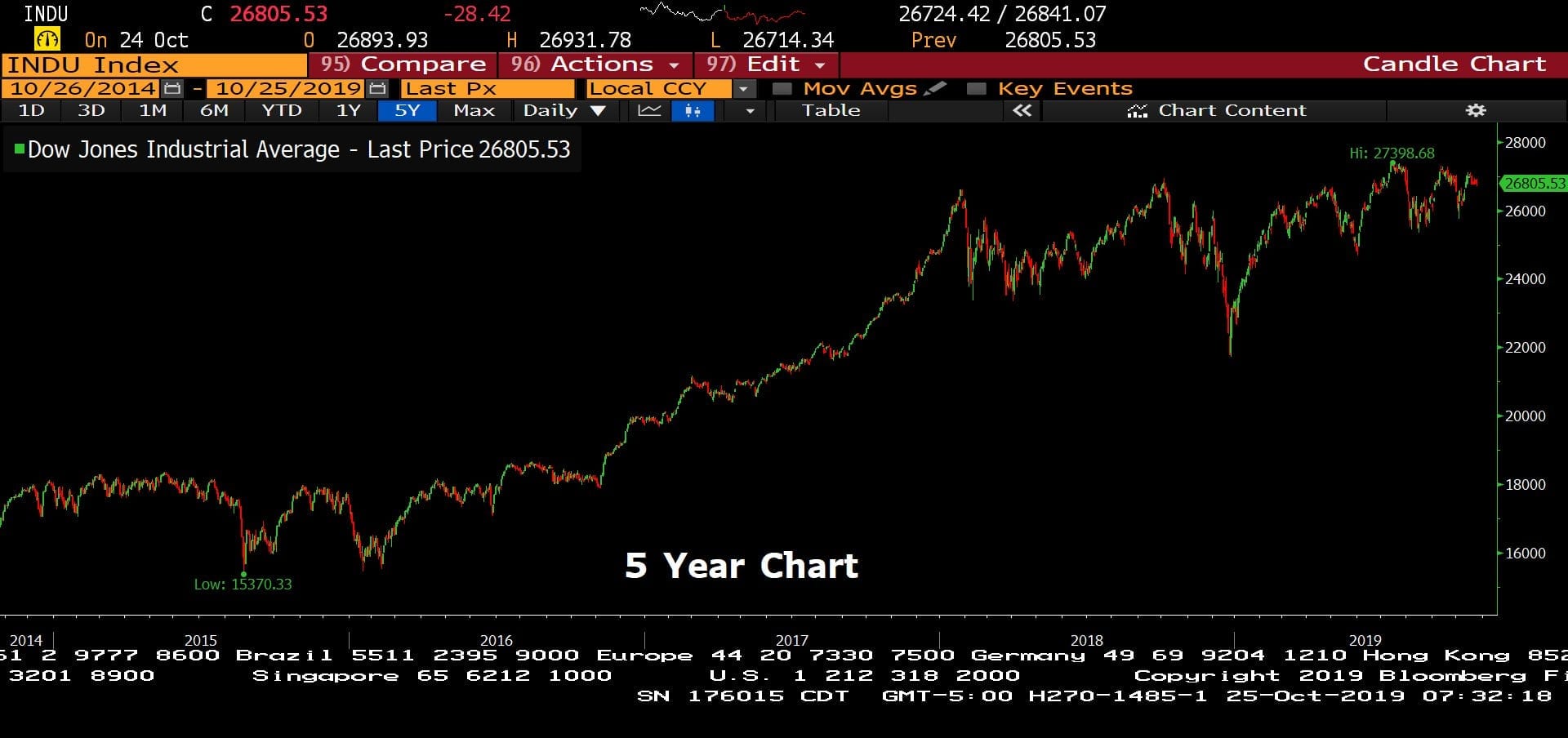 – Courtesy of Bloomberg LP
Standard & Poor's 500 Index – Quarterly Earnings Estimates (10/25/2014 – 10/25/2019)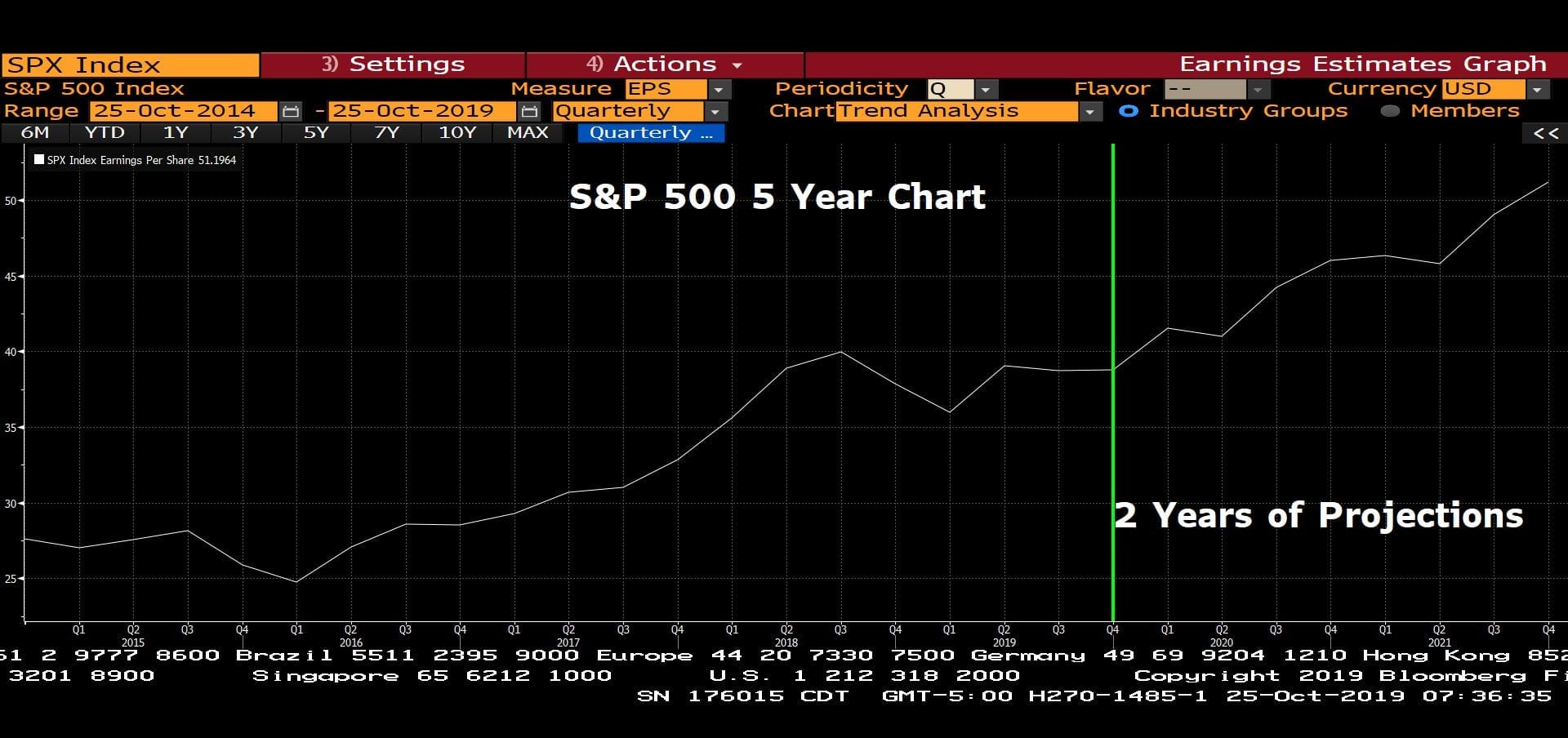 – Courtesy of Bloomberg LP
C.B.O.E. Short Term Interest Rate Index, 10 Year Treasury Note Yield Index, & 30 Year Treasury Bond Yield Index (Approx. 5 Year)
– Courtesy of Bloomberg LP
Texas Instruments, Inc., Raytheon Co., & Lockheed Martin Co. (Year to Date)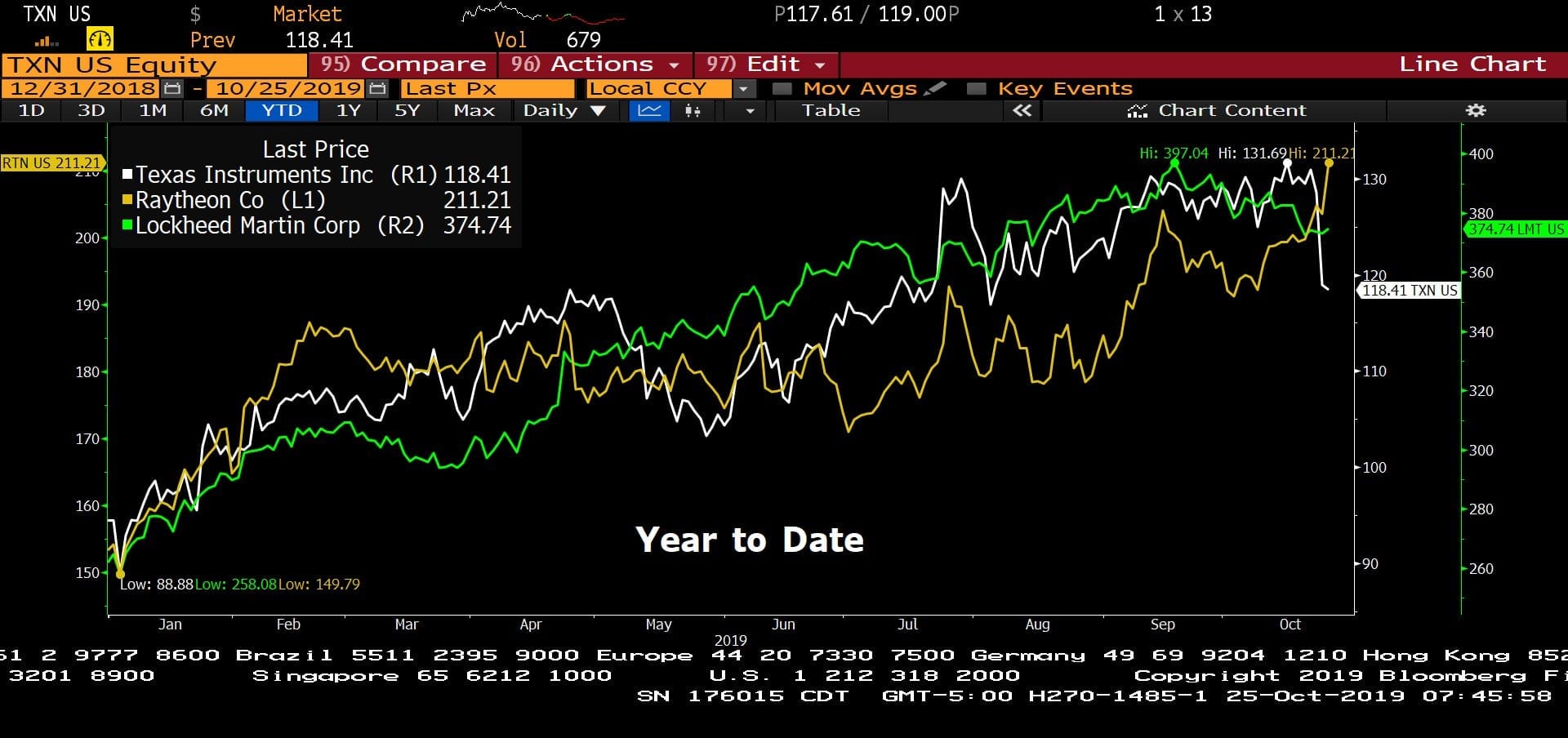 – Courtesy of Bloomberg LP
Texas Instruments, Inc., Raytheon Co., & Lockheed Martin Co.
 (Approx. 20 Years)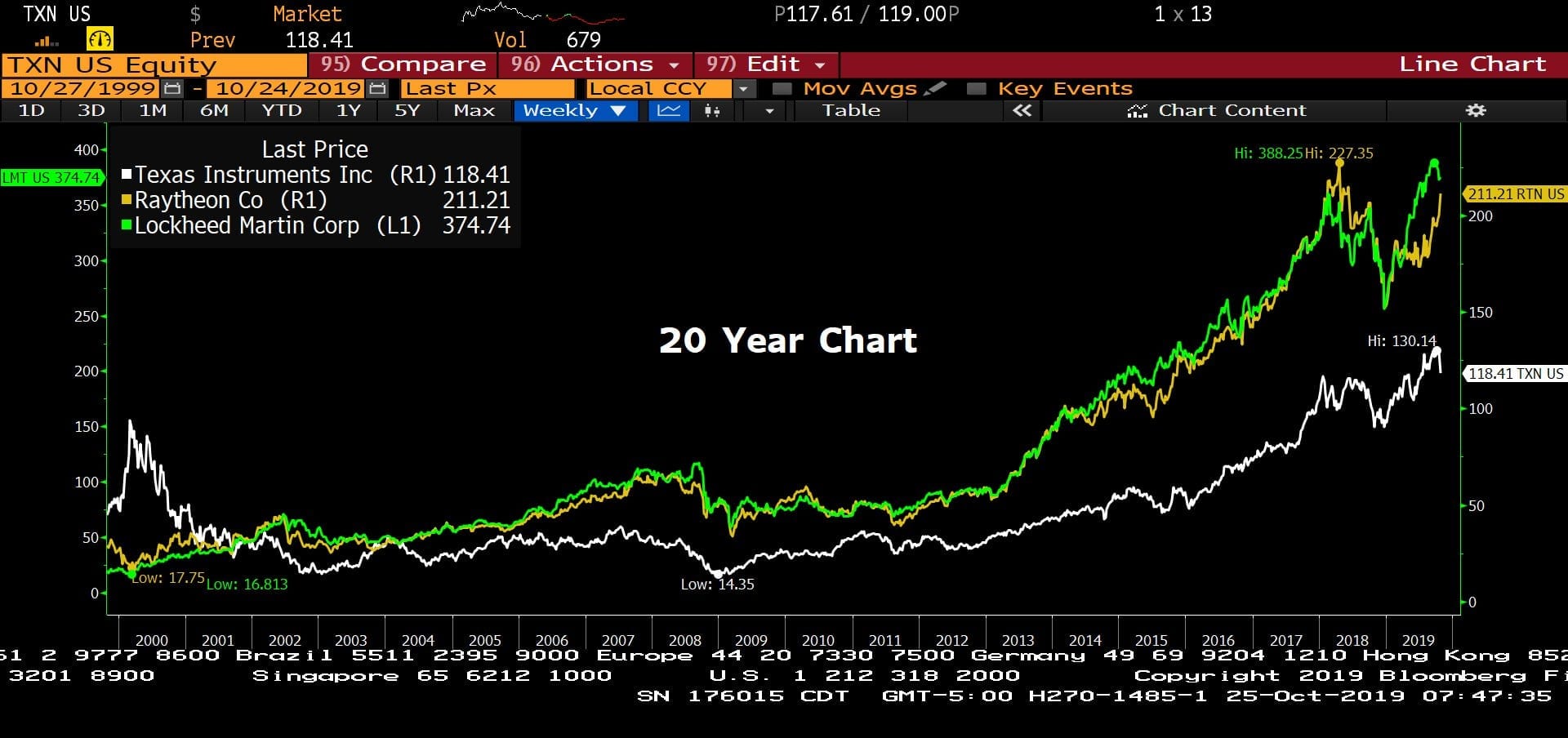 – Courtesy of Bloomberg LP
Headline Round Up!
*Xi and Trump Meet at APEC Meeting in Chile November 16th and 17th. 
*Profits! What can learn?
*Earnings Overview
*Texas Instruments Smackdown! Chip Crunch? What should your long term harvest strategy be for long term winners?
*Southwest Airlines Powers Ahead Despite 737Max!
*Microsoft Big Progress!
*Caterpillar Flashes Global Slowdown?
*Tesla Spikes 15% on "Great" Report. Elon's Happy Dance!
*United Technologies Boosts Forecast!
*Hasbro-ke?
*Big Mac Attack!
*Snapchat Gains.
*Twitter Smacked!
*Blackstone Powers Ahead. Business Development Companies having great year.
*Residential Real Estate Report.
*Manufacturing Shows Expansion.
*High Yield Updates!
*When Will Lyft Make Money?
*Repo Madness Accelerates?
Texas Black Gold Rush!
*Gasoline $4 in California, $2 in Texas! Hhhmmm?
*Pay Raise! Phillips 66 Partners Raises Dividend Again. 9% annual increase.
*Oil Tops $56. Inventory Down.
*Research Says Gas Pipeline Revenue and Growth Accelerating.
*Pipes Blocked?
*Surge in Floating Liquified Natural Gas (LNG) Storage?
*Energy Investors in Small Companies Dry Up? Majors Ready to Pounce on Permian.
*22 Additional European LNG Import Terminals In Planning Stage, BUT Politicians Want to Phase Out in 2050?
*Alliance Resources Shifts from Coal to Gas.
*California Goes Solar!
*Teekay Spikes on LNG Boom.
Profit Report!
*MGAM 2020 Client Update!
Research Round Up!
Investors are invited to improve decision making with a comprehensive tour of global economics, indicators, and actual results.
---
Start the Process Today! Be sure to indicate what size portfolio sample you would like to see. A link will arrive when we receive your questionnaire.