Markets resumed their course this week dancing into new high territories creating the perfect time to examine the relationship between Price Earnings Ratios and Forward Expected Returns.
What does this tell us about the Investment Asset class and Index Forecasts for the next 5 and 10 years?
Dow Jones Industrial Average Index (Year to Date)
– Courtesy of Bloomberg LP
Standard & Poor's 500 Index  (Year to Date)
– Courtesy of Bloomberg LP
Hong Kong Hang Seng Index & Shanghai Stock Exchange Composite Index
(Year to Date)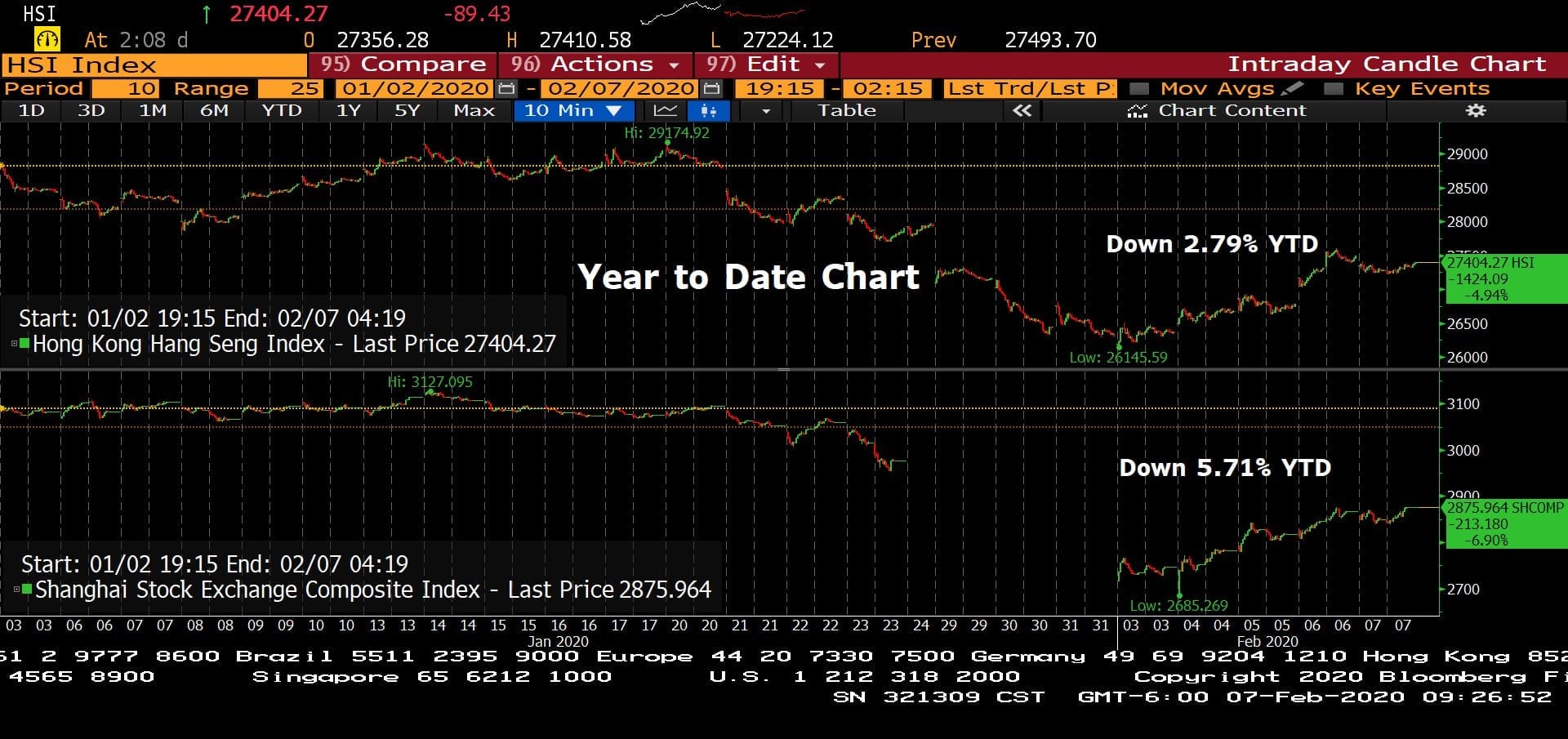 – Courtesy of Bloomberg LP
Standard & Poor's 500 Index with Price Earnings Ratio
(Approx. 25 Years)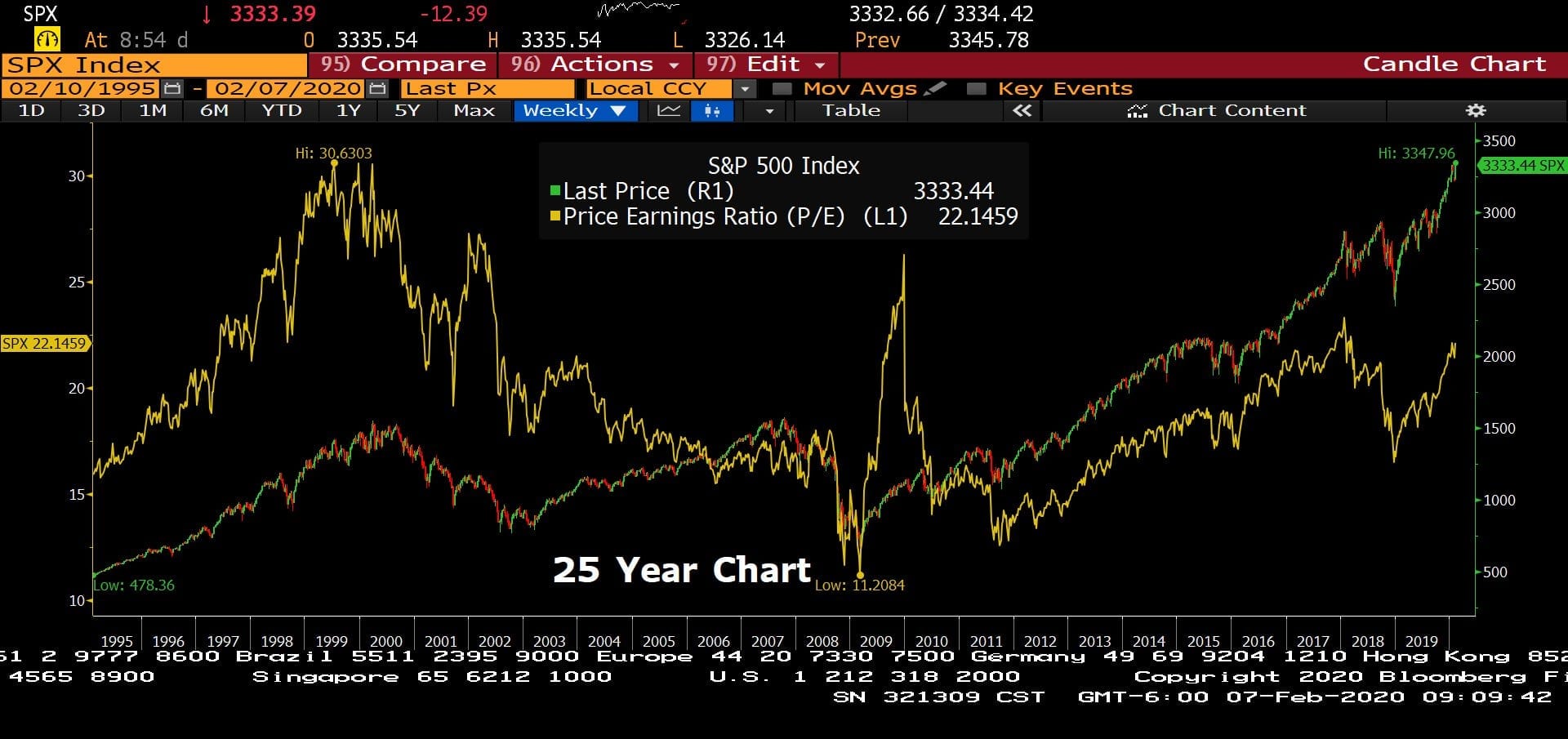 – Courtesy of Bloomberg LP
Headline Round Up!
*Tech Makes Up HUGE Market Cap in S&P 500 Index. OVERPRICED?
*BIG JOB GAINS JANUARY! ADP Says 291,000 Net New Jobs.
*Productivity UP Annualizing at 1.4%!
*Trade Deficit Falls
*Manufacturing Posts First Expansion in Six Months!
*China Cuts Tariffs As Agreed! Asking for Flexibility Due to Coronavirus.
*Corona Beer Announces All Beer Safe Are Clean!
*China Cuts Rates and Injects Liquidity.
*Treasury Reviving 20 Year Note. Bid to Cover Update.
*Mortgage Rates Lowest Since 2016.
*Dreaded Yield Curve Inversion Wrong for Now?
*Tesla Short SQUEEEEZE! Overbought on Steroids.
*Illinois Legalizes Pot Sales Giving Nevada a Run for Most Pot Smoked Per Capita.
*WHAT-A SPREADSHEET! Microsoft Rally Nets CEO Over $150,000,000.
*Gilead Coronavirus Drug Trial in China.
*NEGATIVE YIELDING BOND TOTAL SPIKES BY $2.7 TRILLION.
Earning Round Up!
*Twitter Profit
*Bristol Myers
*Google Alphabet
*Visa
*Ferrari
*Disney
*Macy's Closing 125 Stores
*Global High Yield Bond Funds 52 Week Highs HYT DSL etc.
Texas Black Gold Rush!
*Coronavirus Demand Impact on Liquefied Natural Gas and Oil Prices?
*Plains All American Revenue Up Over 4%, Dividend Coverage Still Double.
*Pipelines Climb On ESG.
*Saudi Oil Cuts?
*BP Raises Dividend.
Profit Report!
This week's FoxNews Interview Topic:
Vital Financial Education for Kids.
NORTH CAROLINA WILL REQUIRE HIGH SCHOOL STUDENTS TO TAKE PERSONAL FINANCE COURSE TO GRADUATE

Starting next school year, high school students in North Carolina will be required to take and pass a personal finance class in order to graduate. The change was approved by the State Board of Education. The new finance course will replace one of the American history courses students are currently required to take for graduation.  – Spencer McGowan, CIMA & Senior Portfolio Manager for the McGowan Group Asset Management.
Research Round Up!
Investors are invited to improve decision making with a comprehensive tour of global economics, indicators, and actual results.
---
Start the Process Today! Be sure to indicate what size portfolio sample you would like to see. A link will arrive when we receive your questionnaire.