Where is that recession?
"Sahm" says not! The real time unemployment and record employment numbers provide an important read for investors besieged by near constant discussion of the next recession.
This week's program covers possible timing and strategies for the next dreaded "recession." Too often based upon the 2002 and 2008 sell offs investors sell perfectly good assets at the wrong time only to live in regret. Remember last Christmas, the sale came early for those with a clear long term strategy.
"Corrections are the process, by which, great assets are returned to their rightful owners at bargain prices." – Pappa Dean
Headline Round Up!
*European Desperation! The European Central Bank Sank Rates Further into Negative Territory! Deposit rate was slashed to a NEGATIVE ½% and they pledged to buy $20 Billion Euros of already overpriced bonds each month. What does this mean for U.S. investors?
*Hey Brussels! How about some lower taxes and deregulation for Europe?
*Retail Sales UP! Oops! Financial media had posted at least 3 stories about how this would be a disappointment.
*China is HUNGRY!? Latest agriculture updates on the U.S./China "Frenemy Feud".
*Carl Icahn Votes with Both Feet! Moving to Florida from New York. Taxes matter. Mixed Data?
*Real Median Household Income Flat.
*Charge It! Consumer Debt Rising Last Month. Is it too high?
*Inflation Expectation Lowest in Years. Core Inflation 2.4% Over the Past Year.
*The Great Refi-Trump Trade: Lower Rates to Zero Then REFI!
*Don't Cry! Argentina Ready to Default for the 8th Time.
*Retail Ice Age Marches to 7,000 Stores Closed in 2019. What happens to all those ugly properties now?
*Foreign Investment in U.S. Real Estate Plunges 50%.
*Dallas Based AT&T Slammed on the Front Page of WSJ by Elliot Management with a $3.2 Billion Dollar Stake.
*Yamazaki! Hibiki! Japanese Whisky Fetches $100 Per Shot! Can you say Yamazaki? $529 per Big Shot of Mars Komagatake.
Dow Jones Industrial Average Index (3 Year)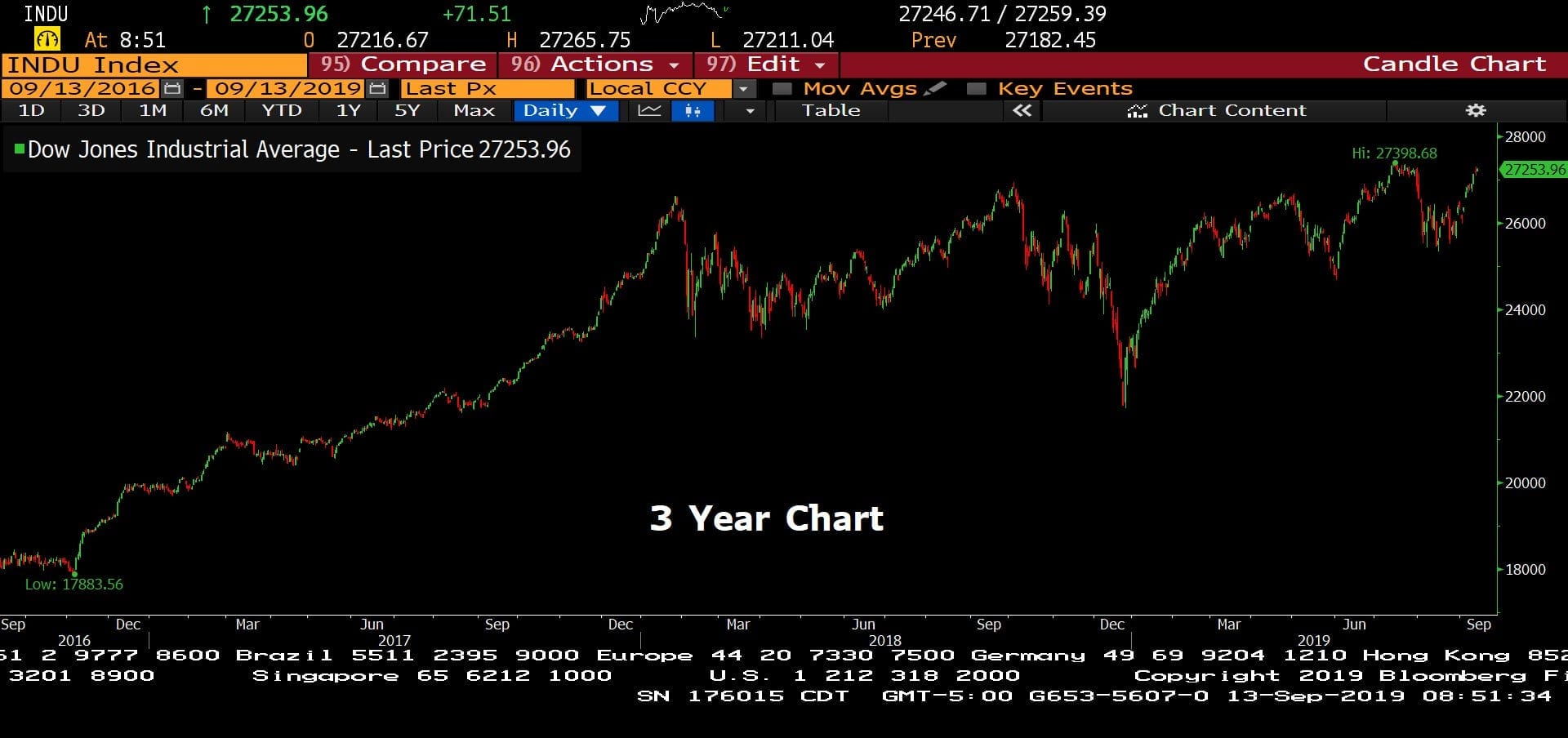 – Courtesy of Bloomberg
C.B.O.E. Short Term Interest Rate Index, 10 Year Treasury Note Yield Index & 30 Year Treasury Bond Yield Index (3 Years)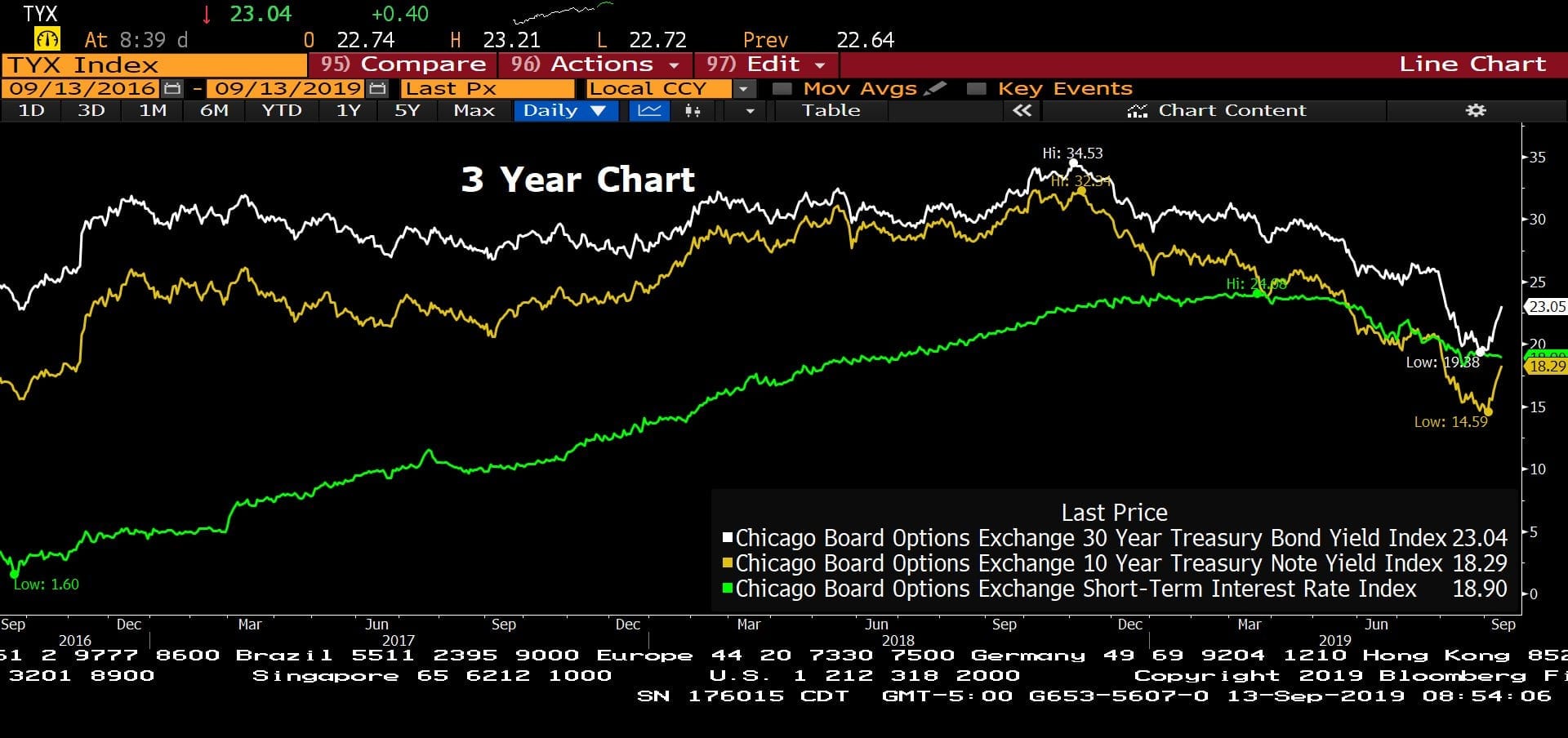 – Courtesy of Bloomberg
Bureau of Labor Statistics Labor Total Employed Index – Labor Force Flows (Approx. 15 Years)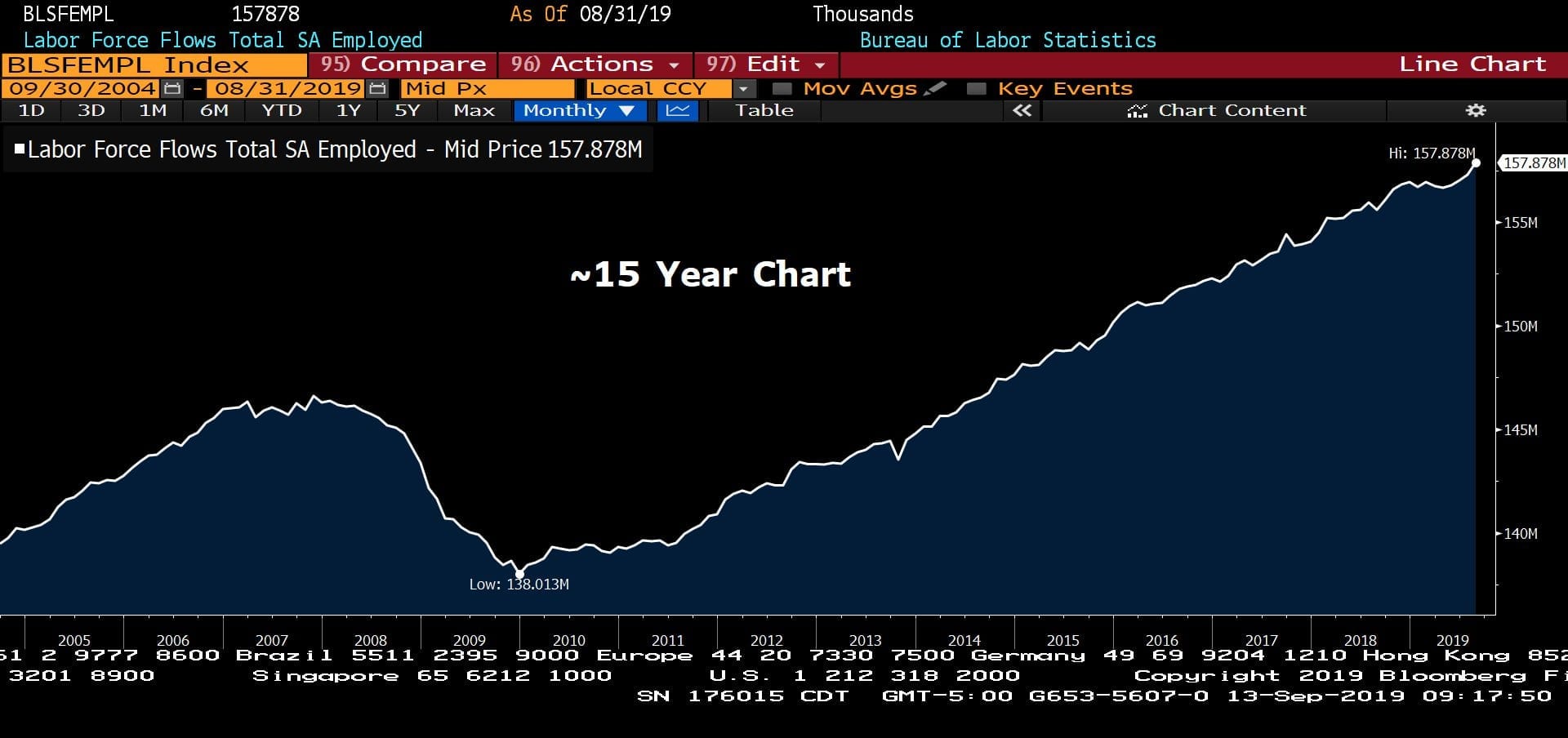 – Courtesy of Bloomberg
Natural Gas Futures Price (Approx. 29 Years)
– Courtesy of Bloomberg
Texas Black Gold Rush!
*From $1.50 Per Acre to $7 Billion?
*Tribute to T.Boone Pickens: Oklahoma Energy Legend Passes Away at 91.
*Goldman's Manure to Gas STINKY Venture. Too many millennials watched that Wall Street sequel.
*Texas Flaring Enough Gas to Power Entire States! Recurrent Investment Advisors updates.
*Price of Natural Gas in Permian Reaches -$1.00 While Europe Pays $5.00.
*Global Liquid Natural Gas Boom!
*Exploration vs. Infrastructure.
*Who will pay for the new Natural Gas Pipelines Needed? Joint ventures include Energy Transfer with Shell and Kinder Morgan while others team with Exxon Mobil and Chevron.
*Electric Generating Mobile Plants?
*Electric Cars, Batteries, and the Cobalt Shortage. The Congo is apparently the only source and that is not good.
Profit Report!
Great questions to ask Your advisor and our answers:
*Actual client performance over your history?

*2002, 2008, 2018 and recovery times?

*Strategy for the next crisis?

*How can we gain advantage in crisis?

*Team members and their backgrounds in finance?

*Estate Planning process?

*Tax Planning strategies and process?
Advanced applied technology powers McGowanGroup's Estate Planning devotion to your family, heirs, trustees, education, and empowerment!
Trustee Bootcamp: Whiteboards and Trustee Videos! "It is better to start with a plan than end in a panic."
Investor anxiety stands at a high level driven by headlines. What do this week's real client case reports reveal about investment strategy?
Research Round Up!
Investors are invited to improve decision making with a comprehensive tour of global economics, indicators, and actual results.
---
Start the Process Today! Be sure to indicate what size portfolio sample you would like to see. A link will arrive when we receive your questionnaire.