During the last two weeks, it appears to be a contest for headlines with the "worst case predictions". The list includes Dr. Birx, Dr. Fauci, and even the St Louis Fed.
At this point, Financial Assets experienced a drop in valuation of about 30% almost instantly. Last week and the week before the Dow hit 18,000 which is about 15% below today's price.
The linked article indicates that the market is "oversold" and has likely adjusted for the worst foreseeable case which also includes dire permanent job loss forecasts. 
This leads to a very important question: Which Asset classes are discounted to the point that current cash flows will result in superior recovery and returns going forward?
The current discounts of over 30% provide a cushion for a recessionary default rate of 10%, comparable to 2008, with long term gain potential plus yield even based upon reduced par. This is especially true with Cash and Treasury rates near zero. The net present value of future cash flows allows for reinvestment to speed recovery as well as cover living expenses for most retired clients.
As to Equity, we are gradually adding companies that currently pay dividends from the Medical sector which is likely to see higher revenue to sustain containment after the mitigation period. Even with the downside risks, David Niles has been nibbling at bargains in equity.
This time next year, The Energy sector will be in a much different situation even if unemployment is higher during the recovery period.  With the extreme Fed and Stimulus measures, combined with mitigation eventual success, May, June and July appear posed to be one of the fastest scheduled economic recoveries in history.
A National, Unified, and Patriotic, determination can provide a basis for cautious optimism during this mitigation period.
• Economic Impact So Far?
• Key Dates for Stages Of Return To Normal?
• What Are The Lessons From China And What Do They Tell Us About The Path Forward For The United States As Well As Other Countries?
• What Should We Do Now To Succeed Over The Next 5 Years?
Best portfolio math based upon the panics of
1. 1987?
2. 2001?
3. 2008?
Our prayers are with you and your family during this National Emergency. We stand determined  and ready to help you navigate this current crisis to victory.
Stay safe and rational. We are devoted to your success.
Dow Jones Industrial Average  (Year to Date)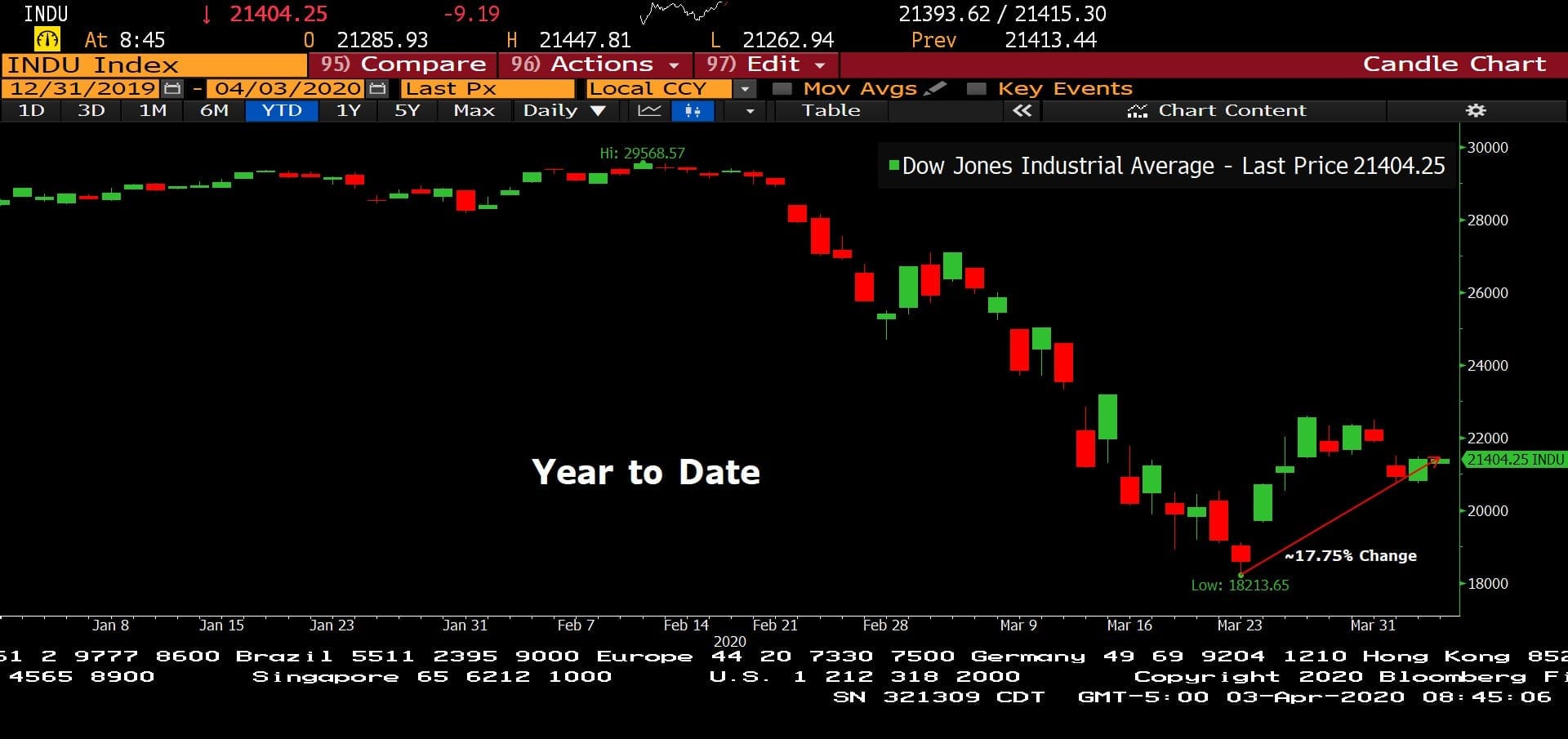 – Courtesy of Bloomberg LP
C.B.O.E. 30 Year Treasury Bond Yield Index, 10 Year Treasury Note Yield Index, and Short-Term Interest Rate Index  (Year to Date)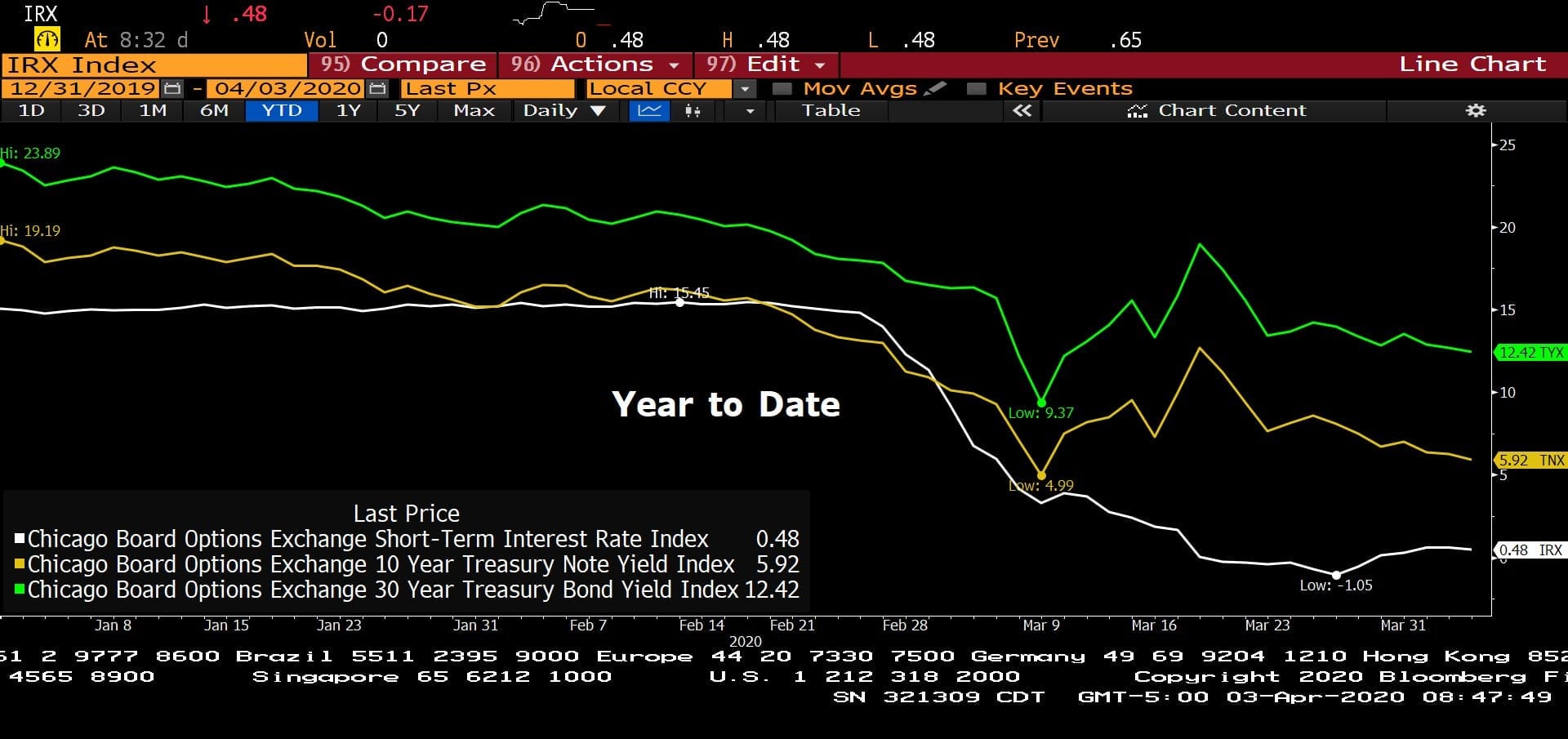 – Courtesy of Bloomberg LP
Situation Update Worldwide by European CDC – Daily New Confirmed Cases of COVID-19 Cases (Year to Date)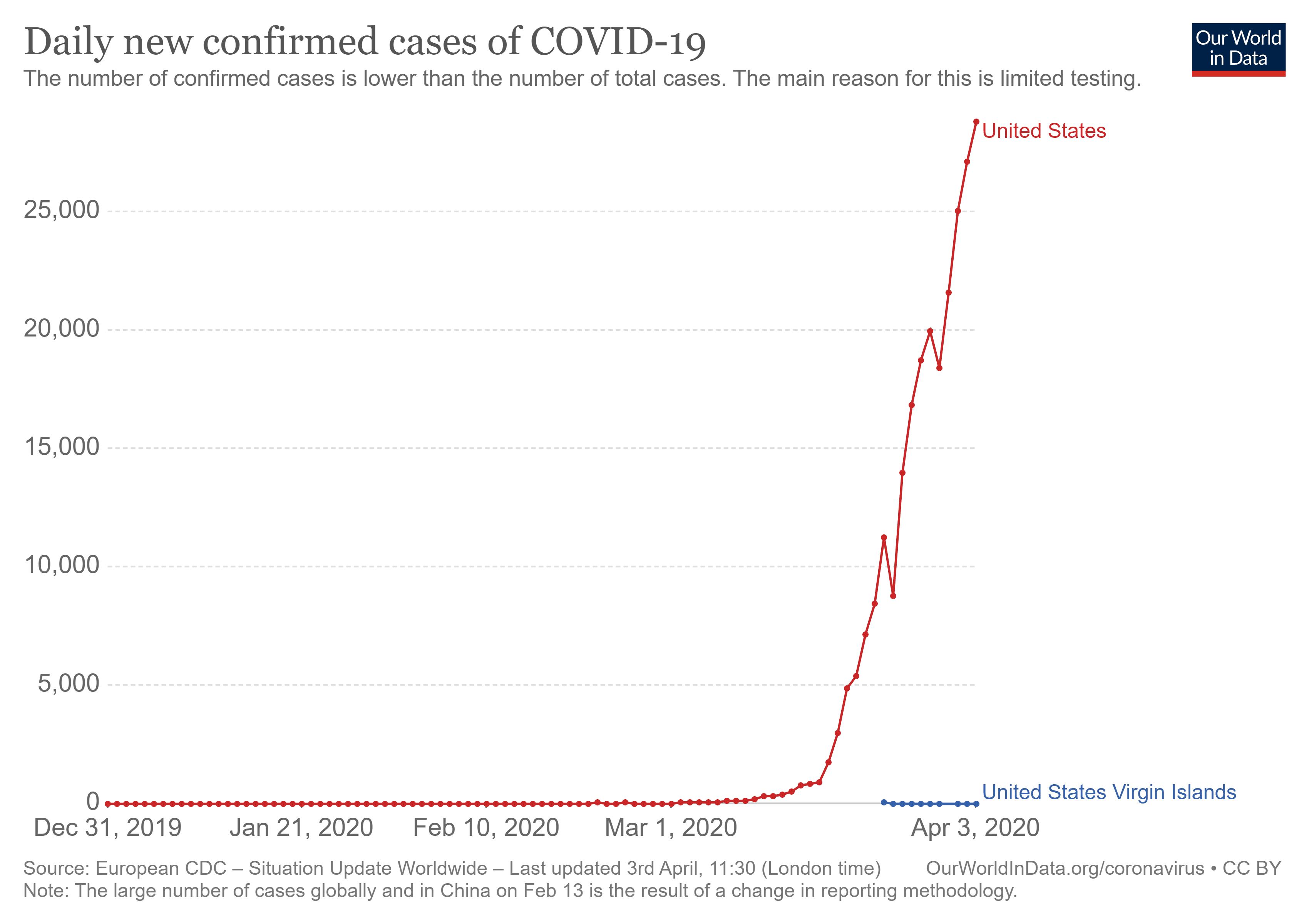 – Our World In Data
iShares iBoxx High Yield Corporate Bond ETF
(1/1/2007 – 4/3/2020)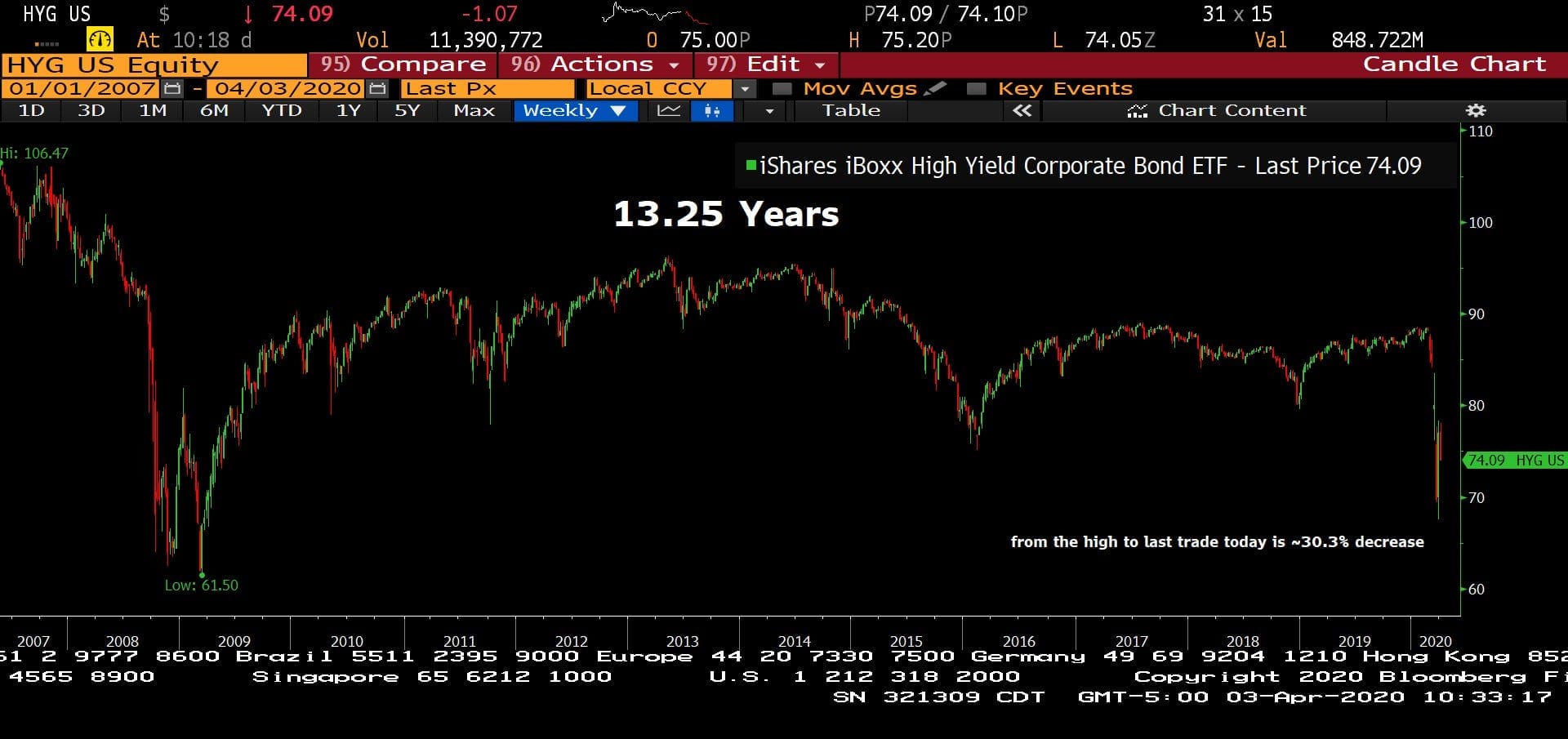 – Courtesy of Bloomberg LP
 AllianceBernstein Global High Income Fund, Inc. & BlackRock Corporate High Yield Fund, Inc. – Comparative Returns (12/29/2006 – 12/31/2012)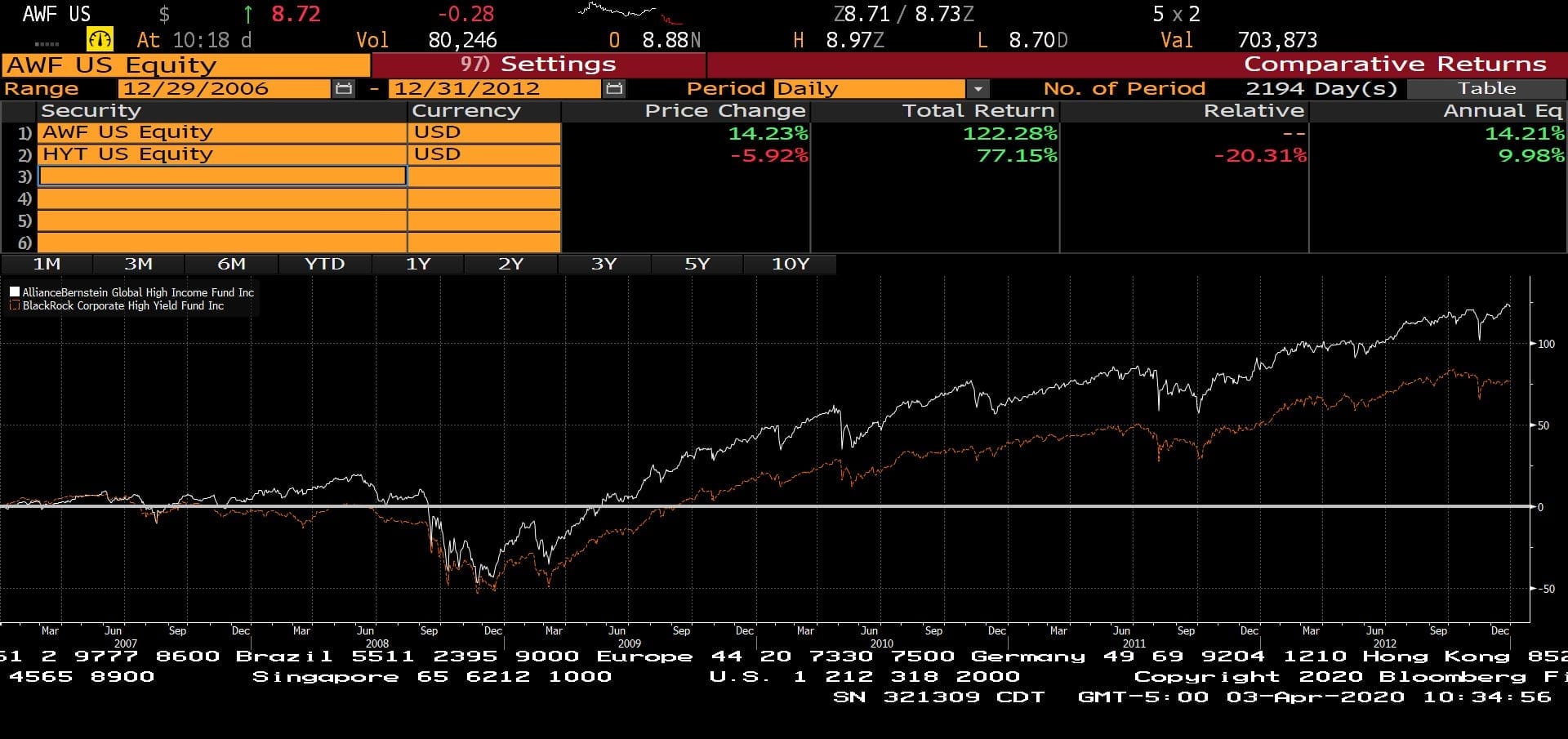 – Courtesy of Bloomberg LP
Headline Round Up!
*Goldman Declares Temporary 15% Jobless Rate, 34% Brief GDP Decline, Will This Set Up The Fastest Recovery In History?
*New Treatments and New Test Kits! Updates from our "Boots on the Ground" medical clients.  
*Computer Sales Soar!
*Telemedicine Soars!
*Dow Completes Near 40% Correction Then 23% Bounce Back? What does this tell us as investors?
*Latest Updates and Timelines for Shut Downs.
*Zero Interest Rates Everywhere.
*Central Bank Infusions!
*Stimulus on Steroids: Details Unfold.
*Scott Minerd Says Yields Going Negative? He looks right again?
Texas Energy Gold Rush
*Oil Trades to Near $20 Bounces to Above $28.
*Dividend Cuts Likely Temporary.
*Renewables, ESG, Solar, Wind, Infrastructure Updates.
*Huge Bounce in Oil and Gas Majors Telegraphs Access to Market Capital.
Profit Report!
*Stimulus Package and Required Minimum Distribution Updates.
*Credit Markets and Default Estimates?
*Duration Risk Updates!
*North Texas Superstars and Implosions!
What is the Cash Flow Revolution? How did it help recover to record profits after 2002 and 2008?
Research Round Up!
Investors are invited to improve decision making with a comprehensive tour of global economics, indicators, and actual results.
---
Start the Process Today! Be sure to indicate what size portfolio sample you would like to see. A link will arrive when we receive your questionnaire.