The Saudi Sunni & Iran Shia rivalry heated to another boiling point after the weekend attack on Saudi oil facilities temporarily removed over 5 million barrels per day in production, about 5% of the worlds supply. The impact on oil prices was the largest dollar and percentage one day increase in modern history with domestic oil rising from $55 to over $63 per barrel.
For investors two key strategy points from the headlines:
• Inflation tends to be energy driven and;
• The United States has become the world's largest overall energy producer. These points underscore the key opportunity in Energy Infrastructure.
The Federal Reserve all but admitted its course of action in 2018 raised interest rates too far too fast. This week's second cut in the overnight bank lending rate for 2019 highlights the fallacy in the Federal Reserve's pledge through last December to raise rates throughout 2019.
With the highest Money Market yields on course to fall below 2% across the board, many investors and institutions have already started to implement more aggressive allocations.
The potential cash flow panic of late 2019/early 2020 presents an appreciation opportunity for higher yielding assets including Global High Yield bonds and Dividend companies. This week's program explores money flows, corporate profits, and strategy for 2020. Join us for a unique, educational, fast paced tour of the global financial markets.
Headline Round Up!
*Oil Spike! Iran or Yemen or Both? What were they thinking?
* Fed LOWERS Rates Again?
*Red Faced Fed! Pants on Fire!
*Liquidity Shot Across the Bow! Overnight Rate Spikes to 10%? Were corporate tax payments due September 15th?
*Global Growth Slowest in 10 Years? Is the U.S. the biggest minnow?
Not a Recession Yet:
*U.S. Factory Output Strong!
*Home Starts Up 6.6% Over Last Year! Building Permits Rise 12% Over Last Year!
*FedEx Slammed! Parting Ways with Amazon Smacks Profit and Revenue Forecasts.
*Japan Set to Run Out of Beer?! Rugby World Cup Likely to Drain Japanese Liquidity! Burp! British Empire Descendants Often Drink for 4-5 Hours (until they pass out)?
*2019 IPO's Burn $12.5 Billion in Cash? Are Investment Bankers taking advantage of Index Fund mandatory purchases?
*WeWork Still Won't Work. IPO Postponed Again!
*Dallas Based AT&T Making Stuff Up Under Pressure of Activist Elliott?
*Gundlach Says Rates Have Bottomed and Bets Argentina Has Not Bottomed Yet.
*Dalio's Advice for Career Success!
*Cannabis Smoked!
U.S. Crude Oil – West Texas Intermediate Crude Spot Price (1 Month)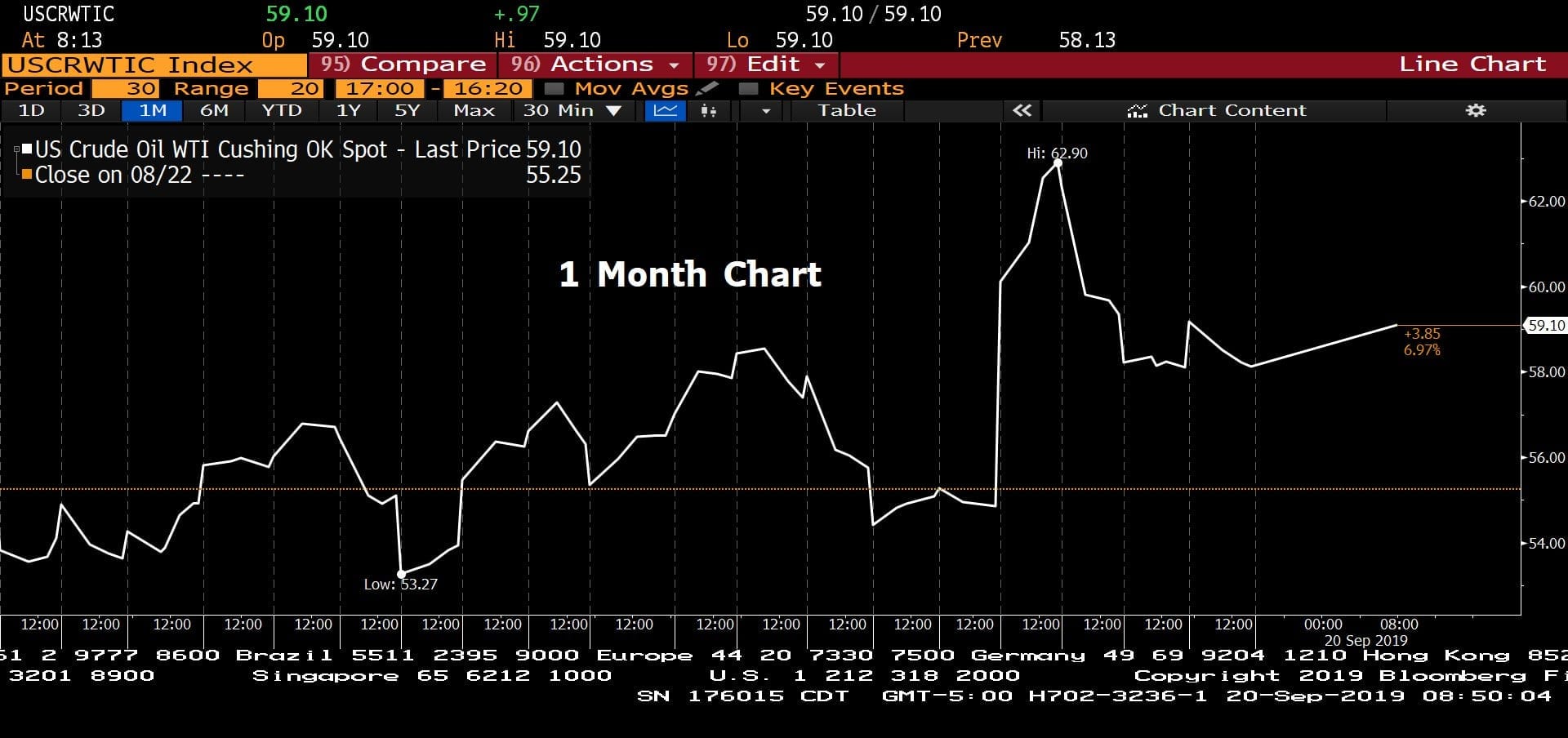 – Courtesy of Bloomberg
U.S. Crude Oil – West Texas Intermediate Crude Spot Price (Approx. 15 Years)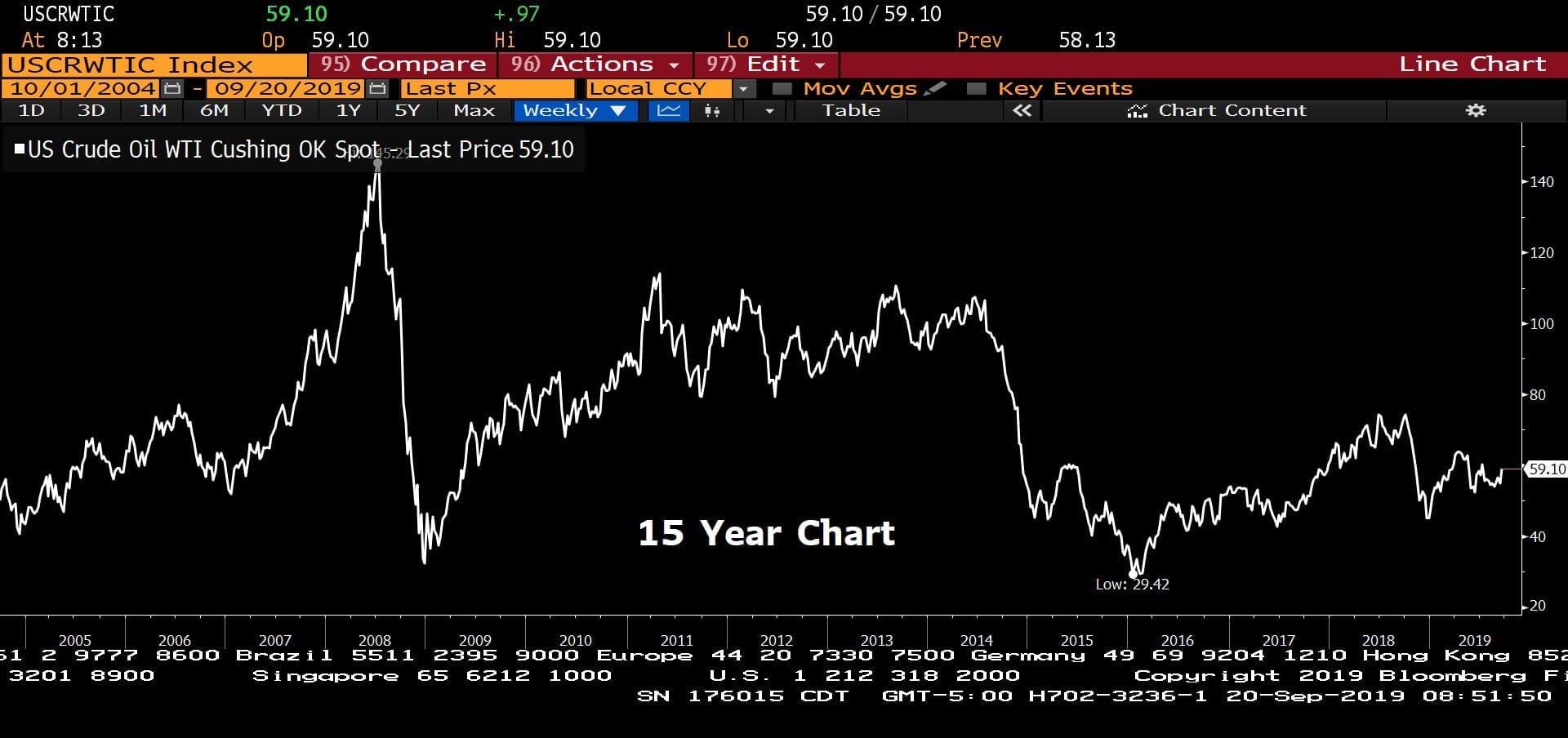 – Courtesy of Bloomberg
Dow Jones Industrial Average Index (3 Years)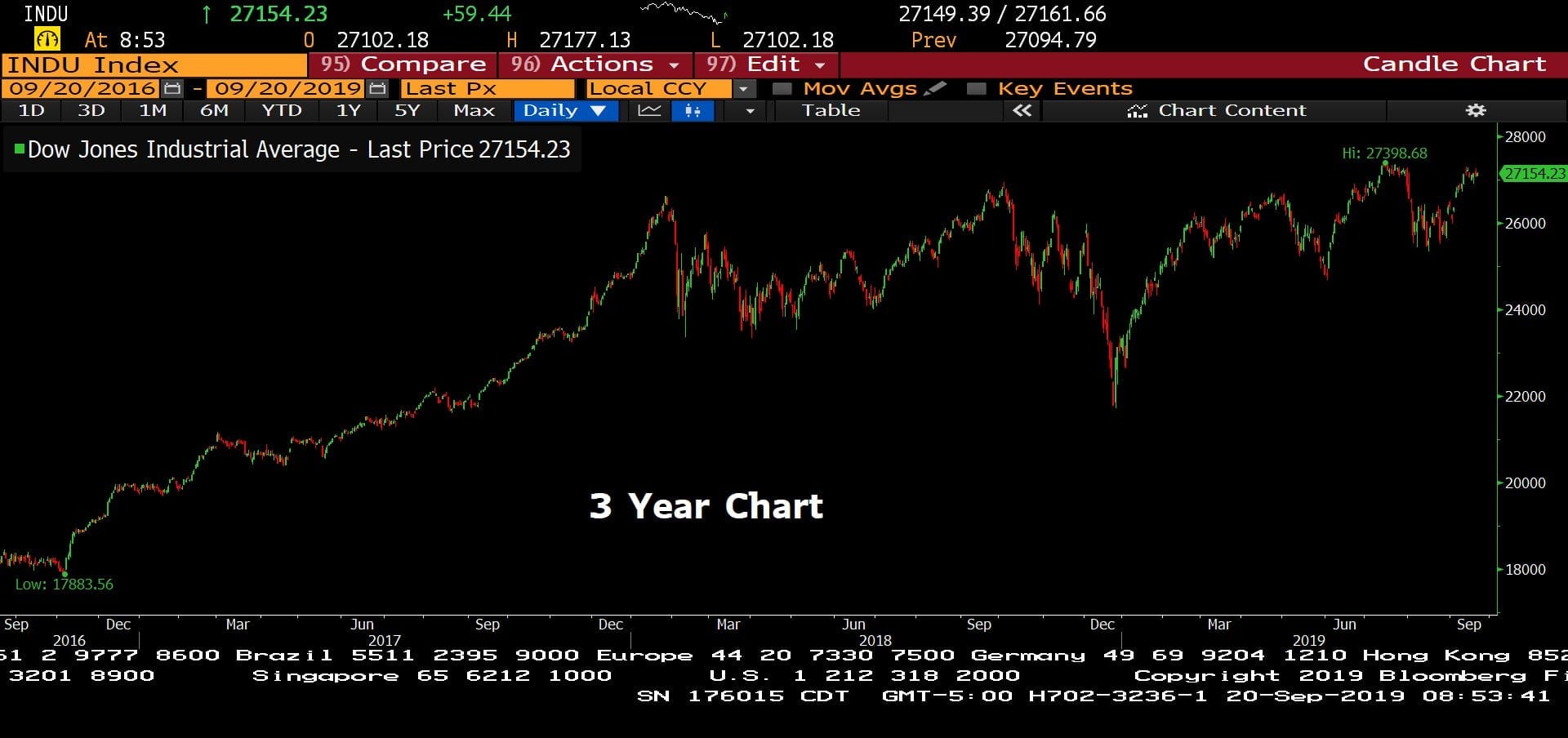 – Courtesy of Bloomberg
Standard & Poor's 500 Index – Quarterly Earnings Estimates (3 Years)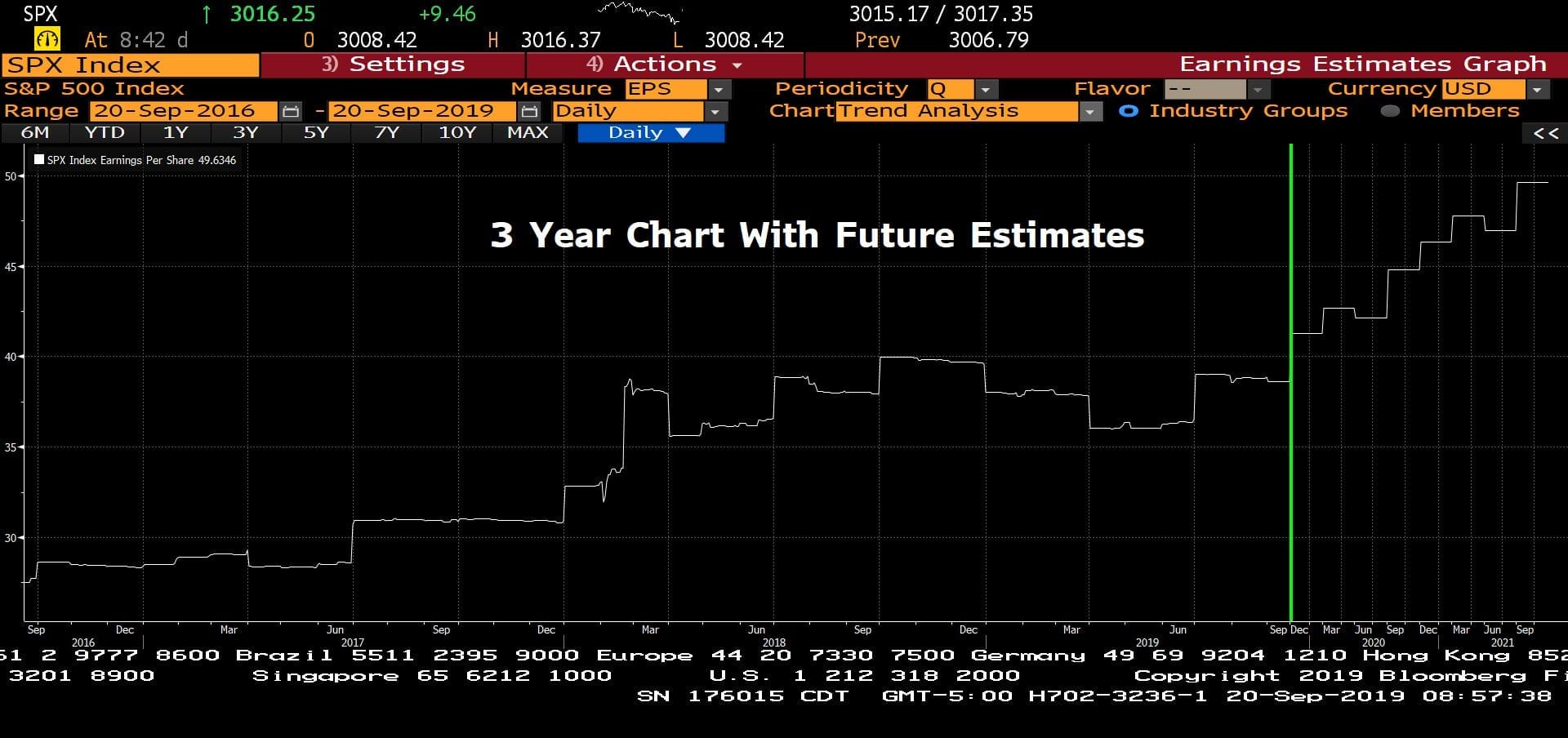 – Courtesy of Bloomberg
Federal Funds Target Rate, C.B.O.E. 10 Year Treasury Note Yield Index & 30 Year Treasury Bond Yield Index (3 Years)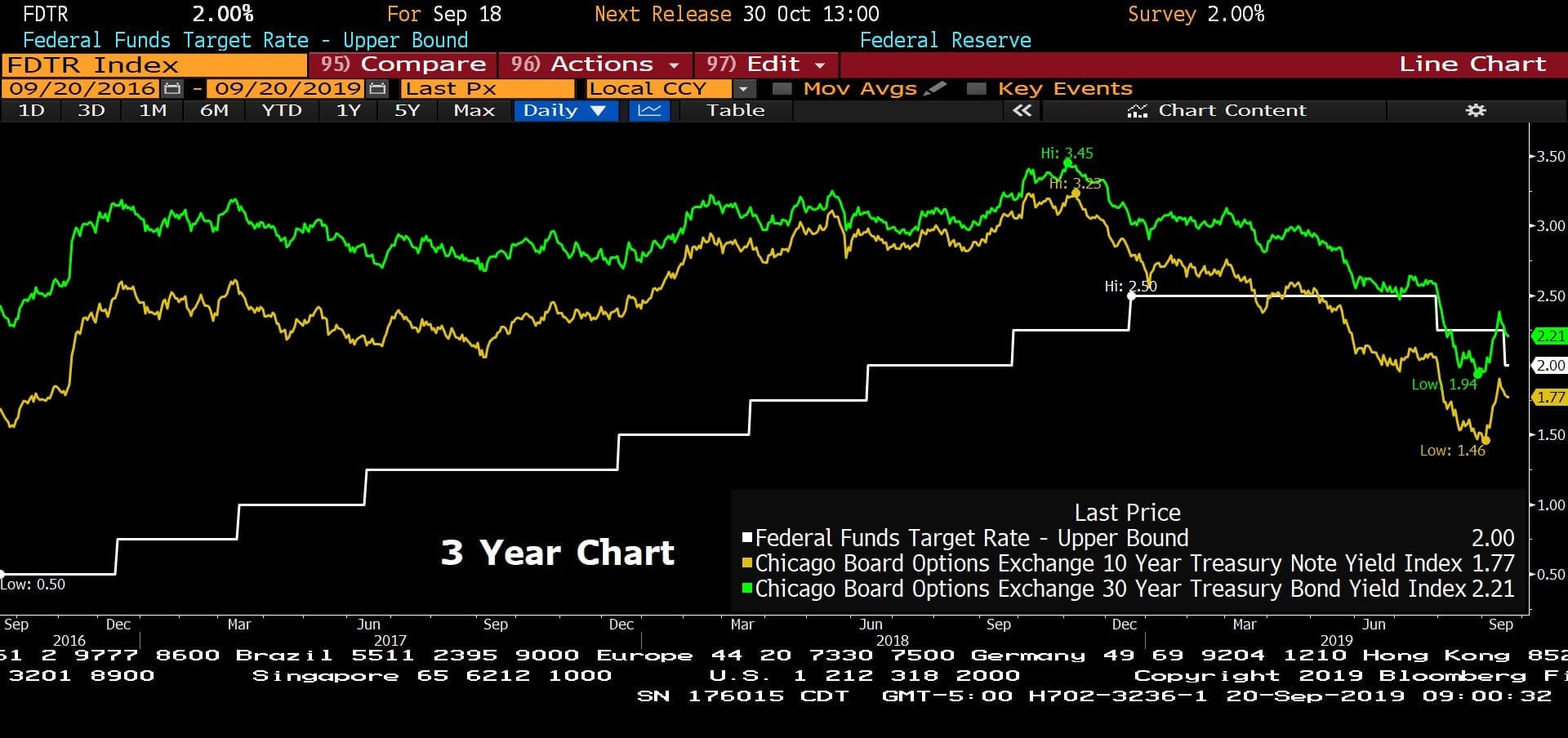 – Courtesy of Bloomberg
FedEx Corp. & United Parcel Service, Inc. (20 Years)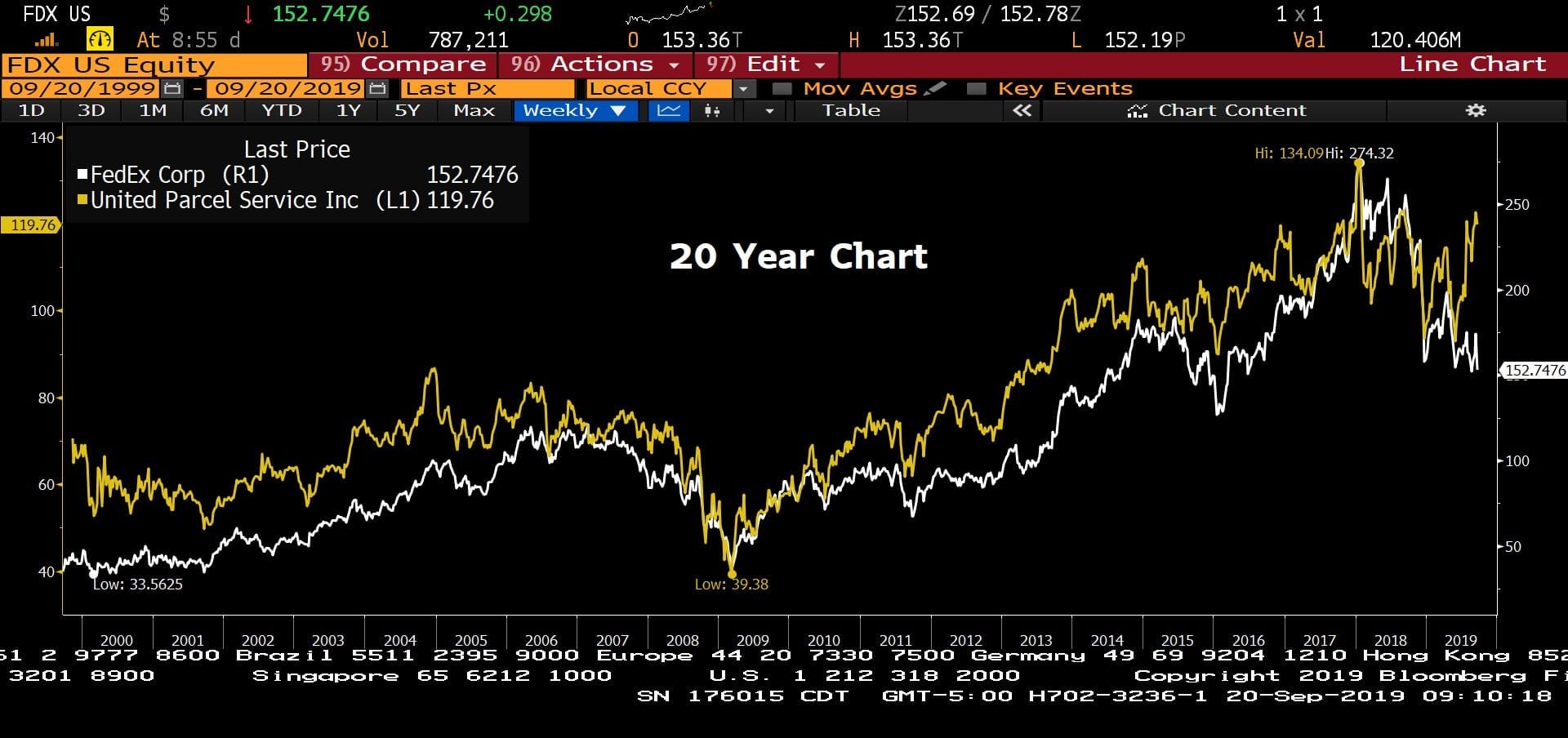 – Courtesy of Bloomberg
Texas Black Gold Rush!
*Energy Stocks Spike in September! Will the most undervalued sector in the S&P finally wake up?
*Energy Transfer Buys SemGroup. What does it tell us about valuations?
*McDermott International Lost 2/3 of Value in One Day? Oil Field Services and Exploration dangers?
*Gasoline Spikes! Do we need an inflation hedge?
Profit Report!
"Corrections are the process, by which, great assets are returned to their rightful owners at bargain prices." – Pappa Dean
Trustee Bootcamp: Whiteboards and Trustee Videos! "It is better to start with a plan than end in a panic."
Research Round Up!
Investors are invited to improve decision making with a comprehensive tour of global economics, indicators, and actual results.
Great Questions Lead to Great Answers!
---
FAQ
The McGowanGroup's (MGAM) most Frequently Asked Questions Provides an Educational Tour of the Advisory Process for Prospective Clients
What are the key parts of an Investment Plan with The McGowanGroup?
McGowanGroup's Investment Plan is a broad outline tailored to your unique circumstances and includes:
*A long term definition of client goals with realistic income and cash flow estimates
*An Allocation Strategy including specific asset categories distinctive to your plan
*Tax Planning and Estate Planning key facts
*Highly customized insights and recommendations
The Investment plan is delivered by email during the initial fact finding appointment along with an in-person comprehensive educational notebook.
How has The McGowanGroup performed for its clients over time?
MGAM, under the Mission Tab, fully discloses the net results of all client accounts under our care since 2001.
Posting the overall results provides a realistic basis for each investment plan. This also allows MGAM the ability to educate clients on fluctuations in the markets, values at risk of loss as well as effective recovery strategies.
What information do clients receive regarding individual performance?
Each account and household group are tracked and reported monthly including performance from inception as well as each quarter.
How frequently will we meet to discuss my portfolio and the progress we are making toward my investment goals?
Client reviews are provided on a quarterly schedule and anytime upon request. Comprehensive performance reviews are uploaded to your document vault, along with your statements from our custodian on a monthly basis.
Where are my assets held?
All MGAM client investment assets are held with Pershing Advisor Solutions.
What statements and reports will I receive?
Pershing's website provides a complete view each client's assets under a secure log in for each household. MGAM provides an additional secure document vault for your performance reports as well as tax information. Furthermore, we can add your CPA to have viewing capabilities for all your information. This is an additional service provided to save clients time and cost.
Are you a Fiduciary?
The McGowanGroup Asset Management, Inc. is a federally Registered Investment Advisor (RIA) firm and is considered a Fiduciary. This means we are held to a higher standard of care than ordinary commission based brokers.
What experience does your firm have with newer technologies and algorithm trading?
We believe MGAM is ahead of the curve technologically since we've adopted a secured cloud based internal structure with integrated features such as Salesforce and Modest Spark in addition to Pershing's own website.
Our secure cloud based system allows us to be nimble enough to work from anywhere and have access/communication with our clients in real-time with real-time updates. Our Business Continuity Plan (BCP)includes technology platforms to insure client service, communication, and trading can be performed in the event of disruptions.
The firm embraces algorithm trading for our portfolios, via our custodian's trading desk, to execute large orders to ensure we obtain best possible execution prices for our clients. Additionally, we rely on the human touch of our Investment Committee to vet and produce actionable trading intelligence for our client base.
What is the portfolio minimum for The McGowanGroup to manage?
Out of respect for our existing clients, we ask new clients to consolidate a minimum of $500,000 during the first 12 months. Minimums are waived for family members referred to us by existing client to further the multi generational Estate Planning services.
Does McGowanGroup work with Attorneys and Accountants for Wealth Management strategies?
CPA's and Estate Planning attorneys play a vital role in our process. Clients are encouraged to schedule annual planning calls with us and their CPA for tax planning coordination. The benefits include accounting estimates for the CPA to use in a preliminary return and provide recommendations for effective tax reductions.
Conference calls with Estate Planning attorneys result in our being able to understand and document the client's current plan as well as provide logistics & recommendations based upon over 30 years of experience in processing estates. Engaging the primary Executor and Trustees before death through our Trustee Bootcamp provides helpful education for the future decision makers.
What is McGowanGroup's Trust and Estate Planning experience?
Our Relationship Managers Alex Tollen and Andrew Orton have earned the Certified Private Wealth Advisor (CPWA) designation from the University of Chicago.
Spencer McGowan has earned the Certified Investment Management Analyst (CIMA) designation from Wharton Business School.
MGAM's actual long term experience in Estate processing, including nearly all types of trusts, provides clients with valuable resources and coordination with your Estate Planning attorney.
Future Trustees and Executors are encouraged to join The McGowanGroup's Trustee Bootcamp to further successful outcomes for each family.
What is Asset Management versus Wealth Management?



The terms overlap and have important distinctions. Both are accomplished each business day at the McGowanGroup.
Asset Management and Investment Management are focused on making successful investment allocations designed to protect assets and provide potential superior performance. Mathematical performance measurement improves decision making, especially in challenging markets.
Wealth management services are more comprehensive and begins with a written plan including overall objectives. Tax control, education of beneficiaries, legacy building, insurance coordination, charitable giving, philanthropy, and retirement planning services are included as part of the wealth management process at MGAM.
Does The McGowanGroup provide business owner exit and legacy planning?
Spencer McGowan, as a business owner and entrepreneur, provides the foundation for client business owners with an understanding that only comes from actual experience.
Exit strategy planning often includes employee stock ownership plans, deferred compensation plans, business valuation metrics, coordination with economic cycles, and confidential negotiation support.
What is "Limited Discretion" over an account?
"Limited Discretion" usually refers to the trading authority necessary to manage the allocations within an account. This authority allows for securities transaction to be completed and information to be given, but money movement such as a wire or check from an account, account detail changes, change of address or change in ownership is allowed only with an account owner's signature. MGAM, as an RIA firm, has discretionary trading over client accounts.
What Investment Categories do you specialize in?
The McGowanGroup divides asset classes into three major asset categories: Safety and Income, High Cash Flow and Growth with Income. Current allocations do not include private equity due to liquidity issues with that particular asset category.
What type of Investments do you help with?
MGAM's client tailored Investment Plans include all assets categories mentioned earlier along with coordination and planning for insurance, annuities, and illiquid investments held outside of The McGowanGroup. As a Fiduciary, MGAM does not sell insurance or annuities allowing for unbiased fiduciary advice to clients.
How do you get paid?
MGAM is paid a percentage of assets under management, billed quarterly in advance. Investment and custody services as well as all ancillary costs are clearly described in our form ADV and available via our website.
What Investment Benchmarks do you use?
An absolute benchmark is a stated target return a relative benchmark is measured against the relevant Index or combination of Indexes. Each of our trademarked model disciplines is measured against the appropriate indexes in a separate report provided upon request.
---
Start the Process Today! Be sure to indicate what size portfolio sample you would like to see. A link will arrive when we receive your questionnaire.