As of this writing, our client portfolios stand at or near record cash flow from interest and dividends net after costs. The sources of the dramatic increases in forward net cash flow include discounted bond funds as well as energy infrastructure holdings. These two categories also provide significant capital gain potential over the next 5 years based upon our extensive research.
Equity Market Update Range Bound?
---
The graph below highlights the likely possibility that the Dow and other blue chip indexes could be range bound while digesting the post election rally of nearly 40%. The Dow reached a highpoint of about 26,500 and an overnight low near 23,000 during the February correction. The index still remains near the mid point of those two recent extremes. What strategies are more likely to succeed in a range bound market? Net portfolio cash flow from interest and dividends should, in our opinion, be the focus of portfolio strategy if future appreciation in the equity indexes is in question. Gain potential can be enhanced by focusing on discounted assets.
Dow Jones Industrial Average Index (1 Year)
-Courtesy of Bloomberg LP
Energy Infrastructure Bargains?
---
After a setback in Q1, the pipelines resumed what appears to be a long term rally. The Alerian M.L.P. index still stands at approximately ½ of the 2014 highs backed by improved flows of oil and gas with liquid natural gas exportation terminals on track to multiply. This category accounts for a majority of the increased net portfolio forward cash flows over the last 9 months. For those worried about a Bear Market cycle, the energy sector completed a near 4 year Bear Market cycle with the shares of the major oil companies taking the sector to leadership concurrent with $74 per barrel oil. The pipelines have, in the past, lagged and then appreciated underscoring the opportunity for a strong second half.
Alerian M.L.P. Index & West Texas Intermediate Crude (Approx. 10 Years)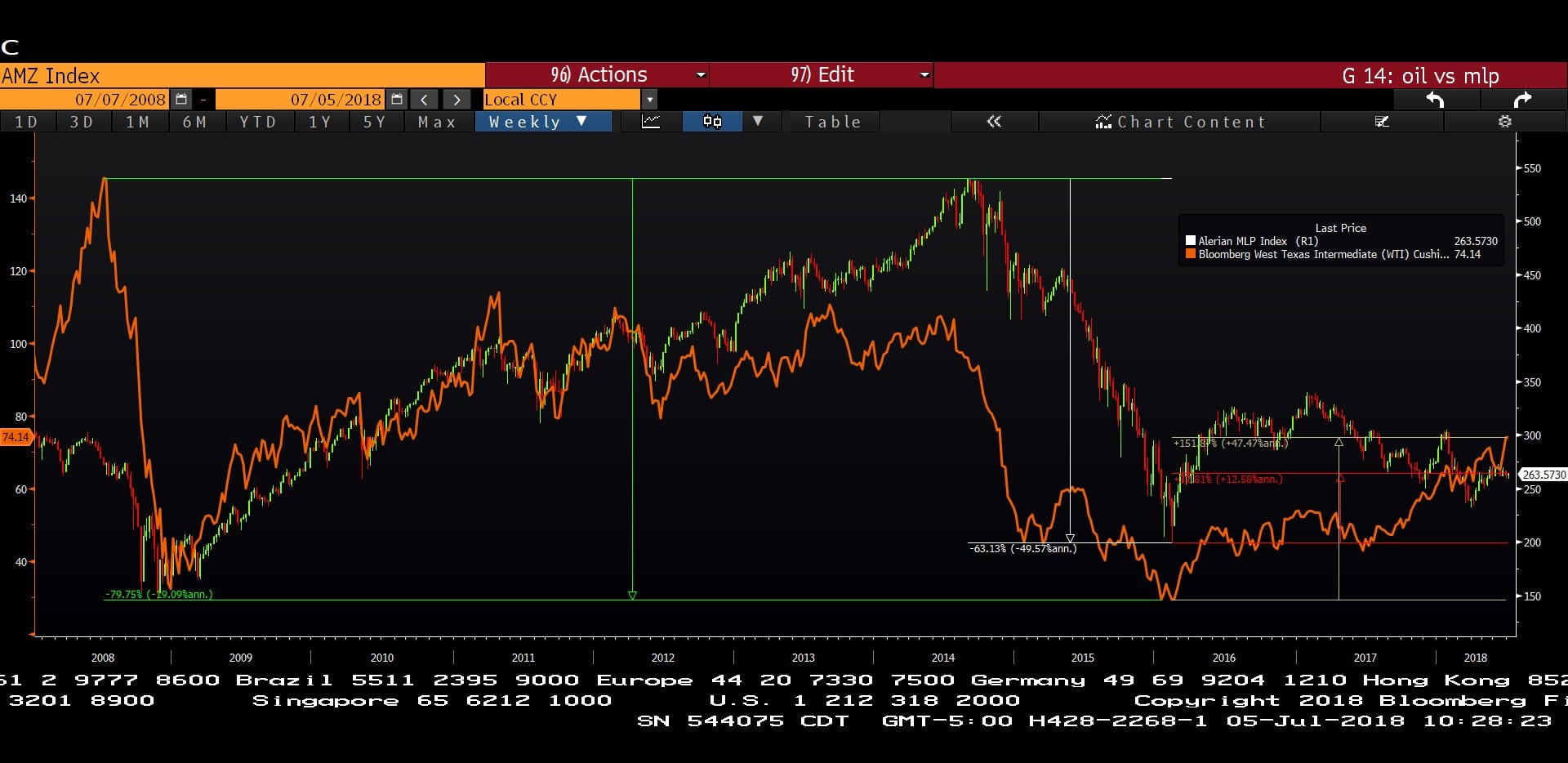 -Courtesy of Bloomberg LP
Emerging Market Debt Funds Discounted?
---
The strong dollar corresponded to the emerging market bond funds trading below 80% of estimated par value under control. While bond funds, generally, do not provide an assured final maturity, the tendency to return to near par value under control has provided capital gain opportunities in previous discount pricing. These are the most attractive discounts since early 2016 before 2 years of capital gains, evidenced by our strong overall performances in both 2016 and 2017. The current discounts are also equivalent to late financial crisis discounts which were also near or below 80% of estimated par value under control. The graph of one of the larger Western Asset funds illustrates the pricing discount.
Western Asset Emerging Markets Debt Fund Inc. (Approx. 10 Years)
-Courtesy of Bloomberg LP
Interest Rate Updates and Fed "Conundrum"?
---
Rates up? Rates down?
The 90 day U.S. Treasury bill stands just below 1.9% at this writing driven by the Federal funds rate increases to 1.75%. Yet, the 30 year U.S. Treasury bond actually fell below 3% in the month of June. The academics at the Fed telegraphed a 2% short term overnight bank lending rate in late 2017. The opportunity for appreciation in high cash flow assets, paying over 5%, exists when and if the Federal Reserve declares a pause in their short term rate increases. We titled the 2012 appreciation in our closed end income funds the "cash flow panic" as institutions appeared anxious to buy higher yielding assets, potentially before the long rates spike. 
Torsten Slok of Deutsche Bank asked the question: who is buying all those U.S. Treasuries? He pointed out subsequently that over $8 Trillion worth of bonds trade at interest rates below zero globally. The relative attraction of longer U.S. Treasuries explains part of the demand and sets the stage for the possibility that long rates could remain stable as they have for 2 years.
C.B.O.E. Short Term Interest Rate Index & C.B.O.E. 30 Year Treasury Bond Yield Index (2 Years)
-Courtesy of Bloomberg LP
The investment committee meets each week on Wednesdays at 8:15 to refine our portfolio strategies using sophisticated research dashboards. Clients are welcome to join us for more in depth education.
We are grateful to serve you and your family and look forward to continued future prosperity.
The Team that Cares
McGowanGroup Asset Management
Headline Round Up!
---
*Only 10 Stocks Account ALL of the S&P's Minuscule First Half Gains. What about all the other companies?
*Job Hoppers Getting Raises!
*177,000 New Private Payrolls Estimated by ADP!
*Trade War Battle Win? No Tariffs Proposed on Cars and Trucks Between U.S. and Europe?
*Goldman Sachs Declares Trade War Oversold in Commodities? Over-Anticipation?
*Dow Then Spikes on Light Holiday Volume!
*U.S. Treasury 30 Year Yield FALLS to 2.95% Why? Japan Sells. Who is Buying? Implications for Investors?
*Soy Bean Race Before China's 25% Tariff Takes Effect.
*Record Dividends! $124 Billion Declared in Q2.
*Oil Hits $75, Highest Since November 2014 Then Retreats.
*Energy Transfer, Oneok, and Enterprise Products Expanding Existing Pipelines for Natural Gas.
*Shale Boom: Energy Companies Pay Most Last Year, $123,000 Median Wages, WOW!
*Beware the IPO: 120 Companies Raise $35.2 Billion, 4th Highest Year to Date on Record.
The Profit Report:
---
Alex's Birthday – Tell Us Your Story Profit!
The Cash Flow Revolution:
*Interest Rate Updates: Money Markets, Treasuries, Corporates, and more.
*What pays more and is less volatile than stocks?
Research Round Up!
---
Investors are invited to improve decision making with a comprehensive tour of global economics, indicators, and actual results.
---
Start the Process Today! Be sure to indicate what size portfolio sample you would like to see. A link will arrive when we receive your questionnaire.