What happens after the Federal Reserve declares that they have finished, at least for the near future, raising short term interest rates. The likelihood of that announcement is detailed in the grid below by Bloomberg. 
This week's program will discuss the possible impacts of second half Federal Reserve policy on the fixed income and equity markets. The implications for investors are important inputs for future strategies. The scenario could be similar to 2012 and 2013. Join us for a fast paced tour of the global financial headlines!
World Interest Rate Probability Chart for the United States (Approx. 1 Year)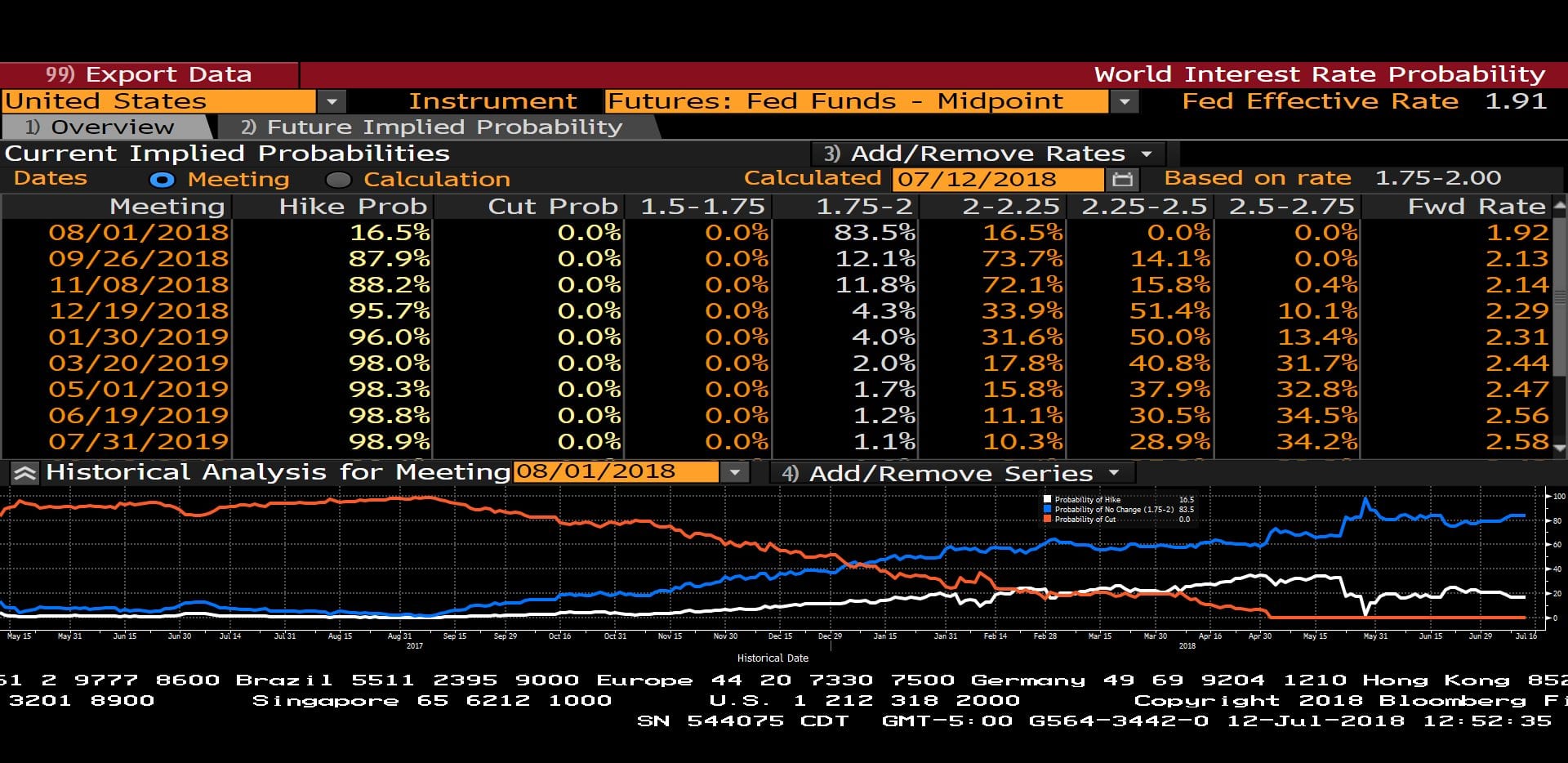 -Courtesy of Bloomberg LP
S&P 500 Index (Approx. 10 Years)
-Courtesy of Bloomberg LP
C.B.O.E. 30 Year Treasury Bond Yield Index (Approx. 10 Years)
-Courtesy of Bloomberg LP
iShares iBoxx High Yield Corporate Bond E.T.F. (Approx. 10 Years)
-Courtesy of Bloomberg LP
Headline Round Up!
---
*Texas #1 for State for Business! CNBC Loves Texas Too!
*Get a Job Here! Texas Creates 1 out 7 New Jobs in the U.S. in the Past Year!
*Texas Pacific Land Skyrockets Again! Lessons for investors since 1888.
*Sand Boom! From Near Zero to Billions!
*Get Your Guns Up! Texas Tech Student Makes $28 per Hour in Fracking Sand Industry.
*Gross Performance: Former Bond King, Bill Gross, Dethroned for Betting Long Rates Would Rise in 2018.
*Smelly Energy? The Future of Manure Has Arrived!
*Oprah Getting Bigger! Securing a Never Ending Supply of Food, Oprah Invests in True Food Kitchen After Making a Fortune with Weight Watchers.
*21% Tax Loop Hole? Offshore Accounts That Never Repatriate Pay 21% But Can't Bring it Home Without More Tax.
*Job Openings Update: April Record 6,840,000 Jobs Posted to Be Filled. May 6,640,000 near Record. Quitters at 17 Year High.
*Tesla Building a Plant in China then Europe Anticipating Tariff Impact.
*Ridiculous! Trumps Latest 200 Page New Tariff List Includes Hair!
*Inflation Updates! Up or Down?
*Liquid Natural Gas Updates: Explosion of New Export Terminal Applications Creates Bottleneck at FERC of Applications.
*Cannabis Bliss for Hedge Funds Too!
*Boom! BlackRock Launches $1.5 Billion Fund for Energy Infrastructure.
The Profit Report:
---
Blackrock and J.P. Morgan Asset Management Q3 Updates.
The Cash Flow Revolution:
*Interest Rate Updates: Money Markets, Treasuries, Corporates, and more.
*What pays more and is less volatile than stocks?
Research Round Up!
---
Investors are invited to improve decision making with a comprehensive tour of global economics, indicators, and actual results.
---
Start the Process Today! Be sure to indicate what size portfolio sample you would like to see. A link will arrive when we receive your questionnaire.