This week the Dow and the S&P 500 notched new highs.
The bad news in this week's research is an overall projected drop in S&P 500 profits.
This week's program focuses on overall strategy guidance with allocation strategies designed to increase cash income with potential capital gains in categories that appear to be relative bargains.
NetWorth Radio Texas Business Leadership Series: This week's powerful interview features Brad Olsen, Co-Founder and Portfolio Manager and Oliver Doolin, Client Portfolio Manager with Recurrent Investment Advisors.
---
Their latest research piece provides important guidance for dividend company investors seeking income and capital gains!
Prior to co-founding Recurrent, Brad was most recently the lead MLP portfolio manager for BP Capital Fund Advisors (BPCFA). Under Brad's leadership, MLP AUM more than doubled (excluding the impact of appreciation).
From 2011 to 2015, Brad led Midstream Research for Tudor, Pickering, Holt & Co. (TPH & Co.), where he was recognized as the top all-around stock picker in the US by the Financial Times in 2013, and the top energy stock picker in the US by Starmine in 2014. Under Olsen's leadership, the TPH & Co. midstream team was recognized in the WSJ's "Best on the Street" poll as well as by Institutional Investor Magazine.
Brad also has experience as an investment analyst at Eagle Global Advisors in Houston, where he was part of a 3-person team that grew midstream/MLP AUM from $300mm to over $1bn from 2008 through 2011. He has also worked in investment roles at Millennium International, a large global hedge fund, and Strome Investment Management, an energy-focused hedge fund based in Santa Monica, CA. He began his career in the UBS Investment Banking Global Energy Group in Houston.
Brad earned a BA in Philosophy, Political Science, and Slavic Studies from Rice University in Houston.
Brad resides in Houston with his wife and four children. Brad was nearly fluent in Russian, but is very rusty.
---
Oliver has spent over a decade specializing in natural resources, oil & gas, and MLP institutional equity research, most recently at Heikkinen Energy Advisors in Houston.Prior to joining Heikkinen, Oliver served in both research and business development roles at energy-focused investment banks, including 6 years as a Vice President at Tudor, Pickering, Holt & Co (TPH) in Houston, where he specialized in exploration and production (E&P), oilfield services (OFS) and midstream MLP companies.
Oliver began his career as a research analyst covering E&P and Oilfield Service companies for both TPH and Howard Weil, respectively.
Oliver holds a BS with dual concentrations in Finance and Legal Studies (Tulane University) as well as an MS in Accounting from the A.B. Freeman School of Business at Tulane University.
Oliver, originally from south Louisiana, is an avid outdoorsmen and runner. He resides with his wife and two children in Houston.
Dow Jones Industrial Average Index (Approx. 5 Years)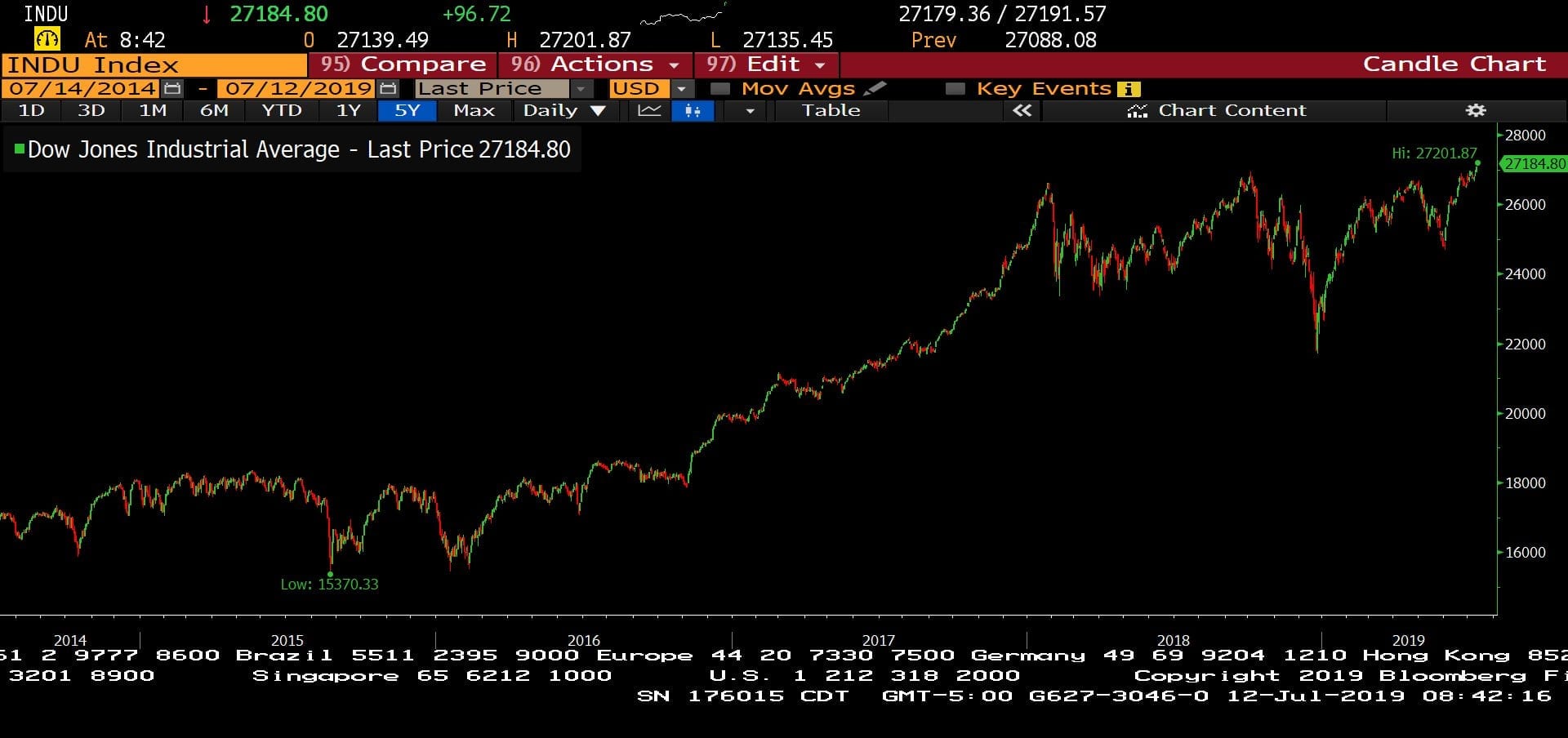 – Courtesy of Bloomberg
Standard & Poor's 500 Index Quarterly Earnings (Approx. 5 Years)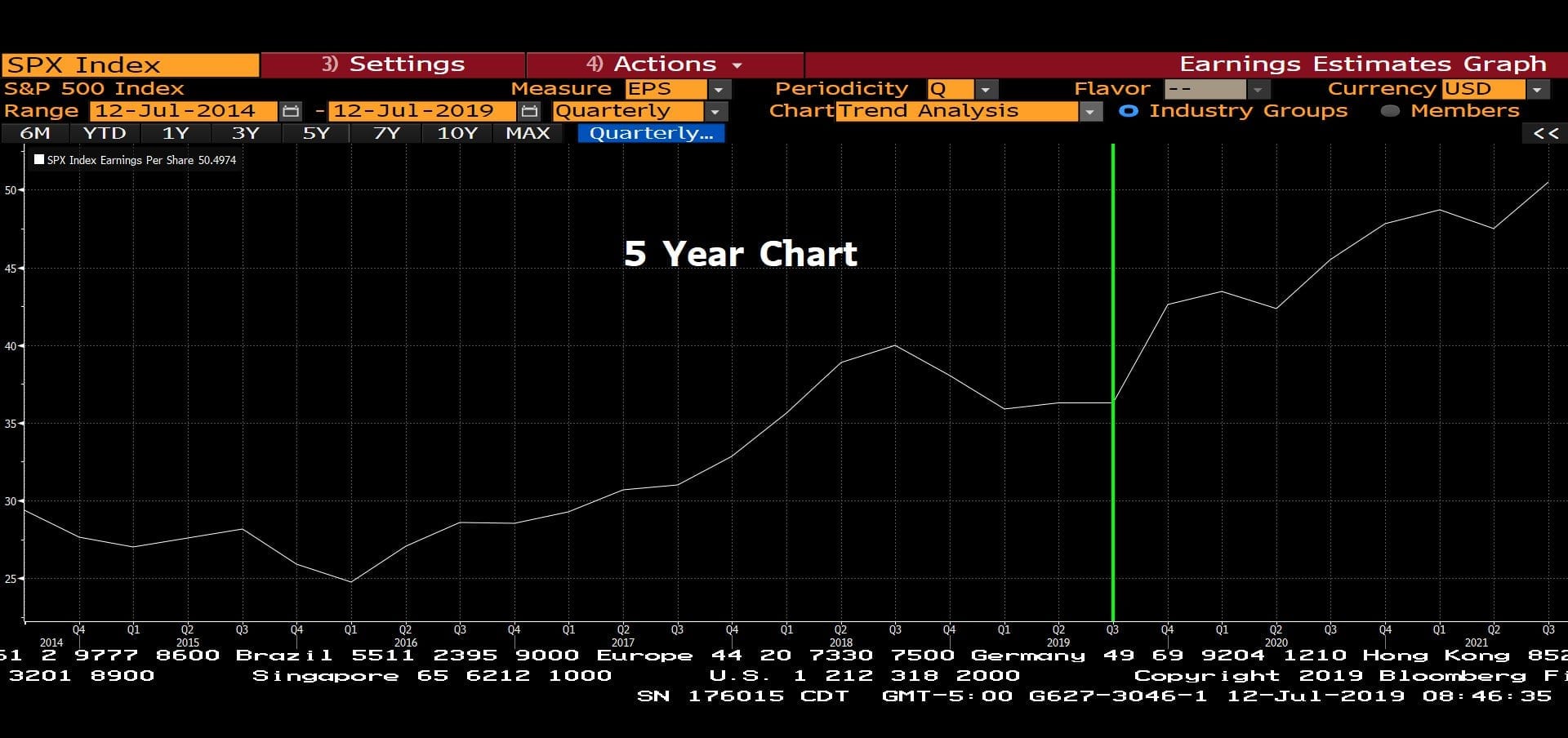 – Courtesy of Bloomberg
Standard & Poor's 500 Index Annual Earnings (Approx. 5 Years)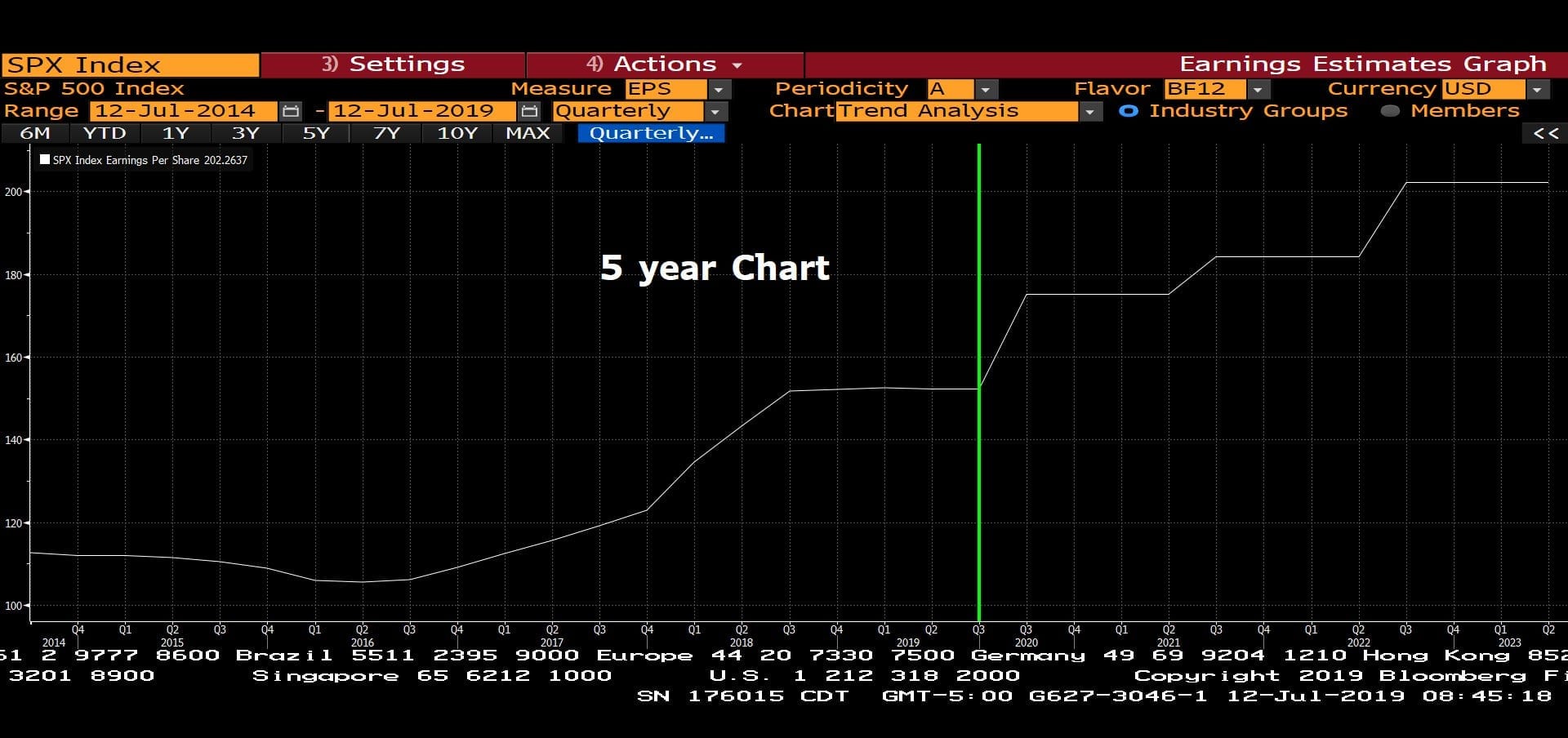 – Courtesy of Bloomberg
World Interest Rate Probability – United States (07/31/2019 – 07/29/2020)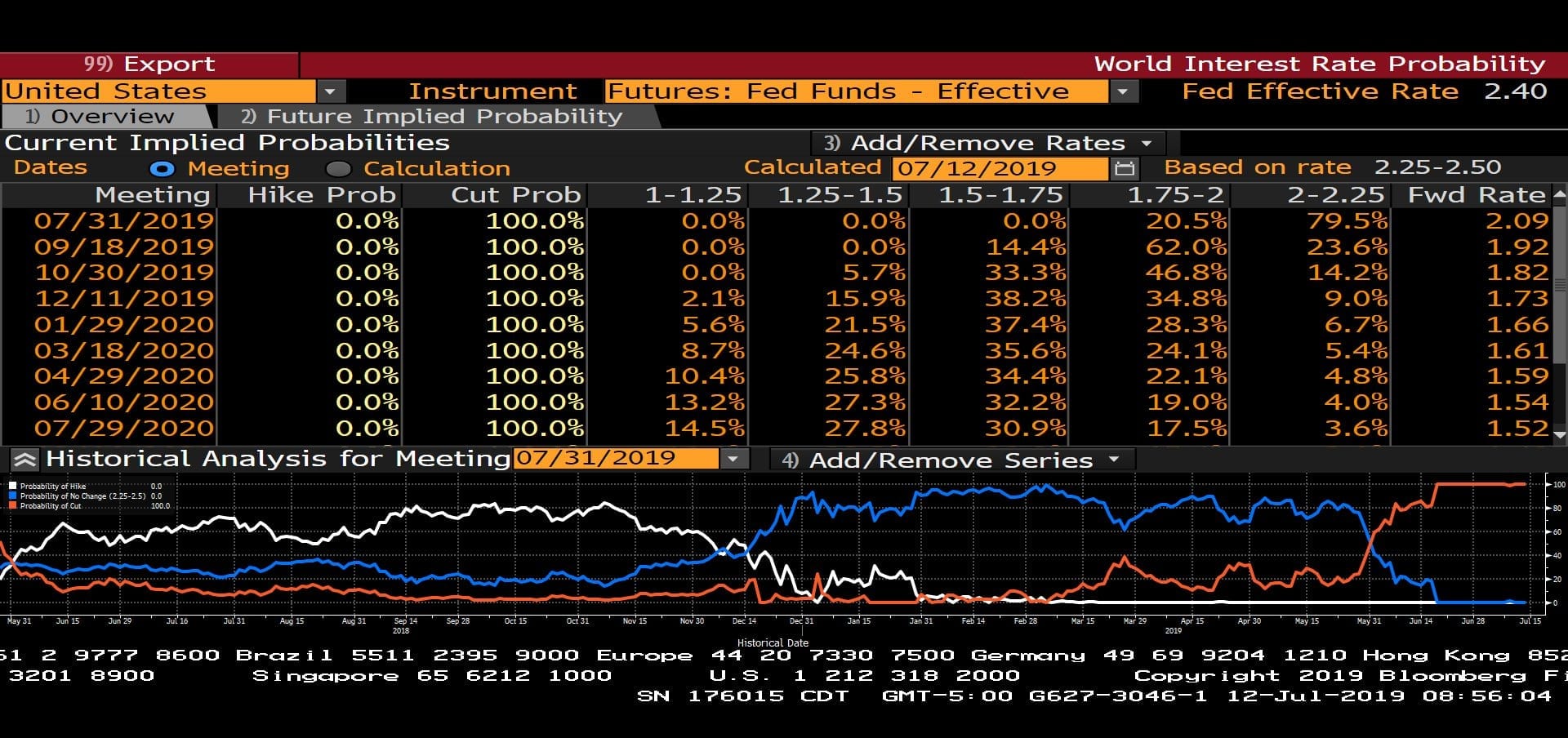 – Courtesy of Bloomberg
Wells Fargo Business Development Company TR Index,
Wells Fargo Business Development Company Index Price Return & Federal Funds Target Rate
(Approx. 3.5 Years)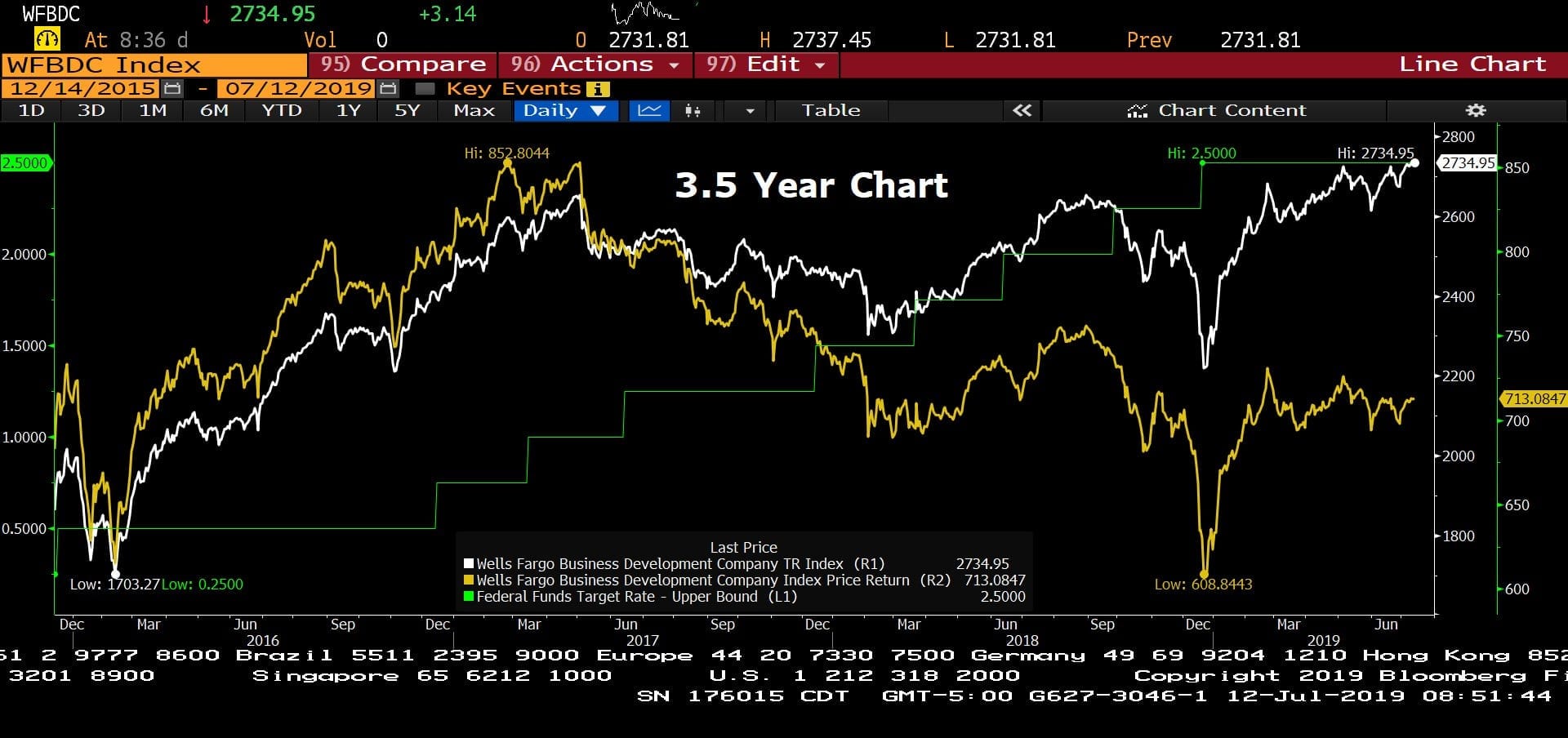 – Courtesy of Bloomberg
Alerian MLP Index & West Texas Intermediate Crude Spot Price
(Approx. 5 Years)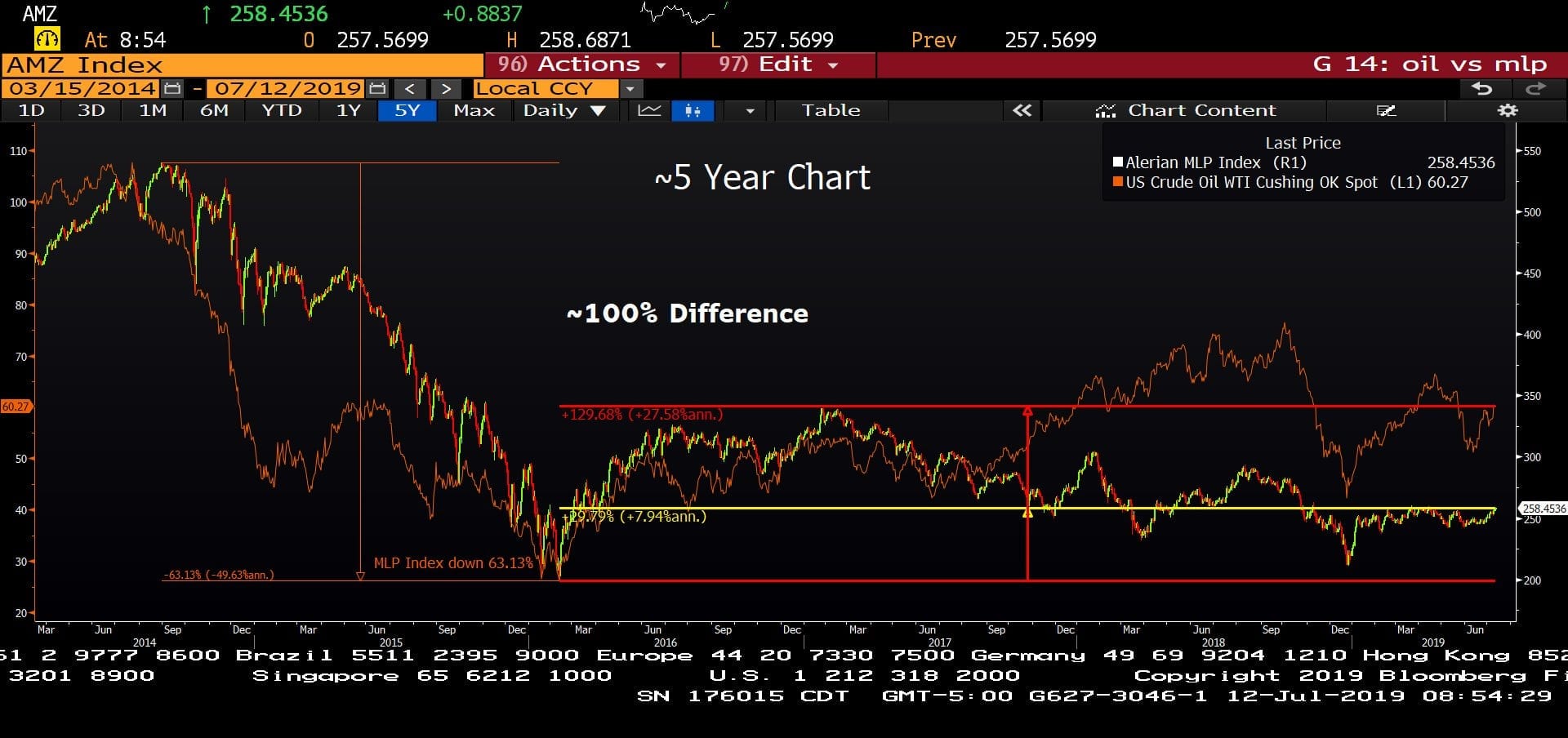 – Courtesy of Bloomberg
Headline Round Up!
*New Highs for the Dow and the S&P! What's next?
*Half the Bonds in the World Pay Less Than Inflation?
*Big Global Freezing: Sub Zero Yields with Huge Duration Risk! What are the solutions?
*Great June Jobs Report! Where is that slowdown?
*Amazon Retrains 100,000 Workers.
*Inflation Report: Consumer Prices Up 1.6% in Last Year. Fed Target is 2%. What will happen next?
*High Yield Rally Driven by Low Inflation?
*Iron Ore Prices Spike 68% in 2019! Huge Gains in U.S. and Chinese Steel Production. Again, where is that slowdown?
*Samsung Profits Fall 50%. Chip Crunch? Is it time for Texas Instruments harvests?
*Apple Sell Rankings Hit High Point?
*Bed Bath and Below: 20 Year Low in Stock Price, 1998 All Over Again? Beware of the retail ice age.
*Carlyle Raises $4.6 Billion for Infrastructure and Credit Funds.
*This Could Take Off Like a Rocket! Richard Branson Taking Space Unit Public.
*Marijuana Treatment Advice for Seniors?
*Jay-Z Teams Up with Cannabis Caliva. Snoop Dog Doghouse?
*Oil Spikes Back Over $60!
*More Pipes Needed for Gas!
Research Round Up!
Investors are invited to improve decision making with a comprehensive tour of global economics, indicators, and actual results.
---
Start the Process Today! Be sure to indicate what size portfolio sample you would like to see. A link will arrive when we receive your questionnaire.