How long has the Market been Range Bound?
Has this happened before?
How can we make money?
The question: does inversion = recession?
Europe and Japan negative interest rates?
Will dear leader Little XI and our beloved Agent Orange wreck the global economy with their schoolyard brawl?
Will Argentina Default? How many times have they

defaulted

before?
Why do you have more questions than answers??
This week's program is designed to turn salacious financial headlines into real Investment Strategy designed to empower you as an investor!
Join us for Education, Entertainment, Humor, and Financial mastery.
We raised cash from profits during July to redeploy in bargains near the lower end of the trading range that started at the beginning of 2018. This trading strategy is designed to gain advantage and provide additional long term gains at the high end as well as pay raises at the lower end of the range.
Likely anemic growth is the updated best forecast.
Markets flashed us a big bottom on Thursday morning.
So much for the Summer Doldrums!
At the overnight lows of the week, like last week, the Dow declined to near 25,000 after July new highs above the 27,300 mark, about an 8% decline.
Russia and Hong Kong appeared to be entering an internet based protest revolution. Both countries are known for enthusiastic oppression and self serving disruptions of the internet.
Gold prices topped $1,500 per ounce.
Other than that, not much happened.
Finding Peace in Chaos leading to effective investment strategy begins often with great questions:
Will trade disruption cause the long dreaded slowdown recession?

Why was there massive buying of U.S. Treasuries with minimal yields?

What should investors do for the rest of 2019 to prepare for 2020?

What is a "safer non-correlated asset? Hint: Not Bitcoin.
NetWorth Radio's Business Leadership Series

: Spencer McGowan Interviews Chief Investment Officer of Fixed Income

Doug Peebles

and World Class Bond Manager

Paul DeNoon

, both from

AllianceBernstein

, To Bring Us Valuable Insights!
---
Douglas J. Peebles
Chief Investment Officer—Fixed Income
Douglas J. Peebles is the Chief Investment Officer (CIO) of AB's Fixed Income, focused on managing the firm's strategic client relationships. As CIO, he is also Co-Chairman of the Interest Rates and Currencies Research Review team, which is responsible for setting interest-rate and currency policy for all fixed-income portfolios.
In 1997, Peebles pioneered the firm's highly successful and innovative approach to global multi-sector high-income investing, which is now being adapted by other firms.
Since joining AB in 1987, he has held several leadership positions, including head of Fixed Income from 2008 to 2016, co-head of Fixed Income from 2004 to 2008 and director of Global Fixed Income from 1997 to 2004. Peebles holds a BA in accounting and political science from Muhlenberg College and an MBA from Rutgers University. Location: New York
---
Paul DeNoon
Portfolio Manager—Income Strategies
Paul DeNoon is a Senior Vice President and Portfolio Manager of Income Strategies. He co-leads the management of AB's large global high-income franchise, co-managing the firm's flagship Global High Yield Portfolio, an over $20 billion Luxembourg-domiciled fund, as well as its award-winning High Income Fund, a US mutual fund that was named "Best Fund over 10 Years" by Lipper from 2012 through 2015.
DeNoon is also a member of AB's Emerging Market Debt portfolio-management team, Emerging Market Multi-Asset Strategy Committee, Dynamic Asset Allocation Committee and Municipal Impact Investment Policy Group. He also has oversight for AB's Corporate Responsibility initiatives, which include Responsible Investment (environmental, social and corporate governance) and Diversity & Inclusion.
DeNoon joined AB in 1992, and was instrumental in developing some of the firm's now flagship emerging-market debt and global high-yield funds. Previously, he was a vice president in the Investment Portfolio Group at Manufacturers Hanover Trust and an economist in the bank's Financial Markets Research Group, where he was primarily responsible for analysis of monetary and fiscal policy.
DeNoon began his career as a research analyst at Lehman Brothers. He holds a BA in economics from Union College and an MBA in finance from New York University. Location: New York
Headline Round Up!
*Argentina's Plunges By Half in One Day!
*Fernandez Back in Power?
*Biggest Stock Market Routes in Modern History!
*Inversion Mini Panic? If. . . Then . . . Therefore …?
*Greenspan: No Barrier to Prevent Negative Treasury Yields? Is there no limit to duration stupidity?
*Can Investors Make Money from Negative Yields? Alex?
*30 Year U.S. Treasury Below 2%!
*Yet, Near Record Deficits?
*Tariff Updates: 25% Not Good. Is that what China charges U.S.? Fair Trade Means More than Hippy Coffee.
*CPI Shows Some Inflation? 
*Mortgage Debt Record. Should we worry? Versus Household Net Worth?
Dow Jones Industrial Average Index (3 Year Chart)
– Courtesy of Bloomberg
US Treasuries – 3 month, 2 Year and 10 Year (15 Years)
– Courtesy of Bloomberg
Global Bond Yields (10 Year Maturities)
– Courtesy of Bloomberg
Gold vs US Dollar (10 Years)
– Courtesy of Bloomberg
S&P Merval Index – Argentina
(3 Years)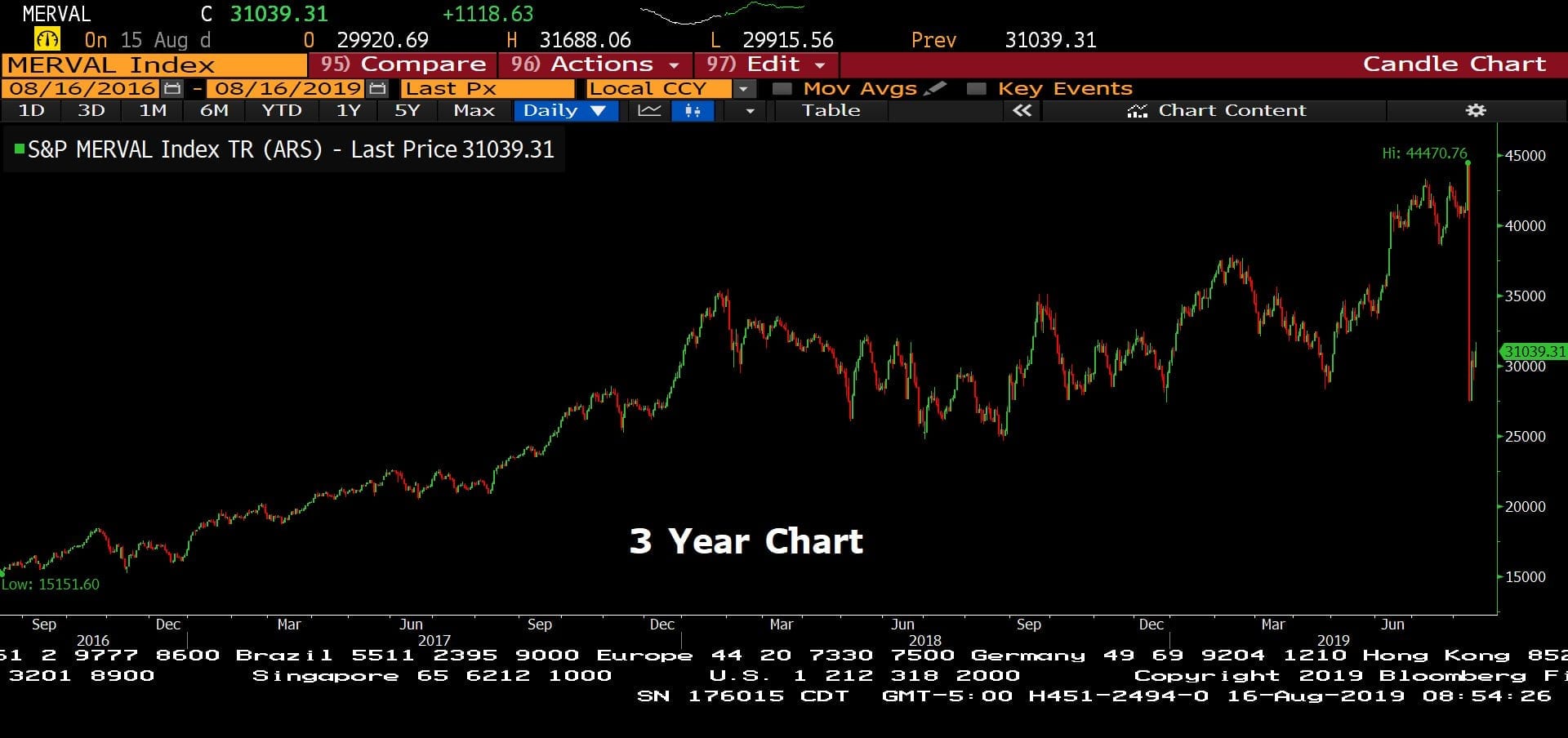 – Courtesy of Bloomberg
YPF SA
(12 Years)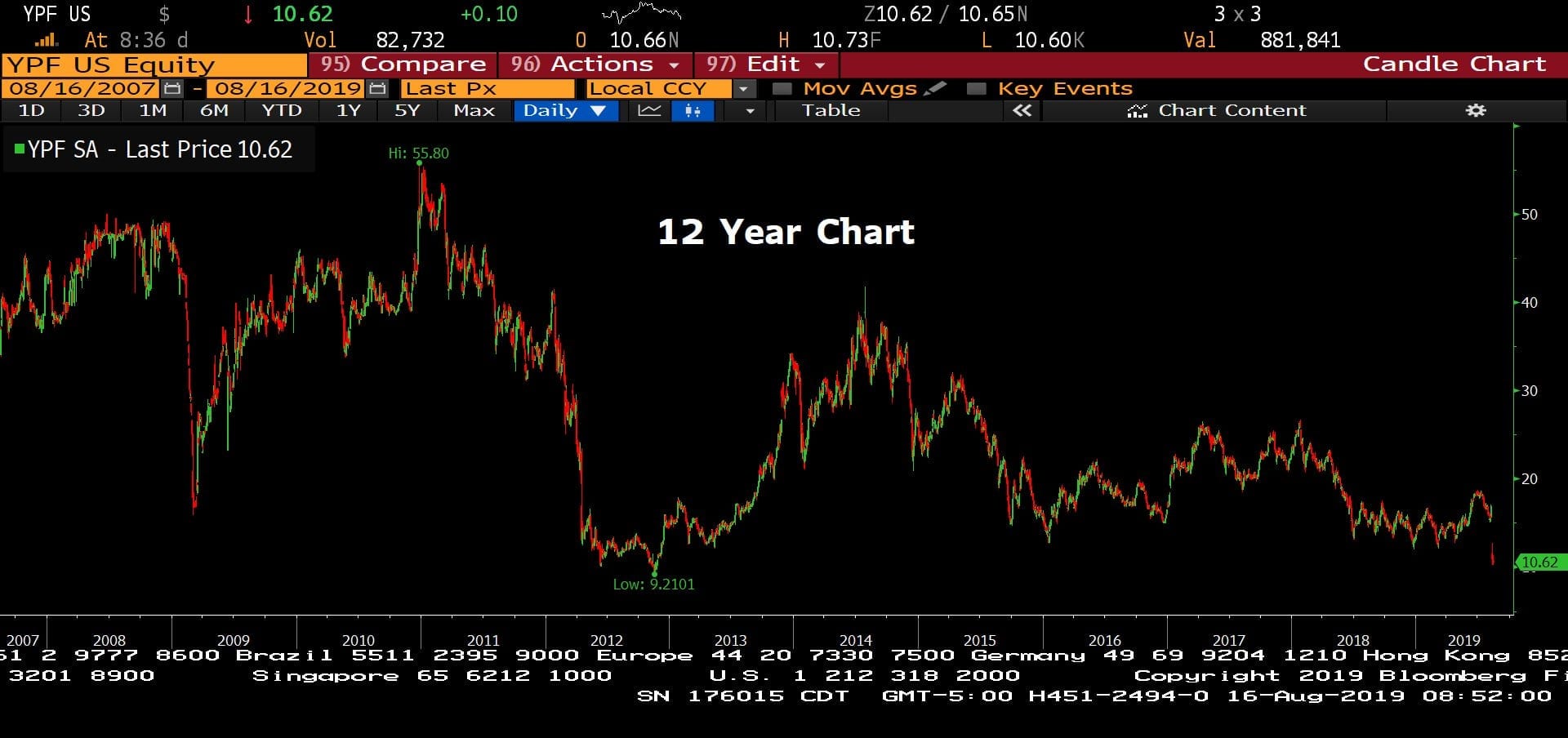 – Courtesy of Bloomberg
Texas Black Gold Rush!
*Oil Spikes to $57 Then Retreats.
*Energy Stocks Pounded with Trade Headlines. Bargains?
*Greece Quadrupling LNG Imports This Summer.
*South America Loves U.S. LNG!
*Texas Needs Natural Gas Power Plants (Solar Panels Too!)
*Exxon Mobil Credit Ratings Under Pressure?
*Aramco Still Wants to Sell Your Index Fund Shares.
Research Round Up!
Investors are invited to improve decision making with a comprehensive tour of global economics, indicators, and actual results.
---
Start the Process Today! Be sure to indicate what size portfolio sample you would like to see. A link will arrive when we receive your questionnaire.