Our opinion: A file on your computer is not an investment, cryptocurrency is a speculation. This week's program will cover the full for story for investors with clear warnings for those tempted to climb into gold and cryptocurrency.
Dow Jones Industrial Average Index (3 Years)
– Courtesy of Bloomberg
World Bond Markets – 2 Year Maturity (Current 3 Months)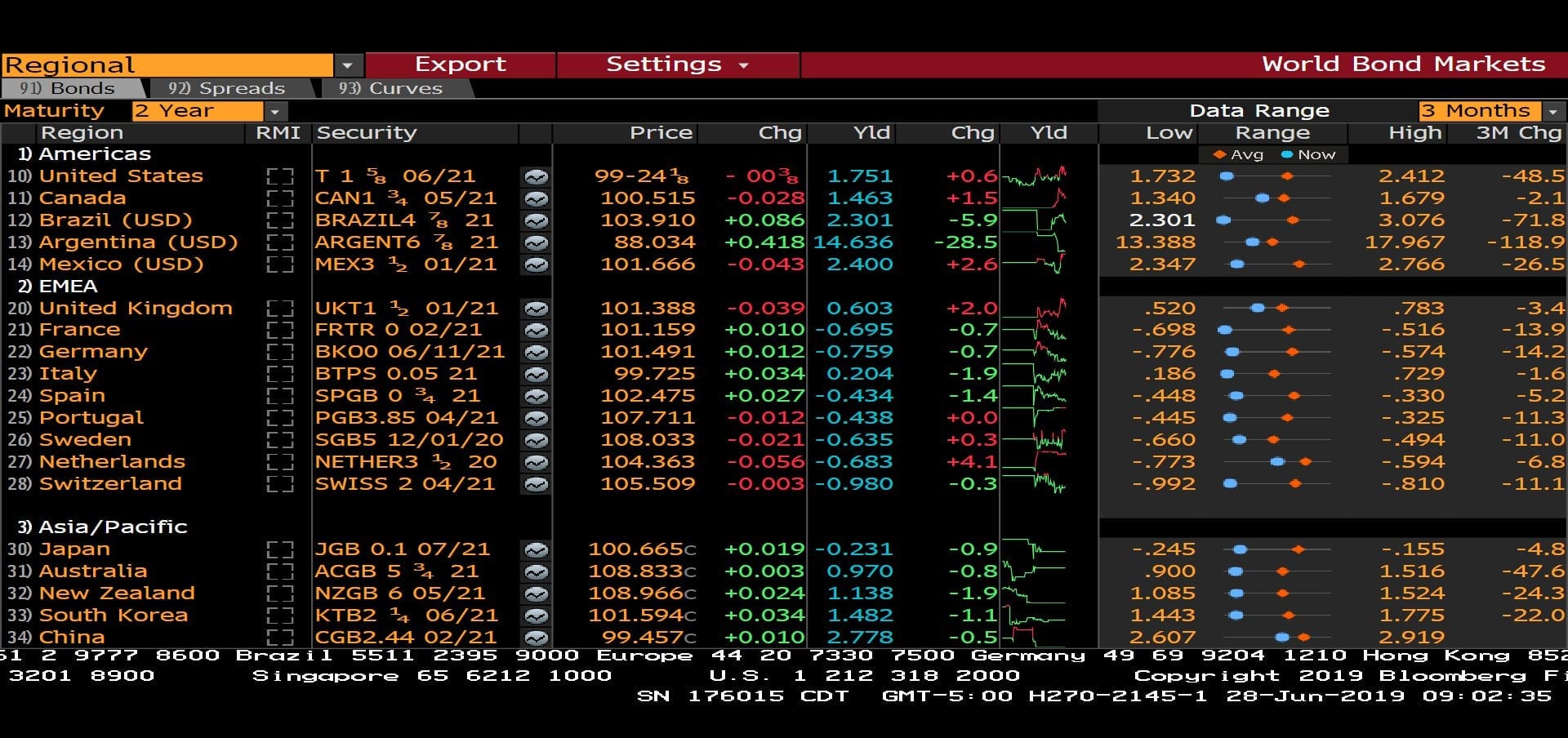 – Courtesy of Bloomberg
World Bond Markets – 10 Year Maturity (Current 3 Months)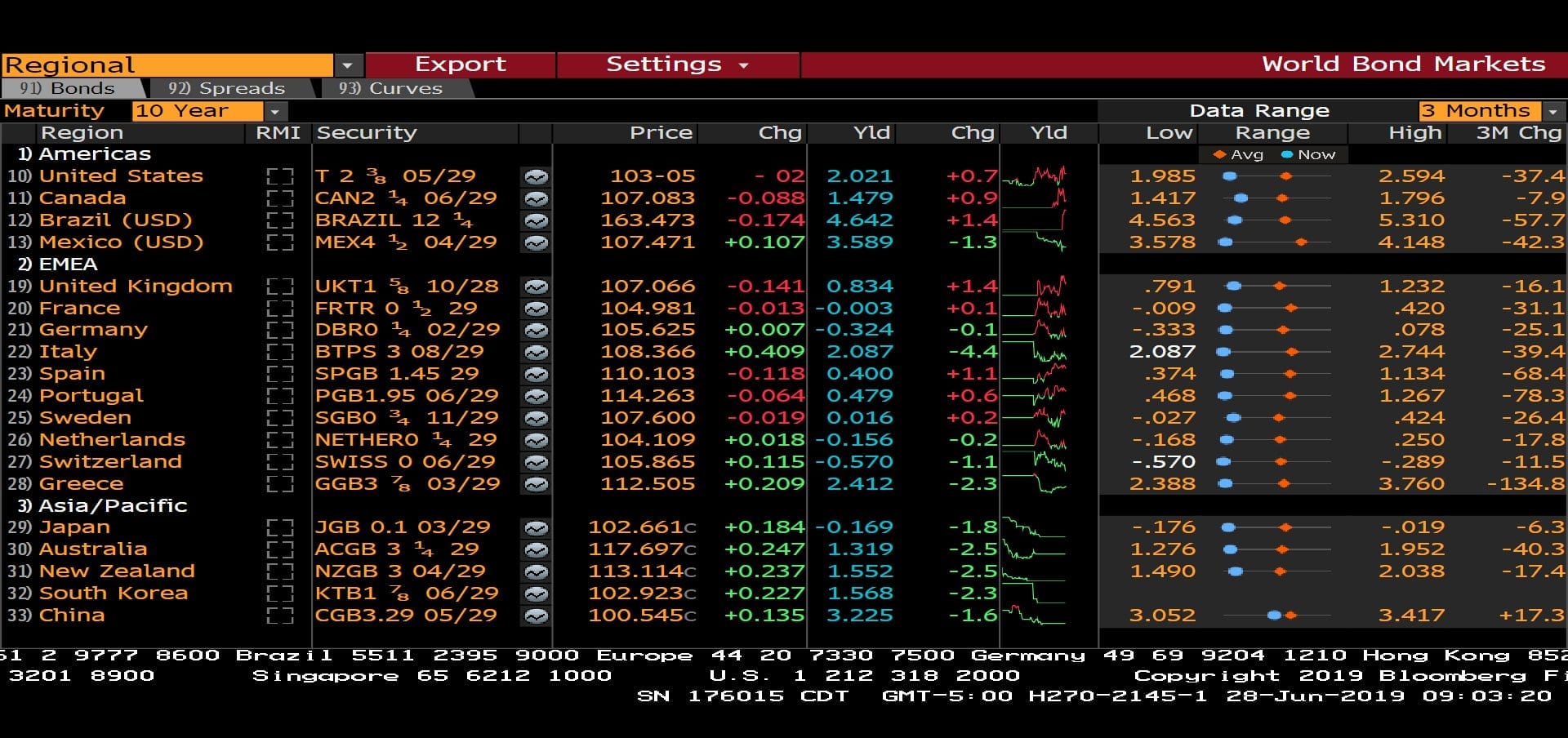 – Courtesy of Bloomberg
iShares National Municipal Bond ETF & iBoxx High Yield Corporate Bond ETF (Approx. 10 Years)
– Courtesy of Bloomberg
Bitcoin Currency Spot Price & Gold per Ounce Spot Price
(3 Year)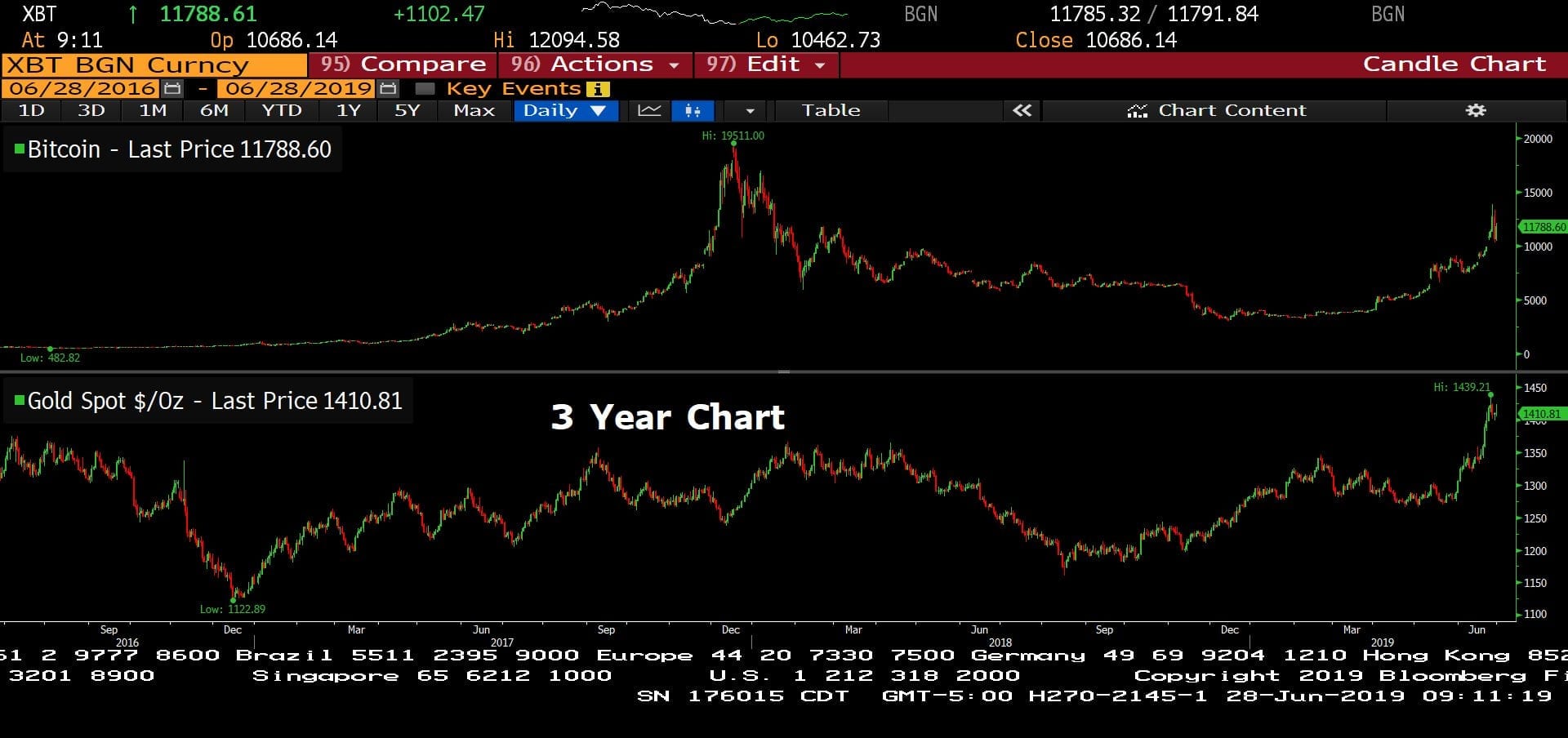 – Courtesy of Bloomberg
Solactive MLP & Energy Infrastructure Index & West Texas Intermediate Crude Spot Price
(Approx. 5 Years)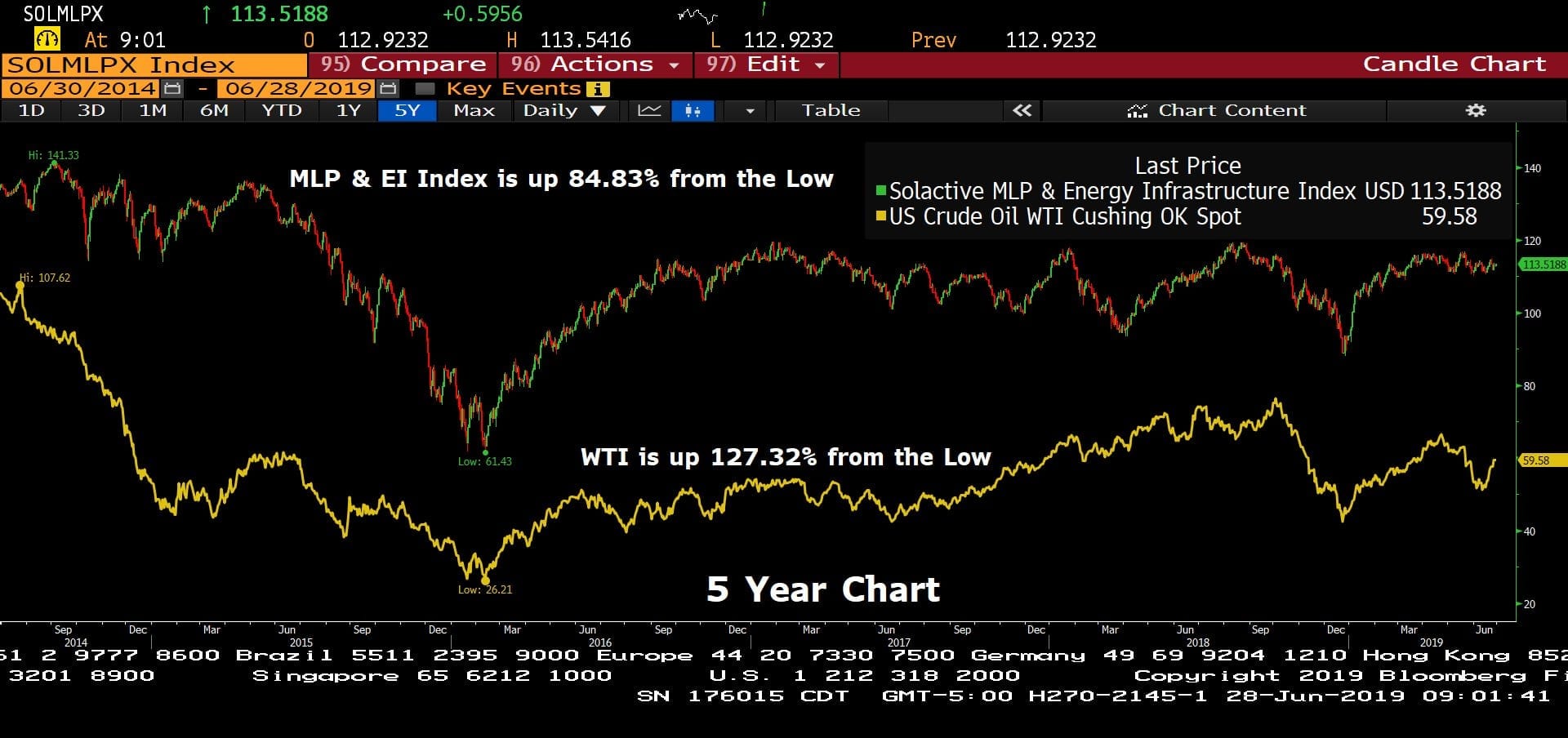 – Courtesy of Bloomberg
Headline Round Up!
*Record Negative Yields??? $13 Trillion in Government Bonds Trades at Below Zero, ¼ of Entire Market! Up $5 Trillion! 
*What is Duration risk? What investors need to know about traditional advisor allocations?
*Global High Yield Bonds Still at Discounts to Par.
*Brazilian Waxed! Presidential Advance Guard Pilot Arrested in Spain with 39 Kilos of Cocaine.
*Brazil Near Recession???
*Texas Instruments Back Over $115. Chip Stocks Hot in June, Too! Employee 401k and stock option strategies including potential partial harvest points?
*Tech Companies Shipping Again After Huawei Blacklisting.
*Gold Highest in 6 Years!
*Bitcoin Touches $14,000 Then Retreats!
*Facebook Libra Creates Wake of Global Enthusiasm. New Space in Geneva for Libra.
*European Auto Recession Begins. Job Cuts.
*Frisco's New Mega Development, 2500 Acres. 10,000 Homes, Omni Resort, New City Center.
*Roofstock Cracks Open The Real Estate Revolution Online Transaction Market. What are the possible outcomes.
*The Race to $1 Trillion State Debt: Illinois in the Lead to the Bottom with Pension Deficit! Cannabis to the Rescue?
*Pot Smokers Can Drink Their Cannabis in Canada this Christmas. Will Santa Stay on Schedule?
Texas Black Gold Rush!
---
*Oil Makes a Run at $60.
*Energy Infrastructure Mergers Accelerating in 2019. Buckeye's Premium Deal Underscores Valuations.
*Dallas' Blue Racer Races to IPO.
*Another Decade of Record U.S. Supply Growth Forecasted. Investors need to take note of a long boom.
*East Coast Damaged Refinery to Close. Philadelphia Supply Constraint Due to Eastern Pipeline Shortage.
*Shipments of American Oil to Korea Triple and up 65% to China in the Past Year.
*Renewables Surpass Coal in U.S. Power Mix.
*Putin Helps Iran Export Oil?
*Texas Pacific Land Trust Tops $800 In Potential Shift to C Corp.
Profit Report!
*Mid Year Performance Updates!
*Summer Planning Season: 401k Reviews and McGowanGroup's Top Six Process.
*Inflation gone?
Reagan illustrated scarcity in a joke
and underscored the source of global inflation, scarcity versus oversupply.
*What is a Yield Panic? 2012 illustrates parallels to current cycle.
*Surviving your first bear in retirement: Ronnie's retirement reserves plan!
McGowanGroup 2019 Mid-Year Client Update
Our last client update was January and pardon me for leaving it up so long. I just wanted to remind you of what we were doing through last year's mini panic. We bought high cash flow bargains with our excess cash flow.
Range Bound Equity Markets Rebound!
In early 2018, Alex and I covered on the program that equity appeared to enter an extended trading range instead of the raging bull of 2016 and 2017. That range appears to be about 27,000 on the Dow to the 22,000 set at last Christmas.
What's the strategy?
Near the upper end of the range, we have harvest points established and, near the lower end, we have bargains picked out to redeploy cash in a potentially gain enhancing strategy.
Energy Infrastructure 2019, based upon EIA data, appears to be the year that the United States reaches overall energy independence including natural gas production. 7% is better than 2%. The dividends available in the pipelines and other Energy Infrastructure companies, in many cases provide near 7%. A very attractive proposition compared to the near 2% yield on 10 year U.S. Treasuries that leaves room for capital gains on top of the yield. Controlling value at risk of loss through a harvesting and redeployment strategy is our intention consistent with the past 18 months.
Safety and Income!
The 30 year U.S.Treasury yield has fallen from the highs last year to just over 2.5% at this writing. The world appears flat at 2% or less for higher quality global government bonds. The premise that risk free rate should be the rate of inflation or lower appears to be repeating the 2012 forecast for rates: "Lower for Longer." Remember 2013? The Taper Tantrum rate spike reversed the Bond markets and reintroduced Duration Risk as the 30 year U.S. Treasury spiked to 4%.
For the Safety and Income allocations we are gradually removing premium priced Duration Risk and building dry gun powder at 2% or better in Money Markets or short term reserves.
High Cash Flow!
Global High Yield Bonds – 7% is better than 2%. Many portfolios run by established global bond managers with diversification are still trading at a discount to the estimated par value of the underlying bonds. Further, yields near or above 7% from interest are worth more by the measure of aggregate future cash flows versus the government bond alternatives underscoring appreciation potential with this week's Federal Reserve discussion of potentially cutting cash rates.
Research Round Up!
Investors are invited to improve decision making with a comprehensive tour of global economics, indicators, and actual results.
---
Start the Process Today! Be sure to indicate what size portfolio sample you would like to see. A link will arrive when we receive your questionnaire.