This week's NetWorth Media program explores what could be one of the decade's most profitable, inflation friendly, opportunities to own great assets. The dramatic declines in the share prices of many energy infrastructure companies since 2014, appear to have resulted in capitulation here during tax loss selling season. The potential to increase income and add potential capital gains in December is the focus of this weeks program. The intense pressure of tax loss selling on underperforming sectors like energy appears to be setting the stage for a major sector rotation after the end of 2017.
The Treasury Bill rate increased to 1.27% ahead of the December 13th Federal Reserve meeting signaling the likely Fed Funds rate increase. This appears to have exerted pressure on higher cash flow investments over the past 2 months.
This week's NetWorth Media program will cover the research backing year end trading opportunities designed deliver 2018 profits.
Headline Round Up:
---
Texas! Jobless Rate at 40 Year Low.
In the Chips! Semiconductor Index Vaults to a 17 High.
High Yield Corporate Bonds: Money Flows Indicate Potential Further Gains After December 13th.
Oops! Uber Does it Again with Hack Cover Up. Plus 24,000 Driverless Uber Volvos?
NAFTA Cancelled? Trade War Concerns Endanger Texas? Cattle, Jobs, Petro, and Autos.
Energy Transfer: Kelcy Warren Under Fire.
Toyota's Camry Cheaper to Build in Japan?
Goldman Declares Tax Reform is the Key to 2018 Equity Markets.
Opiod

Epidemic Continues to Explode.

Blockchain Coming to Wall Street Settlements?
Profit Report:
Why Does Tax Loss Selling Point Towards Energy ETF's for 2018?
What's the Plan? Details of the New Tax Plan and What it Means for Investors!
2018 Global Macro Outlook?
Crude Oil Futures and Alerian MLP Index (Approx. 10 years)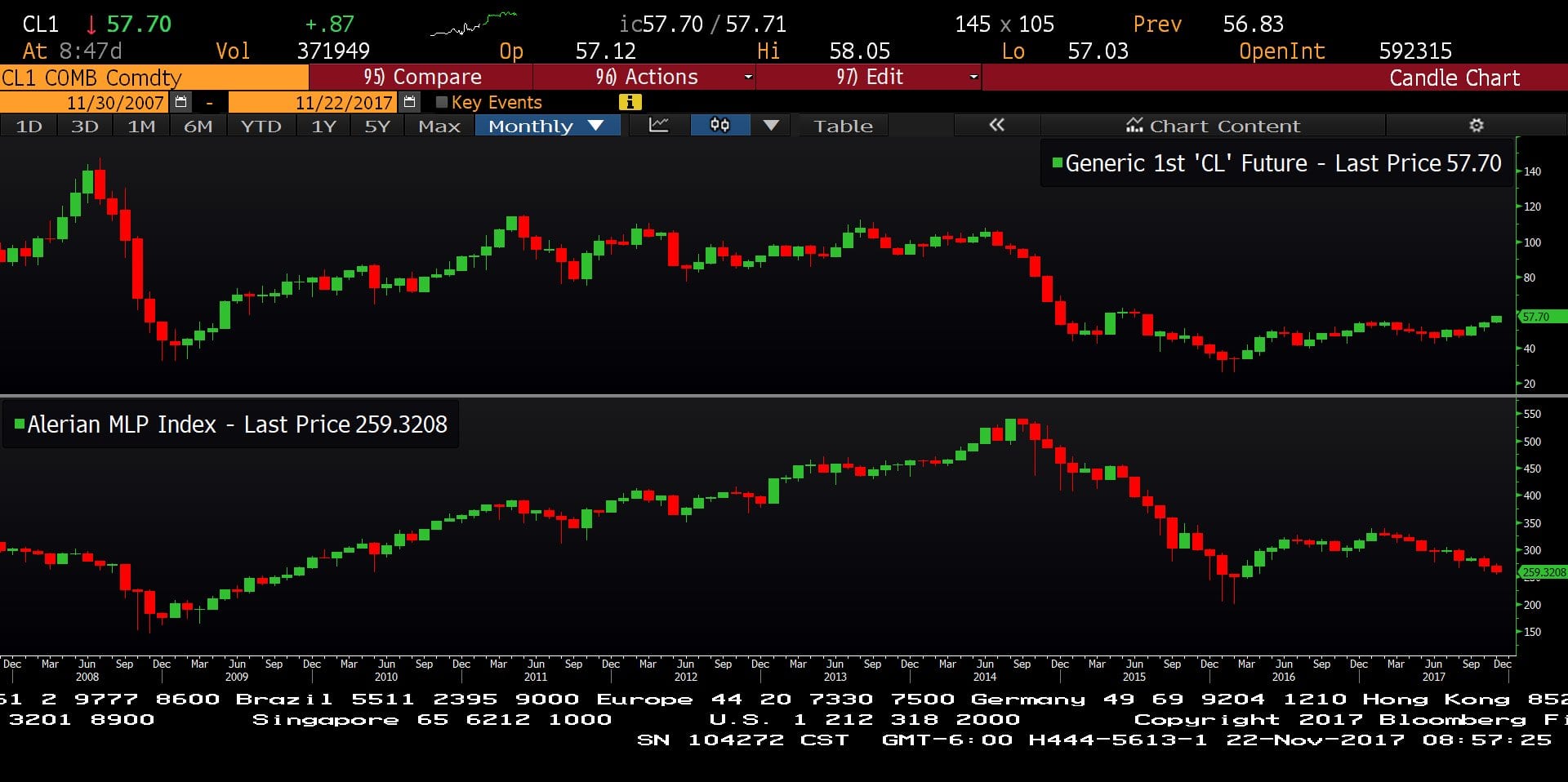 -Courtesy of Bloomberg LP
Natural Gas Futures (Approx. 10 years)
-Courtesy of Bloomberg LP
Crude Oil Futures and Alerian MLP Index (Approx. 2 years)
-Courtesy of Bloomberg LP
Natural Gas Futures (Approx. 2 years)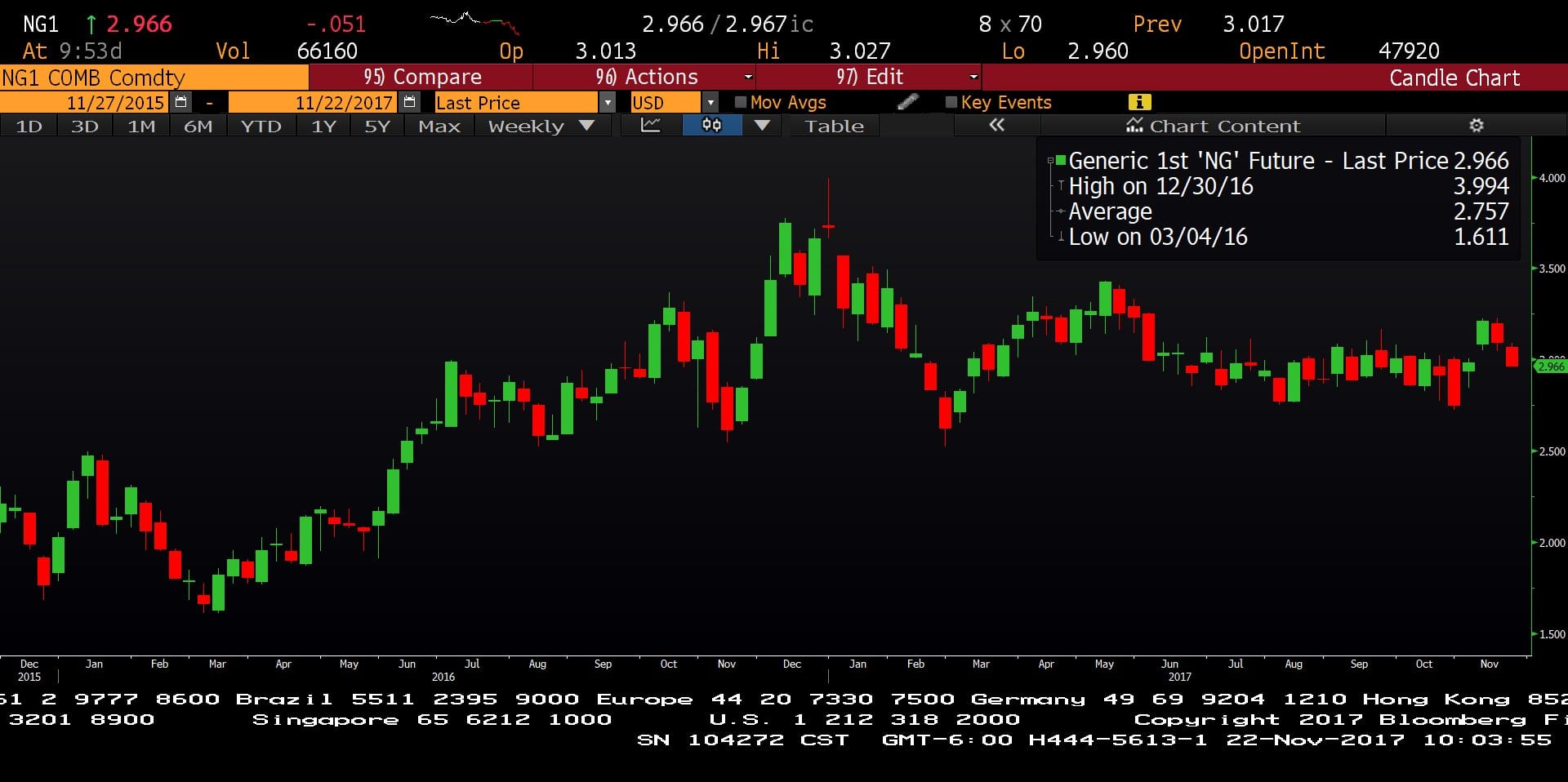 -Courtesy of Bloomberg LP
NetWorth Radio's Dallas Business Leadership Series: Spencer McGowan Interviews Ken Ward!
Ken Ward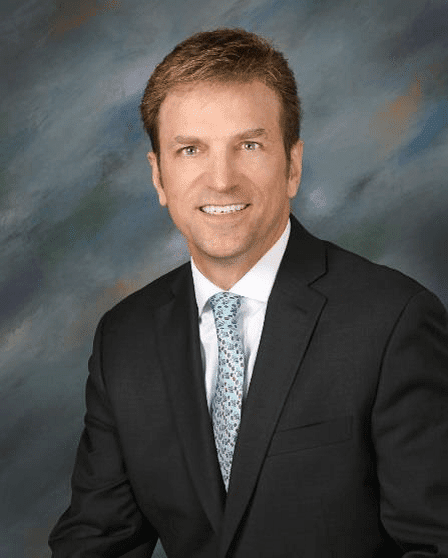 Regional Managing Director
South Central Region
Foundation Source
---
Ken Ward serves as Managing Director for the South Central Region, based in Dallas. He is responsible for building the brand and growing the firm's business with responsibility for Texas, Oklahoma, Missouri, Kansas, Louisiana, and Arkansas. Ken has extensive experience is working with asset management firms in building awareness and demonstrating value to regional broker dealers, bank trust officers, and the RIA community.
Ken's background includes over 30 years of experience in the financial services industry, spanning multiple aspects. Prior to joining Foundation Source, he was Senior Regional Vice President with Deutsche Asset Management and held similar roles at a number of firms, such as Gabelli and Co, Hatteras Alternative Investments, Oppenheimer Funds and Lord Abbett & Co.
Mr. Ward earned his BA in Economics from Rutgers and his Masters of Business Administration from Penn State. He is FINRA series 7, 24, 63 and 65 licensed. Mr. Ward and his family live in Irving, TX.
Featured Research Solutions:
---
Investors are invited to improve decision making with a comprehensive tour of global economics, indicators, and actual results.
---
Start the Process Today! Be sure to indicate what size portfolio sample you would like to see. A link will arrive when we receive your questionnaire.